He wouldn't prepare a Piña Colada for us – even if, strictly speaking, his career began with one. "Tiki Drinks" "Speakeasy" "Food Pairing" … Professional bartender Maxim Kilian can tell us a lot about a world which one normally only comes into contact with in the shrouded darkness of night.
We met with Maxim one afternoon in his apartment, on a quiet street close to the zoo; from there we walked in the direction of Kleinmarkthalle. The fixed market behind the Zeil is a Frankfurt institution.
Maxim's Apartment in Frankfurt-Ostend
Maxim isn't the only one who sees Gref-Völsings beef sausage in a bun as a must. Today it's his breakfast, because for a professional bartender, the day starts a bit later. Earlier he bought fresh ingredients for his drinks. It's not just when shopping that his trained eye seems more like that of a chef than that of a stereotypical bartender. He doesn't smoke. He doesn't drink while he's working. He knows his ingredients precisely.
Since 2012, The Parlour isn't just Maxim's second living room, but also for an increasing number of Frankfurters. Despite its hidden location on a side street, the closed door and lack of signage, the bar is always full. Under the metallic mirrored tower of the Deutsche Bank, behind the smooth, unassuming façade of a newly built apartment complex and diagonally across from a fitness studio where women are running on treadmills, we enter into a space similar to treasure room or a classic club. Countless bottles flash in front of the mirrors of the minimalist black wood fitted room. Yared Hagos and his team prepare the night's ingredients in the kitchen. The bar, which is the centerpiece of the space, isn't really a bar, because there is no barrier separating the guests from the bartender, rather everyone comes together around a freestanding elevated table.
We talked to Maxim about his career, the magic hidden in a good drink and Frankfurt's scene as he chooses fresh ingredients for his signature cocktail "Wood is Wood." And of course, he prepares one for us before we go.
Let's begin with getting to know your  taste – what was the first drink you were totally crazy about?

Embarrassingly, it was Piña Coladas! (laughs) In the early 2000s my mother bought me a cocktail recipe book. And I don't know why, but this drink was always the most fascinating. At some point we bought all the ingredients and I prepared and tried it – but unfortunately it tasted awful. I had no idea how to really make it right. It was actually very discouraging.

What do you order when you go to a bar these days?

I usually drink Manhattans, Old Fashions, but also champagne or a beer. My absolute favorite drink is a Vieus Carré, which has a whisky base.

How did you end up becoming a professional bartender, despite the fiasco with the Piña Colada?

As a boy becoming a bartender was a pipedream. A bit later I did internships in gastronomy and hotels and suddenly it was right in front of me again, and thus in my head too. When I decided to go through with training in the hotel industry it became my goal to work as a bartender.
After training, I worked at Medici for a while. It's a fantastic upscale restaurant in Baden-Baden with a huge, well-appointed bar. I noticed that they simply made great drinks there. When the head bartender left, I went with him to work on a cruise ship. Raw materials and creativity weren't exactly a priority there. Unfortunately, I never had a real mentor – but I've always been very interested in the ingredients and flavor. In that sense, I'm an autodidact.

What brought you to Frankfurt?

A good friend who worked in Frankfurt. I had already met a lot of really cool people in here through him. I couldn't even imagine working and living somewhere in Germany other than Frankfurt.

That's exciting – for many outsiders Frankfurt comes across as a city that's not so easy to live in. What do you like about it?

At the time there were just opportunities that were being offered. They're still there. Sure, Hamburg, Munich, Berlin are all nice cities. However, in Frankfurt there's also the buying power, there's something happening here. For the kind of bar I want to make, Frankfurt was – and still is – a really unique place, because there's money here and people can pay for what we create at The Parlour. I don't know if a bar like this would work in Berlin. I also find the mix of our customers – from bankers to art students – is an interesting constellation.
Grocery Shopping at Kleinmarkthalle
You don't often meet people that say that their job is as a professional bartender. What kinds of reactions do you get? It is the traditional image of a barkeeper – long boozy nights, a part-time student's job – hard for you sometimes?

I never encountered a negative reaction in the classical sense. Sure, sometimes people make jokes, "He who is nothing, will host." In the beginning I always heard "Are you going to do it forever, what's your goal?" from my family. At the time I didn't really have an end goal. I wanted to first prove myself and be good at what I do before I began to think about what I would do next. Now, after ten years, a specific plan has emerged.

If people do have prejudices, they usually don't say anything. When you say that you've won Bartender of the Year then they see the profession in a new light. They realize that it's not that you "just simply do this," rather that there's passion, energy and love in it. Then the respect that one receives is quite different.

That's an interesting point, especially for our generation, when one usually doesn't know where they'll be in five years. You have to live more in the moment.

My plans were always less job specific. I often asked myself: What else do I want to do? What would I like? Where do I want to live? New York would be, by far, the most attractive for me. But I could also imagine that I would like Scandinavia. A trip north is on my to-do list for next year

So you're not that attached to Germany – is there something that you would miss if you lived abroad?

I'm not attached to Germany. I have more wanderlust than homesickness. I'm sure that I'll still live and work somewhere else. It's likely that I will miss the infrastructure. This certain basic order in Germany is definitely very pleasant. But what you receive in return for your courage to go abroad has, in my opinion, much more value than this structure. On the other hand, I don't know if there's anywhere else in the world where I'd want to grow old.
Is there a bar that you absolutely want to visit?

I was recently in New York and I worked through a long list. Otherwise, I really want to go to The Aviary in Chicago. Charley Joly, winner of the Diageo World Class Bartender of the Year, was the beverage director there. He and his team work 100 percent like a kitchen – the bar is also built like a kitchen. What they do there is very impressive. I would especially like to look behind the scenes, rather than sitting in front of the bar.

You place a lot of value on making the ingredients for your drinks yourself. Parallels to cooking are evident. Do you like to cook? What do you do in your time away from the bar?

I actually really enjoy cooking! Otherwise, I don't really have any classic hobbies. I do a lot of sports and am interested in design, it doesn't matter if it's interior, product or fashion design.

Where do you like to go in your free time during the day?

I like Café Opitz a lot. Just everything that they do, they do well: the design, the service, the cake, tea, lunch. It's rare, and in this respect I'm a really critical person.

How would you describe the bar scene in Frankfurt in general?

In Frankfurt we have a strong community, people know and like each other, it's relatively familiar. Also, because the scene is quite small, there isn't a huge range of bars like in Munich or even Cologne, where in a relatively small area there are really a lot of projects. But the level of the bars is extremely high. And then there are, of course, still the old established places, like Jimmy's or the Rote Bar. At the moment, there's a lot happening in Frankfurt, and some new bars are opening soon.
Maxim's Workplace and "Second Living Room": The Parlour Bar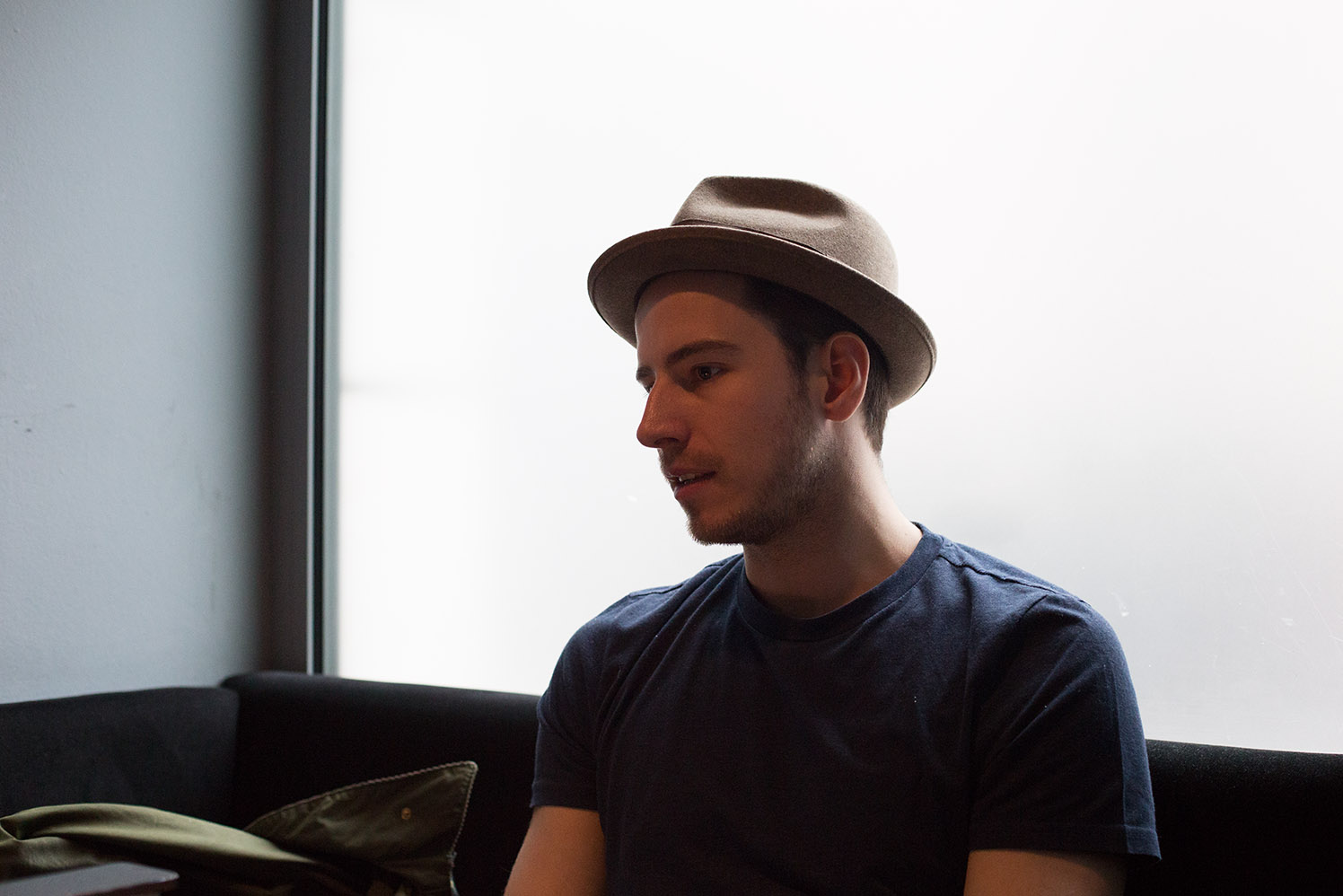 In relation to The Parlour the word "speakeasy" is often used, does you also define its that way? Can you explain the concept based on what you do?

The classic speakeasy concept comes from the Prohibition era in the USA, when it was forbidden to serve alcohol. Regardless, there were bars that served illegal alcohol, and of course, these had to stay under the radar. You had to speak and be quiet, so the term speakeasy was born.

A few years ago the concept became a big trend and was transformed for modern times. For example with the closed door, with passwords, knocks, and so on. If you wanted to, you could classify our bar in this way – our door is hidden, we don't have a sign, you have to ring a bell. Even so, it wasn't our intention, rather it was a kind of emergency solution. The bar was planned as a traditional bar with a sign, but at the time it got hung up on money. When we opened in 2012, the city of Frankfurt wanted 1500 Euros just for the permit to put a sign outside. With time, this missing sign has established itself with cult status. Today we don't need one.
The speakeasy trend is synonymous with a return to older cocktail recipes, away from the colorful drinks in big glasses of the 80s and 90s, back to classic drinks like the Martini or Gin Fizz. How do you feel about this movement? Would you make me a Piña Colada?

No, a Piña Colada is pretty much the only thing I will not make for you. I would recommend something different, more interesting. We generally use, with one exception, no cream in our drinks. The original recipes for fruity cocktails, like the Piña Colada, don't contain any cream. They come from warm countries and should be refreshing.
How did you develop the recipe for your winning drink "Wood is Wood"?

The idea behind it was to let all the aromas that work with whisky go into the drink. These are mainly the flavors of the barrel that it's stored in. Bourbon barrels give the whisky its typical caramel flavor. Through the firing of the barrel before storage vanillin and fire flavors develop. Some whiskies are stored in sherry or rum barrels and develop notes of raisin. Raisin and pomegranate are simply a "perfect match," like, for example, strawberries and pepper. The pomegranate and the red wine vinegar bring a nice fruit into it. The chocolate takes the dark notes of the whisky, thereby completing it. The lemon builds a balance for the typical whisky sour.
Is the balancing of aromas an essential task of being a bartender?

Yes, you could say so. I think it's really exciting to play with aroma analysis, for example on the website Food Pairing. There, the flavors of foods are broken down with a mass spectrometer and made comparable, there are even recommendations for ingredient matches. However, it's only a creative tool. Of course, you have to know your product and rely on your own taste. Many combinations that we've tried shouldn't work, but actually taste super.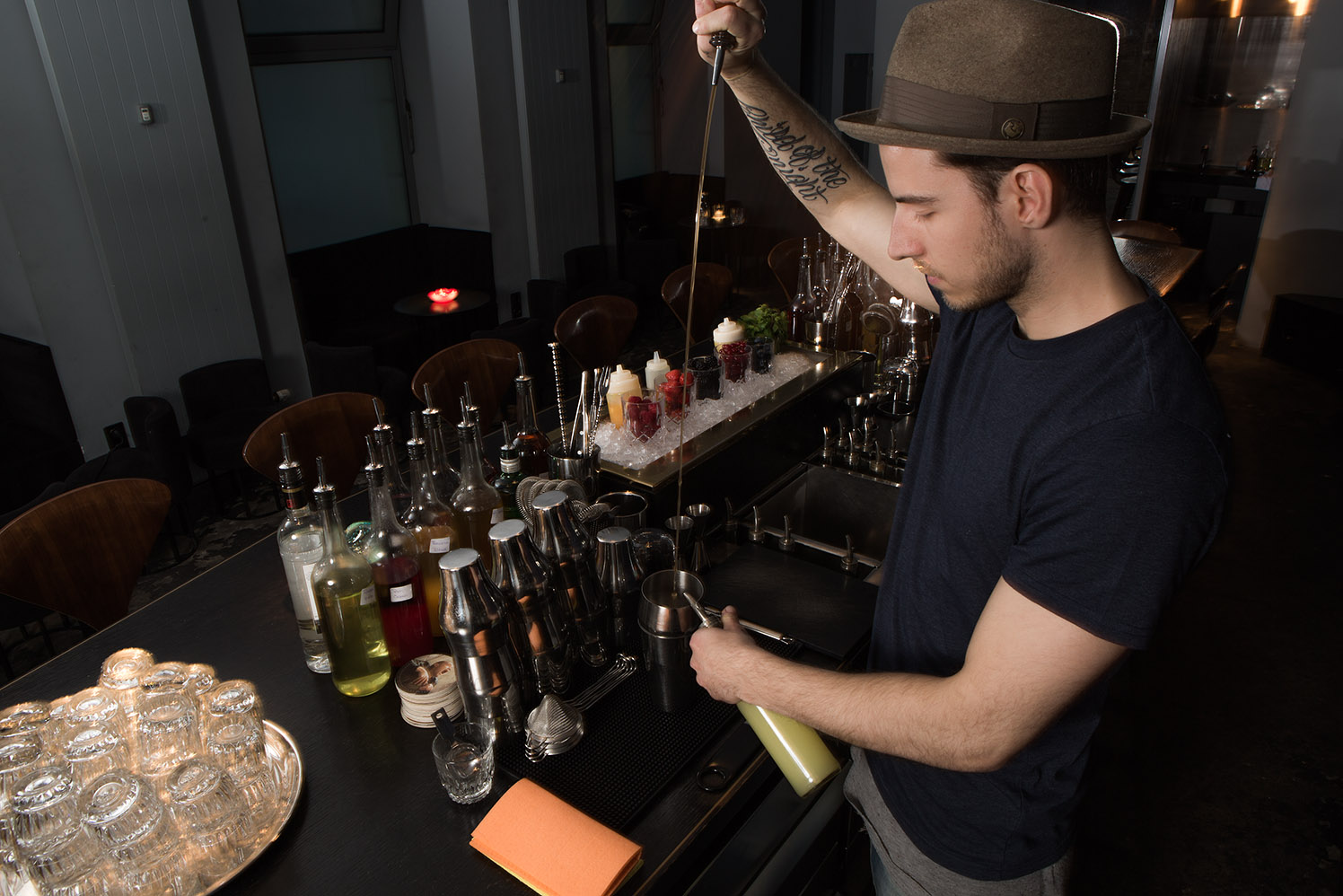 How to Prepare Maxim's Signature Drink "Wood is Wood"
Ingredients (for 2 people)
1

50 ml Talisker 10 whisky
20 ml pomegranate shrub (see below)
10 ml fresh lemon juice
10 ml homemade caramel syrup
2 dashes chocolate bitters
2 tbsp orange marmalade Shake all ingredients together and strain over ice.
Garnish with a burning woodchip sprayed with saffron perfume. Pomegranate Shrub 500 ml Jamaican Rum (Plantation 2000)
500 ml pomegranate juice
500 g Sugar
250 ml red wine vinegar Mix all ingredients in to a homogenous mass, stir and chill.
What does one need, in your opinion, to have a basic home bar, so that they can prepare a good drink with friends?

As a private person, I would limit my home bar strongly to my personal tastes, for example, for a whisky sour. Otherwise a complete bar would cost a lot of money and effort.

The main ingredient is always ice, and lots of it. Then you need good standard spirits, that don't have to cost more than 20 or 30 Euros: vodka, gin, bourbon, a good brown rum, a scotch of mid-level quality and possibly a tequila. Add to that a couple of liqueurs, Agnostura Bitters, one red and one white vermouth. Then you can prepare drinks – albeit more classical ones.

But the other ingredients are just as important. For example, you should squeeze and filter the lemon juice yourself. Also ingredients such as sugar syrup are easy to make and store yourself – and also raspberries, lemon or lemon balm can simply be used to refine.