Melissa Newirth is the essence of calm, cool and collected. She exudes a quiet confidence that invites rather than intimidates towards her warmth, simple aesthetic and casual but refined way of living. Her tanned skin and faint Long Island accent reveal that she neither derives from Portland, nor spends all her time in this overcast city – she hails from New York and also has a home in Maui. Melissa owns and runs an online shop called Cloth & Goods selling textiles and home goods, which operates out of a small studio space tucked away in Northwest Portland. The store allows her to seamlessly maintain and fuel her practice as collector, stylist and interior designer.
Situated off the street in a white stucco alleyway lined with small studios, visitors and clients can visit her space by appointment. While there's plenty to keep one visually occupied, the studio is pared down to the essence with simple shelving, minimal but intentional product, and large art pieces that constantly rotate. Melissa represents a number of fine artists, as her interest in pencil drawings, photography and paintings is made evident by the abundance of original art not only in the studio but also at home.
This portrait is part of our ongoing collaboration with ZEIT Online who present a special curation of our pictures on ZEIT Magazin Online.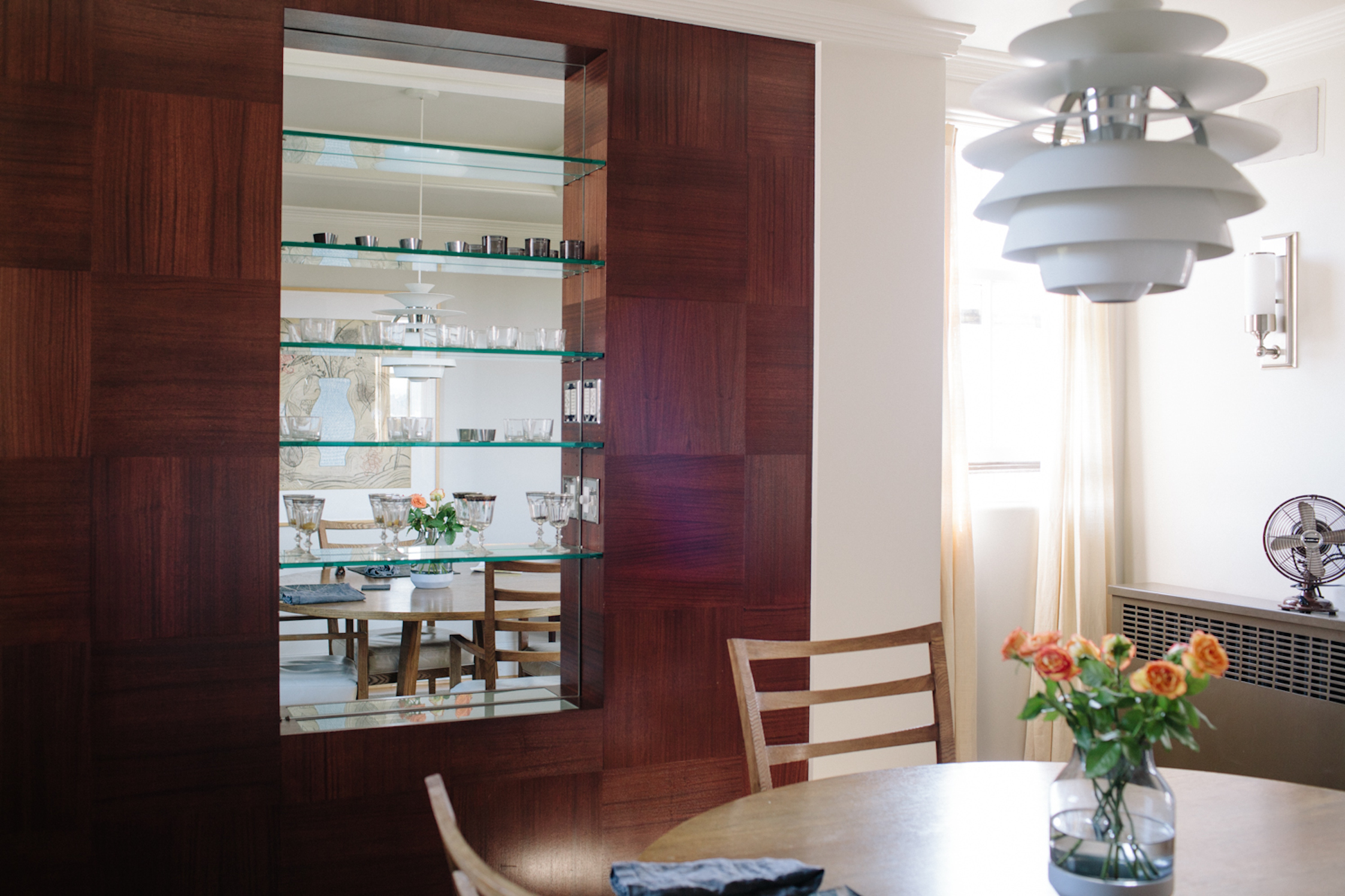 When we meet at Melissa's workplace she's just returned from Mercedes Fashion Week in Florida where her daughter's recent swimwear collection was on the runway. Melissa says the line, Acacia Swimwear, was buzzing on everyone's lips. We quickly see why when she notes that the black overalls she's wearing today come straight from the new collection. It's no surprise why Melissa's daughter found her way in the world of fashion, as Melissa has spent much of her life in the design world, pouring over textiles and garments of all kinds. This interest in textiles comes from the fact that while growing up on Long Island, "my mom worked in fashion and somehow my whole family was able to get into the garment industry when it was thriving back then. So that's where we shopped for clothes; we'd look at the Sunday paper during fashion week, decide what we wanted and my father would hand out good cigars—you know I was a sample size back then so we were able to get what we wanted and that was really fun."
Eventually she left the pulse of the city for what she calls "a spiritual search" in college, which became something of a piecemeal education in the hopes of experiencing new things and new places. She moved to California to fulfill a college internship at an art gallery, and never returned to Ohio where she had begun her formal education. "I moved to Santa Cruz and kind of got into the whole hippie era, and got sucked into that—which was fabulous at the time, it was wonderful and I really learned a lot." Melissa soon found herself being drawn to Waldorf education and began training as a teacher in the Waldorf system. She married, had two children, and lived in Vermont for a time after separating from her husband. "But when spring came I was so happy to not be loading the wood fire stove 24/7 and putting on snowsuits and shoveling snow. Spring was so gorgeous that it reminded me of Hawaii. And I said, okay, that's my next move. So I applied for a job at a Waldorf School and as soon as I got it, I moved my kids there. I had a lot of opportunities as far as moving my life forward. I ended up buying property, building a house, which got a lot of attention, and then that changed my life." This notice from the Maui house propelled Melissa into the interior design field, eventually becoming a stylist for magazine editorials in NYC, as well as for the Pottery Barn catalog in California. Thus began a long period of bouncing back and forth between the worlds of education and design.
After many years on Maui, Melissa came to Portland just seven years ago once her children had grown, she'd sought out a Masters, and subsequently met her now-husband, a personal life coach transplanted from Britain. "Portland because we both kind of wanted a little bit of an urban lifestyle but this felt really doable. I could live in New York City but he could never—he likes it a little bit less intense." It was here that Melissa's love of design and textiles came to fruition in the form of her online shop, Cloth & Goods, which she manages single-handedly. Her modern rustic aesthetic combines clean minimalism with textured and one-of-a-kind fabrics, making sourced pieces into napkins, quilts, pillows, and dishtowels. This love of vintage textiles takes her all across the world, traveling to such locales as Bali, Mexico, England, France, Japan and parts of Africa on a fairly regular basis. Melissa specializes in vintage indigo from Japan, but she has also just begun dealing with Japanese pottery, on which she comments, "I'm very excited where this is going; I might just end up with a pottery-textile store because I love pottery as much as I love textiles." Melissa not only carries these pieces in her shop, but also provides design services through which she incorporates these textiles, art pieces and one-of-a-kind items into her clients' homes.
The diversity of Melissa's style is evident when we go from her laidback studio to her close-by apartment, which is located on the sixth floor of a 1913 building in what's known as the Alphabet District. In the courtyard we're greeted by a neighborhood black cat, a lobby outfitted in marble, brass and all the makings of a perfectly regal piece of architecture. The apartment does not disappoint as we enter a blend of wood-paneled walls and large linen furniture. Melissa notes on entering, "This is actually the most sophisticated place I've been in—I don't usually live in places like this. My Maui house is like living in a barn, it's all white-washed wood floors. It's like a Nantucket cottage. This is very sophisticated; actually very masculine." Even so, she is completely relaxed and casual, stepping barefoot atop a white chair to open the blinds, cozying up to chat in the living room, and leading us around every nook and cranny of the two-story space.
As we peek into the master bedroom closet full of cubbies stocked with denim – "I live in jeans!" – and her even larger bathroom, she describes her bathtub as, "It's all marble; I live in it in wintertime." It is, indeed, a large marble piece protruding into the middle of the room, with a black-mirrored backsplash. In spite of the grandiose materials and stunning city views surrounding the building, Melissa is refreshingly down to the earth about her personalized home. Original art lines every wall and surface, and the setting feels truly lived in, even while it remains polished. Every painting or drawing prompts a story—some being pieces picked up from the streets of Paris, some from local artists, and several received as special gifts from friends. It's possible her next big Portland venture will be creating something closer to the vibe of her Maui home, as after seven years she says, "I'm kind of done with living in the air. I'd love to find a little place on Sauvie Island" (a small island just 10 miles Northwest of Portland proper).
The visit with Melissa cements an already keen appreciation of her well-honed aesthetic that is maintained with candor. From her excitement over her Japanese textiles-turned-quilts, to her childlike fascination with the old elevator pulley system in the basement of her building, it's clear that Melissa manages to be successful because of her unpretentious love for beautiful and well-designed things. For those who share her appreciation, both her shop and her home are a window into the allure of simplicity, and the value of honoring objects made with intention. Melissa's next project involves working to create a family compound with her daughter in Haiku, Maui, which is sure to be another thoughtful outlet for treasures found across the globe.
Thank you Melissa for welcoming us into your studio space and lovely home. For more information on both her shop and services, have a look at Cloth & Goods online.
Photography: Carissa Gallo
Interview & Text: Julie Pointer