Through impressively dwarfing windows, rooms drenched with sunlight, highlight the carefully selected furniture and artworks in a special glow. In this historic house there is one particular room that is a favorite for branding-agency MetaDesign boss: the breakfast room. It is here where Uli Mayer-Johanssen enjoys a perfect view of the tall trees and her garden and enjoys the sound of birds chirping. Within this home a journey of discovery is conveyed via a range of significant antiques and a custom designed parlor inspired by many Summer's spent in South Tyrol.
The location of her company within Leibnizstraße is equally awe-inspiring. The so-called MetaHaus is an old transformer station and serves as a landmark that bears many hidden treasures. Eleven years ago the building was reconstructed by MetaDesign. Today people instead of machines now work across the six floors and fourteen levels, becoming a house of high creative voltage.
Considered as one of Germany's leading agencies for integrated and holistic branding, Uli founded MetaDesign over twenty years ago. Since then the designer and brand expert is not only responsible for the strategic direction of the company, but has also worked as a lecturer at universities such as the Berlin University of the Arts (UdK). Despite her busy agenda as an entrepreneur, advisor, and columnist, Uli Mayer-Johanssen took the time to guide us through her home and company.
This portrait is part of our ongoing collaboration with ZEIT Online who present a special curation of our pictures on their site.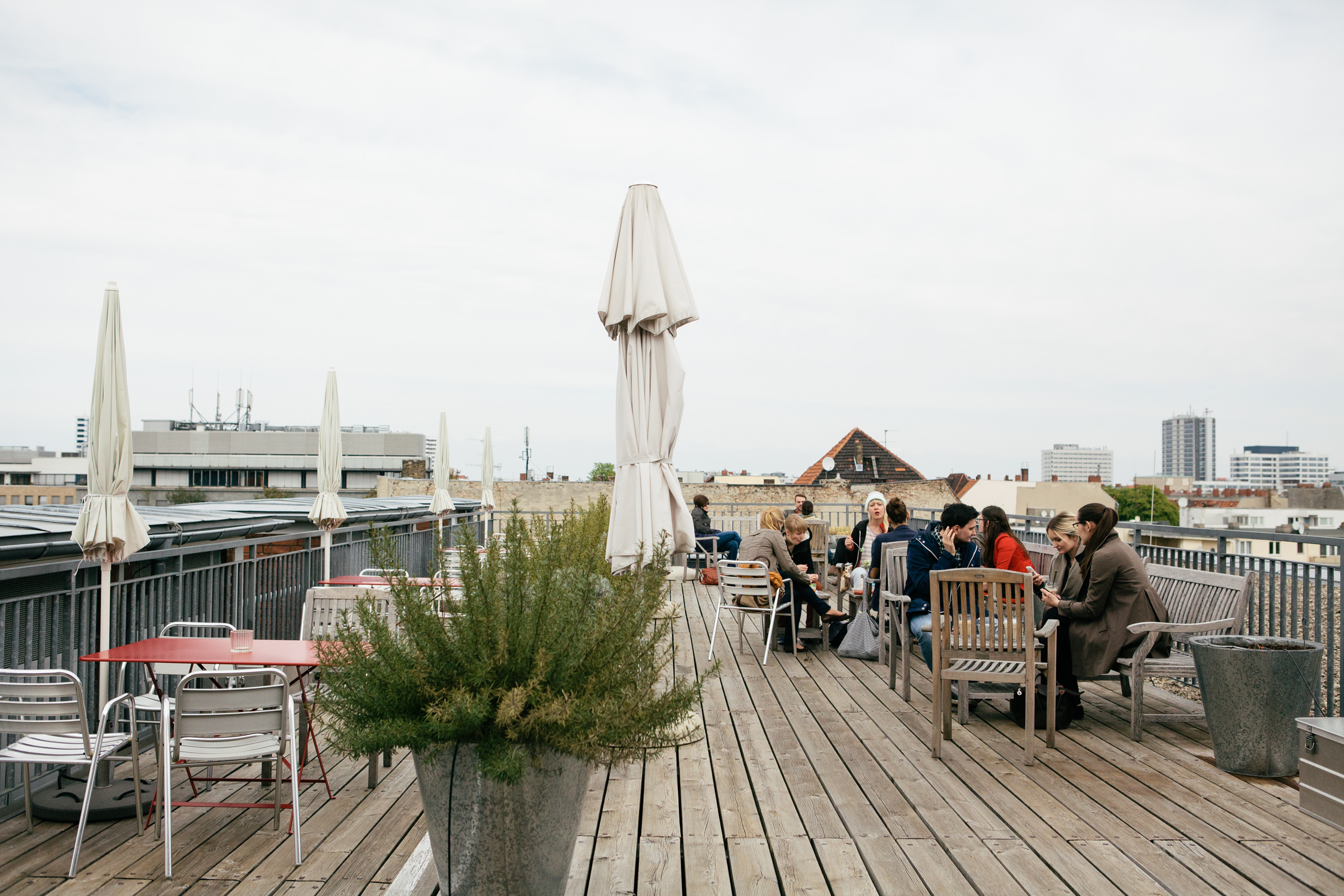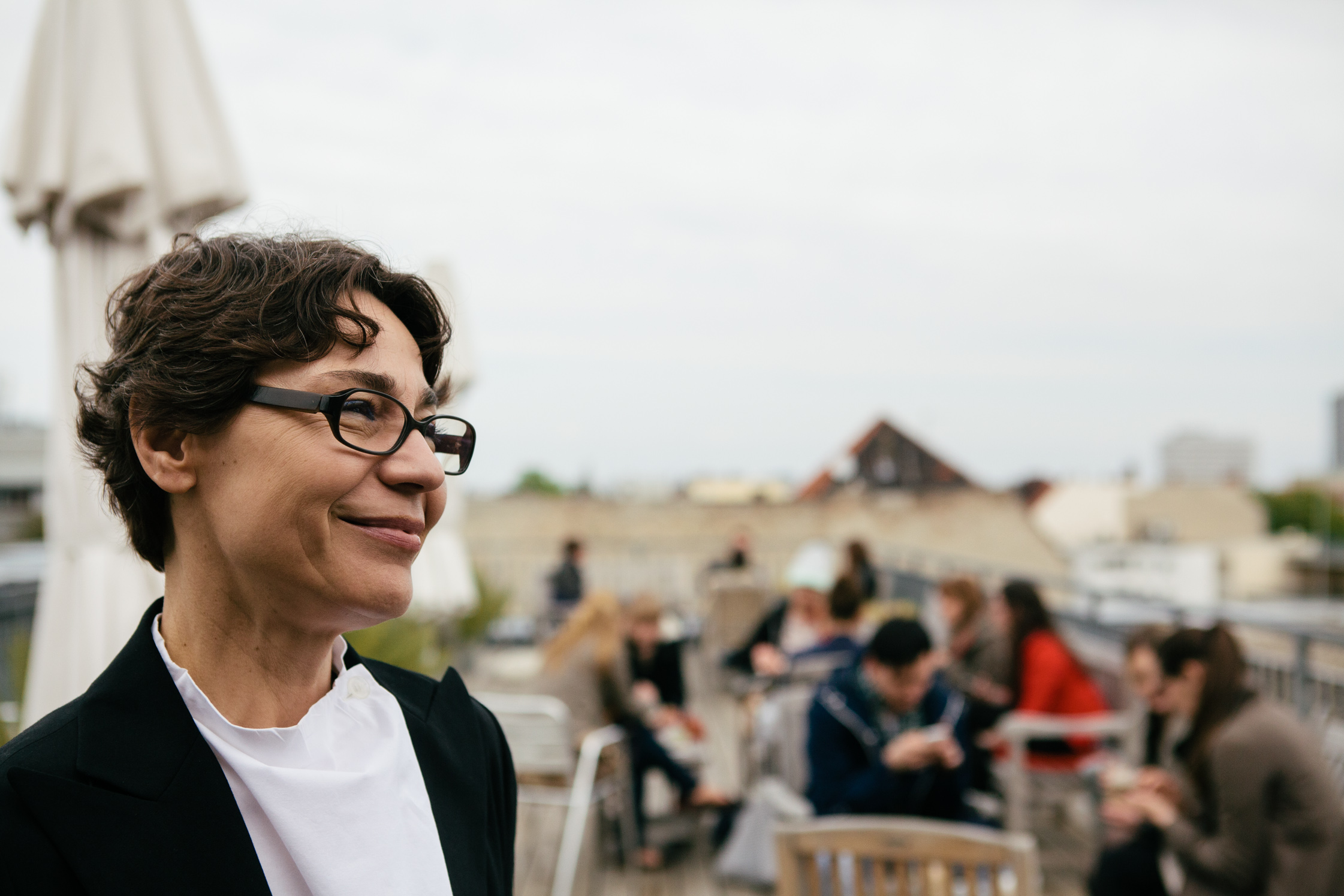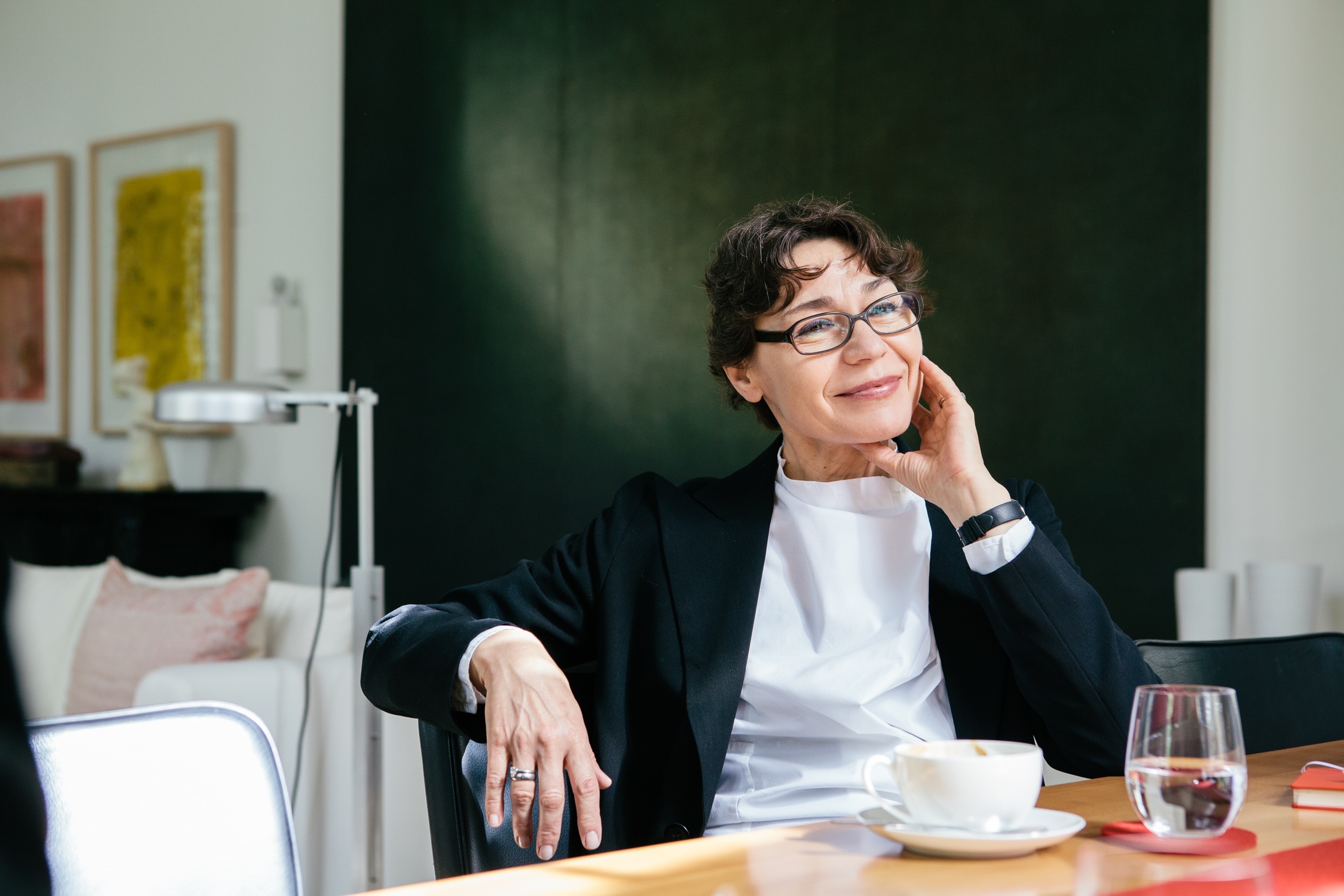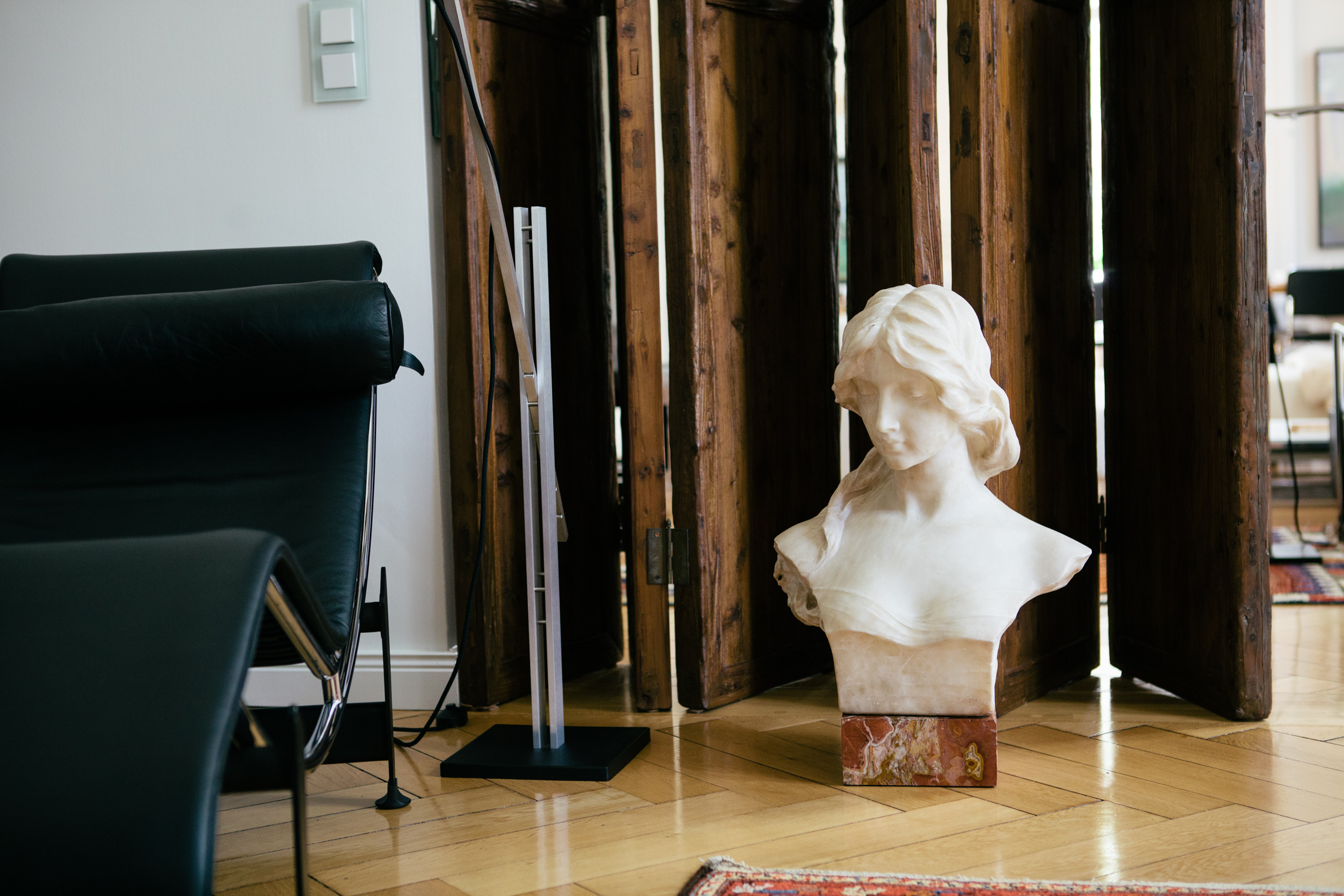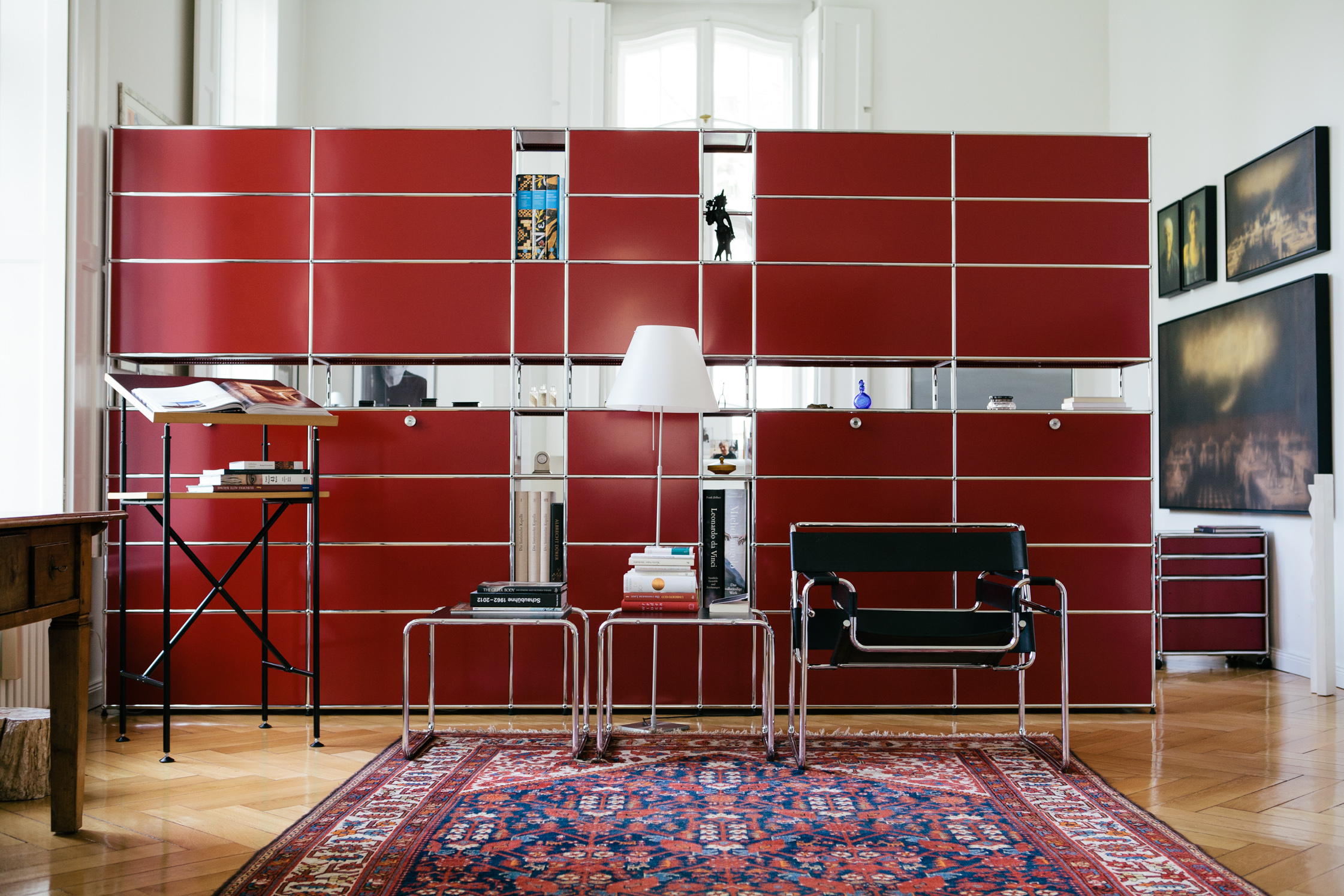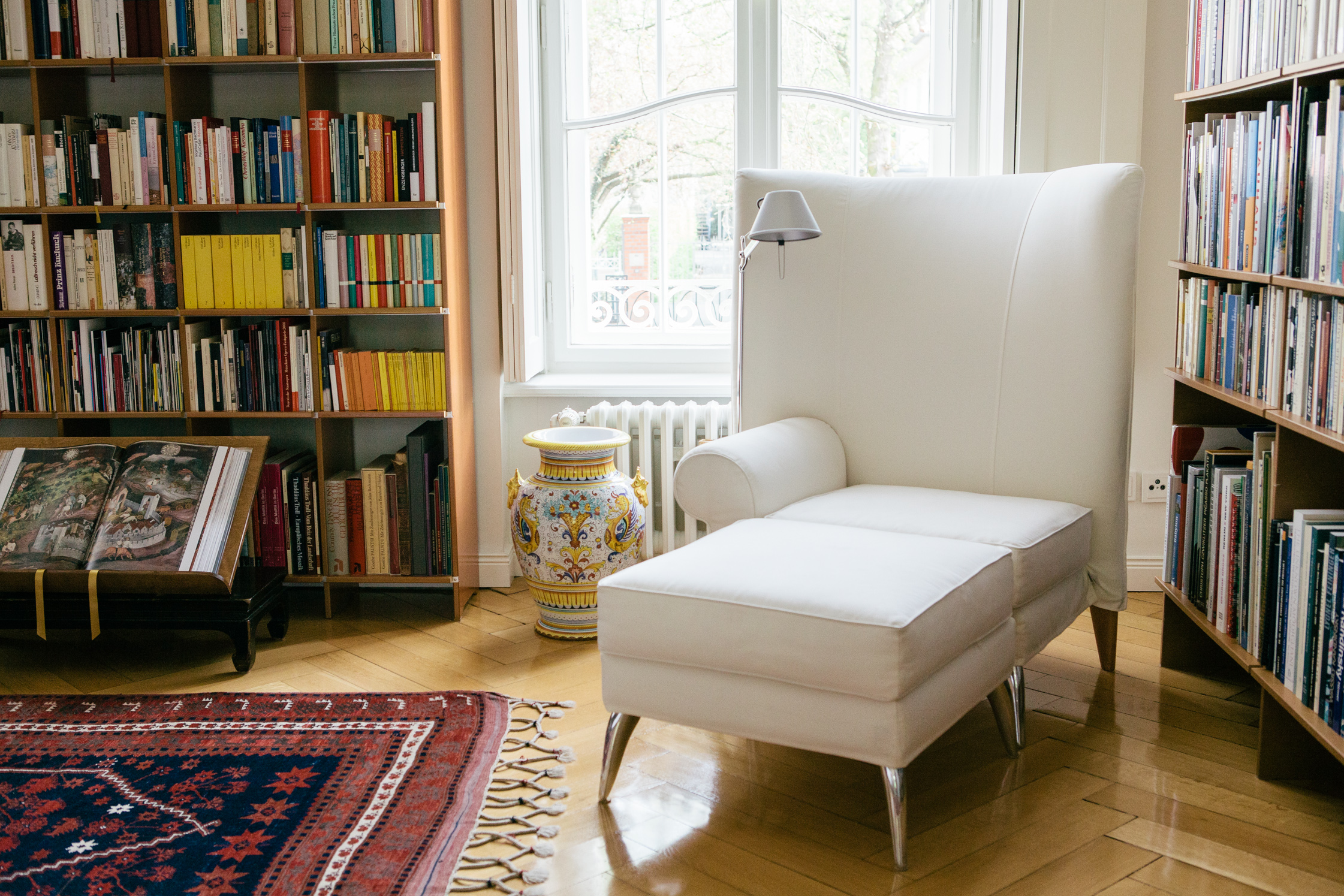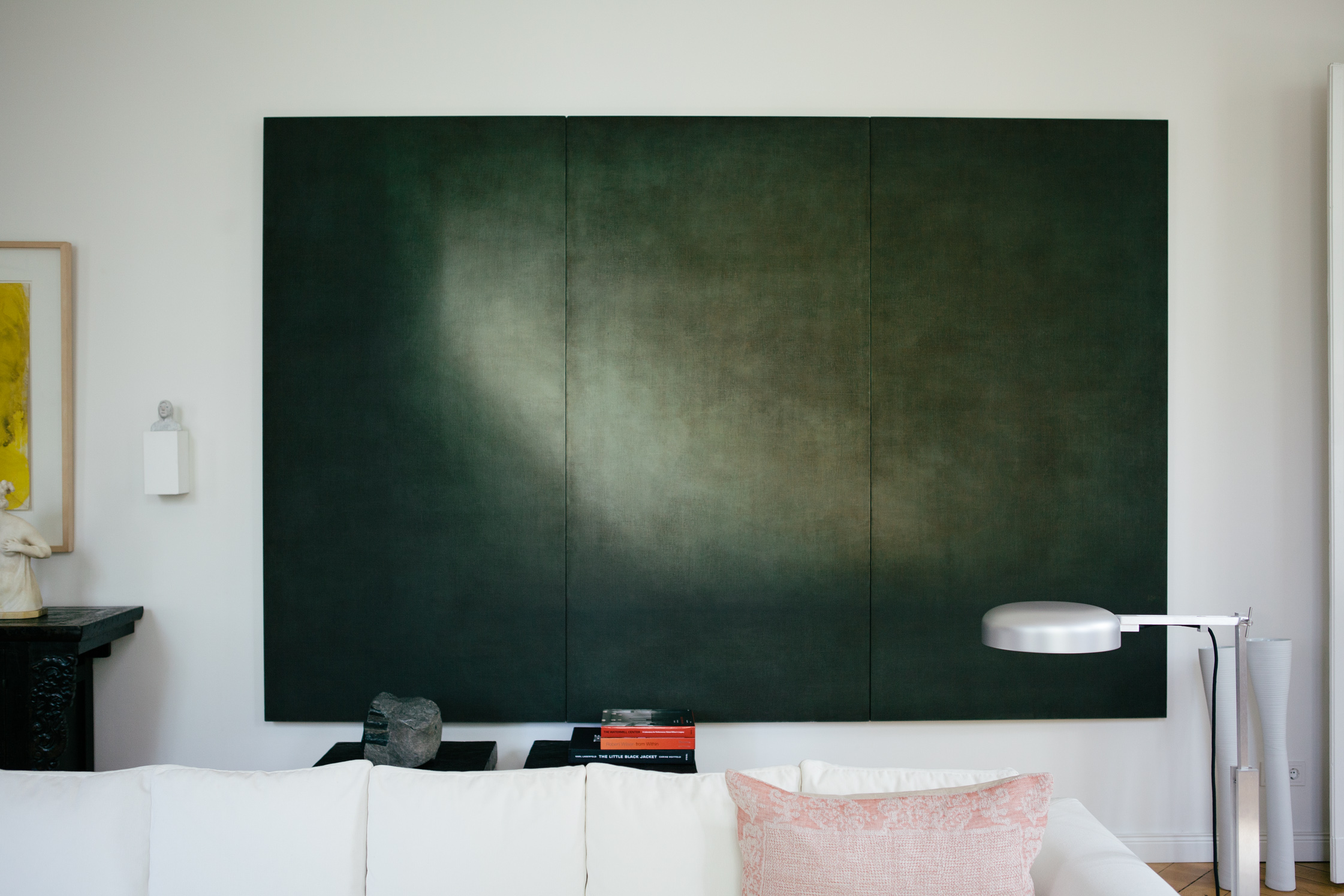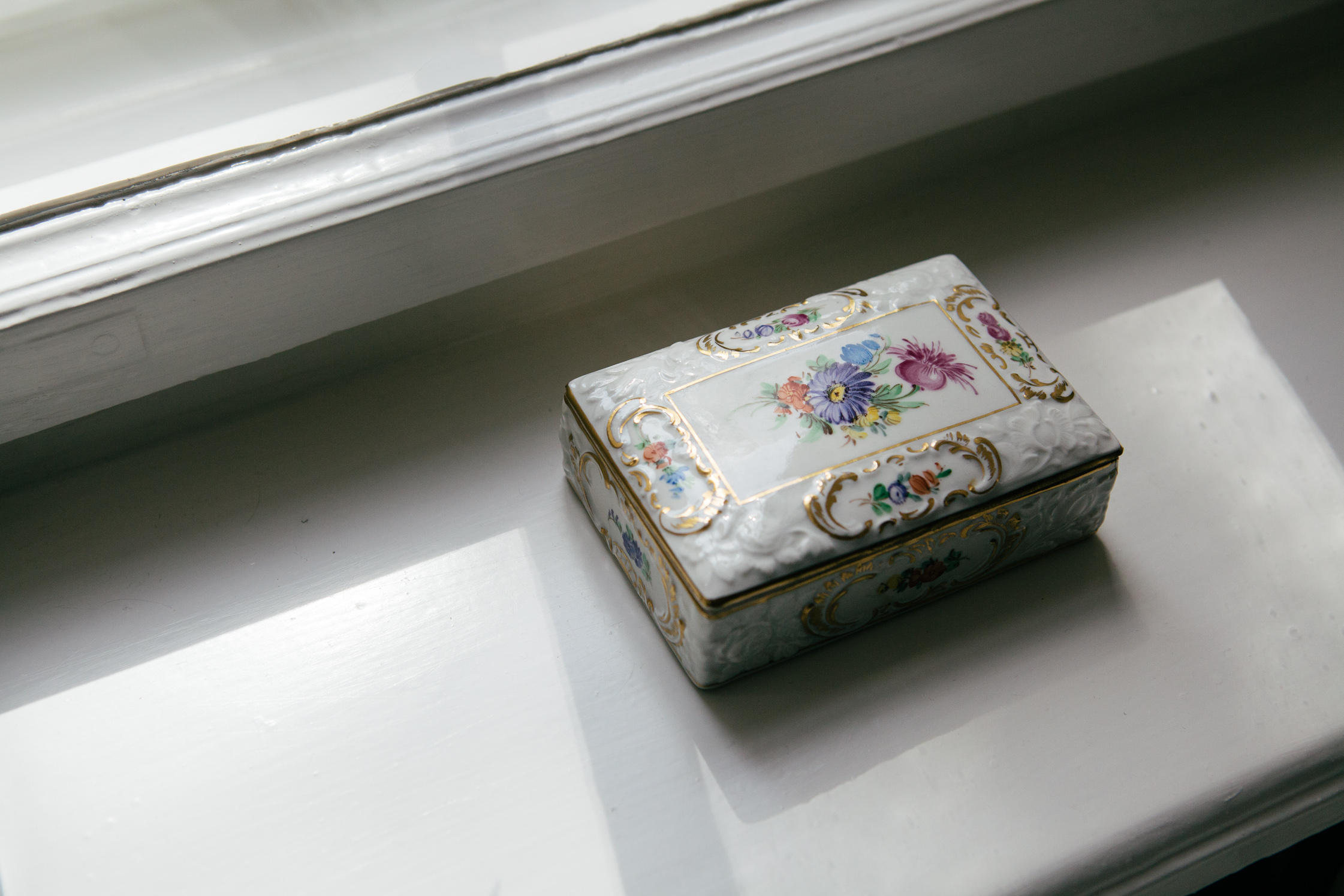 How did you find such a wonderful house?
Back then, we were searching for a long time for a place that would at least fulfil half of our expectations. In Berlin it is much more difficult than in Hamburg or Munich. Berlin not only suffered a lot during the war but also afterwards as well. This was reason enough for people not to invest in it for centuries. Most houses were split up, demolished, or essentially given to fate of decay.
This house is hundreds of years old and has an interesting history: it was built in 1912 by a general, then followed by a baroness, and then during the war it was used as a casino like many buildings here. As soon as we entered the rooms, we were enamoured. The tall ceilings, the wonderfully old windows, parquetry flooring, view to the garden and the big old trees – everything radiated so much beauty and warmth that it was impossible not to fall in love with the place.
How would you describe your interior?
I think that one is able to feel the personal history of each item here. When I met my husband almost twelve years ago, it seemed to be quite the task to combine two worlds. But surprisingly enough things complemented each other and an interesting combination of new and old was created. For instance my husband used to love antique kilims and sofrehs.
As a young student he visited relatives several times in Turkey, who worked at the German embassy in Istanbul. During this time, he developed a love for Turkey's culture: its mosques, ornaments, world of forms and color. I wasn't very fond of carpets at the beginning, but kilims just possess such a blinding beauty. I would not decorate the rooms differently if I was given the chance.
Is it difficult for you to be here after your husband's passing?
I certainly didn't know how it would be to stay here without him. Whether it would be a sentiment possible to bear. We often spent hours together figuring out what place would be best for each object. With time, it turned out that this intense contemplation gave the rooms its special charisma. He is everywhere, present in every corner of the house. It is still our home.
There are two portraits of your husband and yourself…
…Yes, they are by Nikolai Makarov. One Saturday afternoon we were sitting at Paris Bar, above which my office was housed in the rooms of Carl von Ossietzky for many years. It was one of those afternoons where time seemed to stand still, as if the entire day had been a sunset. I discovered a catalogue and was going through it when the bartender arrived and mentioned that Nikolai had just arrived. He sat down at our table and just like that an afternoon turned into a wonderful evening.
Soon after we visited Nikolai's atelier and immediately fell in love with his profound, almost meditative paintings. Later on I asked Nikolai if he could do a portrait of my husband which would serve as a birthday present. That is how the paintings were created. In recent years Nikolai has used Paris Bar as a motif over and over again, and in the course of this he cited the famous motif by Kippenberger that he re-interpreted. That is also how the last supper citation of Peter, our friends, and myself came into existence. We have been friends for a long time which gives the work an even deeper significance. I wouldn't describe myself as a collector but art is an important part of my life.
What are your favorite pieces?
Almost every piece contains a story. Whether it is the Murano glass work by Pedrosa – it was one of the first objects my husband and I discovered together – the beautiful crystal chandelier, sculptures, paintings, or the wonderful sofrehs. I could talk about my fascination for these objects for hours, so it is quite hard to choose one favorite object.
Why did you decide on a South Tyrolean parlor within your home in Berlin?
South Tyrol was almost like our second home. For many years we tried to spent as much time as possible in the mountains during the Summer. During that time, many places and people grew close to our hearts. In our favorite hotel 'Berghofer' in Radein stands a fantastic gothic parlour. The scent of the Swiss pine, warmth, and safety provides a wonderful feeling.
While we were sitting together with Zeno Bampi, a great friend and architect and his wife Judith, on a terrace and looking at the panorama (the sensation of wrench almost present), I suddenly said out loud: "I would like to have a parlor like that," and Zeno just replied: "We will make one!" My husband and I just looked at each other and quickly considered it absurd, but then realised how wonderful it would be. A long story was born that ended with this beautiful parlor actually existing within our home.
The feeling of being in Berlin is almost forgotten, just like it is on our terrace or in our garden. During the summer the leaves on the trees get so thick that everything on the exterior magically vanishes. I love being here. As I am away very often, I can find peace and strength here. There is no better place to spend the mornings than in the small breakfast room where a painting of Spring scenery with blossoming trees hangs, while the sun shines and the birds chirp. It always reminds me of Tschechow's Cherry Garden.
Tell us about the film posters 'Der Himmel über Berlin' (Wings of Desire) by Wim Wenders?
I was fortunate to design the posters for Wim Wender's 'Der Himmel über Berlin' in 1989. It was fascinating to see the development of the film. As there was no concrete script and Wim and Peter Handke would continue to create each scene with spontaneity and intuition, there were many versions until the film received its final form. I sat next to Peter Przygodda and Wim Wenders a few times in the cutting room and was able to take part in this tentative search. This took great importance within my work and the posters. I gave many of them away to people involved, but some of them I still own. Particularly the poster in French, ' Les Ailes du Desire,' which I really like.
You also own many sculptures. Where does this passion come from?
Even though my grandfather was a sculptor and stone carver, it took me sometime to get close to that particular field. After journeys to Italy, specifically during and after my studies at the Berlin University of the Arts (UdK), I developed a strong interest and love for it. 'Prinzessinnengruppe' (Princesses' Group), a copy of the plaster mould of the Staatliche Museen zu Berlin, basically forms an opening to a new world which to this day is full of fascinating discoveries. We got the baroque frame of the mirror renovated and completed, after having used its broken parts as a doorframe for a long time. A restorer designed and carved the missing part and that is how this wonderful mirror came into existence.
It is amazing to see how objects receive a new life. It is also fascinating to see the art of handwork. Every object begins to narrate its own tale and develops a detectable aura. I appreciate that about Berlin. The city doesn't want to be discovered and won't form itself. It doesn't offer an imposition, but it is simply up to you to make the first step. Berlin doesn't wish to instruct or dominate, it simply lets you be. This often leads to discovering things on one's own.
How did you end up in Berlin?
Originally I come from a small town in Baden-Württemberg and I studied graphic design at the Merz-Akademie in Stuttgart. At that time my brother had just moved from Würzburg to Berlin in order to pursue his diploma. He gave me a ticket to Berlin for my 16th birthday. I considered Berlin really exciting and interesting, even though the city was still quite grey and marked by the war in 1974. After my studies, I considered moving to Munich in order to study art. By coincidence my brother asked me if I wanted to come to Berlin for a while. That was the beginning of a long friendship. I like the open spaces here that one is able to fill. However, Berlin was never an easy city. It had such Prussian strength, like an old aunt with her hair tightly knotted in a bun. The valuable and loveable comes with time.
How did you master your path?
I studied visual communication at the former HdK – today the UdK – with emphasis in painting and philosophy. As I had to finance my studies, I worked as a graphic designer directly after having arrived in the city. I was fortunate enough to meet wonderful people who gave me great support and courage in the most difficult times. For a while I couldn't decide between painting and graphic design. At times I am still confused about it even now. But as I have always liked to work with other people and considered it almost always as an enrichment, I chose communication and design in 1989.
Out of this decision you established MetaDesign?
Yes. After having worked together with Günter Fannei in an office above Paris Bar, I realised, as the agency was moving more towards advertisement, that I was extremely fascinated and interested by the conceptual and strategic dimensions of visual communication.
My function as a student representative mainly consisted of committee work. That is how I met Erik Spiekermann, who during that time was applying for a position as a professor in our field at HdK. Furthermore, my classmate Hans-Werner Holzwarth worked in his office in Motztstraße. It happened like it was supposed to happen. We had our first conversation about a possible collaboration alongside espresso and chocolate ice cream. 'Der Himmel über Berlin' playing at the theatres at that time, something that seemed to awaken Erik's typographical interest. We both agreed that the conceptual dimension of design in Germany had not yet reached its potential.
We saw immense opportunity within the areas of corporate design and corporate identity. Essentially that is how the foundation of the agency MetaDesign came together with Hannes Krüger, which, many years later was transformed into a corporation.
According to you, what is strategic-visual communication?
The visual always contains a strategic dimension. The question is whether this potential is being recognised, applied, and reasonably used. Throughout history, just like within the catholic church, paintings, writings, culture, and forms have been used since the very beginning. Every symbol and every painting transports messages and content contextually. This is most clear, for example, when we try to decipher characters of a foreign, obliterated culture. The biggest problem here is the displacement of meaning and interpretation of forgotten characters or images. We must first understand how people used to live and think in order to decipher the significance of the character's messages.
Transferring this premise to different contemporary working contexts is exactly what strategic-visual communication is about. To produce satisfactory work, we must understand how signs transport and convey messages, so we can create adequate forms and provide unique and concise appearances. The aim is to connect this work via different contacts, channels, and media as much as possible. The holistic perception of a brand goes beyond the design of the logo, print and online media.
Speaking of this, it is utterly important that companies understand what they stand for, as well as their visions and goals. People won't be able to tell them what makes them unique and competitively viable otherwise. They can only formulate what they already know. Rarely something new or unique comes out of that, which could be developed further.
Where does MetaDesign stand nowadays?
Since its establishment, many things have shifted. In the last 23 years not only has the market changed but so have the demands expected from the company. Naturally, this cannot be ignored. The projects are becoming more fractal, the holistic view with regards to impact within work with brands becomes increasingly lost, which in the long-run will have fatal consequences for the company and its brands. Our goal is to lead brands strategically with holistic and creative communications.
How did you build this confidence and experience to advise others?
Principally, we offer action and decision options. Alongside the client we acquire the fundamentals. In the end they have to convert whatever they discuss with the employees and clients, in particular, the visual.
In this respect, we are strategic visual-sensual companions. We reflect the company's reality and offer our clients the opportunity to understand the consequences of their actions. We try to make the brand become the very innovation within the company. We supervise many of our clients for a longer amount of time. For example, we have worked with Audi and Volkswagen for almost twenty years. In situations like these a certain trust and effectiveness is developed from which both sides profit and are constantly being nourished.
What is the secret of a successful corporate identity?
As we are part of a world that increasingly becomes faster, more global and inconsistent, as well as increasingly shaped by technology, media, and channels, it is necessary to establish an equally concise appearance and a clear anchorage in order to expose recognisable features. We are in a world that increasingly becomes more complex and has a demand for easy questions that are often the hardest to present and resolve. Nowadays everybody can make a film. But to create something consciously and strategically that orients itself around the values and self-image of the company is much more complex
Sending constantly changing impulses and messages isn't an answer either. We must find ways in order to replace frequency with something concise. People love variety and independence, which simultaneously overstimulates, eventually leading to unhappiness. So the question remains: what creates consistency? The visual is invincible here. Only through the content do the messages receive relevancy.
Speaking of visual: MetaHaus is housed in quite an impressive building. Why?
Since 1987 we have been looking for a building that would suit our expectations and future work process. When we discovered the transformer station, we all agreed that this would be the perfect place. However, we severely underestimated the difficulties in transforming an industrial construction into an office building – in which people instead of machines would be working. We bought the building and created a team that would follow the entire process, alongside the architect Kahlfeld helped to awaken this sleeping beauty.
There are so many peculiarities in this landmarked building. For instance, the observatory reminds me of a control centre inside a spaceship. The room basically anti-seismically floats within the building. It was the only place where both people who managed the machine would actually be working.
After various challenges it was finalised in 2001. That combination of new and old, industrial architecture meeting modern work process, goes perfectly with our work as brand specialists. When there is nice weather the terrace offers a beautiful view over the city and many of our employees use it for their short breaks. Our library, a big conference room and the imposing atrium are extremely beautiful and act as a perfect frame for what we do here on a daily basis.
You are a successful woman – do you commit yourself to women being in leading positions?
Basically MetaDesign made that happen. From early on we had women in positions of responsibility. Women cannot be dismissed. They do a great job, are amazing creatives, extremely responsible, and reliable. For some time now it is not about who is better. It has become increasingly more important to concentrate on different abilities and skills and avoid that silo thinking. Our projects exist through our interdisciplinary work and the creation of qualitative synergies – women would be indispensable here.
Many thanks for taking time out of your busy schedule to speak with us Uli Mayer-Johanssen and welcoming us to your unique home. Find out more about Uli's company MetaDesign here.
This portrait is part of our ongoing collaboration with ZEIT Online who present a special curation of our pictures on their site. Have a look here.
Interview & Text: David Torcasso
Photos: Philipp Langenheim
Die Räume sind dank der großen Fenster mit Licht durchflutet, das die sorgfältig ausgewählten Möbel und Kunstwerke in einen besonderen Glanz taucht. An einem Ort des geschichtsträchtigen Hauses hält sich die Chefin der Berliner Branding-Agentur MetaDesign am liebsten auf: dem Frühstücksraum. Denn von hier aus hat sie einen schönen Blick auf die großen Bäume und den Garten. Doch nicht nur das Zuhause von Uli Mayer-Johanssen ist eine Entdeckungstour. Auch der Sitz ihres Unternehmens, das MetaHaus, in der Leibnizstraße ist in einem markanten Gebäude untergebracht, einem alten Umspannwerk, das durch den Denkmalschutz einiges an Schätzen birgt. Vor elf Jahren wurde das Gebäude von MetaDesign umgestaltet, so dass auf den sechs Etagen und 14 Ebenen Menschen statt Maschinen arbeiten können. Aus dem Abspannwerk wurde ein Haus mit kreativer Hochspannung.
Gegründet wurde MetaDesign, Deutschlands führende Agentur für integrierte und ganzheitliche Markenführung, allerdings schon vor über zwanzig Jahren – unter anderem von Uli Mayer-Johanssen. Die Designerin und Markenexpertin ist seitdem nicht nur im Vorstand für die strategische Ausrichtung des Unternehmens verantwortlich, sondern darüber hinaus seit vielen Jahren als Dozentin an Hochschulen, von 2009 bis 2011 als Gastprofessorin an der UdK, tätig. Ihre Agenda ist durch ihre Verpflichtungen als Unternehmerin, Referentin und Kolumnistin entsprechend gefüllt. Trotzdem hat sich Uli Mayer-Johanssen Zeit genommen, um uns durch ihr Haus und Unternehmen zu führen.
Wie findet man in Berlin ein so tolles Haus?
Wir haben damals sehr lange nach einem Ort gesucht, der unseren Vorstellungen halbwegs entsprach. In Berlin ist das schwieriger als in Hamburg oder München. Denn Berlin hat nicht nur im Krieg, sondern auch in der Zeit danach sehr gelitten und war deswegen für viele Menschen in Deutschland Jahrzehnte lang nicht attraktiv genug, um zu investieren. Die meisten Häuser wurden aufgeteilt, abgerissen, oder wurden sich und dem langsamen Verfall überlassen. Dieses Haus ist hundert Jahre alt und hat eine interessante Geschichte: Gebaut wurde es 1912 von einem General, dann folgte eine Baronin und während des Krieges wurde es – wie viele dieser Häuser zeitweise als Casino genutzt. Es ist wirklich ein Glücksfall. Kaum hatten wir die Räume betreten, war es auch schon um uns geschehen. Die hohen Decken, die wunderbaren alten Fenster, das Parkett, der Blick in den Garten, die großen alten Bäume, alles strahlte eine Wärme und Schönheit aus, dass wir gar nicht anders konnten, als uns Hals über Kopf zu verlieben.
Wie würden Sie den Einrichtungsstil beschreiben?
Ich glaube schon, dass man spürt, dass die Gegenstände ihre eigene Geschichte haben. Als ich meinen Mann vor annähernd zwölf Jahren kennen lernte, schien es eine Herausforderung zu werden, zwei Welten miteinander zu verbinden. Aber erstaunlicher Weise ergänzten sich die Dinge ganz wunderbar und wurden zu einer spannenden Mischung aus Alt und Neu, aus Gegensätzen, die großartig zusammenwirken. Mein Mann liebte beispielsweise antike Kelims. Als junger Student war er einige Male bei Verwandten in der Türkei, die in Istanbul bei der Deutschen Botschaft arbeiteten. In dieser Zeit entwickelte er eine Liebe zu dieser Kultur, den Moscheen, Ornamenten und der Farb- und Formenwelt. Am Anfang habe ich mich mit Teppichen etwas schwer getan, aber die Kelims und Sofrehs hatten einfach etwas betörend Schönes. Ich würde die Räume auch heute nicht anders einrichten.
Ist es für Sie schwierig nach dem Tod Ihres Mannes hier zu sein?
Nachdem mein Mann gestorben war, wusste ich in der Tat nicht, wie es ohne ihn hier sein würde. Ob ich es ertragen könnte hier zu sein. Wir haben oft Stunden damit zugebracht, die richtigen Plätze für all die Dinge, die wir ins Herz geschlossen hatten zu finden. Mit der Zeit hat sich gezeigt, dass erst durch diese intensive Auseinandersetzung etwas entstehen konnte, was den Räumen genau diese Ausstrahlung verleiht. So ist er überall – und es ist wunderbar, er ist so präsent, wie eh und je. Für mich ist es nach wie vor unser, mein Zuhause.
Es gibt zwei Portraits von Ihnen und Ihrem Mann…
… ja, sie sind von Nikolai Makarov. An einem Samstag Nachmittag saßen wir in der Paris Bar, über der viele Jahre mein Büro in den Räumen der Weltbühne von Carl von Ossietzky war. Es war einer jener Nachmittage, in denen die Zeit still zu stehen schien, ganz so als wäre der Tag ein einziger langer Sonnenuntergang. Ich entdeckte einen Katalog und blätterte darin, als der Kellner zu uns kam und meinte, Nikolai sei gerade hier. Er kam an unseren Tisch und so wurde aus dem Nachmittag ein wunderbarer Abend. Wir haben ihn kurze Zeit später in seinem Atelier besucht und uns gleich in die tiefen, fast meditativen Bilder verliebt. Später habe ich Nikolai dann gefragt, ob er ein Portrait von meinem Mann machen würde, es sollte ein Geburtstagsgeschenk werden und so entstanden die beiden Bilder. Nikolai hat in den letzten Jahren die Paris Bar immer wieder als Motiv verwendet und dabei das berühmte Kippenberger Motiv zitiert und neu interpretiert. So entstand auch das Abendmahlzitat mit Peter und mir und Freunden. Inzwischen sind wir seit vielen Jahren befreundet, was die Arbeiten noch bedeutender für mich macht. Ich würde mich nicht als Sammlerin bezeichnen, aber Kunst ist ein wichtiger Teil meines Lebens.
Was sind Ihre Lieblingsgegenstände?
Fast jeder Gegenstand erzählt für mich eine Geschichte. Ob die wunderbare Arbeit von Pedrosa aus Murano-Glas, sie war einer der ersten Gegenstände, die mein Mann und ich gemeinsam entdeckt haben, der wunderbare Kronleuchter aus Kristall, Skulpturen, Bilder oder die wunderschönen Sofrehs, sicher ließe sich Stunden darüber reden, was an ihnen besonders oder faszinierend ist, insofern ist es für mich extrem schwer zu sagen, was mein Lieblingsgegenstand hier ist.
Wie kam es zu der Südtiroler Stube hier in Berlin?
Südtirol wurde für uns fast so etwas wie eine zweite Heimat. Viele Jahre verbrachten wir soviel Zeit, wie möglich im Sommer in den Bergen und so sind uns viele Orte und Menschen ans Herz gewachsen. In unserem Lieblingshotel, im Berghofer in Radein, gibt es eine unglaublich schöne gotische Stube. Der Duft der Zirbelkiefer und die Wärme und Geborgenheit, die diese Stube ausstrahlen, hat etwas ganz Besonderes. Wir saßen mit Zeno Bampi, einem wunderbaren Freund und Architekt und seiner Frau Judith auf der Terrasse, blickten verträumt in das weite Panorama und hatten schon fast ein wenig Abschiedsschmerz, da hörte ich mich plötzlich sagen: "So eine Stube hätte ich auch gerne", und Zeno sagte nur: "das machen wir!" Mein Mann und ich blickten uns kurz an und dachten, das ist jetzt zwar völlig verrückt, aber es wäre großartig.
Und so begann eine lange Geschichte, die damit endete, dass eines Tages diese wunderbare Stube hier tatsächlich eingebaut wurde. Man kann hier fast vergessen, dass man mitten in Berlin ist, genauso wie auf unserer Terrasse und dem Garten. Im Sommer ist das Laub der Bäume so dicht, dass alles um uns herum wie durch einen Zauber verschwindet. Ich bin unglaublich gerne hier. Da ich, wie so viele Menschen, recht viel unterwegs bin, gibt mir dieser Ort Ruhe und Kraft. Der kleine Frühstücksraum mit dem Gemälde einer Frühlingsszene mit blühenden Bäumen, die mich immer wieder an Tschechows Kirschgarten erinnern, ist, wenn die Sonne scheint, die Vögel zwitschern, der beste Ort für einen guten Start in den Tag.
Was hat es mit den Filmplakaten "Der Himmel über Berlin" von Wim Wenders auf sich?
Ich hatte das Glück, 1989 für Wim Wenders Films "Der Himmel über Berlin" die Filmtitel zu entwerfen. Es war faszinierend zu sehen, wie der Film sich entwickelte. Da es mehr oder weniger kein festes Drehbuch gab und Wim mit Peter Handke sich immer wieder tastend durch die Szenen gearbeitet haben, gab es viele Fassungen, bis der Film seine endgültige Form erhalten hatte. Einige Male saß ich im Schneideraum neben Peter Przygodda und Wim Wenders und durfte an der tastenden Suche ein wenig teilhaben, was für meine Arbeit und die Blätter, die dann entstanden sind, unglaublich wichtig war. Ich habe zwar viele davon den Beteiligten geschenkt, aber einige besitze ich heute noch, insbesondere den Französischen Titel, "Les Ailes du Desire", das mag ich sehr.
Sie besitzen auch viele Skulpturen, woher kommt diese Leidenschaft?
Obwohl mein Großvater Bildhauer und Steinmetz war, habe ich mich lange nicht an das Thema gewagt. Erst die Reisen nach Italien, insbesondere während und unmittelbar nach meinem Studium an der heutigen UdK, haben meinen Blick dafür geschärft und meine Liebe dazu geweckt. Die Prinzessinnengruppe, eine Kopie, aus der Gipsformerei der Staatlichen Museen zu Berlin, bildete sozusagen den Auftakt in eine neue Welt, die bis heute voller faszinierender Entdeckungen ist. Den Barockrahmen des großen Spiegels, haben wir, nachdem ich die beiden Seitenteile, die zum Teil beschädigt waren und die ich lange Zeit für Türrahmen hielt, wieder aufarbeiten und vervollständigen lassen. Ein Restaurator hat das fehlende Teil entworfen und geschnitzt und so wurde daraus wieder ein wunderbarer Spiegel. Es ist einfach großartig zu sehen, wie den Dingen neues Leben eingehaucht wird und faszinierend ist auch zu erleben, wie wunderbar Handwerk sein kann. So beginnt jeder Gegenstand eine Geschichte zu erzählen und es entsteht eine Aura, die man fühlen kann. Das mag ich auch an Berlin. Die Stadt lässt dich entdecken, sie will dich nicht formen, drängt sich nicht auf, sondern du kannst selbst losgehen. Berlin will nicht belehren oder dominieren, sondern lässt dich einfach sein. Und das fordert immer wieder dazu auf, die Dinge selbst zu erkunden.
Wie sind Sie eigentlich nach Berlin gekommen?
Ursprünglich komme ich aus einer kleinen Stadt im badischen Teil von Baden-Württemberg und habe in Stuttgart an der Merz-Akademie Grafik-Design studiert. Mein Bruder war damals von Würzburg nach Berlin gegangen, um sein Diplom zu machen. Er hatte mir zu meinem sechzehnten Geburtstag ein Ticket nach Berlin geschenkt. Ich fand Berlin unglaublich spannend und interessant, obwohl die Stadt 1974 noch sehr grau und vom Krieg schwer gezeichnet war. Am Ende meines Studiums in Stuttgart habe ich dann lange überlegt, ob ich eventuell nach München gehe, um Kunst zu studieren. Wie es der Zufall wollte, hat mich mein Bruder gefragt, ob ich Lust hätte, für einige Zeit nach Berlin zu kommen. Dies war der Beginn einer langen Freundschaft. Ich mag die Freiräume hier, die man selbst mit Inhalten füllen kann und darf. Allerdings war Berlin nie eine einfache Stadt. Sie hatte so eine preußische Strenge, wie eine alte Tante mit fest geknotetem Haar. Das Liebenswerte erschließt sich erst mit der Zeit.
Wie haben Sie dann Ihren Weg gemeistert?
Ich habe an der damaligen HdK (heute UdK) Visuelle Kommunikation, mit den Schwerpunkten Malerei und Philosophie studiert. Und da ich meine beiden Studien im Prinzip selbst finanzieren musste, habe ich in Berlin von Anfang an als Grafikerin gearbeitet. Ich hatte das große Glück vielen tollen Menschen zu begegnen, die mich unterstützt, mir Mut gemacht haben und mir auch in schwierigsten Situationen zur Seite standen. Lange wusste ich nicht so recht, ob ich mich für Malerei, oder Design entscheiden sollte. Und manchmal geht es mir auch heute noch so. Da ich in den vielen Jahren allerdings immer wahnsinnig gerne mit anderen zusammengearbeitet und dies fast ausschließlich als unglaubliche Bereicherung empfunden habe, war dann spätestens 1989 klar, dass ich mich für Kommunikation und Design entscheiden würde.
Sind sie aus dieser Überlegung auch zu MetaDesign gekommen?
Ja. Nachdem ich bereits viele Jahre mit Günter Fannei in dem Büro über der Paris Bar zusammengearbeitet hatte und klar wurde, dass sich der Schwerpunkt der Agentur neben der Arbeit für seine Verlage immer mehr in Richtung Werbung verlagern würde, wurde für mich immer deutlicher, dass es zwar nicht das Atelier werden würde, dass mich aber die konzeptionelle und strategische Dimension des Visuellen extrem interessierte und faszinierte. In meiner Funktion als Studentenvertreterin war ich stark in Gremienarbeit und in Besetzungskommissionen eingebunden. So lernte ich Erik Spiekermann kennen, der sich damals um eine Professur an der HdK in unserem Fachbereich beworben hatte. Zudem arbeitete mein Kommilitone Hans-Werner Holzwarth in seinem Büro in der Motzstraße. Es kam, wie es wohl kommen musste. Bei Espresso und Schokoladeneis hatten wie unser erstes Gespräch über eine mögliche Zusammenarbeit. Der "Himmel über Berlin" lief gerade in den Kinos, was offensichtlich Eriks typografisches Interesse geweckt hatte. Wir waren beide der Überzeugung, dass die konzeptionelle Dimension im Design in Deutschland noch lange nicht den Stellenwert hatte, den es unserer Meinung nach haben konnte und sollte. Wir sahen ein immenses Entwicklungspotenzial in den Themen Corporate Design und Corporate Identity. So kam es gemeinsam mit Hannes Krüger zur Gründung der Agentur MetaDesign, die erst viele Jahre später in eine Aktiengesellschaft umgewandelt wurde.
Was ist strategisch-visuelle Kommunikation in Ihren Augen?
Das Visuelle hat immer eine inhaltliche, strategische Dimension. Die Frage ist nur, wird dieses Potential erkannt, eingesetzt und sinnvoll genutzt. In der Heraldik, wie in der katholischen Kirche wurden zum Beispiel Bilder, Schriften, Farben und Formen von Anfang an in diesem Sinne genutzt. Jedes Symbol, jedes Bild transportiert Botschaften und Inhalte, deren Sinnzusammenhang sich allerdings erst aus dem Ganzen und dem kulturellen Kontext erschließen. Am deutlichsten wird dies, wenn wir z.B. versuchen Schriftzeichen einer uns fremden, untergegangenen Kultur zu entschlüsseln. Das größte Problem dabei ist der verloren gegangene Deutungs- und Bedeutungshintergrund der Bild- und Schriftzeichen. Wir müssen erst verstehen, wie die Menschen lebten, wie sie dachten und was für sie wichtig war, um den Zeichen ihre Botschaft zu entlocken. Im übertragenen Sinne geht es im Grunde genommen immer noch genau darum.
Wir müssen, um unsere Arbeit gut zu machen, verstehen, was die Dinge transportieren und vermitteln sollen, um den Dingen eine adäquate Form, einen unverwechselbaren und prägnanten Auftritt zu verleihen. Und dies über viele Berührungspunkte, Kanäle und Medien hinweg. Die ganzheitliche Wahrnehmung einer Marke geht weit über die Gestaltung eines Logos, der Print- oder Onlinemedien hinaus. Insofern ist es immens wichtig, dass Unternehmen wissen, wofür sie stehen, welche Ziele sie verfolgen und was ihre Vision ist. Denn die Menschen werden ihnen nicht sagen können, was sie einzigartig und wettbewerbsfähig macht. Sie können nur formulieren, was sie bereits kennen. Daraus entsteht nun mal sehr selten etwas Neues oder Unverwechselbares, was man daraus ableiten und entwickeln könnte.
Wo steht MetaDesign heute?
Seit Gründung von MetaDesign ist viel passiert. In den letzten 23 Jahren haben sich sowohl der Markt, als auch die Anforderungen an die Unternehmen massiv verändert. Das ging naturgemäß auch an uns nicht spurlos vorüber. Zudem werden die Projekte immer fraktaler, der ganzheitliche Blick auf die Wirkungsdimensionen in der Markenarbeit geht zunehmend verloren, was langfristig für Unternehmen und deren Marken fatale Konsequenzen haben kann. Insofern geht es uns immer noch und immer wieder darum, Unternehmen bei dem Bemühen nachhaltig erfolgreich zu sein, im Rahmen ganzheitlicher Markenführung die kreativen und inhaltlich-kommunikativ relevanten Impulse zu setzen, um die Marke strategisch zu führen.
Woher nehmen Sie das Selbstvertrauen, Ihren Kunden zu sagen, wo es langgeht?
Im Prinzip bieten wir Handlungs- und Entscheidungsoptionen. Wir erarbeiten die Grundlagen immer gemeinsam mit den Kunden, denn sie müssen letzten Endes ja auch einlösen, was sie den Mitarbeitern und Kunden versprechen, denn insbesondere das Visuelle, das Sinnliche in der Kommunikation weckt Erwartungen. Insofern sind wir mehr die visuell-sinnlichen strategischen Begleiter. Wir spiegeln die Unternehmensrealität und bieten unseren Kunden die Möglichkeit zu verstehen, was die Konsequenzen ihrer Entscheidungen sein könnten und versuchen die Marke zu einem Innovationstreiber im Unternehmen werden zu lassen. Viele unserer Kunden betreuen wir über einen langen Zeitraum. Audi und Volkswagen seit annähernd zwanzig Jahren. Da entsteht eine Menge Know-how und Vertrauen in die Leistungsfähigkeit, von dem beide profitieren und das sich auch gegenseitig immer wieder befruchtet.
Was ist das Geheimnis einer gelungenen Unternehmensidentität?
In einer Welt, die immer schneller, globaler, unbeständiger wird und die vermehrt durch Technologien, Medien und Kanäle geprägt wird, braucht es, um Wiedererkennungsmerkmale zu etablieren und der Marke einen ebenso lebendigen, wie prägnanten Auftritt zu verleihen, eine klare Verankerung. In einer Welt, die immer komplexer wird, wächst in gleichem Maße die Forderung nach einfachen Antworten, die bekanntlich die Schwierigsten sind. Jeder kann heute mit einfachen Mitteln einen Film machen. Doch etwas bewusst und strategisch Fundiertes zu entwickeln, ist weitaus komplexer und muss sich an den Werten und dem Selbstverständnis des Unternehmens orientieren. Ständig wechselnde Impulse und Botschaften zu senden, ist genauso wenig eine Antwort, wie die gefürchtete Uniformität. Wir müssen Wege finden, Penetranz durch Prägnanz zu ersetzen. Die Menschen lieben Vielfalt und Eigenständigkeit und gleichzeitig überfordert sie uns immer öfter und macht uns, wie immer mehr Studien zeigen, sogar unglücklich. So bleibt die Frage, was schafft Konstanz? Und da ist das Visuelle nun mal unschlagbar. Erst durch die Inhalte erhalten Botschaften ihre Relevanz. Ansonsten wäre z.B. DB einfach eine formale Buchstabenkombination, ohne tieferen Sinn oder eine Aussage.
Apropos Visuell: Auch das MetaHaus ist ein auffälliger Bau. Wie kam es dazu?
Wir waren bereits ab 1987 auf der Suche nach einem Gebäude, das unseren Vorstellungen und wie wir künftig arbeiten wollten entsprechen sollte. Als wir das Abspannwerk entdeckten, waren wir uns schnell einig, dass es großartig dafür geeignet wäre. Allerdings haben wir die Schwierigkeiten einen reinen Industriebau in ein Bürogebäude umzuwandeln, in dem Menschen und nicht Maschinen im Zentrum stehen, massiv unterschätzt. Wir hatten das Gebäude damals gekauft und ein eigenes Team geschaffen, das den gesamten Prozess begleitete und gemeinsam mit dem Architekten Kahlfeld dieses Gebäude aus einem 18-ährigen Dornröschenschlaf geweckt hat. Es gibt unzählige Besonderheiten in diesem denkmalgeschützten Gebäudekomplex, wie z.B. die Warte, die an eine Schaltzentrale aus einem Raumschiff erinnert. Der Raum "schwebt" sozusagen erbebensicher im Gebäude. Er war der einzige Ort, an dem die beiden Personen, die das Werk bedienten arbeiteten. 2001 war es dann nach vielen großen und kleinen Herausforderungen tatsächlich soweit. Dieses Zusammenspiel von Alt und Neu und aus Industriearchitektur und moderner Arbeitswelt, passt großartig zu unserer Arbeit als Markenspezialisten. Bei schönem Wetter bietet die Dachterrasse einen wunderbaren Blick über die Stadt und viele nutzen sie für eine kleine Auszeit. Unsere Bibliothek, der große Konferenzraum, das imposante Atrium, sowie die ehemalige Trafohalle sind umwerfend schön und bieten einen perfekten Rahmen für das, was wir hier tagtäglich tun.
Sie sind eine erfolgreiche Frau – setzen Sie sich für Frauen in Führungspositionen ein?
Bei MetaDesign ergab sich das eigentlich fast von alleine. Wir hatten sehr früh Frauen in verantwortlichen Positionen. Man kann einfach nicht auf sie verzichten. Sie machen einen tollen Job und sind hervorragende Kreative, extrem verantwortungsbewusst und zuverlässig. Schon lange geht es nicht mehr darum, wer die Besseren sind. Es wird ohnehin immer wichtiger unterschiedliche Fähigkeiten und Kompetenzen zu bündeln um dem Silodenken zu entkommen. Unsere Projekte leben davon, dass wir interdisziplinär Arbeiten und qualitativ Synergien schaffen, dabei sind Frauen längst unverzichtbar.
Vielen Dank Uli Mayer-Johanssen für das Gespräch und die Einblicke hinter die Kulissen von MetaDesign.
Weiterführende Informationen zur Arbeit von Uli Mayer-Johanssen's Agentur MetaDesign gibt es hier, zu ihrer Kolumne im Handelsblatt geht's hier.
Interview & Text: David Torcasso
Fotos: Philipp Langenheim