The ephemeral beauty of classical ballet and the art of architecture don't have much in common at first glance. Witnessing a dancer execute an awe-inspiring moment seems like a temporary delight compared to the ongoing pleasure of gazing at a thoughtfully designed building that stands the test of time.
Brazilian architect Carolina Rocco channeled her creativity into both fields. She started taking her first ballet classes at the tender age of three and expanded on this passion by learning jazz and contemporary modern dance; two genres that she still practices today.
As the daughter of an architect and university professor, Carolina was always fascinated with urbanism and the impact that architecture has on people's lives. For the past 18 years she has run her own architecture studio in São Paulo which she started during her studies at the Universidade Presbiteriana Mackenzie. Every opportunity available was taken to learn and produce along the way in order to gain experience in her field. Today she not only leaves her imprint on the Brazilian mega city, but continues to receive commissions from clients worldwide.
In her house, Carolina has established a late-night family routine of snuggling up in bed together with a cup of tea and letting the world pass by. She shares her home with her partner, children and cat 'Apple'. It is a space that embraces every day practicality without compromising on elegance. The interior reflects a harmonious combination of modern family life with the energy of a global metropolis.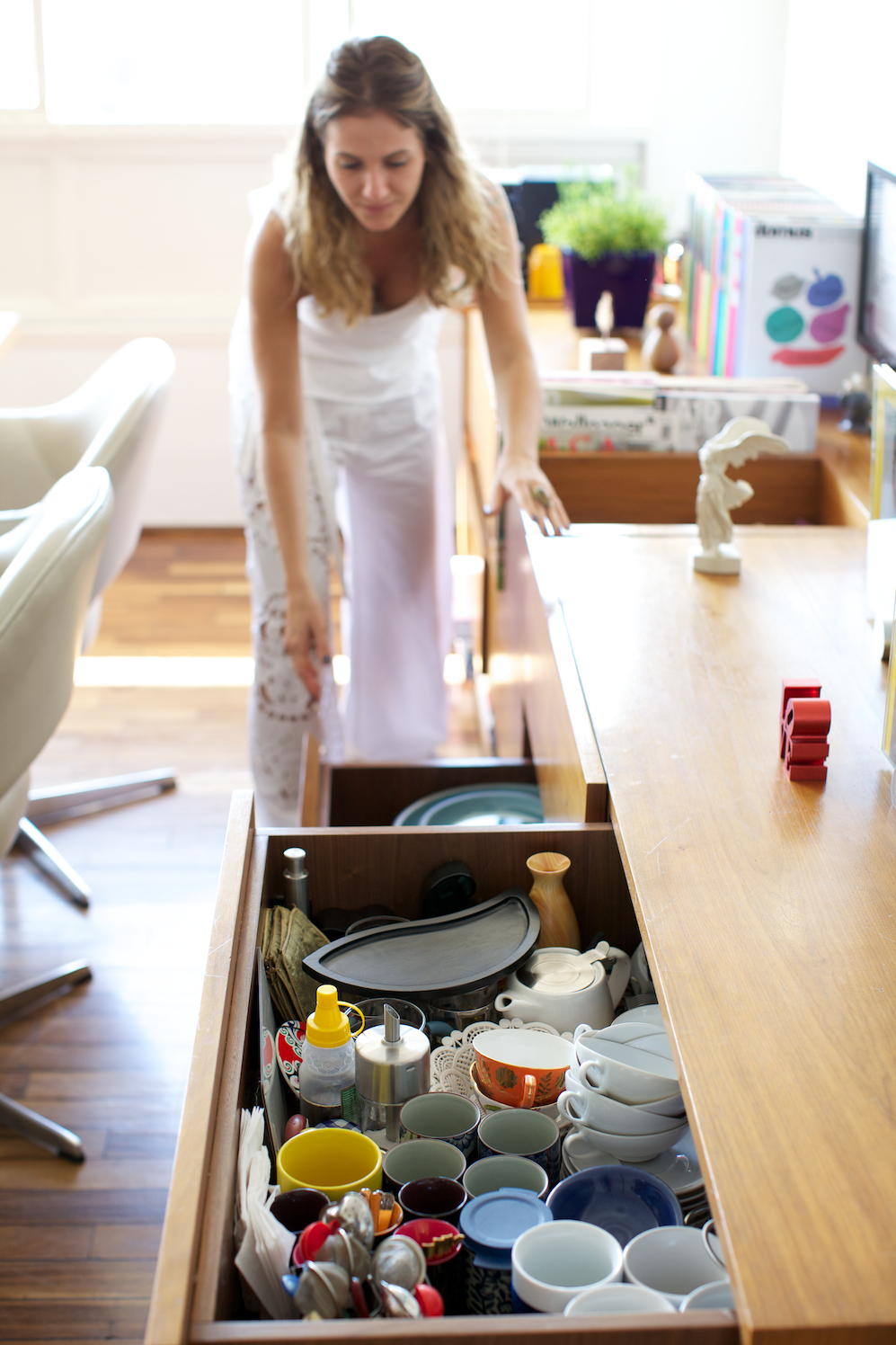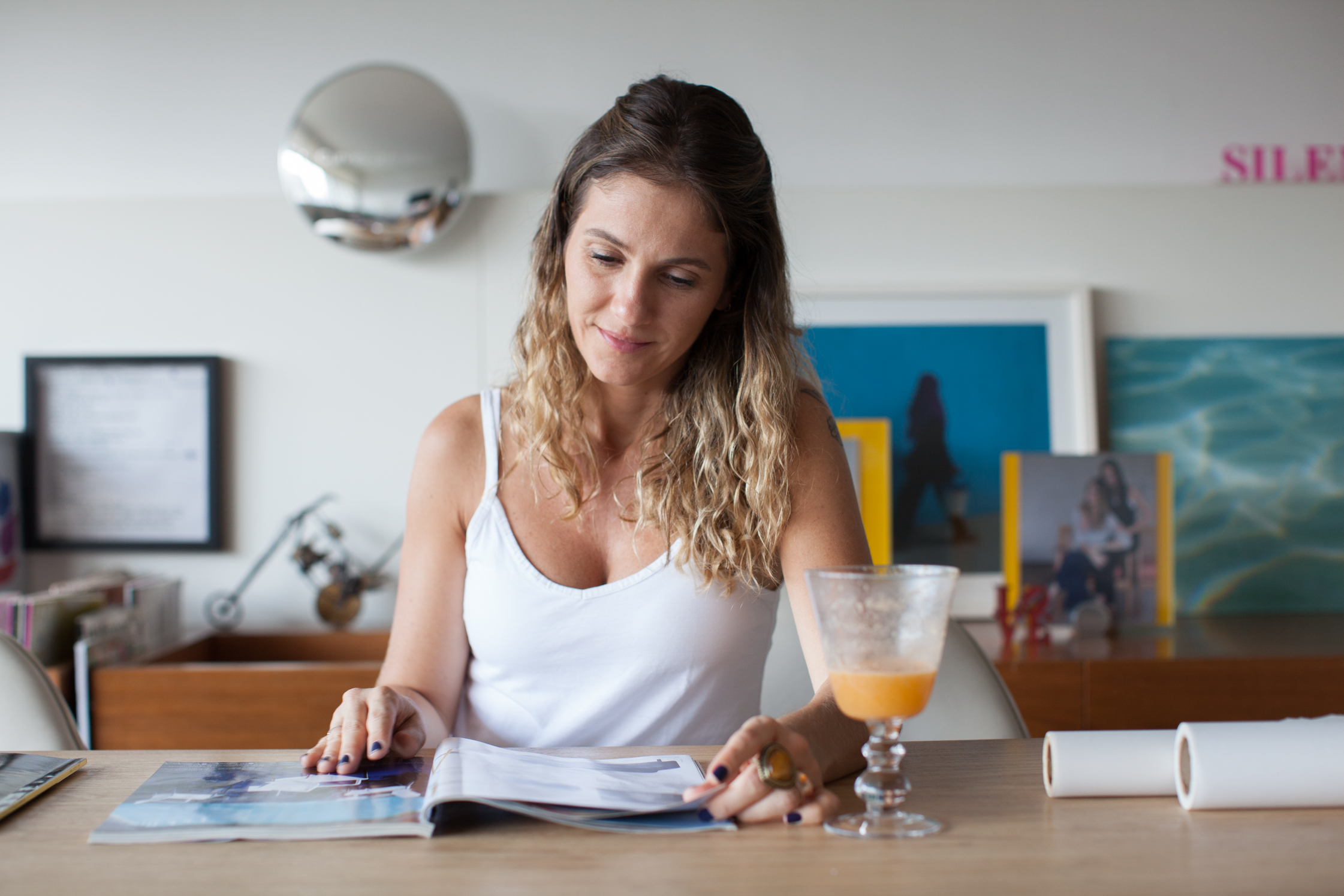 What profession did you want to pursue when you were a child?
My family jokes that I wanted to be a dancer, a secretary, a school teacher and a veterinarian all at the same time! Today my energy is the same, I still want to do everything in one day. I guess I am truly multi-tasking type of person.
So with your perspective now, if you weren't an architect what you like be or do?
If I had enough talent I'd be a ballerina. If I had courage I would like to be a doctor. However, I am very happy and think I've made the right choices.
How long have you been dancing?
I started taking ballet classes when I was three years old. Then I mixed it with jazz classes when I was 13 like many other girls at my age. I took it very seriously between the ages of 15 and 22. When I became a mother I started to learn the Graham style, a contemporary modern dance style using barefoot floor movements with many core contractions and spirals. It was a good moment for that kind of practice.
Are there many adults that practice dancing in Brazil?
Not really, Brazil has a lot of good dance schools for kids and teens but after you grow up you have just two choices: become professional or stop dancing. There was no place to go until I discovered the studio Anacã Estudio a couple of years ago. Their instructors gave me back the desire to dance. Ballet gives me strength, balance and center. Not only physical. It also means coming back to myself. For me it brings happiness, especially contemporary jazz classes.
During university, what aspect of studying architecture was your favorite?
I studied architecture at Faculdade de Arquitetura e Urbanismo da Universidade Mackenzie and all subjects were so new and interesting, but urbanism had a great impact on me. I had many interesting urbanism classes that explored the beginnings of civilization. We looked at cities that were born spontaneously and were essentially the first urban plans. We investigated these original principles and goals. There were two books that were of great interest to me: 'La modernidad superada: Architecture, Art and thinking from the XX century', by the spanish architect and professor of Barcelona University, Josep Maria Montaner and 'The Condition of Postmodernity' by David Harvey. I still reread them today and each time I learn something new.
What has been your favorite job or assignment as an architect?
It is always the next one! But my favorite would have to be Casa Morás, a project I did with the landscape architect Claudia Diamant.
Why this one? What was special about it?
I used to work on many remodeling projects. Casa Morás was a new house project within a nice setting in São Paulo. It was a project with no excesses, but complete. The house is beautiful because of its form and proportions. This house is a true 'casa paulistana'. Luxury was emphasised in the details of the construction while also capitalising on an amazing cityscape views every sunrise and sunset. It can be viewed on my website.
Do you have a favorite building?
Renzo Piano always enchants me with his projects, especially with the New Caledonia Cultural Center which is permanently my number one, Herzog & De Meuron's work on The Tate Modern was a strong intervention to an old building with such sensitivity and it is also one of my favorites.
How did becoming a mother change your professional life? Did it change the way you think about architecture at all?
Having a child made me see the world in a more embracing way. In the same way I see architecture, becoming a mother taught me to give priority to the essentials rather than the 'small things'.
Are there any particular local creatives do you admire?
There are so many. Patricia Centurion is a jewellery designer from São Paulo while also working as a concept creator. Her pieces are sourced from raw materials and transformed into beautiful creations. Juliana Bomfim, is an architect and interior designer. Her work is so creative, I can literally see her personality in it. Then there is Betina Dantas who is a ballerina and choreographer. Edy Wilson is also an amazing choreographer who manages to add a 'brazility' to his work. Kimi Nii makes ceramic sculptures that have an oriental feel fused with an exotic Brazilian influence. São Paulo has the biggest Japanese community outside Japan and her work is directly influenced by this.
The designer, Airton Pimenta, known by me as the 'master of light' uses light like nobody else I know. Etel Carmona is a furniture designer working with wood and makes impressive pieces with a sustainable approach. The artist, Marcelo Moscheta, created a series of moons in graffiti that were so big and beautiful. And finally I love Luzia Simons' photography, specifically her series of very feminine digital prints of flowers.
Do you have any favorite local spots in your neighborhood?
I like to walk around my neighborhood called Jardins and go to the bookstore Livraria da Vila and have a coffee at Pão de Queijo which is a very traditional place. I enjoy taking ballet classes at Anaca Estudio and I often meet friends at night at AYA Japanese Cuisine.
What is your most treasured possession in your home?
The leather and jacaranda wood Amazonas sofa by Jean Gillon for Italma. Made in 1960, it is a piece I inherited from my parents house. I also love the french antique Limoges tableware given to me by my great- grandmother and my VITRA Slow Chair by Bouroullecs.
Are you reading anything at the moment?
I am currently reading Ada Louise Huxtable's book 'On Architecture: Collected Reflections on a Century of Change'. The book gathers together the best of her written work since her first article in New York Times in 1963 examining the work of Le Corbusier.
What is your favorite daily ritual?
At the end of the day I love to have tea with the children and my cat in my bed, listening to some music, talking and laughing. Sometimes we start to dance, or to watch something fun, it is really great time that I treasure.
Where do you go when you want to escape the city?
It may seem like a cliché but I truly need to be close to nature. I love to travel to the north shore of São Paulo where there are beautiful beaches just two hours drive from here. I like to just look and listen to the ocean and also walk or ride a bike and watch the sunset. I have been escaping from São Paulo to travel on weekends all my life.
What is most impressive place you have ever been to on holiday?
Fernando de Noronha which is a cluster of islands in the north of Brazil. It is absolutely amazing.
Do you have any specific philosophies on life?
I have no religion, but nature makes me think and consider the world and our existence.
Carolina it has been fascinating hearing about your dancing and architectural pursuits. Thank you for inviting us to your home in São Paulo.
Find out more about Carolina's architectural studio here.
Photography: Fran Parente
Interview & Text: Sarah Weinknecht