One shouldn't start an intro by listing clichés. However in this case, the impression of Helsinki was so strongly influenced by the freezing cold, clear days, and a vast amount of red wine that it seemed to be impossible not to go there. It simply has to be mentioned how damn cold it was and how everything becomes easily bearable with a good glass of Merlot.
We take a goods elevator to Freeman's Loft, which is a spacious industrial floor that you wouldn't expect in a city where everything else seems to described as small and cosy. The studio is somewhat like an elaborate playground for the three friends and creative minds who together share the space. The screens and lights belong to Riku, a photographer, all kinds of wooden tiles and tools are the pride of Pekka, a shy and an extremely talented product designer. Then there is the right part of the studio, which consists of a colorful mishmash of clothes, boards, catalogues, and porcelain skulls.
Having founded Finland's first skate-label back in the nineties, Freeman has been designing every collection and managed to transform the label from a male-only skate-brand to a full range fashion label.
While Pekka is opening the second bottle of red wine, we start to talk about the importance of skate culture for the local youth, the fabrication of porceilan skulls and of course sauna culture around the world.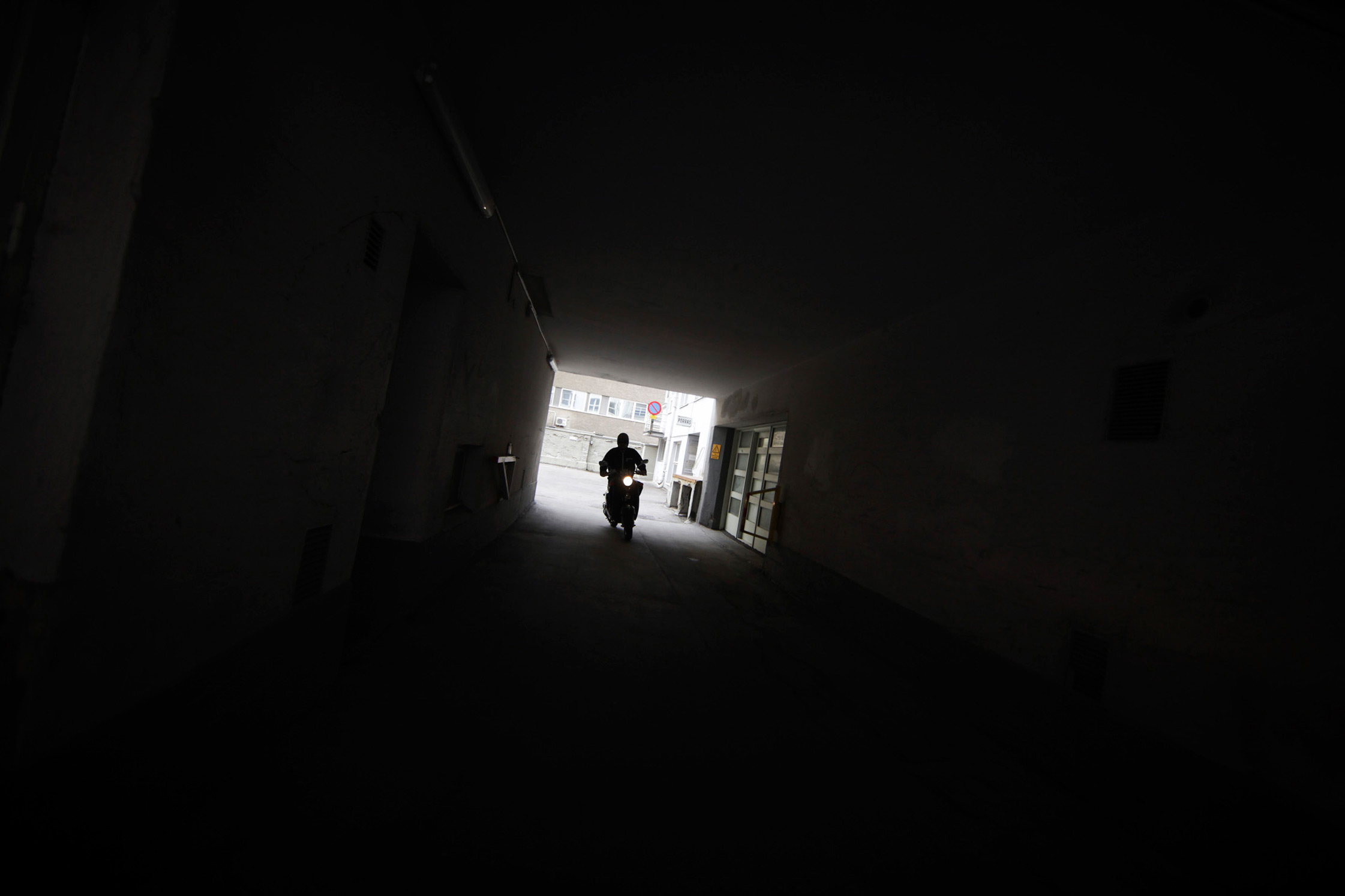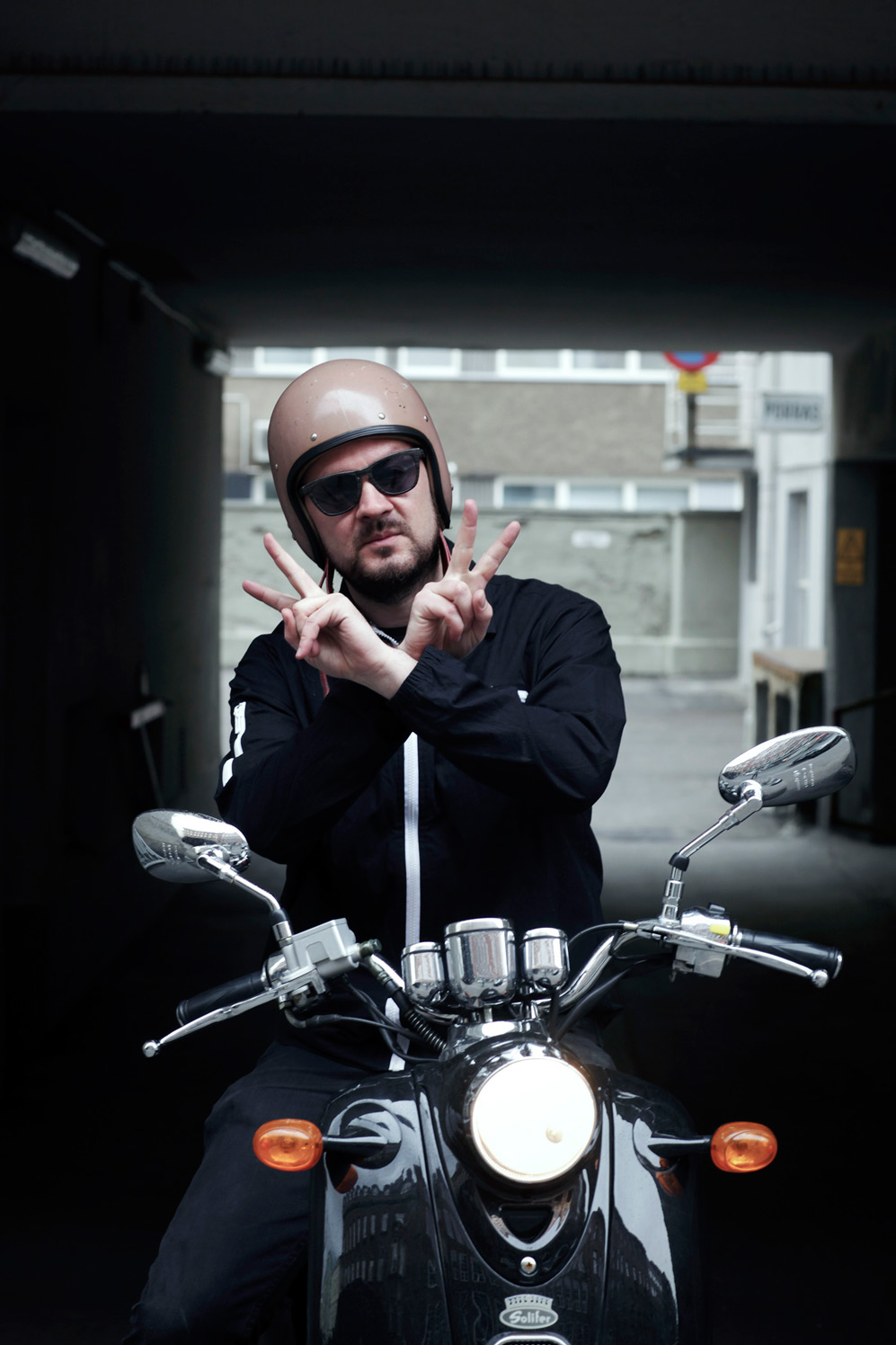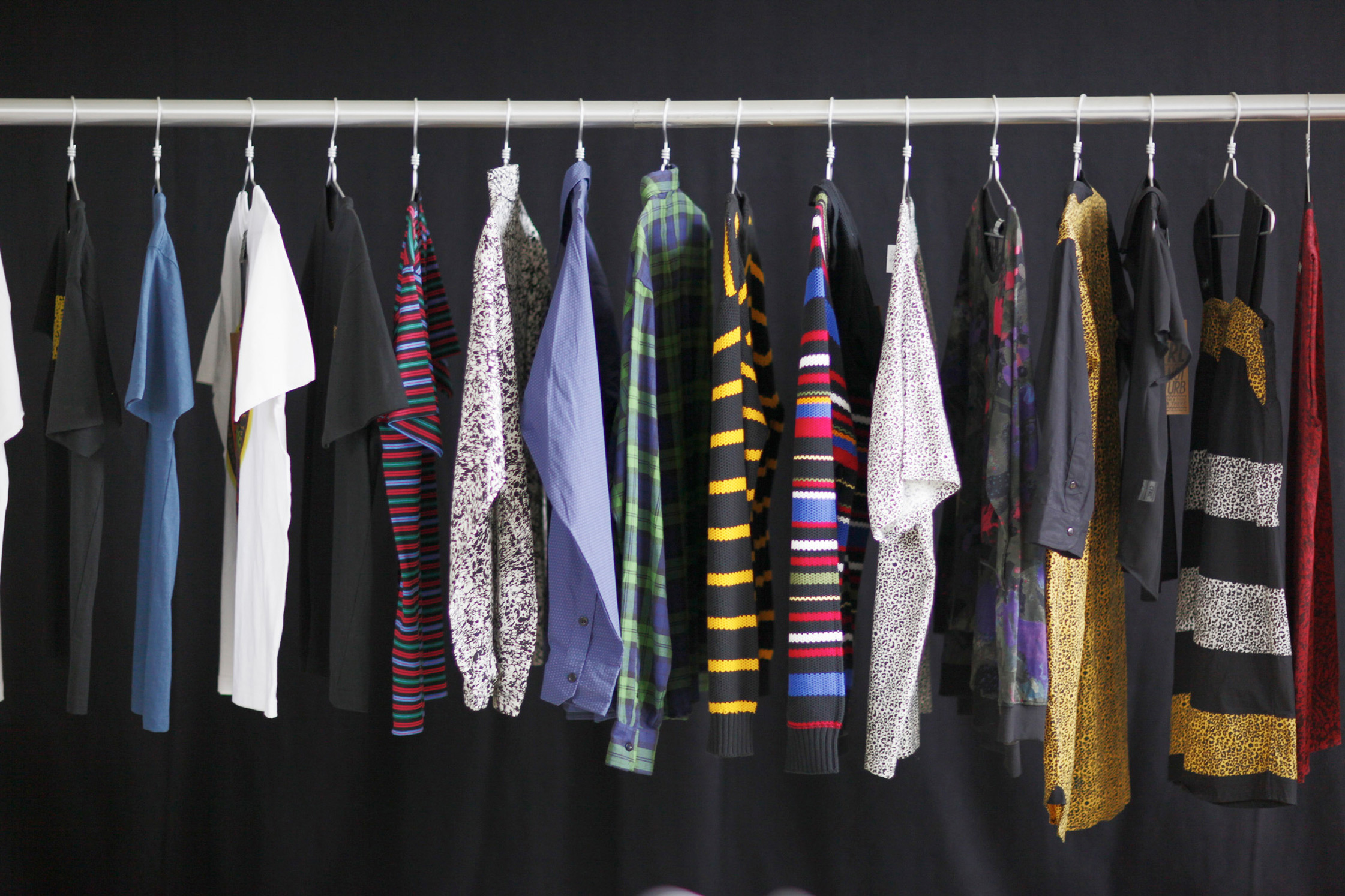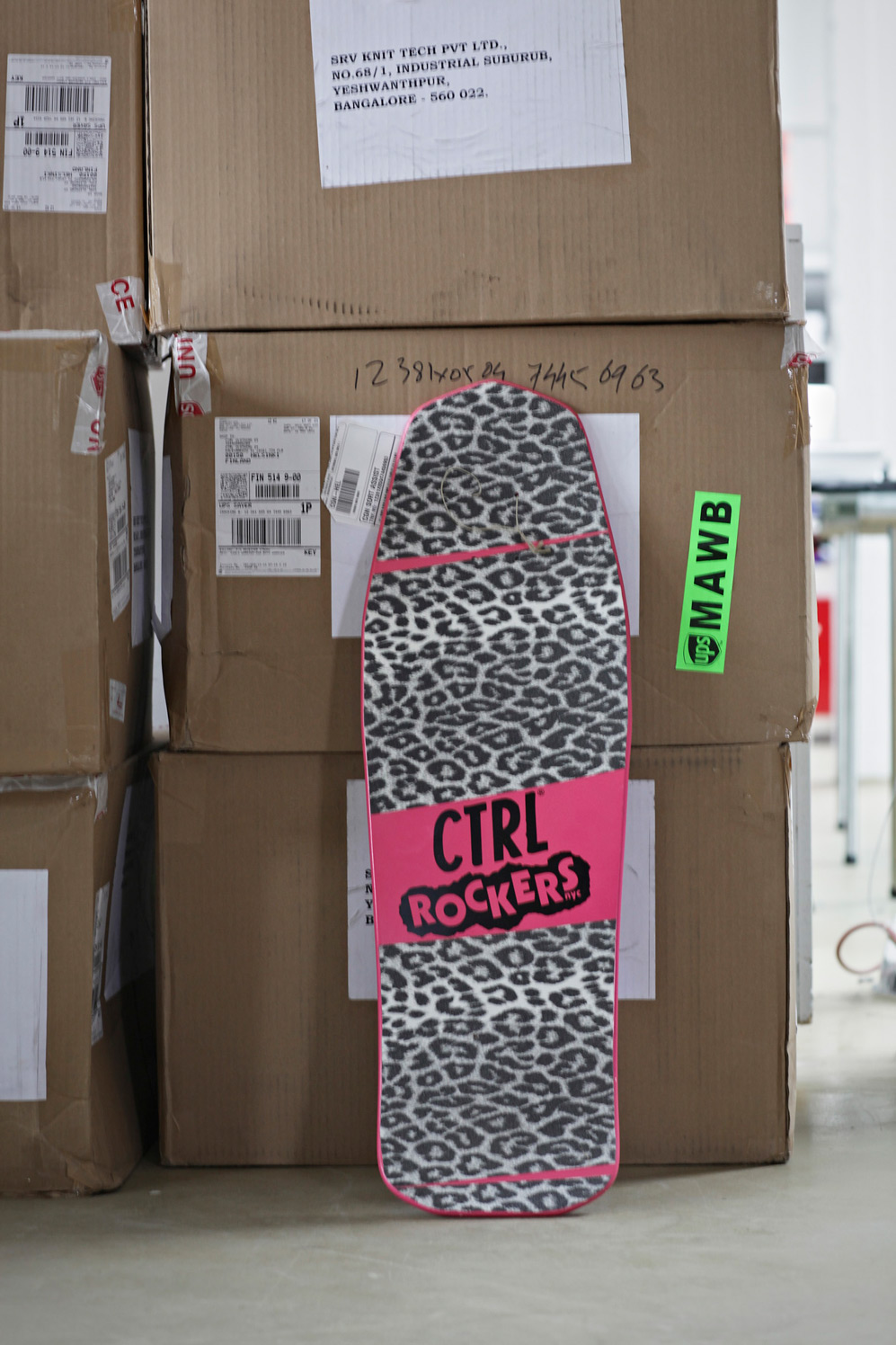 Are you from Helsinki?
Yes, I am from Helsinki. But I used to live in a town called "Järvenpää," which is close to Helsinki where my parents live. But this is so long ago that I consider myself from Helsinki. I still go there a lot of times. It's a small town but with a strong skate culture. The first skate hall of Finland was built there in the 80's. A lot of people from Helsinki used to go there and that created a strong skate scene. That's probably why I do this now, because of what happened at that time.
You started the brand in the mid 90's, right? Can you tell me the importance of the skate scene for the Finish youth back then?
At that time there was no Internet of course, so it was really hard to find and get new stuff that was produced in America, for example. That was when CTRL started under the umbrella of Helsinki-based clothing and the skate shop called Union Five.They wanted to do something on their own, because they were sponsoring these skater kids. Its expensive to buy all this stuff from the U.S, so why not do it on your own?
It didn't really start as a serious business. There was the name and then we just started to do some boards, t-shirts, and hoodies. Then more and more people got to know the brand, during which time the skate scene was very strong and supportive. Then we started with a full range clothing line. We went to our first trade show, the ISPO in Munich. There we got chosen as the hottest new brand, or something like that. It opened a lot of doors and that's how all started.
Three or four years ago we cropped out the skateboarding from the label, because we somehow felt that we grew out of the business side of it. Skateboarding is too fun to be ruined by the obligatory and harsh business side of it. Now we are doing boards every once in a while for fun but not putting the emphasis on skateboarding.
You are doing all the designs?
Yes I do, it's basically me and my colleague Esa, who built the brand. The team around us has been changing a lot, but I am stable.
What triggered this fundamental change from a skate brand to a pure fashion brand?
I have always been involved in this whole fashion thing. It was very natural for me and I think it started because I was designing things that were a little bit out of the standard skate thing. I didn't want to do just another skate brand.
Finland is very well known for interior and product design, would you say that there is also a fashion scene here?
It's only the last two years that all the media is speaking about the Finnish fashion industry. Before that nobody would say that there is a industry like that. In Finland fashion was always associated with the production of clothing in the seventies, which is of course really dead now. But it's still a subject "Why don't you produce here in Finland?"
What really caught my attention yesterday were all the young kids dressed in skate clothes from head to toe…
It is still a big topic and I think it's gonna last for a while, unless somebody invents a new sport that exploits the public architecture in a similar way. It's only natural that skateboarding is still still the cool rebellious culture, especially if you think about the fact that it is forbidden in certain areas.
The skateboarding lifestyle became quite mainstream, does that have any effect on the scene?
I would say that there is always the core of skateboarding that is not effected. But brands like us are of course exploiting the fact that skateboarding became a lifestyle topic.
Apart from that, every scene has codes and structures and you don't realize if you never go out of your box.
Would you say it's easy to set something up here because structures are more supportive?
Why do you think its supportive?
Just from what I heard within the last days. You make one call and you know who is the person to talk to and things seem get done very quickly…
No, that's not true. I don't know if things changed and brands that started only 2 or 5 years ago see things differently. We have been doing that for the last 15 years and its been a pioneering work. We did all the mistakes you can imagine, because there was nobody to tell us how to do it. Of course the neighbouring countries, Sweden, Denmark and also Norway they are way ahead of the Finnish. Nowadays you can go anywhere in the world and find maybe 15% of it all being Swedish.
But why is that?
It's hard to mention one reason. One is that Finland just isn't supportive, whereas Sweden always saw that fashion is also business and they supported it. Here it is not considered as business, it's more like a hobby. The export is also very small. I mean it is changing, but it needs more time. What we should do is collaborate with the Swedish brands, bring them here and make some consultancy. The success of the Swedish brands has also to do with the way they promote their lifestyle, the way they educate their marketing people. Here it has always been technology driven. The same applies to the music export, fashion and music should go hand in hand.
I mean you have some good music exports in certain scenes…
Yes, we have Metal of course but most of the governmentally aided exported stuff is crap. I mean it only makes you look worse, it's all wrong (laughs).
Where did you design your latest collection?
I went to New York, I got a residency in Brooklyn for a couple of months and that was very helpful. I also stated to design these skulls. My girlfriend does ceramic and glass work, for me it is just a hobby. But I am gonna exhibit some of them.
What do you like most about Helsinki?
The best thing about Helsinki is the summer (laughs) and you don't necessarily need to catch up with people beforehand. It's like a village, you just meet the people on the street. But all in all I love Helsinki, especially the nature around Helsinki is just amazing, the archipelago, the rivers & the rare sea trout.
I also love Berlin, I spent two months there when I had the pop-up store there on torstrasse. It was a very nice summer and so calm. I never thought that it's gonna be so empty, but it was and I loved it. You live in a good city!
Thank you very much for your time! If you are into skater clothes combined with a sort of punk style, check out Freeman's CTRL clothes here.
Interview: Antonia Märzhäuser
Photography: Riku Pihlanto