Sandra Juto and Johan Pergenius met while attending art school in Gothenburg, Sweden, and moved to Berlin in 2010. The couple is perhaps best-known for the uncommon poetry with which they conduct their days. Moments from their lives are captured on Sandra's popular blog.
Their corner flat sits on a high floor in an old building at a busy intersection; beyond the open windows, the traffic blurs into a sound like the sea. As we speak, rain pelts the lone tree in the courtyard. We settle into our armchairs and swap stories about drivers' licenses and saxophones. Before long, the sky opens and the immense living room is flooded with light.
When they're not preparing feasts for their friends or exploring Berlin's streets, the couple works in the fields of illustration, craft, and graphic design. We wander through Sandra's airy studio, where her work table is littered with wooden shapes that she will turn into fantastical beasts. They will be used for a three-dimensional wall installation at a kindergarten in the north of Sweden. Elsewhere, balls of yarn mark the beginnings of the crocheted wrist warmers Sandra makes each year, which she has whimsically named wrist worms.
In the kitchen, Johan unpacks his bounty from the market. Platters are heaped with cheeses and black cherries. He minces strawberries and red chillis; the sound of frying halloumi fills the air. Sandra pours sparkling water into a pitcher stuffed with fresh blueberries and handfuls of mint. We finish our conversation over lunch.
This portrait is part of our ongoing collaboration with ZEIT Online who presents a special curation of our pictures on their site.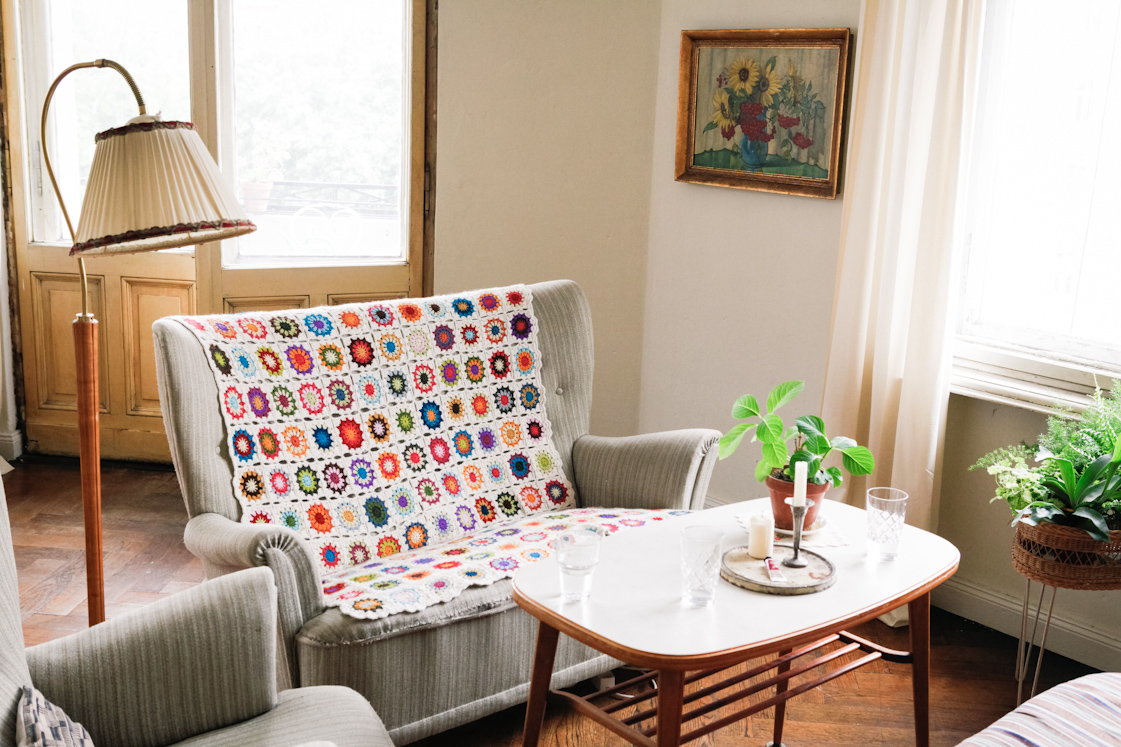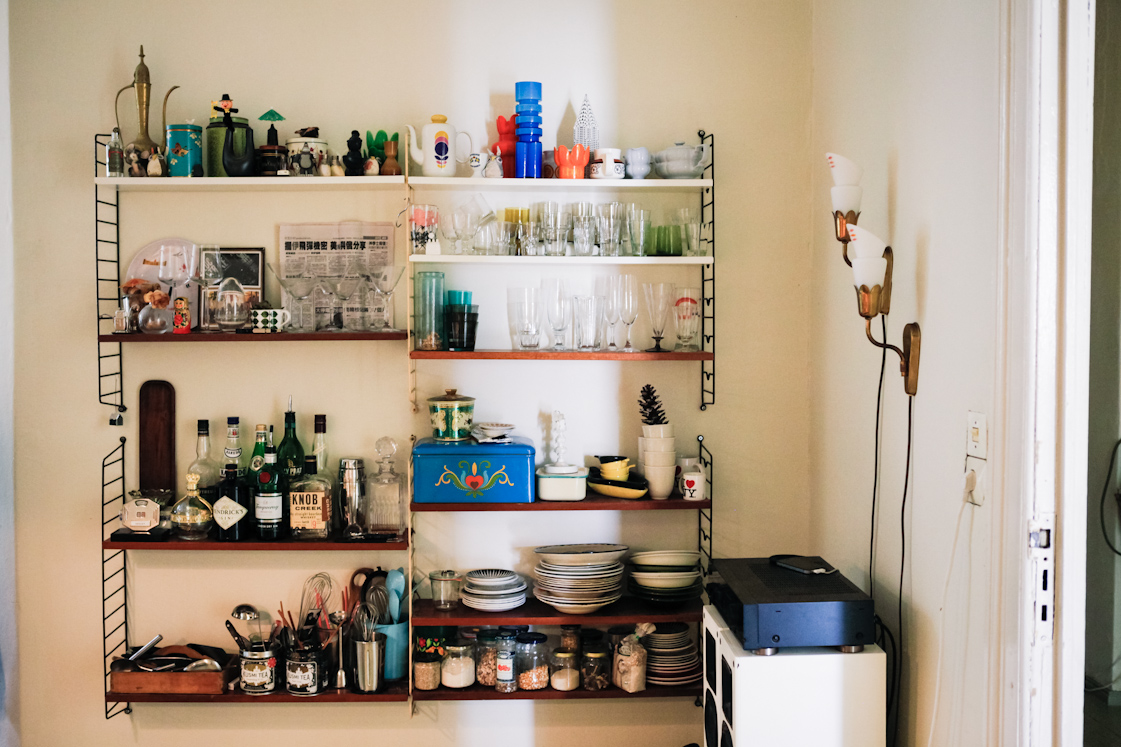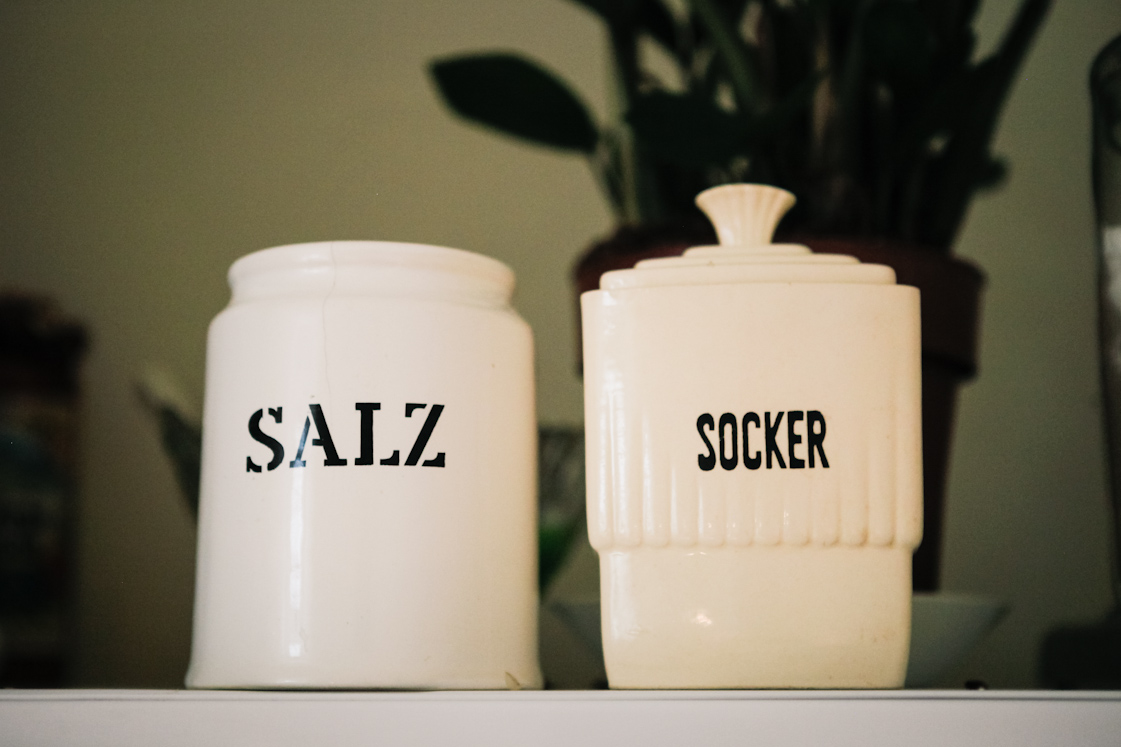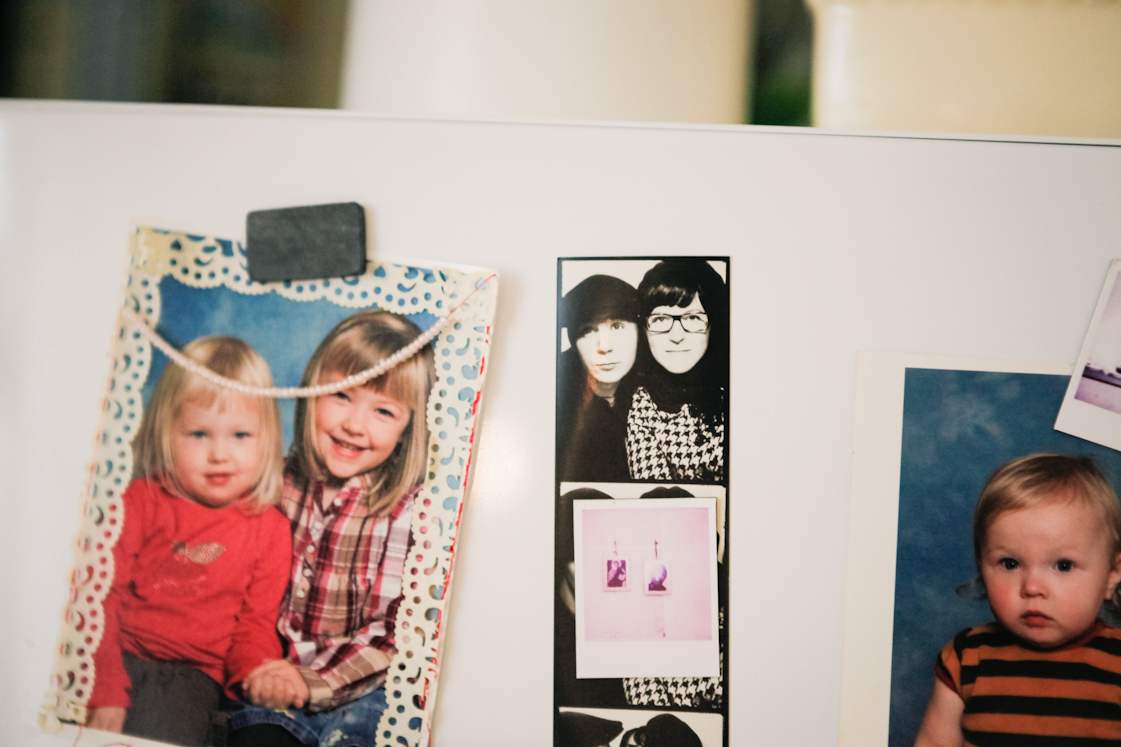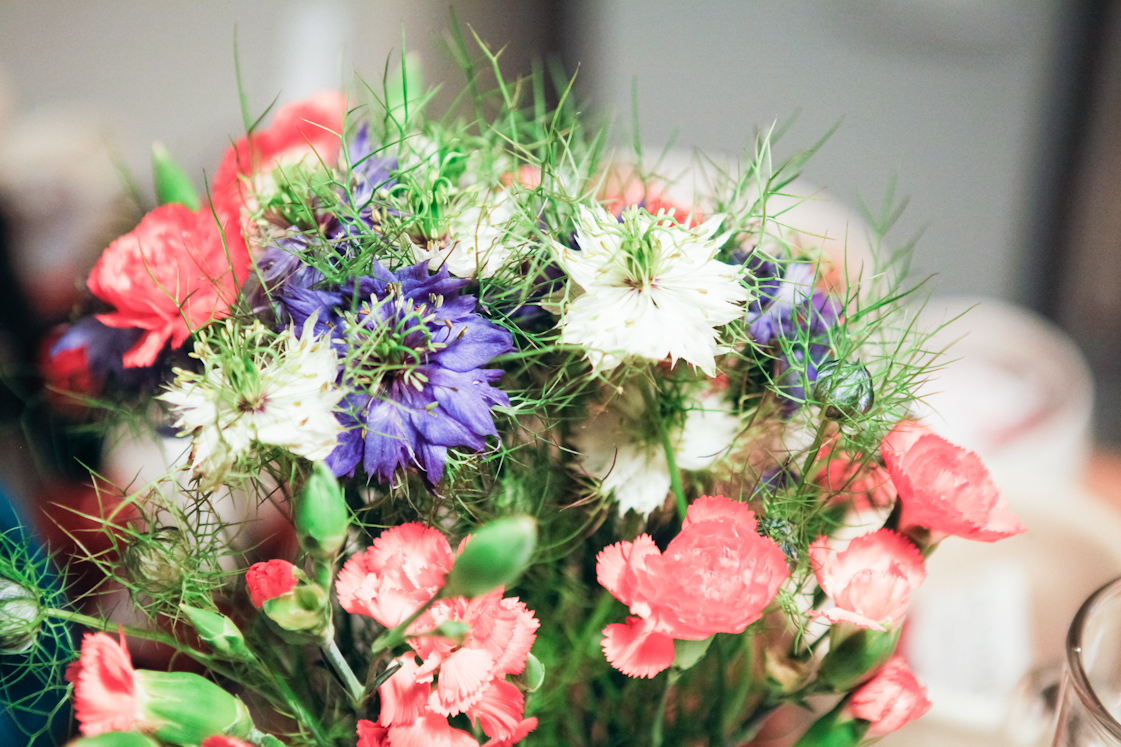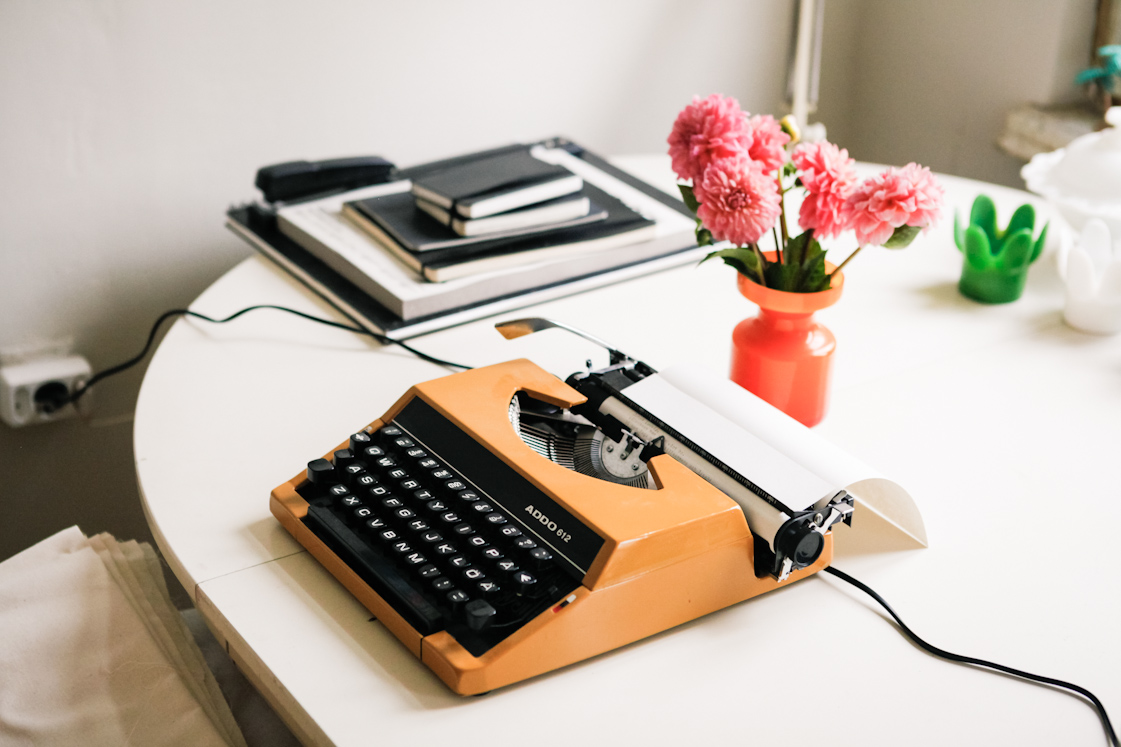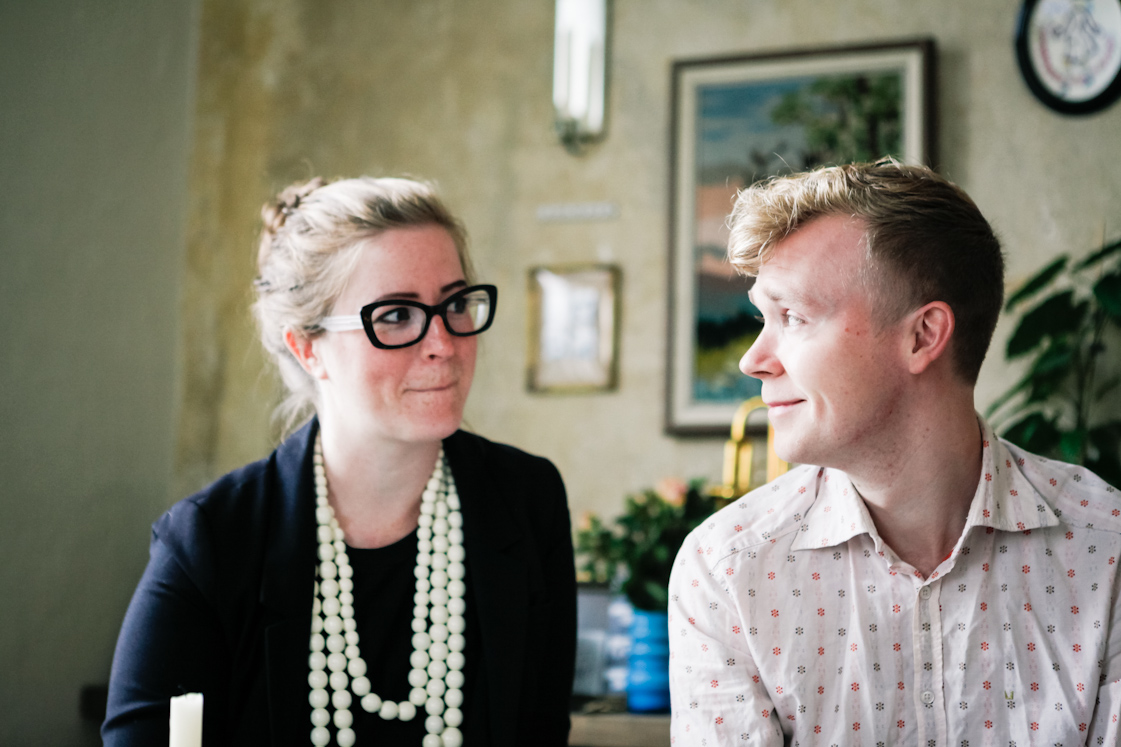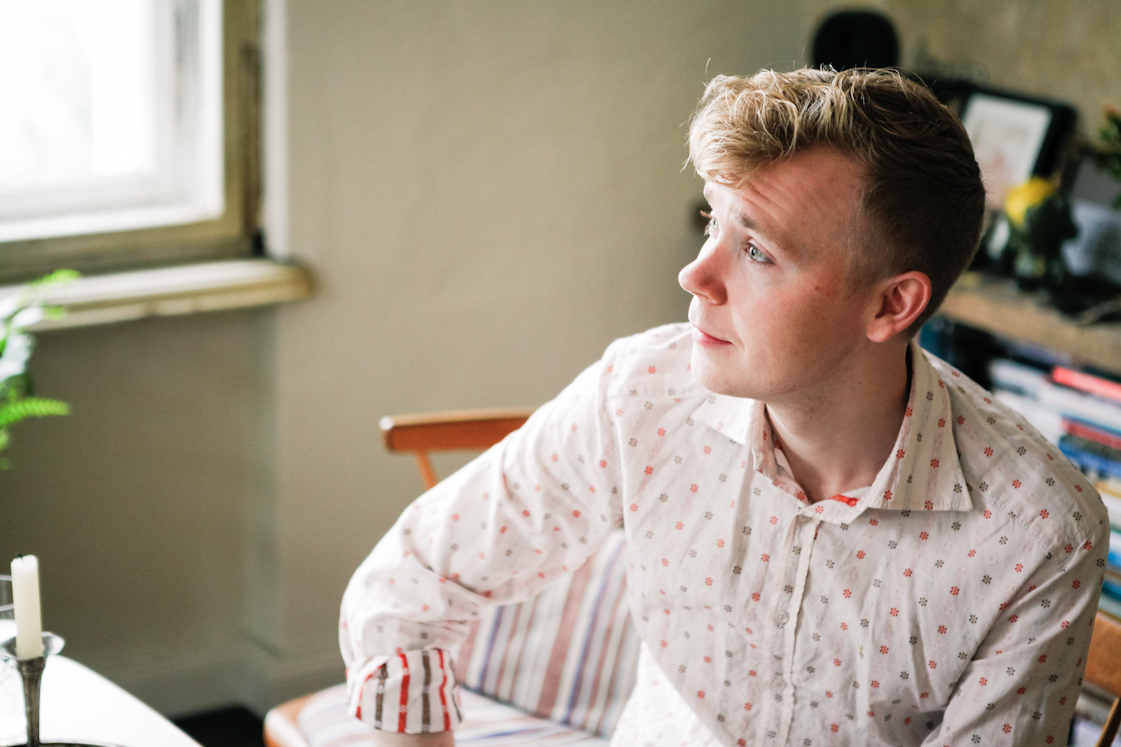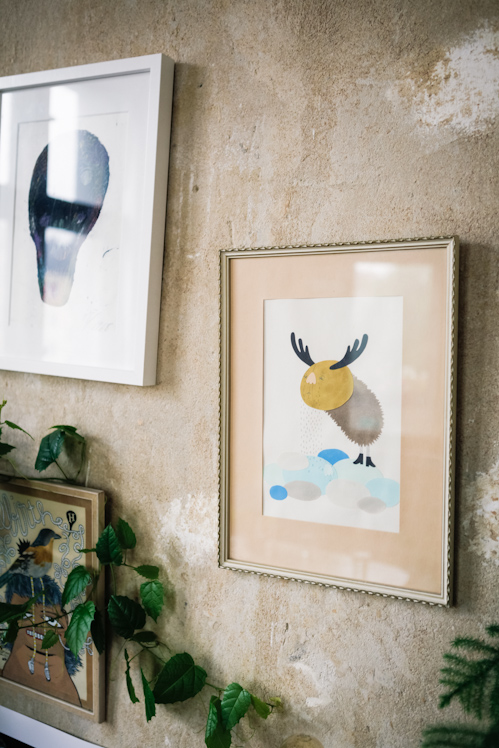 This place has the air of somewhere special. Tell us how you came to live here.
SJ: The online photos of the apartment looked so terrible (in an intriguing way) that we had to come see it to compare it to the other, more polished, places we had looked at.
JP: When we showed up for the viewing, the rental agent said we were brave to come see it. He was sitting in his car outside because he was so sure that no one would come.
SJ: When we stepped inside we looked at each other and we couldn't ignore the fact that we both had fallen in love with the place. The condition of the apartment was more or less a disaster. The previous tenant lived here for 40 years before she died and seemed to like chain-smoking more than cleaning. The woman – her name was Gerda – left us a shoebox full of wonderful photos as well. Here's one of her in the room where we're sitting now.
What do you think of Friedrichshain?
JP: It's great! Prior our move to Berlin we walked the streets of Friedrichshain as visitors for years and were familiar with the surroundings, and when we later fell in love with this apartment, we said that this would be a great start to discover other areas of this diverse city and maybe find "the" area where we really wanted to live. But today, with friends and a daily life here, we feel at home and plan to stay here. Another great thing is that it's so easy to get everywhere easily.
SJ: I met a guy at a party once who didn't want to speak to me anymore once he knew I lived in Friedrichshain (laughs). The markets at Boxhagener Platz are wonderful. We visit it every Saturday to have breakfast and buy some groceries for the week to come. On Sundays there is a flea market worth a visit.
What do you do when you're not at home?
JP: Exploring the city, often by foot.
SJ: We both love walking along Karl-Marx-Allee; the street changes its appearance when the seasons change in the most beautiful way.
JP: One day we crossed the river to Kreuzberg. We walked through Kreuzberg to Neukölln down Hermannstraße, and just kept walking and walking. Finally there was a field and a sign that read "Berlin" with a cross through it, showing us we had left the city. That was actually the first time we went outside of Berlin since we moved here.
SJ: That was a great walk. We walked the whole day.
How did you choose to do the work you do?
SJ: When I was a child, I didn't realize that being an illustrator could be a job. My mother was creative – she made wonderful curtains for our kitchen, funny, quirky curtains – but that was just who she was. There was no special word for creativity and it was never seen as a career. My father didn't let me study art so as a form of rebellion, I decided to study seven languages instead. Later on I stopped listening to other people and made my own way towards working the way I wanted to.
JP: I was always encouraged to do art, and supported in it. Art was the thing I could do my own way and lose myself in.
SJ: We met studying design at School of Design and Crafts in Gothenburg, Sweden.
JP: The program there was completely open, not divided into disciplines. You could pick and mix, and shape your own education after trying out all the different fields during the first year.
SJ: (laughs) Oh the first year – those architectural models! Building them was so not my thing. At first, I thought I wanted to do graphic design. Gradually I realized that illustrating was the work I loved best.
What are you working on now?
SJ: I recently received a commission to do a big art project for a kindergarten in Sweden. I am coming up with all sorts of characters and objects – I will decorate an entire wall with my creatures. I've begun cutting out the wooden pieces in my studio and the next step is to paint them and make them colourful.
JP: I'm at different places, doing freelance work as a graphic designer, along with some of my personal projects, which include speaking German with myself in the kitchen.
When did you arrive in Berlin?
SJ: We and all our stuff landed here in 2010.
How is life in Berlin different from life in Sweden?
JP: Ten times the population means there's at least a ten time larger selection in terms of food, culture and the way you interact with others.
SJ: I love the constant changes with new places opening, people coming and going. The rhythm of the city gives me the energy I need to be less restless. It's like if there's so much going on around me, I can stay home more often and feel good about it just knowing that I have the choice to go out for new impressions and experiences.
JP: As a "cold and quiet northerner" I love how people live their lives here, in what for me is a more "southern" way. My German friends laugh at me when I tell them that they are warm and welcoming: to them it sounds like I'm describing their picture of an Italian.
SJ: There is a bar around the corner where we go quite often. Johan used to work there and this place has become kind of a second living room where we meet friends from all over the world with all kinds of professions and non-professions, and it's so inspiring to hear their stories and points of view. Many of us have changed countries, so we all need contexts to lean on.
What inspires you?
SJ: I'm inspired by what I eat and drink, by going for walks and taking photos. Another thing that inspires me hugely is meeting people who share stories from their lives, those real stories that you can't look up on Wikipedia.
JP: I'm more inspired by great chefs than by great artists. My biggest inspiration is to be surprised and revaluate my thoughts. I also love the kitchen: cooking is my meditation.
SJ: I'm lucky you think like that! I don't want to spend longer cooking than I do eating.
And with that, we sit down to eat. Sandra and Johan, thank you for the lunch and the conversation! You can find Sandra's portfolio here, and Johan's portfolio here.
This portrait is part of our ongoing collaboration with ZEIT Onlinewho presents a special curation of our pictures on their site. To look at the special photo selection, gohere.
Text & Interview: Sylee Gore
Photography: Philipp Langenheim