Our modern age is becoming an increasingly level playing field with such a vast number of people able to access an unrestricted pool of information at the touch of a key.
Picking through our dense conglomeration of cultural elements and arranging them in a way that is both meaningful and aesthetically pleasing is where the challenge lies. Ryan Willms certainly has a discernible grasp of this, all one needs to do is flip through Inventory magazine, where Ryan is the CEO and Editor-in-Chief, to see that he has an uncanny ability for recognizing innovation, tradition and excellence in products and ideas.
This unpacking, decoding and rearranging of the fashion and design zeitgeist has influenced a number of publications to follow suit and has made countless consumers more aware of what they are spending their hard-earned money on, where the product is coming from and why. We visited Ryan in his Mt. Pleasant apartment where he kindly made us some vibrant green juice and spoke to us about the objects and activities of his daily life.
This portrait is part of our ongoing collaboration with ZEIT Online who present a special curation of our pictures on ZEIT Magazin Online.
Where did you grow up and what is it that brought you to Vancouver?

I grew up in Victoria, which is on a fairly large island just off the west coast of British Columbia. After finishing high school, some traveling and a little bit of college, I moved to Vancouver to take a graphic design course and pursue my online magazine at the time. Vancouver was always the natural move from Victoria, offering more of everything from fashion to arts to opportunity.

How did you develop an interest in fashion and design and who has influenced you the most in this regard?

I was interested in clothing from quite a young age, not really considering it as fashion. It was something that first caught my attention through sports and music. Growing up playing basketball, baseball and football, I was always interested in the products from a performance standpoint, but also very much the style and design. I would look forward to new seasons to see what new shoes Michael Jordan would release as well as Allen Iverson after him. My parents were also supportive and helped to expose me to a lot of fashion and design by traveling when I was young. Going to New York, London, Paris and Italy, definitely played a role in my awareness and idea of style, although it was probably more subconscious at the time.

Were there any designers you were initially drawn to once you were exposed to this world?

It's always been an evolution, but Nike was there from the start, and still is. I also have pretty strong memories of being in London and Italy on those trips when I would have been around 12 or 13, and visiting Armani and Versace stores. I never really got into either of those labels, but going into those retail environments in Europe definitely made an impact on me.
Inventory magazine and its retail store champion many lesser-known brands by Japanese designers alongside products from the UK and Europe. What really stands out to you right now in menswear and what are some of your favorite things for the coming season?

It feels like menswear is more of a mix up than it's ever been. Putting high-end European brands with 90s sportswear references, new skateboard brands, Nike, Adidas and Japanese brands like Nepenthes, Comme des Garçons, Nonnative, mixed with more of the workwear inspired pieces from orSlow, Engineered Garments or Levi's. There is also a growth in technical brands, and I think Arc'teryx, Patagonia, Stone Island and Acronym are doing great things. I appreciate the mix and I think it allows people a lot of room to play and find their own balance. This fall, as usual, I think Needles and Margaret Howell are probably my favorites, but I find it hard to stay away from trousers from Dries Van Noten and Margiela as well.
Ryan's minimal approach to his home and mode of living goes a long way in a small space. The shelving, furniture and decoration all punctuate the efficient use of the open floor plan. The blending of vintage and modern elements, as well as high design and craft art forms creates a home that takes the pure utilitarian functionality of Bauhaus design and makes it something warmer that is less sterile and institutional.
Judging by the objects around your place, you clearly have an interest in pottery and ceramics. Can you talk us through some your favorite pieces?

Ceramics are really interesting because they can be high-end art, but also function as everyday objects. I like that you can find something that looks as nice in a flea market as it would in an art gallery. I suppose this is true for a lot of art, but the general aesthetic of Japanese pottery and English studio ceramics have an especially beautiful aesthetic. I recently bought a small vase by Bruce M. Sherman made from stoneware with a green glaze. It's quite organic-looking but extremely heavy, and it became one of my favorites immediately.

The same level of consideration goes for your bookshelves. What are some standout volumes and objects on your shelves?

Well, the shelves themselves are one of my favorite items and I can imagine once I move into a bigger place, the Vitsoe will only grow. With regards to the contents, one of my prized publications would be issues one and two of SIX magazine, published by Comme des Garcons in the late 80s. Mark Borthwick's Not in Fashion is another great book and the special edition of Inventory magazine that he did for us is pretty special as well. I also recently found a great little shop in Vancouver that sells American and Canadian ceramics along with some Danish pieces. I found a couple of bowls and small Dansk items there recently which I was excited about.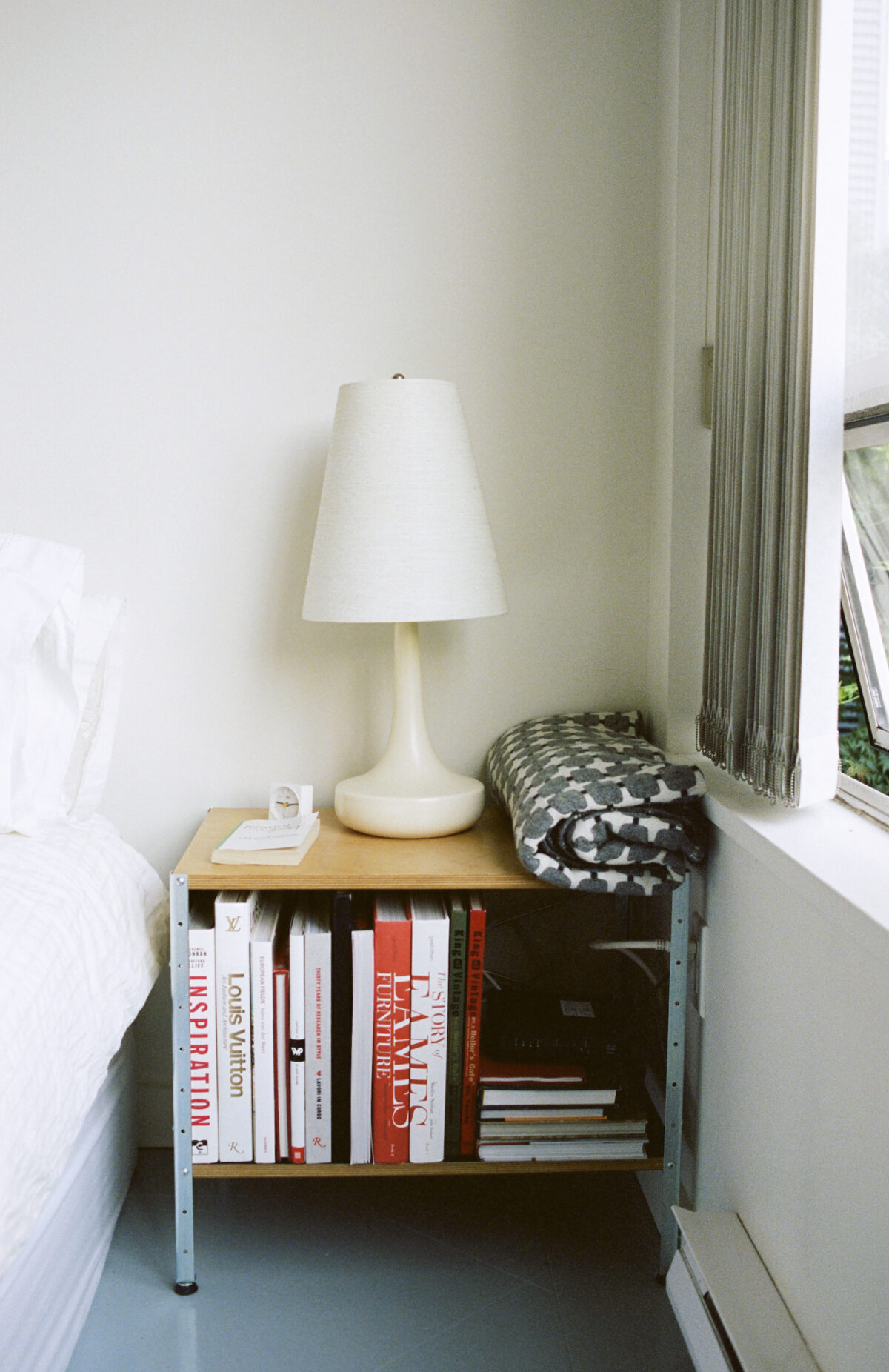 Do any of the items in your home have a personal connection or story behind them that you would like to share?

I don't know if any item in particular has a more special personal connection, but each item has its own little story that I can't help but relate to it. Whether it's tied to the person I bought it with, the place I found it, or maybe even the path it took to find its way to my home. Each item definitely sparks a specific memory or thought about where I was when it became part of my life. Some pieces bring on sad memories or make me think of people that are no longer in my life, but I don't mind those reminders either. The longer I have them, the more I cherish them, both the memories and the pieces themselves.

You live at the North end of Mt. Pleasant. What attracted you to this part of the city?

The neighbourhood is within walking distance from our Vancouver store, which was important, but besides that I really like the area because it's really quiet and there is a community feeling. A handful of my friends live nearby – there are good coffee shops and restaurants and my brother with his wife live a couple of blocks away.
What stood out to you about this building?

After living in an older building previously, I liked the idea of something more modern and clean. The building has a nice mix of people and the manager was really nice, so it gave me a good overall feeling. The apartment itself is really simple and basic, but it's all I really need.

Mt. Pleasant has certainly thrived in recent years. What are some of the advantages of living in this neighbourhood?

I think the fact that it's really quiet, safe and private, yet also really close to downtown makes it ideal. It feels like you're not downtown, but you can get there really quickly. Within 30 minutes with good traffic, you can even get to North Vancouver and into the mountains.
Ryan's Picks in Central Vancouver
Gene Café
Gene Café is a coffee shop located in Ryan's Mt. Pleasant neighbourhood, just a few blocks from his apartment and serves great coffee in a city known for some of the best coffee in the world. The space has a utilitarian aesthetic and seems lived-in, strewn with vintage furniture and large wooden tables. The setting lets the remarkable large paned windows and unique flatiron architecture to be the focal point of the space which affords fantastic light all day. Gene is a great place to stop in for a shot of caffeine or to catch up with a friend.
Vancouver has a lot of great coffee. Do you have a favorite café near here that you can walk to?

There is a decent amount of cafés in Vancouver now, over the past few years a number of great spots have opened, especially in Gastown. There haven't been as many opening in Mt. Pleasant, but Gene has been around since I moved to Vancouver and is still one of my favorites. Some people feel like it's a bit too much of a "scene," but I still love the amount of light, unique space, casual environment, people-watching and decent cup of coffee as well. It's been a popular spot to take photos over the years, and we took some shots there that appeared in our very first issue of Inventory.
Farmer's Markets
Vancouver has an abundance of farmer's markets throughout the growing season, as there is easy access to a plethora of locally grown fruits and vegetables. Much like many other west coast regions, the city has really latched on to the farm-to-table movement which it's actively spearheading. This makes finding fresh produce incredibly easy at these open-air markets and it seems like there is one for every neighborhood.
Vancouver has numerous thriving farmer's markets throughout the summer. Do you frequent any?

I'm not too much of a cook, but there are a number of good markets. There is one nearby my apartment on Sunday, which has a great variety of vegetables, fruits and even some homemade sweets. It has everything I need for making juice and salads.

Juice seems to be how you start most of your days. Is this accurate?

A couple of years ago, when I had a knee surgery, as part of my recovery I sort of revolutionized my diet and juicing became an everyday addition. It's just really good for you and good for your body in so many ways. Also, it makes me feel so much better. It's definitely become part of my own routine at home, and when I'm away I'm constantly scouring for the nearest juice option I can find.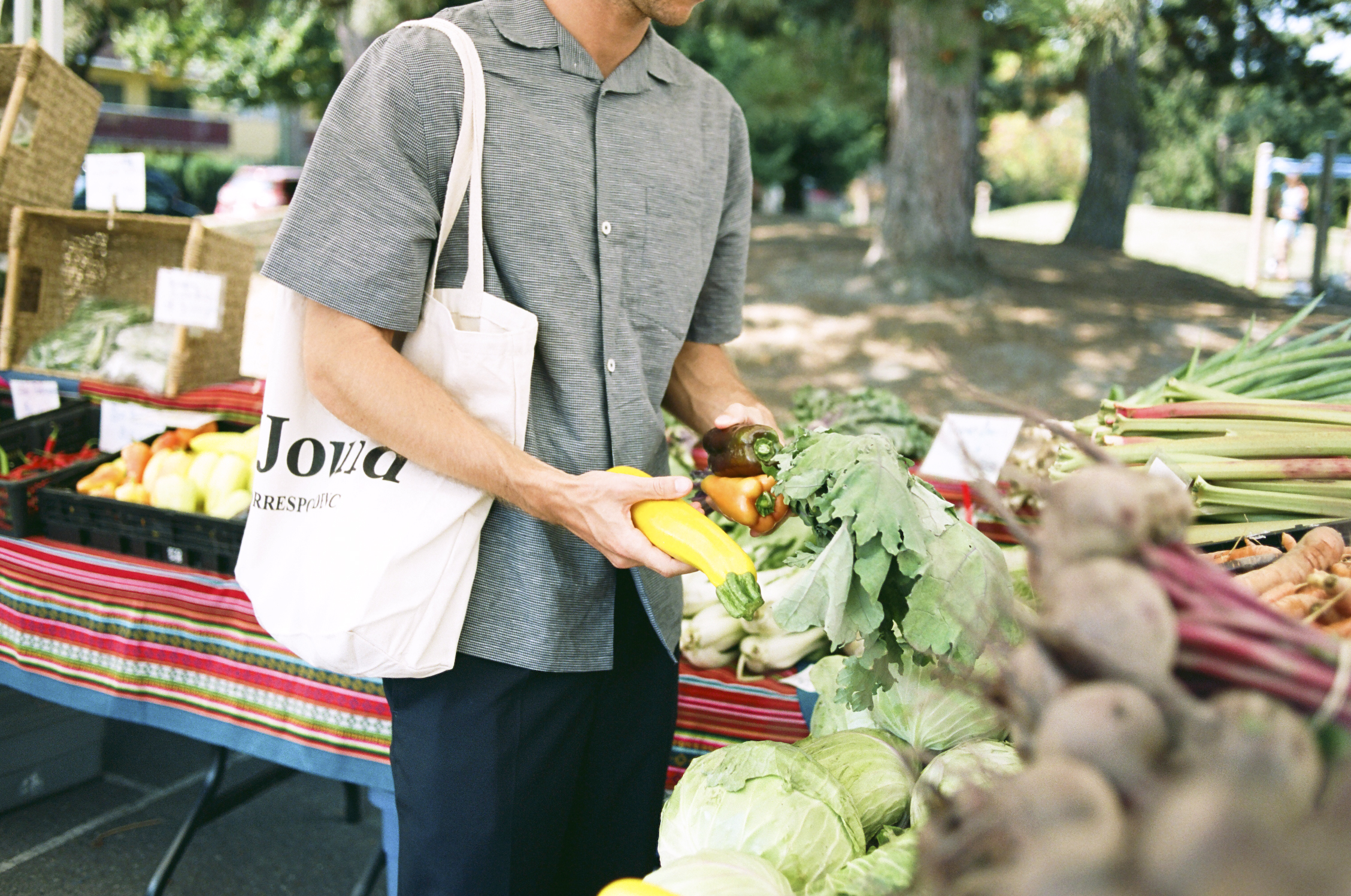 Stanley Park's Seawall
Construction of Stanley Park's Seawall began in 1917 and was not completed until 1980. Nowadays, it extends to areas outside of the park connecting a large swath of Vancouver's sea line by a wide paved path and making for one of the city's most picturesque running routes. This is definitely a favorite course for Ryan's routine road running.
Your juicing regimen definitely shows an interest in healthy living. What do you do to stay active and physically fit?

I try to take care of myself, at first it was to help recover from surgery but it's become a fairly big part of my everyday life, from what I eat to running about 60km a week. I've started running half marathons and trail races around Vancouver, which are really fun, and also a form of meditation for me. It really helps me clear my mind, but at the end of the day eating well and exercising just makes me feel better, refreshed and energized.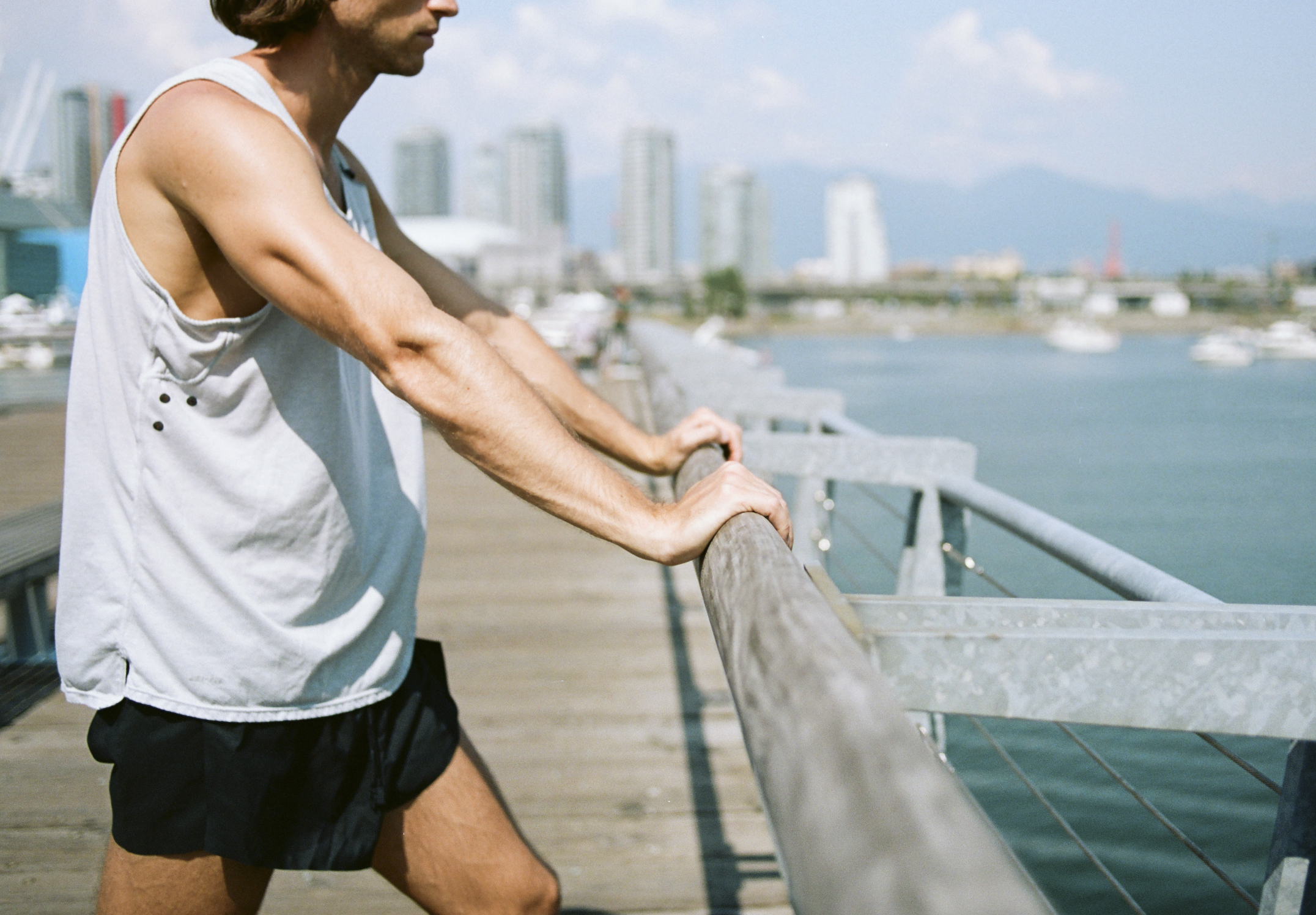 Gastown
One of Vancouver's most historic neighborhoods, Gastown features architecture unlike any in what is known as "The City of Glass." Replete with turn of the century brick buildings and streets, this district resembles another era in the city's history. A popular tourist destination, it's kind of remarkable that Gastown also houses some of Vancouver's best shopping in one convenient thoroughfare.
Vancouver, and Gastown in particular, has a strong selection of menswear stores. Is there one that you feel is particularly consistent?

Gastown has one of the most amazing selections of men's shops, maybe in the world. Between Haven, Roden Gray, Neighbour, Savant and Inventory, you can find almost any brand you want – from high-end Japanese street labels and European fashion houses to independent cult brands and local collections. Within only a few blocks, the offering is really impressive. Each store has its own niche and I think does a great job from the presentation and the physical environments to selling online. I can say that I have happily spent money in each of those stores.
Inventory
Inventory has been part of a quiet menswear revolution in Vancouver's Gastown neighborhood since 2010. Focusing on well-crafted products that transcend trends, the shop is a logical extension of the magazine and stocks a carefully considered selection of brands such as: Engineered Garments, Margaret Howell and The Real McCoy's, to name only a few. The space also houses the Inventory magazine office, which provides a logical cohesion between the magazine and shop, all underneath one roof.  The shop is a neatly organized white room with built-in shelving, wood and steel tables and a few Alvar Aalto designs. The south-facing exposure allows for some brilliant sunshine during Vancouver's few bright months and a leaded glass window is even known to throw refracted light around the shop.
Can you tell us about the inception of Inventory and its growth from a blog to an internationally recognized magazine?

It's been five years since we launched Inventory as an online platform and print magazine and it feels like much longer! It's hard to remember pre-Inventory life at this point, which is good and bad. I've learnt so much in the past few years, through the people I work with and through the experience of running my own company. It's been an invaluable experience that will have an impact on everything I do for the rest of my life and career. It's been amazing to be able to work with people we meet through Inventory and to have gained such respect in a short period of time. That's something I'm very proud of. I think because we've always kept the integrity of our brand and stayed true to what we believe in, people can see that and recognize the passion and level of quality we are aiming for.
What lies in store for readers of the magazine and what do you foresee for Inventory in the future?

I think Inventory has a very exciting time ahead. We published our 10th issue last spring, and now we're looking forward to the next era with a redesign in the works for our Fall-Winter '14 issue. We've got some great content and it continues to evolve and grow in a very exciting way, at least for us internally, and hopefully for our readers as well. The level of our contributors is increasing with every issue and the publication overall feels like it's maturing and growing really nicely. It's definitely exciting to be a part of all that.
Thanks Ryan, it was great chatting with you and getting to know the vision behind Inventory magazine as well as your approach to menswear.
This portrait is part of our ongoing series with Vitra. Visit Vitra Magazine to find out more about Ryan's design pieces and the way he chooses to present them.
This is the first time we're visiting Vancouver and it's been quite a tour–stay tuned for more.
Photography: Jennilee Marigomen
Interview & Text: Matthew Klassen