Piergiorgio Castellani's buoyant and generous personality has made him friends across the globe, and his restless, always-on mind has led him to seek out adventures.
One of his most memorable experiences took place in New York in the late 1980s, when he was still a social anthropology student and had a chance encounter with an artist on the street. He brought the artist back to Pisa with him to create a mural. The artist? None other than Keith Haring. The mural? Tuttomondo, Pisa's second most visited landmark.
Piergiorgio's house in Crespina, Pisa
Incidents of chance encounters leading to greater things seems to be a theme in Piergiorgio's life. He embraces adventure and genially extends invitations to those around him – friends new and old alike. Today Piergiorgio has found a true passion as a sixth generation vintner. And the invitations he proffers are often to the resort farmhouse in the center of one of his vineyards. The vineyard, Poggio al Casone, in the western Chianti region overlooks the Tyrrhenian Sea, and has gained renown for their experimentation. He lives there with his wife, Chiara, two children, Giacomo and Elena, and their three dogs, Zak, Grace and Kelly.
He shared his memories of his time in New York, visions for the art of winemaking and took us surfing on some pretty amazing northern Mediterranean swells.
This portrait has been produced in partnership with mb! magazine by Mercedes-Benz. FvF presents a personal portrait of Piergiorgio while mb! accompanies him on a tour in his car trough his favorite spots.  
You once wrote that "During my college years I wandered and I am passionate about many things: theater, art, travel, the human mind." What are some of your memorable experiences from this time?

For two years, in 1988 and 89, I collaborated with the New York-based Pop artist Keith Haring. We were friends and it resulted in the beautiful Pisa mural Tuttomondo. Keith died the following year. My New York art period was crazy, and Keith was an amazing artist and human.

How did you meet and end up working with Keith Haring?

I have so many funny and sweet memories of my time and friendship with Keith. When you're open and focused, things happen in strange and mysterious ways. I met him by chance on a sidewalk in New York while listening to a performance of Hare Krishna music. The following day we were together in his studio trying to figure out a way to make an important piece of public art happen in a monumental city in Italy. That was my entrance into the extravagant world of the "post-factory" New York art scene. It took two years of continuous work, but in the end, we sorted it out with Keith, and he made his most important painting on the sidewall of a monastery in the historic center of Pisa. Today it is the second most important attraction in the city after the Leaning Tower!
That's quite an achievement – and later you got into into theater?

I went into theater for the same reason, in an attempt to escape the greyness of the 90s. The day I walked through the door of the Teatro Laboratorio di Pontedera, it was like jumping into another dimension made of real creativity and inner research. What I did in those years and the people I met were some of the most influential in my life.

Your home is beautiful, so many original artworks! Are there specific artists that you collect?

My wife's parents were artists and collectors. She comes from a family where art was the most important thing. We have a beautiful collection of painting and sculpture from the 60s and 70s. Some of them are in our house and may be some of the most important things for the story of our family.
The smal town of Lari in Pisa
Did you ever study acting or art, or were you just following passions?

When I was an adolescent I lived in a small town in an Italian province. I traveled with my father often, and was well aware of the world pulsing outside of that place. More than passion, it was more an urgent necessity, and my search for an adventurous escape was really strong at that time.

Do you make art or perform now?

No, I don't make art – although good wine is a real work of art. You can understand it, because despite great efforts and research, in the end you are never satisfied with the results. You feel that there is always a point in your performance where you can catch up – maybe with the following vintage!
Piergiorgio's Poggio al Casone Wine Estate, Crespina
How long has your family been in the wine business?

Six generations in wine productions, more in agriculture.

Is your wife, or are your children, also working in the business?

Are your wines traditional or do you experiment with mixing varieties as well?

I love traditional, authentic wines. When you have the proper soil and climate for quality wines, which we fortunately have in Tuscany, you don't need to invent anything, just reduce the level of your intervention to a minimum so the terroir is fully expressed in your wines.

When it comes to experimentation, I do prefer to rediscover abandoned varietals from the past, as we did with the Grand Noir at Poggio al Casone Estate.
Castellani also has an experimental vineyard – it's also where the resort is –what are you working on there now.

In 1999 we planted one of the most famous experimental vineyards in Tuscany, totally dedicated to varieties that were at risk of extinction. In Italy we have one of the most incredible offerings of grape varietal and many risk being destroyed by the global mass market and extensive viticulture. In the last 20 years we've dedicated our energies to preserving that patrimony and the biodiversity of our vineyards, which are all very organically trained.

What years do you think are particularly good for wines from your region?

More or less, every fifth vintage we have is exceptional. You have to understand that there are vintage reports from every important wine region in the world on the Internet. Tuscany is a big wine region with very special areas that can provide outstanding results – especially in difficult years. The relationship with the producers is the key to finding out about secret gems.

What is the most complicated part about making wine?

Staying patient and staying grateful to Terra Mater, even when times are tough.
What are the benefits or complications of organic wine production?

There are only benefits and very few complications. People are now conscious that their health is the most precious thing in their lives, and are now starting to understand that "we are what we eat," as well as the detrimental influence of junk food on our bodies and souls. I feel that organic cultivation is the only possible future.

In which countries outside of Italy do you see a lot of wine being sold?

The US, because there are 300 million people and a younger generation seeking an enthusiastic wine experience.

The entire food culture of Italy is very special, what are some of your favorite specialties?

Simple food, based on genuine ingredients – pasta al pomodoro topped with Parmesan cheese and fresh basil is an example – obviously with a glass of good Chianti.
Dr. Ank Surf Shop in Navacchio
You also run a resort in the middle of the Poggio al Casone vineyard in Tuscany. What are some of the pleasures and challenges of such a business?

You meet a lot of people from all over the world, this is challenging because you don't choose your guests, but you do develop true friendships.

You surf, where do you find boards?

The cultish laboratory of one of the best shapers in Italy, Marco Rizzo, better known as Dr. Ank. His hands have made surfboards that are the perfect combination of Italian craftsmanship and the art of surf shaping, influenced by some of the best shapers in the world. Donald Takayama was his master and Marco continues to shape in a style that is the perfect mix of classic and contemporary shapes. He is a real artist and his creations are known internationally.
The beach at Lido di Camaiore, Lucca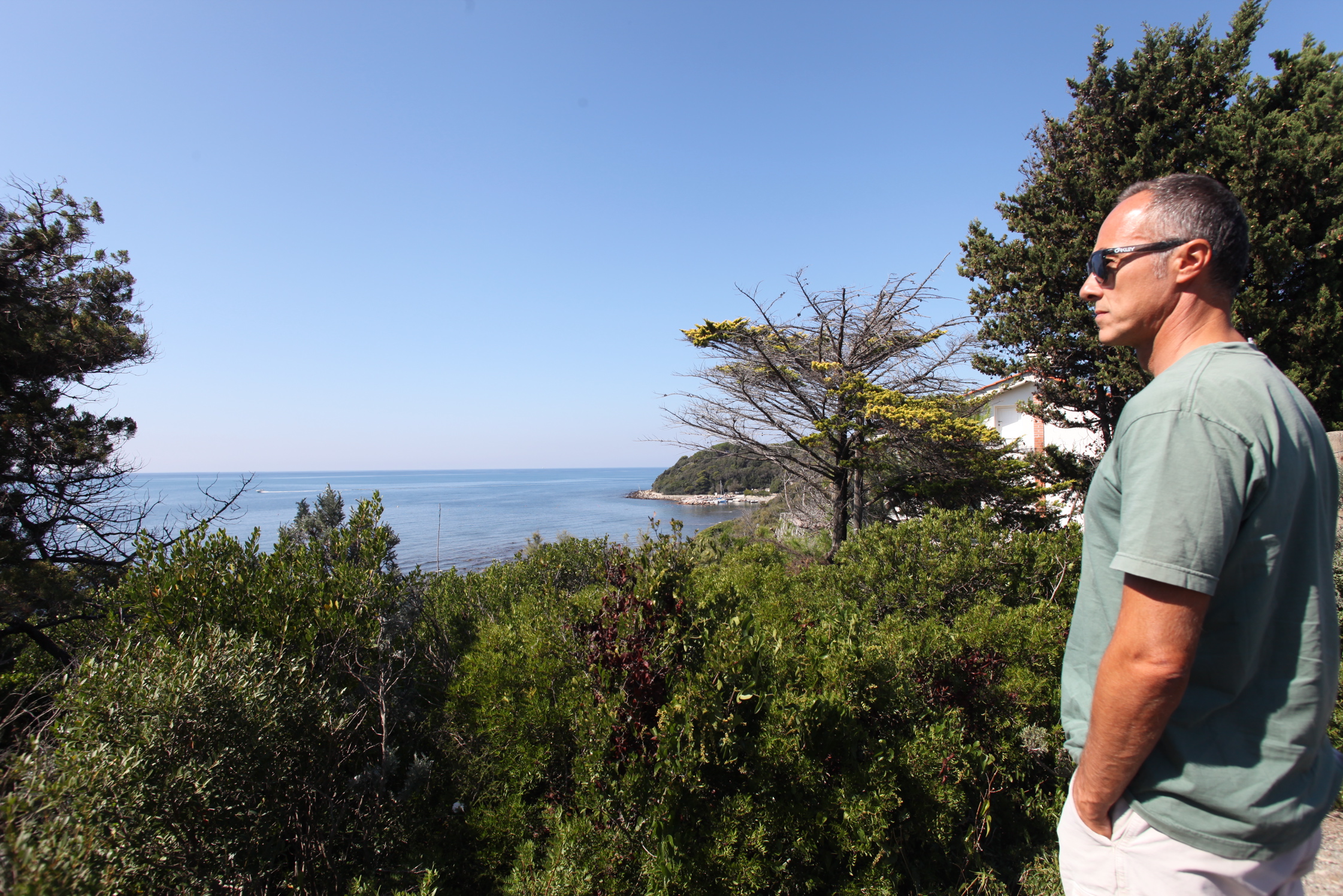 I didn't realize surfing was was possible in Tuscany. Where do you go?

In continental Italy, Tuscany has the most exposed coastline to the northern Mediterranean swells. We can have great waves on good surfing days. We are fortunate enough to also have great reef breaks south of Livorno, where I like to go the most with my son Giacomo. He likes powerful waves and I do my best to follow him. We also love the beach breaks of the Versilia coast, and the classic piers in that area that represent the center of the local surfing scene. California is my second home. I know there are perfect waves on many parts of the globe, but in California there is a very special and magical mix of great surfing and a beautiful surf culture.
And what are your favorite places to visit in the region for a day or long weekend?

Lucca, Bolgheri, the Gulf of Baratti, Florence and Pisa.

Did you always know you would go into winemaking or did you consider other careers?

I am not in winemaking – I'm still in the field of art making!