If anyone has found their balance and center it is the effervescent Sydney based artist known simply as Nell. Living and working in the heart of the city with her celebrity chef partner, Kylie Kwong, life could not be more harmonious.
Originally from the bush, this strawberry blond pixie lights up every room. Nell's artistic practice mirrors her interest in channeling energies derived from her Buddhist values. A particular composure resonates from her every pore. Artistically Nell utilizes a range of recurring motifs in her mixed media work such as smiley faces, raindrops, meditating figures, ghosts, and iconic symbols such as the crucifix, while boiling ideas down to their very essence. Concepts are investigated in binary terms: life and death; delicacy and heaviness; passivity and aggression; silence and noise. Quite clearly this yin-yang dichotomy leans more towards the positive, love and happiness scale, reflecting her personality summed up perfectly in her email trail 'forever joy'.
Continuously reinventing herself, Nell has worked on a range of recent projects in the worlds of performance, music, and fashion – including a collaboration with Australian fashion label Romance Was Born. During a delightful afternoon in the sun we take a walk around Nell's neighborhood and visit her home and studio – with arguably one of the best views in Sydney. We discuss her love of iconic Australian band AC/DC's music, the special people in her life, and favorite place to grab a bite to eat.
This portrait is part of our ongoing collaboration with ZEIT Online who present a special curation of our pictures on their site.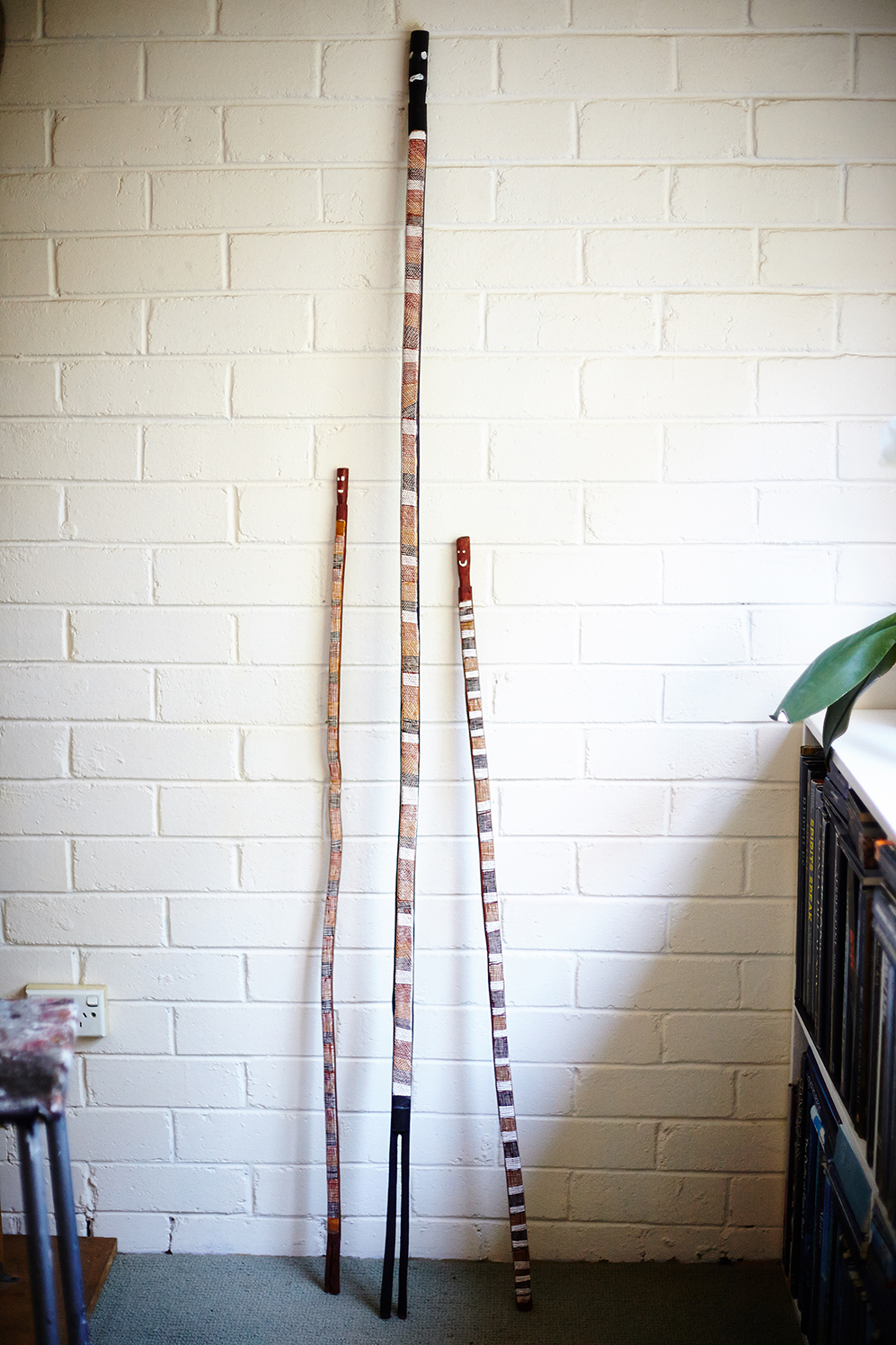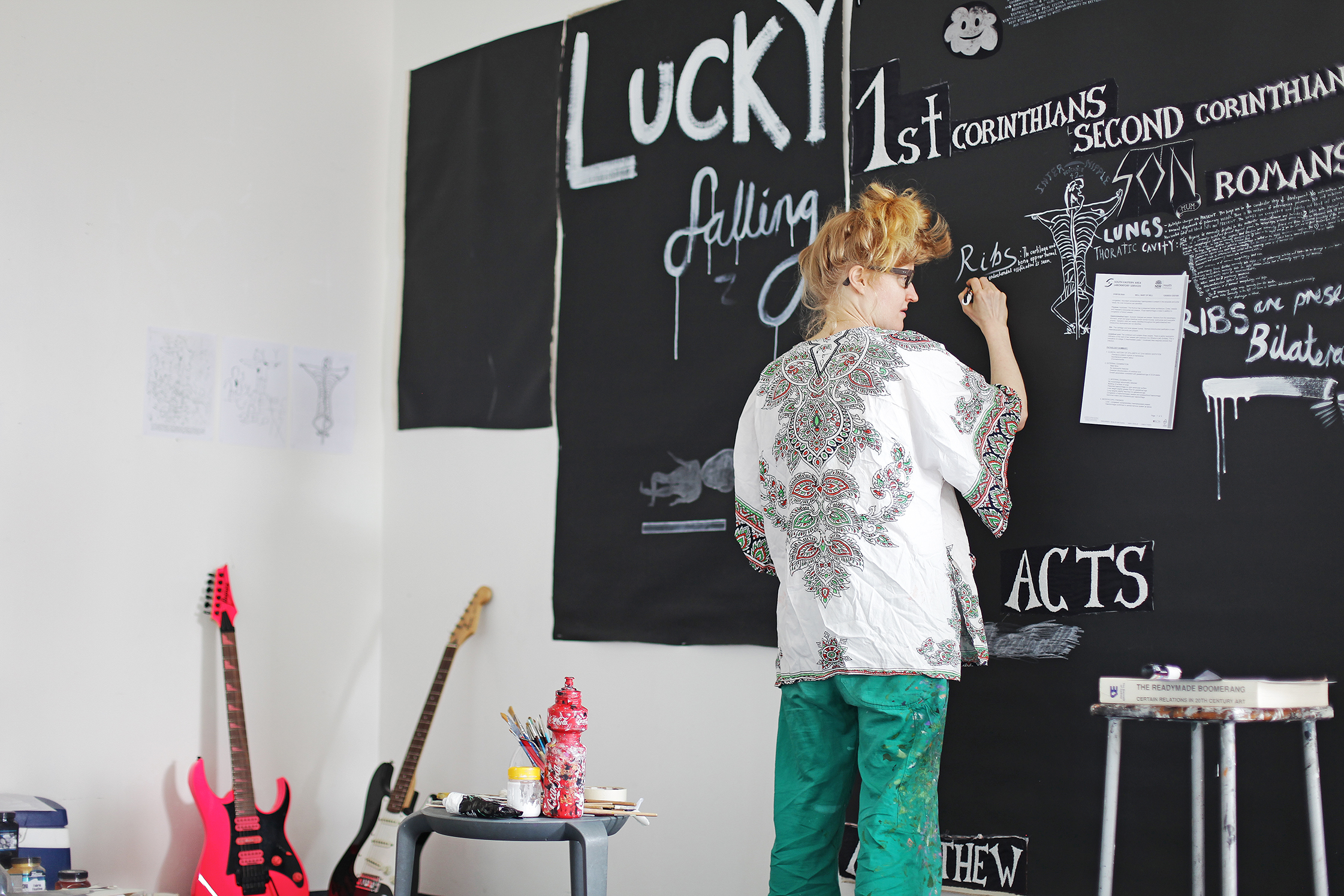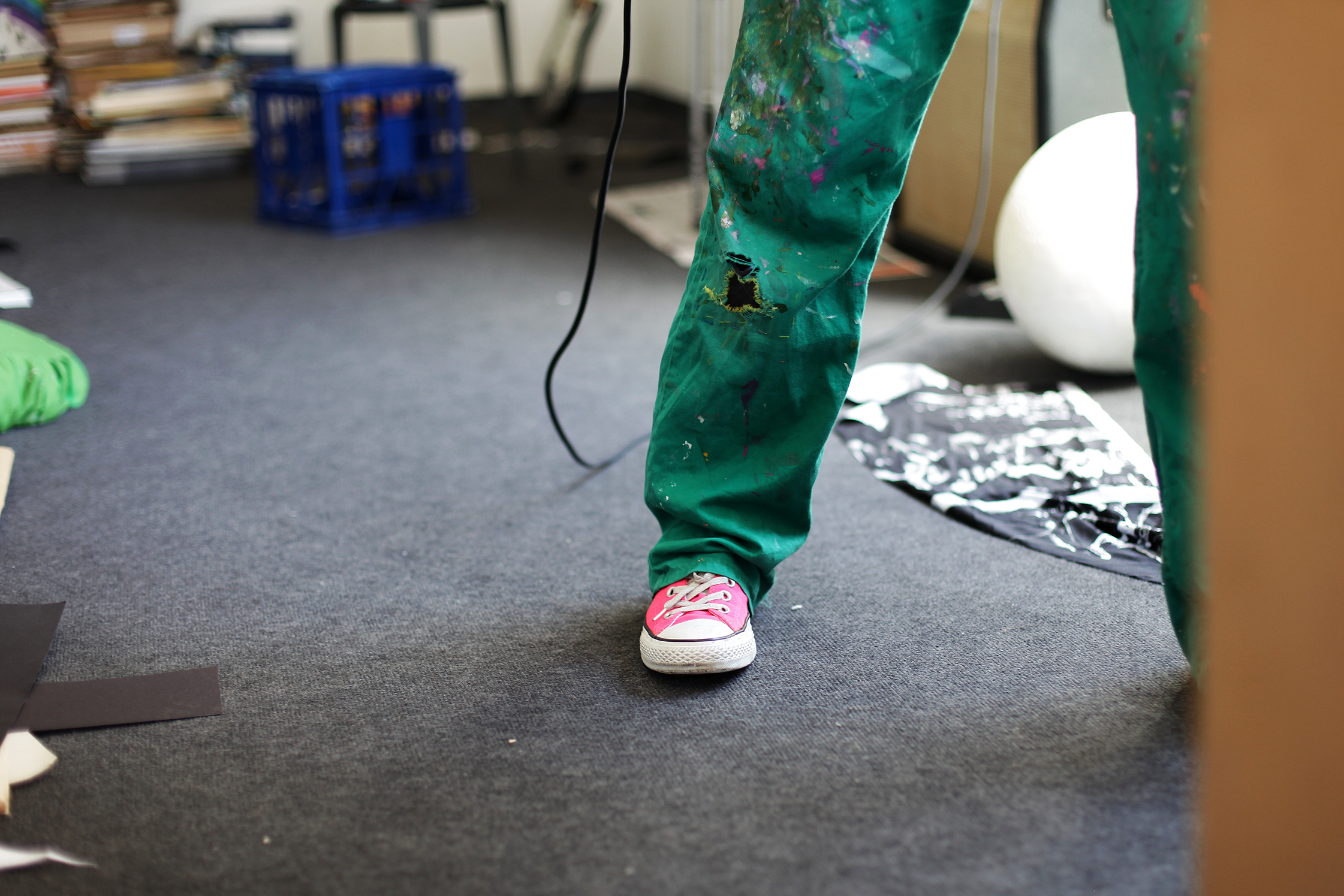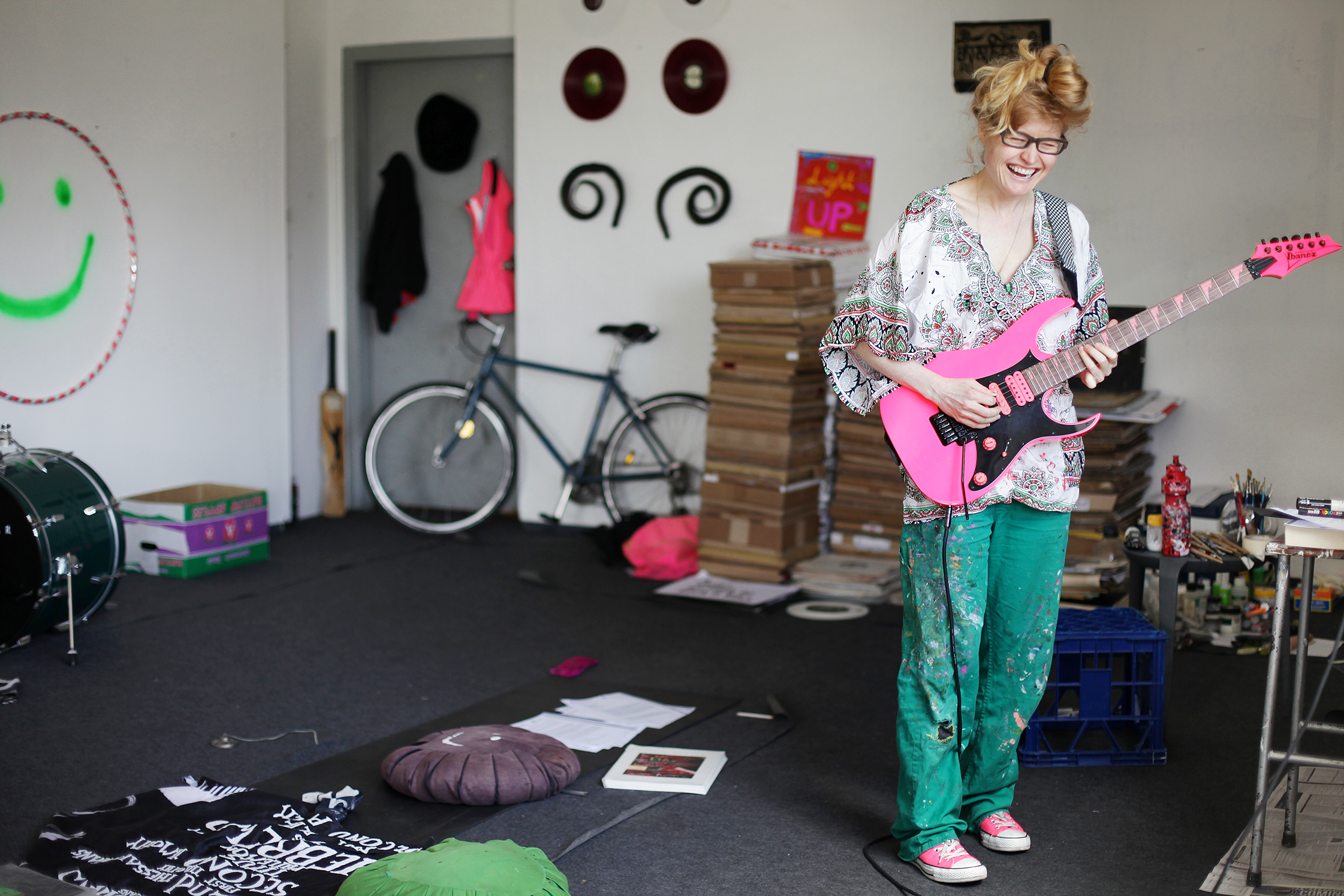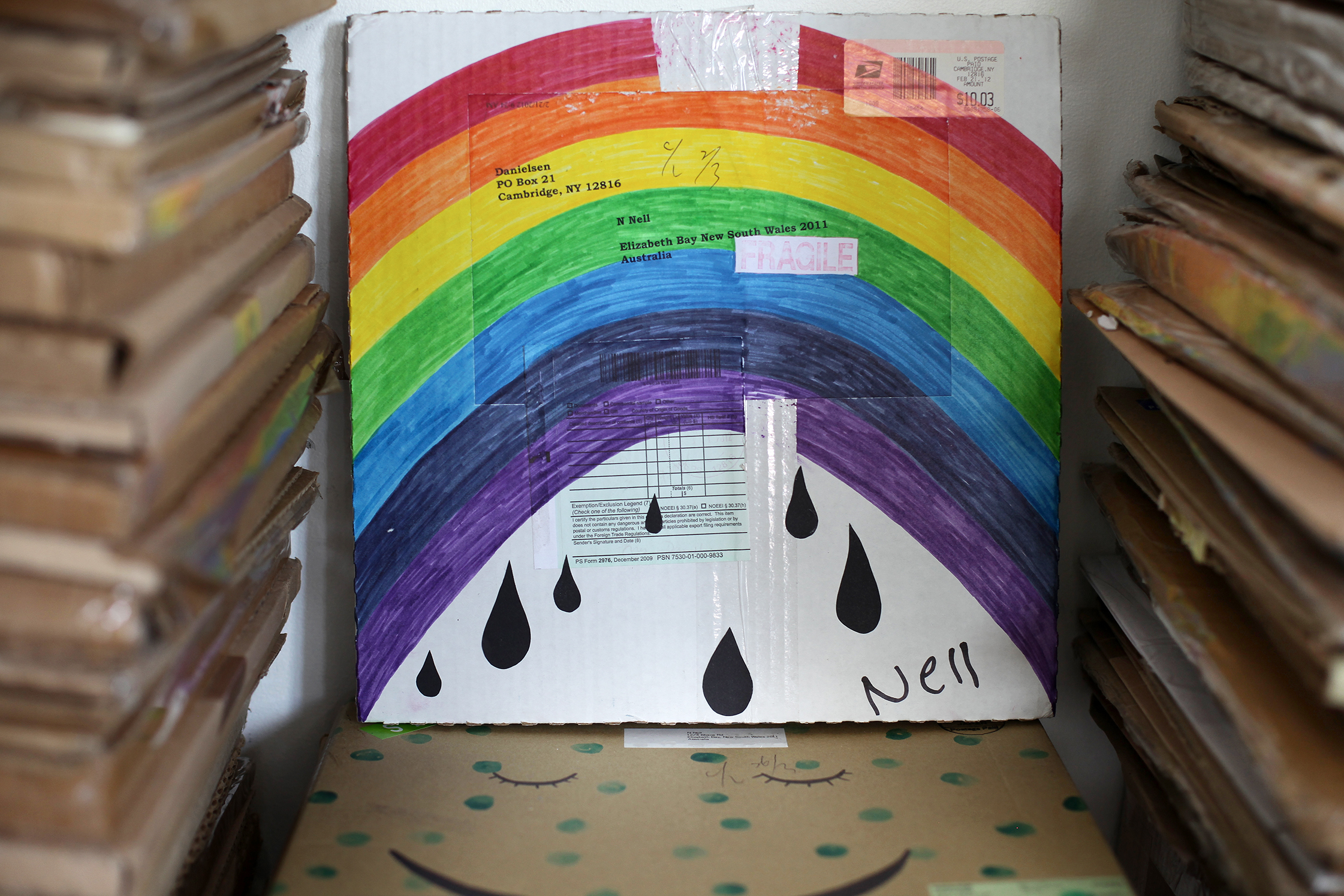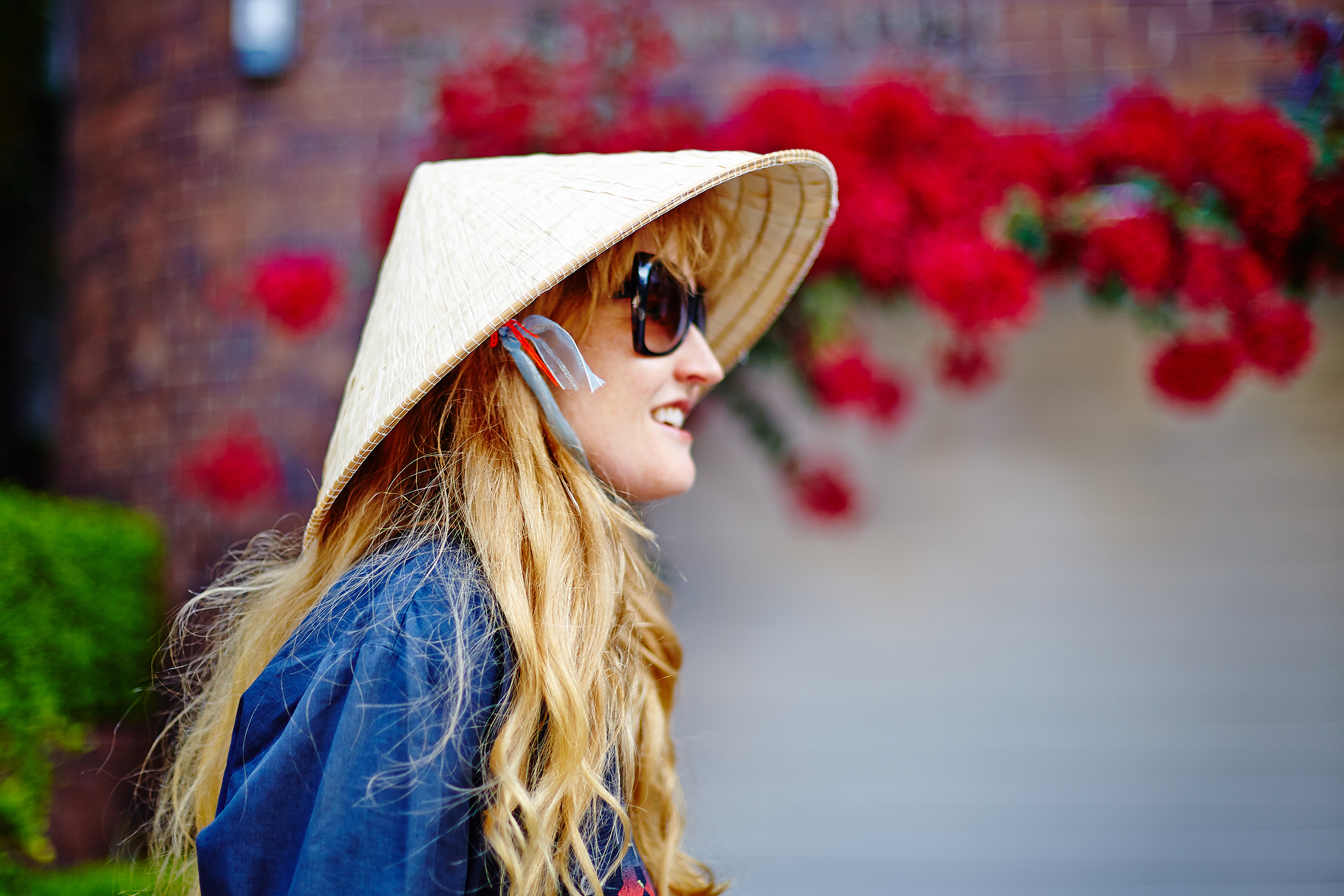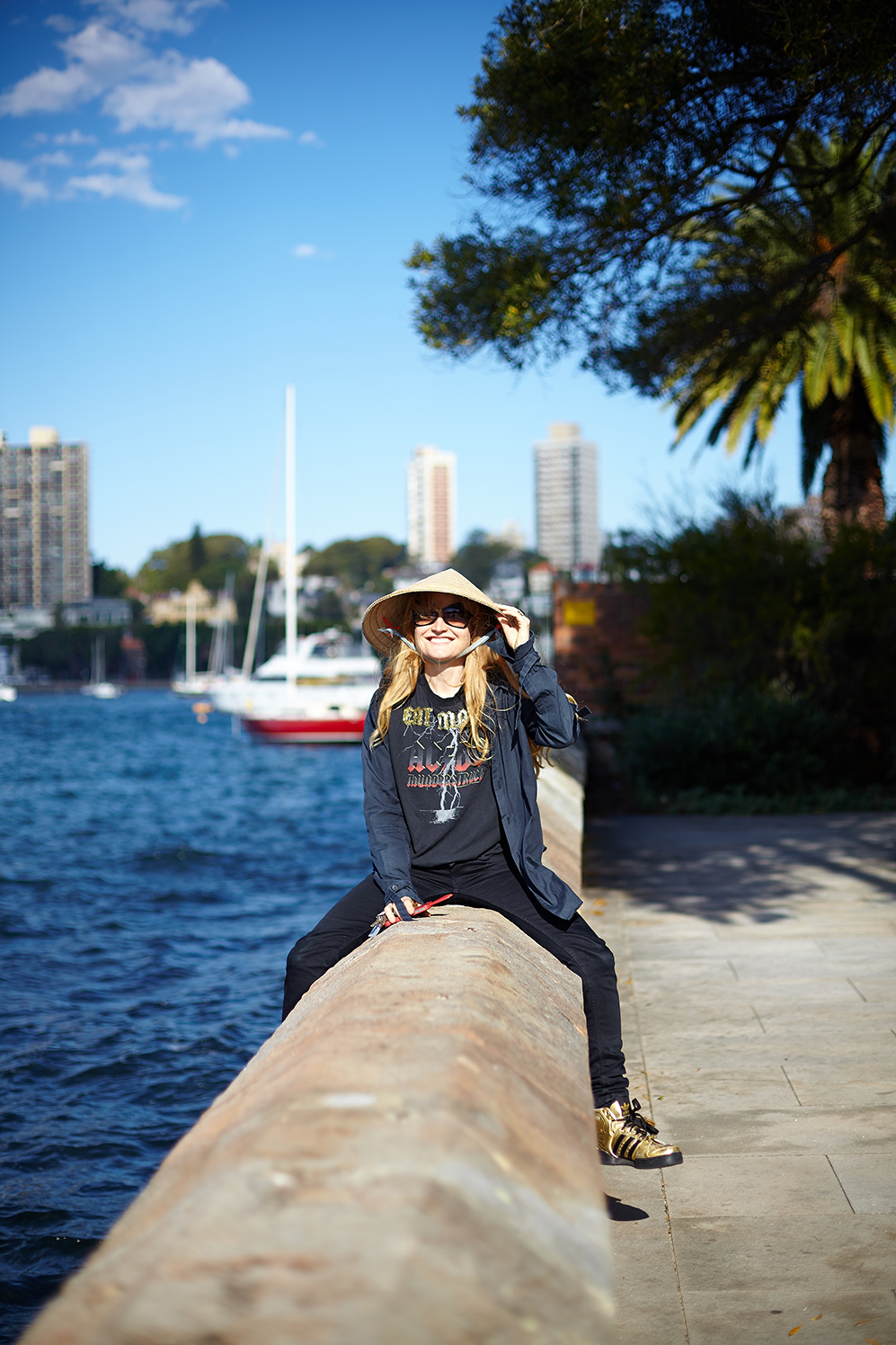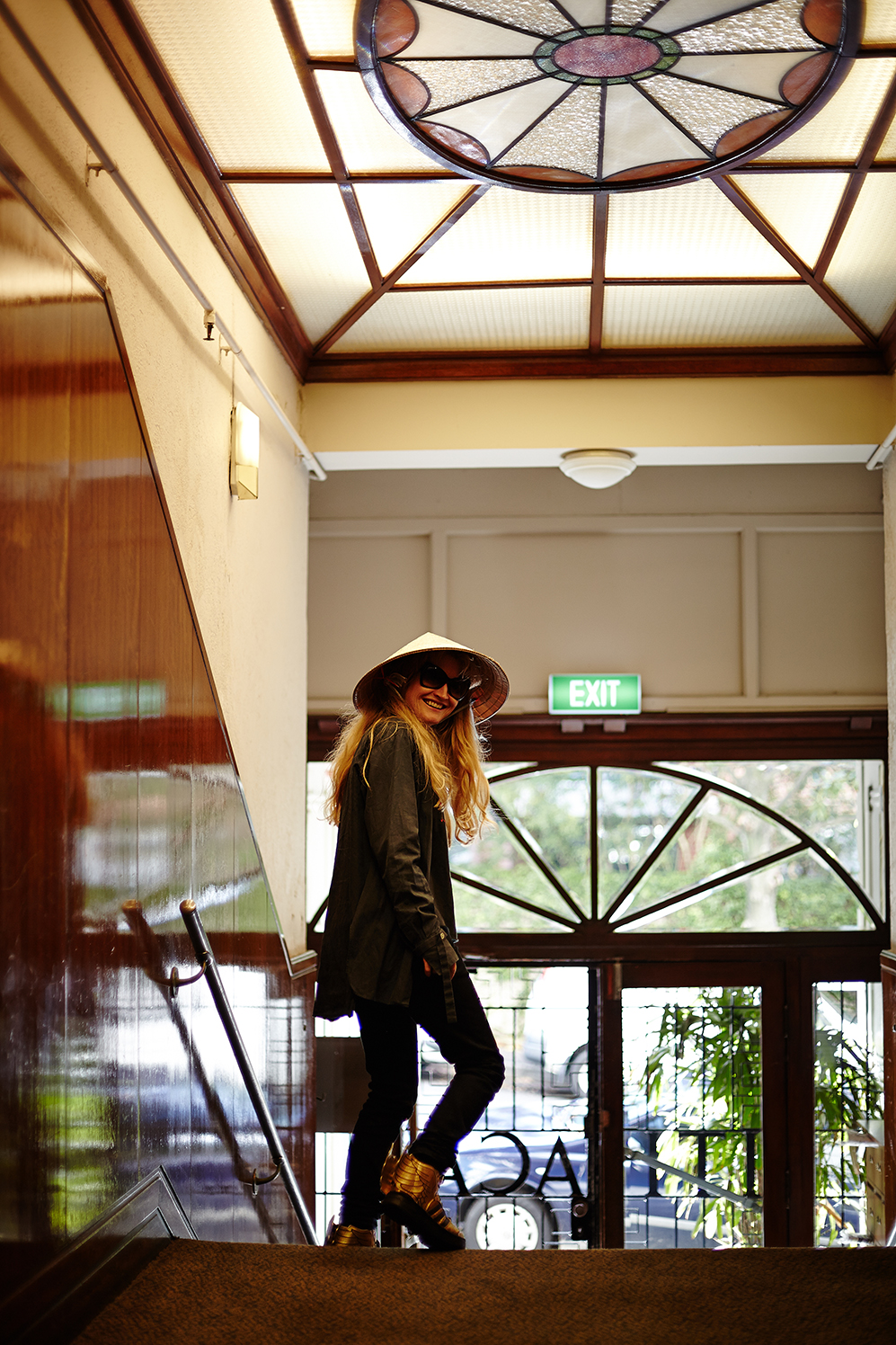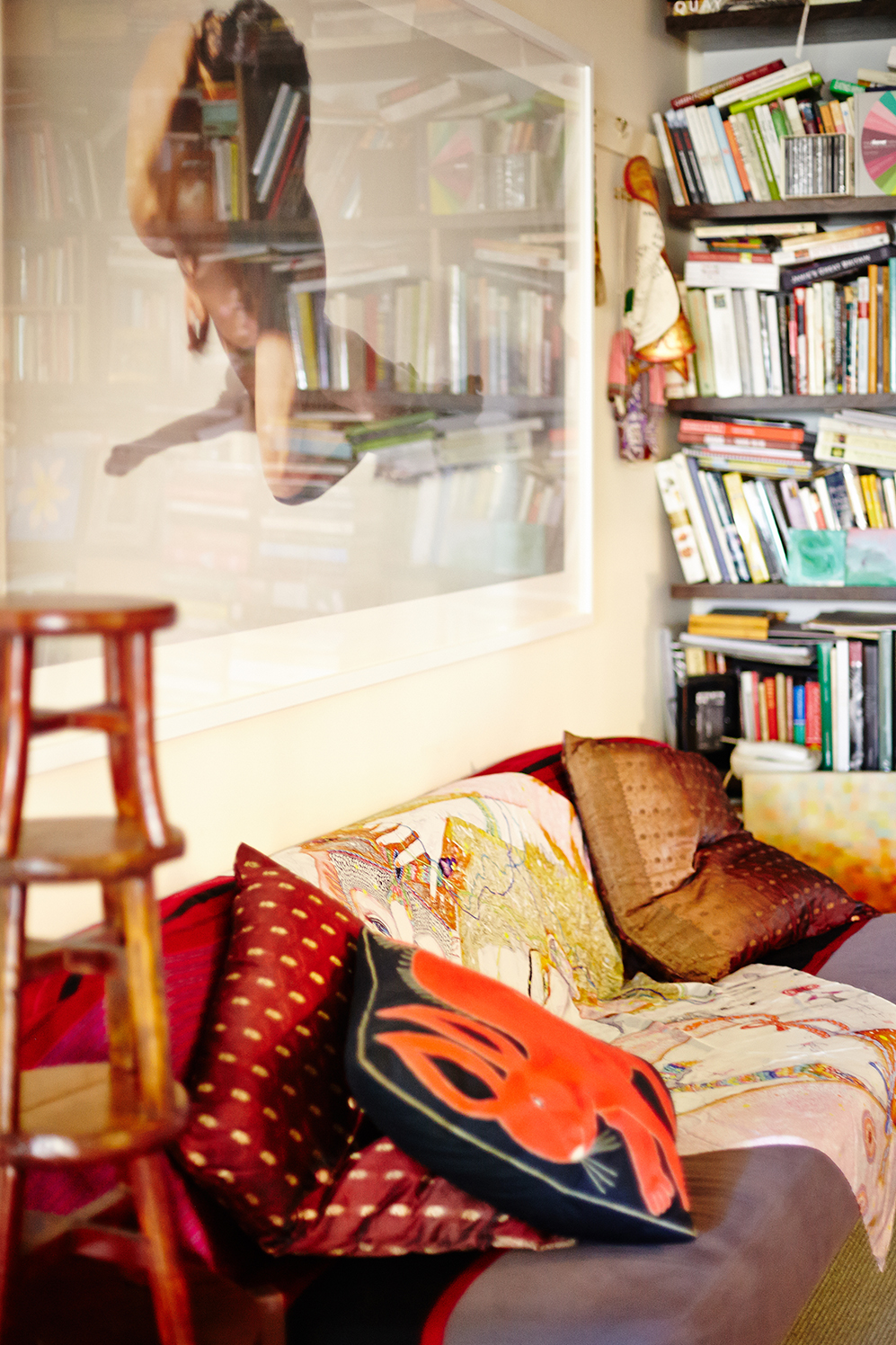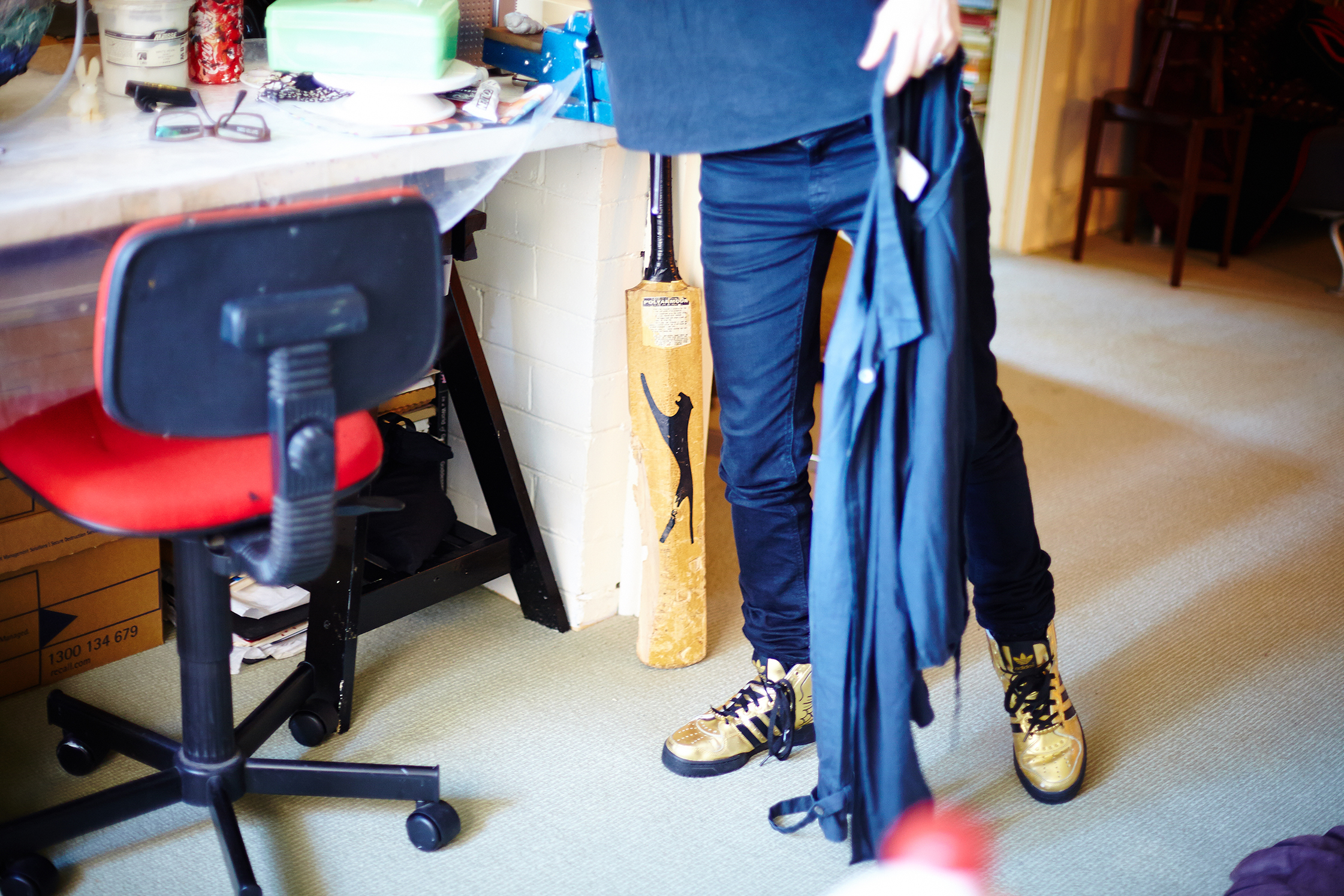 How long have you lived in your home and how did you find it?
Seven lovely years. Kylie, my partner, had just bought the apartment before we met and she hadn't really unpacked or settled in. So even though I played no part in finding it, we made it our home from the beginning.
Do you have a favorite room or aspect?
My favorite place is always wherever I am.
You have an extremely impressive book collection! Where do you buy your books? Any all-time favorites?
You know how some women hide clothes they have bought? Well, Kylie and I hide books! I know she has a stash in the car and I have a stash in the basement! We try not to get more books but they just keep arriving. We simply can't help it as we love books so much. I'm really into books on primitive art, first art, ice age art, tribal art, indigenous art, folk art, and outsider art. I've just been to Japan so at the moment I'm reading about Haniwa, Dogu and anything from the Jomon period. I also love books on the history and aesthetics of Rock 'n' Roll and then there are some artists who I buy every single book I find on their work such as Lucio Fontana, Colin McCahon, Kiki Smith and Katharina Fritsch. My all-time favorite books in terms of content and design are the trilogy of books published by Axel Vervoordt to accompany the ACADEMIA, ARTEMPO and IN-FINITUM exhibitions.
I can spy many of your own artworks, artworks by artist friends and indigenous Australian work. Is it important for you to be surrounded by these objects and images?
Yeah I do like to feel like I'm living in a nest of treasures. Having special artworks and objects in my living space feeds my soul.
Can you tell me a little about your childhood and where you grew up? Were you always creatively inclined as a youngster?
I grew up in a rural center and although quite beautiful in places it was a million miles from all the things I was interested in. There was zero multiculturalism – the only culture was sport. There were only two television stations and finally, when I was 17 years old a movie theater opened and I got to see movies!
In retrospect the cultural vacuum and boredom probably fostered my imaginative life and a deep resourcefulness within me to make things regardless of the circumstances. Without any encouragement I drew and painted, made children's books, tie-died clothes, wrote (bad) poetry and played guitar. But I couldn't wait to leave as I knew the whole world was waiting for me!
You went onto study at the Sydney College of the Arts. Is this when you relocated to Sydney?
The day I turned 18 I went to an outdoor music festival in Sydney and saw Sonic Youth, Nick Cave, and Iggy Pop and it changed my life! A few days later I moved to Sydney and as soon as I arrived at art school it felt so right and I was 'home'. I lived in LA for a year and for several months at a time in Paris, Beijing, and Rome but I have always returned to Sydney.
Have you always been called Nell?
Nell is my birth name. I legally lost my last name. I like to think every name is my surname and therefore everyone and everything is my family.
Your work is very much an extension of your personal philosophy on life and personality, engaging in positive energy and spirituality. Perhaps before talking about your artistic practice, we could discuss your Buddhist practice and how you came to find this path.
When I was at art school I met Lindy Lee, an amazing teacher and artist and I became her studio assistant. She practiced Zen meditation and opened her life to me on so many levels. Essentially she was my art and life mentor at that formative stage when one needs guidance in the world.
What does this mean for you in everyday life?
Basically it means I try to make time to meditate every day. This morning I did half an hour of meditation. Sometimes I do more, sometimes I do less, sometimes I do none and that's ok too. I go to mediation retreats a few times a year to remember that I'm alive and to remember that myself and every person I know and love will die. After a while I forget these things and I have to go back on retreat.
You have some special and influential people in your life can you talk about them a little?
I am blessed with a beautiful partner, wise teachers and a bounty of friends. I am lucky in so much as I love people – my spiritual friends who walk the crooked path of life with me, my yoga buddies, my neighborhood friends and so many fantastic and interesting artists and people I've meet on my travels and in the art world. I got to meet Yoko Ono when I was in Tokyo recently. Her huge energy is a cross between a Rock Star and the Dalai Lama! But, you know, I come home and I love talking to my postman just as much as I loved meeting Yoko!
Have you been given any specific words of wisdom that have resonated with you?
Lots! Zen is an oral tradition so every single dharma talk is brimming with wisdom. At the moment I've adopted a quote by Theodore Roosevelt: "Do what you can, with what you have, where you are" as a daily mantra and have painted several versions of it on old record sleeves. It pretty much sums the up the whole matter of the difference between what we think we want and the reality of where we are.
Working between performance, painting, installation and music, one of the main elements that serves to connect your oeuvre is an exploration of internal energies and states of being. Notions of life, positivity, happiness, meditation and silence are offset by binary oppositions like death, negativity, sadness, and noise. Is this something overtly pursued?
Binaries are so helpful in linguistic communication but in reality they are more elusive to pin down. How black does black have to be to be black? When does day become night? When does life become death, or death become life? In my work I use life and death or silence and noise to both celebrate their extraordinary differences and that they don't exist in isolation and are in fact, indivisible. That's where the magic is for me, between black and white runs a river of gold!
Your chrome plated sculpture 'Everyday Happiness' (2010) for me encapsulates a lot about your approach in art and life. Depicting a pile of poo with a smiley face, it conveys the message of finding joy in the simple things – perhaps putting life into perspective.
One day in the studio I was having absent minded thoughts about being responsible for not making more shit in the world. And of course it was the light bulb moment for making a happy turd! It is the perfect serious/funny work. A happy poo is funny and yet I called the work 'Everyday Happiness' because if you do a poo every day you genuinely have much to be happy about. It means you have food to eat and your bowel is in good working order. I think we get so caught up in our "shit" that we forget the miraculous nature of our bodily functions!
There is definitely a part of my practice that is devoted to keeping things preposterously simple and almost childlike. I like putting smiley faces on things that you wouldn't at first associate with happiness, like a storm cloud, a gravestone, or a poo because you can no longer read the object as negative or sad – the smile is always stronger. It doesn't matter what your cultural background is or how old you are, a happy face is a happy face. I am really passionate about the directness and effortlessness of connecting with others and communicating joy and I feel my happy poo does just that!
In recent years you have investigated the territory where art and music meet. Can you tell me about your love of rock and roll and your guilty – or perhaps not so guilty – pleasure: the music of iconic Aussie rock band AC/DC?
Nah, AC/DC is guilt free! I hardly know where to start when talking about AC/DC. Firstly, I love the music, then I love the font, I love the fans, I love the merchandise, the paraphernalia; the entire phenomena that is AC/DC. Sunday school was my first aesthetic. Seeing boys walk down the main street in my hometown wearing ripped jeans and AC/DC T-shirts was my second aesthetic. And I'm still making work about the harmony and collision of those two worlds.
What do you love about performing? Are there any performances that have particularly stood out for you?
I'm a late-comer to performing. It took me years to shed the fear of performing but now, for various reasons, all the fear has evaporated. The body is the most commanding and most authentic tool of communication. I've got lots of performances to make in this life! I've seen Nick Cave more than 20 times and he is such a powerful and magnetic performer – he is like a snake around your ankle that you can't shake off.
Where did you get your guitar?
I did a project for MONA in both Sydney and Hobart where I re-staged AC/DC's 1976 film clip "It's a Long Way to the Top (If You Wanna Rock 'n' Roll)". I also curated a night of music and performance for the MCA where I was part of band that performed The Cramps "Human Fly". So one guitar was paid for by MONA and the other by the MCA!
Your studio has a stunning view of the Sydney Harbour Bridge. How special! Do you have quite a strict routine with how often you go to the studio to work?
Even though I work hard, working is such a joy it rarely feels like work. I pretty much go to the studio every day. My preference is to always be in the studio but obviously I can't make it to the studio when I do projects off-site, install shows, and like everybody I have go to meetings and work on the computer with too many emails! I try not to make distinctions or separations with all the different aspects of what each day holds and make it as seamless as possible.
What are you working on currently?
I'm working on a book, some ceramic pieces, some bronzes and some paintings. I've got a few different shows kicking around in my head and I'm not sure which one will win out so at the moment I'm working on them all.
What is it you love about your hometown? Sydney seems to have a lot of sensational weather. Do you consider yourself a true metropolitan Sydneysider these days, or is there some country left in the girl?
I love Sydney because that's where I am. I can't imagine not living in a big cosmopolitan city but I like to think that I have retained an openness and straightforwardness that comes from growing up in country town.
Any favorite local places for great bite to eat in your neighborhood?
Our life and our tummies revolve around Kylie's restaurant, Billy Kwong in Surry Hills. Where else in the world could you get caramelized, red-braised wallaby tail with black bean and chili? Yum!
Nell it has been an absolute pleasure to spend some time with you in Sydney between your studio and home. To find out more about Nell's work visit her artist page here and fanpage here.
Photography: Penny Lane
Interview & Text: Rachael Watts