One of FvF's longtime contributors from the Middle East is Natasha Jane Stallard. Initially living in East London, this driven young lady studied literature in the British capital and worked in theatre and radio, always writing in her spare time.
Five years ago she moved to Beirut, initially with the vision to stay for just one year. However, this has turned out to be a five year adventure. "I love Beirut so much – it's like the bad boy you can never change, but you fall in love with him anyway," says the dark haired writer about the Lebanese capital.
While in Beirut, Natasha teamed up with photographer Tanya Traboulsi to become FvF's first editorial team in the Middle East and has introduced us to the creative scene of the region.
At the end of last summer, Natasha moved to Dubai and joined as the new editor of Brownbook, an independent magazine for Middle Eastern arts and culture, in the region and around the world. The magazine presents something very different from what people usually expect from Dubai. Some of the latest stories she's most proud about include a roadtrip with surfers in Libya, an Islamic-style mansion in Hawaii, a fashion shoot in Casablanca and the portrait of a vinyl record collector in Tehran.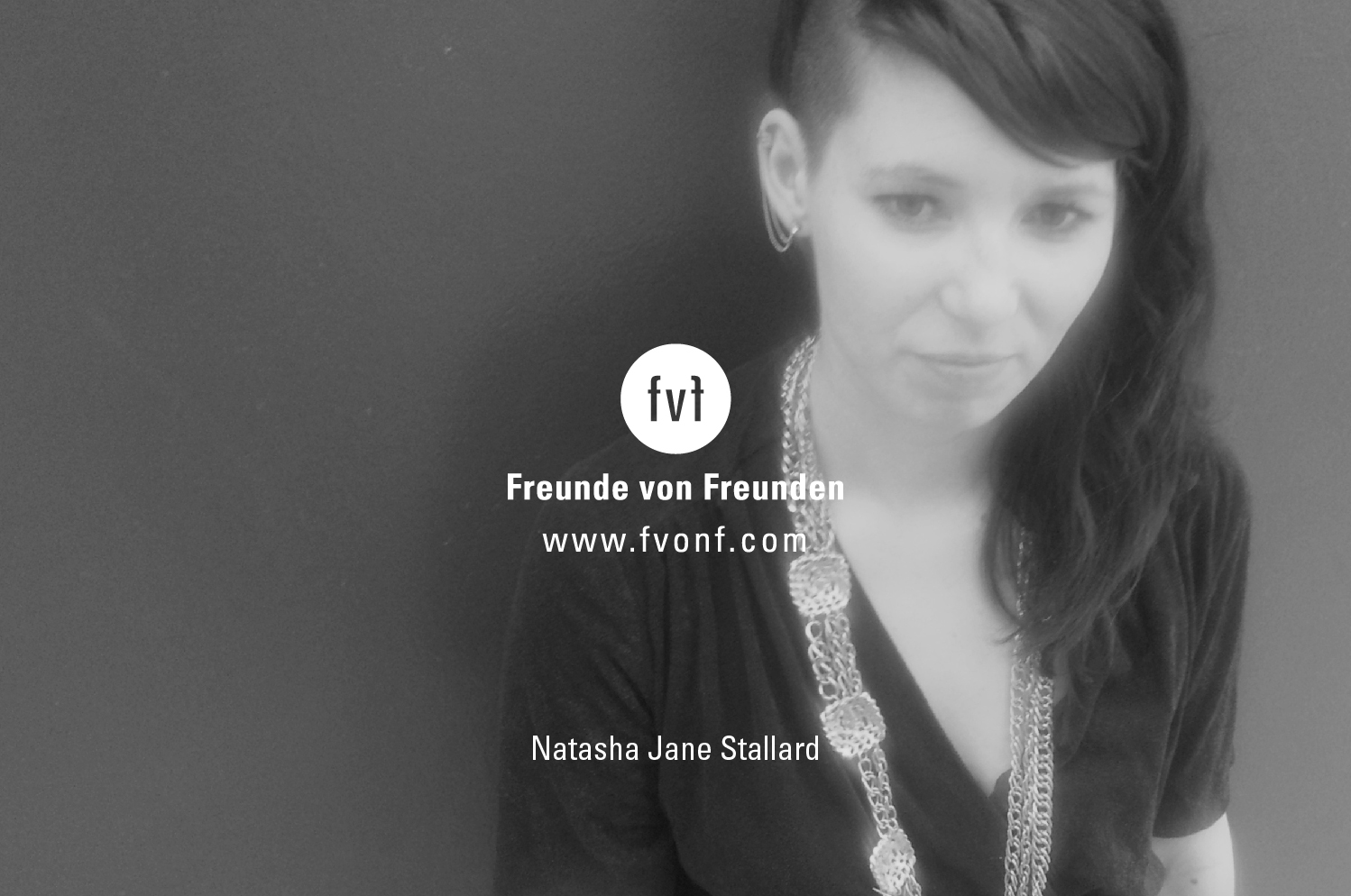 Natasha loves her new home and the mix of many different nationalities. The fact that it's a very new city, makes it a "strange and fascinating place to be". In her time off, she loves spending weekends on the beautiful beaches, road trips through the desert to Oman, and hanging out at places like The Archive, a library/cafe in the middle of one of Dubai's oldest parks surrounded by palm trees or at parties organised by DUST, a couple of DJs who organise events in hotel basements and rooftops – an alternative to the rest of Dubai's quite glitzy nightlife.
What sparked your fascination with the Middle East?
Every taxi driver in Beirut always asks what you are doing in the Middle East, and I'm still not sure how to answer it.
What do you do when you are not working with FvF?
I'm the Editor of Brownbook magazine. It's an independent publication devoted to contemporary Arab art, style and culture happening around the world.
What's your favorite daily ritual?
Music. Right now I'm listening to a lot of Awesome Tapes from Africa especially the new Dur-Dur Band album – a re-release of some glittering Somali disco-pop from the '80s. The blog inspired me to start collecting dabke cassettes and I have an ongoing obsession with dabke rhythms – like this old Souad Abdullah track taken by "Choubi Choubi! Folk & Pop Sounds from Iraq", released by the genius label Sublime Frequencies. I DJ sometimes and I'd really like to do a dabke set soon. I'm also loving Yasmine Hamdan's new album, which is full of dreamy reworkings of old Arab songs, like this cover of one of my favourite Ziad Rahbani tracks "Khalas". I've had a Mariem Hassan song on repeat for the last few weeks too. She's a singer from the Western Sahara, and this song mixes poetic Arabic with proper blues. If I don't listen to music in the morning I feel lost.
Where do you go when you want to relax or get inspired in your city?
Public transport for sure. Getting the last train in London, conversations with taxi drivers in Beirut… the panoramic view from the front of the metro in Dubai.
How has technology influenced you?
Beirut has one of the worst internet connections in the world, so living there forces patience and appreciation. When you wait nearly an hour for a music video to load, it feels like something precious again.
Best travel memory?
Cairo, just after the revolution – an overwhelming city at an overwhelming time. Later, I took an overnight train down the Nile to Aswan and then back up to Alexandria by myself. I love to travel alone, you have more adventures that way.
What's your latest artistic discovery?
Too many to mention. I moved from Beirut to Dubai quite recently, so it's been cool to discover interesting perspectives on the Gulf, such as Sophia Al Maria's "sci-fi wahabism" – I recently interviewed her for Brownbook – and publications like The State. My recent discovery is a little bit more surface level – some super sixties Prada Poeme flower sunglasses – the same pair that Myriam Fares wears in this super kitschy Lebanese pop video. They are the most expensive thing I've ever bought for myself, except for laptops, so I'm planning to wear them until my death bed. They are my new face.
What was the last great meal you ate & where?
The Fatteh Abou Hassan from Abou Hassan in Bourj Hammoud, the 'Armenian ghetto' of Beirut. It's a $3 big bowl of yogurt, chickpeas, soggy bread, gallons of butter and garlic, and they make it like no other. It's open 24 hours and near my old apartment in Mar Mikhael, so I used to go all the time.
Three websites you more or less visit daily?
Dubizzle is my late night fix – it's Dubai's own Ebay/Craiglist and full of second-hand joys and bizarre Dubai-isms. Fader.com is my home for hip hop and RnB, and I click on nearly everything posted on the Ajam Media Collective Facebook page, from essays like 'Misreading Feminism & Women's Rights in Tehran: Beyond Chadors, Ninjabis & Secular Fantasies" to tumblrs of cats in Cairo.
Who would you like to see featured next on FvF?
A member of Dubai's royal family.
What's the biggest misconception about Dubai?
That it's all giant shopping malls and bling buildings and other cliches. There's all that big stuff, but there's a lot of small stuff too. Dubai challenges the imagination and makes you reconsider a lot of your preconceptions about what's cool and what a city really means.
What's your favorite picture on FvF?
This photo of Ella on the roof of her building in Adonis, just north of Beirut. It's a built-up area that looks over the Mediterranean and a power station with two towers that look like two upright cigarettes. I used to live there, so it gives me a weird sense of nostalgia. Ella is full of soul and Tanya Traboulsi is a very intelligent and visceral photographer. I really admire Tanya and working with her on Freunde von Freunden is always an inspiring day out.
Thank you Natasha for giving us timely interviews from the creative capital of Lebanon. Check out all her FvF interviews here.