San Francisco is a Californian hub with a European soul, a cultural mash-up characterized by heavy fog and free love, hippies, hipsters, and steep hills lined with brightly painted Victorian homes. The city is surrounded by open water on three sides; the Golden Gate Bridge- an Art Deco beacon in bold International Orange–stretches across the bay to the north, the Bay Bridge, currently illuminated in 25,000 LEDs as the world's largest light sculpture, spans over to the east, and the Pacific Ocean extends out to the horizon on the west.
Design in the city is clearly delineated from neighborhood to neighborhood–perhaps nowhere in the world does your choice of where to live define your style and perceived world view. The industrial chic lofts and condos in SoMa's concrete jungle represent tech booms past and present with an ultra-modern edge in what can be a scruffy part of town; shotgun shared apartments that dot the upper and lower Haight tend to embrace their well-loved, well-lived-in heritage with a comfortably cluttered chic that befits their spot at the center of the 60s counter-culture revolution; the Castro wears its rainbow pride proudly; the stately mansions of Pacific Heights stand tall and look out over the pulled together preppies that inhabit the Marina.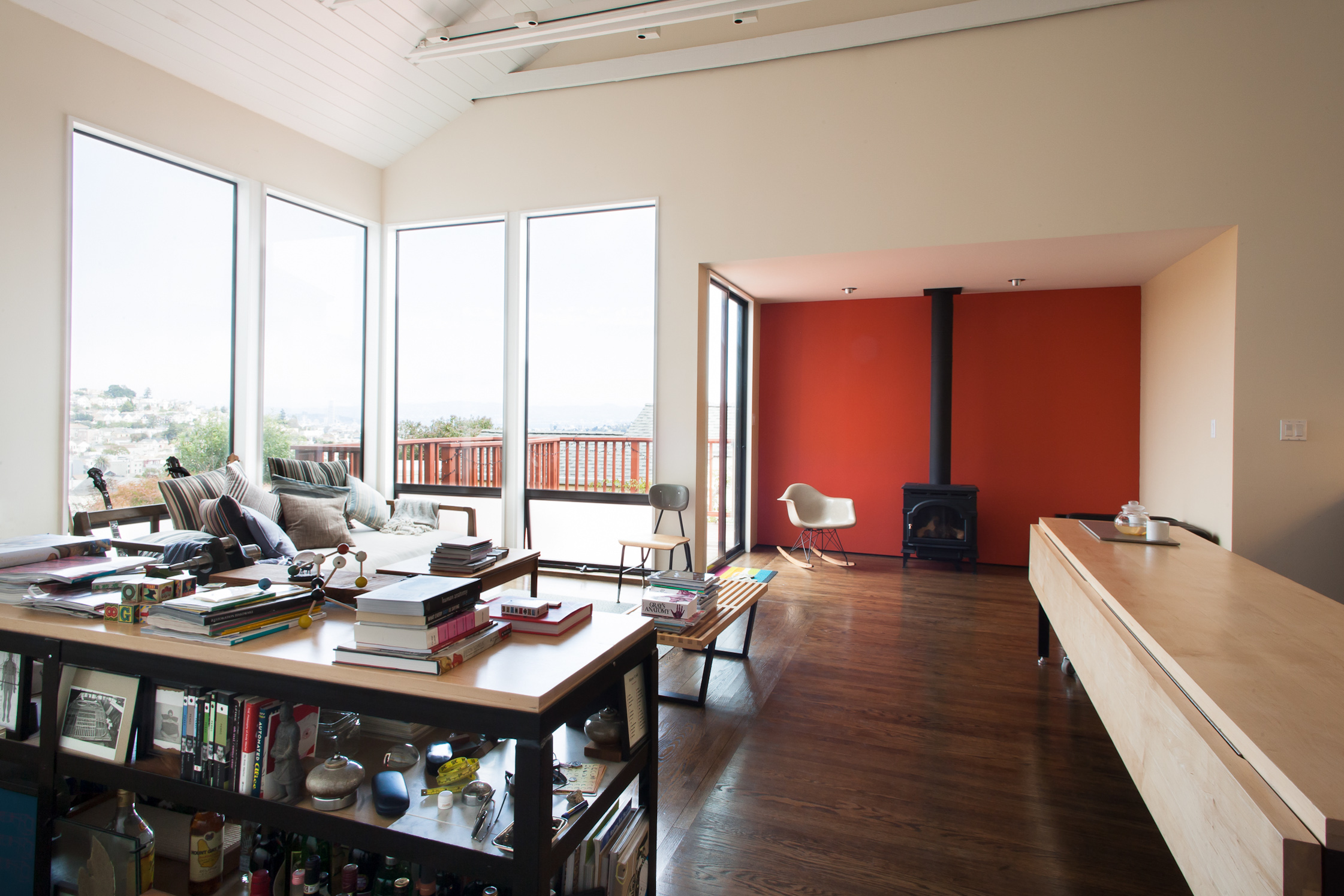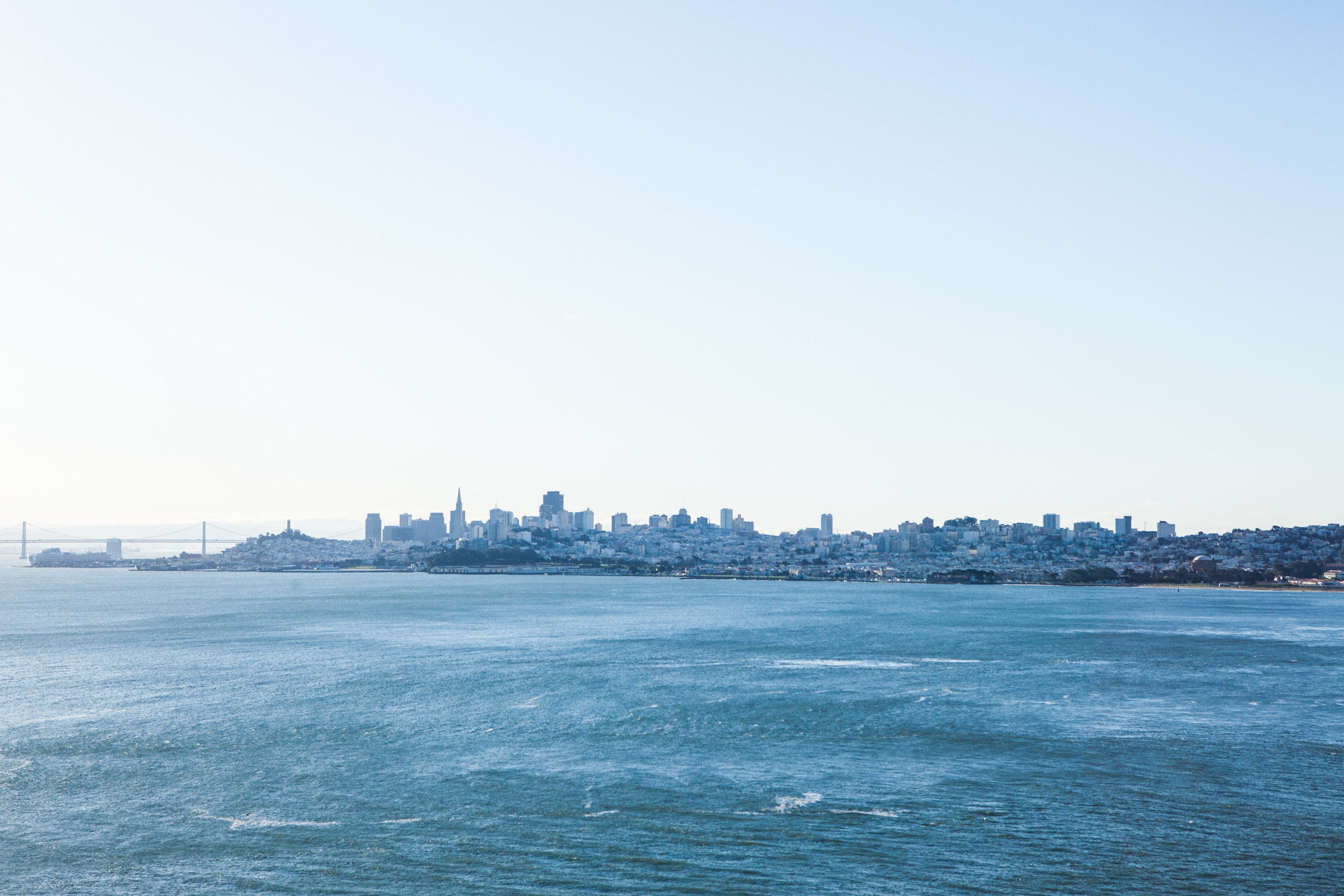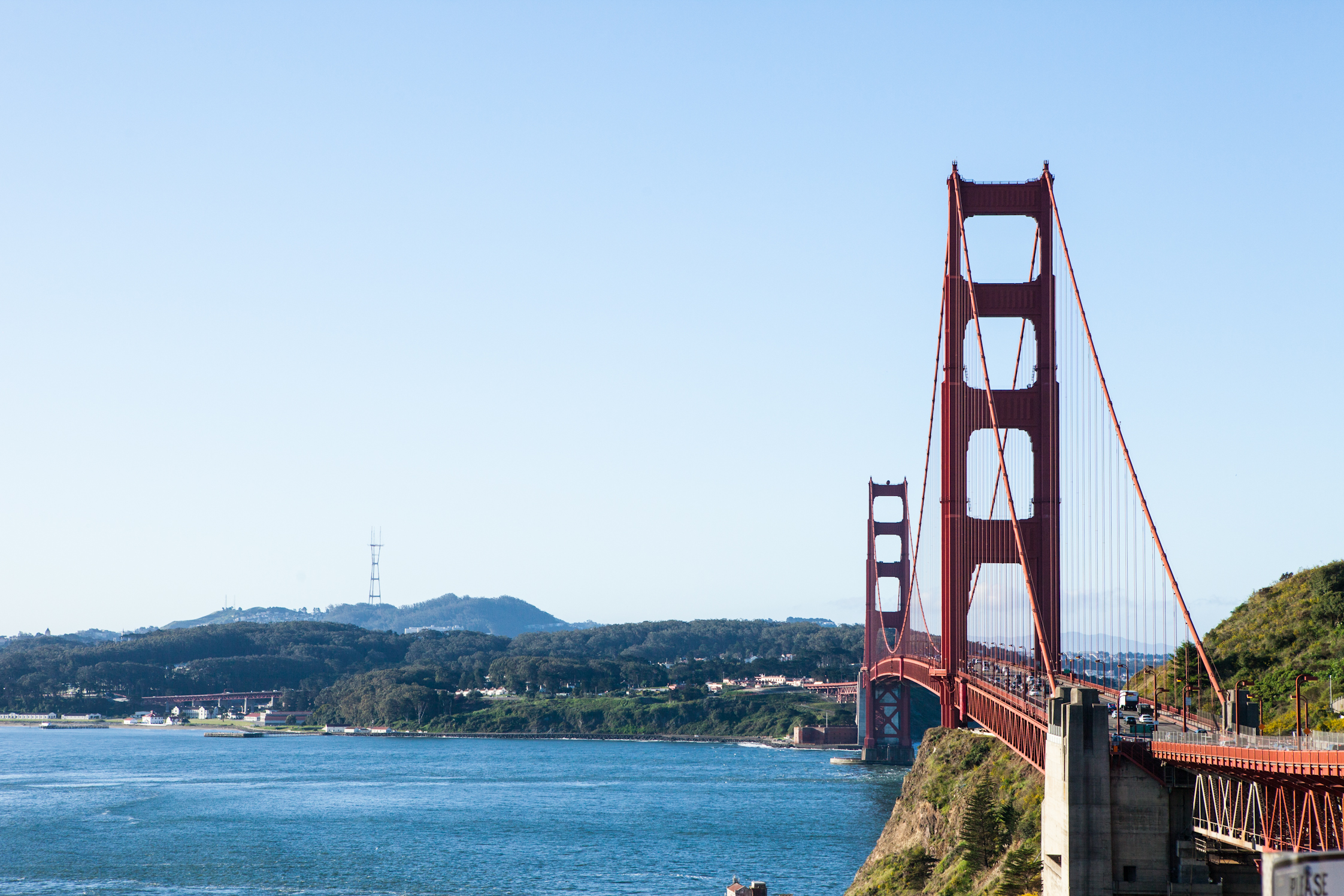 Interiors blend old and new, texture and pattern, tied together with pops of color that stand out against the huge sunlit windows and decorative floor tiles. Craigslist, which got its start at a Cole Valley cafe, is seen as the all-encompassing source of almost anything a San Franciscan might want or need to furnish their abode, from a couple of wooden lounge chairs; to a Jielde floor lamp; to a wrought iron bed frame; to an overgrown houseplant; the flux of the online marketplace is astounding. Regardless of where you're situated, at its soul San Francisco is nothing if not eclectic.
Innovation is second nature to SF. It's an incubator for start-ups and entrepreneurs and forever the potential home to the Next Big Thing, where Google buses chauffeur employees to the office, dreams can become reality if you know the right folks with the right talents, and everyone is a multi-hyphenate with a creative passion project. But it's also where design icons like Design Within Reach, the Gap, and Esprit were born, which in turn has planted the seed for a new breed of up-and-comers. Freelancers can be found populating nearly every wifi-enabled coffee shop around, where the ratio of humans to Macbooks at any time during business hours is almost always one-to-one, and boutiques are nestled on nearly every main drag and side street. Fashion is an anything goes display of stylistic ingenuity. Attitude is everything–if you've got the confidence to pull it off, more power to you.
The seasons are somehow backwards, with summer months some of the coldest of the entire year. When the sun comes out, however, San Francisco bares its flesh: sidewalks teem with flowing skirts and short-shorts, sunglasses and tank tops, sneakers- sans-socks and denim cut-offs. Parks, from Dolores to Precita to Crissy Field, become instant grassy meccas where picnickers share blanket space with hula hoopers and impromptu acoustic shows and curious dogs sniffing around for new friends, where it's possible to buy a can of cold beer, a popsicle, and a pot brownie without ever having to get up.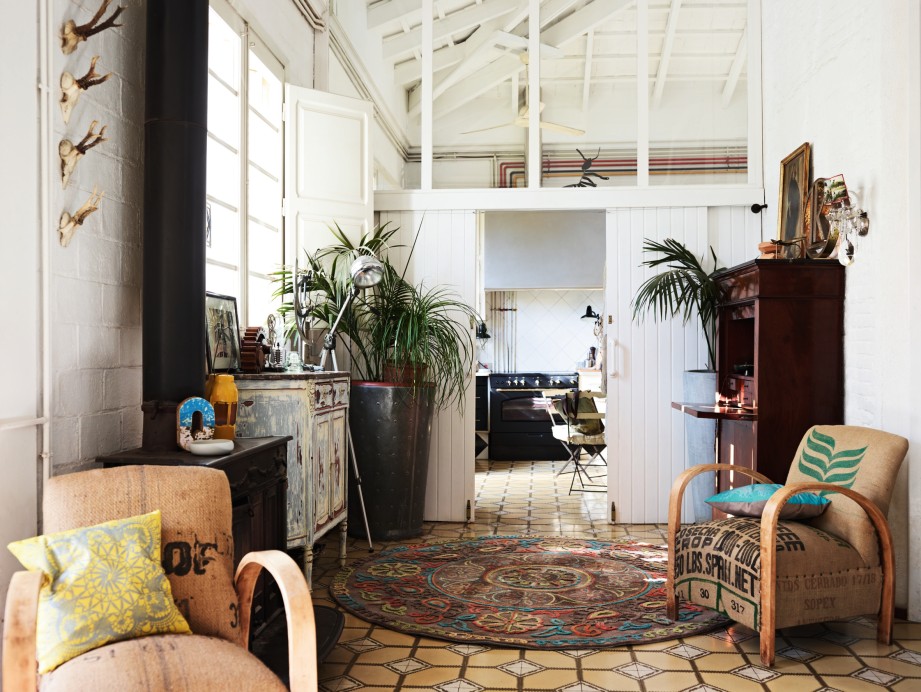 Even the steamiest, sweatiest days meet a chilly fate after the sun sets over the Pacific, and locals know better than to leave home without a scarf and sweater to endure the dusky hours, as darkness sets and the welcome heat disappears much quicker than it came. Then, of course, it's time to drink; Fernet is the unofficial shot of choice, accompanied by fancy cocktails or cheap drafts in some of the best dive bars the country has to offer. Which is not to say that San Francisco doesn't know how to indulge. Choosing a restaurant, even for a quick, casual bite, always poses the best, most delicious kind of dilemma; hyper-local cuisine is de rigueur, and dining is an art perfected in the smallest hole-in-the-wall taqueria to the latest culinary hotspot. San Franciscans will stand in a line that wraps around the block for the perfect scoop of ice cream while wearing gloves and wool hats, and wait patiently beyond what seems reasonable for a patio table at their favorite brunch spot because the gingerbread pancakes are to die for.
As idyllic as it is, one of the best parts about San Francisco is leaving, and seeing the heights fade away in the rear-view mirror on to the road to the vineyards of Napa and Sonoma, or along the epic shoreline drive up or down the coast. A ferry ride offers a scenic trip to Sausalito, with a possible stop at Alcatraz to see what a life behind bars looked like way back when crimes were committed in black-and-white.
San Francisco is a city in flux, growing and changing, pulsing with people but still full of space to breathe. Many have visited and never left, and those who do have been known to leave their hearts behind.
This article is part of an interior- and trend research project that FvF is currently conducting with Esprit home. Through our continuous monitoring of local and global shifts in the socio-cultural sphere, we are able to provide insights from different angles. The reports about San Francisco and Amsterdam are an ongoing series of sharing FvF's local insights from international cities.
Despite having local teams and contributors in more than 35 cities, the core team from Berlin is always traveling. In May we will be in New York City for Frieze Art Fair and ICFF, Philadelphia, San Francisco and Los Angeles and hopefully Montreal.
For regular updates on our latest content subscribe to our FvF newsletter.
Photography: Marcia Prentice, Laure Joliet, Hanh Cooley
Text: Jordan Kushins