Leyla Gediz is an artist but above all, she is a painter. Her art displays her uncanny attention to detail, representing spaces and stories. Having worked with various institutions for many years, she finally decided to make a break and spread her wings to fly independently and courageously.
Her home reflects her genuine and gracious personality. Crowned by three matronly cats, it serves as a sanctuary for Leyla and her husband Cihan K?vanç. By night it is a space that resonates with the sounds of her friend's laughter and in the mornings it retreats, exuding an air of calm. The vast space is often used as a carpentry and music studio, however, overall it is a comfortable shelter for thought. The building 'Kilimli Konak' used to serve an extraordinary troupe of figures long before she moved in: from Turkey's first female astronaut, first female dean and senator, to Turkey's first violin professor.
Now, in the middle of her beloved neighborhood, where the present mingles with the past, she lives in an apartment full of historical significance. Her new exhibition 'Kilimli Konak' is situated in her very own living room – not much of a surprise for someone who wears her heart on her sleeve. By transforming her home into an exhibition space the boundaries between the private and the public dissolve, reflecting many aspects of the recent political upheaval in Turkey. Leyla ponders and interprets the storytelling aspects of life. Having always felt like she was in a story herself yet not in control as its author, today she finally feels it is her story to tell.
This portrait is part of our ongoing collaboration with ZEIT Online who present a special curation of our pictures on their site.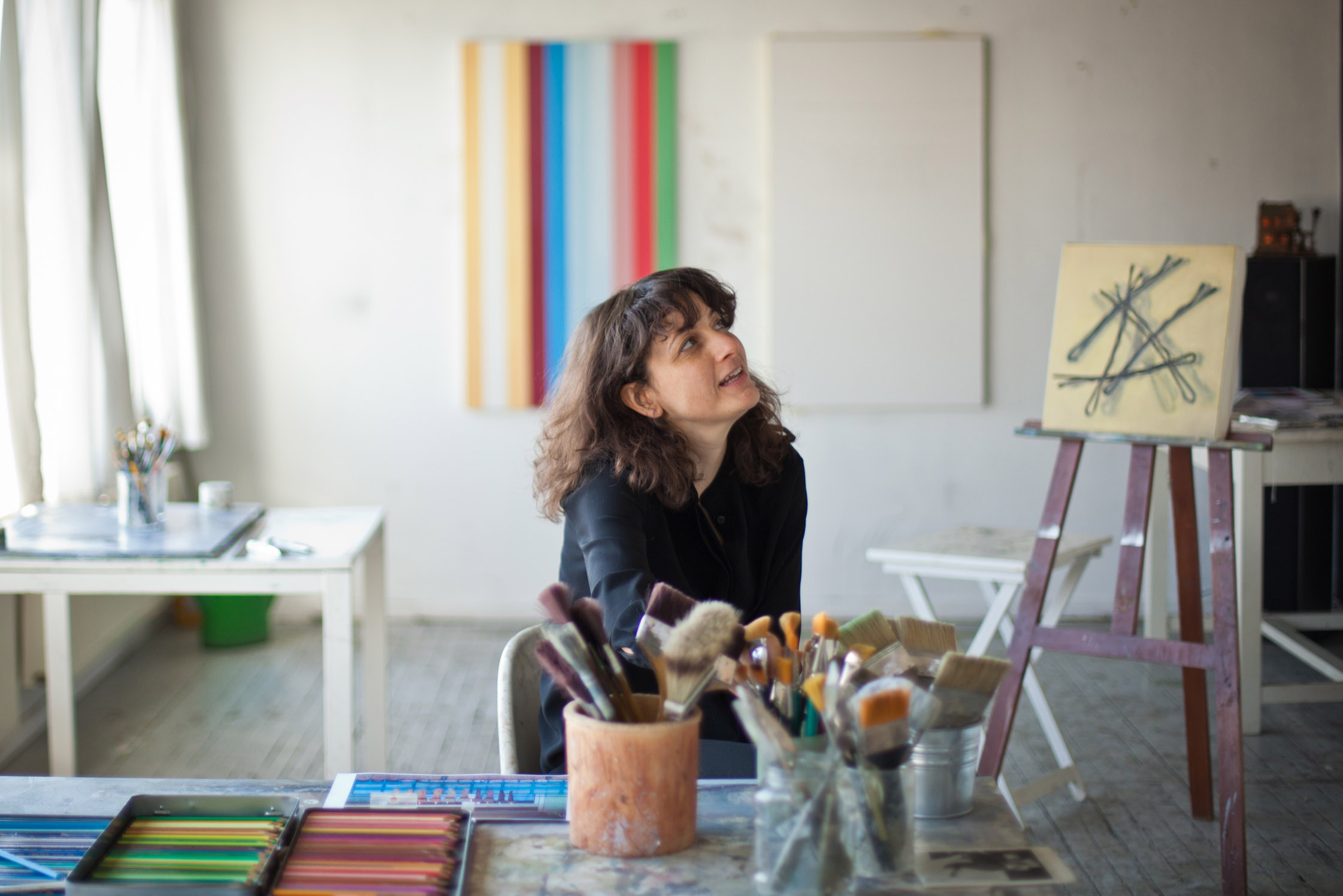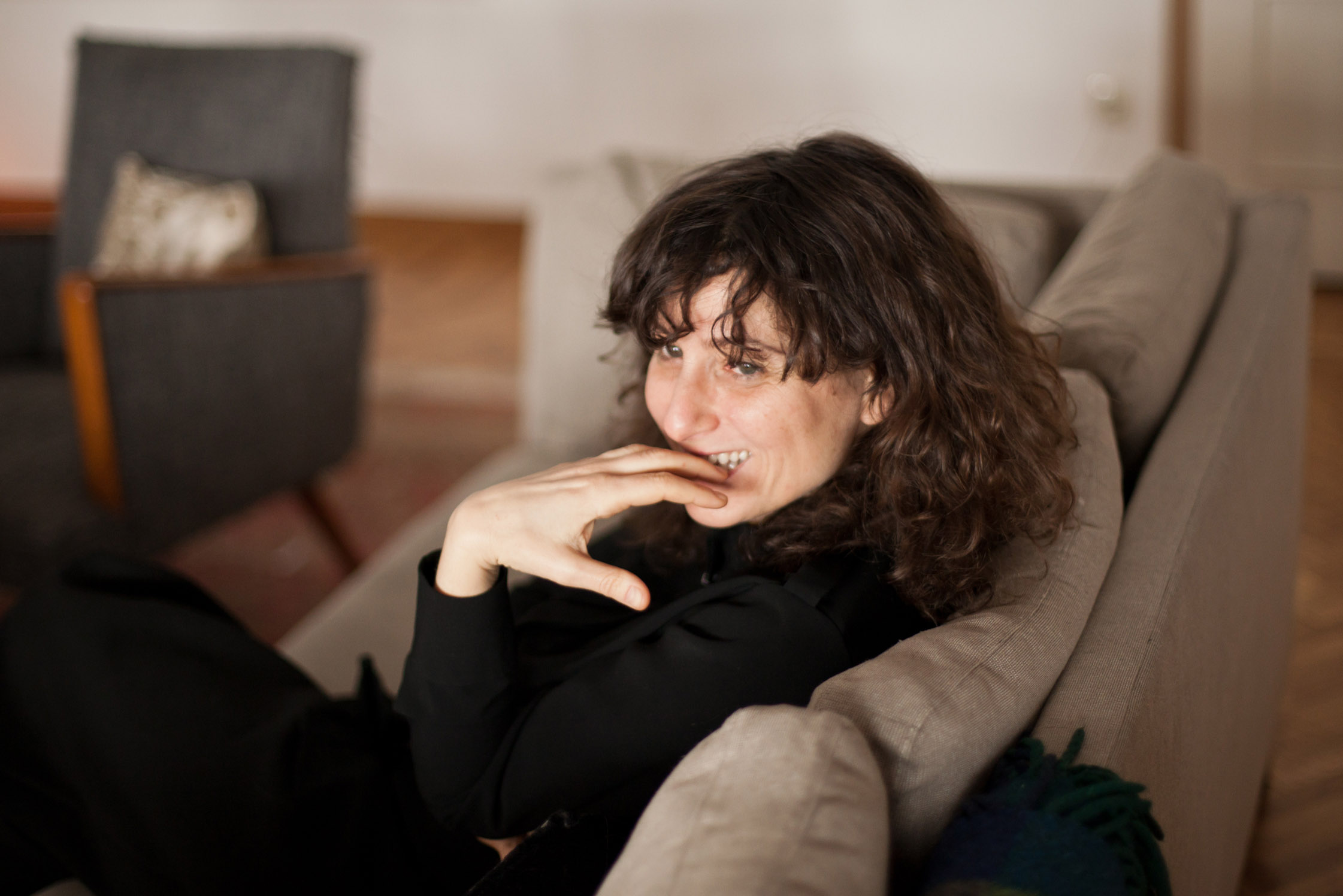 Let's start with the story of your house.
We have been living here for two years now. We decided to reconstruct the bathroom and the kitchen when we moved in. It is a big house and we love it. The best thing about the space is that the front can be completely separated from the back. The front section can be used as an office or a showroom and I thought I could use it as an exhibition space. Cihan wanted to design furniture and use it as a studio. We love the possibilities this space offers. Originally it was up for rent as an office.
Do you have any favorite belongings here?
I love our new sideboard, it was a wedding gift from our family. We selected it from Hamm, a local manufacturing company. My ruby earrings are also special to me. They used to belong to my grandmother. The necklace Cihan bought me as a present is also very special, I never take it off.
Can we talk about your latest projects?
I have been working with galleries for twelve years now and lately it felt like I was in a totally dysfunctional relationship. At this point, Gezi was the wake up call. I separated with the gallery and Cihan left his job. We immediately felt better. We decided to lift our mood and get hitched last summer. We wanted to leave the country agenda aside for once and aimed to build a life. I received a couple of offers to participate in some group shows and focused on them. They were such pleasant experiences. I was kind of stuck while I was working with the galleries. The possibilities were limited. The galleries collect too many artists under one roof and every one of them receives an exhibition every three years which naturally gives way to laziness.
At this point, you also started working as a curator?
I did find comfort in new activities. I was lucky to co-curate a project at Pilot Galeri with my dear friend Adnan Y?ld?z. It was a solo show by an elderly painter, Murat ?ahinler. It was a wonderful experience. Traditional painting exhibitions in gallery spaces are boring. My challenge was to break free of that. Paintings on canvas are very prone to commercialization. It is a medium perceived as an investment and is widely consumed. Collectors prefer it because they think they understand it better. Gallerists like it because it brings money to the gallery. It is the role of the curator to offer an independent and fresh point of view surrounding painting. There is no commercial concern so they can evaluate paintings via principles. Painting can thus be considered more on a philosophical and intellectual basis. Otherwise it is just decorative and all about commerce. The process of painting is an art form. It is something to feed from, to talk about and to think about. Curating has the ability to conceptualize painting. In this sense, this experience was different from my previous exhibitions.
What was one of your most fulfilling projects after deciding to become an independent artist?
It was my video 'Hale/Halo' that I exhibited at the Nesrin Esirtgen Collection at M?s?r Apartman?. The exhibition 'Tocadero', was curated by Nazl? Gürlek and my video was accompanied by a book. The project revolved around a single photograph by Hale Asaf, one of the first Turkish female painters. Asaf led a life in ?stanbul, Bursa and various major cities in Europe and left behind a small number of works when she died in Paris at an early age. A total of 37 of these works went missing. On the trail of Asaf's missing paintings, my video is made up of 37 consecutive black and white photographs that includes this ghostly colored portrait painting I made from Asaf's photograph. Each photo acted as an installation of the painting in 37 different locations in Istanbul. I questioned the core of my practice with this project pondering ideas such as: "What happens after this? Where do the paintings go once they leave my studio? Where do we find the paintings anyway?" It sparked a curiosity in me and fed my interest in storytelling.
And what about your latest exhibition 'Kilimli Konak'?
I had long decided that the next project should be an independent one. This didn't mean non-profit, but the show had to be in a location formerly unrelated to art. And although another artist had been using this space as their studio before we moved in, Cihan and I finally decided that it was best – and cheaper too – to move the project to our home. We contemplated it a lot after we moved in. I also think this space needed it and I really enjoyed collaborating with Cihan. We made my 'Hale/Halo' book together and he understands computers a lot better! He also works with wood and concrete. I wanted to make paintings that come off the wall and he made me a folding screen. Our living room does not have many walls so we thought about dividing the place into two or three sections. These paintings are the first group of paintings I made after Gezi and I have borrowed this idea of the screens from imagery of fighting behind the barricades on the streets that is incorporated with a feminist twist.
Women's liberation is a general theme in this exhibition. My work has come to be more about the social, rather than being all about what goes on inside me. Due to my practice, I've always spent an awful lot of time by myself asking myself a stream of endless questions. My paintings have evolved with me over the years. I am feeling more grounded at the moment. I feel like I have some answers to some of my questions. In this way, my paintings have also changed slightly. I'm happy that I've settled certain personal issues so that I can actually begin to attend to more social ones. There's still plenty of room for contradictions and exceptions, of course! Talking about liberation and then opening a show in my own living-room, when this private space could be interpreted as a hide-out! On the other hand, the show is open to the public, so there's a displacement of the private and the public.
What will you do once the exhibition is over?
We will decide if we stay here in this flat or leave. I like the idea of the house paying us back for what we've put into it by hosting this exhibition. When it is done, it'll be as if the mission of the apartment has been accomplished. I like to move around anyway. I like homes to be temporary. My guess is we won't be here next year. We are planning to move to New York.
How did your family background influence your choices?
My aunt and uncle were artisans. Uncle Antuan was a graphic designer and he had a beautiful study. He had a rich library of art and design books. I'd say that's how I've come to love art, by studying those books for hours every time I visited them. Those precious hours. All the books that used to rest in this library are a part of my library now. Back then I was in love with Uncle Antuan's sharpened pencils, erasers and knick knacks in little drawers. Everything was so very carefully organized, like they are in my atelier today. I admired him. The books and the stationery all had its own scent. I loved picture books the most. I did not like reading. He had a list of monographs. Every style and every genre were embraced equally, from old masters and cartoons, to Chinese and Japanese art and calligraphy. This library nourished me immensely and it led me to pursue art in a very organic way. I was painting all the time and when I was growing up everyone around me was convinced that I would live my life as an artist.
How would you define your style?
In my paintings I yearn for clarity, so I have an almost graphic, realistic style. Disintegration is important to me. I like to work with a limited palette and I prefer to use color very economically. It is a principle that I taught myself. It is not exactly in the manner of 'less is more', but rather, like removing the excess and being economical both in the means and content. I want to use everything in its correct dosage, so my process is one of non-stop bargaining. It is hard to define, like if someone asks you to "define your look." My graphic realism is a bit like an abridged edition of a complex novel. There is an inherent childlike simplicity.
How do you decide when a piece is finally finished?
When there is nothing more to add. This also depends on my own involvement with the work. If I put my best in, at a certain point I know I cannot go any further. I know I have given it everything. It's a fine balance for each painting. Eventually the conclusion reveals itself. It is about finally seeing what you were looking for all along. Painting is all about seeing. In that respect, it's the most hopeful activity I know.
How do you collaborate with your husband, Cihan?
I love talking to him about my work. He cares about my thoughts and his feedback always surprises me. We've always communicated well! As we aspire to stay together, we always make time to talk about our relationship, my work or his work. He is my best friend. We have no secrets. He's had a very positive effect on me ever since I met him. I used to be more tactless and impulsive with relationships, focusing solely on my art. He taught me to be gentler and that one way or another, things work out. Together we have made a little book and the folding screens so far, but we hope to do much, much more in the future.
Who do you see as a visionary in Turkey?
I love Leyla Erbil, although a writer of darkness, she is very precious to me and I commemorate her in my current exhibition. Also, Aziz Nesin and Burhan Felek. I love writers who successfully encapsulate our local and human conflicts with our very own sense of humor. These are the first that come to my mind!
What is missing in Istanbul?
Free and creative thought. Good things are in danger of censorship and too much is copied from abroad, be it from the east or west. In the worst cases, we have cultural imitations. In better cases, we see an effort to be alike. We are not used to seeing new developments or interesting hybrids. In order to achieve these things, one needs to study this land better. For example, if you travel and see something elsewhere in the world, you cannot just bring it here, copy it and expect that to work. When things appear like they just landed from the moon, they don't take root. I feel like our daily homework must be to question all existing terms and definitions and search for new ones relating to the past, the present and the future of this place. Istanbul is now blooming with museums and galleries, but most of them do not have a style, vision or angle to speak of. We have enormous potential for art and design, but we lack responsive institutions. We need to ponder why this is lacking. Millions of people live in this city, yet I feel like I live in a little isolated bubble. We need to embrace the local culture and its social realities. It is not something that any one of us can achieve alone, but change cannot happen until one of us starts doing something differently.
When you want to get out of Istanbul where do you travel for a holiday?
For holidays, I usually take the car to the seaside south of Turkey or to the Greek Islands. Cihan and I love driving when we are on holiday. My dream is to fly to Naples and rent a car and travel down along the sea there. In winter we go snowboarding anywhere we can.
Where are some of your favorite places in Istanbul?
Changa Restaurant above the Sabanc? Museum is a gem. But I mostly prefer older establishments in the city center, like Despina, ?mroz or Cibalikap?. Urban Café is where I feel at home and mostly meet my friends. Kantin is also good for lunches. My favorite shops have to be Kanukte Flowers, a florist and Karum, a stationers. Oh, and there's Panter and Güven for my canvases, brushes and paints!
How do you get around town?
In Istanbul I walk as much as I can. For me it's easy because I live in the center and I can take the underground. But I love listening to music in the car, so I'm always looking for an excuse to drive out further.
Thank you for the lovely morning, breakfast and cups of coffee Leyla. To find out more about Leyla's work visit her website here.
Photography: Ekin Özbiçer Güney
Interview & Text: Heval Okçuo?lu