Known for her distinctive color rich portraits that capture unforgettable moments, Debora Mittelstaedt is an integral part of our FvF team. Originally from a little town near Cologne, Debora is the youngest of five siblings. With a strong interest in photography from a young age, she studied fine photography at Folkwang University before relocating to New York 2006. Instead of staying for one year as initially planned, Debora remained in the big apple for six years perfecting her craft and specializing in the area of fashion photography and portraiture.
In 2013 she moved to Berlin to work as a freelance photographer. Her work has been shown at group shows in Germany and New York and featured in publications such as Sleek, The Fader, V-Magazine and Monopol and is represented by Schierke Photographers in Frankfurt and Paris.
We have featured her stunning photographs on FvF depicting her good friend and artist Pia Dehne during a sun filled day in the Catskill Mountains, followed by a portrait on the strong personality of Michel Würtle in Berlin produced in collaboration with Pia Dehne – our guest, turned contributor – and former FvF guest, artist Sarah Illenberger for Companion Magazine. Stay tuned for the next portrait shot by Debora with creative director Katharina Kemmler!
We get to know this determined lady with an eagle eye a little better and find out about her favorite travel memories, daily rituals and her drive to create.
What's your favorite daily ritual?
English breakfast tea and a yoga class.
Where do you go when you want to relax or get inspired in your city?
There is this meadow in my neighborhood surrounded by cottonwood trees where I like to go for a run. It's unspectacular and calming. It reminds me of the walk I took each day to my first school that was also along a stream lined with cottonwoods. I still feel quite new to the city, there is so much that I haven't seen yet. Right now I find trips to the western area quite inspiring.
How has technology influenced you?
In terms of photography it took me a bit longer to fully embrace all the new technologies. I studied at a rather traditional photography school. We learned everything with film, processing and printing. Now I really appreciate how digital processes speed up my workflow and I love the immediacy and simplicity of it. But, I still think it's important to approach the new ways with the same selectivity that I once did with analogue tools.
Your best travel memory?
Hiking in the Peruvian Andes. After a seven hour uphill hike I was super exhausted and furious with myself. Seemingly out of nowhere a herd of wild horses came running along that stunning backdrop. This image of total freedom brightened my mood in a second and became one of my most treasured pictures.
Your latest artistic discovery (musical, art or design)?
Moving images inspire me a lot. At the Berlin berlinale I was struck by a film by a young Australian titled Galore – the perfect coming of age movie. The cinematography was incredibly beautiful.
What was the last great meal you ate and where?
Tagliolini al tartufo at Da Baffi in Berlin Wedding. I still can't stop thinking about it!
Who would you like to see featured next on FvF?
I would like to see someone who lives in a rather abandoned destination, like a village in Greenland or Newfoundland – they are both places I have always wanted to visit.
What's one of your favorite portraits or interview on FvF?
The LA profiles. I love the west coast. The light and crafty interiors with those seventies colors and wood panelling. Especially Tracy Wilkinson and Claire Corttrell, and of course my friend Pia Dehne's portrait. The images always remind me of the magical afternoon we spent in her home in the Catskills together.
What's your favorite photograph on FvF?
I like Marc Atlan's inside out view to his sunny terrace and also the one of Pia standing between the sliding doors like Cindy Sherman in one of her filmstills. I know it is kind of annoying to complement myself – but as I mentioned earlier I have such good memories of that day.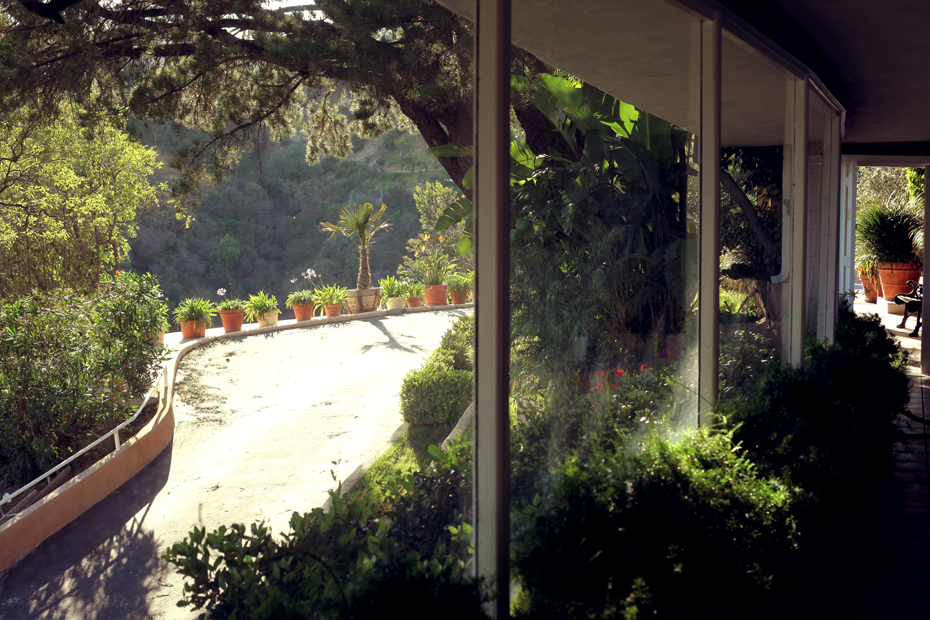 Portrait Photography: Monika Czosnowska