If you are doing research on young French graphic designer Leslie David and her work, you better make sure you have enough free space on your computer. Her characteristic visuals, whether she creates them for high-profile brands such as A.P.C., Surface to Air and Hussein Chalayan or artwork for musicians like The Rapture and Röyksopp, are so elegant, witty and plain beautiful that it would easily fill your hard drive for sure.
Leslie is meeting us at her studio in Paris' 9th distric with a smile that will frame us during the whole afternoon spent together with a bunch of anecdotes and laughter. Leslie David generously lets you come into her universe and shares her approach, which she describes as 'instinctive'. Her style is not to fit the mould. She doesn't claim a concept associated with her creations, which some people may expect after a first exhibition. Soon after her studies she set up as a freelancer, making her own choices and being independent, which agreed with her more.
Over a tea, she talks about her desire to continue working with the same range of projects and make an appearance in product design. On our way between the studio and her house, we keep on chatting about what life is like in Paris, coincidently while we pass by her latest poster on the subway station walls.
This Portrait is part of our ongoing collaboration with ZEIT Online who present a special curation of our pictures on their site. Have a look here!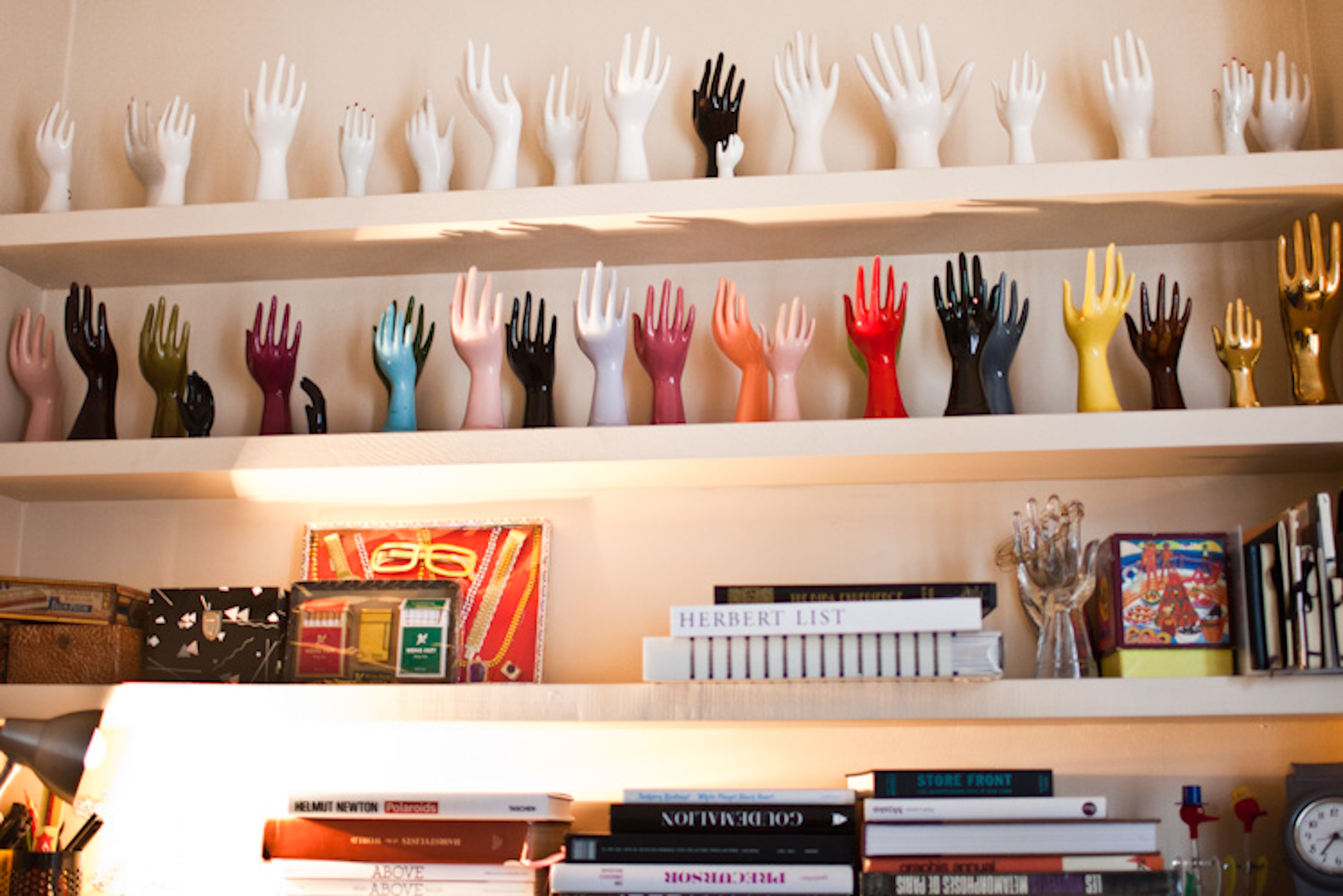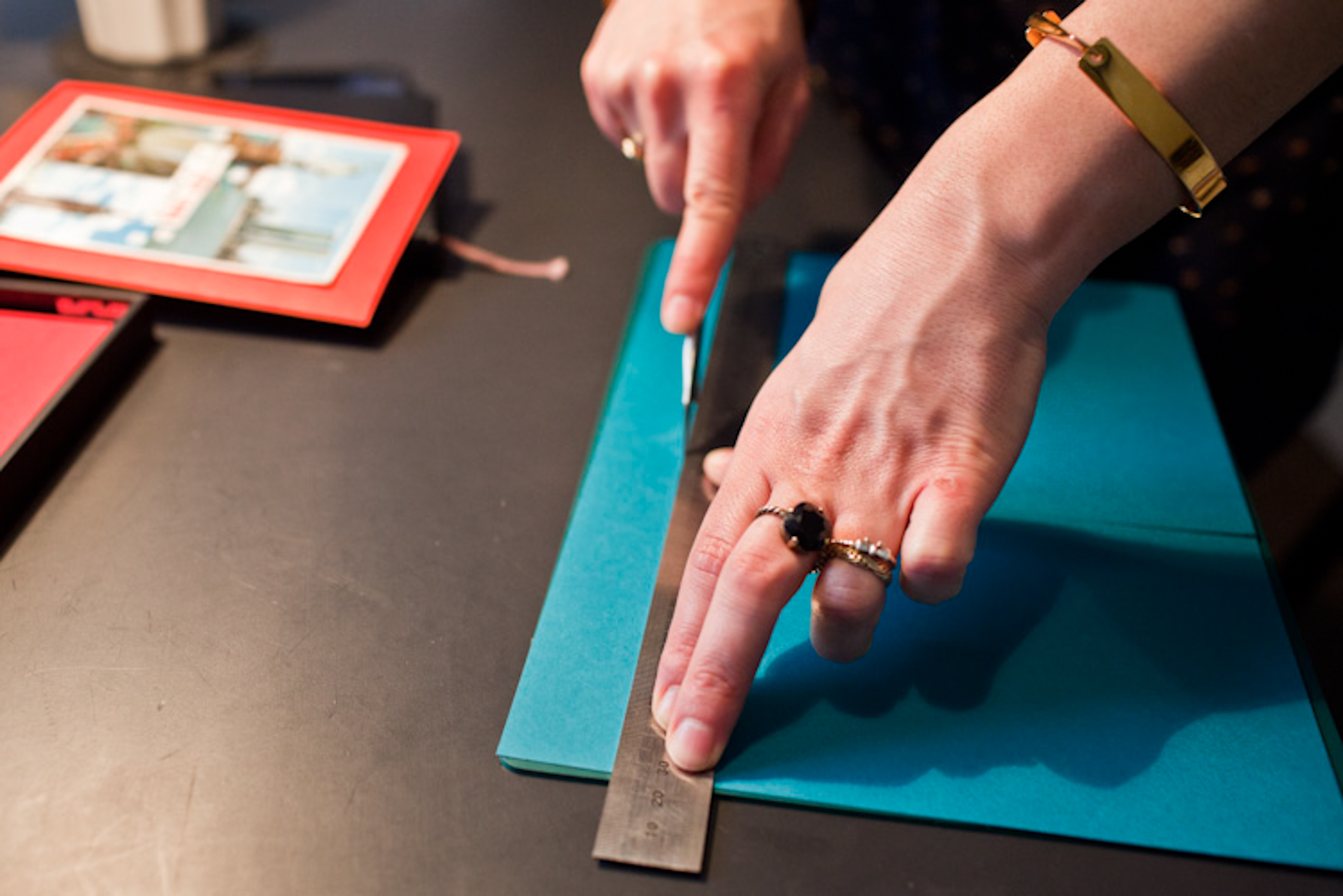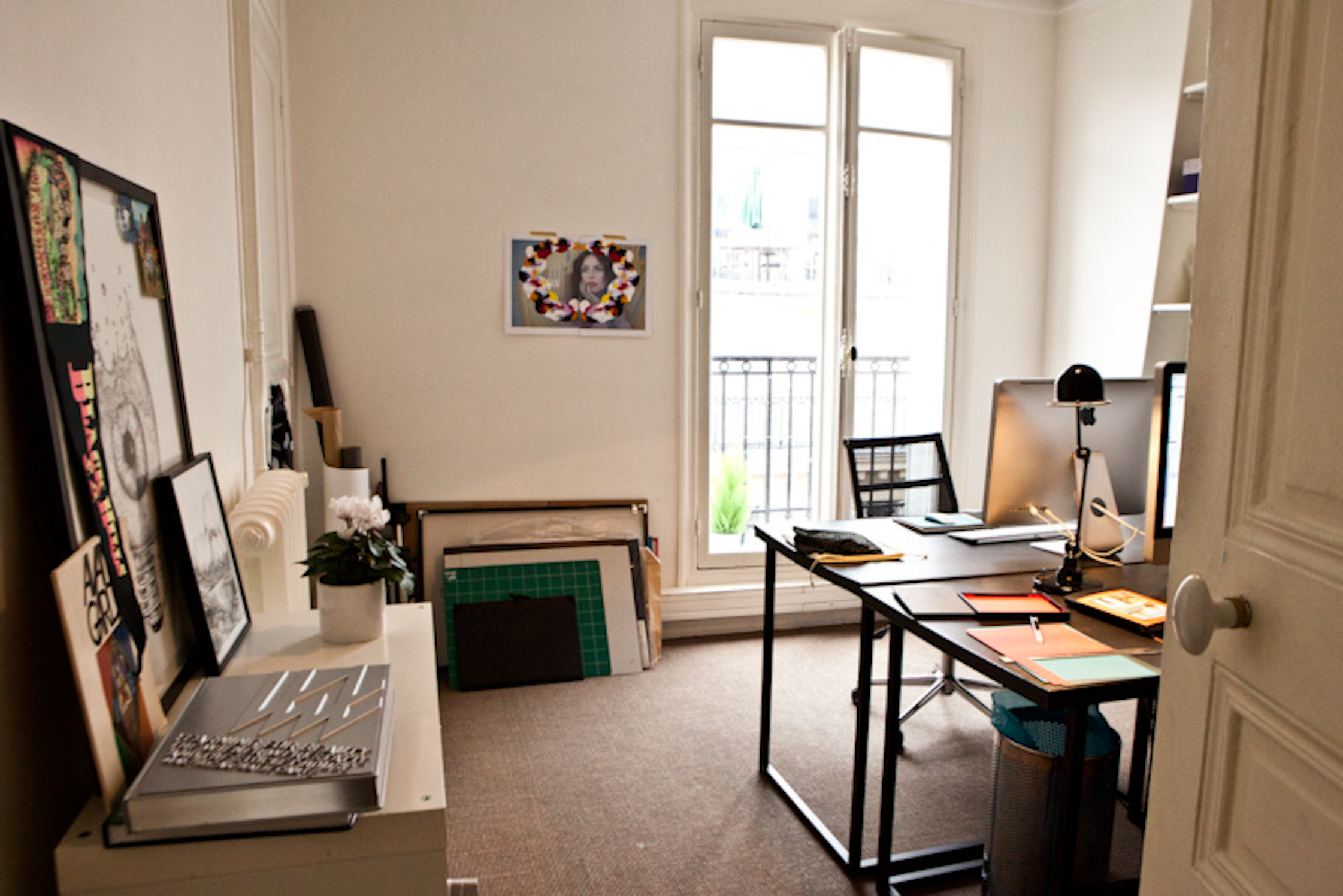 Can you tell us about your background and how you ended up doing what you are doing today?
I come from Montélimar, located between Lyon and Marseille in France, known as the city of Nougat. I grew up there and went to school there too, up until the end of high school. My parents still live there. After graduating high school, I really wanted to leave the area and the region. I was confident in my desire to study in a creative field. As I wanted to leave my hometown, I enrolled in the Ecole des Beaux Arts in Lyon. But I quickly realized that it was not made for me; the program was way too conceptual and I needed to get closer to applied arts. So I decided to go to Paris in order to prepare the entrance examinations for the Ecole des Arts Decoratifs. I passed and got a place in Strasbourg, so I moved there for four years. It was at that point that I really chose my specialty; graphic design. During my studies, I also did my first work experience placement in illustrations assignments for magazines. In my third year, I went to Milan for an exchange program. When I came back, an agency I previously sent my portfolio to contacted me. It was Petronio and they offered me a job, not the internship I initially applied for. This offer matched with my desire to leave Strasbourg but also confronted me with the decision to leave school. I had one year left before graduating. I thought about it, hesitated and finally left. I've never regretted the choice I made that day. I stayed for two years at Petronio and settled as a freelance designer in 2008.
What was your childhood like? Did growing up with creative parents somehow developed your sensitivity and led you to graphic design?
My parents met in art school in Lyon. At the end of the 1970's, they started making silk screen prints that they sold on markets. It was a bit hippy! Then my mother got into watercolour painting where she depicted typical sceneries and landscapes from Provence. The original paintings were selling really well, so my parents decided to turn their idea into a poster business. My mother was painting and my father gave up the creative part to become an entrepreneur. At one point, they had 15 employees and were editing other artists' work. When I was a kid, I saw my mother drawing in her studio at home and my father was often coming home late, but he was his own boss. I know that all this prepared me to be a freelancer and do my own thing. Quite early on during my years at Arts Decoratifs, I knew that the aim was to go into freelance. However, I was not planning the whole thing and happened to first work for two years in an agency. This first work experience was really beneficial for me. And I cannot stop recommending to everyone who wants to be a freelancer to first start with an experience in an agency or a company, as it is highly influential.
Being a freelancer also means managing your own business and client relationship. How do you deal with that? Do you feel there is an evolution since you started in 2008?
For me, I'm still evolving and do not feel like I perfectly manage the whole process yet once projects are involved. Today, I'm lucky enough to have clients coming directly to me. When I started out, I was ready to accept every kind of project; soon after that, interesting jobs came up. The first illustration jobs I did during my studies were really helpful experiences. I often recommend to students to do the same. Through these jobs, I met people, developed my network and even found an agent while I was a student. Some friends in the music world started asking me for record covers, so I got into it. What bothers me is the tendency that people have to keep on asking you to do the same thing.
That is annoying, because my aim is to keep the variety of the projects I get, nothing is more exciting to me than a new project in a new field. It is also great to work with my agent, who regularly offers me a variety of new jobs. It is interesting and comfortable to share this with him, I feel a bit less lonely.
You were talking about record covers. How do you collaborate on this kind of project with the artist?
There is no rule and every time is special. Either there is a real exchange with the Art Director, who is the link between the artist and me, or for smaller labels, I directly work with the artist. For "Let's Go", Revolver's latest cover, the guys just came to me with a photograph they really liked. Another recent cover was for Alain Chamfort, a popular French singer. What actually differs when I work on covers is the way the artist deals with his/her image and to which extent I can use it and play with it. Every time it is special.
You also work for fashion labels. Can you tell us about your collection for Andrea Crews?
The owner of Andrea Crews, Maroussia Rebecq, is a very good friend of mine. Two years ago, we went on a weekend together. At that time I accepted many commercial jobs and was looking for fresh projects. She told me about her idea for a scarf collection and then asked me to create patterns. This is how it started. It was her first collection and since then, several artists created collections for the brand. I also designed the packaging with a stamp system. I had a vision placed between collage and drawing, and wanted to make scarves in different colours. My approach is actually pretty instinctive. I have a hard time drawing sketches and then reproducing the same on the computer. Ideas came to me when I was drawing or trying new things.
How do you see yourself evolving? What kind of projects would you consider moving on to? Would creating your own projects with a global approach appeal to you?
I'm not really looking ahead for now. I'm rolling with the jobs I have; however, I give greater attention to selecting jobs, based on what I really want to do. I'd like to keep and even develop the variety of my projects. Also I'd like to do more textile patterns, which I'm really into. I'd love to continue working with fashion labels on smaller or independent projects, like the latest look book for Maison Michel. Last year, I almost started a printed scarves brand with an associate, but it didn't work out in the end. What is really exciting is to think global, design the identity of the brand, the product, the packaging, the website… So, yeah, starting something of my own would tickle my fancy, or handling the art direction of a nice brand could also do it! I'm also attracted to and curious about the design world. It could be working with designers who would need some graphics for their objects or even designing objects! I already had a great first experience when I designed hooks for Domestic. It is a world that I find interesting but that I don't know that well. Besides all the aforementioned, I dedicate time to pursue my personal projects and draw.
These drawings were shown at La Surprise gallery last year; your first show. How did you imagine it and what did you want to show? Is there a line drawn between you as a graphic designer and the status of an artist?
This was the first time that the public would see my work. It was a bit weird, because I'm not claiming myself as an artist; I draw, I design images but I do not try to put a concept on my creations. My whole creative process is instinctive, and it is sometimes hard to analyze where your own inspiration comes from. Also working with a deadline for a show is really motivating. I really focussed on the exhibition because I wanted to produce new and special drawings. It was a given occasion to try new things and add colours to the mix. So yes, it was pretty cool and it would be great to experience it again.
Besides graphic design and illustration, do you happen to have other talents or passions?
Yes, I love cooking! I do everything. There are dishes that often come back on the menu and since the new studio is closer to Rue Saint Anne (a street filled with Japanese groceries and restaurant in the 1st district), I walk around and buy some Japanese products that I cook in my style. It actually works by cycles; I can prepare the same dish five times in a row, because I want to improve the recipe and get all my friends to taste it. Oh and yeah I've got this new thing, making terrariums. I just did my first, but I'm not sure I should have put the cactus with these fat plants. Well, we'll see how they get along.
As you are a food enthusiast, can you share some addresses that you particularly like in Paris?
There is this Japanese spot, called kiku, on Richer Street; really yummy. On Passage Des Panoramas, there is a small wine bar, Coinstot Vino, that's only been open for six months. I work in the neighbourhood so I still have a lot to discover. I also love Gazetta on Cotte Street and le Chateaubriand, on Parmentier Avenue, in the 11th district. As you can see, we really love food and I could come up with a really long list…
Where do you get your inspiration from these days?
I really like illustrated old books, patterns and Art deco jewelry. An entire section of my library is dedicated to that. What is cool now is that I'm actually making patterns for a jewelry designer, Anna Rivka. They will be reproduced with pearls on bracelets. When I'm in the countryside, I often dig out some fabulous findings in second-hand stores. I find old books, which are not necessarily about graphic design but with images that inspire me and that I could use later for collages. Last time, I found an incredible illustration book. And now I just ordered a bunch of art books on the Internet. I cannot wait to have them delivered.
Could you describe the objects that surround your work space?
So as I just mentioned, there are these vintage books that I keep as inspiration. These are precious findings. You can find some of my previous projects, like the look book for Maison Michel, a hat manufacturer, with pictures by Karl Lagerfeld. The idea was to use the codes of school yearbooks and mix it up with the traditional codes of the company. Here are scarves from my collaboration with Andrea Crews. On this shelf, it is more about little objects that I like. My new collection, two Wooden Dolls designed by Alexander Girard, sold by Vitra. I'd love to have the one with the feather on top of her head! Over here, there are some pieces from my collection of ceramic hands, both here and in my living room at home. Since I started this collection, friends of mine kindly bring me some, so my collection keeps on growing.
We are now at your place. How long have you been living here?
We've been living here for two years. Previously, I lived alone. The place evolved with us two moving in together. We kept the best furniture and decoration pieces that each of us had. Plus, we often go to antique/flea markets to find small accessories and even some furniture pieces. And Antoine especially bought Mimosa flowers this morning!
While the chat goes on, Antoine brings some tea and, Leslie puts another record on the turntable. It is a nice moment, when you notice it's raining outside.
Thank you Leslie for the afternoon we spent together and thanks to you two for having us!
Interview & Text: Léa Munsch
Photography: Sarah Skinner