Lauren Geremia has no formal interior design training, yet just four years after the launch of her eponymous company, she's carved out a niche in an industry with no shortage of competitors.
Her unique, art-centric approach to the design of both public and private spaces is informed by her fine arts education and background as a painter – and today, she counts such tech heavy-hitters as Instagram and Dropbox among her clients.
In Emeryville, a tiny city whose two square miles is home to fewer than 15,000 residents, Geremia Design thrives. Emeryville is filled with warehouses, yet the area somehow manages to retain a breezy openness – according to Lauren, the air is always warm and the sun, bright. Looking to position herself in a setting that would provide a clean backdrop for focus and isolation (while still offering access to clients and close proximity to vibrant art and culture), Lauren settled in Emeryville three years ago. Nestled between Berkeley and Oakland in the East Bay, it's a mere fifteen-minute drive into the hustle and bustle of San Francisco.
This portrait is part of our ongoing collaboration with ZEIT Online, who presents a special curation of our pictures on ZEIT Magazin Online.
Lauren's commute is what many urban dwellers dream of: instead of taking a train to a bus and walking ten blocks, she wakes up in the morning at home and takes the staircase down to the bottom floor, arriving at her office without a penny spent. The space itself is put-together but relaxed: chairs are meant for sitting on, walls are meant for drawing on and the indoor pool is a venue for exercise and decompression before the day begins. The transparency of Lauren's multiple environments allow for a seamless fusion of her personal and professional lives: work becomes more personal and creativity seeps into her day-to-day by osmosis, just the way she likes it.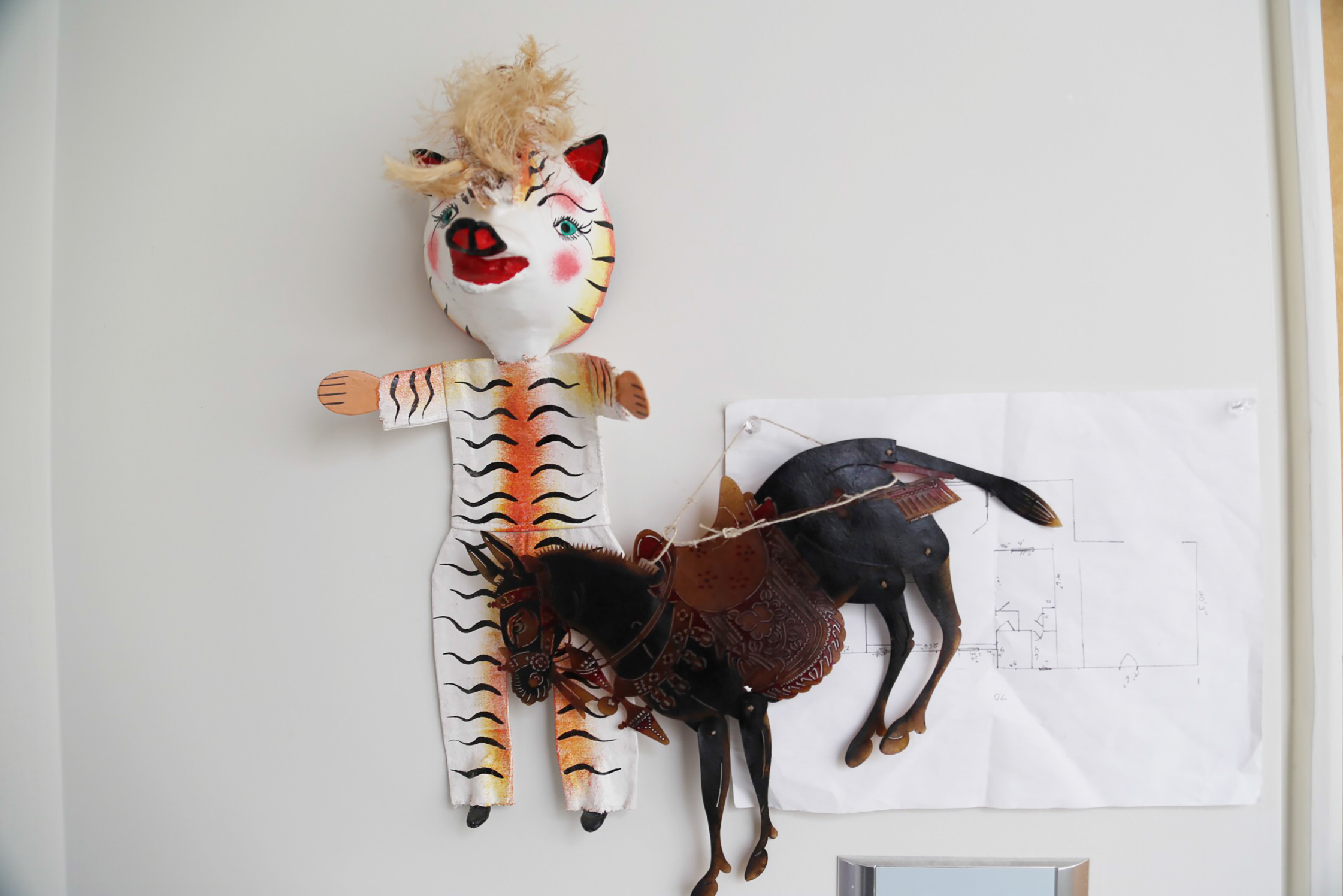 For Lauren, interior design is the nexus that allows her to pursue numerous creative passions under the umbrella of one brand. She pulls ideas from a rich knowledge of fine art and injects them into the spaces she controls, resulting in rooms that exude freshness. Everything she touches seeks to call attention to the interests of her clients, making their environments responsive to their specific wants and needs. Her commercial projects fuse fun and functionality, adding meaning through useful objects and a sense of elevated aesthetic value – something that's often absent in business environments. Meanwhile, her residential projects magnify the passions of homeowners in a way that is thoughtful yet timeless. The constant throughout is art, fearlessly placed and oftentimes the center-point.
Art is flexible and has a compositional place in Lauren's work. She often begins two-dimensionally, looking at the floor plan as if it were a coloring book, then defining where strong points of interest should lie – that's where the art goes. Then, she uses drawings, paintings, sketches and photographs to organize a visual storyboard. Often, the injection of art is about adding color, breaking the monotony of white or creating exciting textures. Other situations call for the realization of a functional item that also serves as an art piece; for example, a handmade chandelier. Such pieces are often created by people Lauren knows, or by artists and fabricators she and her team have tirelessly curated.
As a student in the painting department at the Rhode Island School of Design, Lauren's education provided her with a wide range of tools, sharpening her eye toward noteworthy movements and trends in contemporary art. But just as importantly, her time at RISD provided her access to some of the brightest minds in the creative world. She now operates with an impressive Rolodex of creatives across the country, spanning the fields of lighting, furniture, visual art and sculpture, using their common artistic education as a jumping off point for collaboration. The list only keeps growing.
Lauren chooses to surround herself with artists, enjoying their company and the conversations they synthesize. She sees shows, visits galleries and explores the connections that her many former-RISD colleagues bring to the table, ever-increasing the network of creative friends available to Geremia Design. While her goal is to support artists across the board, RISD happens to continuously churn out a class of creatives with which she seamlessly connects. She watches as new graduates emerge and as established artists switch directions or mediums, keeping their latest accomplishments in mind for the perfect opportunity to use their work in a project where it will shine. Four years ago, the art Lauren had access to was mostly from rising artists. But as the careers of her contacts have grown, her own work has become larger in scope and more respected. She is now working with artists whose work she admired as a student, an exciting accomplishment that lends itself to her company's forward momentum.
Lauren draws inspiration from a variety of sources, finding artfulness in each.
This shift away from making art has changed her role within the creative community – instead of holding the paintbrush, she takes on the task of gatekeeper, finding connections between inspiring creative work and the projects on her agenda.
As Lauren's interior design work has increasingly taken her away from making tangible art, she finds incredible satisfaction in witnessing the processes of colleagues and friends as they continue to produce in their own mediums. This shift away from making art has changed her role within the creative community – instead of holding the paintbrush, she takes on the task of gatekeeper, finding connections between inspiring creative work and the projects on her agenda. She is the nucleus, nourishing the reciprocal relationship between her clients and artists, seeking to conjoin their interests and goals. But this does not come without its fair share of responsibility. As someone who connects the buyer with the maker – something she considers to be a great privilege – she is accountable for the finished product and any twists and turns along the way. She must effectively anticipate the process and unify the language of a client from an analytical or technical background with an artist who may be very cerebral and unpracticed at managing the financial component of their work.
The word "art" itself has become a part of Lauren's brand, and more and more, clients are interested in the educational and aesthetic benefits of cultivating a relationship with her. Her phone often rings with prospective clients hoping that she will be interested in designing an art-centered project – and when she is, she is given carte blanche. Art-heavy customization is now the backbone of her brand.
Details from Lauren's process – from sketches to material selections to textures. Photos courtesy of Geremia Design.
Once a project is under way, Lauren has a knack for articulating her ideas, visuals and overall direction to clients in an eloquent, almost elegant manner. She makes decisions from her gut, responding quickly and emotionally, but with confidence. If a client feels stuck in his or her own ideas, she is there to give support and facilitate self-expression. However, she is equally comfortable coming up with fresh concepts and presenting them based on a dialogue about what is necessary for the space. Either way, the influence she carries is something she takes very seriously. Although projecting ideas about what she thinks to be interesting is inevitable, she is against coming in with an idea and convincing her client to like it. To Lauren, it is more important to listen and then respond, making sure her client feels connected to their home or office throughout.
Taking a step back from painting and choosing instead to broaden her range of interests and expertise has exposed Lauren to people from all walks of life. She enjoys the kind of manic switches of energy and focus that are required of her, and finds satisfaction in the need to bounce around and sharpen a wide set of skills. But at the end of the day, Lauren is still an artist, as she has always considered herself to be. She never doubted that art would have a place in her life, but when she decided to move away from painting and into the world of championing fellow artists for interior projects, it was even more important for her to remain engaged in the community and a part of the conversation. Now, she is arguably in a more valuable position. Through her advocacy for the symbiotic relationship between clients and creatives, she is a wanted friend by members of both sides – and her sphere of influence is only expanding.
Thank you, Lauren, for inspiring us with your open-minded and meaningful approach to artistic spaces – we're glad to be including you in our own global Rolodex. View Lauren's work at Geremia Design. Check out more of our friends in San Francisco, an area that's vibrant and always changing.
Interview & Text: Katherine Aplin
Photography: Tori Willis