It takes Kolja Stegemann 20 minutes to bike from his apartment in Prenzlauer Berg to the place where he finds rest and relaxation in the middle of Berlin: his boat in Rummelsberg Bay.
On the way to the entrepreneur's weekend refuge, the last several meters traverse a old industrial port and finally cross a small footbridge. To the left, cutters and motorboats; to the right, three plain, black crates floating in close proximity to one another – one of these is Kolja's temporary home.
"What this boat represents isn't perceptible from the exterior," he says with a smile. Kolja is familiar with the surprising effect these so-called Floating Dutch Design-boats (FLODD), designed by Dutch architect Bertjan Diphoorn, have when you see them for the first time. When the marketing consultant first visited his boat well over a year ago, he actually wanted to acquire it for his project Suite.030, an intermediary portal for luxury apartments. This plan changed as soon he stepped on board.
Inside, the space opens up before you, and most notably, the view: the far-flung, glassy waters of the river Spree; the Berlin TV Tower on the horizon to the left; to the right, thick reeds. In between, a couple of canoes float, with a paddle boarder in the distance. Directly in front of the footbridge, which also functions as the terrace of the floating hideaway, herons, grebes and swans roost. The continuous swaying onboard doesn't bother Kolja and his girlfriend Diana – to the contrary, when they disembark, they miss it.
This portrait is part of Home Stories – a collaboration Freunde von Freunden produces with Siemens Home Appliances. To find out more about Kolja's work, see the portrait with him on the Home Stories site.
Do you still feel like a city person when you're here onboard the boat? Do you have a sense of being disconnected from urban life?

I think I'll always stay a city slicker. At least, I enjoy being one. I live in a large city because I like it and relish the diversity here. Even on the boat, I feel like I belong in the city – but I do notice the barrier between city life and relaxation. It takes me 15 minutes to ride my bike here from Alexanderplatz, and when I arrive, it takes another 15 minutes before I'm in vacation mode.

There is a tangible sense of peacefulness here. Do you think that feeling has something to do with being near to the water?

I think so, yes. We've discussed this a lot with my circle of friends. Water has this soothing quality. As soon as you are in the water, you automatically calm down. You immediately have the sense that the stress of the day-to-day is gone. But here, it's not just the water that causes the feeling of being on vacation, it's the entire surroundings: the view, the sun, the light – and the nature.

As someone who identifies as a city person, how important is it to you to spend time in nature?

In a large city, everyone comes to a certain point when they realize: I need a timeout. As a couple with a dog, that was very important to us. Actually, Diana has been proclaiming for a long time now that we need to come out of the city and should have a retreat.
It's not enough to place a nice piece of furniture in a room or to have a nice view – it's about the overall picture.
When did you first become aware of the FLODD-boats? Did you realize the potential immediately?

We heard about it by chance through a friend that had acquired the FLODD-boat next door. I'm someone who loves the water – although I had mostly been going to Wannsee. I hadn't had this canal on my radar for a long time. My first idea, which I had while I was working for an advertising agency almost directly across from here on Schlesische Strasse, was to live at some point on Strahlau Island, here in Berlin on the river, and then I would commute to work every morning with a motorboat – exactly something an advertising agent would dream up. (laughs) This chance to live here came much later, which of course we gladly seized.

With boats, we're able to create functional spaces where there used to be none; there's an element of innovative urban planning about these boats. How important is this aspect for you?

Extremely important. Every large city ends up at its own borders at some point. In Berlin, we're luckily still far away from that. But for this spot here to become livable was completely unthinkable a couple of years ago. The Rummelsburg Bay was just on the wrong side. It was industrial here; there were heavy-metal operations and quite a lot of unfiltered waste was running into the Spree. And then along comes this Dutch architect, who is of course used to living on the water in Amsterdam, and he just completely rediscovers this area and its potential.

What do you think of Bertjan Diphoorn, the architect, for the way he has exposed this potential for using water as a living space?

I consider him a pioneer in Berlin. There are always new ideas for sport boats where people can also live, but this here is really something new. Bertjan Diphoorn hasn't just brought functionality to the fore, he also wanted to develop a new attitude towards life with his FLODD-boats and their design – and he's accomplished that. Being here feels very strongly like a vacation.
FLOOD-boat
1

Architect: Bertjan Diphoorn

2

Rummelsberg bay
Nature Reserve
Gustav-Holzmann-Straße 10
10317 Berlin

3

70 sqm (754 sqft) 17 sqm (183 sqft) terrace

4

2 rooms, 1 bedroom, living room with sofa bed, fireplace

5

sleeps 4
Which aspects of the FLODD-boat do you appreciate the most?

How intelligently and flexibly everything is connected. It's a unified whole – but with small changes, each room gets a new character. We have a living room, an open-concept kitchen and a sleeping area, which can be closed off privately with two swinging doors or left totally open. One of the doors is also the entry to the shower. I can close it or leave it open and look out directly into the reeds while the water runs.

Who helped mold your affinity for intelligent design and exclusive living?

Good question. It was probably many different people, but my father, definitely. I share a passion with him for good design. And my grandfather, who was a professor of structural analysis and architecture here in Berlin. He was very involved with modern, organic and ecologic building. Together with him, I implemented the Treehouse-Project in Zehlendorf, which is also a really fascinating form of this new lifestyle that draws close to nature.

For you, treehouses and FLODD-boats are not just living spaces, they're also business models. How did that come about?

I worked as a consultant for a long time, including two years in Wiesbaden. During that time, I sublet my apartment and observed that apartments with upscale design and facilities are scarce and in high demand. I realized that a business model could be made out of that. After a phase when I did consulting for a lot of startups, I wanted to change from just working with the theory and put it into practice. In the meantime, Suite.030 has become a full-time job.
Everyone can find something to identify with, everyone has an opinion about it and could theoretically afford this as their lifestyle.
What feeling does a room need to exude in order for it to be a retreat for you?

Coherence and harmony. Many apartments have 300m² and there isn't a single corner where I feel at ease. Other rooms have less than 15m² and immediately give off a sense of comfort. It's not enough to place a nice piece of furniture in a room or to have a nice view – it's about the overall picture. Like on this boat: the design is a statement. Even the boat itself, because the interior is completely black. The room has a feeling of security thanks to the dark color, and at the same time, the color draws your gaze out the window. I sit here inside and the outside world takes place before my eyes. It's my home-theater. I can let myself become wonderfully wrapped up in the scenery. The room encloses me, but it isn't invasive; it isn't overpowering and yet it enfolds me.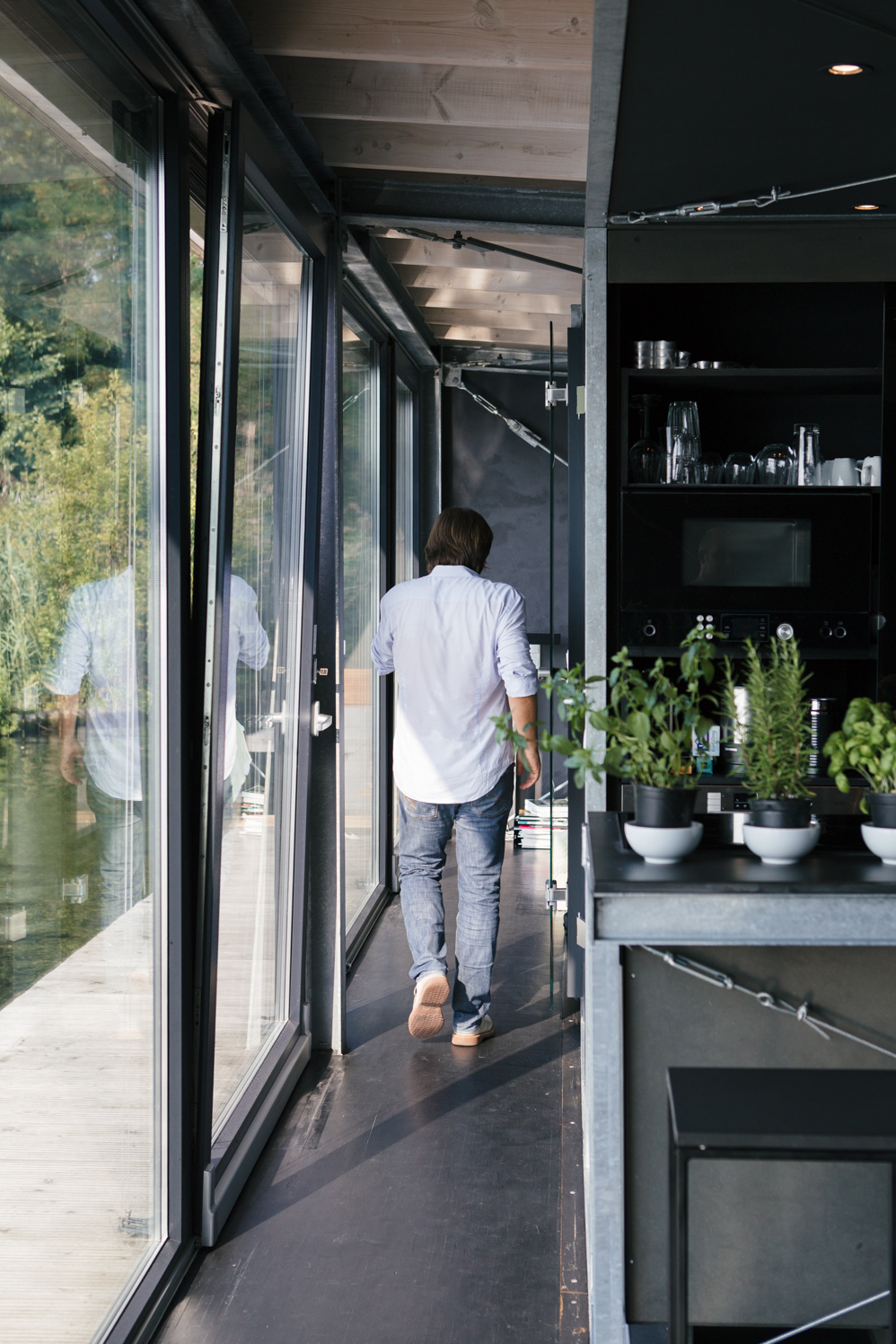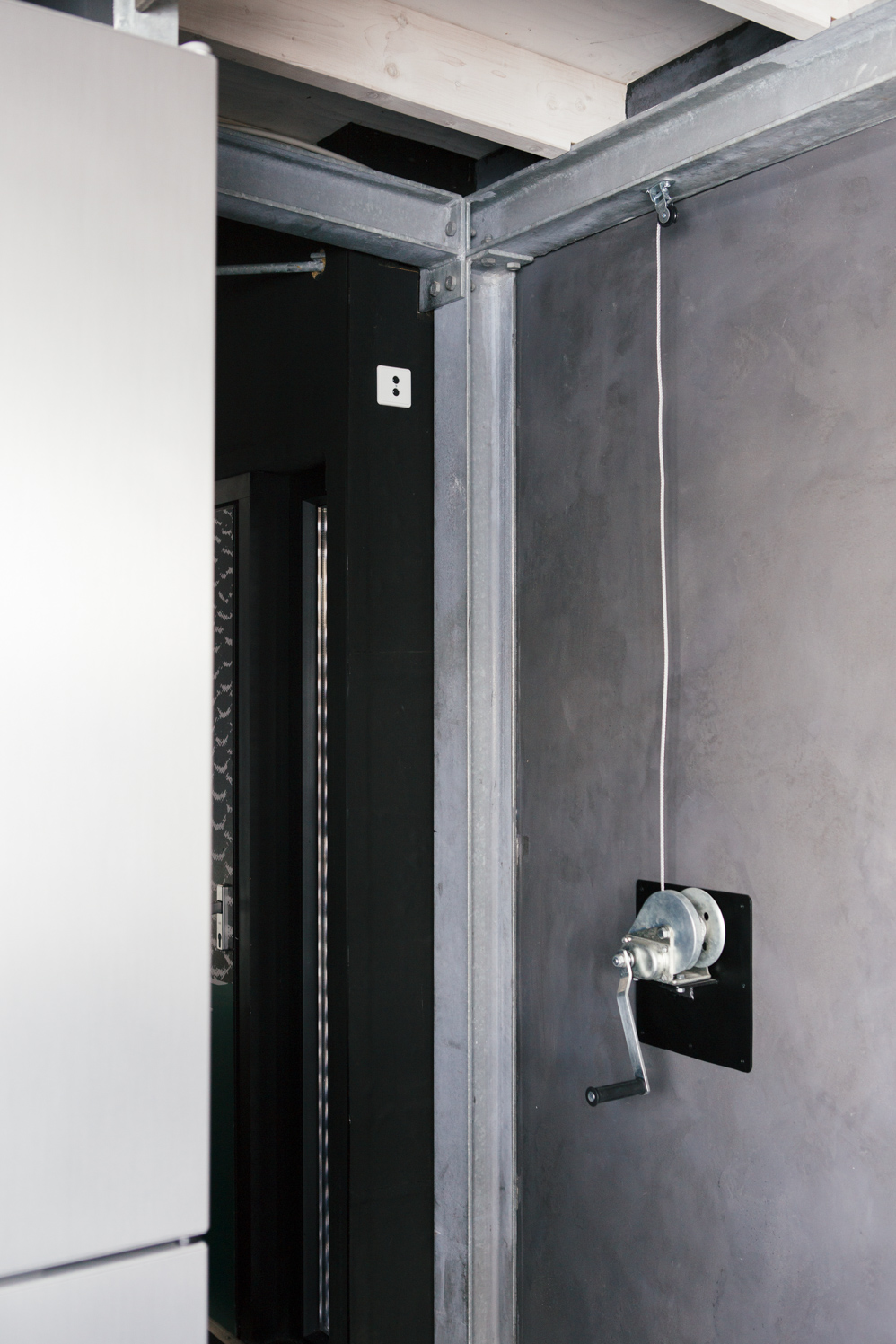 In a large city, everyone comes to a certain point when they realize: I need a timeout.
I imagine that you have the opportunity to observe lots of beautiful and special things here on the water. Is there any memory that stands out to you?

I especially like the pairs of swan that we've been observing since the spring – how they build their nest and take care of things, the male constantly bringing new building materials and the female then looking everything over and selecting what suits and what doesn't – you can apply it to your own personal life. (laughs) Meanwhile, the little one has hatched, still gray. And all three are now a part of our life here.

During this time that you're temporarily staying here, do you consider yourself to be a bit of a pioneer?

Yeah, maybe a little. We've discovered something new for ourselves. And I notice in my circle of friends that the boat amazes them and has a lot of appeal. We spend a lot of time here together, cooking with friends and all staying overnight – we just roll out the guest bed. The real life implications of the implemented designs are unique.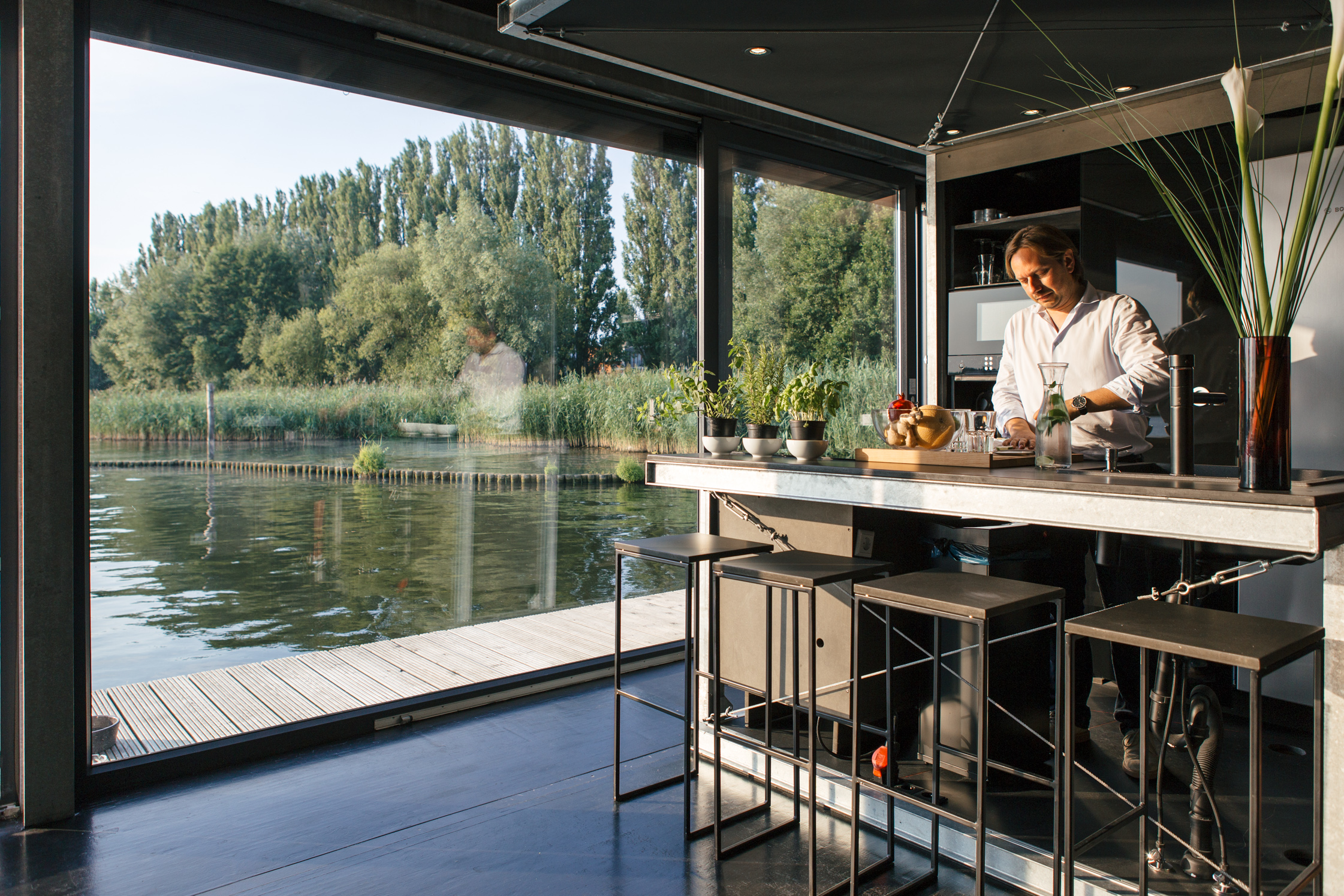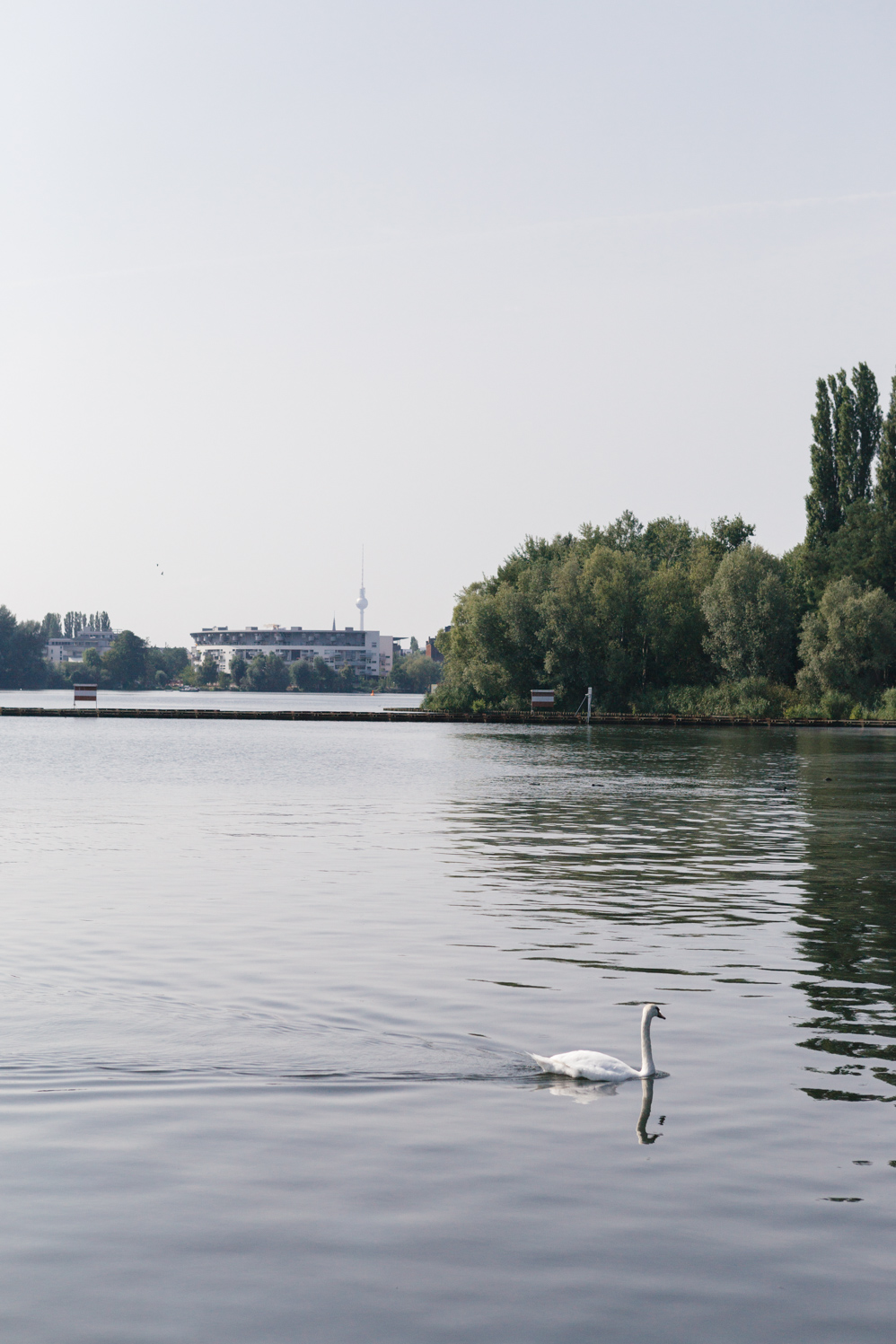 It sounds like there are plenty of advantages to spending time on the water, but is there anything you miss about being on land?

No. The opposite: everything is here, many things are multi-functional, everything is very practical. And anyways, I have more here than in our apartment in Prenzlauer Berg: water outside the front door, the sun, the terrace and a chimney. Everything that you could want as a luxury comes together here in the smallest space.

Do you want to express something about your personality and values through this style of living?

I don't know if choice of living space is really something that I use to express myself. But amongst all the other luxury objects on Suite.030, the FLODD has a special significance for me. It's a toy, an object for enjoyment – something that definitely also makes us more approachable. Everyone can find something to identify with, everyone has an opinion about it and could theoretically afford it as their lifestyle. It's exactly that that makes it fun for me – to provoke people to reflect on their living spaces. The question is: what do you really need? Here you actually have everything. Maybe fewer knickknacks, but instead more aspects that make us feel good, and that's personally very important to us.
Even on the boat, I feel like I'm part of the city.