Inspired by the past, G-Star RAW Head of Women Design Rebekka Bach uses vintage treasures to take her designs to the next level. While doing so, she's quite an inspiration herself.
Nobody's perfect, we all know that. But Rebekka Bach is not too far from the definition. You can already tell from the warm welcome she gives us on this Monday morning – smiling and waving to us from across the street as we arrive. Rebekka is the type of person that seems flawless, the type that likes to invest in quality ("I don't buy a lot, I only buy things that will last"), works until midnight and makes her own flax seed and pumpkin seed crackers.  She's low-key, but not low maintenance, a fact made evident when she tells us that she and her boyfriend bought a prestigious 400m² property near the biggest city park, Vondelpark with open space for their new baby in mind. Quality of life is definitely a notion Rebekka holds dear.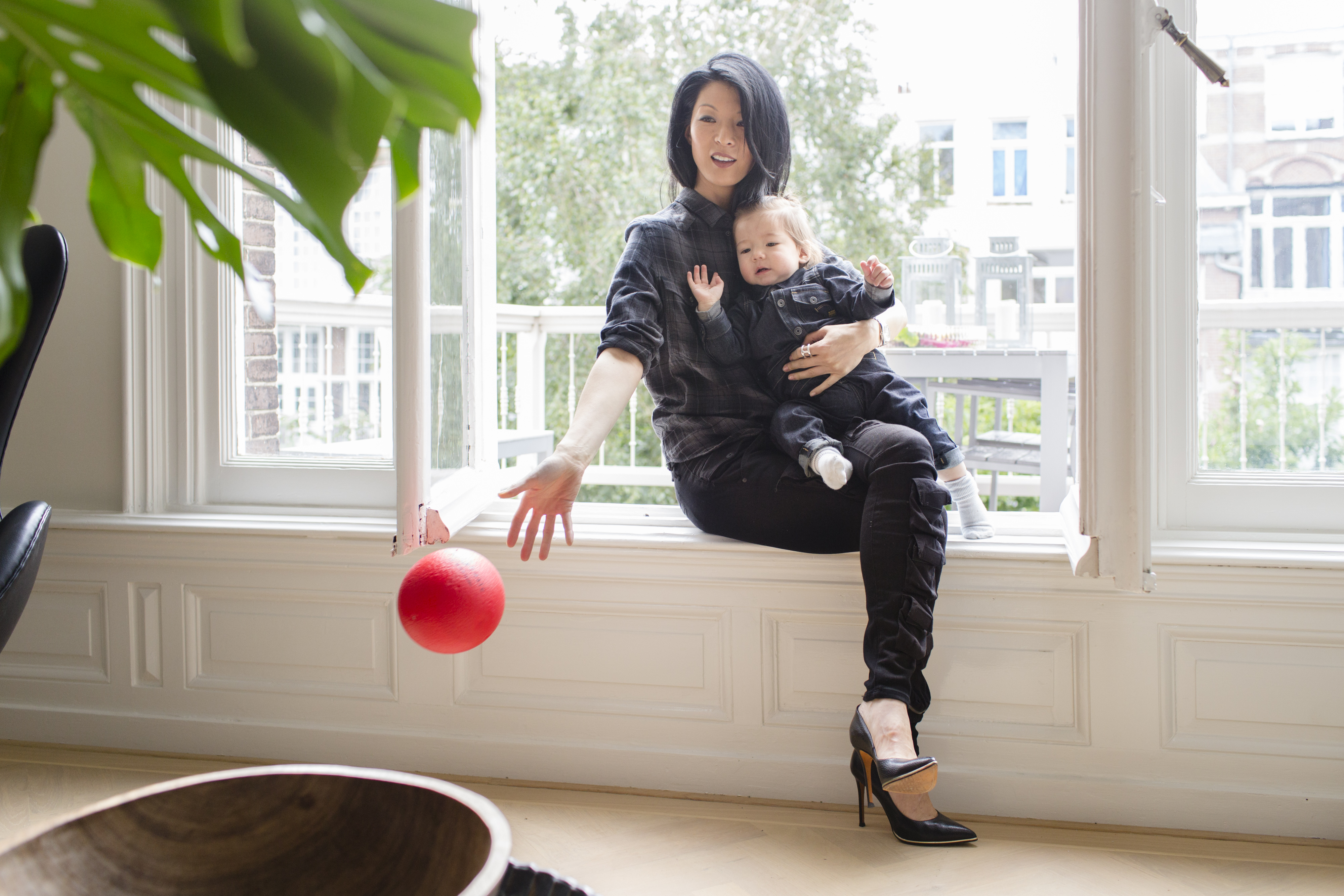 While preparing brunch for the FvF crew – a healthy mix of fruits, gluten-free bread, ginger shots and oatmeal with almond milk and chia seeds – Rebekka explains how she, Nicolas, her boyfriend of 15 years and their baby Phoenix ended up in this historical house around the corner from the Museumplein, where all of the city's famous museums are located. "This place was formerly owned by a 80-year-old lady who had been living here for the last 50 years,". "Despite the house having four floors, she was residing in the cellar, only using a small room and one stove. Can you believe that? The house had been unused for decades."
"We intended to honor the house's history and keep all the original details intact."
I guess the house must have been in a really bad state when you bought it.

It wasn't too bad actually. The owner was really keen on the preservation of the house and keeping all the original details intact. That's why she was also very particular about who she wanted to buy the place. Even though we were the ones with the lowest bid, she chose us because we intended to honor the house's history. She also liked the fact that we wanted to start a family here and that my boyfriend was planning to use the ground floor as his showroom (he's the owner of leather goods label Royal RepubliQ, ed.), because her husband used to have his workshop there as well.

How did you manage to preserve the original elements and modernize at the same time?

Well, that was quite a challenge in some cases. The beautiful stained glass windows didn't need any work, but finding the right replacement for the damaged tiles from 1885 in the toilets and bathrooms took some time. We managed to find original vintage tiles from the famous Dutch designer M.C. Escher for the two bathrooms. They look a bit dirty, but we kind of like that, combined with the "clean" marble walls we imported from Portugal. What makes the house personal and modern are all the leather features we incorporated, like this kitchen (gently strokes the kitchen cabinets) covered with black leather and the leather herringbone floors in our bedroom. We call our home the "House of Hides."
"People often say it's not healthy to combine your home and work space, but I don't agree at all."
Before we dive into brunch, Rebekka gives us a quick tour of the house. On the first floor we meet adorable one-year–old Phoenix, dressed in – what else – a denim G-Star Boilersuit, and his nanny, Venus. At the sight of his mother, Phoenix reaches out his arms and insists on joining the tour. Rebekka apologizes for the unpacked moving boxes here and there. "We just started using the entire house a week ago; the first few months we were living on the top floor." That top floor is now used as a guest room and as Rebekka's studio – perhaps her favorite place in the house. Surrounded by vintage finds, like a beautiful Louis Vuitton trunk, exotic sculptures and a rack full of design samples, it's no wonder Rebekka enjoys spending time here.
This looks like a very cozy work space. Do you like to work from home?

Yes, I do it quite a lot actually. When I come home from the office around 7:00 pm, I feed Phoenix and put him to bed, then I usually head upstairs to work. People often say it's not healthy to combine your home and work space, but I don't agree at all. This is what I love to do, so why wouldn't I want to do it at home as well? Normally, I work until midnight and get up around 6:00 am. Yes, that's early, but I don't need a lot of sleep, I just have a great source of energy!

Everything in your home seems to be carefully selected, which objects help keep you inspired when you're designing from home?

I like to keep it as clean and quiet as possible. I love silence so I rarely listen to music while working. When I just want to get some inspiration and relax, I browse through these old magazines (grabs a stack of vintage Marie-Claire's and Vogue's dating from the early 1900s). Look at these, aren't they gorgeous? The colors, fonts and attention to detail are just incredible. Flipping through these magazines is not only inspiring, it also puts me in a really good mood.
Vintage plays a big part in Rebekka's life. It's not only the aesthetics from the past that inspire her, it's the quality of the materials and designs that she loves, especially those from the '50s and '60s. When we visit one of her favorite vintage design stores, Harvest and Company, after brunch and meet co-owner Jeroen there, it's obvious she's found a kindred spirit. The two start talking about brands they like and their shared love for lamps (Rebekka: "I'm a total lamp fetishist," Jeroen: "Me too!") there's almost no stopping them. After they've exchanged contact details – so Rebekka can come back for the indigo pillow cases from Burkina Faso that Jeroen just showed her – it's time to head over to G-Star's headquarters. It is a work day, after all.
Sitting next to Rebekka in her MINI, I spot a bag of candy next to the driver's seat. What happened to the no-sugar policy? Maybe she's human after all. On the way to the office, Rebekka tells me how she got into fashion in the first place. "I was born in South Korea, but was adopted at the age of three by a Danish couple. As a child, I was always drawing, but never considered going into fashion. After I finished grammar school, I actually did one year of business school, but that wasn't for me. I decided to visit the introduction days at Copenhagen's design academy and immediately fell in love. After one year of general design, I chose to focus on fashion."
How did you end up working for G-Star?

Well, that's kind of a funny story. A year after getting my degree, I got the opportunity to work for another brand located in the Netherlands, so I moved to Amsterdam. My boyfriend later followed to run his brand from here as well. One day, by pure coincidence, I ran into Pierre Morisset (G-Star's Head Designer, ed.) at the airport. He complimented me on my jeans, a pair I'd designed just for myself. We started talking about fashion and jeans in particular, and discovered we had the same design philosophy. He asked me if I would be interested in working on G-Star's womenswear collection. I still had my obligations with the other brand at that time, but the offer stuck with me. When I approached G-Star a year later, they welcomed me to join the team. And I've been with the brand ever since, which has been ten years now!
G-Star is known for combining heritage with technology. Was that also the reason it's such a good fit for you?

Absolutely! They really try to take elements from the past and combine them with the newest technology, something I believe in strongly myself. I also love that G-Star has such a unique DNA. There's no other brand like it. Plus, the brand focuses on sustainability – take the Raw for the Oceans collection with Pharrell Williams and partners Bionic Yarn and Parley for the Oceans, for example. The aim is to make clothes from recycled plastic found in the oceans, clothes that will last and have a positive impact on the environment, not just something for one season.
G-Star RAW Headquarters
1

Location: Zuidoost District, Amsterdam

2

Architect: OMA

3

Partners: Rem Koolhaas, Reinier de Graaf, Ellen van Loon

4

Size: 27.500 square meters

5

Year of Construction: 2008-2014
What would you say is your signature as G-Star's womenswear designer?

Personally, I love the toughness and boyishness we use in the womenswear collection. To me, there's nothing more attractive than a woman in menswear. You can play with your feminine side by having long hair and make-up and combining it with a pair of baggy Elwoods (G-Star signature jeans, ed.) to make it a bit more bad-ass. I always try to find the perfect balance between boyish and feminine when I'm developing a collection.

Is a combination of boyish and feminine also the way you like to dress yourself?

Definitely. I love wearing denim and leather, because they're such versatile materials. To make it more feminine, I combine a pair of jeans with killer heels, or leather pants with a silk top. And to make a dress more casual and street smart, I would wear sneakers instead of heels.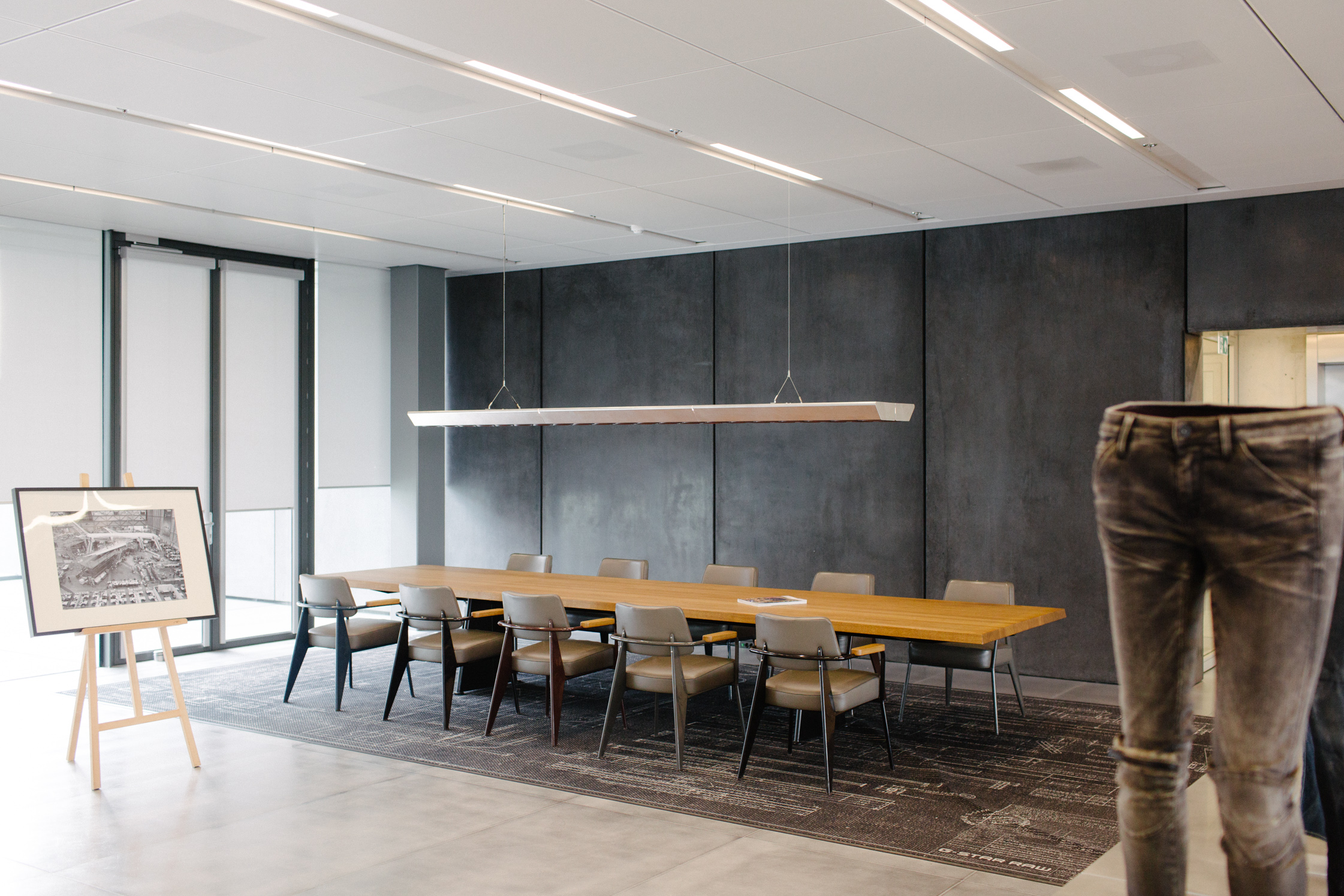 When we arrive at the office, Rebekka disappears to catch up with her design team. There's a lot of work to do, since the new collection is due next week. We meet half an hour later in the "holy grail" of the office – the immense archive in the basement, which is filled with aisles and aisles of vintage clothes, which has pieces of Pierre Morisset's private collection. "From what I heard, only Ralph Lauren has a bigger one, but ours is better organized," Rebekka jokes.
What makes this archive such a place of inspiration for you?

There's an incredible amount of knowledge and craftsmanship in all these vintage clothes. In weeks like this when we're working on a new collection, we get a lot of inspiration from here. Take this, for example (points at an orange pilot's suit). We have a lot of jumpsuits in our collection and will use a suit like this as a starting point. We won't copy it literally, because no one is going to wear an actual orange pilot suit. But look at these wide arms, they're great in a modern version as well. And sometimes one of the girls in the team runs down here to look for a specific button or stitching we were talking about upstairs.
Is it hard for you to manage an entire team?

Not really, because everyone in the team brings their own expertise and vision to the table. It's an international and young design team, which is really good for a global brand like G-Star. We all spend loads of time in our atelier and everyone is very professional with a great passion for their work.
Walking through the archive, Rebekka stops from time to time to show special garments, like a giant space suit, an old farmer's jacket or vintage baseball jersey. "Look at this, the fabric and details, isn't it amazing? I know that with the scale and pace of production nowadays, this is impossible to accomplish, but I always aim to make my collections with the same passion and attention." Even though every garment here has its own story and Rebekka would love to tell them all, one of her team members calls her back to the design floor. It's 4:00 pm already, but Rebekka's work day is just getting started.
Thank you, Rebekka, for hosting us in your home and sharing your day with us. 
This interview is part of our collaboration with G-Star RAW on the occasion of their new Fall/Winter '15 collection. We talk to intriguing creatives across the globe, gaining deep insight into elements of their personal style. The portraits are part of "How Do You Wear Yours?" – a campaign that champions how people wear their jeans around the world.
Photography: Jordi Huisman
Interview: Marieke Verhoeven