An old building, with high ceilings and a terrazzo floor: in the middle of the lively district Düsseldorf-Unterbilk, the sculptor Jan van de Weyer and the ballet dancer Louisa Rachedi have found a wonderful place to stay. Having just moved into their first home as a couple, it's only a stone's throw from the Rhine.
Croissants and coffee are sitting in Jan van de Weyer and Louisa Rachedi's kitchen. Lavender blooms on the balcony, and a bumblebee delves into one flower or another. The heat of the past days escapes through the open windows all around. The artistic pair give off a sympathetic, reserved air.
For both of them, making this home together is a dream come true. Louisa, originally from France, enjoys the lively cafés, the exciting art scene of the Nordrhein-Westphalia capital and the short distances to travel. The ballet dancer can reach the stage of the German Opera on the Rhein by bike in no time time at all. Jan's studio lies on the other side of the river in an old factory space, the Areal Böhler. Before he committed himself completely to his sculpture, Jan worked for 15 years as a physio- and manual therapist.
This portrait is produced together with USM for the series "Personalities by USM." See a different angle to this story with a focus on Louisa's and Jan's interior here.
The first thing that struck me was that you live in such a beautiful old building. When was this house built?

Jan: It was built in 1907. The apartment still contains a lot from that era. For example, the terrazzo floor is original. I like the high ceilings and that it is generally very airy and open.

Louisa: Also, it's very nice that the apartment's long corridor has been practically divided into two living areas. We spend so much time together that it is also good to occasionally have some distance between each other. (laughs)

Unterbilk is quite a popular area to live in. How did you manage to find the apartment?

Jan: As luck would have it, a friend was the contact for the house. I lived two doors down so I knew the area well and really cared for it. When we learned that the apartment was going to be free, we didn't hesitate for a second.

Louisa: It's our first flat as a couple. We just moved in in February. For Jan, the fast move-in date was fine, because he was only moving within Düsseldorf. I, on the other hand, had less stuff but had to endure a bigger transition. From Albi, my hometown in France, to Marseille, then on to Toronto and eventually Düsseldorf.
Why have you moved so much?

Louisa: I've danced since I was six years old. As a teenager, I moved from Marseille to Toronto for my ballet training. Then I received an offer here. Since 2007, I have been dancing at the German Opera on the Rhein.

Was ballet a childhood dream of yours?

Louisa: Initially, no it wasn't. My best friend began with ballet and that's how I came to it. At the beginning, I found the ballet school totally boring. But at the end of the year, there was a performance in front of an audience. I loved that – to stand on the stage and dance. Since that moment, I can't leave the sport, despite all the stress and hard training.

And how do you like it here in Düsseldorf?

Louisa: I like it a lot. You can find everything here that you might have in a large city, and yet, the distances to travel are a lot shorter. Here, you can get anywhere in 15 minutes, either by bus or bike. Sure, in Toronto there's a little more action friction, but it's better to live here.
Jan, you are practically a Düsseldorfer. What do you like about your city?

Jan: I grew up half an hour away from here, on the Lower Rhein. But it's already been 20 years since I've moved in Düsseldorf and I'm very happy here. There are so many nice cafés , and an interesting gallery and museum scene, such as K20 and K21 from the NRW Art Collection, or the Julia Stoschek Collection. And if, from time to time, it all gets a bit much, you can quickly get to other cities such as Antwerp or Cologne.

Louisa: When we sometimes have enough of Düsseldorf or have already seen all the exhibitions, we often travel to Cologne. It is a bit more relaxed and it's easier to have conversations with people there.

Who did the artworks in your house?

Jan: Only very few are my own work. Standing here in the living room is my head sculpture made from Indian Galaktose. In the hallway there's a modern work by the New York artist KAWS. I also have a few more pieces from him in an old cabinet.

You've been working with head sculptures for over ten years. Where does your interest in the human head come from?

Jan: I worked as a physio- and manual therapist for 15 years, mainly concerned with the skull, the so called cranial system – which is the connection from the skull to the coxics. This influenced my work. Now, I no longer work with my bare hands, but rather with tools, but I still have to gain an understanding of the material.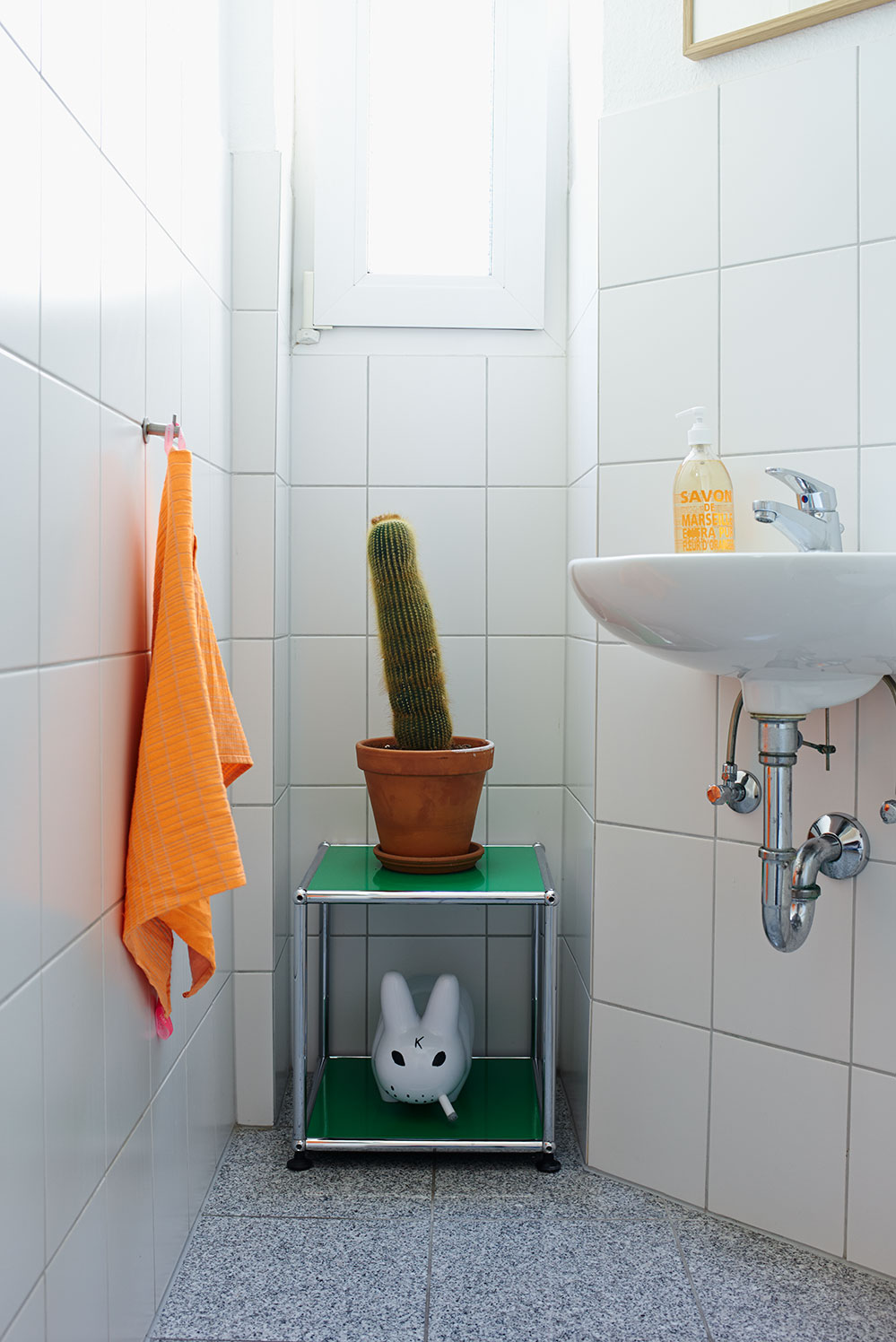 How long have you had your studio?

Jan: For a long time I worked under a friendly sculptor in the old brick factory, now I'm over on the other side of the Rhein. To get there we travel past Andreas Gursky's studio and up to the Düsseldorf city ring. Areal Böhler is there, it used to be the old red-brick smithy's hall, today it is rented out to artists, architects and photographers – it's a great place to work. But before we go in, let's get something to eat.

Sure, where should we go?

Louisa: On the corner is Lorettostrasse with a lot of cafés and small shops. For us, it feels a little like Kreuzberg, Berlin. I like to buy clothes from Tuxedo and there's a really good pub on the corner of Neusser Strasse, the Seifen Horst.

Jan: The Seifen Horst is not so glossy and chic as most of Düsseldorf's bars; it's actually a bit shabby. There's not much in the way of food here, for that, you're better off at Dreas & Dendas. They have a good lunch menu with dishes changing daily, and homemade tarts and cakes.

What work is currently in your studio?

Jan: What you see here is still from my exhibition "Heads", which I opened in May. You can see objects from the past ten years, head sculptures for the most part. I started with marble and very pared down forms. You have to approach the formation of such a sculpture very slowly.
Jan: Yes, although I previously had contact with sculptors, but, for the most part, I muddled around myself; it's easily done. First as a painter and photographer, and now, for 15 years, a sculptor.

Louisa: He really has a good feel for sculpting. I don't think it is obvious that he has done this without formal training.

Sculpture is very physically demanding. Is it therein that you find its charm? 

Jan: I really love working with my hands. It's fun for me to busy myself with a stone, to feel and to see it, and see how it changes.

Louisa: People remark that you can tell Jan is under more stress when he hasn't worked for a week. It's his outlet for excess energy. (laughs)

Louisa, are you often in the studio?

Louisa: I follow the process. When Jan starts a new sculpture, he often takes photos and then we discuss the project. I come in from time to time, to see his progress.

Jan: Louisa's opinion is extremely important to me. We have similar tastes and similar flair. I love it when I'm alone in the studio grappling with the sculptures but sometimes dialogue is also good.
Do you inspire each other?

Louisa: Yes, Jan certainly inspires me. Especially with his attitude, he follows his goals and does what he really wants to do.

Jan: We make different forms of art, but ultimately, the differences between them are not so great. I form bodies through the sculptures I create, and Louisa works with bodily movement. When I see her on the stage, it is always enriching for my work. I would say that we motivate and inspire each other.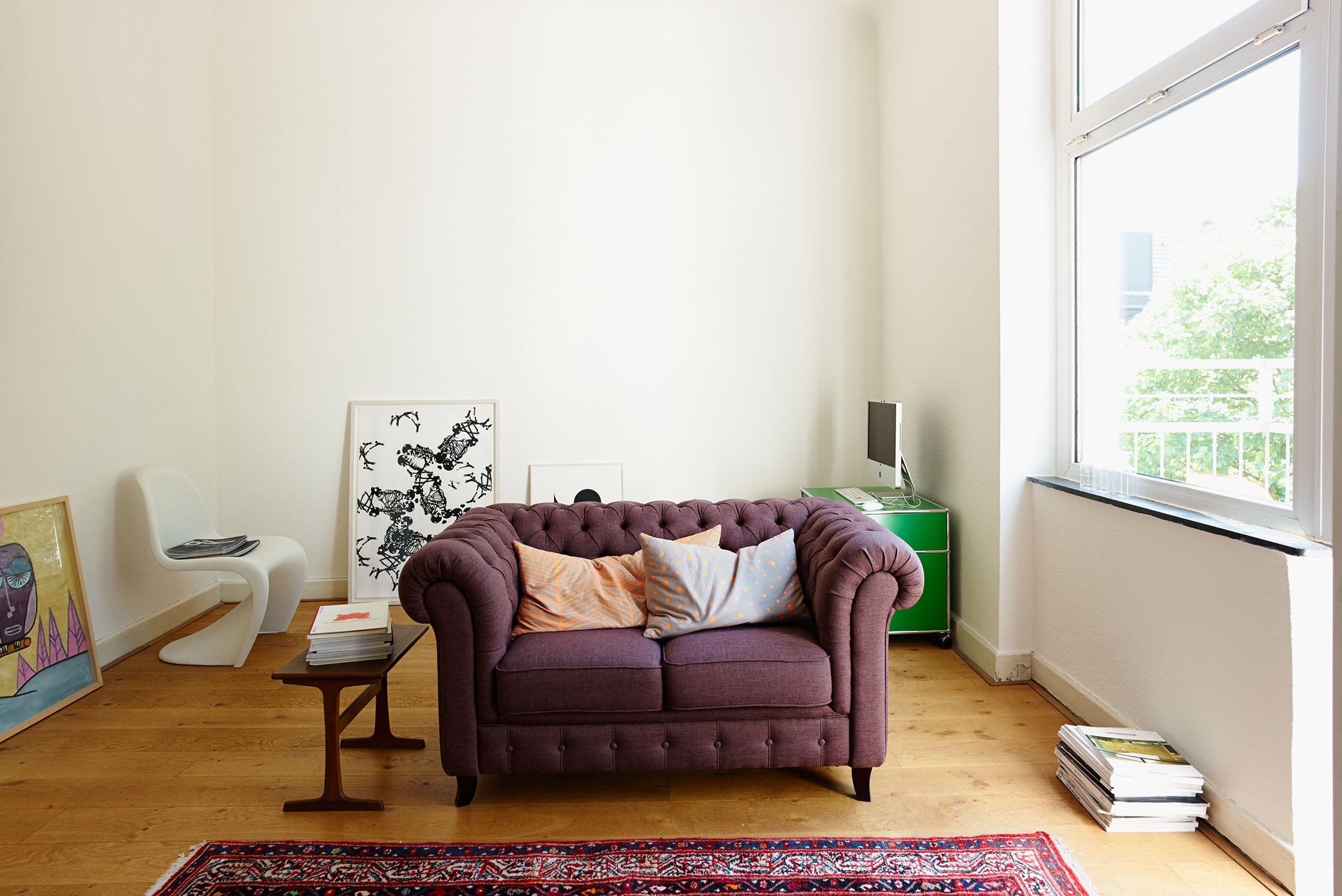 Thank Louisa and Jan for taking the time to give us insight into your world of sculpture and ballet shoes.
This portrait is produced together with USM for the series "Personalities by USM." See a different angle to this story with a focus on Louisa's and Jan's interior here.
Photography: Hartmut Nägele
Interview: Lars Kreyßig