Judith Carnaby answers the door to her Kreuzberg flat wearing a romper patterned with cartoonish leopards peering over palm fronds—attire entirely befitting the colorful personality wearing it.
Judith has an infectiously positive air about her, and reflects that same quality in her work as an illustrator. With her playful and colorful lines she breaks down the world around her into its essential elements to communicate ideas for her clients with finesse. Her work with illustration isn't limited to art itself either—she runs Illustrators Illustrated, a website dedicated to elevating the art of illustration through discourse and criticism.
"Illustration is not often deemed as serious, or recognized as the powerful medium that it is."
After traveling around South America with her (now) husband Sam before settling in Berlin, Judith was in for a rude awakening by European weather. "We went from the beaches in Mexico to one of the coldest winters in Berlin," she says from the Kreuzberg apartment she and Sam have shared for the past six years, "We were sleeping on people's couches and floors for a few months and spent the first couple of years dealing with German bureaucracy and building networks, getting contacts, trying different jobs."
A common story amongst the expat set that populates Berlin, but looking around her flat—with a wall of curiosities collected from her travels around the world, a bookcase stocked with well-worn German novels and her cosy kitchen—it seems Judith and Sam, have made a new home for themselves in Berlin. "When I first moved to Berlin I started this small blog called 'An Ode to Common Things' which was about the daily struggles of living in Berlin. It was a really great way of working through a lot of these tiny struggles like going to the Finanzamt or the Ausländerbehörde [Immigration Office]." The blog features illustrated snapshots of life in Berlin—of apartments and flea markets, tea kettles and lunches with friends.
Kreuzberg, long a haven for artists and creatives, has let Judith really explore her artistic capabilities. "Using my background in sculpture I worked in prop-making and set design for short films and TV—art school skills work well with film art departments. Alongside all of that, I started illustrating and I became convinced that it could be my career. It was a slow process but at one point I kicked out the crutch and decided I'd do it. It's worked since then."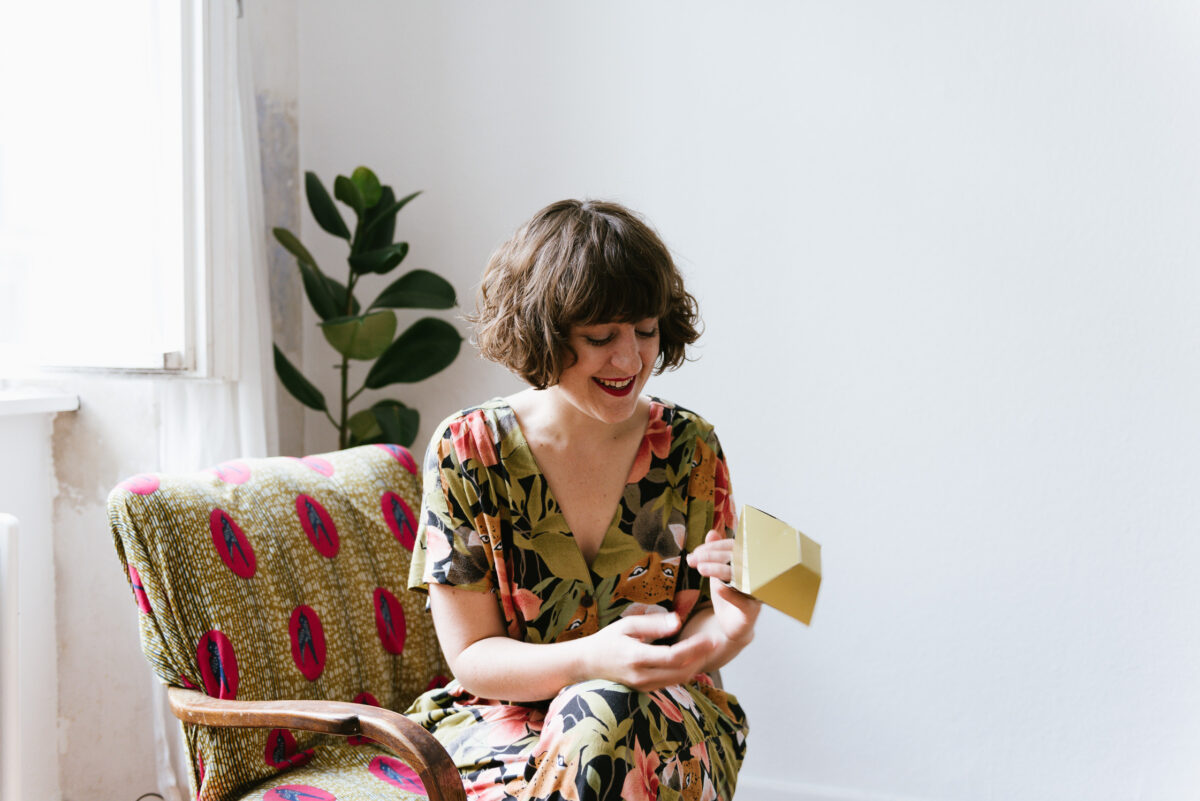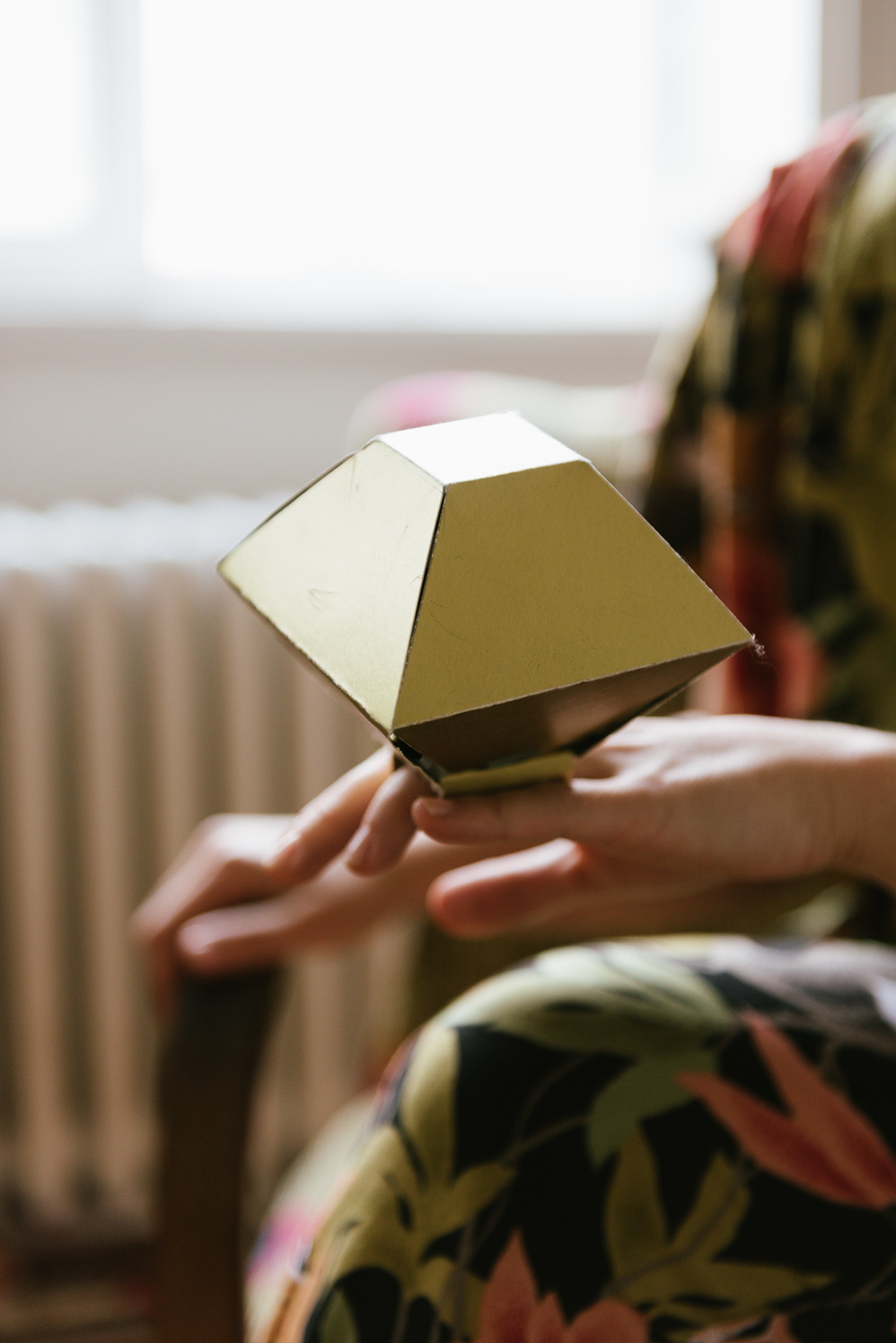 Tracing our way around Judith's neighborhood
Markthalle Neun: A new lease on life for the neighborhood
Judith's illustrations are pared-down snippets of everyday life in Berlin—the TV tower, U-Bahn stations and dapper characters riding bicycles along cobblestones make frequent appearances in her work. She shows us her ability to channel her surroundings when we stop by Cafe 9, as she recreates in her sketchbook the cherub sculpture on the facade of a newly remodeled building across the street.
The cafe is an addition to Markthalle Neun, a community marketplace that has become a haven for foodies both tourist and local to enjoy artisanal cuisine. It's a hotly debated location, with many turning their noses up at the "craft" goods offered by the vendors—but it's certainly brought a livelihood to the neighborhood that was once a ghost town. "It was a market hall full of rundown, empty stalls and discount stores that were closing down. Now, Markthalle Neun has developed and there has been a big change in the neighborhood—really taking it back to how it would have been used 100 years ago, which is a lovely development I think."
Inside the Markthalle, Judith eats a slice of foccacia from one of the stalls. A child fits wooden triangle blocks into triangle shaped holes in a tiny play island close by as her mother looks on.
"Markthalle Neun has developed and there has been a big change in the neighborhood—really taking it back to how it would have been used 100 years ago."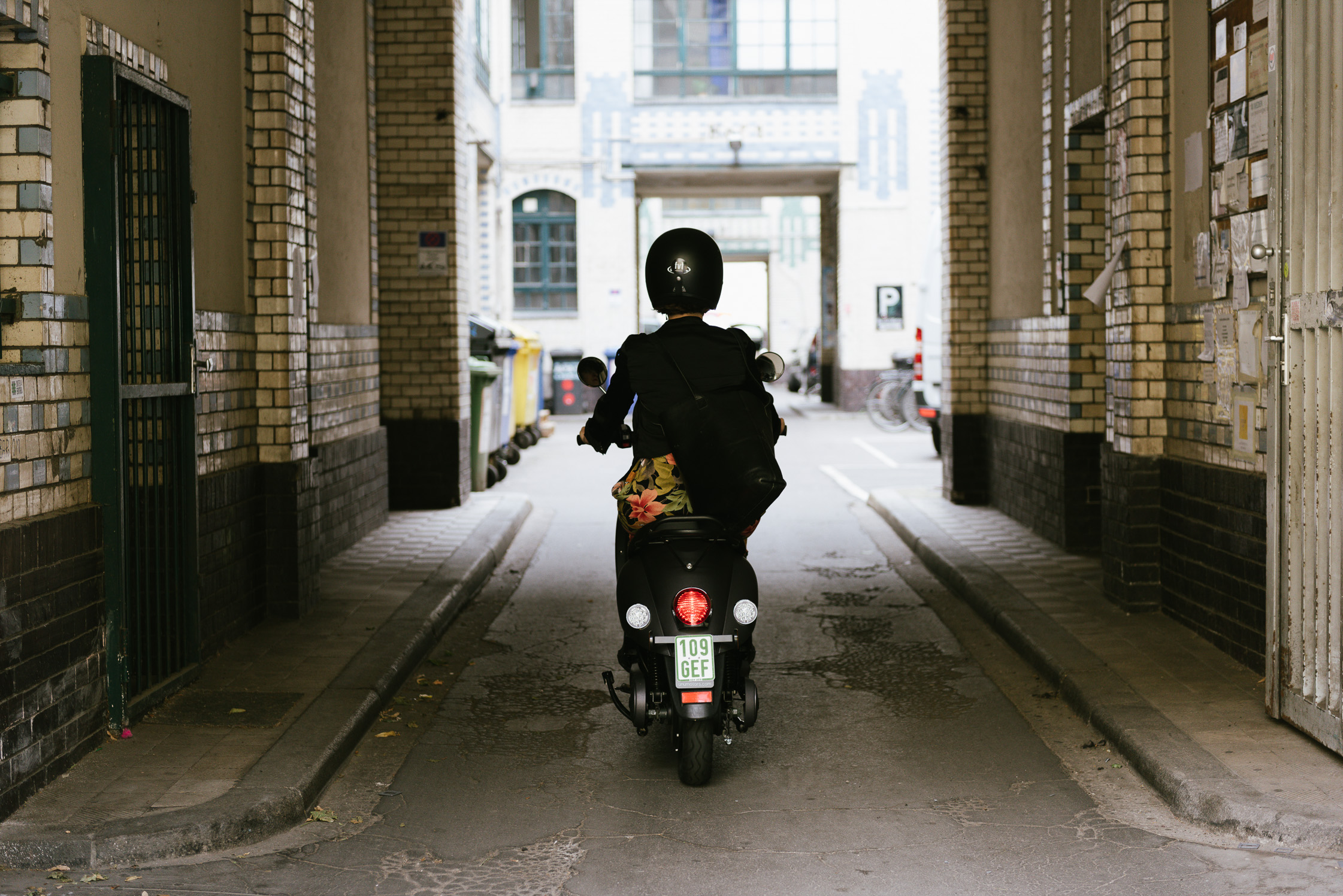 Judith's Studio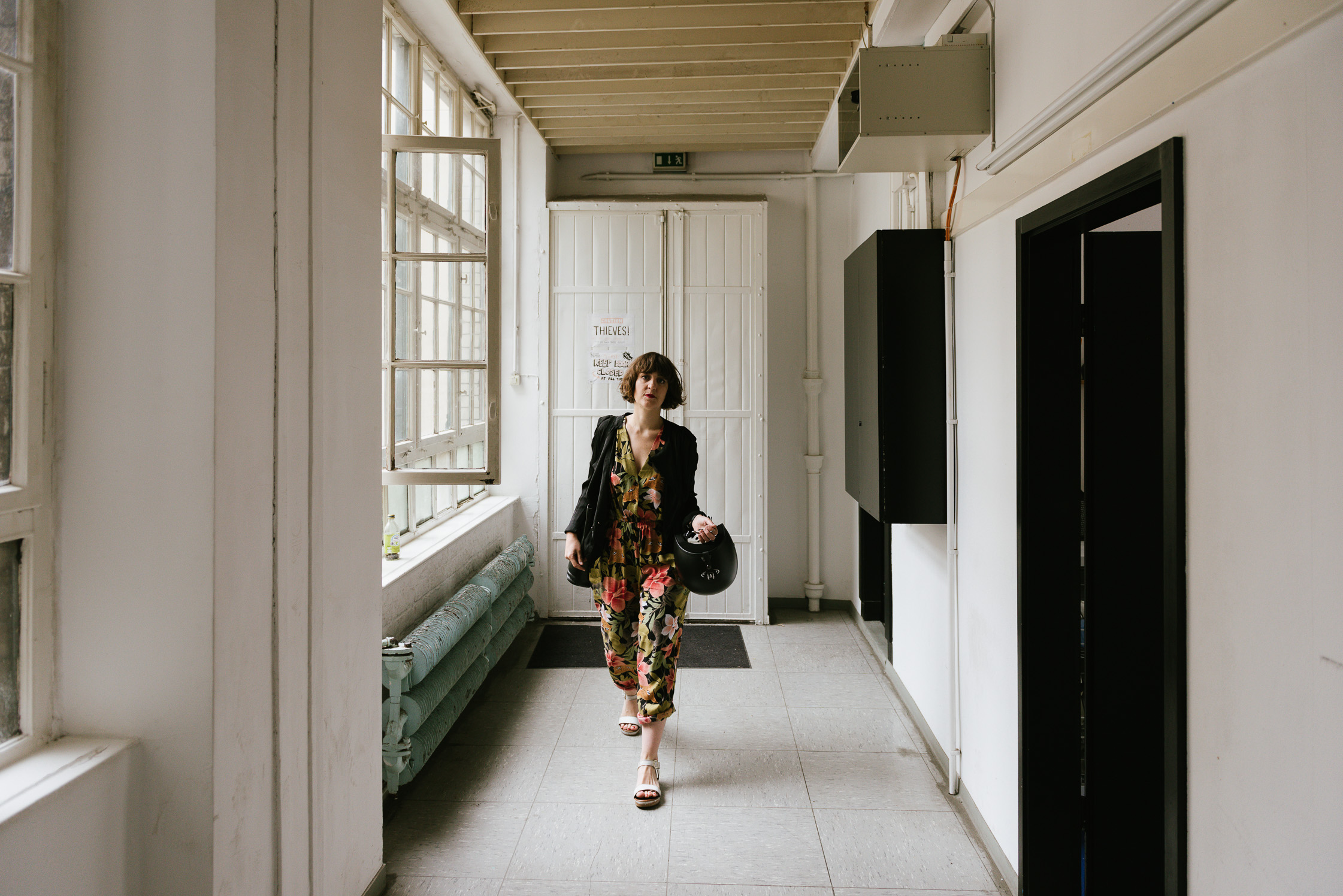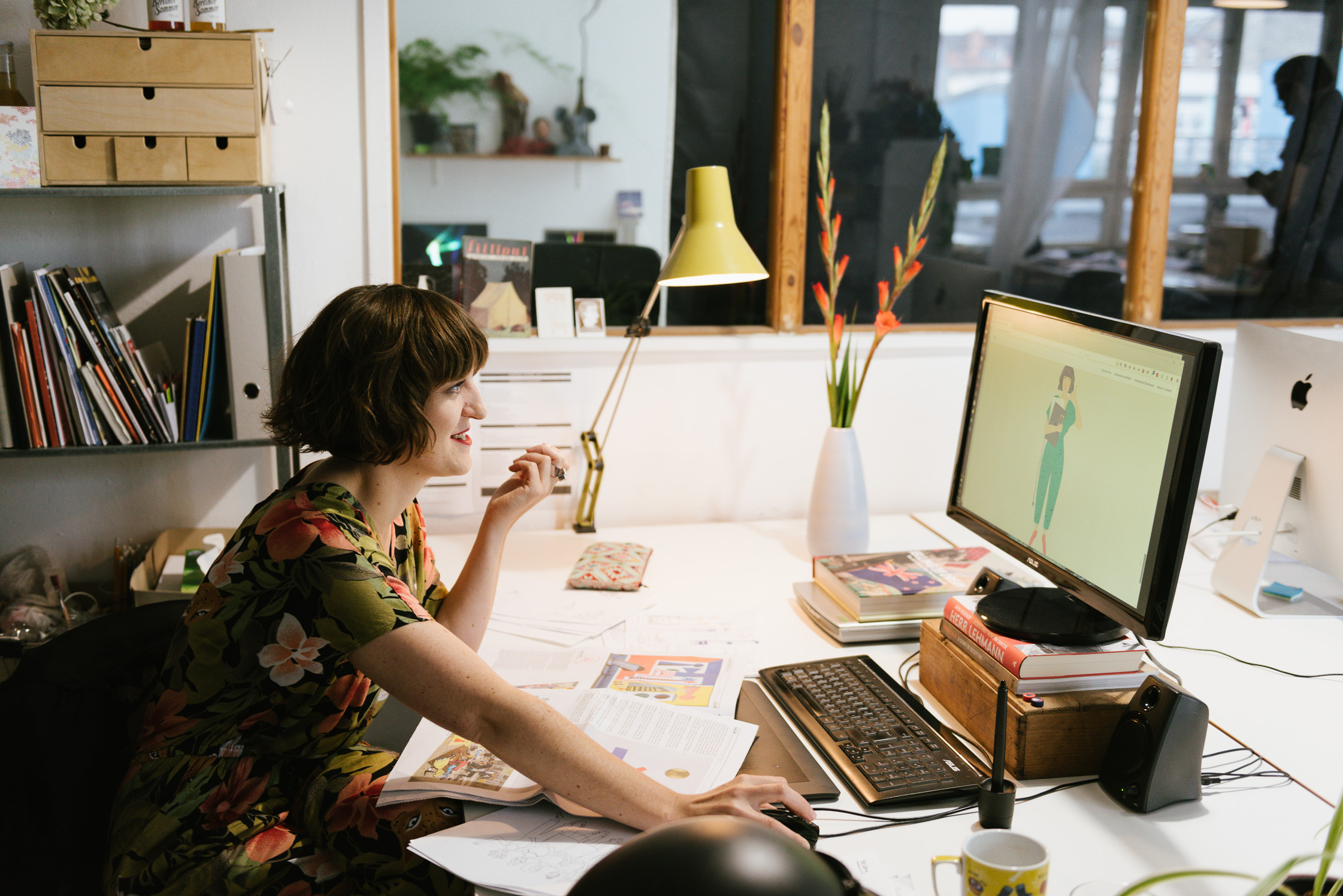 "Writing about illustration is my major focus alongside my work as an illustrator."
She shares a studio space with a photographer, a couple of designers and two other illustrators—it's cozy, with a certain creative electricity in the air. Judith's modest workspace is decidedly minimal, with just a Wacom tablet, a computer and a bookshelf with old notebooks and works from other illustrators. She shows us one of the books that she is reviewing for her website, Illustrators Illustrated.
"In the visual arts, illustration is not often deemed as serious, or recognized as the powerful medium that it is. But its strength is that it's popular and broad; people engage with illustration everywhere—from toilet paper to high end galleries."
Several years into the Illustrators Illustrated project, Judith is a champion of both the medium and critique—"Writing about illustration is my major focus alongside my work as an illustrator. I run a website called Illustrators Illustrated as a way to respond to a lack of theory and criticism of illustration. I'm trying to develop the website as a place for exploration and discussion, with reviews of books, interviews with illustrators and other industry professionals, and critical writing about illustration."
Beginning as a passion project, it's grown to become a network of those in love with the craft and a powerful resource for illustrators. It compiles Judith's experience in the industry with that of others to promote the industry's worth.
This slideshow may contain graphic content
A trip to the Berliner Sommer offices
Popping over to Oranienstraße, the busy artery of Kreuzberg, we pay a stop to one of Judith's clients—the boys behind the alcoholic drinks Berliner Sommer and Winter. Benjamin Fischer and Merlin Lüdenbach warmly greet Judith when arriving at their office. "I was sleeping on Benjamin's floor at one point when I first moved to Berlin!" says Judith. Benjamin knew Judith was a good illustrator and when he was starting his drink company, he knew that her illustrations were the perfect way to define the brand.
"Illustration isn't represented in art theory in any serious way and there's limited writing on its history."
"I remember when Benjamin was brewing the first batch on his stove," says Judith, but now the drink can be found in just about every corner store in Berlin—and Judith's illustrations form the brand's backbone. The stripped back design of their bottles simply feature illustrations of Benjamin in Summer/Winter appropriate wear carrying a crate of apples with a hand drawn typeface by Judith. The organic development of her career as an illustrator and life in Berlin converge at the Berliner Sommer/Winter offices. With the support of creative clients, and her colourful mix of life and work in Kreuzberg, Judith has the space to develop her illustration and writing practices and to support other illustrators to be active voices in the visual arts.