Sebastian Bergne aims to make us reimagine what we might otherwise consider commonplace. For the past two decades, he's managed to accomplish this feat with aplomb from a vibrant studio in Battersea, London.
Though Sebastian, once a student of the Royal College of Art, got his start producing objects for himself, one of his first projects out of school earned him early success (and landed a place at New York's Museum of Modern Art). Buoyed by that achievement, he founded his studio shortly thereafter; since then, his work has soared. The designer's portfolio is filled with everything from playful housewares to functional cookware, encompassing frying pans, corkscrews, kettles, tabletop items, lighting and more. International clients, spanning a range of fields, include Tefal, MUJI, Habitat, De Beers, Moulinex, Vitra, and Swarovski.
Through it all, he's remained grounded, reflecting on his philosophies and personal history with humble consideration. "People often ask which of my projects has been most successful," he says. "That's a terrible question. How do you judge success? Some people say it's the piece that sold the most, or perhaps it's the one that's gotten the most awards. Maybe," he continues, "it's just the one that you're happiest with."
Sebastian designed a minimal and functional candleholder for the forward-thinking brand, OTHR. This portrait is part of our ongoing collaboration with OTHR, as we profile their international roster of designers. Visit OTHR for more on this story and see the beautiful designs they've curated.
"People talk a lot about process in design today and I like to avoid being transparent about my own."
Were you always interested in design? Tell us a bit about your background.

I had a natural attraction to art and design as an adolescent, because I wasn't great at school. I was dyslexic and had some other issues, so creative subjects were the ones I loved. It only made sense that I ended up pursuing design. After school, I went to the Royal College of Art in London. I nearly went into photography, actually, but instead, I went on to discover industrial design.

What do you think first attracted you to that field? Did you like the concept of balancing form and function?

I do think my initial attraction was related to that. I did a lot of my own making very early on, and I enjoyed combining rationality and function with freedom and creativity. I liked exploring how one influences the other. Really, it's a bit of a conflict. What comes first? You have to explore that question. Then again, I don't like it if someone gives me a completely open brief and doesn't offer any place to start. I need boundaries. Total freedom tends to be a bit of a mental block.

You mentioned photography. If you weren't a designer, would you be a photographer?

When I first started out in the arts, photography was certainly something I tried to get into. Now, though, if I wasn't a designer, I wouldn't be a photographer. I'd rather be a chef. The process of making good food is something I've become very interested in recently.
"People talk a lot about process in design today and I like to avoid being transparent about my own. Every time, it's different."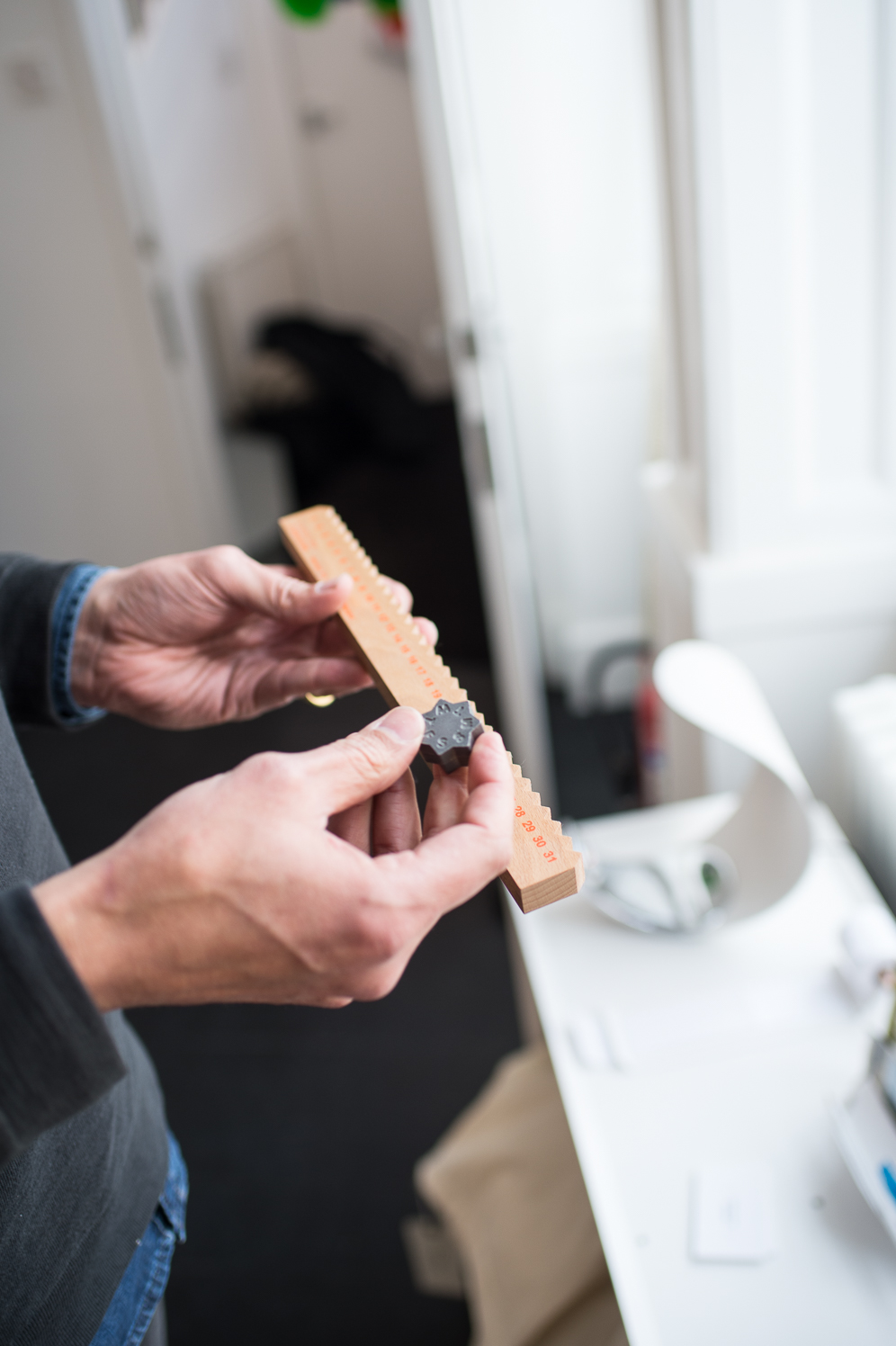 You have a collection of products you've designed with food and wine related themes, so you certainly must have an attraction to culinary ventures. How did that come about?

I spent several years living in Italy and I had a studio in Bologna for quite some time. Bologna is the center of Italian cuisine. My wife is also from the south of France, where there's a strong culinary culture.

I guess in the last 20 years, I've become quite involved with food, and I was very interested in wine in particular when I was in Italy. When I came back to London and closed down my studio there, I did a big show at the end of 1998 all about wine. I designed a big range of projects—theoretically proposals—that were all based around that topic, which was great fun. Now we work with restaurants, and we design a lot of cookware for the brands Tefal and Moulinex.

Do you remember the first object you ever designed?

Not really, to be honest. But there were a couple of significant projects early on. I designed a lamp shade, which was cut from a sheet of stainless steel and opened out when you clipped it onto a traditional light bulb. That was something I produced for myself when I finished studying. I had no clients, so I found ways of producing my own ideas. That went on to be a successful project. It's actually in the Museum of Modern Art in New York now. It was a good kickstart.
Sebastian's functional designs
"Communicating with people and giving them something they like and understand is key."
You've been known to explore relationships between people and objects through your design work. How does that materialize in the products you create?

I have this strong idea that every project is very different and is essentially a new beginning, so I don't really have a process that I apply to each one. People talk a lot about process in design today, and I like to avoid being transparent about my own. Every time, it's different. You can't prescribe process.

I do think everyone builds relationships with their objects, and as a designer, you have the power to influence that. You're creating something that people are going to like or not like. In a certain context, that fact becomes more obvious and necessary.

When does your work make you happiest?

I'm happy with a piece of work when people really get it. Maybe there's a smile in the corner of their mouth and they really understand something that I've intended for them to understand. Maybe they really love and appreciate it. That sounds obvious, but it actually can be quite hard. It's not simple. Communicating with people and giving them something they like and understand is key.

I must admit that I sort of stalk people in shops to watch them buy stuff. If I see someone buying something I've designed, it's the best feeling. Or if I go to someone's house that I don't know well and they've bought something I designed for their own reasons, that's amazing.

How do you spend your time when you're not in the studio?

As mentioned, food and cooking are quite important in my life. That's something I share with my wife—she's a much better cook than I am.

I'm also a dad, and my kids are so important, as well. Just spending time with them is a joy. They're 18 and 15 now, so they're getting older. Soon they'll be heading off, so I'll be seeing less of them. Having young adults at home is very different from having young kids. There's a constant conversation about this and that. It's great fun.
"There's a difference between looking and seeing, and I was able to learn the real importance of looking."
Describe your studio space. What is the environment like in the area of the city where you're located?

My own studio is pretty small. We're usually just two or three people working here, but it depends on what projects we've got going. It's a deliberate choice on my part to keep it small, so I can choose projects I really want to be doing, rather than be obliged to pay salaries every month and take on work that I don't want to do.

The studio is located in Battersea, which is next to the power station on the other side of the river from Chelsea. It's an industrial area, so you've got lots of railways, bridges and crossings. The railways travel on raised tracks that cross over right beside the studio. It has a busy urban feel, which is nice. It's really developing. The new American Embassy is being built just down the road. Who knows what this area will look like in another five to ten years? Probably quite different.

As for the environment of this city in general, it's an incredible place. It's amazing how many designers work in London. It's particularly product designers and furniture designers, which is quite strange because we don't really have much in the way of industry in the UK in terms of production for furniture and products. We've lost most of that, so you have a big community of creative people working for companies that are mostly manufacturing in other countries. It makes it interesting. Then you've also got other creative industries such as media and communications-based stuff, so film, fashion, all of that is thrown in here. There are great museums, great resources to draw on historically. It's an amazing city for design work. For everything, really.

In what ways did your parents encourage you to be involved in artistic pursuits?

My father was a British diplomat, so I grew up around that lifestyle. But he was also very interested in archaeology, languages, and the arts and cultures of places where he worked. We traveled a lot when I was young and lived in many countries. He and my mom were always very interested in what was going on locally, and they always got involved in the arts. They were so curious to know more about the countries and cultures that we were living in. That meant I was brought along, so I got to see lots of stuff I wouldn't have normally seen. At the time, I was probably bored out of my brain. I wasn't always interested in being taken around museums, but some of it definitely sunk in. It also made it easier to be curious.
"I'm hopeful about the future of design—I think it will be a better place."
Have the places you lived influence your work?

I suppose to some degree. It was mainly in the Middle East where we spent time, and I have since worked on one or two projects over there that I greatly enjoyed. I designed the torch, lamp and journey cauldron for the first European Games in Baku. That was amazing, because I was able to be back in a culture that I knew from my childhood. I also worked for a Turkish company that wanted to reference indigenous Turkish culture in a contemporary way. It pops up sometimes, but it's not something that's really important to my other work. The experience did give me something particularly important though—the ability to look around. Most people look, but they don't see anything. There's a difference between looking and seeing, and I was able to learn the real importance of looking. It wasn't about seeing what was around me, but about really understanding and looking further into it. Viability is so important.

To close: What do you envision for the future of industrial design?

Industrial design is essentially about designing the stuff that surrounds us, and I think people are becoming more selective about what they buy these days. Maybe it's about not wanting to waste so much. It's also about wanting to have things a bit longer. From a designer's standpoint, people are more selective, so we need to make sure they select what we're doing. It's an exciting time. There's more possibility for the ways in which things can be made and manufactured. I'm hopeful about the future of design—I think it will be a better place.
Thank you, Sebastian, for your time and thought. Find more from the designer on his website.
Visit our archive to meet more inspiring personalities from London.
This portrait is part of an ongoing collaboration with OTHR, a vibrant hub for unique ideas and new possibilities in design. Visit OTHR for more on this story and many more.
Text:Sarah Rowland
Photography:Sebastian Boettcher