Two years ago, before Hugo finally decided to settle down in Vienna, he made sure to first travel, study, and live in several cities of Europe. After having seen many different neighbourhoods, scenes, and cultures, the Portugal-born, very sympathetic, and warm-hearted artist immediately developed a strong connection with Vienna.
Hugo shares a studio with three other artists, which lies in the backyard of an old building in a bigger street of Gumpendorf, a creative neighbourhood that hosts a lot of artists, architects, designers and the studios of the Academy of Fine Arts. The back room of the atelier is well-lit by the seemingly endless, open windows, while the floor seems to lie underneath a spotlight. Hugo tells us this story: "During the renovation of the studio, we asked several artist friends, like Sarah Lucas or Gelitin, to give us some of their works, which we then filled up together with concrete. Now a creative aura lies in the air."
If you are lucky, Hugo and his friends are relaxing by cooking; just follow the fine smell wandering from Stumpergasse into Hugo´s studio. For sure you will be welcomed to join them for a dinner.
This portrait is part of our art week special and a collaboration with art berlin contemporary.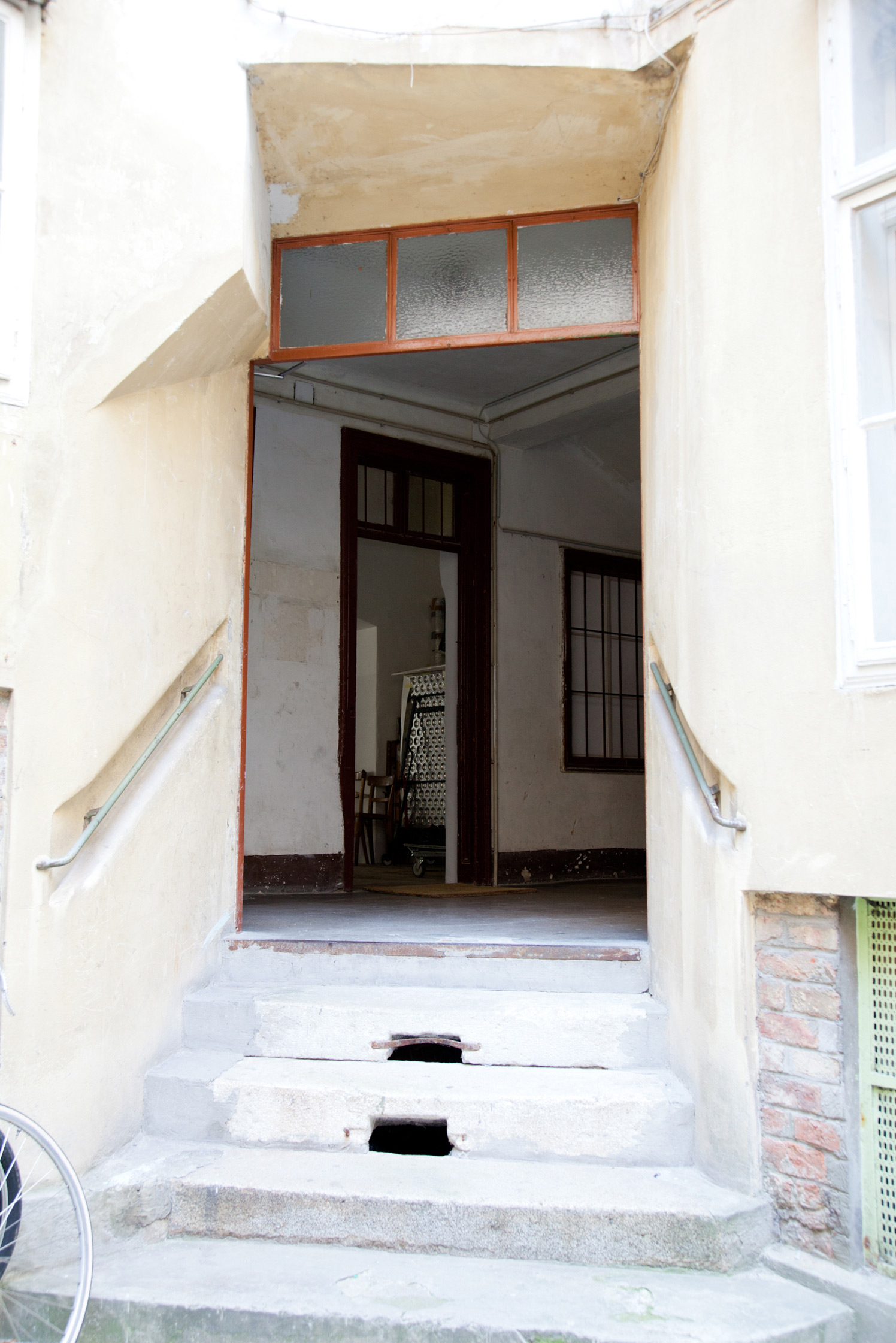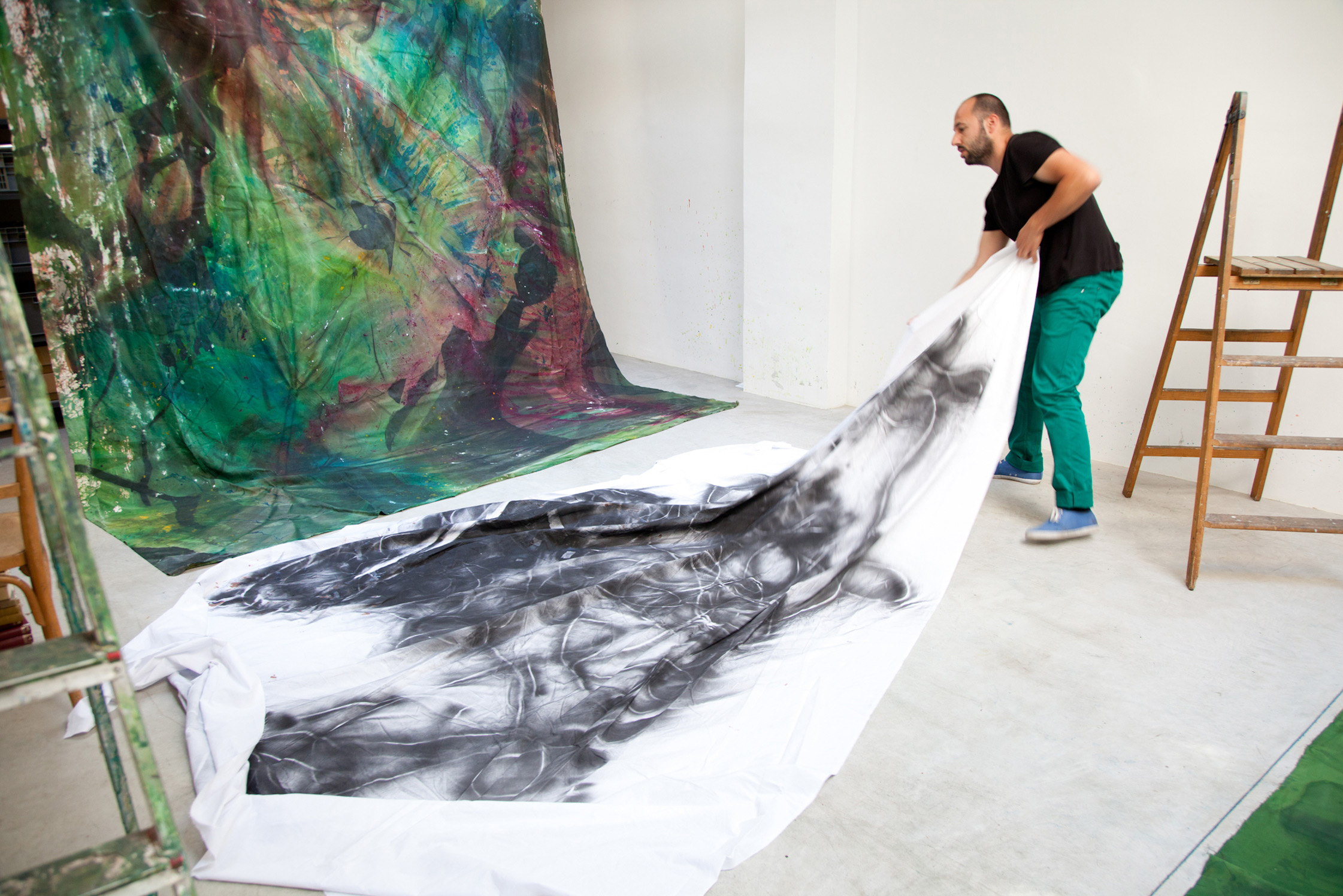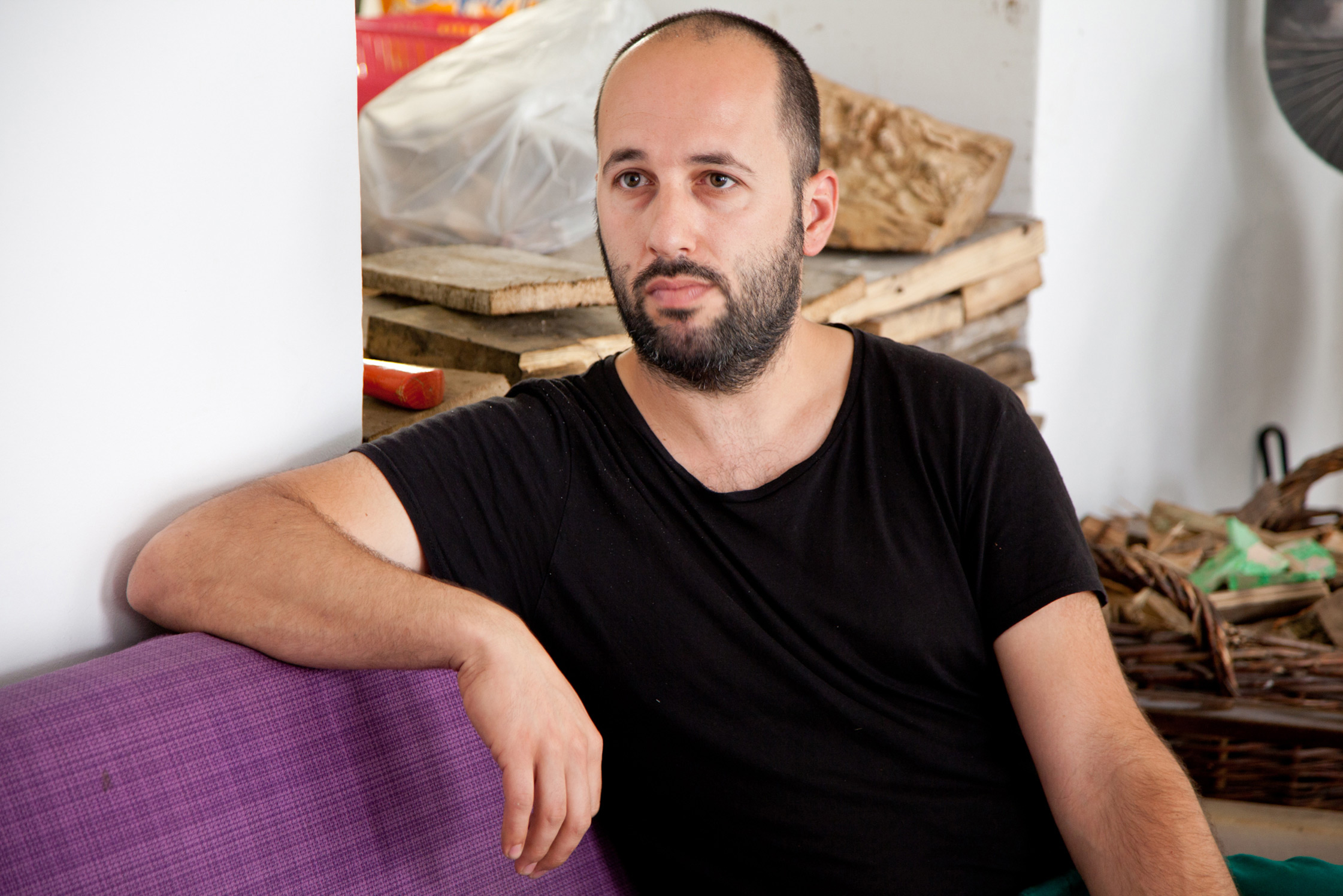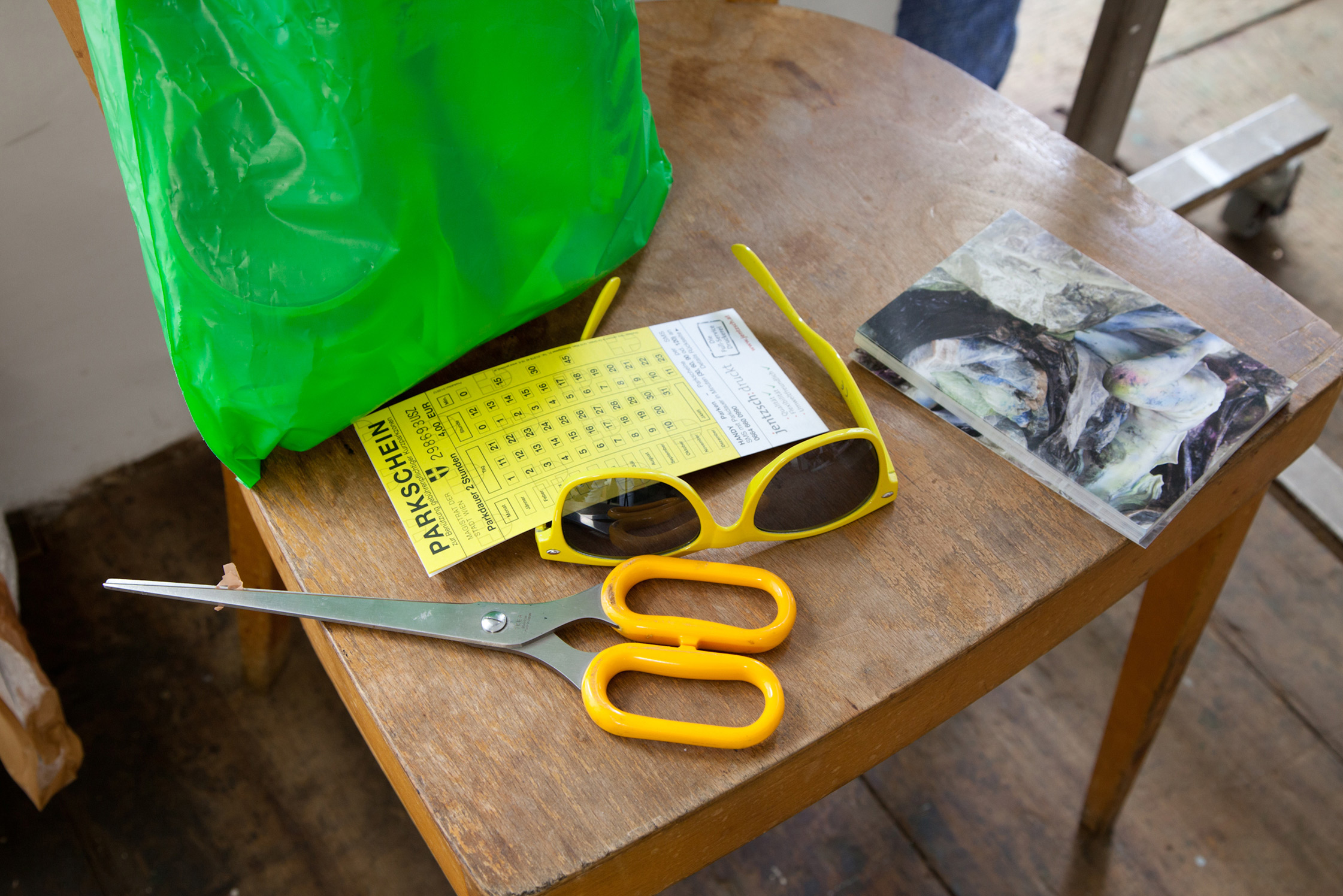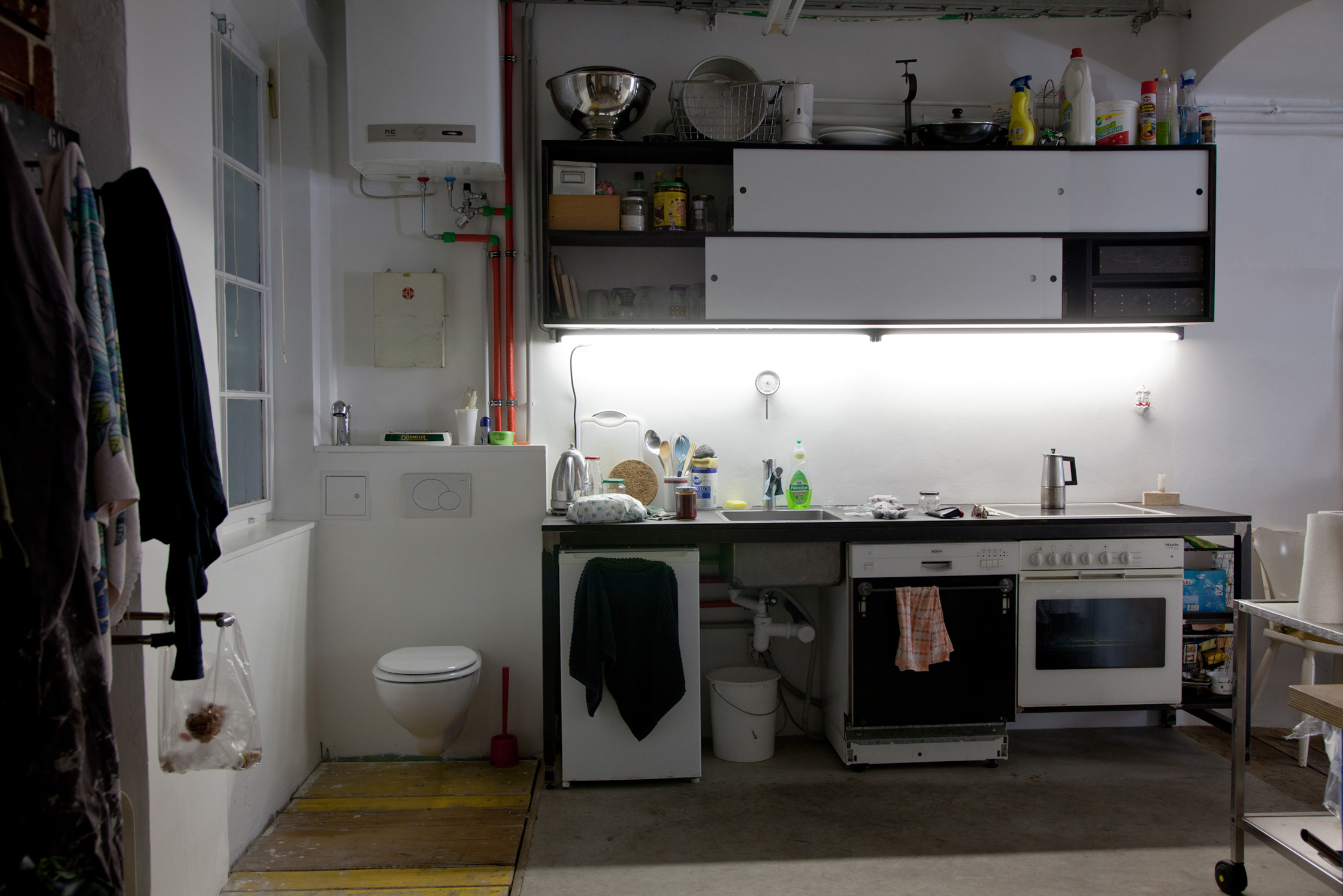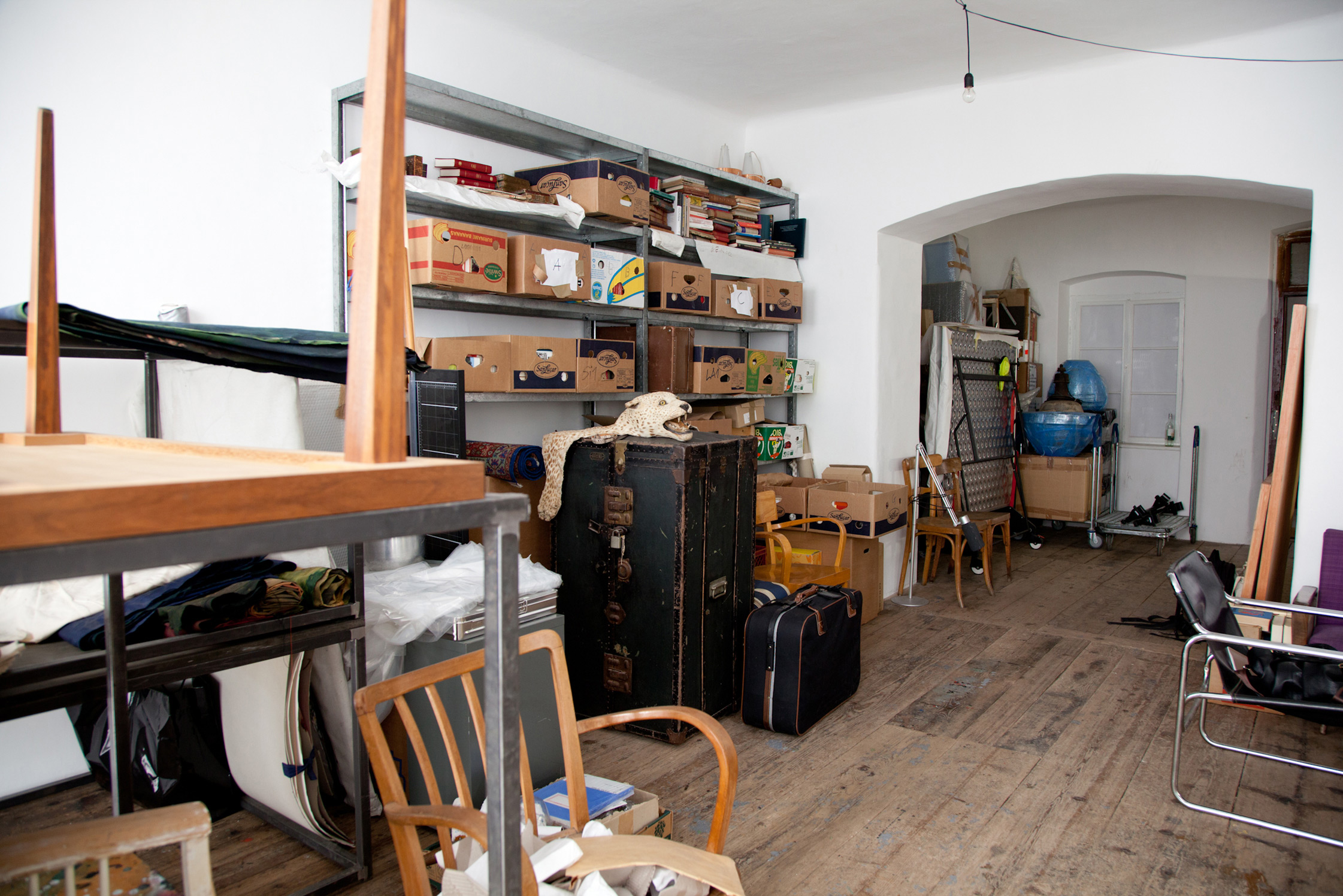 You were born in Portugal. So how did you end up living in Vienna?
I moved because of friends, like my studio colleague Christoph. I have been travelling around Europe, living in different places like Budapest, London, and then returned to Lisbon. But it didn´t feel good, since I felt like a foreigner there. You develop this strange distance when you start living in different places. So I chose to come to a place that has an attractive art scene, is a bit more central than Lisbon, and where my largest amount of close friends live.
Where did you meet these friends?
I studied with some of them in London. A greek friend of mine moved here just after the course and I visited my Austrian friend who lived here. From that moment on, I met a few other people who got close friends, like Christoph whom I knew from London because he once passed by in a show of a friend of mine. I also sent my best friend from Portugal to live here, and then I essentially moved to Vienna.
Tell me about your studio…
I share my studio with two friends. Katharina is an artist but she works for the theatre and Dominik who is an actor. She does set ups, scenography, and basically is always away. Christoph and I are more the ones producing here. We decided to use the studio in a flexible way, since none of us has his own corner.
Does sharing the same space influence your work?
Well, yes. Christoph will use the remains of something I don´t need anymore and vice versa. For instance, the plastic foil on the floor was used for protecting the floor during my paintings. Now they became useful raw material for him. We also collaborate sometimes.
Since when do you live in Vienna?
For two years now. One year ago, I moved into this studio. It was in a bad condition and we had to renovate a lot since there was a lot of humidity. Rebuilding this place was a nice period, though. In relation to Portugal, there is a community feeling in Vienna. Here, people share and help each other more than in Portugal. I got very quickly introduced to the Viennese art scene and participated in group shows. In terms of integration, it was easy for me, since I could join an art scene which is small.
Did you get to know the art scene of Lisbon very well?
In Lisbon, artists get picked from time to time and they will get great attention of the majority of people. Everything you can do there is possible, like exhibitions in museums, galleries, etc. The gallery is full of people when you have an opening. I lived it, but then I decided to move away. I needed a period to rethink things and try to open up again. So I decided to study at the Royal College of Art in London.
When did you realise that you wanted to become an artist?
That was very early. In secondary school, when I was maybe fifteen years old. I had a great teacher. I started to spend all my time with art. Of course my expectations of being an artist with fifteen were quite different of today. In the beginning, it was more a need to express myself. It had a lot to do with the fear I had to deal with, which then could be organised in the shape of a drawing.
Then I started to have this classical image of an artist from what I read in art history. You imagine one day exhibiting in the Gulbenkian Museum in Lisbon. And then it starts to become reality because either you achieve it, or it suddenly does not become the most important thing anymore. When I was fifteen, I didn´t know that São Paulo Biennale existed and now I just made it. If you can achieve a maximum of visibility, you know that you can put your work in discussion with the things that really matter. If you don´t achieve a certain range of visibility, you will never measure this. It is like being invited to a feast where you discuss serious questions.
What are the current themes your are working with?
I finally guarantee a mimesis between my ethos and my art practice. It took me a while to understand that this was a thing I really needed to do. My work has a wide range of possibilities in terms of aesthetic and how medium takes shape. It has a lot to do with the multiplicity of events that take place in front of me and its infinite possibilities.
My work many times acts as a diagram that condenses a lot of different layers where all the social, the political, and the overall aesthetic come together. I do a lot of paintings and it always derives from this chaos. You have so many images in your head and some give you the responsibility to jump over, some are ways that let you go in a certain direction. We still have the positive and affirmative energy that can be brought to this world. The works come from this idea, it looks very complex, but at the end it is very easy and natural. I just can´t explain it in a easier way.
Could you tell me more about your video works?
I started to do videos where I use footage of my performances or actions in the street. Now I film things external to my work and use footage from other people. There is a text that comes visually and during the audio. With this, I can build several layers of perception and they can go the same or opposite directions.
Can you tell us something about your paintings you are currently working on?
Many years ago, I stopped hanging paintings on walls because I did not like the rigidity of the wall. I started to suspend unstretched canvases because they have a movement. I also didn't want to have an orthogonal shape all the time, which is a very rational imposition. When I paint figurative motifs I use the image as a grid and then try to destroy it. Before the painting is dry, I don´t really know what will the final result will be like. On the floor, I work with liquids. For me it is very important to have agreed on the destruction and add up more on top of that.
This painting is called Egypt. I got inspired by a tourist catalogue from the 60's. I found some images that were really appealing to me. There is a certain belief that we have to find a childish nerve in us that can keep us aware of a certain problem that rationality was brought to our world. It creates a lot of misery and we always take it as a saviour in a way.
A Portuguese artist, Álvaro Lapa, once said: "Children will be children and adults will be developed children." I like to have the possibility of us still being children. People can´t say that this is a specific work of Hugo. Once, a collector got in the back room of a show and he saw five paintings that he liked. He thought the artworks were from five different painters. When he found out that they were all from me, he got scared and did not buy anything.
Is this something that you do on purpose?
No. I am really receptive to everything and I am willing to change permanently. It is a very erotic state in the sense that you want to understand more. In a philosophical sense it is cannibalism, you embody the things you praise the most. I end up sometimes repeating things, which is different from copying. If you repeat something, you embrace it and take the consequences of it. So you change. I embody this change: I end up doing things I promised myself I would never do, like political artwork. The word 'No' does not exist.
Is there any work of yours where you would say: this is a typical Hugo Canoilas?
No, I think there is a density. It is not even a temperature. It is a collection of different layers that become too compact to become a work of anyone else. It is my way of compressing things.
Tell me about the art collector who was afraid of buying your work…
This art collector told me a nice story. He already has a work of mine, which is in a room where his mother sleeps and it is the place where she prays. I was very happy, because the painting is gestural with bright colours and a bit of silicone on top. In a way, it is the most unexpected thing where people will project their feelings. I was very proud.
There are moments when collectors contribute a lot. Once a collector came and told me: I am here with my son, today is his twenty-second birthday and he would like to have a work of yours as a gift. For some, the artwork is a commodity with a certain value that you can buy and sell. For others it is a way to engage within a process. There are collectors who act like artists, they participate in your and other's life simply by collecting. They are really privileged when they can afford to spend time with a certain type of artwork.
How does a typical day at work look like?
I cycle to the studio. I enjoy having this quality here, Lisbon has way too many hills. I make some coffee and try to look at what was done the day before. I can spend a lot of time in the studio, but if I have a problem, I usually don´t waste time in front of the artwork thinking. I rather go see a show or read something, check emails, etc. And then I go back to work with a distance, which can be fertile.
Switching off to get the distance is very important and requires critical harshness. I can spend even a few days away if I don´t find it positive to be here. Then I also work directly in the space I exhibit. I take care of the whole program it carries, like logistics, for instance. I try to balance the studio production with site specific production. I like to do things in the street and increasingly search for moments that are more natural and less programmatic.
Thank you Hugo for the interview! Hugo's work is shown at this years abc – art berlin contemporary in Berlin. You can also check out his Gallery in Portugal Quadrado Azul, in Luxembourg Nosbaum & Reding. and Italia Galleria Collicaligreggi.
Interview: Nathalie Halgand
Photography: Lukas Gansterer