Just a short walk from a dog friendly beach in the suburb of Newtown you will find the home and combined workplace of Auckland's art and design power couple Gary Langsford and Vicki Vuleta. Living and breathing what they do, their self-designed loft-style home is a far cry from the run-down windscreen repair business that once occupied this plot of land. In their eyes it was the perfect canvas. Today you will find a sleek designer home based on the principles of Japanese architect Tadao Ando, designed by New York architect David Howell. With oversized rooms and hallways the interior is adorned with limited edition design objects, furniture and an impressive contemporary art collection that purveys a "minimal opulence". Design is in every direction, and that includes their furry friend Astro's Alessi dog bowl.
The charismatic Gallery Director Gary Langsford, has worn many hats in his life. In the 80s he was part of the popular New Zealand band D D Smash and today continues to pursue his passion for collecting art, furniture and vintage guitars. Vicki's love for design and interiors dovetails perfectly in her role as Director of their furniture design store Design 55 that specializes in 1940s to contemporary pieces. Accessed via a lift below their residence, a work life balance has been achieved, if not for some occasional late night business calls to Europe. Supporting locals and international designers, the store exclusively stocks a range of designers unavailable elsewhere in New Zealand such as Fornasetti and Campana Brothers. We take a tour through their dream home and furniture and gallery workplaces.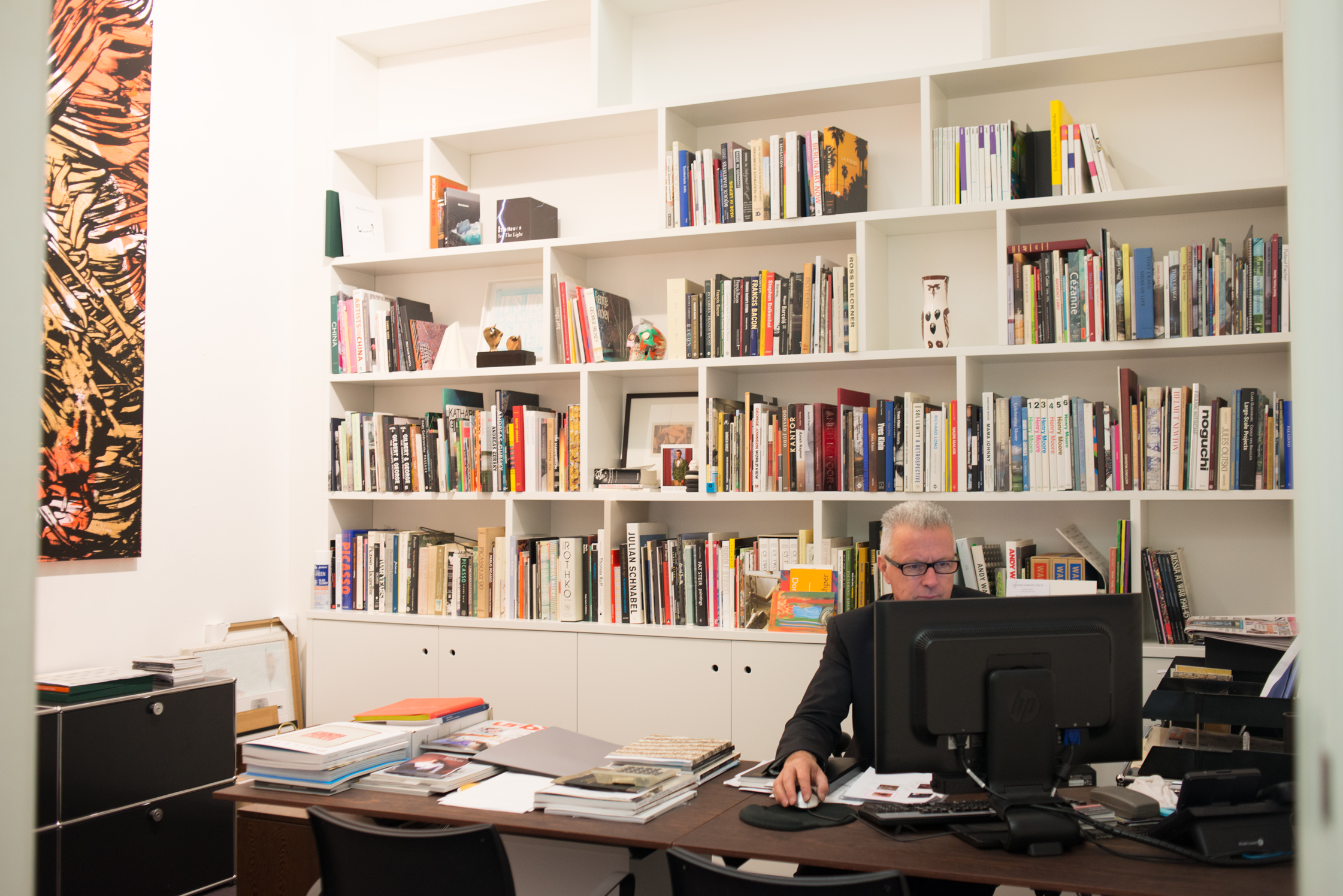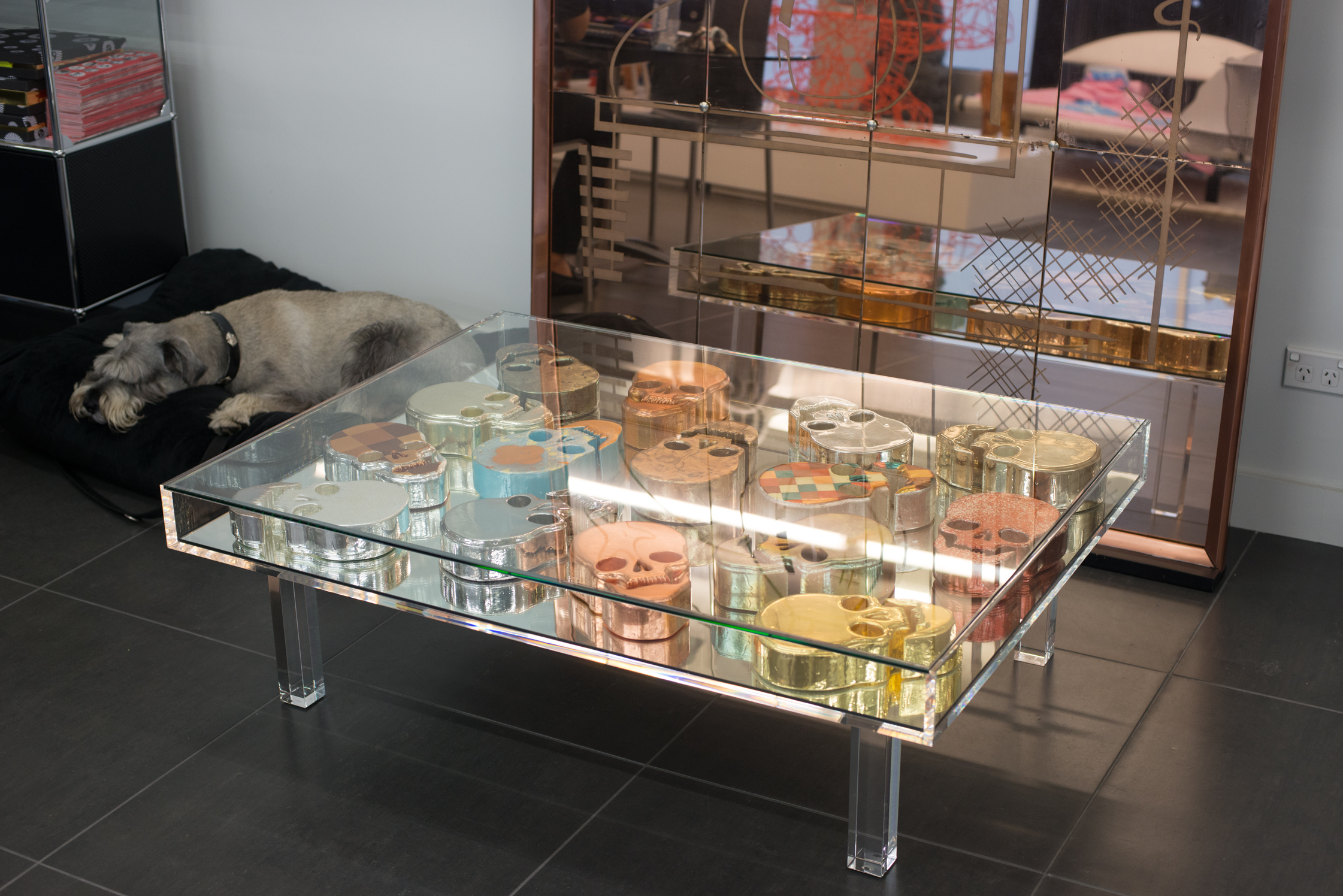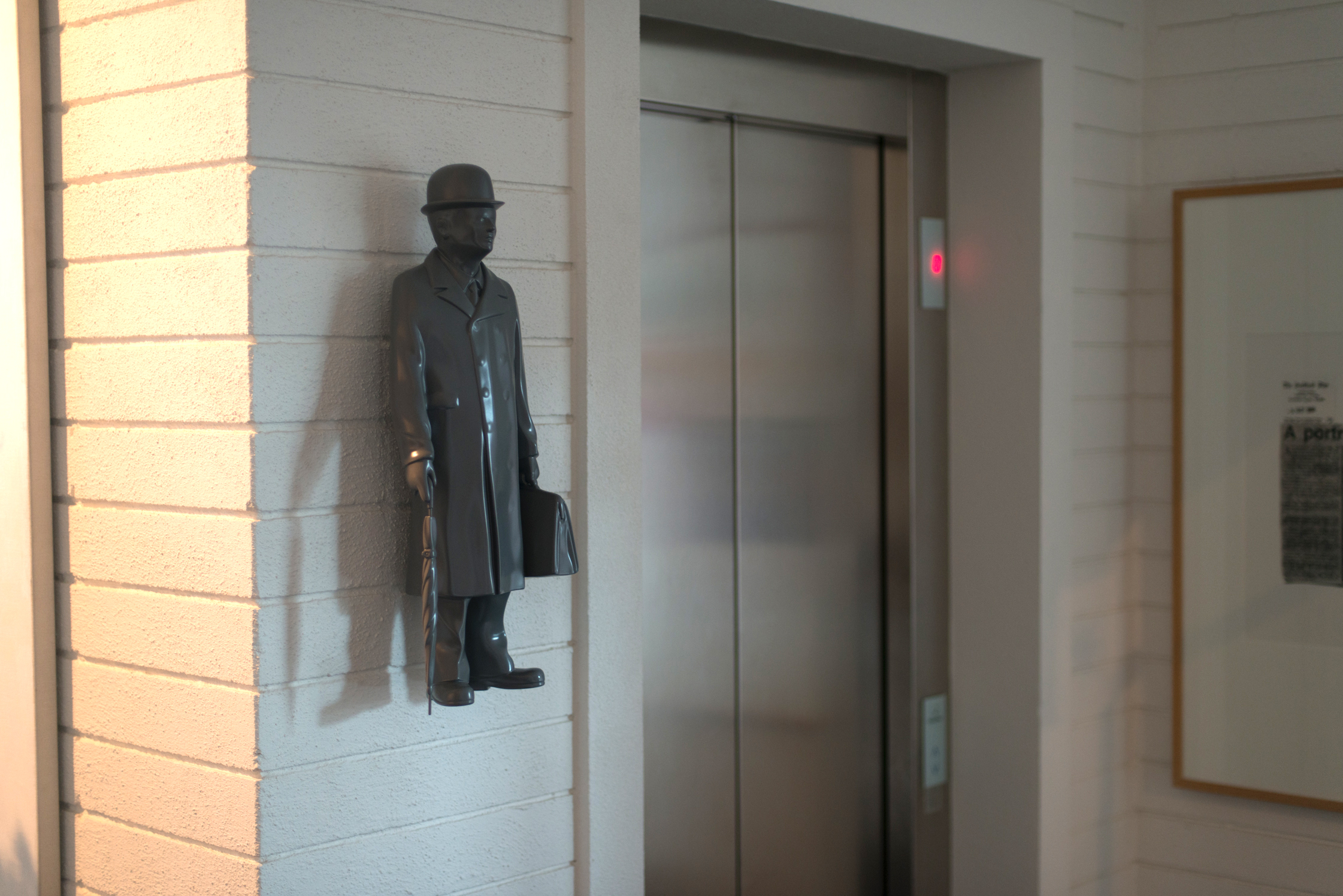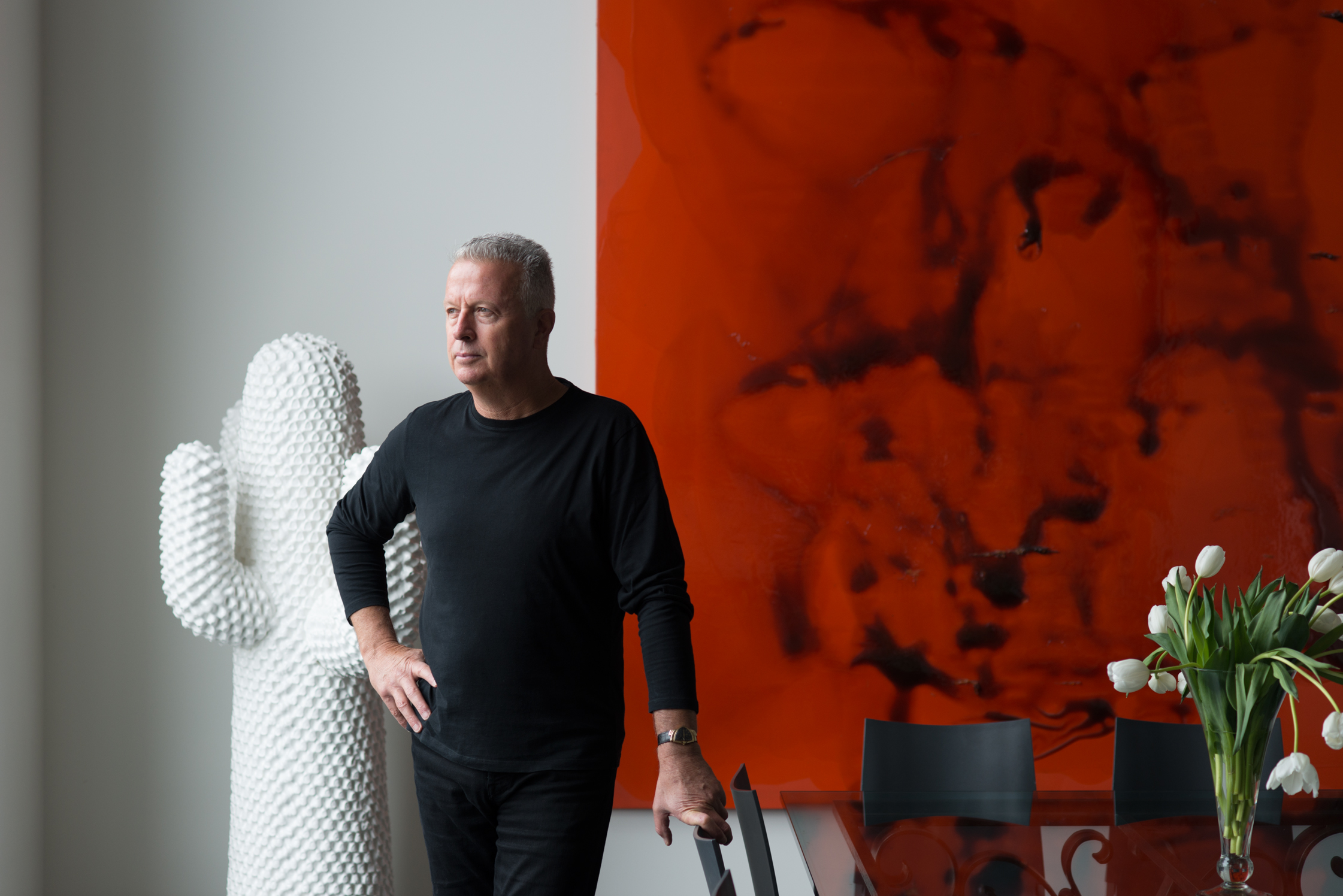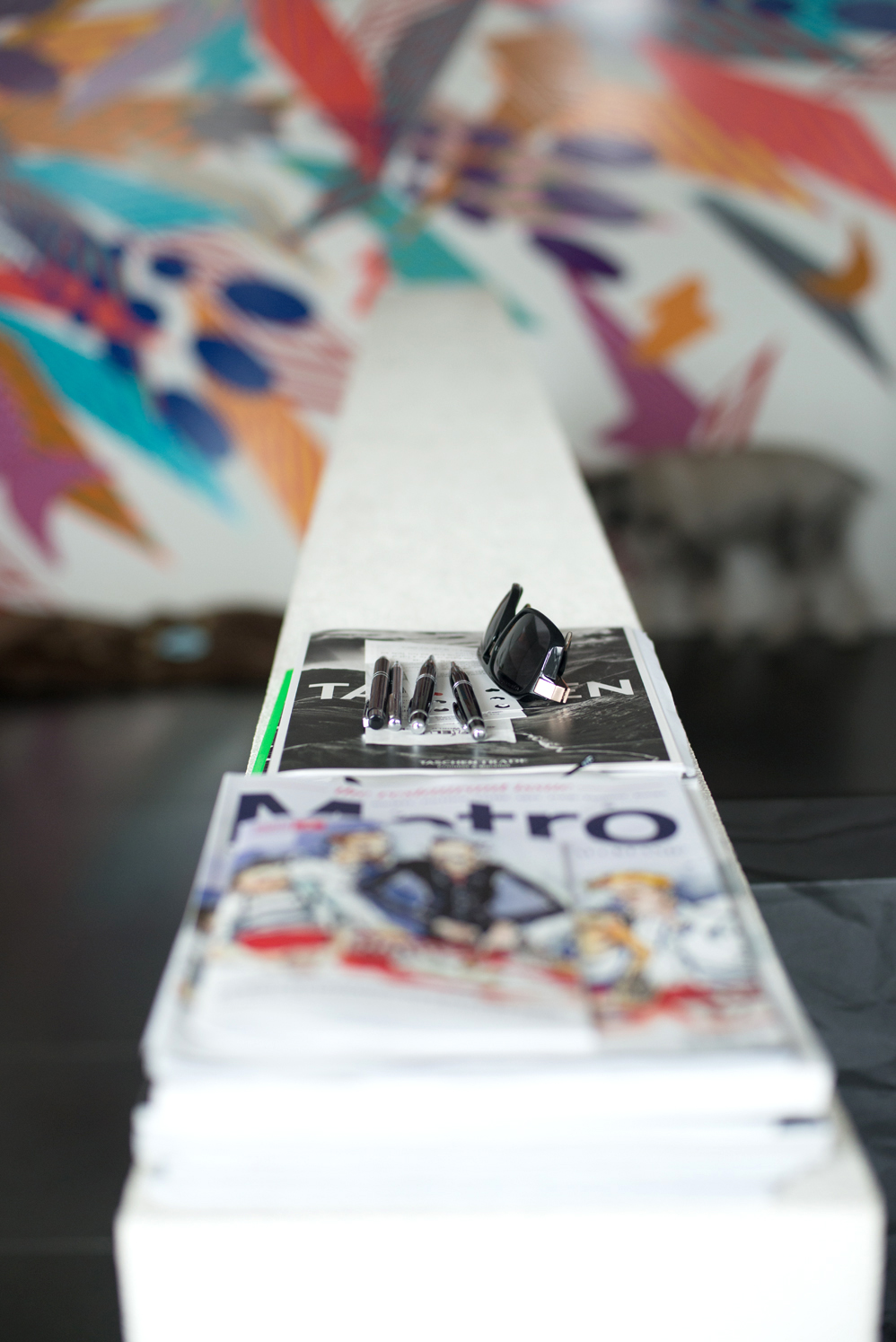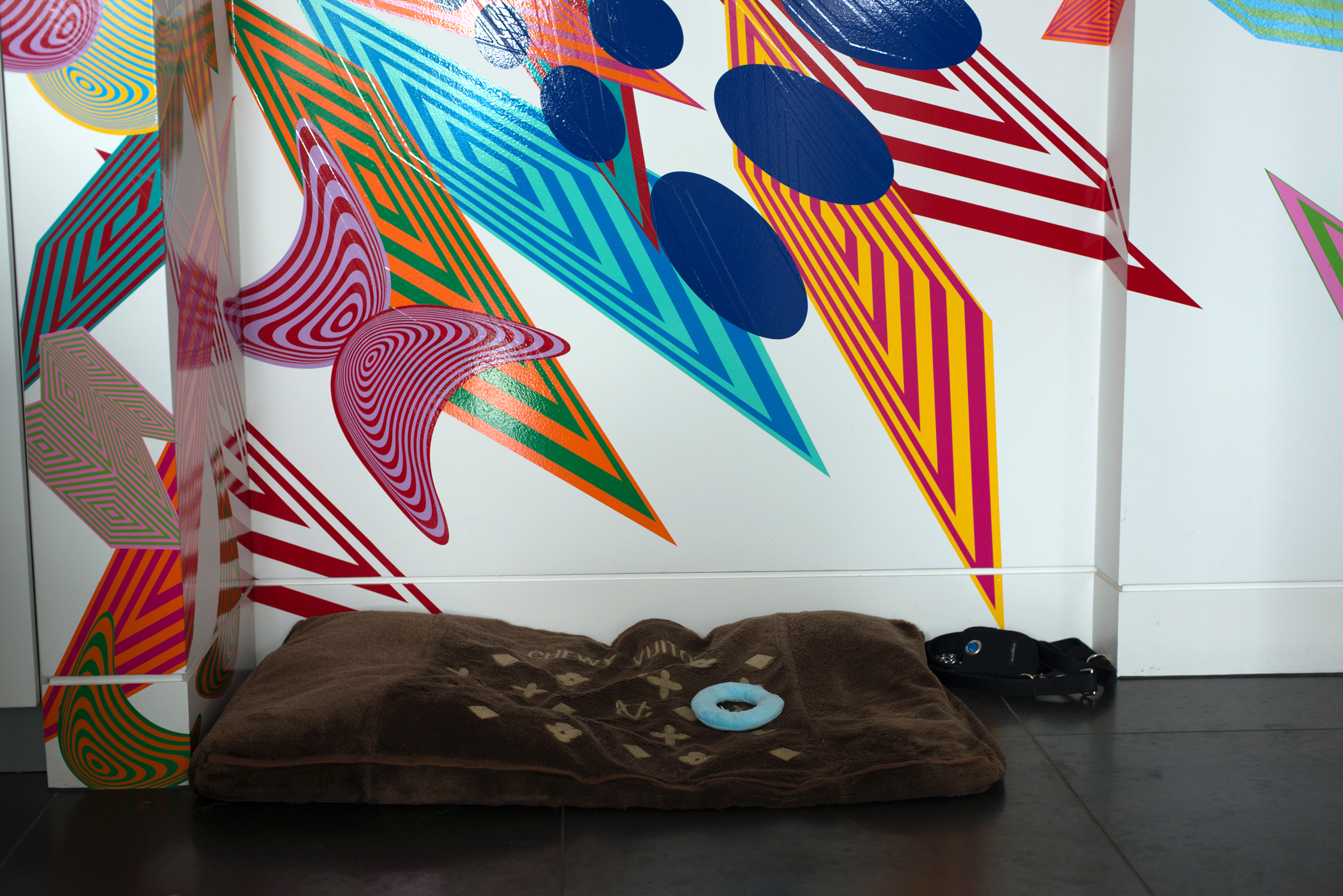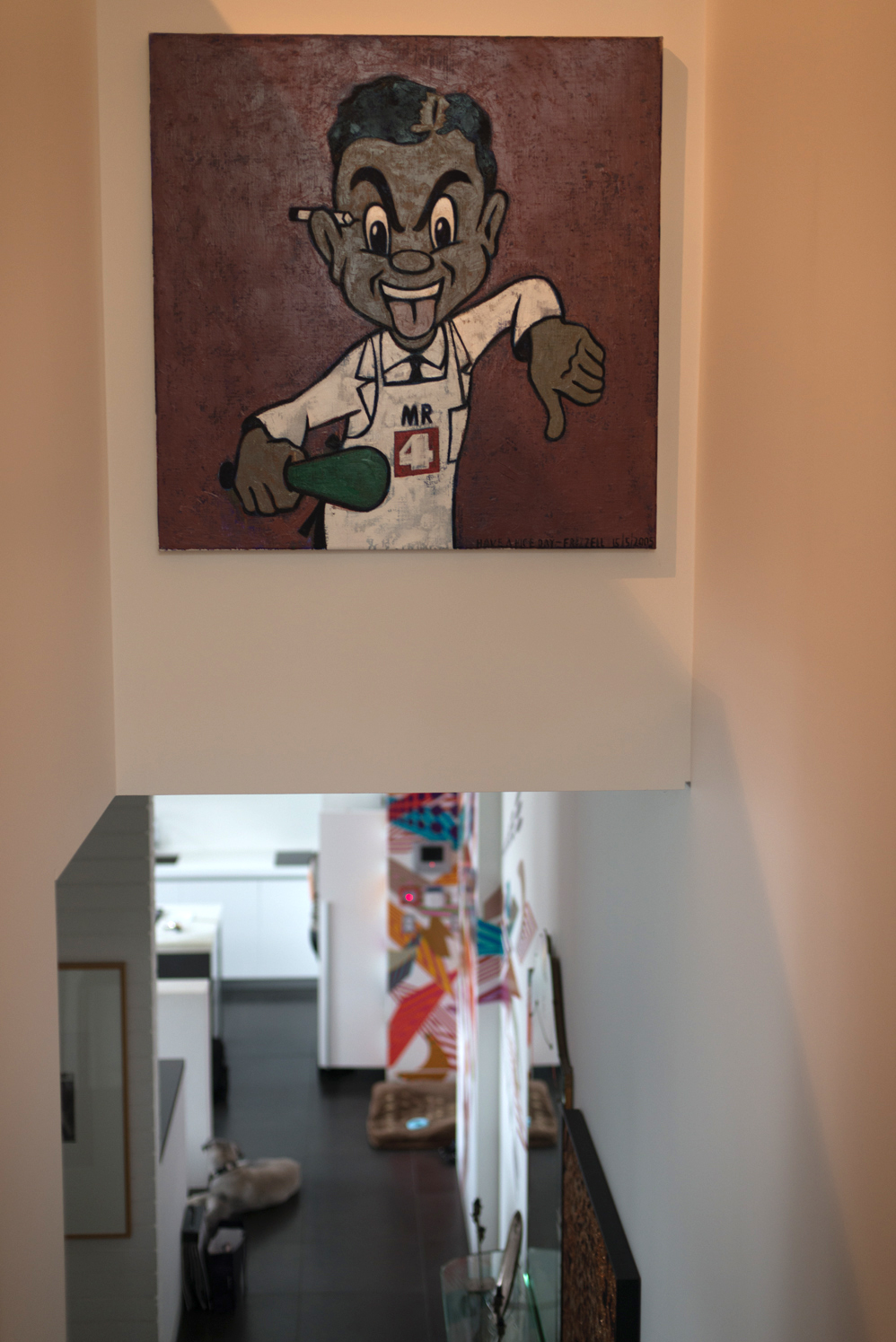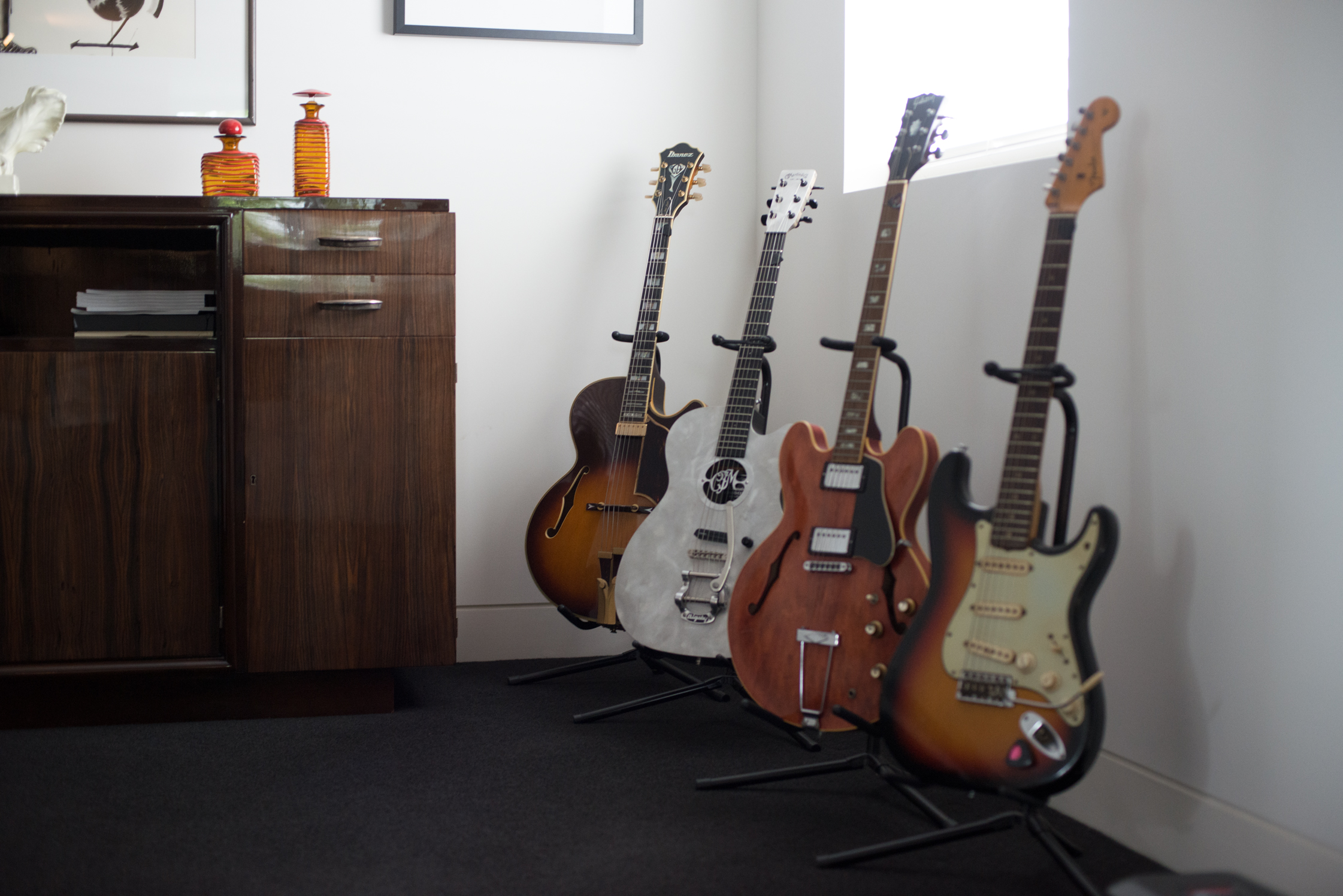 Have you both always lived in Auckland?
Gary: I was born in Hamilton about 100km south of Auckland and did my schooling there before coming to Auckland to attend Auckland University and obtain a Bachelor of Fine Arts degree.
Vicki: I am originally from Wellington, but managed to make both London and New York my home over the years.
Do you have any special childhood memories?
Gary: A very typical small town New Zealand upbringing but with lots of music and cars and not much art at that stage. I always had the thought of getting out of town to something much bigger and more exciting which in those days was the big city of Auckland.
Vicki: Long summers and trips to our beach house, our summer falls from December through to February, and often March so summer school break was always fun.
What do you love about your city?
Gary: Auckland is a great city as it is small enough to make everything accessible. It's incredibly easy to get around and is on a great harbor and is built on dozens of extinct volcanos. This makes the geography quite unique and helps to make up for some of the appalling architecture that has been built around the city in the last few decades, particularly the 1980s. In the last fifteen years Auckland has developed a thriving restaurant scene and there are some world class restaurants serving all nationalities of food.
Vicki: I love that we can walk, with Astro of course, to many of our favorite cafes, restaurants and parks and we are only fifteen minutes drive from one of the most beautiful dog friendly beaches.
How long have you had Astro?
Vicki: Astro has been my companion for the last eleven years. He loves coming to work at Design 55, and takes his job very seriously!
Gary: Astro is a schnauzer and he dictates much of what happens in our daily routine. We are up every morning at 6.30am to walk along Karangahape road and possibly Western park if it's fine before stopping at a cafe named 8.30 for the early morning coffee. Astro seems to enjoy living in the city and spends much of his day with Vicki in Design 55.
How did you two meet?
Gary: Friends had been trying to set us up for some time but as I had a gallery in Australia at the time things just weren't working out. In the end I simply phoned Vicki and asked her out.
Vicki: What can I say, when he booked the best restaurant in Auckland for our first date, I knew he was a keeper.
Your home is extremely impressive. How did you come about finding the building and deciding how to design it?
Gary: I was living in a much smaller loft space a couple of streets away and Vicki, her daughter Isabella and Astro initially moved in with me there. This building was owned by the gallery and our warehouse was on the ground floor. When the gallery outgrew the space and we decided to sell the building, we had to make a decision to either stay in the neighborhood or move back to the suburbs. As we had both really come to love the area and its eclectic mix of people and businesses we decided to look for a building to develop into our ideal home. When we purchased this building it was a two and a half storey dump which housed a windscreen repair business. I don't think either of us realised what was involved in turning this into what we have now.
Vicki: This was the perfect canvas to work with, it is an on-going project and it changes often with revolving art and furniture.
Your home is located above your furniture design store Design 55 which we will get to later. Did you concept for building your home go hand in hand with the space for your business?
Gary: The building and home came first and we were originally going to lease the space now occupied by Design 55. Once we had developed the space we realized it was perfect for a design store and a new business was born.
You have a very specific sleek and contemporary aesthetic. Take me through your favorite artworks in your very impressive collection.
Gary: I already had a substantial collection of both art, furniture and objects when Vicki and I got together but since then we have built on this by selecting pieces that we both love. We have a policy as far as choosing works for Design 55 that any item must be something that we would both buy for home. We have many favorite paintings and items in the collection so it's impossible to single one piece out. Perhaps some have more interesting stories attached to their acquisition and maybe that makes them a little more special.
Do either of you have a favorite particular art or design period throughout history?
Gary: I have always been interested in the Bauhaus, not that you would know by looking at the current collection. I like to describe my style as 'minimal opulence' which is a bit contradictory but does lead me to a preference for Italian design from the 1940's and my favorite artist, Lucio Fontana.
What is your favorite aspect of your house?
Gary: Space. Oversized rooms, hallways and a high stud. It is so easy to live right in the city if you have these features. Also the large deck off our bedroom which has a garden with trees.
This is a tough one: list of your three favorite pieces of furniture in your home.
Gary:Marzio Cecchi stainless steel desk, Yves Klein Table Bleue coffee table, and Campana Brothers Banquete Chair.
Vicki, what is it like working so close to where you live? Can you easily cast your thoughts away from work once you enter the lift at the end of the day?
Vicki: It is amazing working in the same building as I live, surprisingly it is easy to switch off once I lock up for the day but I have the added convenience of being able to pop back to work to make a late night phone call to Italy if necessary.
Have you always had a passion and interest in design and interiors?
Vicki: Yes, I studied interior design many years ago and have a large collection of design and interiors books. Design 55 evolved as we completed our building and had a 'space to let', it was the perfect time to set up a dream business.
You exclusive stock a range of impressive European furniture designers that are unavailable anywhere else in New Zealand. Where do you source your furniture?
Vicki: I am constantly looking out for new pieces before anyone else gets to them! I try to get to Design Miami and other international fairs to keep my finger on the pulse. I also follow a lot of design blogs.
Do you also take note of local New Zealand designers?
Vicki: Yes, we have a new New Zealand designer launching a line of limited edition and unique pieces later in the year.
Would you agree there has been a global rise in interest in limited edition design art objects that hover between fine art and high end design in recent years?
Gary: Yes, absolutely and this was one of the areas of interest that we identified about six years ago and led to the establishment of Design 55. When we opened there were no stores or galleries specializing in this crossover territory here in Auckland. This is the area of design that Design 55 is focussed on and you will note that many of our designers are actually extremely well known artists.
If you could choose any designer's work to stock who would it be?
Vicki:Fornasetti – we already have this agency and adore it!
Gary, you co-own one of New Zealand's pre-eminent contemporary art galleries, Gow Langsford Gallery, dealing with some high profile artists such as Dale Frank, Judy Millar, Tim Maguire and John Pule. But let's take a step back in time. Once upon a time you were part of the band DD Smash responsible from some of New Zealand's iconic hits from the 1980's. You have somewhat of a discography. Can you tell me about those days?
Gary: I have certainly lived a number of lives and musician and gallerist would be the most interesting and rewarding. I played in a number of bands while I was at art school and for many years afterwards. However playing in DD Smash was really the only time I was a full time musician and even then I had a store in Auckland selling art nouveau and art deco. It was a great time to be in that particular band and an absolute privilege to be on stage with such a great talent as Dave Dobbyn.
I have always done a number of things at the same time and the overriding consideration is that they must be something I am totally interested in. I could never survive having to do a regular job and confine my interests to after hours. What I do is who I am.
You certainly have an extensive guitar collection. Is that a Gretsch?
Gary: I do have some great guitars and intend to actually collect even more. The guitars I have were pretty much all collected for playing and the 1962 Fender Stratocaster I used in DD Smash is probably the pick of them and certainly the most valuable. Unfortunately I don't get to play at all these days apart from a rare appearance at artist Dick Frizzell's 70th birthday recently. I would however love to begin playing again and I am sure it will happen at some stage.
How do you view New Zealand artists when placed on the world stage?
Gary: This is an interesting question as no New Zealand artist has really made a huge international impact in the art world. There are however a number of New Zealand artists that are living and working overseas and beginning to have some success. Artists such as Judy Millar who now spends half of each year living and working in Berlin and having regular exhibitions in Europe. I think that New Zealand artists that work in an international style rather than those that rely on indigenous content have a much greater chance of success globally. The very thing that makes us different actually works against us in that international context.
Hindrance or advantage: What is your view on artists working in isolation. After all, flying from New Zealand to Europe is one of the longest flight paths. Overcoming a 'grass is greener' mentality when living outside any cultural epicenter in the world is a given. Do you think New Zealanders generally harness and capitalize on their unique situation?
Gary: In the world we now live in there is no such thing as isolation. The internet makes everything instantly accessible. New artists, new movements, new ideas, new anything is instantly global and there for the taking. I do however think our geographical isolation from the rest of the world physically makes us strive harder in all endeavors. Think of our sports people in particular. If the government and the public got behind our artists in the same way as our sportsmen maybe our artists would unbeatable as well.
What is something people don't know about either of you?
Gary: I have recently taken up car racing and compete in the Alfa Romeo trofeo series in a factory built Group N Alfa 156.
What is some of the best advice you have been given?
Gary: The harder you work the luckier you get.
Do you have a favorite weekend getaway or any local or international travel tips or suggestions?
Gary: We don't really have a favorite weekend getaway but we do love to travel and because we live in a small city at the bottom of the world we tend to enjoy going to places like New York, Paris and London. We also love going to Venice for the Biennale and visiting Bernar Venet, the French sculptor we represent here in New Zealand, at his fabulous residence in the South of France.
Any local tips on where to go in Auckland?
Gary: We often tell people we moved to Newton as the location made The French Cafe our local restaurant. The French Cafe is not a cafe at all but the best fine dining restaurant in Auckland, easily worth a Michelin star or two and a constant award winner. We have become great friends with the owners and staff and have had some wonderful times in their restaurant.
Gary and Vicki, many thanks for showing us inside your home and work spaces in Auckland, New Zealand. To find out more about Design 55 view the website here and view Gary's gallery Gow Langsford Gallery here.
Photography: Nic Fletcher
Interview & Text: Rachael Watts