As part of a series of collaborative dinners at the FvF Apartment, an intimate gathering of creatives and epicureans were brought together to experience the craft of single malt whisky production.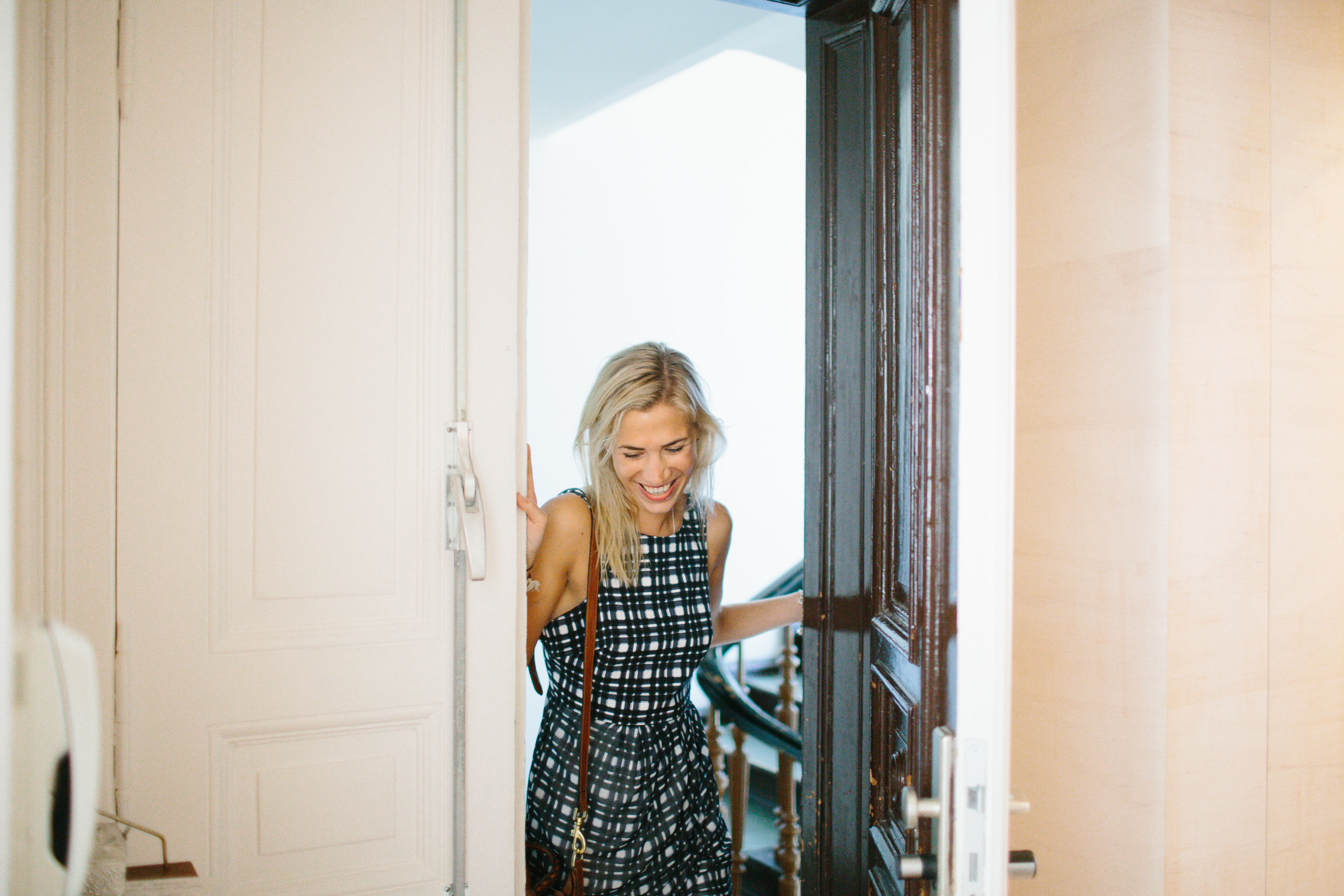 For this inaugural evening the guests represented various fields of Berlin's creative industries: restaurateur and owner of Katz-Orange, Ludwig Cramer-Klett, investor and entrepreneur Thomas Andrae, Gerald Schömbs and architect Armand Grüntuch, whose sleek modernism has done much to define post-reunification Berlin's aesthetic. But the star of the evening was Mortlach's whisky expert Georgie Bell.
Picturing an old bore by the fireside? Banish the thought. Statuesque in striking neon-orange stilettos, Georgie shares her story how she entered the whisky world. Essex-born and bred, she went to study geography at The University of Edinburgh and after taking a bar job to supplement her income, quickly became enamored with Edinburgh's cocktail scene. Always a diligent student, she got to know the raw spirits in a barman's arsenal: vodka, gin, whisky, and in particular she fell for that exotic agave distillate: tequila.
After winning cocktail competitions around the country, she decided to combine her studies with her new passion and focus her final dissertation on the local geography of tequila-producing areas. However, fate dealt her a different hand – with her tickets booked for a summer of research in Mexico, the global swine flu epidemic struck. All flights grounded, she found the solution was on her doorstep and wrote her thesis on Islay and its portrayal as an island nation through whisky. Having cut her teeth at the Scotch Malt Whisky Society – who bottle extremely rare casks for members – Georgie was approached to be the new face of the Mortlach relaunch.
Established in 1823, the Mortlach whisky distillery was the first legal distillery to be built in Speyside's Dufftown, a remote sliver of Scottish Highlands that is home to so many esteemed whiskies. For almost two centuries Mortlach had been used as the secret ingredient in many famous blended whiskies, but now they had a new mission – to debunk the myths that surround that hallowed amber spirit known as single malt.
Fortified by morsels of salt-crusted bread daubed in lemony butter, we cradled tumblers of Rare Old Whisky in the sleek kitchen of the FvF Apartment. Georgie explained to us how 70% of a whisky's flavor comes from the barrel it's aged in; how almost all single malts are blends, just from the same distillery; how the addition of a little water reacts with the chemical aroma compounds to change its flavor profile; how it was noticeably softer when adding a chunk of ice – the thicker the better with more surface area meaning a slower melt and thus less dilution.
Then the call to table for dinner came. Prepared by culinary autodidact Daniel Grouthes of Daniel's Eatery, the first course was a smoked salmon tartar, its oily richness offset by tangy samphire and a licorice mayonnaise.
As the plates were cleared, out came a flurry of glassware and we nosed Glencairn snifters in a second round of tastings. Here Mortlach's intentions for a flavor-driven drink were aptly demonstrated: the 18 Year Whisky was all muscle and spice, blended from liquids aged in sherry and refill casks.
Conversation meandered from the 19th century scourge of Phylloxera – a pest that destroyed Europe's grape vines, a boon for Scotland as whisky quickly replaced brandy as spirit of choice – to a prototype copper-plated Jean Prouvé dining table. We spoke about the recent law passed in China greatly reducing government official's spending, a disaster for fine spirit producers. Thomas recalled a story of an entrepreneur who'd made a fortune in Asia marketing German beer in gift-sized bottles emblazoned with a picture of King Ludwig's Neuschwanstein Castle.
Dinner continued with a big-hitter, a splendid slab of perfectly roast beef, with all manner of regional veg livening our plates: braised colored carrots coated in mint pesto, roast sweet potato and steamed broccoli raab.
Our appetites sated, Georgie brought out the final tasting for the evening – 25 Years Old Mortlach, its hefty glass bottle clad in intricate metalwork, an homage to the marvels of Victorian engineering. (Also impressive, the ingenious ice-press that welded their logo onto a thick ice puck through conducting the heat of your hand.)
The 25-year-old spirit produced by Mortlach's unique 2.81 distillation process – aged in various different casks, then masterfully blended to produce what's known as "The Beast of Dufftown" – is elegant and full-bodied, so different to the usual grassy whiskies of Speyside, with its sweet finish offset by gingery notes. The silky warmth a perfect finish to a summer's evening spent sharing good food with new friends.
We left with a newfound respect for the immense skill and technique that goes into each bottle of Mortlach, it being always so effective to unlearn the accepted through doing.