Volker Eichenhofer says he likes to cook "proper food." Maybe it's the Bavarian in him that craves meat and potatoes in a meal, he laughs—his grandmother taught him well.
An established fashion photographer, Volker's foray into cooking has been steadily simmering the last five years—one food blog, periodical 'supper clubs' and a bicycle lunch-delivery service "Volksspeisung" later—comes ve. food, a weekly catering service that made its way to the FvF Apartment to serve a veritable feast.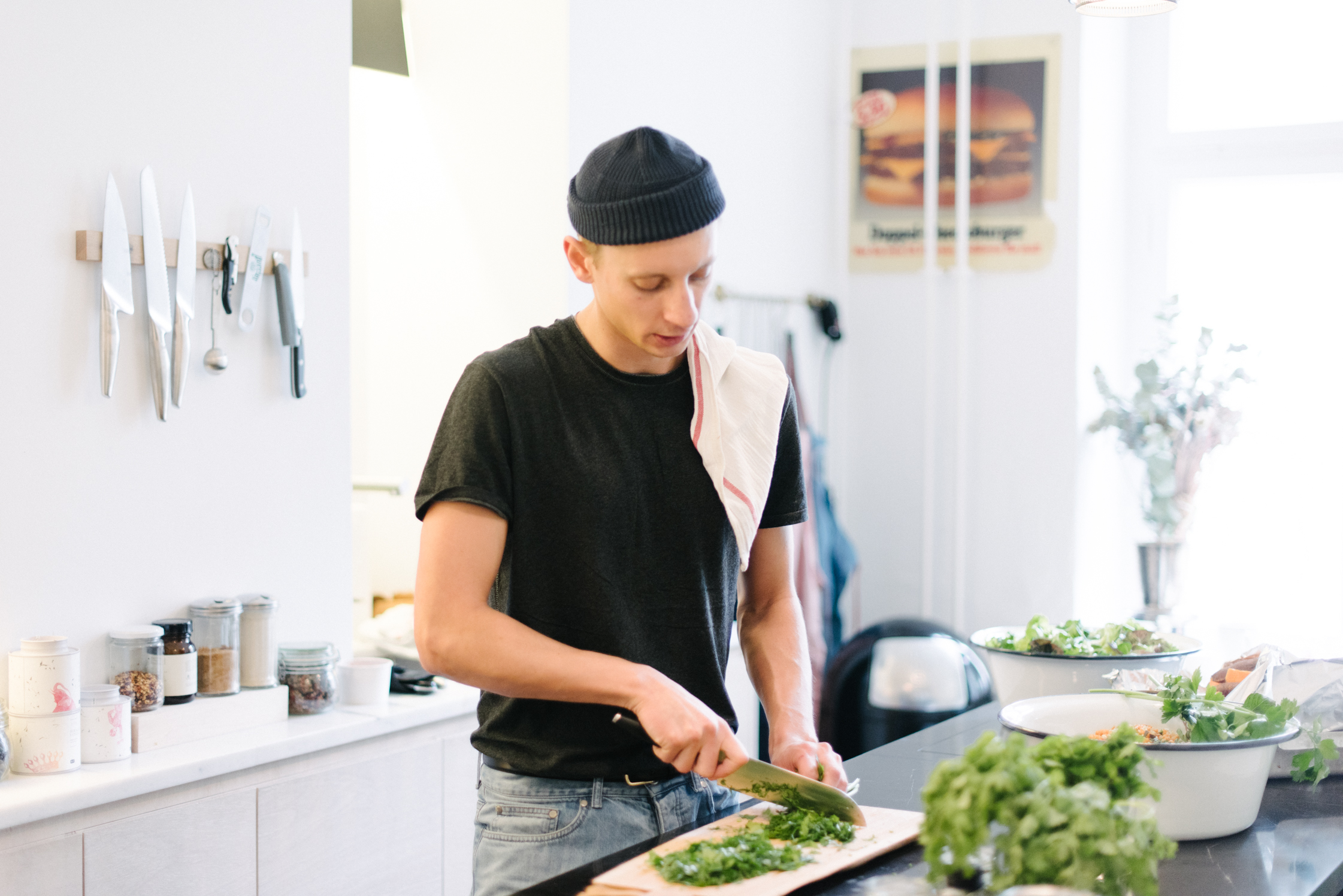 Volker's professional identities live under their own guises of Volker Eichenhofer Photography and v.e cooks, a split he says perhaps confuses the German tendency towards 'Schubladendenken' (literally, 'drawer thinking') —or just as idiomatically in English—pigeonholing. He admits he's never really thought about the balancing of his two professional worlds, "It's just a question of planning," says Volker breezily. Stressing the importance of starting with your mis en place as he flits around the kitchen, it's clear this one-man-show is a well oiled machine. As we talk, alarms go off—ambient lilts, no shrill ringing pierces the organized calm of the workspace—signalling the next stage in his multitasking; a six-hour slow roasted cut of organic beef in brown ale wafts its way out of the oven to be replaced by woody king oyster mushrooms strewn with chives.
Volker's background in art direction is at home in the kitchen. As he speaks about the spontaneity of the culinary medium and improvising compositions in the final moments, he sets aside coriander roots as potential decoration and explains the addition of beetroot to the pear compote in today's dessert, as important for hue as for flavor. Unlike photography, "Food is more real," he says, bringing him directly into contact with his audience, "You can't hide an expression when you're tasting food."
His process is nomadic—before a booking, Volker hires a professional kitchen for a few hours to get underway. Not one for recipe testing, everything first takes shape in his head, informed by a lifelong love of cooking, beginning as a childhood under the expert direction of his grandmother.
Volker's background in art direction is at home in the kitchen.
His recipe inspiration comes simply from "walking with open eyes" through markets, supermarkets, and his local greengrocer, who always brings him out the best of the season's offerings. Rather than any particular cuisine (he was recently mystified when a friend said his food was so "Paleo," unfamiliar with the term) his cooking is defined by harmonizing flavors, hedging show-stealing elements and paying attention to fine seasoning, evident in our produce-rich menu of the day.
Braised Beef with Brown Ale Jus
Ingredients (for 4–6 people)
Jus

1

1.5 kg beef marrow bones

2

2 red onions

3

5 carrots

4

5 parsnips

5

1 leek

6

1 beetroot

7

3L brown ale ("Malzbier")

8

1 tsp dijon mustard

9

Fleur de sel, pepper

Beef

1

1.5 kg organic beef topside

2

5 carrots

3

5 parsnips

4

3 red onions

5

1L brown ale

6

Fleur de sel

7

Pepper

8

Thyme

9

Rosemary
Method
Jus
Place marrow bones with some oil in a roasting pan and roast on highest rack at 200°C
Wash the vegetables and chop into large pieces, leaving the onion skin on
Put the vegetables and the bones in a large (oven-safe) pot and roast together with some mustard for a further 5 minutes
Pour in the ale and simmer for 3 hours
Strain the liquid through a fine sieve
Season with pepper and fleur de sel and reduce the sauce for a further 2 hours at very low heat
Beef
Wash and chop vegetables
Season meat with salt and pepper
Heat the oil in a roasting pan, brown meat on all sides, about 10 minutes total
Add the vegetables, ale and some thyme and rosemary to the meat
Cover the pan, place in oven and roast for 6 hours at 80°C
Serve with the jus
Pearl Barley Tabouleh
Ingredients (for 4-6 people)
1

500g pearl barley

2

500g red lentils

3

Rapeseed oil

4

Parsley

5

Thai basil

6

Fleur de sel

7

Dates (chopped)

8

Pomegranate seeds
Method
Combine barley and lentils (both cooked) in a large bowl with some oil, the chopped herbs and fleur de sel
Add the chopped dates and pomegranate seeds
Roasted Sweet Potatoes with Crispy Onions
Ingredients (for 4–6 people)
Main

1

4 sweet potatoes

2

Safflower oil

3

Fleur de sel

4

Pepper

5

Garlic

Garnish

1

1 bunch coriander

2

2 onions, (finely chopped or blended)

3

1 cup sunflower seeds

4

Lemon zest

5

1 bottle of sunflower oil
Method
Main
Chop the sweet potatoes into large cubes and put them on a baking tray
Drizzle with safflower oil, fleur de sel and pepper, add a crushed clove of garlic and mix well
Cook for 2 hours at 80°C
Garnish
Roast the sunflower seeds until lightly browned
Heat the bottle of sunflower oil in a deep pan; add chopped onions and fry until crispy golden brown
Place on a paper towel and allow to cool
Chop the coriander (including stems), mix with the seeds and onions, add lemon zest and scatter over hot sweet potatoes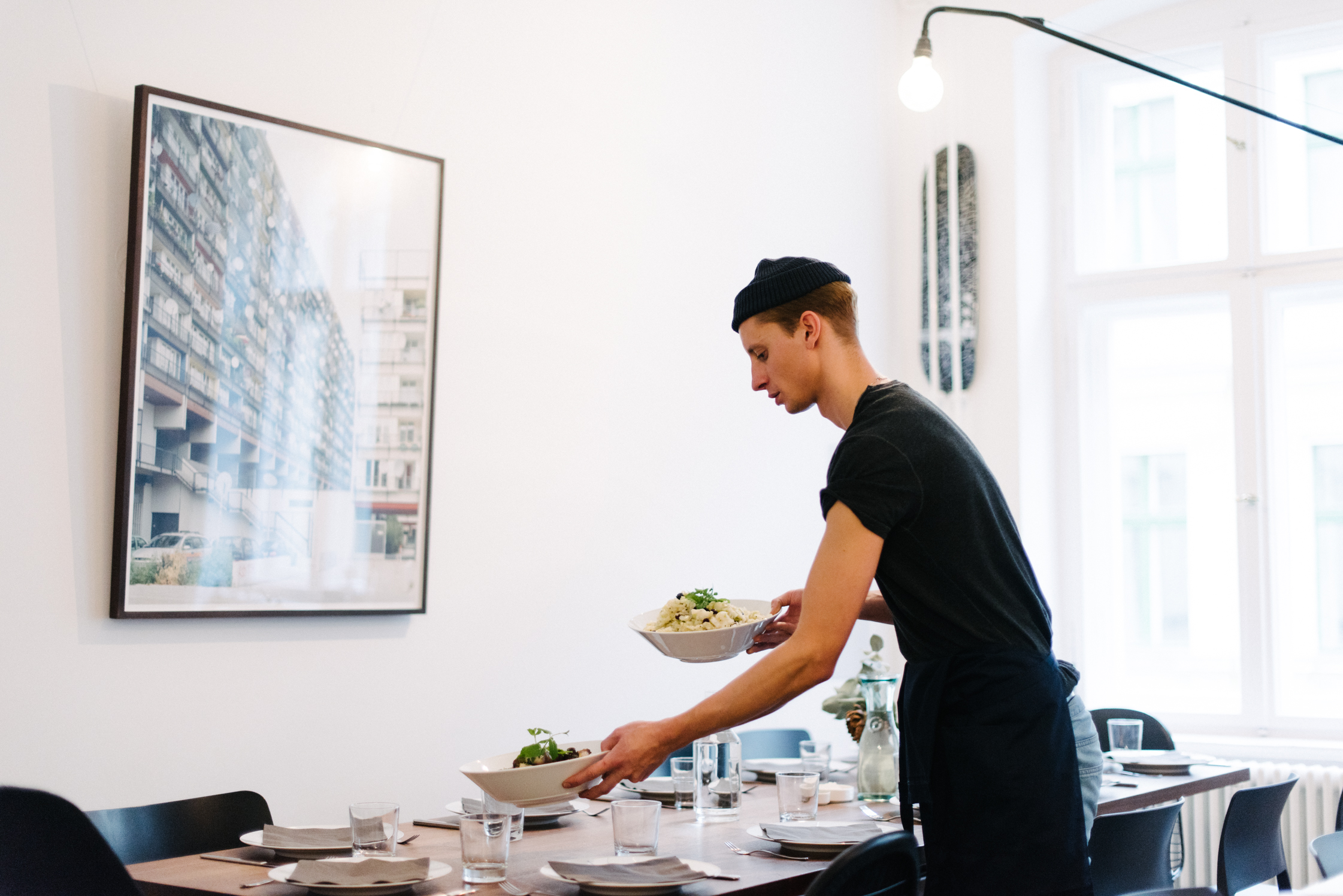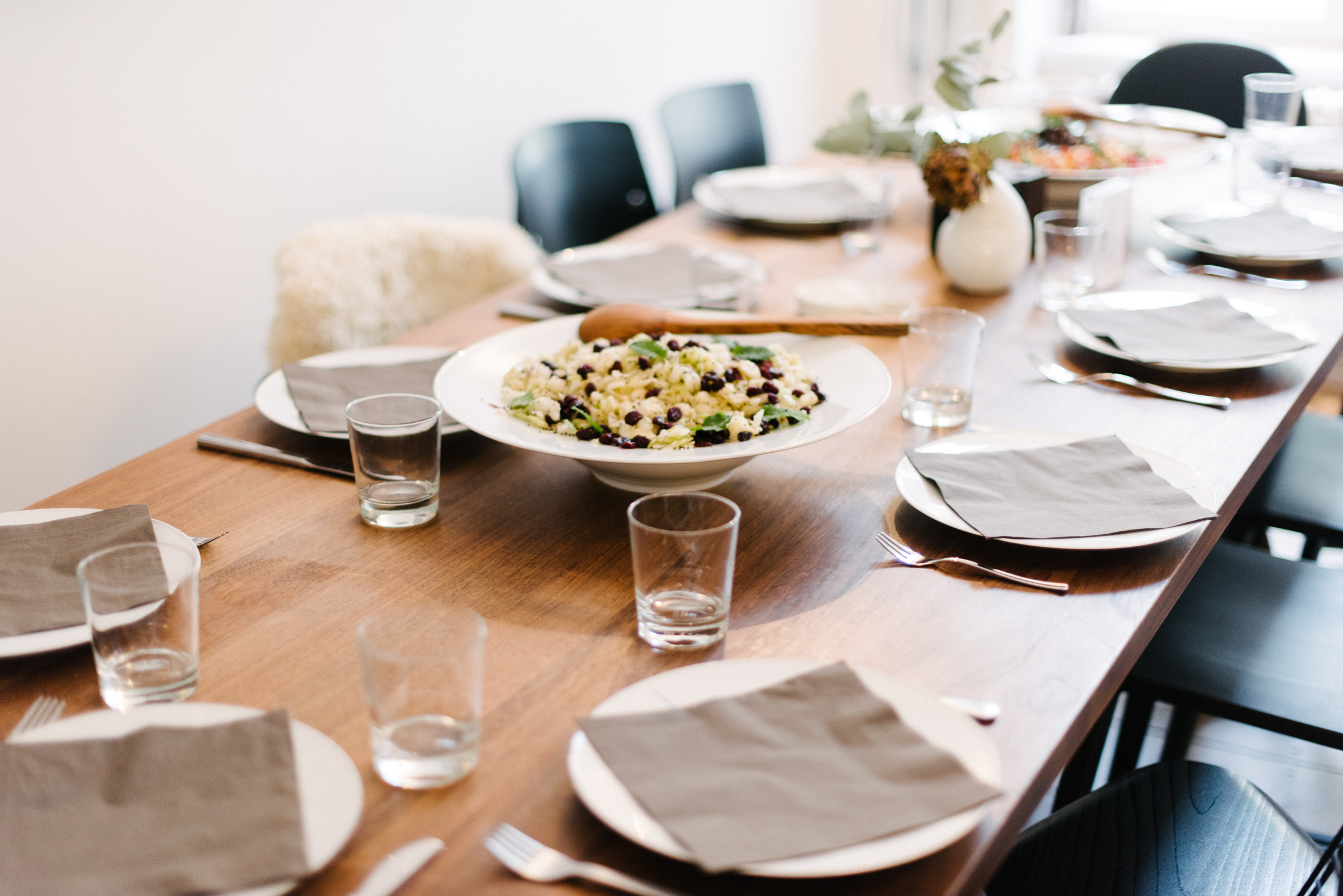 Mushroom Confit
Ingredients (for 4–6 people)
1

12 champignons

2

12 shiitake mushrooms

3

2–3 king oyster mushrooms

4

1 bunch of chives

5

1 bunch of mint

6

Sesame oil

7

Blackberry vinegar (or balsamic vinegar)

8

Fleur de sel
Method
Place mushrooms on a baking tray (champignons and shiitake whole; king oyster cut into thick slices)
Add some sesame oil and scatter whole chive sprigs on top
Confit the mushrooms for 40 minutes at the bottom of the oven at 70°C
Put the mushrooms and their juices in a bowl, add chopped mint, blackberry vinegar and fleur de sel and serve warm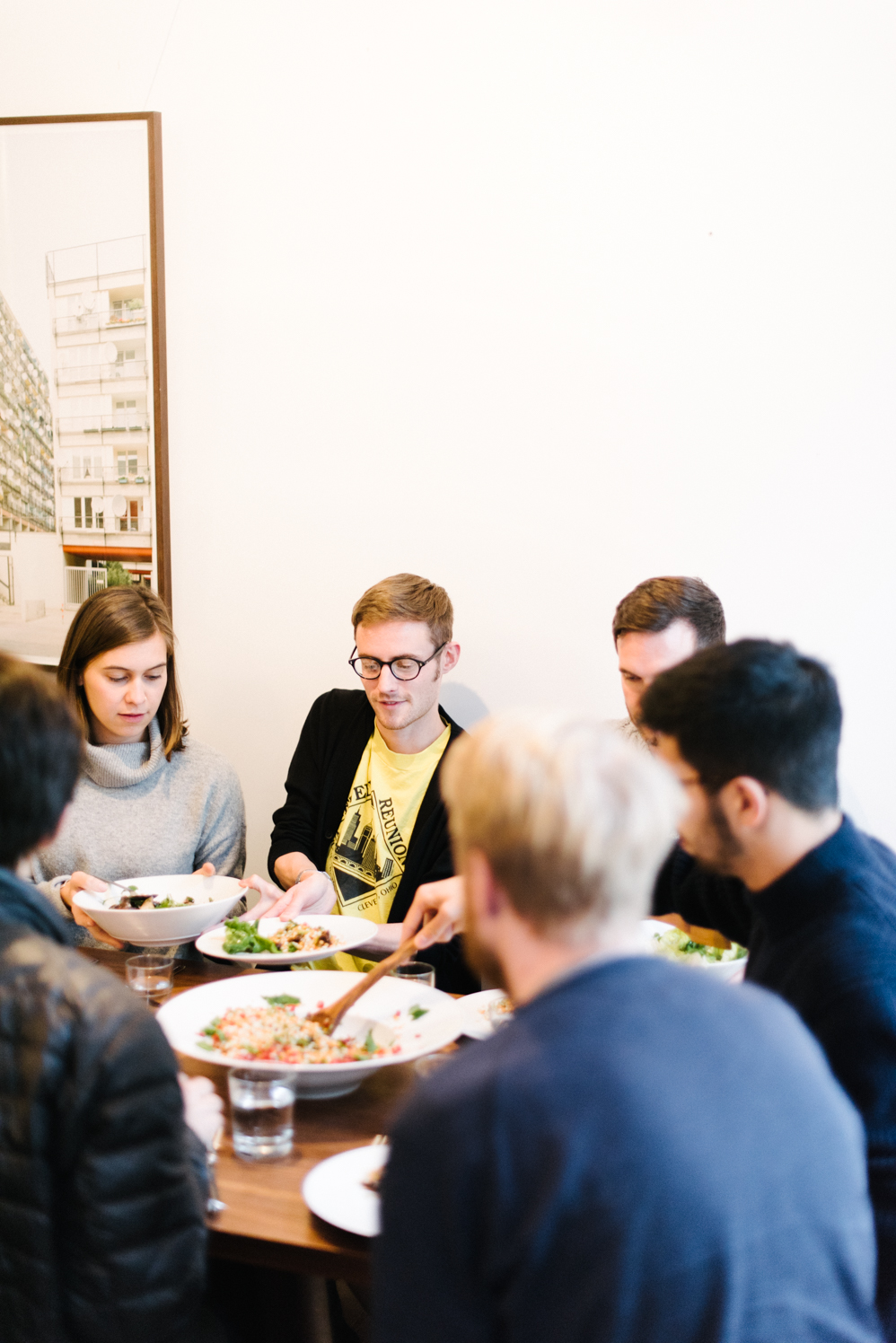 Fermented Cabbage "German Kimchi"
Ingredients (for 4–6 people)
1

1 sweetheart cabbage

2

1 tsp brown sugar

3

Herb vinegar

4

Cranberries

5

Black mustard seeds

6

Fleur de sel
Method
Dice the cabbage and place in a large non-plastic bowl
Add sugar and vinegar and squeeze until the cabbage becomes soft and loses liquid (will take approx. 5–10 minutes)
Cover the bowl, leave for at least three days and squeeze contents from time to time
Serve the cabbage with cranberries, mustard seeds and fleur de sel
Dessert: NY Cheesecake Panna Cotta with Pear and Beetroot Compote
Ingredients (for 4-6 people)
Pear and Beetroot Compote

1

1 beetroot

2

3 pears

3

1 tsp muscovado sugar

4

Lemon zest

5

1 cinnamon quill

6

1 vanilla pod

7

1 star anise

NY Cheesecake Panna Cotta

1

100g butter

2

50g brown sugar

3

Pinch of salt

4

150g wholemeal flour

5

Sesame seeds

Panna Cotta

1

350 ml cream

2

150 gr cream cheese

3

2 tbsp brown sugar

4

3g agar agar

5

1 vanilla pod

Sesame Brittle

1

2 tbsp brown sugar

2

1 tbsp sesame

3

Fleur de sel
Method
Pear and Beetroot Compote
Cook the beetroot, removing skin afterwards
Chop the pear and beetroot into small cubes
Place in a pot and simmer with spices and sugar for 5 minutes
Crumble Base
Melt butter and add sesame seeds until lightly toasted
Combine sugar, salt and flour and blend together until crumbly
Bake for 10–15 min at 200°C
After the crumble has cooled, put in a freezer bag and crush with a with a rolling pin
Fill into ramekins
Panna Cotta
Combine all ingredients in a saucepan and heat them, stirring constantly
Remove from heat, pour into a bowl place in the fridge
As the mixture starts to firm as it cools, pour into individual serving ramekin
Leave in fridge for a further 2 hours
Sesame Brittle
Heat sugar
Mix in sesame and a pinch of salt
Pour mixture onto a marble board to cool down
When cooled, break into pieces and use as decoration
A credit to his seamless operation, Volker cheerily emerges from the FvF Apartment kitchen with a showcase as pleasing to the eye as to the palate: six-hour slow braised beef in brown ale, a mushroom confit, roasted sweet potatoes with crispy fried onions, a kaleidoscopic grain and lentil salad and umami perfected in his fermented cabbage dish, a kind of "German Kimchi" as he calls it. Dishes are passed around, each of us eager to fill our plates. In due course, a New York cheesecake–panna cotta hybrid and a vibrant pear and beetroot compote arrive at the table. No one credibly "left room for dessert," but somehow, everyone finds space.
Thank you, Volker, for making this delicious team lunch possible, and for sharing your recipes with us.
Keep up with Volker's ve.food culinary pursuits and his photography. Looking for more culinary inspiration? Try your hand at other delicious recipes on FvF Cooks.
Text: Ruby Goss