Hamburg native Dorothee Halbrock is an art and festival lover, two passions she combined back in 2007 when founding Hamburg's Kunstcamp. We visited this charming enthusiast at her cozy flat in St.Pauli, and while on location at Reiherstieg on Elbinsel, during which time we talk about living between two worlds: the very personal and the very social.
Amongst other things, Dorothee opens up about her love of Hamburg, bike riding, and being constantly surrounded by activity and feeding off the energy of others. Feeling more at home in a communal living situation than alone, she acknowledges the value in time spent alone in order to reflect and collect one's thoughts. Ultimately Dorothee is a born collaborator and thrives on the exchange of new ideas for projects and different perspectives.
One of her first projects was the 'Elbphilharmonie aus Schrott' (Elb-Philharmonic of Junk) that she conceptualised alongside Daniel Richter. In this process, her improvisational skills play a huge role. She is a passionate representative of the so-called critical 'communication of art,' and engages her audience by opening up the possibility to actively co-create, question, and steer works in unexpected directions during the artistic process.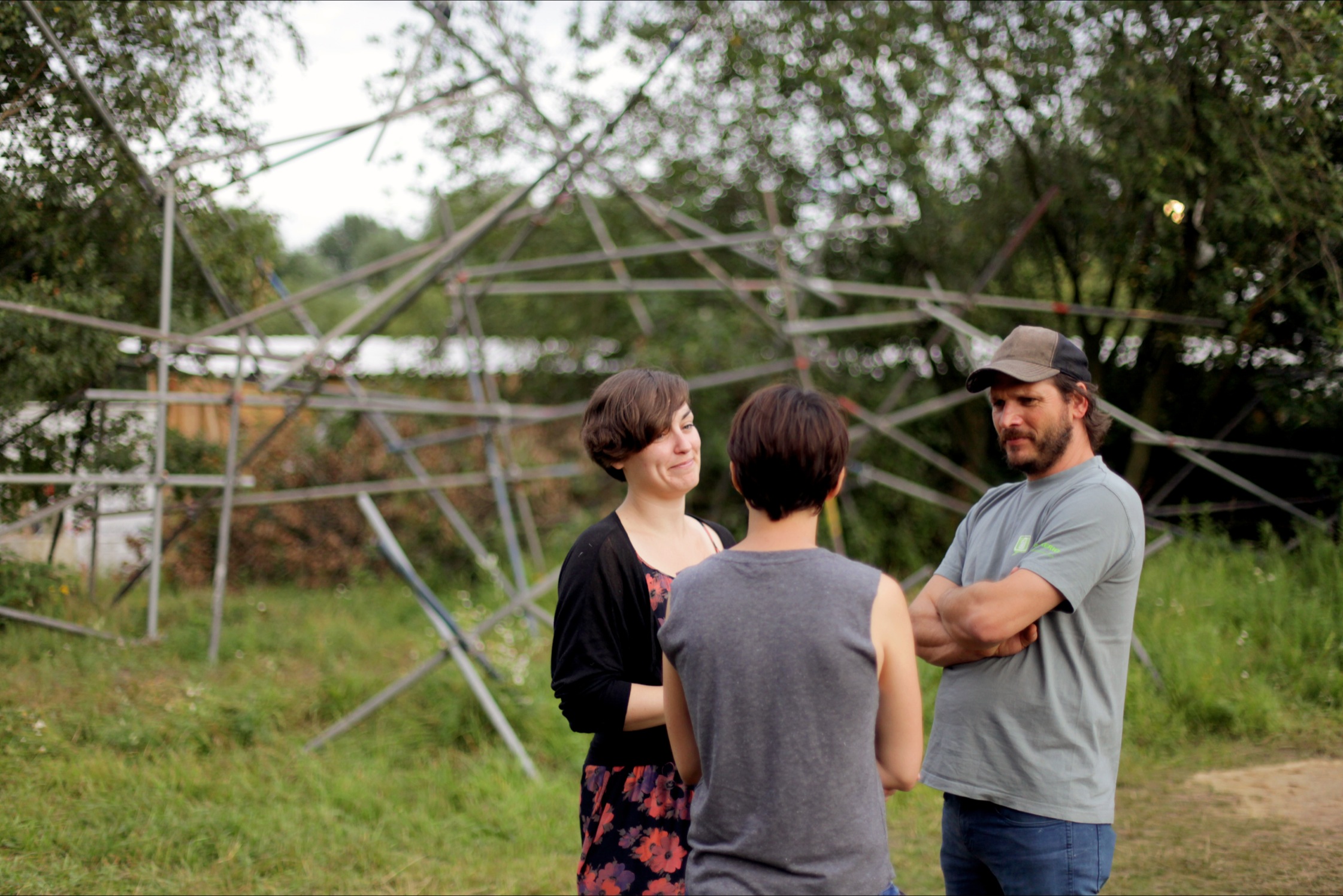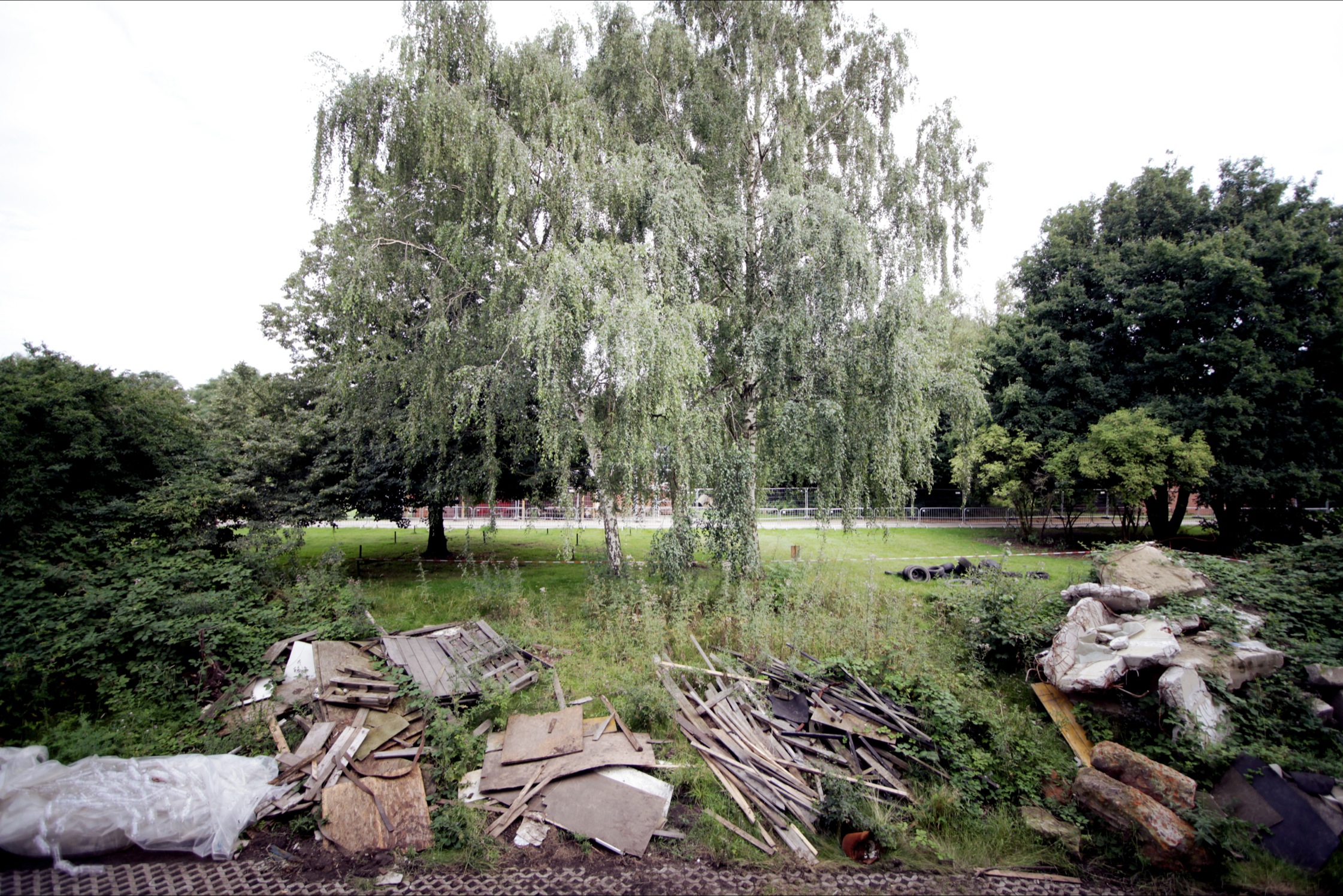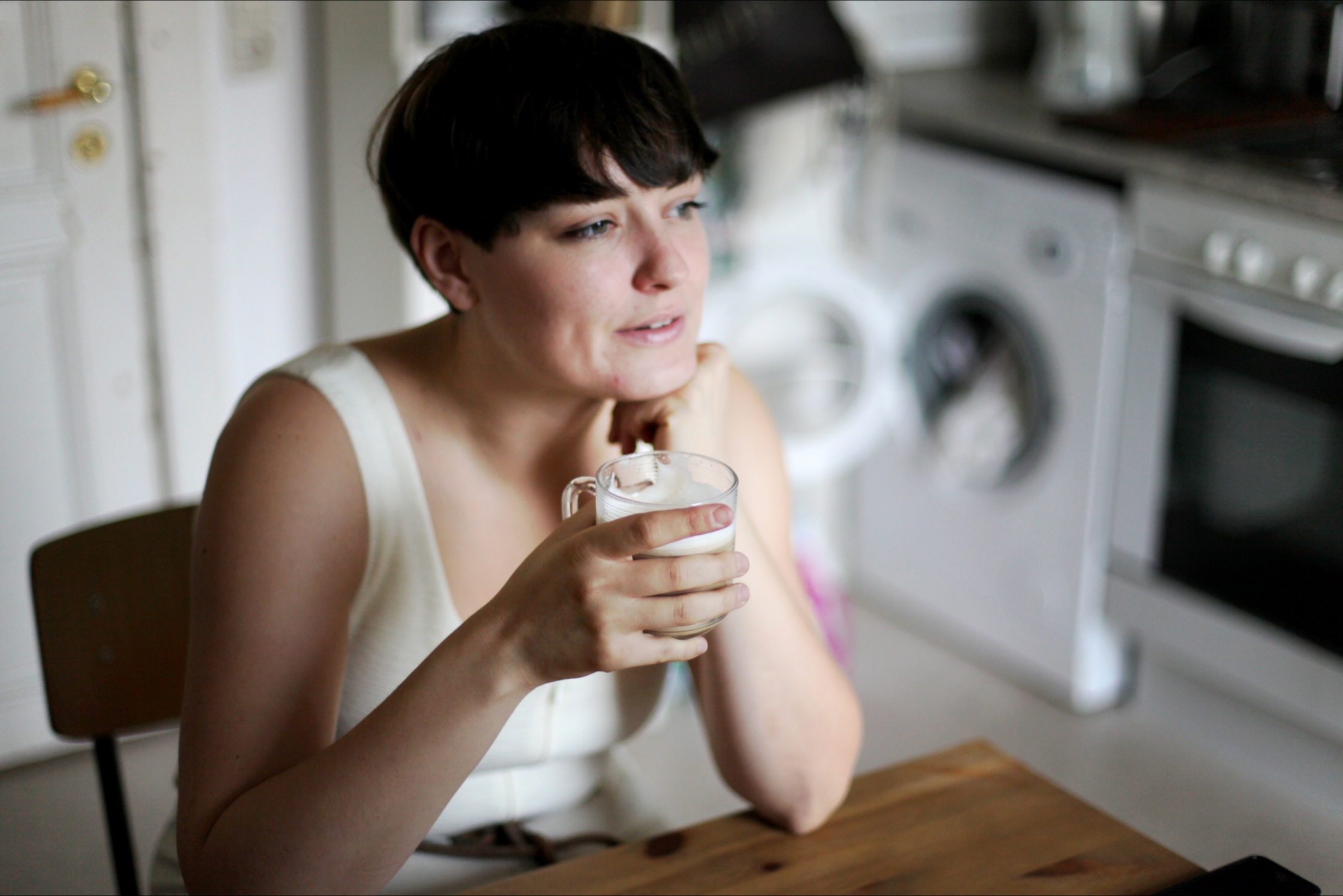 Are you originally from Hamburg?
No, I am from Ulm, better yet Thalfingen. It is a small village at the edge of the Swabian Alps. I have lived in Hamburg since 2005.
What brought you here?
Well, during my childhood I had family in Hamburg, but the sole thought of moving there was unimaginable – at least that's what my father claims when he looks back. When I went on an Interrail trip I met several people from Hamburg, who later on I visited on many weekend trips. After a while, I realized that I wanted to move to Hamburg for good. So I was all the more happy when I was accepted for Cultural Science studies at Lüneburg University, just south of Hamburg. However, moving to Lüneburg was out of question. After living in the countryside I needed a big city.
By constantly going back and forth between Hamburg and Lüneburg, I met many more people from Hamburg. I developed friendships that still exist to this very day. They accompany me through all kinds of situations, professionally and privately which are always quite intertwined in my life.
So this how you fell more and more in love with the City?
Yes, totally. When I saw Hamburg city for the first time with adult eyes and went beyond the boring suburbs, I quickly fell in love with it. It is a special city; somewhere worth staying.
What do you like the most about living here?
It is funny to talk about that. After all those years, I'm not freshly in love anymore but having a solid relationship with all the pros and cons. However, something that I like as much as before is its village-like character. For example, walking along the streets and seeing a familiar face at every corner of St.Pauli – I really appreciate that. I love the intimate cohesion that is present within such small districts.
How do you get from place to place?
I love taking my bike. Especially during the summer where I often ride between the sides of the Elbe. The MS Dockville office and my flat are in St.Pauli and the festival area is on the Elbe island in the neighborhood of Wilhelmsburg. But obviously it is quite comfortable to take the company car as well. Nevertheless, there is almost nothing more beautiful than to take a night bike tour through the industry of the harbor and the old, illuminated Elbtunnel. At night one is able to sneak by the sleepy guards regardless of the renovations. At the moment it is strongly forbidden. However it offers a different perspective, the art of movement and thus the change of speed. I also enjoy walking.
How did you end up at MS Dockville?
In 2007 the first Dockville newsletter ended up in my email inbox and I was amazed by it right away. I really liked the fact that the festival was not solely concerned with music but also embraced other art forms. I didn't think about it too long and proactively applied for a job there. Ironically, during that time, I had a cultural science seminar covering the topic 'Cultural Projects in the Harbour,' which allowed me to provide an example in practice. Everything just met so well together. Dockville thought so also and everything happened quite fast. As there was complete design freedom in regards to the area of art, I was able to take on board my friend and fellow student Laura Raber. Together we developed MS Dockville Kunstcamp .
What was the first program like?
One of our first more prominent projects was 'Elbphilharmonie aus Schrott' (Elb Philharmonic of Junk). It was a project conceived by Daniel Richter and it was conceptualized by my friend since kindergarten and architect Susanna Haneder, and later built with containers and other alternative elements. Today Kunstcamp is not only solely concerned with Hamburg topics but also covers a much more international spectrum. In that first year many school friends of mine took over a big part of the organization alongside my friends from Hamburg, for instance with the supervision of artists.
What mostly shapes Kunstcamp?
The diverse people that contribute. Constantly new, unexpected cooperations come into existence, which release unexpected forces. Once, for instance, an employee of Roskilde Festival wanted to exchange ideas as he considered our method of actively involving the public to be very exciting. Ever since we have collaborated and worked with each other's platforms in order to experiment with them.
One of our main projects was the collaboration with the architecture group Umschichten, and the American choreographer Jeremy Wade. The result was a series of new interdisciplinary process-oriented performative sculptures that created a discourse between architectural ritual and mass experience that emerged through diverse contexts. Everybody who was involved found this transnational exchange very fruitful.
How has the festival changed over the years?
In 2010 we started to invite artists, craftsmen, and helpers with diverse backgrounds to come to the area at Reiherstief and work and live together. For many weeks we lived together and created an artistic process which culminated with an open-air exhibition.
The camp has also become much more international, bigger, and diverse. On-site life and work are still very much connected to improvisation. Accordingly, there are always changes each year. The camp is under constant movement and is open to change. Visitors are able to experience the artworks with the artists, while also playing a role in develop the pieces further and attending parties. Everyday the MS Dockville family becomes bigger. Kunstcamp's core is the kitchen! This is where we cook, talk, and plan. It is wonderful to see each person being treated equally and their ideas being openly and positively received. Often long-term collaborations come into existence between the participants, thus going beyond the context and parameters of MS Dockville. One cannot count all the friendships and relationships that have been established here.
How does it feel to come back to your flat in St.Pauli after weeks of improvised living?
It's actually not the basic creature comforts that I miss while away like steady hot running water. During the weeks away I live in a completely accessible and available way which is exhausting after a while. Unavoidably a desire to be left alone arises after some time. However, ultimately I tend to miss this improvisational living and the big community quite quickly.
What do you look forward to when returning to your apartment?
It is great to have some time for myself. To be able to close the door and remove myself from the small tight bubble of camp. I do miss basic creature comforts like steady hot running water while away and really enjoy a good shower on my return. During the weeks away I live in a completely accessible and available way. Unavoidably a desire to be left alone arises after some time. However, ultimately I tend to miss this improvisational living and the big community quite quickly.
You live in a shared flat in St. Pauli.
Yes, I wouldn't like to completely live by myself. I like getting home and having somebody there. I like it when someone has already heated the flat or has cooked, or when people have something to share. I also like coming home to my flat and noticing that my pen has been misplaced or other objects have been moved. I like this sense of fluidity, that everything surrounding me is in constant motion.
How do you calm down and relax?
Mostly I relax with people that are close to me: my friends, my godson. Also go on bike rides to find a calm place in my head.
Do you have a favorite place in Hamburg?
I love the bottom corners of former burial ground Wohlersparks. There is a very old cemetery which is small and romantic. Besides that I also like 'non-places.' Prefabricated houses at the periphery of the city, industrial wastelands but also the unwanted 'dead' of the city. I like going to these isolated often quiet places and taking pictures.
Thank you very much for giving us a snapshot into your life Dorothee and offering an explanation of your role and information about MS Dockville.
Dorothee left MS Dockville after 2013's edition and is now working on independent projects. She is also about to found an own organization called Zwischen Theorie und Ekstase with two of her former collegues.
Photography: Sarah Bernhard
Internview & Text: Anika Väth