One may easily associate the spectacular natural landscape of New Zealand with vistas taken directly from The Lord of the Rings. Venture just outside Christchurch to the Port Hills mountains with its tussock grasslands and rugged outcrops and it is not hard to see why. This is where couple Matt and Kate Arnold often take time out to escape and take in the breathtaking scenery. Notable for its significant geological significance and biodiversity, it is not your average hometown backdrop. Matt runs the awarded web design studio, Sons & Co, while also maintaining an active involvement in the architectural history and heritage of Christchurch with his website Christchurch Modern.
Kate is a veterinarian and also shares a love of art, design and architecture, evident in their shared art and furniture collections and 1960s Warren and Mahoney home. With its staggered levels and sloping wood panelled ceilings that expose the structure's bare materials, these buildings are not hard to come by. A cosy open wood fire warms their house that is adorned with indoor plants, books, and special fabrics in muted tones and highlights of color. As young parents this relaxing space is the perfect atmosphere "at the very bottom of the world" to raise their son Clem and play with their rescued Huntaway pooch, Boo.
We get to know Matt and Kate, take a spin their 1973 BMW, get some local tips on where to eat and drink, and hear about the redevelopment of the city of Christchurch post the devastating 2011 earthquakes.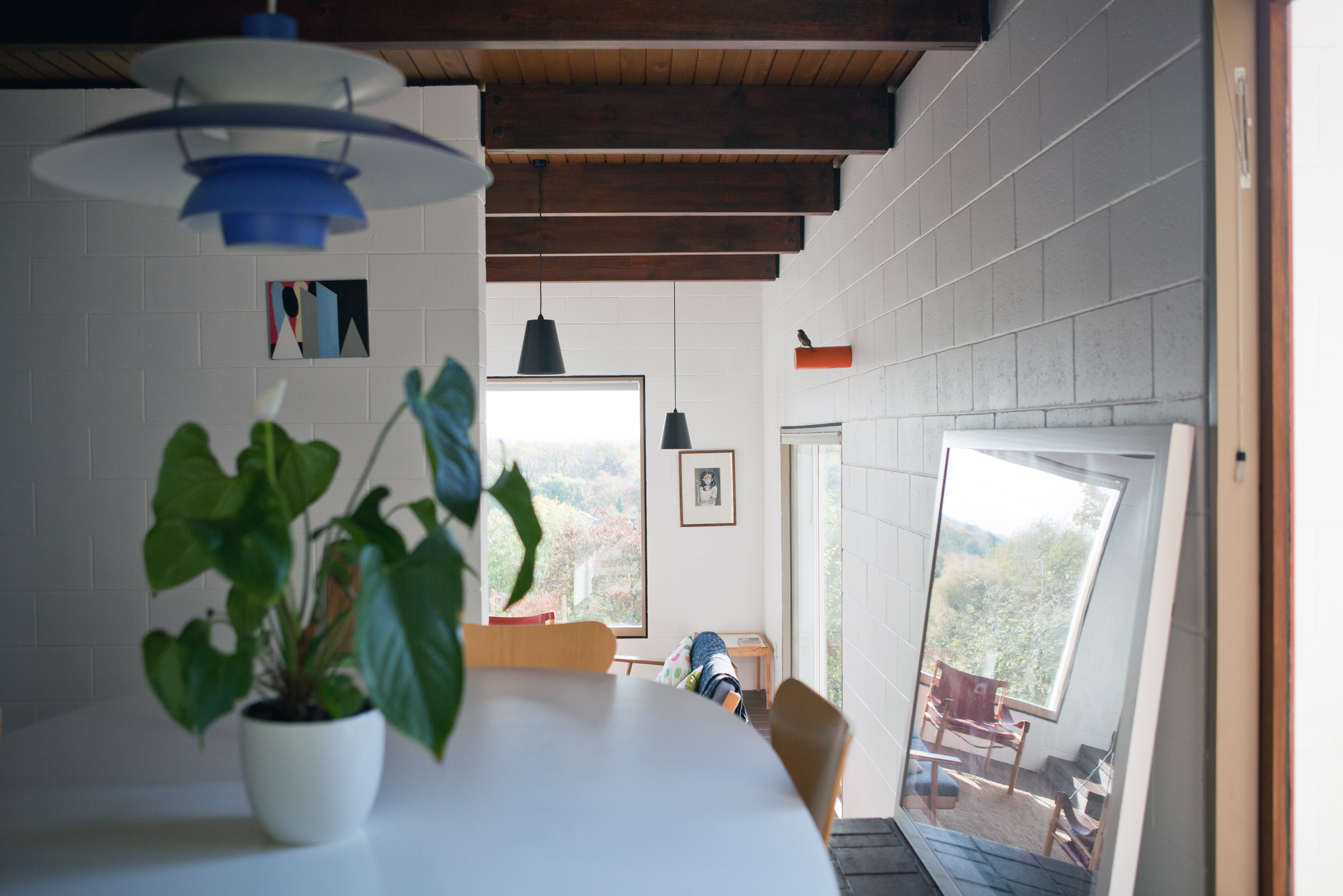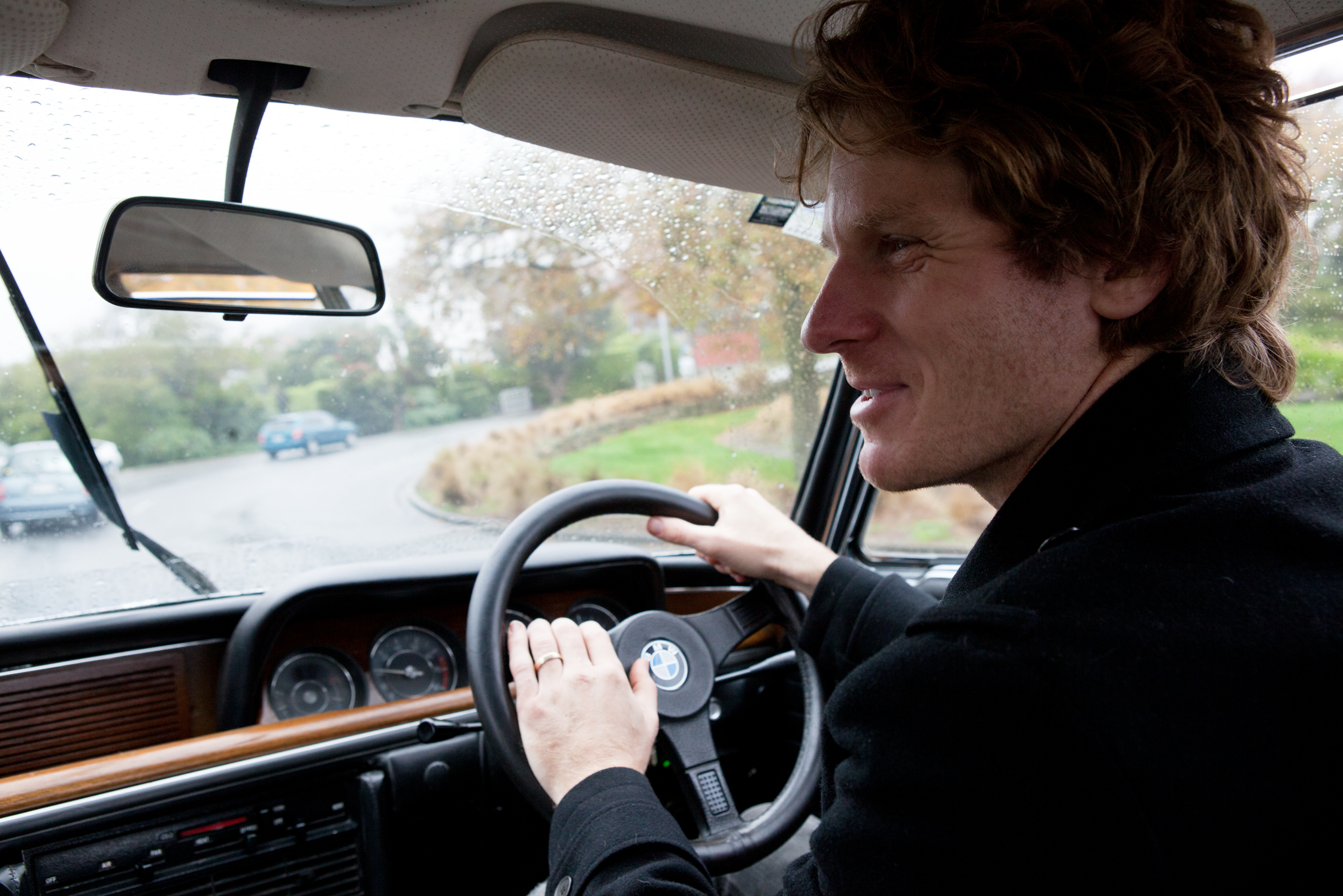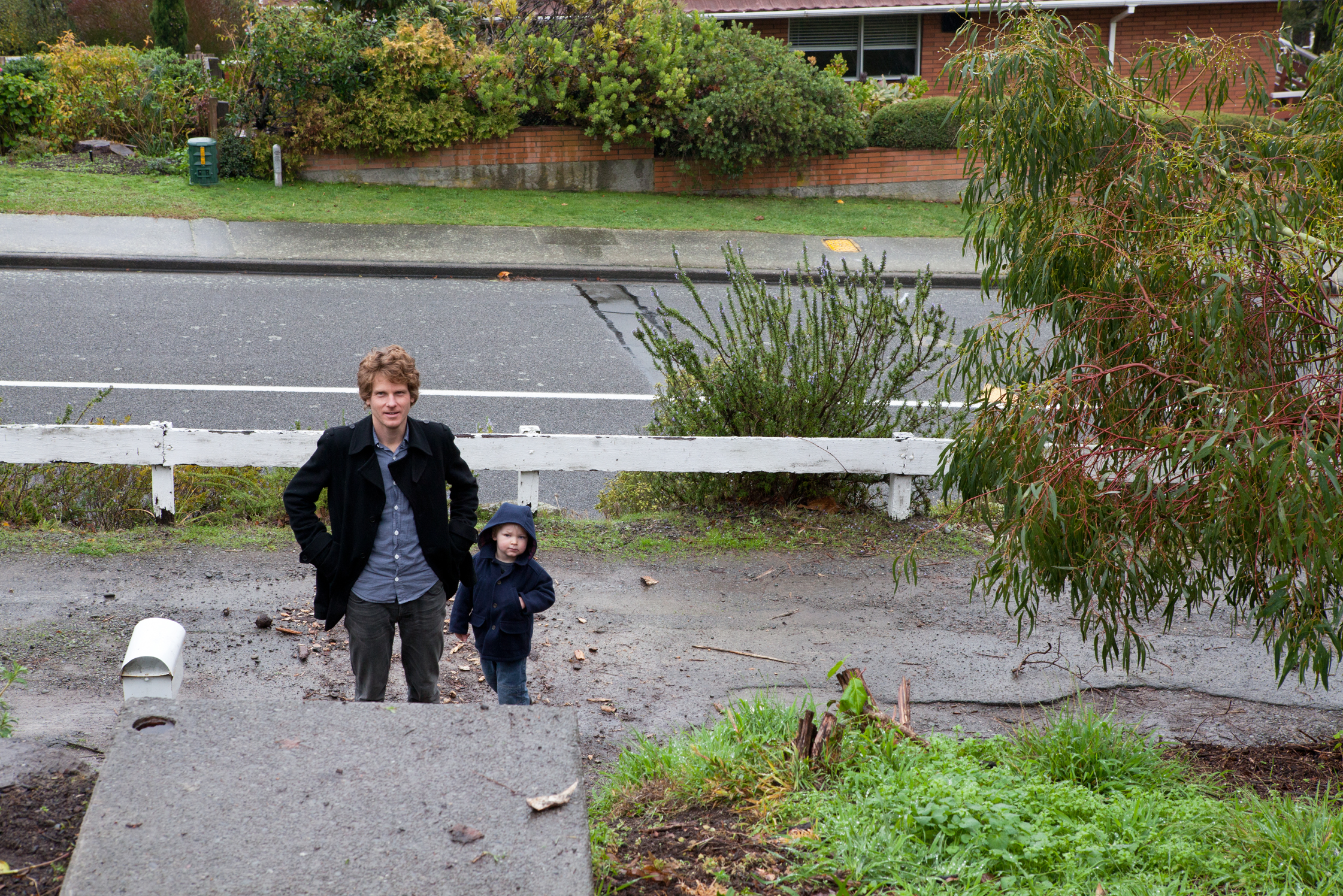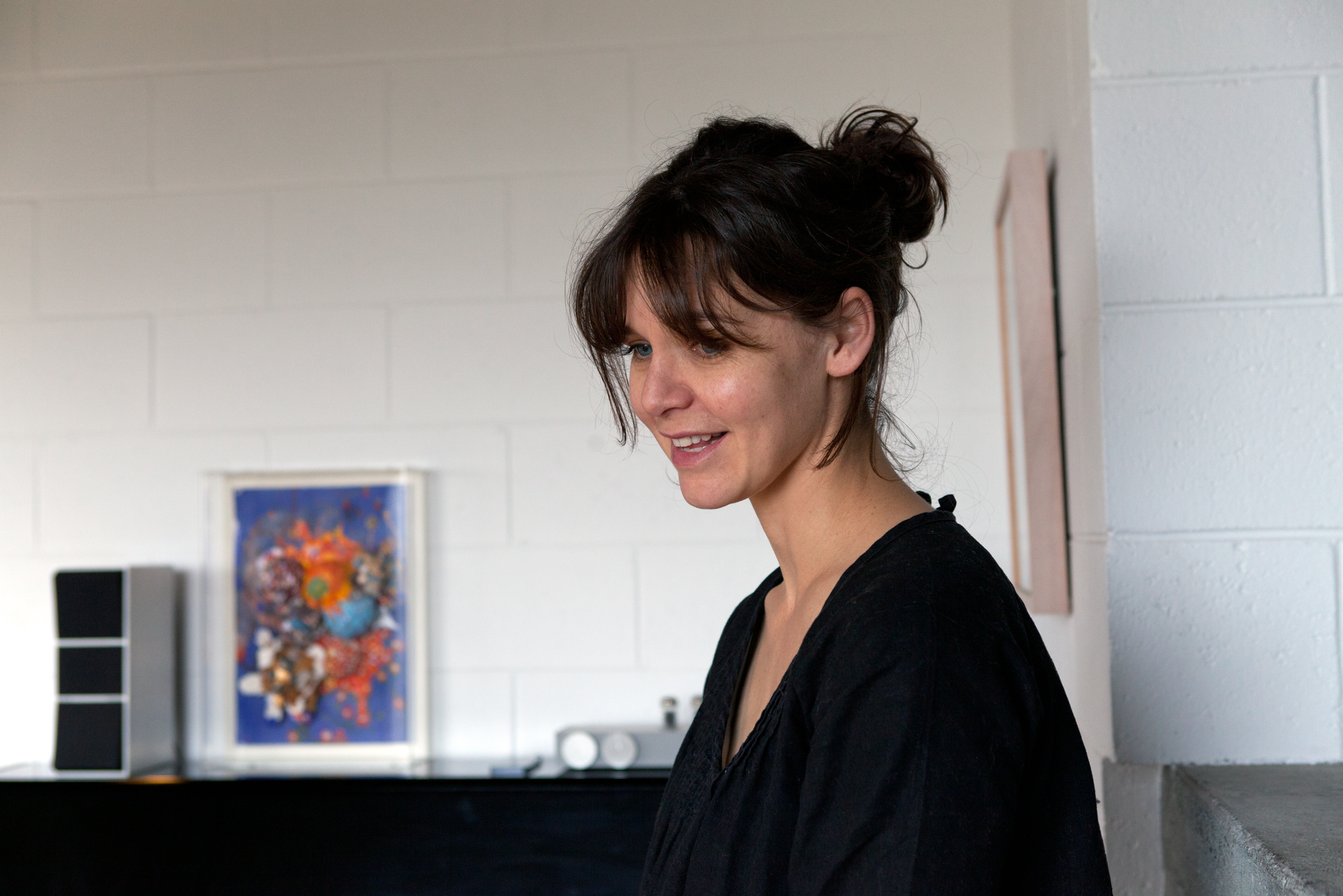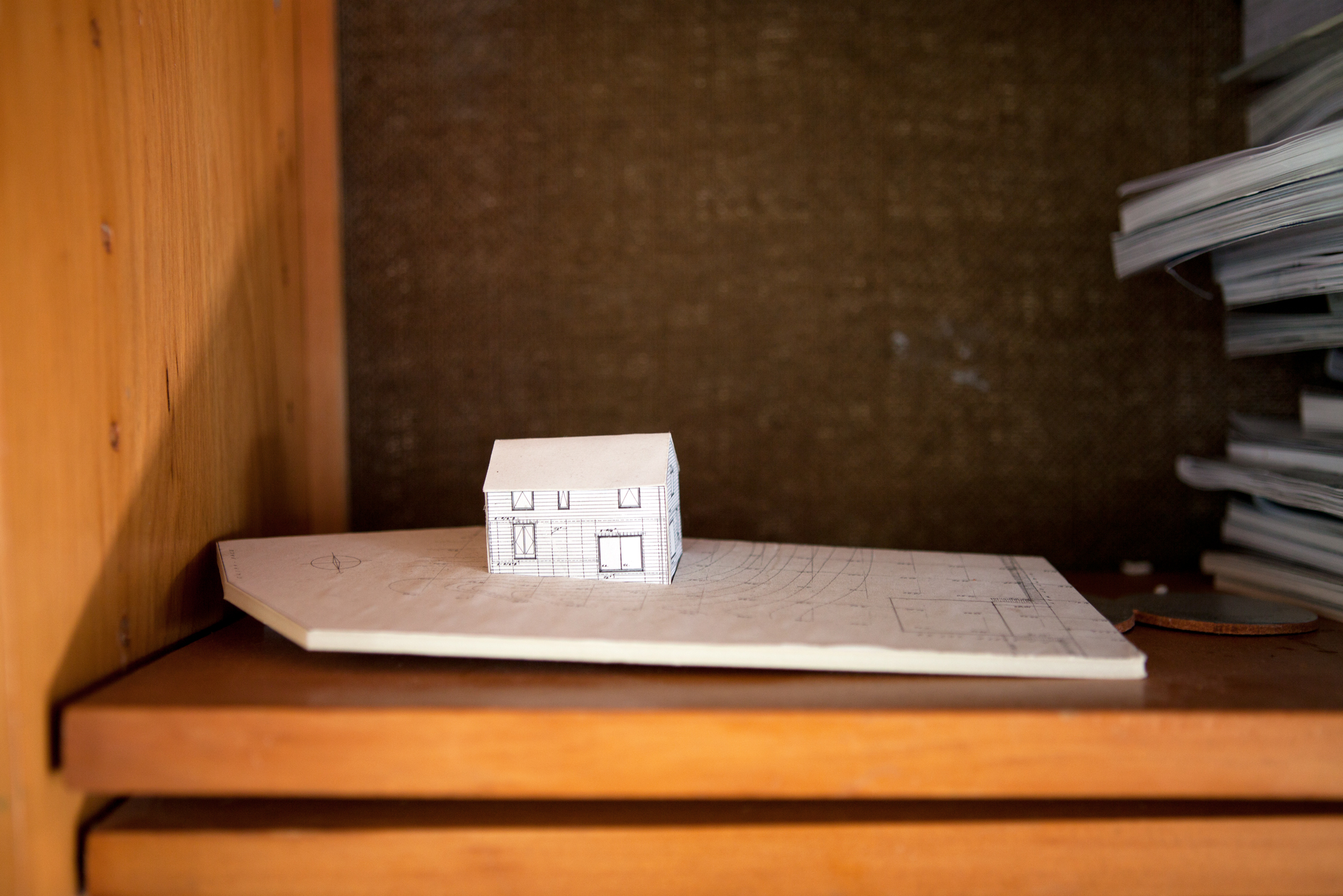 How long have you lived in Christchurch? Where did you both grow up?
Matt: We met and lived in Melbourne before moving to Christchurch 6 years ago. I grew up in Sydney and Kate on a farm in North Canterbury. Kate's a vet and when we arrived in New Zealand we moved to the countryside, north of Christchurch, but quickly realised we were kidding ourselves, and returned to the city.
Do you have family in New Zealand?
Matt: We do, we have family in Christchurch and Auckland. And in Sydney and Canberra, so we always have a good excuse to travel.
You have a beautiful late 1960s home designed by the architect Warren & Mahoney that has a distinctive character. Tell me about the story behind how you found it.
Matt: Warren & Mahoney designed some wonderful buildings in Christchurch in the 1960s including a lot of commercial and civic work, but they're probably best known for a string of distinctive houses and townhouses built in white-painted concrete block. They still look crisp today with their very graphic forms: steep-pitched roofs, square windows, sculptural chimneys and lack of eaves. We really love them, they're an unusual mix of Scandinavian modern and rational brutalism.
They're not often for sale, the houses, as people tend to hang on to them. We waited patiently for a while for one to come along which we could afford, but eventually we just started knocking on doors. We ended up meeting a lot of people who were very enthusiastic about their homes, many of whom were the original owners, but none wanted to sell. It took two years, but finally we were tipped off by an architect friend who found this one – neglected, leaking and covered in ivy – with an absentee owner. He'd moved to the US and we negotiated to buy it.
What is the favorite element of your home?
Matt: Everything is exposed, you can see exactly how the house is made, and the materials it's made from. At the time, houses in New Zealand were very "smooth and soft"; walls covered in wallpaper and floors carpeted; arguably not much has changed. In comparison, our house may seem quite harsh, but to us it's lovely.
What do you love about living in Christchurch?
Matt: It's a good life: relatively inexpensive, there's no traffic and we have a good art gallery. We're close to the coast and also to the alps. It's very relaxed and unhurried, but not so much so that there's no pulse.
How long have you been parents? Do you think this has altered your lifestyle's significantly, or is it something you have taken in your stride?
Matt: Clem is three years old and he's fitting in well. We like having him around, but things are certainly different. Instead of going to a bar or a music gig, we go to the zoo. Admittedly, monkeys are funny, so it's not all bad. We recently visited a miniature train park where you take a ride on a little train for $1. It's run by a group of train enthusiasts, who are there every weekend, with a proper mini-station, overbridge and all types of mini-trains: steam trains, freight trains and even a Japanese bullet train which travels around at the same speed as the rest, a slow jog.
The Port Hills on the edge of Christchurch are such special natural surrounds. It must be fantastic to have such breathtaking scenery literally outside your backdoor. Do you go there often?
Matt: The hills are the best thing about Christchurch. If it were flat, it'd be hell. We live right at the base of Huntsbury Hill and spend a lot of time up there walking, running and cycling. On a clear day looking north you can see 200 kilometres along the coast, it's beautiful. A lot of it is leasehold farmland so there's sheep and cows, which is funny. Kate and Clem wander around picking up animal poo for our compost.
What is your dog's name and how long have you had her?
Matt: Boo is six years old and she's a Huntaway; a New Zealand breed of sheep dog. She came into Kate's work – Kate is a vet – having been picked up by the pound, unclaimed and fated to be put down. Kate looked at those big eyes and couldn't do it. Awww!
Matt you work for your studio Sons and Co. with friend Tim Kelleher that has won some awards nationally and internationally. How did it all begin?
Matt: Tim and I started Sons & Co. five years ago, we make websites in a little old cottage in Addington. We met working for another design studio, liked the same things, developed a friendship and decided to try it on our own. Each day we just turn up, make the same inane jokes, and hope for the best. It seems to work well.
What type of work to do you concentrate on? How would you describe your approach to design and aesthetic?
Matt: We'll take on anything, really, that's interesting, with people who are adventurous. We do seem to attract arts and cultural organisations, wineries, fashion labels, people who like and value design. Our approach is very simple and unoriginal – we talk a bit, think for a while, then begin work. There's no distinct design style, but there are elements we like to repeat and the results are often good, I think. I hope.
How do you view New Zealand design compared to the rest of the world?
Matt: I don't think there is such a thing as New Zealand design. At least not as an entity like, say, "Italian design" or "Dutch design" and searching for it seems to be a bit of a distraction for some. But New Zealand has some extraordinary designers, who are also very nice people.
Professionally do you ever feel a little isolated?
Matt: Personally, we like the isolation down here. Were quite removed from things: we work on a suburban backstreet of a small city in a little country, at the very bottom of the world. And for many of our clients, that's precisely the appeal.
Outside of work you have a very passionate interest in the local architecture of Christchurch. You started the website Christchurch Modern, that maps examples of Christchurch's modernist architecture from the 1960s epitomising a turning point in design history, including architects like Miles Warren and Maurice Mahoney. It must have required a large amount of research. What was the catalyst for this project?
Matt: True, I'm a tragic architecture nerd and the blog started when we were looking for our own house. It wasn't so much a case of research, but more posting misinformation and waiting to be corrected. On the internet, it's amazing how eager people are to tell you you're wrong, which can be very helpful. And often talking to people they'd say, "oh, growing up, my friend's parents had this great modernist house…" or "we live next door to this ugly, horrible, boxy 50s house with a flat roof that leaks". I'm constantly surprised that people visit the site, it's a bit silly, but it's developed into a bit of an informal local architecture catalogue and I'm proud of that.
If you could pick just one building, which one would be your favorite?
Matt: Worldwide? Louis Kahn's Esherick house is hard to beat. That guy knew what he was doing. In Christchurch, Miles Warren's old apartment and studio at 65 Cambridge Terrace is the one.
Matt, it is clear you have a love of design from the 1960s and 1970s. Your car is no exception. What model is it and how did you come to buy it. Have you always liked the design of BMW's?
Matt: I do like BMWs. My dad drove them when I was growing up, he still does. And with the exception of an Alfa Romeo in the late 70s, which ended badly, that's all he ever had. And always coupes, which I hated, having to climb in and out of as a kid. I pleaded with him in the mid 80s to buy a sedan like all the other dads. He point-blank refused. He was right though, a two door car will always have better proportions than a sedan and a crying ten year old kid in a BMW showroom can't change that.
I bought this blue car 15 years ago in Sydney. It's a 1973 3.0 csi. I drove it down to Melbourne where it lived out in the weather for a number of years and eventually we shipped it to New Zealand. When I went to collect it from the customs agent in Christchurch, a vehicle inspector was poking holes through the rusty floor with a screwdriver and shaking his head. The car was at a panel beater for almost a year whilst we drip-fed the poor guy money to get it back on the road.
What do you love specifically about this car? Do you have a favorite driving route?
Matt: It looks good, I think, and sounds wonderful. It also smells nice inside, like old cars do, and I'll probably drive it until I die. Or it dies. Whichever comes first. It's a very elegant design. Before anybody cared about safety you could get away with these thin roof pillars with lots of glass and the view out is great. Diving on the Banks Peninsula is a real treat.
Christchurch has experienced severe devastation due to natural disaster. How have the city's population dealt and moved on from the 2011 earthquakes? And more personally, were either of you directly affected?
Kate: Matt was in his studio in the central city, while I was at home with Clem. We were all fine, but it was frightening. Roads were flooded and blocked and Matt ran home to find the house looking quite sad – broken glass and blockwork and roof tiles fallen and scattered around the house. The clay bank behind us partially collapsed which sent a huge cloud of dust through the lower level of the house. It was a mess, but we were safe. We nailed plywood over the broken windows and moved to my parents' house across town, where we stayed for five months. We're lucky. A lot of people have left Christchurch since the earthquake, understandably, but we're hanging around. It's interesting to watch a city rebuild, by nature it's anti-static.
There are designated demolition zones within the city. What does this mean for those whose houses were severely damaged and what has happened to heritage listed buildings that were damaged?
Matt: Heritage listings and covenants become pretty-much irrelevant if a building is unsafe or uneconomic to repair, so they're mostly coming down unfortunately. It's sad, but I hope a few key buildings will be saved. The gothic Provincial Chambers and modernist Town Hall are definitely keepers.
How has the physical landscape of the city changed? Are you aware of any new architectural plans in place for future 'quake conscious' urban design projects?
Matt: Christchurch now looks like a giant donut: a suburban ring with a big hole in the middle that was the CBD. But architecturally, it's a very exciting time and we wait with both anticipation and trepidation to see what comes. Will it be a well-designed city or a complete balls-up? Who knows, but right now Shigeru Ban is building his cardboard cathedral and it's a ripper.
Kate, you also share a love of art, design and architecture. There a lot of beautiful fabrics and a sewing machine in your home. Is sewing something you also enjoy?
Kate: I have always hoarded fabrics. I used to fancy myself as a bit of a seamstress, but have come to accept that my real strength is sewing in a straight line. A couple of years back, I started in earnest trying to work my way through the fabric – cutting it up and turning it into quilts for all the new babies our friends seemed to be producing. Unfortunately, I now use this as an excuse to find more fabric, so the collection isn't getting any smaller!
You have a collection of colorful paintings and sculptures and key pieces of furniture within your home. What are some of your favorites and how did you come by them?
Kate: The furniture we mostly bought with us from Melbourne; second-hand Danish and Swedish stuff that is similar to the house in age and style. Matt is the furniture geek, with far too many chairs, but the art is all very personal, chosen together, agonised over and paid-off slowly thanks to very patient dealers. Each piece has a personal connection, or a special meaning. The little sparrow by Michael Parekowhai is probably our favourite, his name is Jeff Cooper. He died for his art.
Do either of you have a favorite weekend escape?
Kate: We like to go to Akaroa, on the Banks Peninsula. It's a little village on a harbour formed by a volcanic crater. Originally it was a French whaling town with lovely little timber houses called "cots". Driving over the hilltop and dropping down into the crater is always a treat.
Where do you go for your caffeine hit?
Kate: C1 Espresso in town and Lyttelton Coffee Company over the hill.
What are your favorite shops and restaurants? Any best kept secrets in town?
Matt: Addington's North & South is where we get our yum cha fix.
Is there anyone you would like to see portrayed on FvF?
Matt: Our friends Beth Ellery and Sam Hartnett. Or Jamie McLellan. Or Dean Poole.
So you have the house, the dog the child, what next? Do you have any specific plans or goals for the coming years?
Matt: No idea what's next. We're very bad at planning, which is how we arrived at where we are. Very soon we're heading to Hobart to visit MONA and we can't wait.
Matt and Kate thank you so much for introducing us to your hometown of Christchurch. To find out more about Matt's interest in the local architecture of Christchurch see his Christchurch Modern website here, and his graphic design studio Sons & Co. here.
Photography: Mary Gaudin
Interview & Text: Rachael Watts