The 78704 zip code of Austin, just south of downtown and the Colorado River, is an eclectic blend of old-meets-new. The capital city is now nicely peppered with remodeled abodes in nearly every corner of every neighborhood. The deeply embedded artistic community of Austin is combined with a new influx of tech folks from the West coast. One can see long-time hippies cruising the streets in their vintage wagons donning liberal bumper stickers contrasted with young hipsters with music blaring from their hybrid Priuses.
Local, Don Weir, grew up in Louisiana before relocating to Austin by-way-of NYC. Once curating old goods and found furniture from around the country for Uncommon Objects, Weir – along with four others known as 'The Five Guys' – is co-owner of the modernday all-in-one menswear shop STAG. Dealing in an impressive list of brands, this Texan inspired shop stocks everything from men's clothing to a smattering of new and old curiosities such as: hand-made boots, flannels, taxidermy and hip flasks. As a true collector of forgotten treasures, Don's home comprises the best of these finds. Alongside his Blue Tick Hound dog, Gus, he lives in an early-century home with rediscovered objects from the past. Despite a definite vintage aesthetic, the considered space is open and bright conveying a fresh interior perspective that dispels expectations of a cluttered flea market look. Don's home offers an insight into his travels within America and personal style that embraces authenticity.
This portrait is part of our ongoing collaboration with ZEIT Online who presents a special curation of our pictures on their site.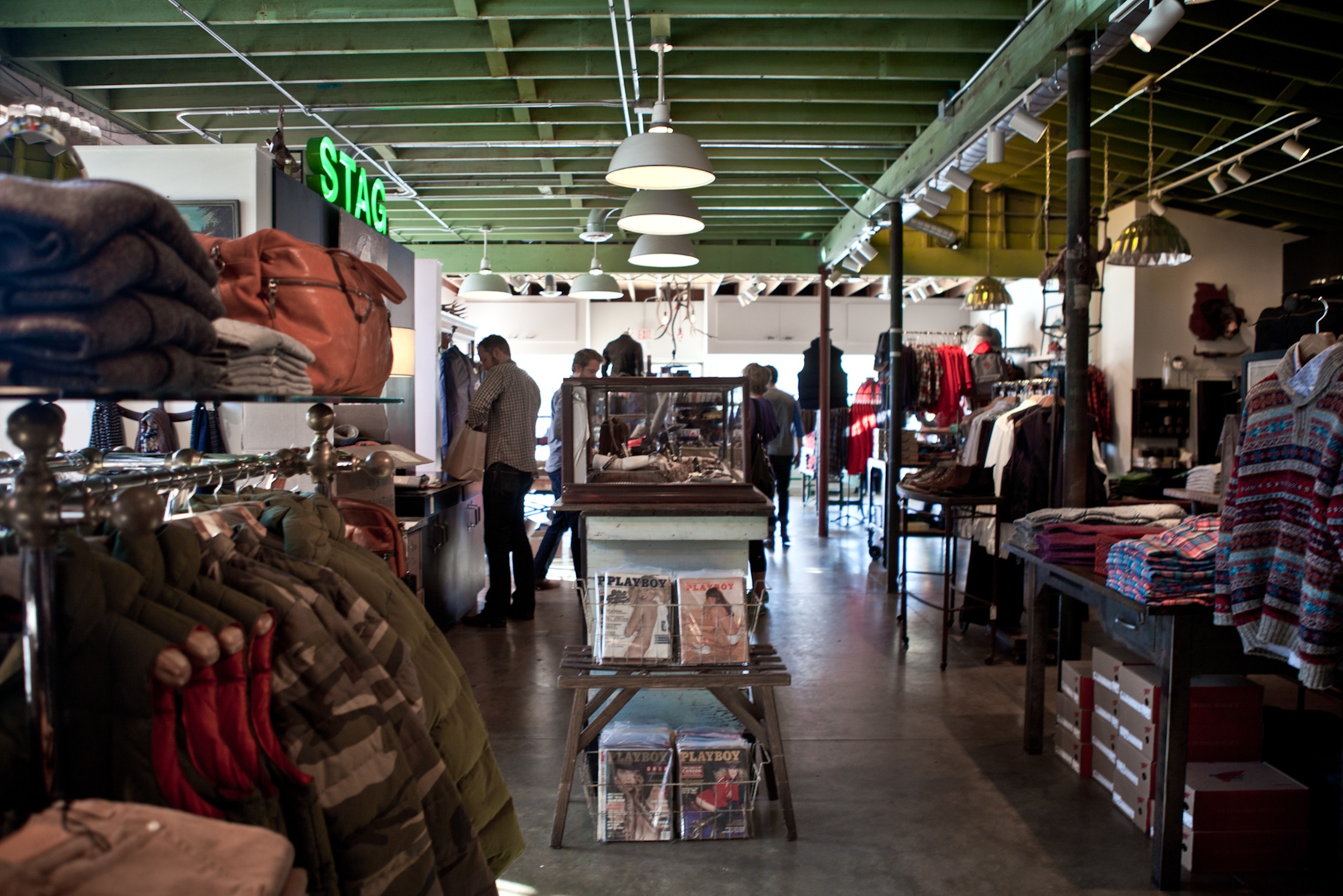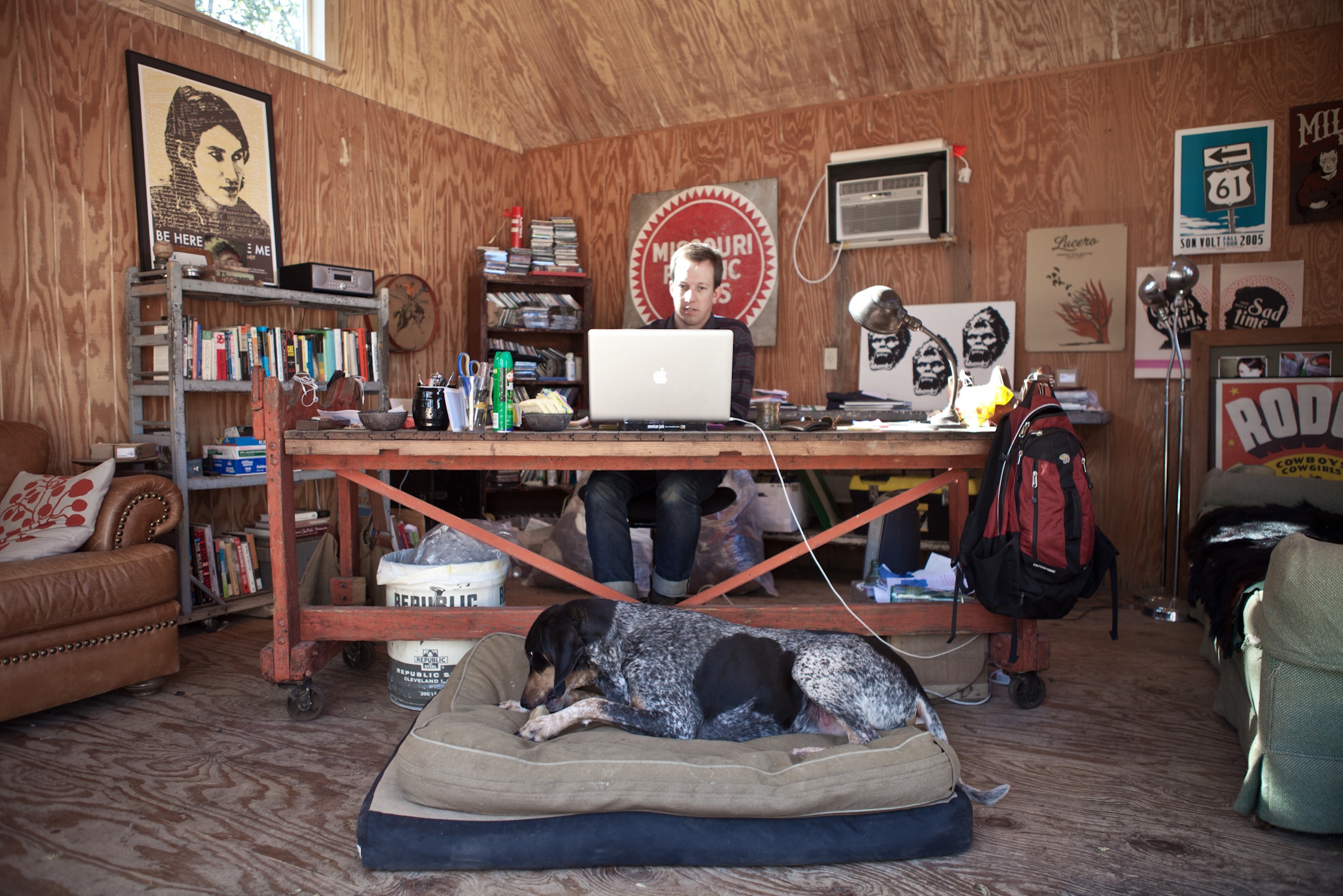 Don can you explain your personal style and inspiration for collecting?
I was an antique and oddities dealer for about five years, so my house is mainly made up of a collection of finds from that time in my life. I've always been most fascinated by early 1900s Americana, so that's what inspires most of my aesthetic. I really like old typography and graphics; found photos from the early 1900s; mixtures of metal and wood in furniture; home-made industrial furniture and simple, clean lines.
A lot of your belongings have a strong sense of authenticity to them and tell a story. Why is this important to you?
Well, I think authenticity can be found in brand new shiny objects or in ones that have been a bit battered. I admire and respect both versions, but for some reason I tend to be drawn more to the more weathered ones these days and most likely always will be. There's just something about objects, tools, furniture or art that has bounced around the US for over one hundred years and hold a story – gotten all dinged up by this guy or battered by that guy or half-broken by somebody else, but somehow still exists in 2013. I'm really attracted to this. There's no way to know the stories behind them all, but they've lived lives that predate our modern ones, and there's something fascinating in that.
Are there any designers or brands you particularly admire? How do you select products to stock in your store?
For the same reasons that I'm drawn to old furniture and objects, I'm a complete and total sucker for Ralph Lauren RRL and similar designers who look back to the American West and a more industrial-based age for inspiration in their designs. I guess lots of designers look back to past trends and styles to create their present-day lines, but, in my mind at least, it's near impossible to beat Ralph. It takes an immense amount of research to find out why a certain garment was made a particular way and then to take those old fits, functions, patterns and fabrics and apply them to a modern line. RRL is the pinnacle for me, and STAG is proud to be one of only a handful of stores in the world to carry the line.
In terms of product selection, it's a bit of a process. My business and buying partner, Steve Shuck, and I go to market a couple of times a year, document pretty much everything that speaks to us, and then we come back to Austin and create a huge puzzle of fabrics, colors, categories, weights and price points until we boil it down to what we consider to be a cohesive and inspiring collection for our customers and ourselves. All up, one month a year is spent visiting shows to see what designers are working on, and then another month of "building the buy." There's a lot of good stuff out there, so the hardest part is having to cut great-looking designs and products from the mix.
On the website it says STAG is part clothing, part antiques, part accessories and part apothecary – quite a diverse mix. How did you come to sell so many different products at your store?
We really just wanted a guy to be able to come into STAG and pick up pretty much everything he needs in terms of clothing, personal care and home design. We have backgrounds in interior design, antiques and apparel, so we just decided to throw it all together. For the most part, it seems like guys prefer to get their shopping – if they even shop – done in one place, so we try to appeal to that behavior. It's nice to be able to walk out of a store with a pair of jeans, some shaving cream, and maybe a new artwork as well.
Where have you traveled over the years? Do you have any special travel souvenirs?
In some ways, I feel like I've lived in the places I always wanted to travel to: New York, New Orleans, Jackson, Wyoming and now Austin. Outside of those locations, there's nothing better to me than road-tripping around the US. Before opening STAG, I spent a ton of time on the road during the period when I was buying and selling oddball antiques in Austin. Tiny Texas towns, one-of-a-kind characters, weird backroad restaurants. That stuff is still a lot of fun for me – even if I don't get out of Austin that much anymore. When I travel outside of Texas, I tend not to think about souvenirs really. It's more about catching up with friends and eating as many great meals at as many great restaurants as possible.
What do you love about living in Austin?
I fell in love with Austin about ten years ago when visiting from New York. Even though the city changes and grows by the day, I'm still in love with it. We have more live music venues per capita than anywhere else in the US, some of the best music in the world, clean lakes, rivers, and streams. The capital's here, the University of Texas is here, we have a huge technology industry, and a huge creative class. Tack on barbecue joints and Mexican restaurants on every corner, and it's tough to beat.
Do you have a favorite piece in your home?
Probably my 1940's "Midget Bull" carnival banner by Fred Johnson. It's from a time way before PC was part of our vocabulary and just speaks to a different time in America. And from a home design perspective, I have a large-scale artwork for my little house – measuring 7'x7′ – so it kind of acts as the centerpiece and adds a bunch of color to the room which I like. I got it from my good friend Bruce Webb who specializes in folk art, specifically carnival and lodge art. He and his wife Julie have a gallery in Waxahachie, TX, and if you're ever over that direction, it's a must see. They have amazing art and are amazing people.
What has been your biggest challenge in fitting out your home?
Well, the house is only 1,200 sq. feet, so there's not a ton of room for all the stuff I've collected over the years. The walls fill up fast, but I have tried to keep it pretty clean in terms of not letting it clutter up too much. At this point, if I find some big and amazing piece, something else has to come off the wall, and that's a bummer. I've developed an emotional connection to some of these things, so it's sometimes difficult to de-clutter.
Have you done much DIY work around the place?
DIY isn't really my thing, but probably the shelving in my bathroom. I turned a beat up old wooden Enid Collins purse on its side so that the "lid" on it faces out and acts as a medicine cabinet. It's got a great old bird graphic on it that faces out, and then you flip up the lid to get to all the stuff inside. I also have an old carnival ring toss game board that hangs on a wall next to my desk that holds all my camera and computer cords and headphones. It would look alot better without all the stuff hanging on it, but it's useful. It's DIY by default, not by plan.
Do you have any interior or design advice?
Don't try and design to a design trend that's only going to last a few years and then die a hard death. Buy what you like and what speaks to you and let the goods settle into their place in the house. I've never measured a wall and then gone looking for a piece to fill it. It just sort of happens. Oh, and shop at flea markets and antique shows whenever you can. If you live in Austin, shop at Uncommon Objects. I worked and sold stuff out of there for years, and you could furnish your whole house there within six months. Everything you buy there will almost certainly be one-of-a-kind.
What is your biggest embarrassment?
Having a crappy Don Quixote print above my couch for several years before swapping it out for an Abe Lincoln painting by friend and artist Brian Salvi. Let's not talk about it.
Your biggest indulgence?
I grew up playing sports and am still a fairly obsessive sports fan, so I'd have a hard time without my television. A Samsung flat-screen couldn't be any more inconsistent with the rest of the house – hardly anything else in the house was made post 1950 – but I gotta have it.
One thing friends say to you often?
"Where'd you get all this shit?" or "How'd you get into this sorta thing?" I grew up in a pretty conservative household in Shreveport, LA, so my taste is completely different than a lot of my old friends who've stuck with the more traditional Southern decor. My friends in retail and more artistic fields totally get it. It's more like, "Who did that piece? I want one." A lot of the stuff is unique and vintage though, so there's no replicating it – which I like. Every piece has its own little story.
Don its been great delving into your accumulated world of vintage treasures in your home and store. To find out more about the products Don sources visit STAG's website here and have a look at his blog here.
This portrait is part of our ongoing collaboration with ZEIT Online who presents a special curation of our pictures on their site. Have a look here.
Interview & Photography: Michael A. Muller
Text: Rachael Watts