Everybody has ideas. Only few people have what it takes to transform them into reality. Whatever that certain something is, Michael Hecken – founder of Berlin's "Grace" e-bike enterprise – has got it. With a relentless entrepreneurial spirit, perseverance, and a pinch of madness, Hecken managed to turn his loose idea into something that may very well change the face of future transportation.
Tired with the computer software industry, Michael Hecken moved from London to Berlin and purchased the Wehrmühle Biesenthal – a landmark mill property dating back to the 14th century. In 2003, while fixing up the derelict complex, the eco-minded polymath started thinking about e-bikes and decided to boldly build one himself. This self-proclaimed crazy idea soon turned into the exquisitely designed, fully electronic motorbike "Grace." Lighter pedelec versions like "Grace Easy" followed, Daimler-Benz/SMART came on board with a large collaboration order, and by the time the Mifa-AG acquired "Grace", hundreds of bikes were being produced monthly. We visited the mile-a-minute businessman at his beautifully restored property in Biesenthal and also his Charlottenburg factory to talk about e-bikes, creativity, his childhood growing up in the German town of Oberwinter, and his advice for the Berlin's ever-growing start-up scene.
This portrait is part of our collaboration with Be Berlin/Berlin Partner, that introduces a curated selection of entrepreneurs and creatives within the Berliner industry.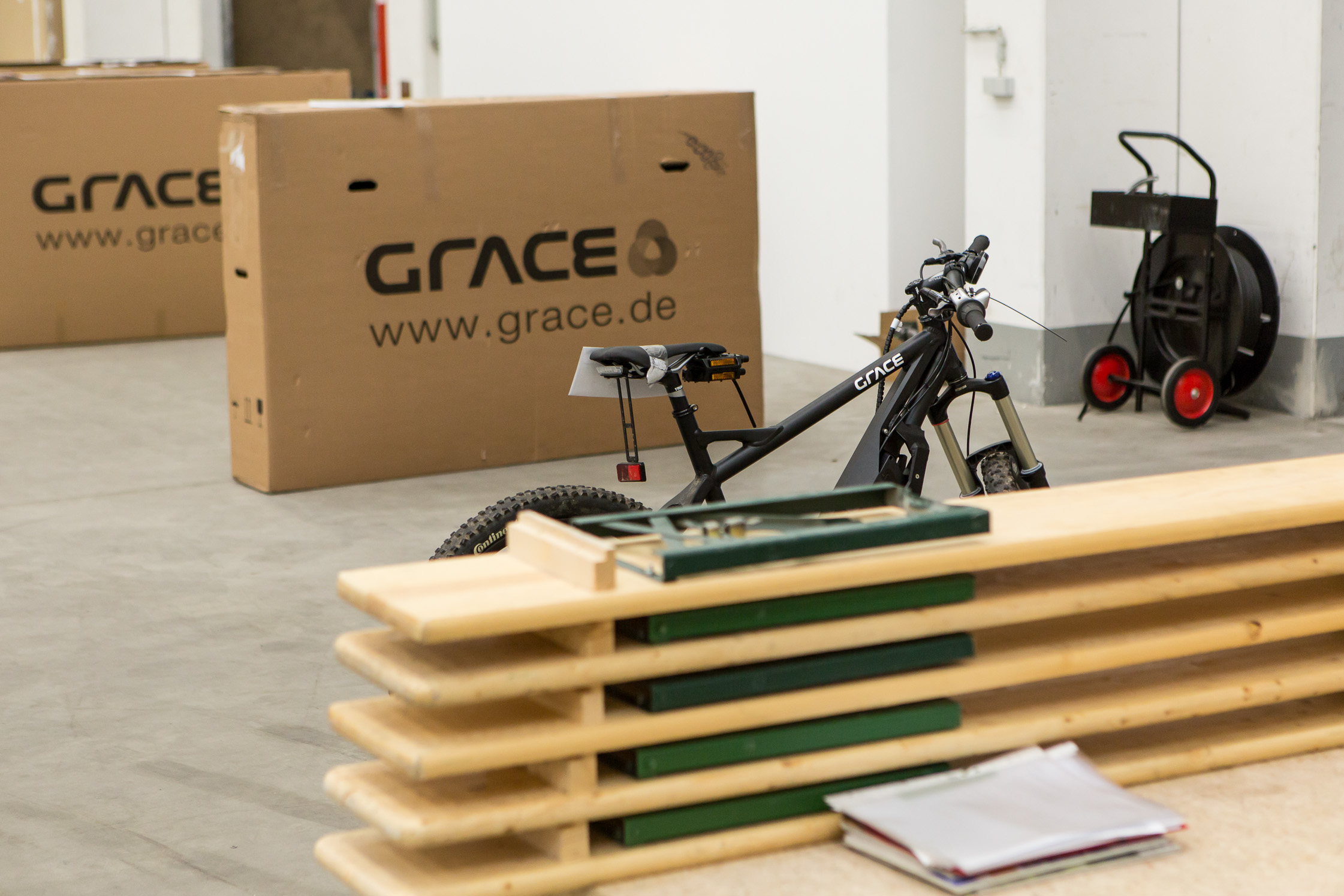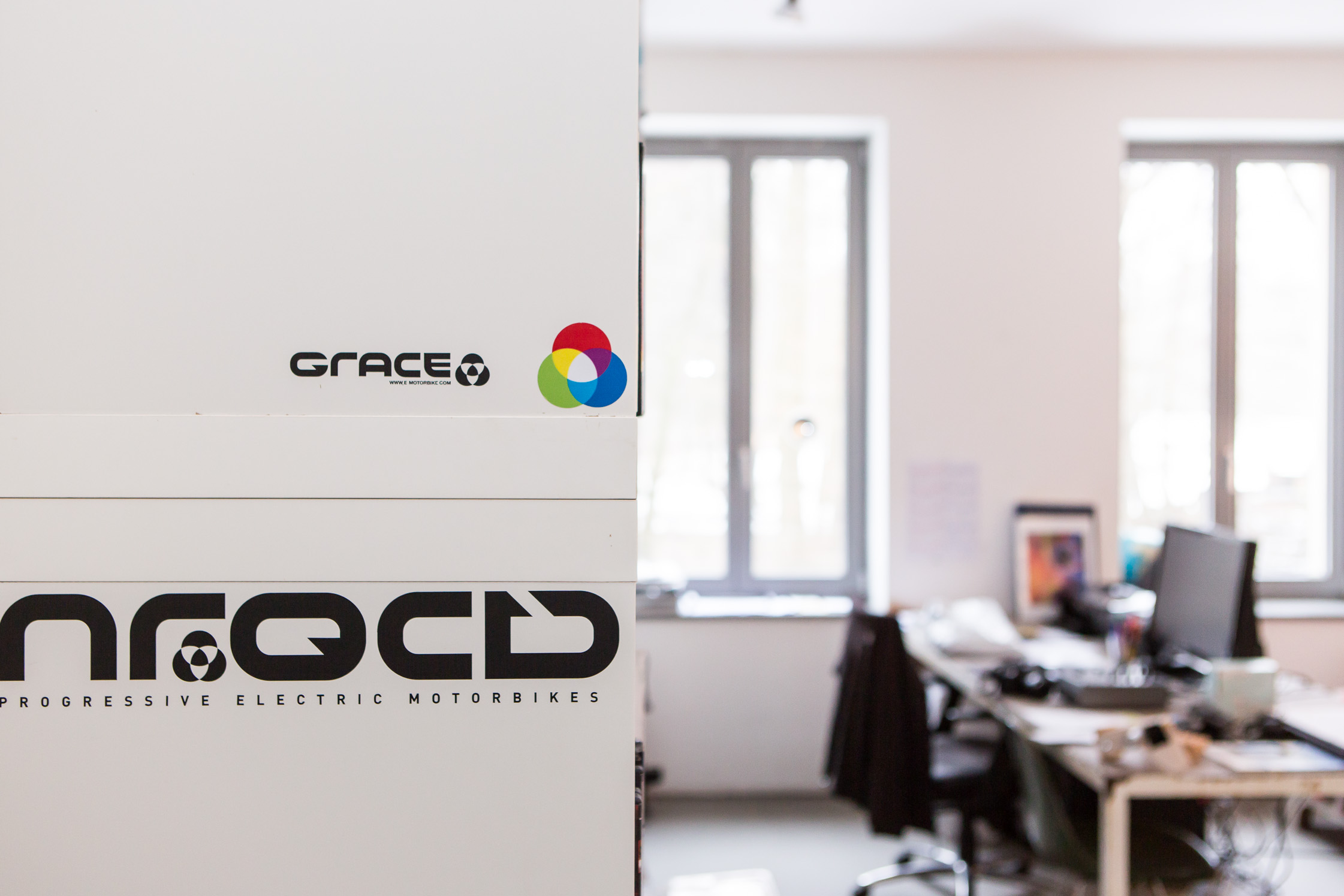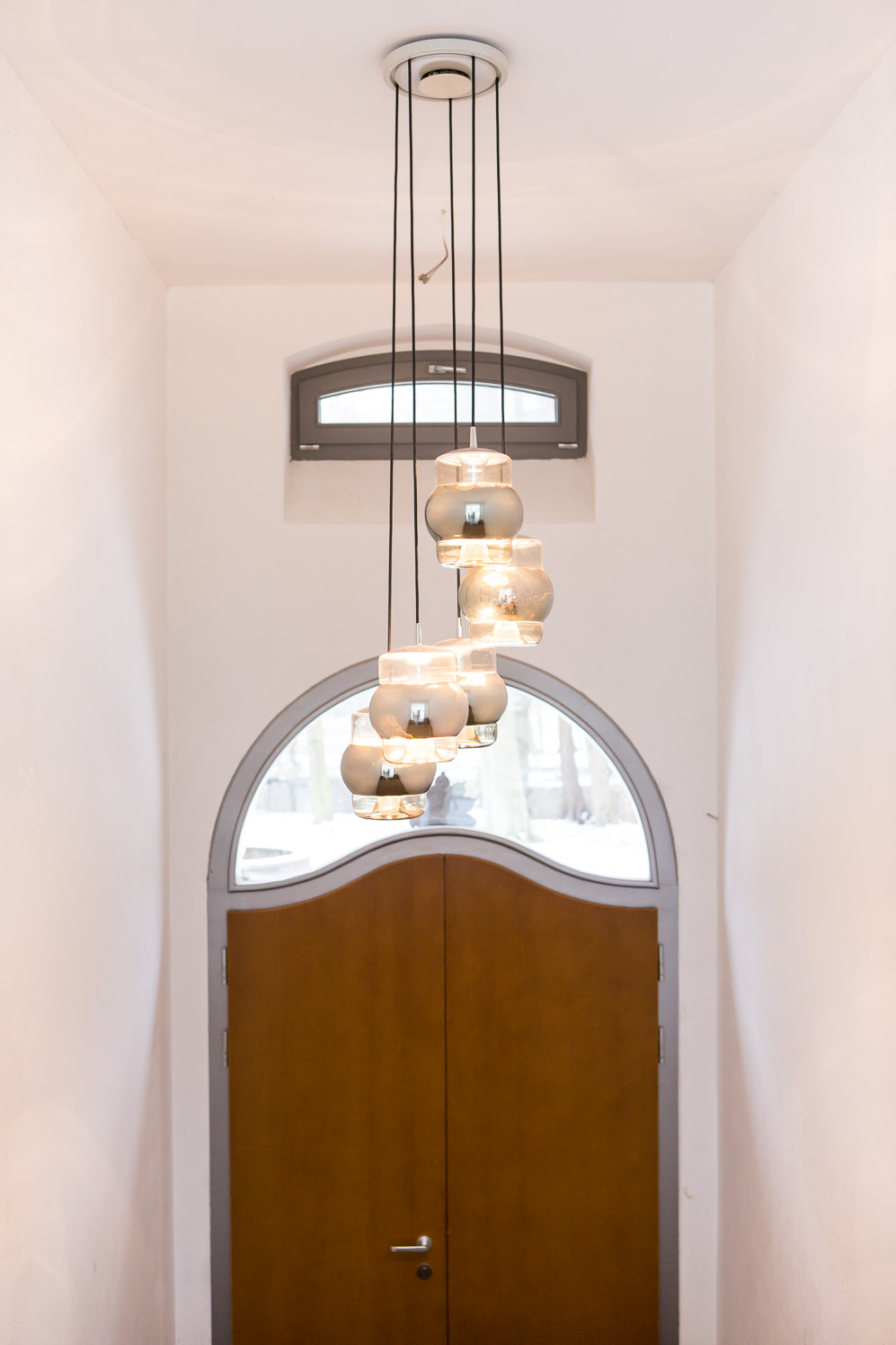 Where are you from? Tell me a bit about your childhood.
I'm from Oberwinter. That's a village close to Bonn. A lot of people from the German parliament live there. My neighbor was Hermann Scheer, winner of the Alternative Nobel Prize for renewable energy. Directly on the other side of the Rhein was Willy Brandt's house. Nobody's ever heard of Oberwinter, but it was a highly political village. Bonn had a very special atmosphere and it shaped me somehow. It was an extremely intellectual environment. There were other things than school that I found to be more interesting, like fixing up cars or building bikes. Youth culture and bikes were a part of my life pretty early on. Then I went on to attend the European Business School in London. With my grades, no German university would have accepted me.
But it looks like you made it anyway.
Yes. During university I delved right into the computer business. Classes started in the same year. By the time I was 26 and the company was incorporated, I had 70 employees and was fully immersed in the dot-com hype. I had 4,000 clients and everything was fine. And then the bubble burst. I was lucky, considering, but when everything stagnates and you're the idiot because you're in the internet business, well, at some point it was just broken. That's when the Internet died in Europe, I think.
So you left your London software company and moved to Berlin?
Essentially, I was sick of the software business. Period. It was over. But I left the company thinking, "Oh, why not move from London to Berlin. Not like there's any difference." At some point I realized, however, that Berlin is not just a London suburb. I was around 30 and maybe a little miffed by everything. I bought this house and started thinking more about ecological topics. Eventually, I founded the Inbalance GmbH. At some point I even considered building an airplane. I already had the blueprints and a full-scale wooden model I'd built in my shed with my friend Harald. But at some point I just thought, well, forget about it.
That's a bit insane.
Beyond insane. I also considered a type of remodeling process for e-cars, but that was too complicated and expensive. There was no market for it. And then I thought of e-bikes because I saw there was potential in terms of the capital market. It was important for me to know that my idea could be financed adequately. And I thought: If I can design it myself, I could do it. And so it was. Over the next three years, I worked as a marketing executive for a large Swiss software company and funneled my income into "Grace." I'd work during the day and at night I'd work on designing the bike, organizing photo shoots, and acquiring customers and it just went uphill from there.
"Grace" is obviously an incredible success story. What went right?
Well, I put on a real show with "Grace." It just took off incredibly quickly. But I wasn't just selling an idea. I was acquiring solid contracts, and at some point signed a large order with Daimler. Then I met Mifa – Mitteldeutsche Fahrradwerke AG – who acquired the entire "Grace" GmbH. Now I'm a shareholder at Mifa and get along very well with the board of directors. Maybe that's the way to go in Germany. You start a company, get in with a mid-sized business and start growing together from there.
Is there any advice you'd like to share with budding Berlin start-up entrepreneurs?
Be very aware about the financial possibilities. Most ideas are just out of scale in proportion to the financial opportunities available. You get €200,000 here, 20% there – but you need to know that pre-financing a product can easily cost a million euros. Go slow. It's better to start small, while trying to position the company in a way that it could be of interest to mid-sized businesses or even U.S. companies in the long run. All these app-developers, for example, should keep an eye on their value to companies like Google. Always keep in mind which companies could be interested three years down the road. And maybe the best idea is to settle with a strong mid-sized business early on. They are clueless about marketing. They have great products, know all about logistics, and have immense buying power, but for everything else, they need start-ups –that breath of fresh air coming from Berlin.
Are you optimistic about Berlin's start-up scene?
Well, I think many ideas fall short. Of course, some will survive, but I really hope they have the right network. The app-business is in the U.S., not here. Vehicles, on the other hand, we can do here in Europe. I think there'd be no "Grace" without Berlin. There are so many great examples of how to build a cool, globally positioned brand or product despite the difficulties. Like the Mykita gang, for example. They're just cool. Fact is: there's a whole different side to Germany. It's not just overly conservative and stuck in the 1980s. There's a whole new generation. Creative people don't move to Bottrop, Bonn, or Oberwinter. Berlin's the largest city in Germany, and if there's anything going on in Germany, it's here. Well, maybe a little in Munich and Hamburg. We can talk about Cologne. But the people who really have potential to move something have an international background, and they're here.
What's your take on the German mentality for innovation?
There are lots of people with ideas. But if the capital market was different, the people here would be different too. They wouldn't be in San Francisco. I don't even want to know how many Germans work for Google or Facebook in California. For me it's sad that in one of the richest nations on the planet, it is so difficult to get proper funding for innovation. In my opinion, the whole venture capital industry, especially government programmes, are not really connected to the reality of people who want to create something new. Real innovation like Google, Facebook, GoPro, Tesla etc. can not come from Germany. But it's not a question of a lack of innovative people – its the Germans, the rich. Everybody would rather spend 25 billion on new Autobahns every year that won't be needed in 40 years time from now. I know billionaires that own huge art collections, fuel consuming super yachts, shopping malls – all sorts of "hedonistic trash". What's the point of that, where is their social responsibility?
What seems to be the problem?
Charlie Chaplin once said that creativity is like walking down the beach. You pick up stones along the way; you look at them and think about what they can do. Then you put them down and move on to another stone. Then you suddenly realize that one stone back there will one day turn into this one; and that stone over there would work great with this one. It's always knowing which stone is where, and being able to combine them into a complex structure at the right moment. I think the German education system may be too specialized. I think too many people are pushed into very specific fields, which is great, but only for mid-sized businesses and manufacturing. Experts are valuable, but the "generalist" is dying out. We need people who can think broadly, who can juggle many things at once.
Does the German e-mobility market suffer from this problem?
No, not at all. In terms of e-mobility, Germany has really positioned itself well. I'm not worried about that. How are Americans supposed to gain the e-bike market? Their market is just too small. Germany's e-bike market sold 400,000 bikes last year. That's a lot. If you want to produce something like "Grace" you're in the right place. The specialists are in Germany.
What is your motivation in creating new ideas?
It's always a bigger adventure to do something rather than nothing. A lot of people feel a sense of entitlement. As if the world owes them something. I'm the last one to preach the old "You have to work hard to accomplish something" doctrine, but it frustrates me to see people who have the talent and financial means to really do something and don't. My question is always this: Should I do it or not? Well, which option is the biggest adventure?
What is your vision for "Grace" at the moment?
My vision is that, in a few years, the consumer won't be able to distinguish an e-bike from a normal bike. It'll be a question of paying €1,500 for an e-bike or €899 for a normal bike. But with "Grace" you'll get financing plans, insurance, warranties. Not unlike the cell phone business. We definitely have some ideas in the pipeline. Maybe we'll soon have a model as cool and designe-y as our "Grace Easy" model, but lighter and cheaper. Look, 80% of the market is about bikes that get you from A to B. Those six kilometers you need to drive to get to work. The Shimano boss used to say: "The first six kilometers are ours." I would say: "The first twenty kilometers are ours." You can just take it for a spin from Mitte to Charlottenburg. There's just no obstacle. Will everybody be driving an e-bike at some point, yes or no? Obviously, yes. It's just a question of when. We're living way beyond our means today. Now people look down at e-bikes, but some day, everyone who has one will be very happy they got it.
Tell me a bit about your house in Biesenthal.
I found this house and it was a complete mess. I'm by no means done renovating. It's been here for about 800 years. I found a list of all the previous owners at the town church. I look at this list and the 40-something guys who owned it before me and had an idea for it. At one point I said: Well, I do think I've changed this place. I redid the whole thing. And someone says: Michael, someone built this house. I'm just one of the caretakers here. It's funny that everyone's just passing through. I'm "allowed" to be here now.
Michael it has been great getting to know you and hear about your career path and ambitious and successful business venture. To find out more about Michael's e-bike view the link here.
This portrait is the second part of our partnership with Be Berlin/Berlin Partner, that introduces an individual selection of entrepreneurs and creatives from Berlin based industries.

Photography: Dan Zoubek
Interview & text: Jennifer Hofmann