To make a film-worthy entrance, all Dennis Pfisterer has to do is go for a spin—his black Land Rover looks like something out of an '80s action movie and catches the attention of more than just car fans.
You shouldn't jump to any conclusions about the man behind the wheel. The founder of Saint Elmo's Berlin branch is also a master of the finer details. On a daily basis, he exposes himself to new fields of knowledge, creating innovations by bridging otherwise unrelated areas. In this vein, he co-founded the concept store "Bazar Noir," fulfilling a life-long dream. The shop is one of many stops that we make with Dennis as he takes us on a tour of his daily life.
We first meet at his apartment in Kreuzberg, a three-story building in the style of an English townhouse. Bright white walls stand in stark contrast to the dark furniture, like the black-panelled fireplace, black kitchen cupboards, and black piano. Dennis chose the dominant tonal element to give the room more of a profile. "This is the opposite of the classic Scandinavian-white interior in the truest sense," he says. "Black makes things more dramatic and noticeable. Without the black element, there's nothing deeper, no mystery."
Another of Dennis's passions is his collection of art and design objects from all over the word. One of his favorite pieces is a carved antique wooden door from Morocco, a "found object" that he and his wife, Cathie, came across in Marrakech. Dennis proudly shows us the piece — doubtless over a hundred years old and in whose crevices you can still find traces of the desert.
This portrait is part of our series "Friends Of Cars" in collaboration with Spiegel Online. See the second part of the story on their website.
A trained graphic and media designer, the 36-year-old is not purely a visual thinker. He also has a weakness for the 3D side of creation: "I think spaciality is really exciting. Even though at first my path went in the direction of digital design, I often notice that the tactile, the real experiences are missing. That's why for me it's important to convert spaces myself, even though I'm not an interior designer. You just have to work with the right people."
For the last five years, Dennis has lived here in the apartment, a stone's throw away from Viktoriapark, with his French wife Cathie and their two children. Together with a few product designer friends, the pair worked to help the space take shape — aside from the kitchen and eye-catching chimney, they co-designed the weightless-looking staircase that connects the three floors of the apartment.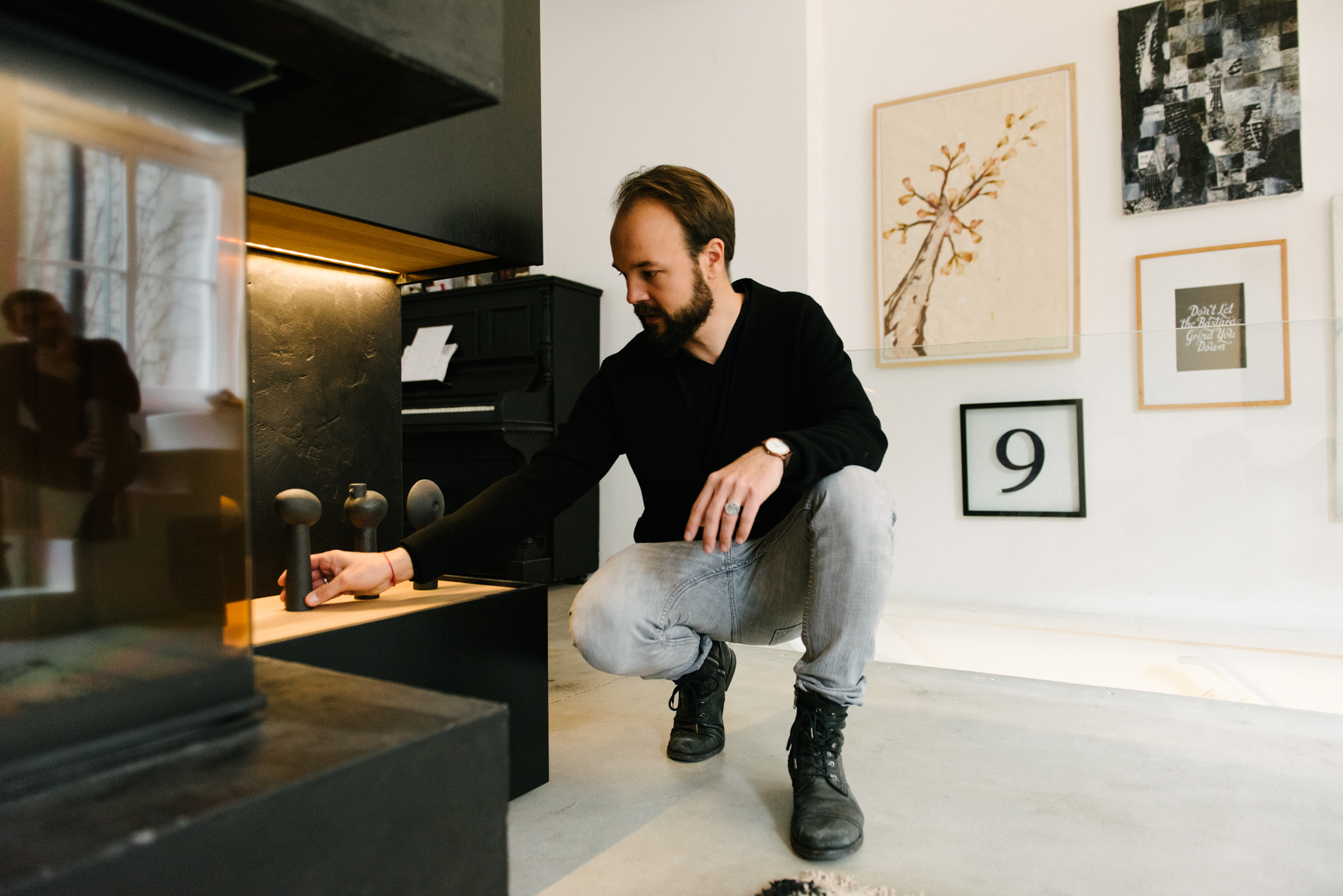 "No matter what you make, it's only ever exciting when you take it to another level."
"Nothing in this car works perfectly and there isn't really a practical use for it, but it does look awesome."
"We want to offer a mix of objects that you don't usually find in Berlin."
Our second stop of the day is to Dennis's passion project, Bazar Noir, an interior design concept store in Mehringdamm, Kreuzberg, within walking distance of his apartment. It's run by Cathie, and much like the couple's interior, is a trove of finely curated objects. Traditional oriental handicrafts meet creations from contemporary, cutting-edge design workshops. "We want to offer a mix of objects that you don't usually find in Berlin," explains Dennis. "We're all about exclusivity, the unusual, and objects that are a real treat because they have their own story to tell."
In fact, Bazar Noir almost seems like a gallery. From the get-go it's clear everything has been chosen with an eye both for fine details as well as the bigger picture. The interior lives up to its name: black dominates the space and accents the wooden feature staircase in the middle of the room, making it as eye-catching as the items on sale. Dennis and Cathie always select products together, whether they come across them on trips, through online research, or their own network.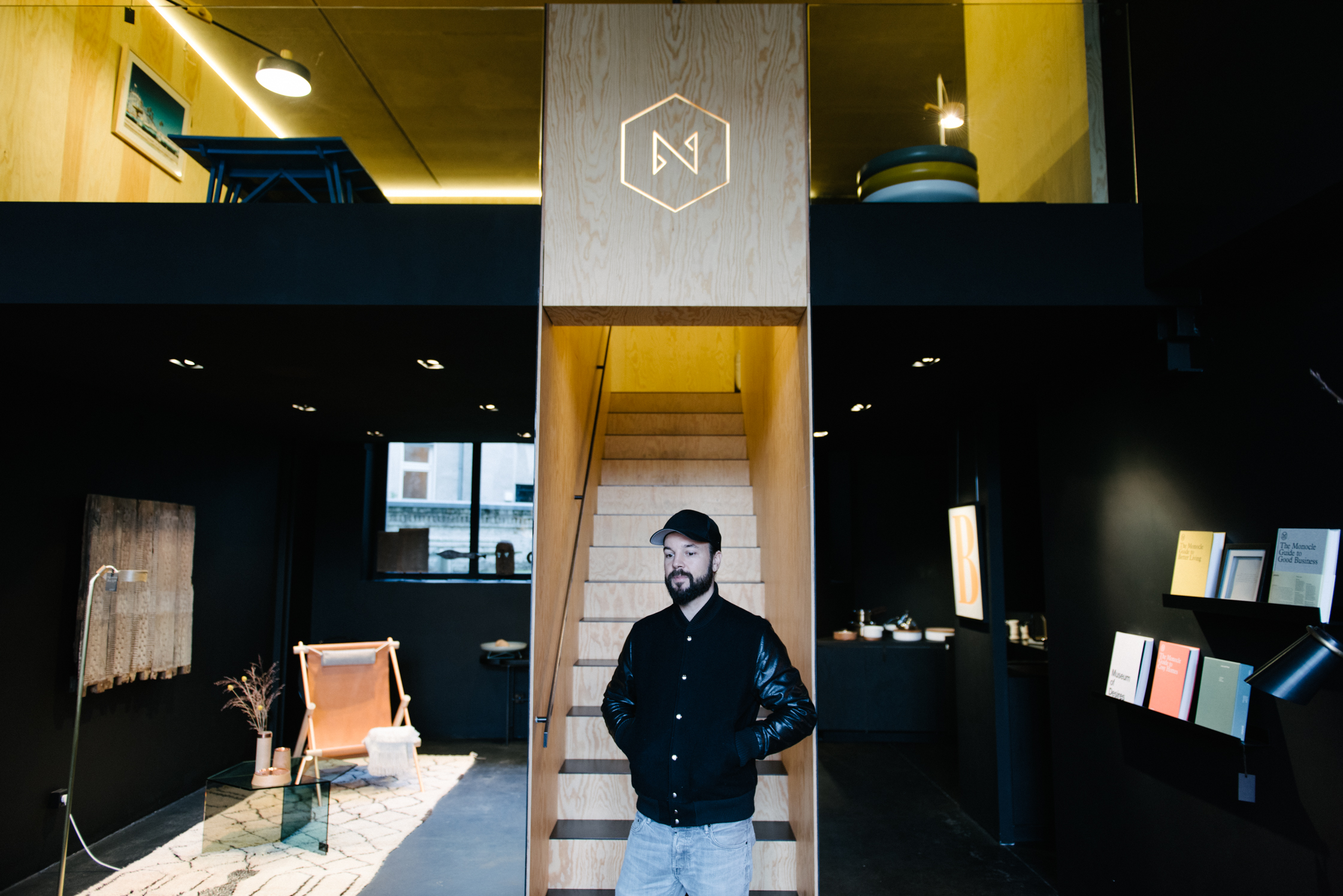 Dennis insists on chauffeuring us to his workplace in his brawny Land Rover. The car, emblazoned with the concept store's emblem, is a young boy's dream cast in metal. From the outside it looks almost military, shielding the gadgets inside from view, like the larger-than-life switchboard, where you can flick on a deafening horn among other functions. Dennis made these adjustments to the car four years ago, and to this day continues to enjoy fine-tuning his "redneck ride," as he calls it, winking. Perhaps less out of technical nerdiness than aesthetic grounds, he explains to us, smiling, "Nothing in this car works perfectly and there isn't really a practical use for it, but it does look awesome."
After a short pit-stop at Mariannenplatz in Kreuzberg, where we pick up the first delivery of the Bazar Noir fragrance, we head to the Berlin branch of Saint Elmo's in Mitte. Dennis founded the location just seven years ago with his business partner Ben Kögler. Following our short tour through the bright, friendly office rooms, he explains his new role as Chief Innovation Officer over coffee. The position was invented to put the agency's motto "Cross the Line" into action and explore how Saint Elmo's could work in a modern, interdisciplinary way in digital times. At the moment, Dennis's major project is the Trend Radar, a joint project with donation platform betterplace.org. The Trend Radar is an online portal founded as a digital and social innovation laboratory. Here, gripping issues are made into projects that bring about social change through digital media.
"I often notice that the tactile, the real experiences are missing."
"No matter what you make," says Dennis, as our conversation comes to an end, "it's only ever exciting when you take it to another level. I think that's the same for all creatives, whether you make clothes, write, or take photos." It's one of many moments throughout the day when it becomes clear that this is a man on a mission, one who sees everything he takes on to the very end. Yet, there is another quality that distinguishes him: his boyish excitement, paired with his iron-clad will to get things into gear. It's a combination that can't really go wrong.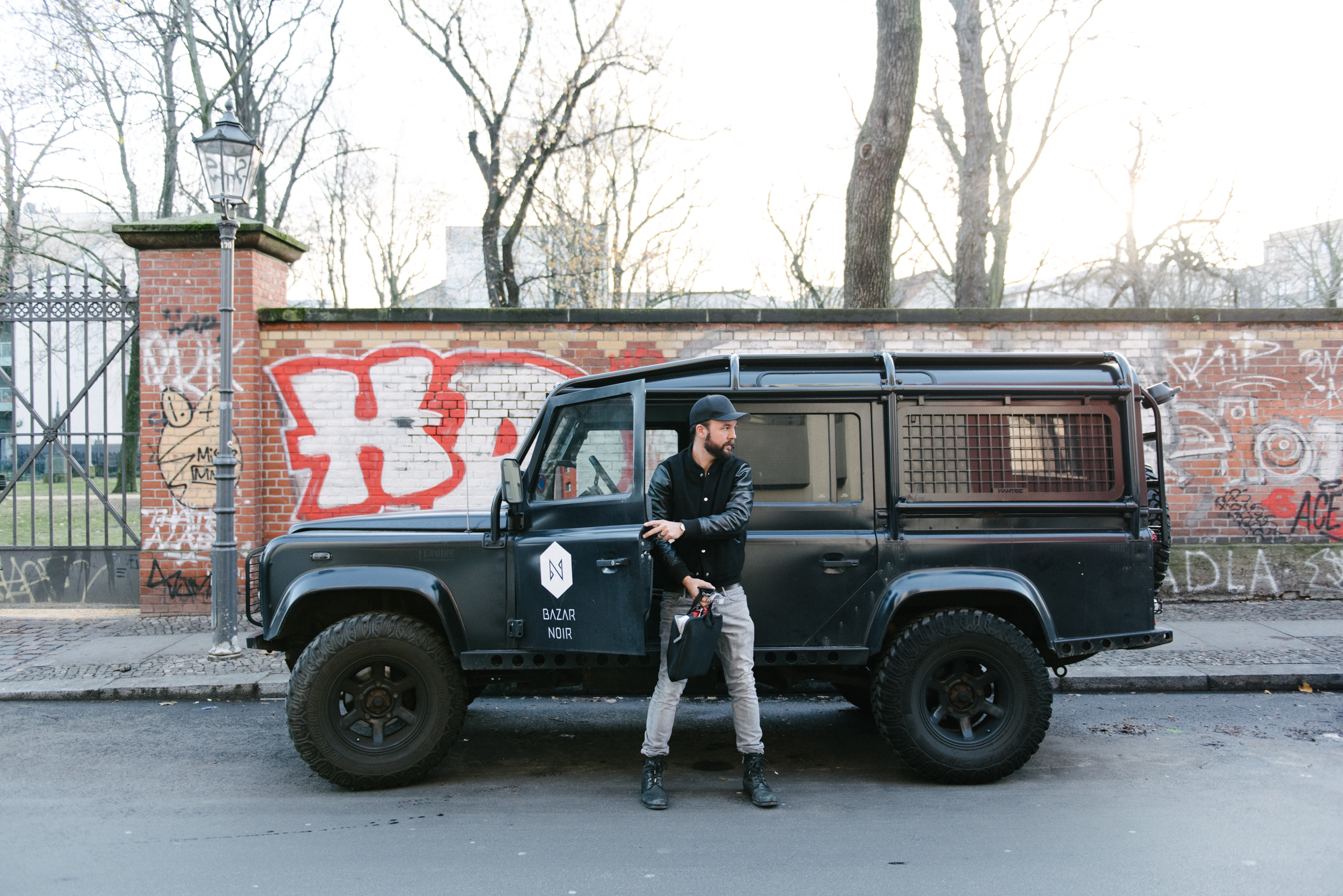 Thanks, Dennis, for taking us on a Berlin safari with the most memorable car in the city. Check out the work happening at Saint Elmo's, and also explore Bazar Noir for yourself online.
To check out all the creative endeavors that go on in FvF's home city, see our full scope of Berlin portraits.
Photos: Robert Rieger
Text: Hanno Stecher