A born and bred New Yorker, Aviva Rowley knows the city like the back of her hand. Growing up in Clinton Hill, then moving to Brooklyn Heights for her teenage years, she has since relocated to West Village, Manhattan. In her extremely cosy abode the walls are filled with curiosities and one cannot help but notice her collection of beetles, butterflies, and stuffed birds. Hand pinned, painted and framed her exquisite bugs that were once full of life represent two things for Aviva: finding beauty in ugliness and facing her fears.
With her mother a psychologist and father an artist, she was surrounded by medical books, encouraged to challenge her own perceptions, and explore her interest in Natural History from a young age. Today a quote from her father continues to resonate with her in everything she does: "truth is relative to the conditions of the human experience."
After graduating from art school Aviva continues to learn and grow and in addition to working in the world of sculpture she has now also turned her hand to floristry, seeing no separation between these creative pursuits. We get to know this vivacious collector and her special furry companion Ginger May Queenie while exploring her very own rooftop urban jungle, discussing the changes in New York over the years, and why she is the easiest person to find a present for.
This portrait is part of our ongoing collaboration with ZEIT Online who present a special curation of our pictures on their site.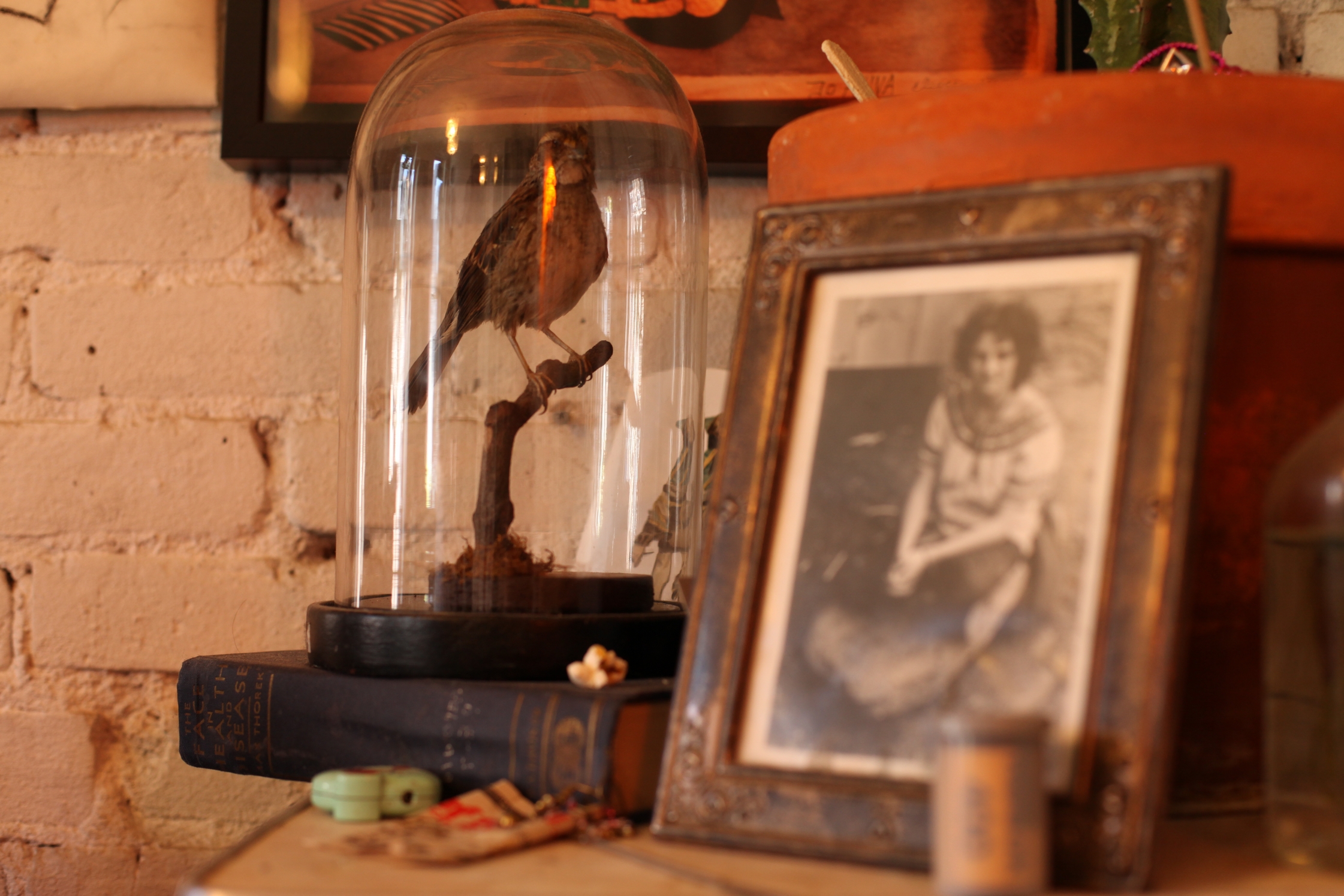 Aviva is it true that you were born and raised in New York?
I'm a born and bred New Yorker and I've never lived anywhere else. I don't know how to swim or drive.
Can you remember what you wanted to be when you were young?
I remember going to the Museum of Natural History as a child and deciding that I wanted to make the environments for all the animals. I still dream about doing that, but somehow I ended up a bit more on the taxidermy side of things. Maybe someday, I'm not completely grown up yet!
Have you always lived in a similar area in NYC?
I lived in Clinton Hill until I was five and someone shot a bullet through my window. I spent the rest of my childhood and teen years in Brooklyn Heights. My parents still live in the same house. It was built in 1832 and they renovated the entire thing themselves. I remember being five and helping paint the house. It also houses my mom's office – she is a psychologist with a private practice – my dad's art studio, a wood shop, and a darkroom that I built when I was in high school. Since I didn't leave New York for college, I decided to make the move to Manhattan.
How have you seen the city change over the years?
It has changed so much. In high school I used to hang out in the East Village a lot – by the time I went to college in the neighborhood, most of my old haunts were shut down. Even the West Village has changed since I moved in about five years ago. Some of my neighbors have lived in the building for 30+ years and we always complain about the changes with one another. Clinton Hill is now a really desirable neighborhood. For me it's actually sort of nice that my parents neighborhood has hardly changed at all in my lifetime.
How did you find your apartment?
I have lived in this apartment for about five years now. I rented next door for about a year before that. A man named Sam Greene lived in the apartment before me until he passed away. I love hearing all the stories about him, he was quite a character. Apparently one day he decided to paint the steps leading up to the roof in rainbow colors and almost gave the neighbors a super a heart attack. He and his brother – who lives in the building right next door – are also one of the main reasons that the roof garden exists today. The two buildings are part of the same COOP and connected by the roof. They used to meet on the roof and watch sports on this junky little TV. The TV is still up there, I think its sort of a shrine to Sam.
It is extremely cosy! How many square meters is it?
Ha, not many! I like the challenge of living in a small space – this apartment has been a constantly evolving project since I moved in.
I cannot help but notice the bath in your kitchen. Quite a unique layout, but you seem to make it work.
Thanks! Its an old tenement building and this is the original layout. There used to be one shared toilet per floor, but each apartment had it's very own bath. When we bought the apartment there was a crappy old cubicle shower in the kitchen – I found this claw foot tub in a junkyard in Harlem and it fit perfectly. My father built all of the surrounding cabinets by hand. It's certainly been a challenge, but I think we did a good job.
The rooftop garden surely more than makes up for any lack of space you might feel. What a wonderful treasure in the middle of West Village. Do you spend much time up here?
I'd like to spend more time up there. I planted quite a bit on the roof, but Jimmy, the amazing super of the building, does most of the work. He set up an automatic watering system for all the plants so I barely have to do anything, though I still manage to kill some plants here and there.
You have found a way to house an amazing collection of interesting objects. How did your fascination in insects begin?
I think that growing up in New York has instilled a great fear in me. We get freakishly large cockroaches (Periplaneta Americana). I remember we used to have an intercom system in our old house and whenever my mom saw a cockroach she would scream into the intercom and my dad would run out from his studio to kill it. I've always been irrationally terrified of insects and a few years ago I decided to get over my fear the only way I knew how – by getting close to it. I attempted to make something I found ugly into something beautiful. The more I work with insects the less I do to modify them, so I think my plan is working.
This butterfly collection is particularly impressive! Where did you source them from?
Whenever any of my friends find dead insects they save them for me. I had a boy send me a dung beetle (Scarabaeinae) all the way from Portland, Oregon. Another friend donated a bunch of stink bugs (Halyomorpha halys) from her college campus in Pennsylvania. I'm pretty easy to get a gift for, give me a moth and I'm happy! I get the more exotic insects from a wholesaler, but I always like the bugs that come with a story.
Some people may not be able to see past something that is dead. What do you see and why do you conserve and keep them?
My father has always been a huge inspiration to me. He is a painter and collector of medical books. I very much grew up with the macabre and he raised me to see beauty in the ugliness. That is why I started working with insects – I originally thought they were just horrible. The closer I get to them the more magnificent I think they are. As I mentioned before, my fascination with Natural History has also been a constant since I was very young.
Are there any very special items you could not live without?
Not that they're special, but if I didn't have contacts or glasses I am pretty sure I would be considered legally blind. Vision is very important to me… could I just say my eyeballs?
You are an artist but also work as a florist. Can you tell me a bit about your artistic practice?
I transitioned into the floral world while I was still studying Fine Art at Cooper Union. I began as an intern for Emily Thompson who is an amazing artist and sculptor turned florist – so there was never much separation between sculpture and flower arranging. For me they are just different materials. I didn't know jack about flowers when I started working for her! I think that so much of my life is based on surrounding myself with beauty – why should my job be any different?
What are you working on at the moment?
I have been making environments with gilded insects in bell jars. Maybe I'm getting a step closer to working at The Museum of Natural History.
Who are some of your favorite artists?
My father Mark Rowley. My namesake Rachel Ruysch (middle name), who painted flowers teeming with insects. I have to admit I have sort of fallen out of the contemporary art world since graduating from Cooper.
You have a very cute furry companion, what is her name and how long have you had her?
Ginger May Queenie! I've had her since she was a kitten. I think she's six now. I adopted her from Sean Casey Animal rescue and it was love at first sight. She's kind of like a dog. She follows me everywhere and is always trying to "help" me with my work by sitting on things.
What do you love about your neighborhood?
I love the beauty of it. I love the old buildings. I love the characters.
Do you have any favorite local places to get a drink and bite to eat?
Unfortunately the West Village is a very expensive place to go out. I tend to stick to happy hour in the village. Lately I've been going to Louro a lot. It's right next door to me and they have amazing dollar oysters at happy hour. I must have eaten thousands of oysters this summer. My favorite restaurant maybe in all of New York is just down the block from me, it's called Cafe ASEAN and it's incredible.
Besides that I tend to eat in the East Village and Chinatown – Xi'an Famous foods, B&H Dairy fed me all throughout college, my new favorite Vietnamese restaurant is called New Tu Do in Chinatown, I can't get enough!
Favorite travel destination?
I love to travel, I try to get to Paris every year with my mom. I adore Berlin and could actually see myself living there. I also really want to get to Japan.
Best advice someone has given you?
The only person you can change is yourself.
What is the perfect Sunday for you?
A long morning in bed, walking to Chinatown for lunch and then walking over the bridge to get drinks at Lucky Dog in Williamsburg or grilling in a backyard somewhere with friends.
Aviva, thank you so much for showing us around your own personal universe. To find out more about Aviva visit her website here.
Photography: Marco Annunziata
Interview & Text: Rachael Watts