In a time when mobility and efficiency are at the forefront of our thoughts, Bullenberg's solid furniture acts like a manifesto. The Berlin label crafts handmade German oak tables that seem to defy today's light products and fast lifestyles.
The tables—which take the names of local streets, such as "Skalitzer", "August", and "Bernauer"—are custom-built by Albrecht von Alvensleben and Max Pauen. We met the duo for coffee and conversation, over the ARX table in Max's Torstraße flat, before travelling to the place where Bullenberg first took root: the forests of Sachsen Anhalt. Here, upon a tawny mat of fall leaves, we witnessed a forest operation that has been part of Albrecht's family for generations.
Less Is More: Perfecting The Table
A discussion at Max's flat on Torstraße
We're sitting at the ARX table which is your first and, up until now, only product. Why a table?

Albrecht: The table is a really central piece of furniture that so much of our everyday lives takes place on. Just like now: we want to have a chat and we sit directly at the table. Often it's difficult to find the furniture that best suits a room.

Max: This problem was basically our impetus. A friend was searching for a solid desktop but just couldn't find any with the right measurements. Albrecht's family has a forestry business, so we got hold of the oak wood there. At first it was just a table top on trestles.
"The nice thing about furniture is that it's so specific, and not as conceptual as architecture." – Max
You are both actually architects.

Max: Yeah that's right. We met whilst studying architecture in Vienna. Looking back, a nice, large table was always missing from our flat. We built something out of some spare pieces of wood, but never had what we really wanted.

At some point, Albrecht left for New York and I carried on in Vienna; we met again in Berlin. At first we worked here in varying architectural practices but it soon became clear to us that we wanted to do something ourselves. Becoming an independent young architect happens to not be so simple!

Albrecht: Also, the aspect of craftsmanship had always played a crucial role for both of us in architecture. Every now and then we built furniture whilst studying. The nice thing about furniture is that it's so specific, and not as conceptual as architecture.

Are you basing your decision to initially have only one product on the idea that "less is more"?

Max: Focusing on one product allows us to much more keenly hone in on the details. This here, in the kitchen, is an example of a very early table, which we don't like so much anymore as there are things that you rarely see straight away. Often tiny aspects, like minimal angles, account for the suitable proportions of an object. That's why we spend months adjusting the details. Generally, this table is a product that you have to provide intensive support to. Also because we only produce on request and dispense completely from standardized processes.
Why do you think we attach increasing importance to custom-made products and brands with personal stories?

Max: I think it's because everything else would be so replaceable. We like to decide on a product for reasons beyond the pragmatic. Furniture is no different in this sense to food: it can be for ethical reasons but at the same time emotional ones.
Max and Albrecht tune their tables—they say if the ARX was a car, it would probably be a boxy Volvo estate. They suggest that before leaving for Sachsen Anhalt, we should visit "Classic Remise": Berlin's self-proclaimed competence centre for old car bodies. As we travel from Mitte to Moabit, Albrecht suggests a quick detour. We stop in the courtyard of an impressive ensemble of red brick buildings: the old Prussian barracks. The architectural partners Sauerbruch Hutton have their office in the former department of army tailors, and it's where Albrecht worked when he first started Bullenberg. With Sauerbrauch Hutton, he developed his own wood construction, and thereby worked intensively with the material. As we park the car, he explains that looking back it was another impetus.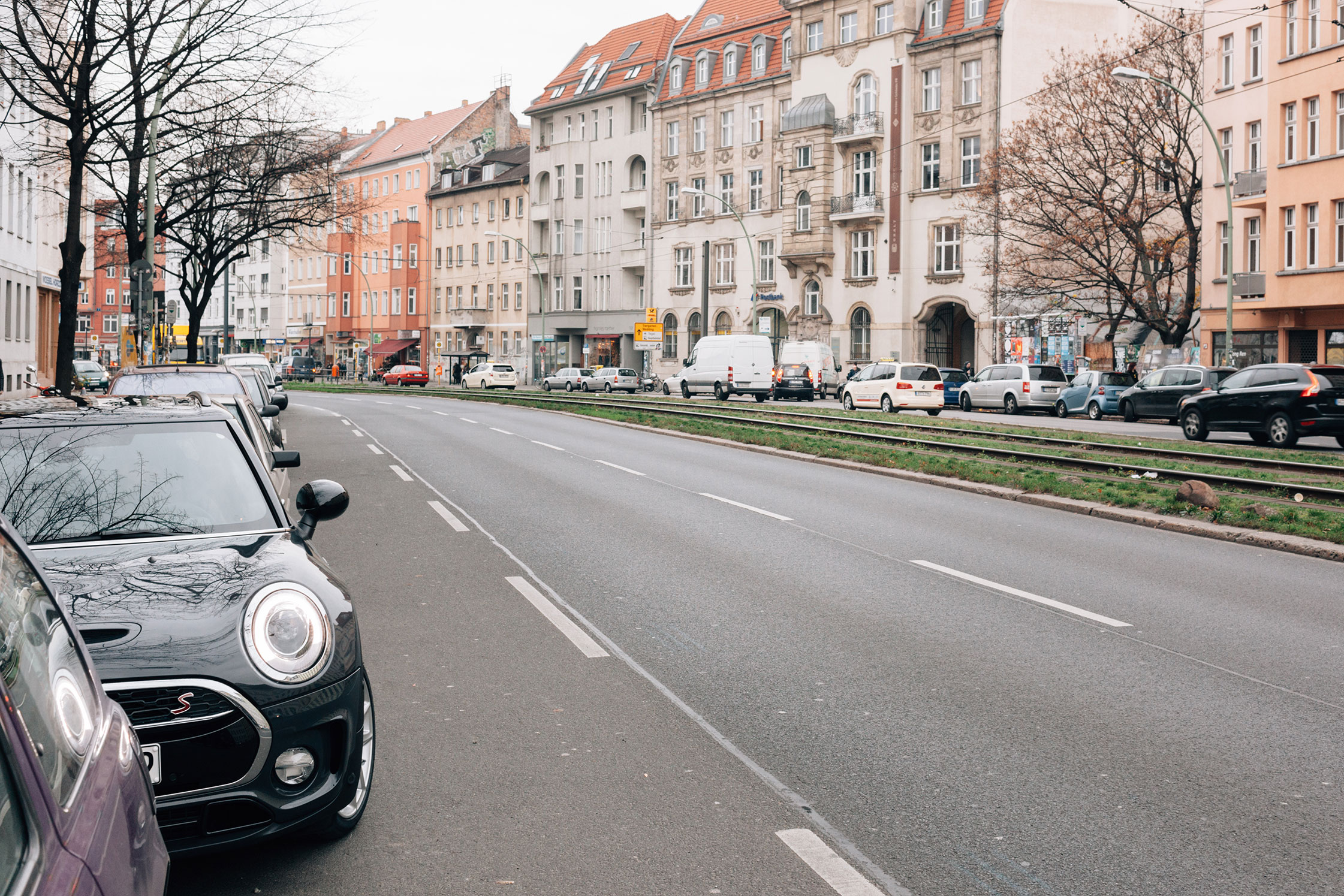 Travelling With Bullenberg – From Tree To Table
Classic Cars In A Restored Tram Depot
Why are vintage cars exciting from a design perspective?
What's interesting about old cars? Where's the connection to Bullenberg?

Max: From a design perspective, classic cars are incredibly exciting. On one hand, because car's proportions generally transfer well onto other products, and on the other hand, because of the high quality materials and craftsmanship involved. Apart from that, what is shown so wonderfully here is how each time period brings its own style.

Albrecht: With cars, we concentrate closely on the material, and the mixing of materials; explicitly, on the interior's fittings, paneling, and veneers. Back then they were still made of fine oak.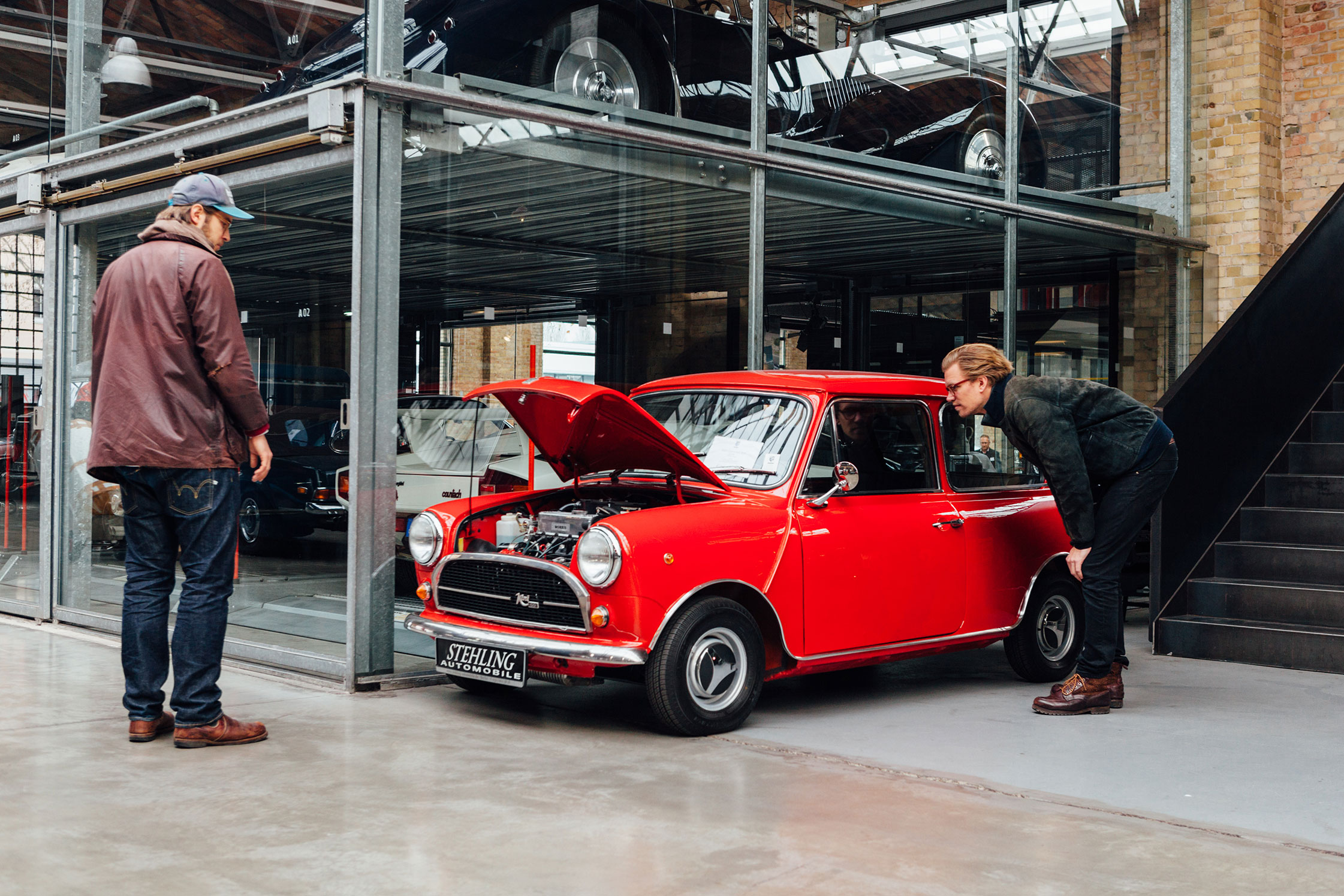 Apart from cars and furniture, what does a "classic" mean to you?

Max: It can of course be a film or art… but mostly they're objects; often quite inconspicuous things that inspire us and become personal icons.
Inconspicuous things like the distinctive construction detail on a motorway bridge, which they both drive by monthly on multiple occasions, on the way to the forest and their manufacturing facilities. We set off on the same journey, leaving the aforementioned metal constructions behind. After a quick stop—on the hard shoulder of the A2-Elbbrücke—we head on through Sachsen Anhalt, the self-proclaimed "Land of Early Risers". Albrecht says that in the carpentry shop that Bullenberg works with, they finish work early; so best to go directly there, and then on to the forest afterwards.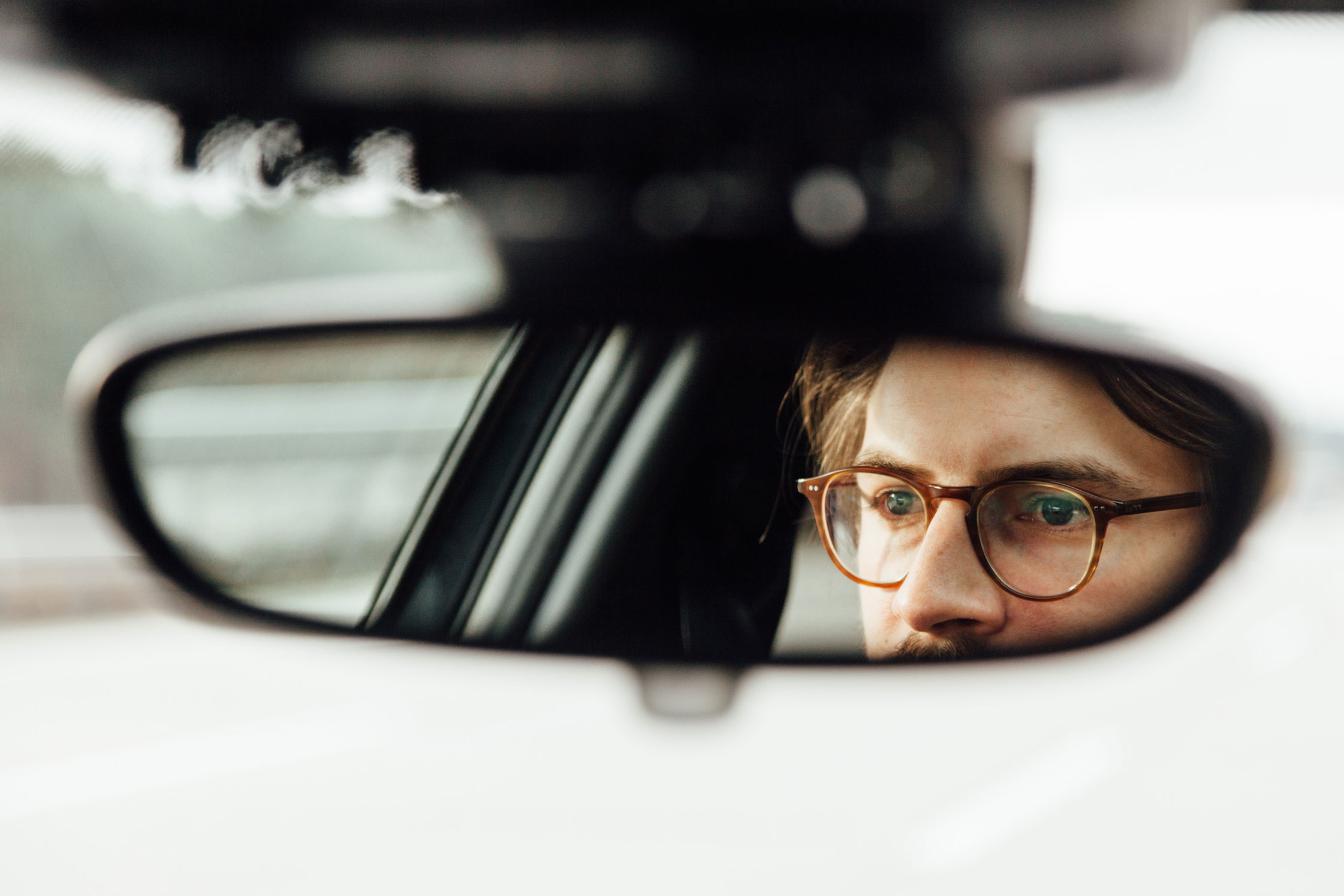 A Family-Run Carpentry Workshop In Haldensleben
The importance of the material and its origin
What does it mean to you to work here in Haldensleben, within reach of the very forest from which your wood originates?

Max: In terms of our approach, it's actually just really consistent. We searched for a carpentry shop in the area right from the beginning, but finding the right one wasn't so easy.

Albrecht: We visited lots of different companies, but many were skeptical at first. Maybe that had something to do with the area or even with the carpenters. These guys turn up from Berlin and want something. With some, the communication didn't work at all because they had no email. A carpenter could have the best technique in the world, but if he can't email then we can't work with him. In the end we found a family company in Haldensleben. They were completely open to our idea, although their wood workshop actually specialized in interior fittings such as doors, windows or stairs.

From an architectural point of view, does wood have a special meaning for you?

Max: Absolutely. Wood is ever-present in architecture, but often as an industrially prefabricated composite. It's difficult to define with standardized units or qualities. For example, there's no DIN standard for wood. Of course window frames and parquet are still made from wood, but it's rarely the case in architecture to make something purely from the substance—like we do with our tables.

Albrecht: Especially with such a solid strength. We deliberately opted for oak for two reasons: it has particularly beautiful colors and textures, and it's an exceptionally hard, heavy wood. People move around so often today that they don't want to own any large, heavy furniture.

There's a photo on your website with you both sitting on the ARX model "Fehrbelliner" with a yellow pattern, in wellington boots, hats, and lumberjack shirts on a freshly mowed lawn. How do you see yourselves or your image as entrepreneurs?

Max: Well it all sounds a bit cliché: producing locally, going out into the countryside, the family's forest….We're 100% not these guys running around the forest with hats on; our urban environment is very different. Bullenberg is somehow a mixture of both, but if you want to sell tables there has to be an accompanying story. We don't want to take ourselves too seriously.

Albrecht: We took that picture with a self-timer and put the table legs in cups so they wouldn't get dirty. The table actually had to be sent out for delivery on the same day. If it's in the Berlin area, or somewhere on the way, we often deliver it ourselves.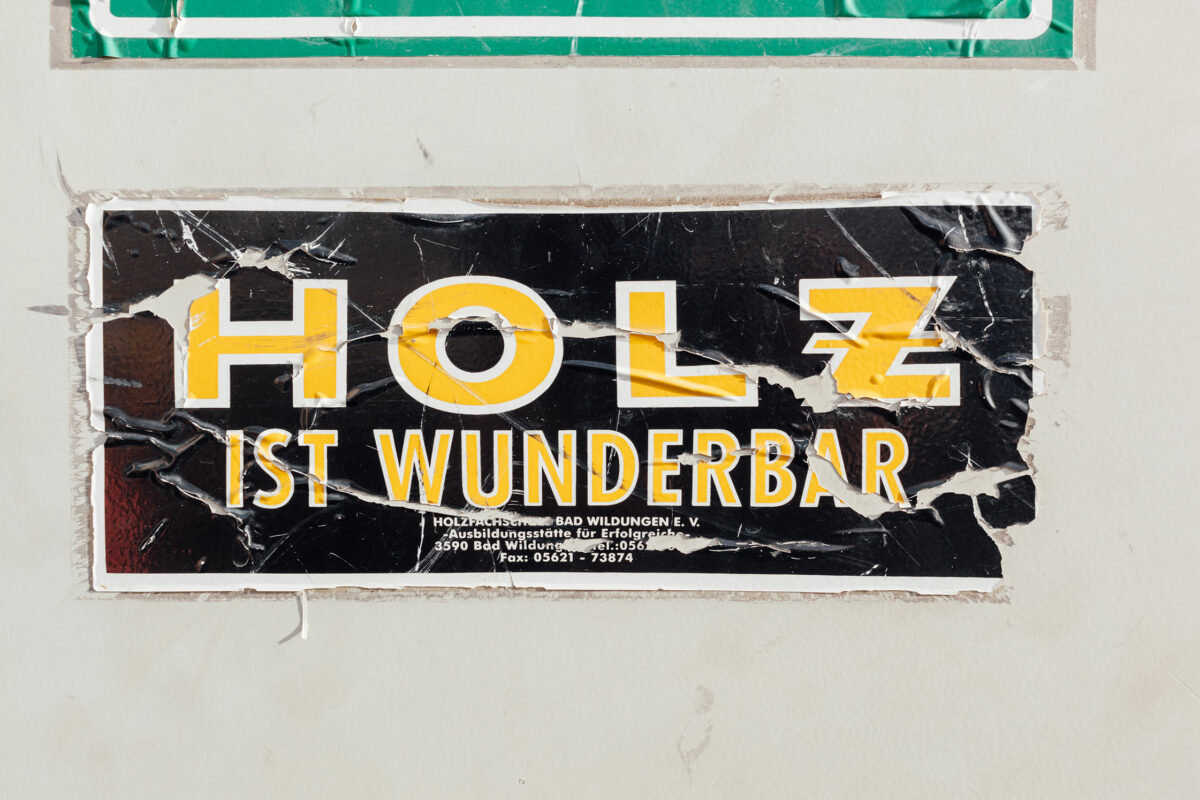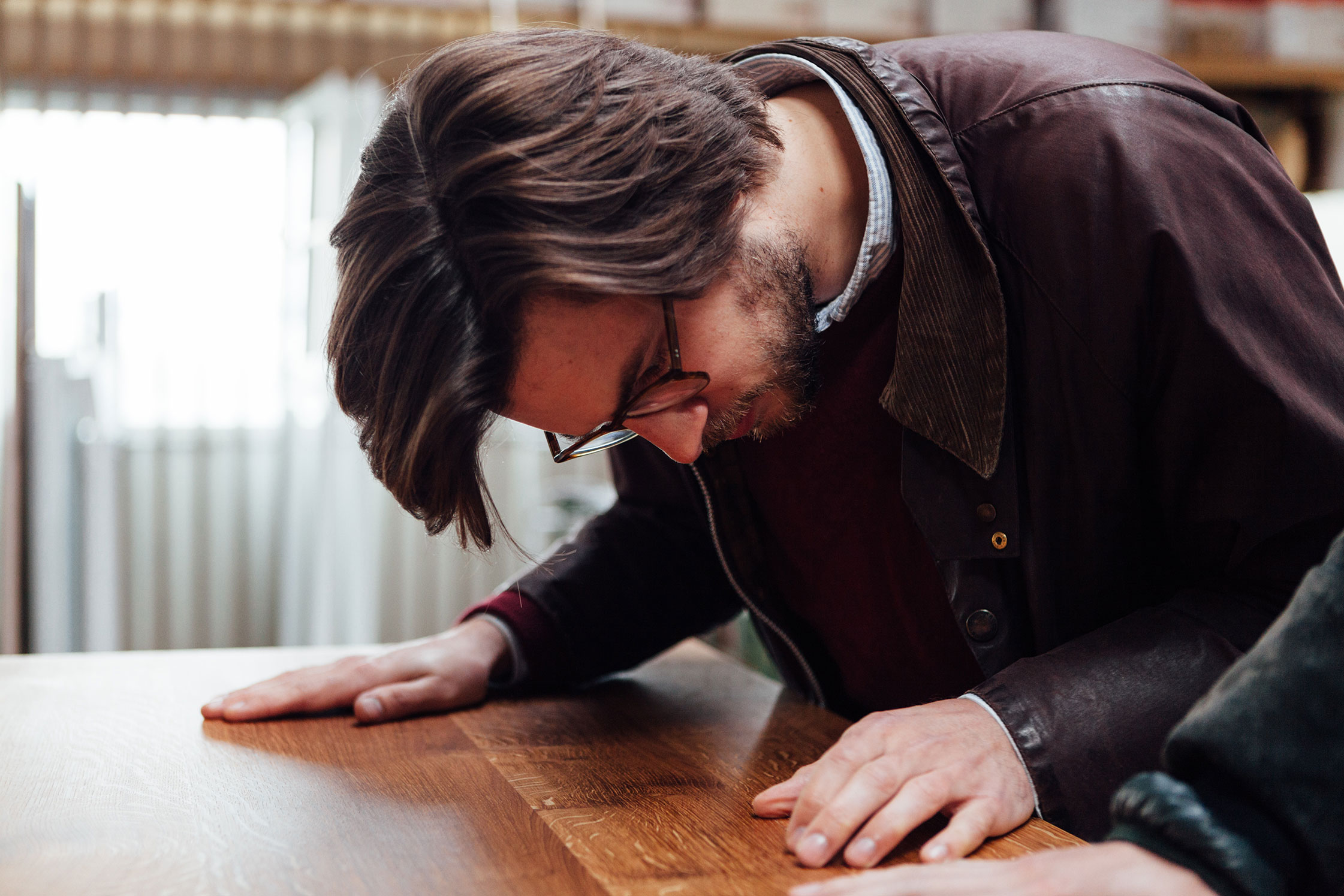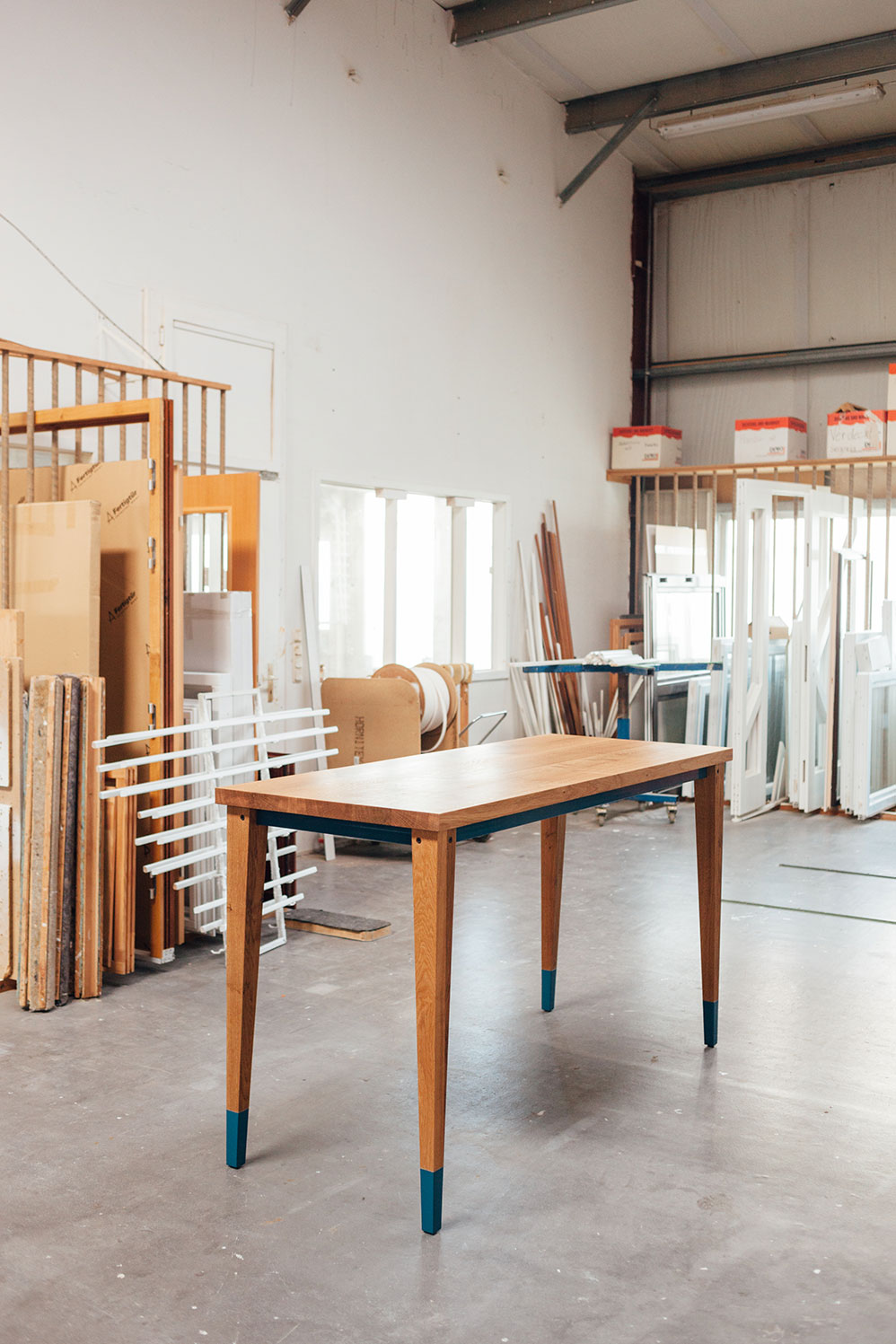 "You could say that we have transformed the traditional table to a form that works for us both personally and for our time." – Max
Does Bullenberg consciously counteract this trend?

Max: I think such a table actually symbolizes a piece of home that you can take to a new apartment. The table top is very heavy but you can remove the legs. In this respect it's a fairly robust personal space which moves with you time and time again.
Inspired by classic automobiles, named after Berlin streets, and made in a traditional way from ancient trees—it's a combination that gives Bullenberg's tables a certain "On the Road" romance with the German oak forest. The forest from which Max and Albrecht source their wood, has an area of approximately 1,000 hectares, and has been part of Albrecht's family for centuries. During World War II they were expropriated from the Alvenslebens, but after the fall of the wall they bought back the forest piece by piece. Today, not only does Albrecht's uncle, who is a trained forester, work here, he also produces floorboards and parquet in his own sawmill on site. With his help, Max and Albrecht strip their wood themselves and choose the best boards for Bullenberg, before taking them to the carpentry shop to be planed.
A Forest With A Personal Story
Visting the Alvensleben family forest and sawmill
Having spoken about your connection to wood, what is the significance of this forest for the Bullenberg brand, its products, and also for you personally?

Albrecht: In a sense I grew up with the trees here. In the '90s, when I was about ten, I often headed here with my dad to plant new trees. Now they're five meters tall; so still some time before they can be cut down. But through that I certainly developed a feeling from early on for the importance of the material. It's also really nice to know that the furniture that we make is made from material that's grown; from a material that you have to care for.
"It's also really nice to know that the furniture that we make is made from material that's grown; from a material that you have to care for." – Albrecht
Does Bullenberg make tables out of happy trees?

Albrecht: Although forested areas are now shrinking due to planning measures, the German forest is still generally doing relatively well. There are strict rules in forestry, and before we began Bullenberg we did a silviculturist course. For each tree that's cut down, at least 100 new ones must be planted. Trees do best in a mixed forest like this.

You named your brand after the "Bullenberg", a hill that's found on this site…

Max: We definitely wanted a name that had a direct connection but we didn't want to use our family names. So we took a look at the forest's historical map and, among others, found Bullenberg.

Albrecht: Also, there's an especially beautiful oak on this hill, but the area is quite inaccessible.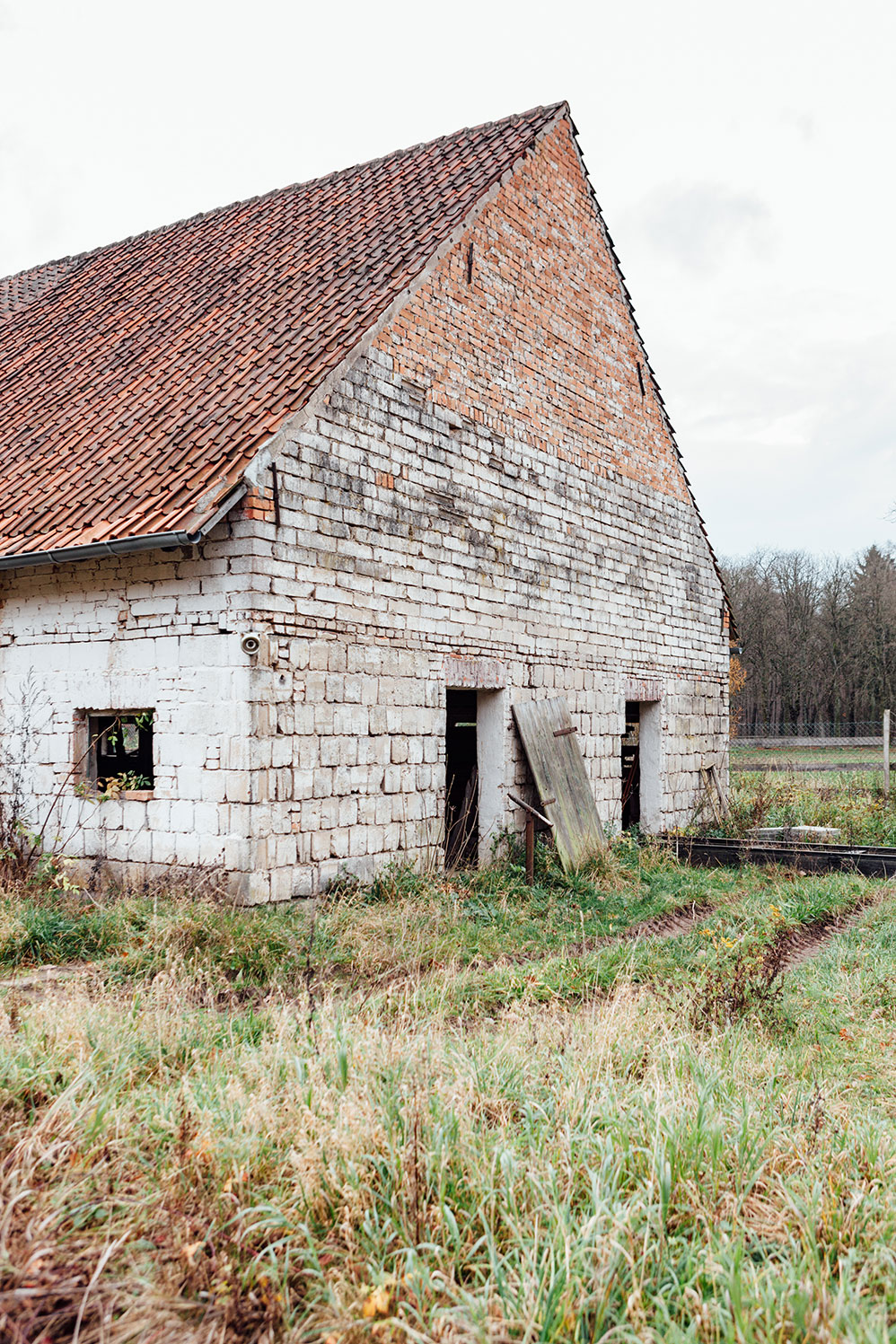 We head out of the countryside and back towards Berlin. Endless fields and industrial areas pass us by. Later en route, Grunewald wraps itself around the Berlin Ring; Berlin also has an abundance of trees, it's just that city dwellers don't notice them as much.
We take the Schöneberg exit and find ourselves at Joseph Roth Diele, again surrounded by rustic furniture—a rarity today.
Merging Tradition With Originality
Joseph Roth Diele restaurant on Potsdamer Strasse
Albrecht: We know that he was a Viennese author and that he comes from the town where we met. Although we come here for schnitzel or cheese spaetzel, and because it's a place prone towards originality and tradition—which barely exists at all in Mitte anymore.

How do you find the balance between zeitgeist and tradition for Bullenberg's tables?

Max: Basically for us it makes no sense to consider the two as separate. From the outset we've only thought about what such a table should accomplish. The ARX should never become a design object that stands out for its shape or for its functionality. It's about maximizing the originality of the product—which is probably tradition. The modern aspect naturally comes from our taste. You could say that we have transformed the traditional table to a form that works for us both personally and for our time.
Thank you
This portrait is part of our Guided and Curated series produced in collaboration with MINI Germany. Selected individuals give us insight into their cities through guides tailored to their area of expertise. Get to know the new MINI Clubman that Albrecht and Max drove around Berlin.
Dive into our archive for more Berlin portraits.
Thank you to Albrecht and Max, who have all four feet on the ground like their solid oak tables. It was a fantastic trip. Find out more about Albrecht and Max's projects on Bullenberg's website.
Interview & Text: Anna Sinofzik
Photography: Bene + Leif