Born and raised in Tokyo, Ai left her hometown in 1998 and moved to New York to study graphic design at the Fashion Institute of Technology. Living the student life to its fullest degree, Ai was not only tingeling from one exhibiton to the next but also interned for a number of agencies, magazines and design studios. Her strategy paid off eventually. Back in Tokyo she quickly found her way working as a freelance art director, illustrator and graphic designer. We met Ai in her new home in Gakugeidaigaku, a residential neighbourhood west of Shibuya were she just moved with her boyfriend. Gakugeidaigaku is where Tokyo reveals its true spirit through a jumble of small streets filled with corner shops. Here you will find old-school Japanese fish shops selling the freshest maguro sashimi next to sophisticated boulangeries and organic clothing shops. On a sunny weekend the streets are crowded with young couples heading to the nearby Himonya Park to enjoy the first sakura blossoming. We followed the example, wrapped a bag with some delicacies and spent a perfectly calm Sunday in spring.
This portrait is part of our ongoing collaboration with ZEIT Online who presents a special curation of our pictures on Zeit Magazin Online.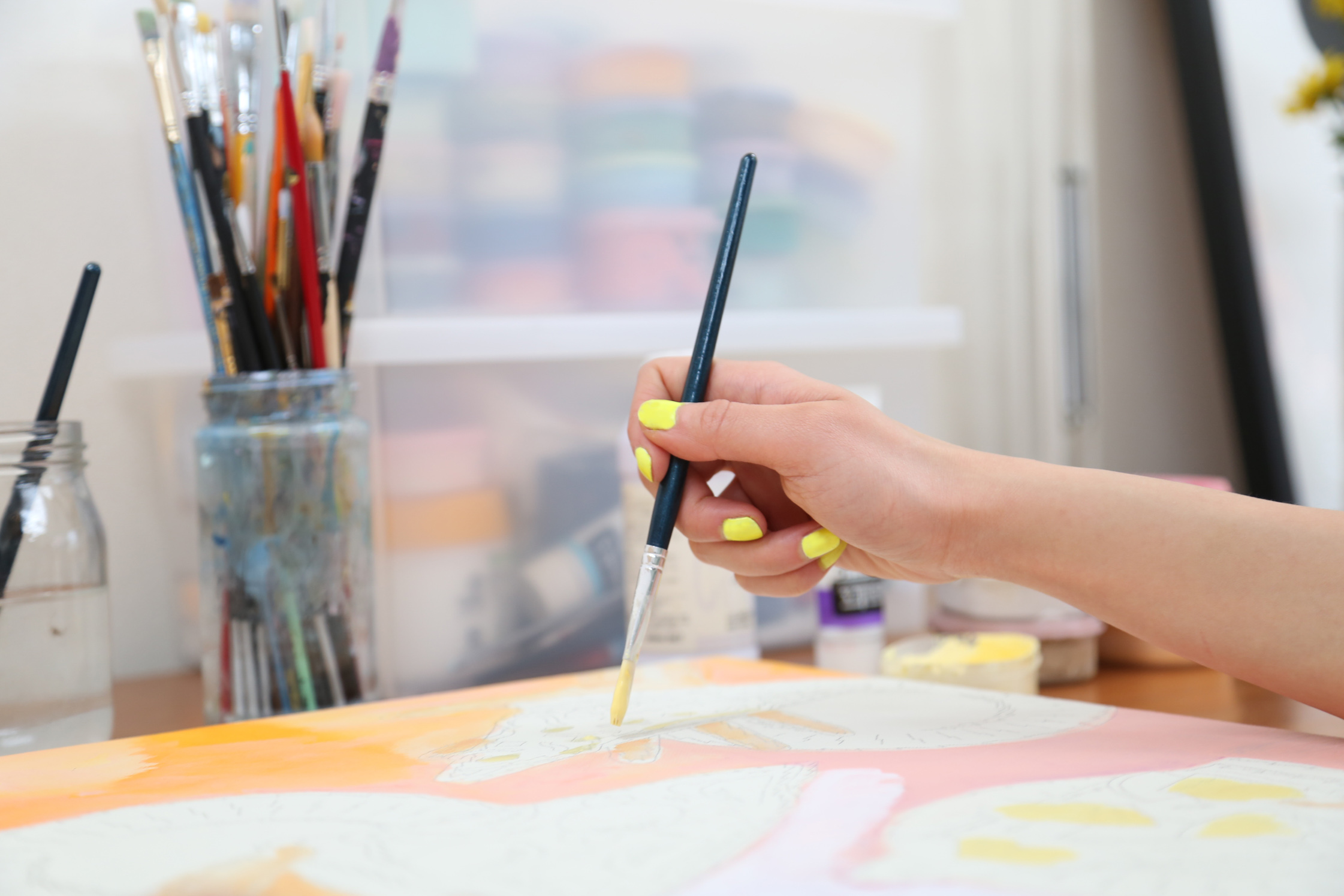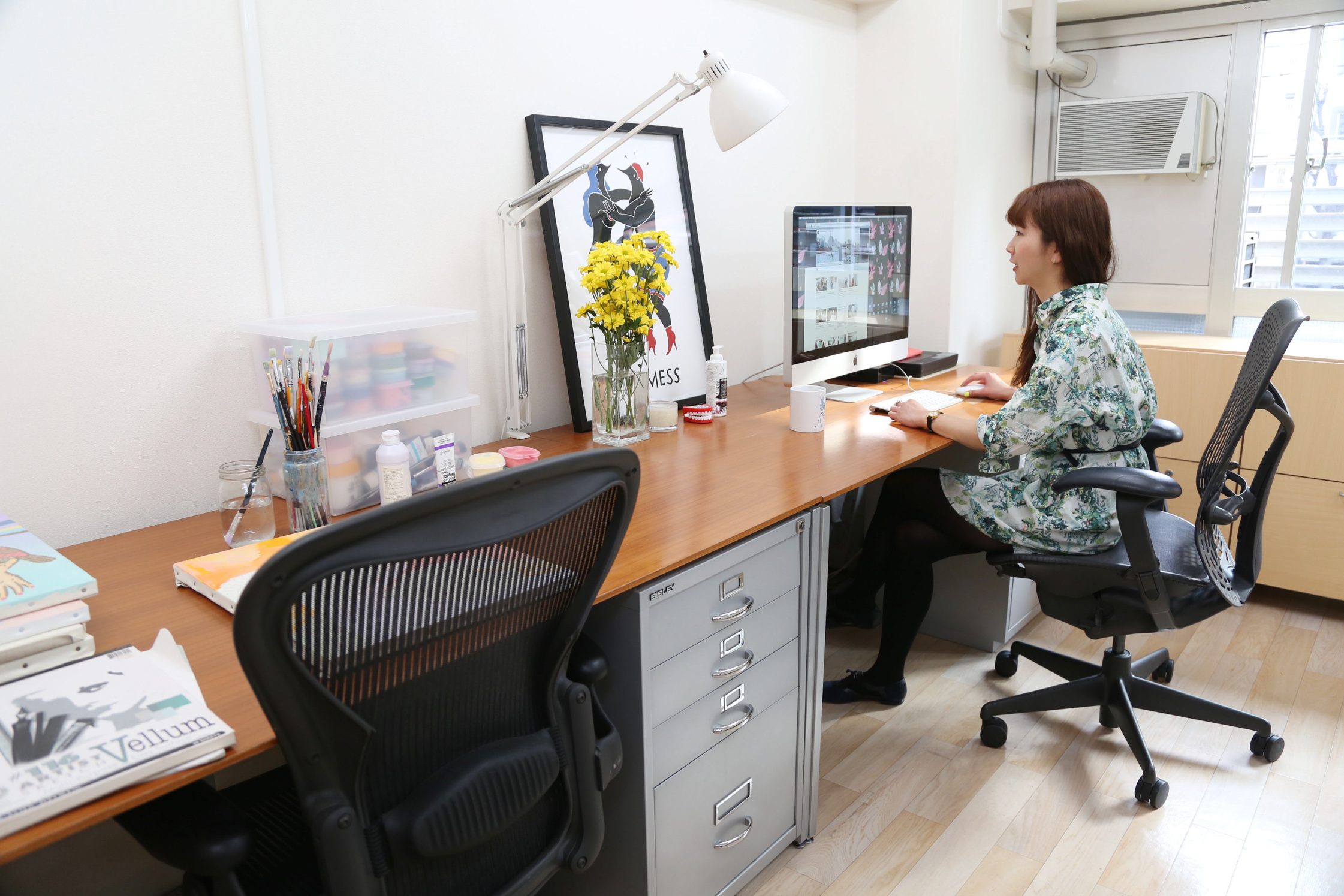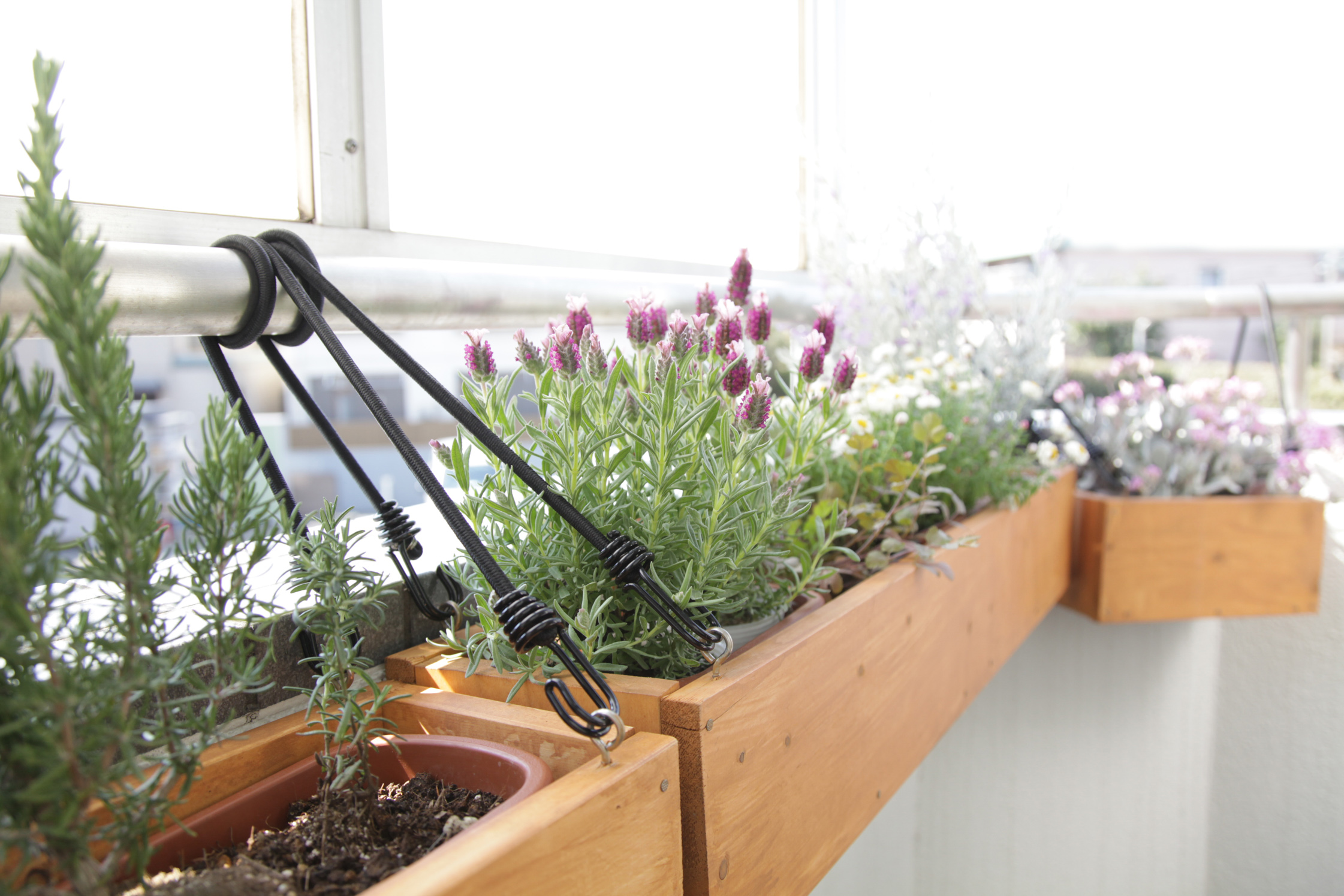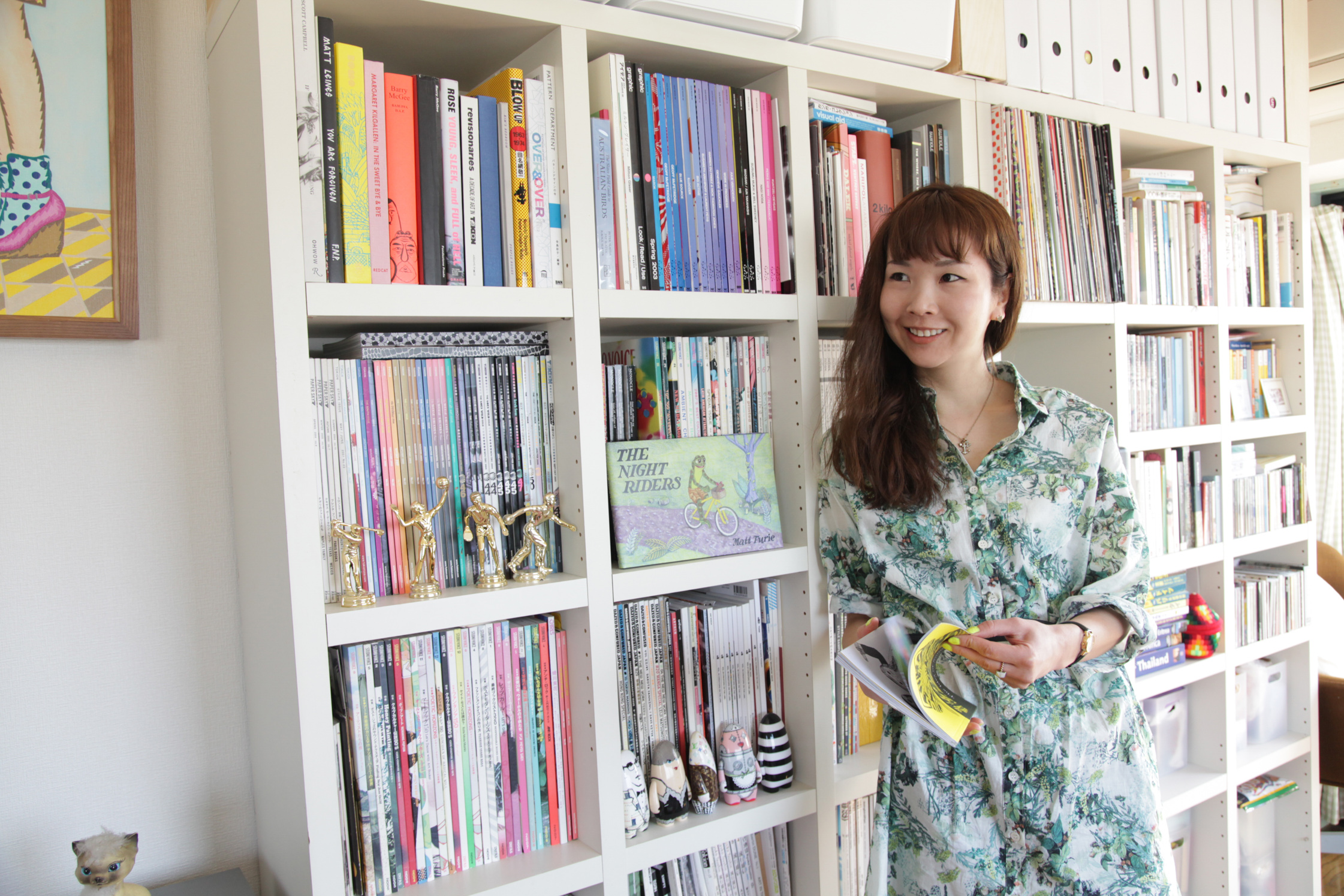 When did you move here and what do you love about your new neighborhood?
I used to live between Ebisu and Omotesando, so basically in the centre of everywhere, close to Shibuya. I liked it, it is super convenient when you go everywhere by bicycle. I lived there for more than eight years but there is no residential atmosphere, even though people live there. For example, the closest supermarket was quite far away so, in general, I wanted to move somewhere more residential. Gakugeidaigaku has lots of stores right next to the station, you have so many great choices in terms of what you want to cook. It's different here, it is very local. No salary man.
Do you travel a lot around Tokyo?
I sometimes go to the east side of Tokyo because it is so different from the west where we live. There are a lot of nice galleries. I grew up in the west and I went to junior high school just one stop away from here.
What is the major difference between these two parts of the city?
People from East Tokyo are usually very proud of being Edoko (Edo is the old term for Tokyo), because it is the old centre of Tokyo. There are many historical places. Here it is different, there was nothing before and now all the young people live here. I rarely go to East Tokyo for a meeting, most of the things are happening in the West.
You lived in New York for a long time. What was your motivation to leave Tokyo and move to New York?
I went to California to study English when I was 15 and I realized how much I like to study the language. At the same time the whole internet thing was happening and it dawned on me that this world will be globalized and you have to speak English.
You don't learn it in school?
You do, but nobody can speak it even after six years of studying.
I was drawing and building things since I was little, I knew that I want to be an artist and go to art school. I was already good at drawing so I didn't want to study fine arts and decided to choose graphic design at FIT (Fashion Institute of Technology).
How long did you study?
Four years and then I stayed one more year in New York before I came back.
You had to come back?
Yes I had to come back to Tokyo for family reasons.
Did you work as a graphic designer in New York?
I did so many internships when I was in school. Most of it for big advertising agencies but also small design studios. One of the studios was doing all the Hollywood film posters. I also interned at a magazine called Tokyo. Two American guys started it in Tokyo and then moved back to New York where they continued. It was one of the best magazine for art and subculture.
What time was that?
1998 until 2003. It was very different from now. I experienced 9/11.
Have you experienced a culture shock coming from Japan?
I was fascinated! Especially art-wise because there was so many things going on and so many places to go. If you are a student you can enter everything for free. And all the live shows, everything was just there. That was very different from Tokyo.
When you came back how did you start working here? I guess it is difficult to start freelance right away when you are "new" to the scene?
Through Tokyo Magazine I made some connections here in Tokyo and I got introduced to an art book publisher called GAS Book. They create very nice international publications and I was doing the art direction for them. That was during a time when I was looking for a full-time job. Just a few months later, a design studio I knew from New York was about to open a studio here in Tokyo. They opened up in the only design hotel here in Tokyo, the space was super fancy and the boss was nice to work with so I took the job. The second floor was empty during that time and a lot of fashion shows were going on there so I would always go down for a glass of champagne (laughs). You would always meet new people and that was cool.
Apart from your client work, do you also do projects on the side?
All those paintings here I do for myself and I also exhibit my works. And sometimes I connect it with client work.
Do you see a difference between your approach and other creatives that studied in Japan?
Yes, I think so. First of all there is the language barrier. If you speak more languages you also get more information about what is going on outside of Japan. If you only speak Japanese your information is limited and you won't find out what is happening outside in the world in terms of design or in general. As far as working is concerned, when you are young you want to enjoy your life and your weekends but here people are different. Working is such a cool thing, so if you ask somebody, "how are you, what have you been up to?" people would answer, "Well, just work work work!" because it is cool.
Of course people have this stereotype in their mind about the Japanese salary men living monotonous lives but I would have assumed that in the creative scene people chose to work differently.
You might not have to wear a suit but you have to work so hard and until very late in the evening which makes it almost the same.
Would you say it is harder to be a freelancer in Tokyo than somewhere else?
Working freelance becomes more popular these days. Ten years ago if you graduated from university everyone would have told you to get experience in a big agency and become independent when you are 40.
Are you inspired by old Japanese handcraft and drawings?
Yes, of course. I think that most of the old art is much better than what is produced today. The colors and every detail is just so professional.
I am always amazed by the colors of Japanese paintings. It is very rare to see something like this today.
If you look at the colors of Japanese kimonos, they are so beautiful. Even if I don't do the same in my art I get inspiration from it. Everything depends very much on seasons as well. For example this (points at the sakura moji on the table) you can only get it this time of the year.
How do you usually celebrate the sakura?
My office is in Nakameguro so I spend a lot of time by the river. And even though it is partly for advertising purposes, I started making my own laterns for the sakura. With this you also support the community. It really is the nicest season in Nakameguro. We also hang out at Yoyogi Park for picnics and if you are lucky you might get two weekends like this in a row.
Do you have a favorite holiday destination?
I think I like Bon-Odori in August. Everyone can go to the shrine to see dances and a lot of things are going on outside.
Will you be in Tokyo for summer?
I always try to go on a trip for one month, maybe I'll go to Europe this summer.
Everyone somehow tries to escape Tokyo in the summer, right?
Hm, I was born in August so I don't really complain about the summer heat. The only season I don't like is the rain season in May until July because it gets so humid and hot. Once the rain stops you can go to the beach.
It is a bit of an annoying question, but I have to ask. What is your favorite Japanese dish?
I cook Japanese food a lot but mostly things that you can put together quickly. Most of the traditional Japanese dishes you have to cook them for a long time in the pot – that's what my mum and grandmother used to make. I like nimono, which is shiitake mushrooms, bamboo, Japanese potatoes, carrots and soy sauce.
Take a look at Ai's cheerful work on her website.
Photography: Ayako Kaneko & Lina Takeuchi
Interview & Text: Antonia Märzhäuser
For more stories in Tokyo you can look here.