Man is man. Woman is woman. Especially when it comes to questions of clothing. Fashion designers Karin Krapfenbauer and Markus Hausleitner put gender clichés to the test – but definitely not with dry theory – rather in the form of wearable fashion.
They met each other as the two Austrians studied at the University of Applied Arts. Fundamental themes during their studies: gender discourses and cross-dressing. It was out of this that a label, with a very long name, was born: "House of the Very Island's club division middlesex klassenkampf but the question is where are you, now?"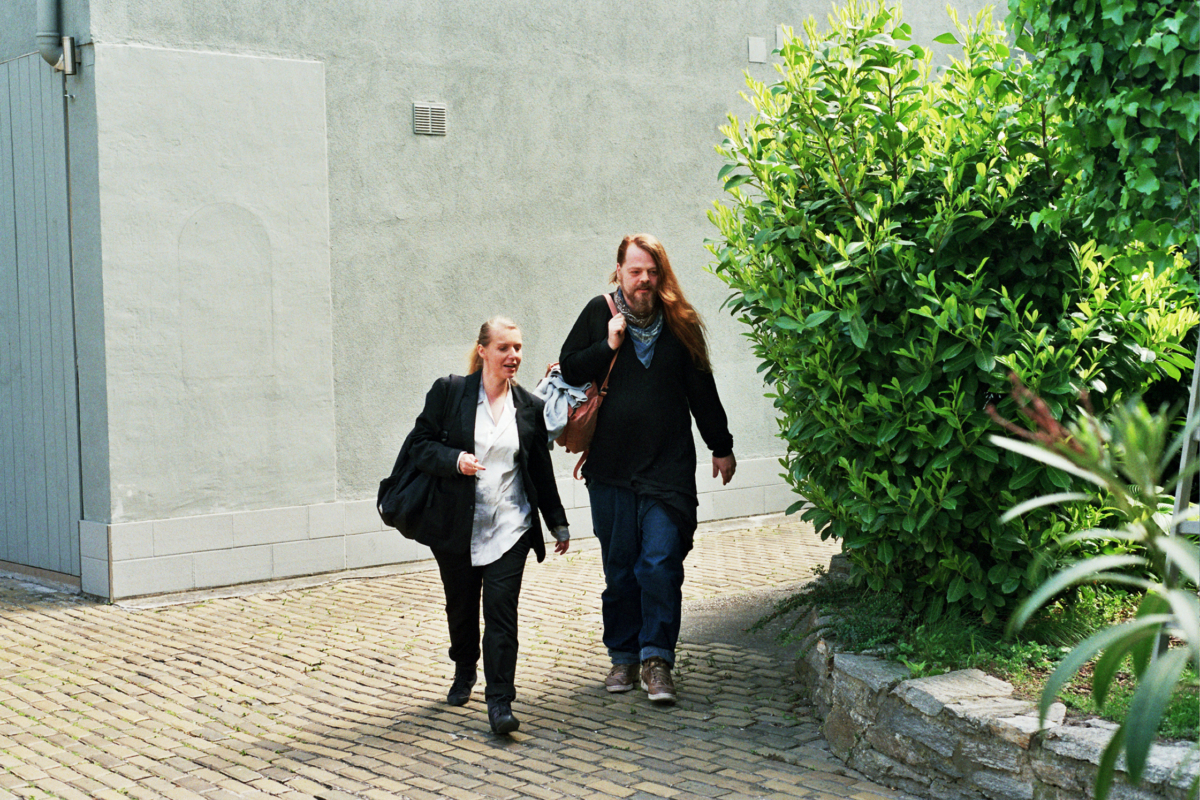 It all began as a circle of creative Viennese out of the art, film and music scenes. Today the creations can be found on the clothing racks at Japanese concept stores. The look? Deconstructed cuts and patterns in colors that make a statement combined with clear silhouettes. Since 2008 the design duo has been showing their work at Men's Fashion Week in Paris, accompanied by texts from Judith Butler and videos by director Hans Scheirl.
Enjoy a conversation about Vienna as a networking point, about decisions – and about wearable and unwearable clichés.
The name of the label is quite exceptional, to say the least. How did this come about?

Karin: The name originated from the coming together of completely different people. We wanted to show this diversity, and we agreed that the name of our collective couldn't be a single name. Ultimately, we threw all the suggestions in a pot and simply strung them together.
And what's the concept behind the name? Or rather: behind your fashion?

Karin: Our fashion could be called: "for all sexes avant-garde casual wear" – that is to say fashion independent from gender, the conceptual basics transformed in wearable looks, reduced to the essentials.

Markus: Other points of focus are on biologically produced fabrics and sustainable products. It's not only an ideological decision, rather also an answer to the question: "How should something that I would wear look and feel?"
Do you wear pieces from your own collection?

Markus: There are many pieces I would wear. But we're definitely not designing for ourselves. Then we would have to refine the cut completely differently. (laughs)

Karin: I think we fall somewhere in the middle. So, between the designers, who are some of the only people who achieve a conscious uncoupling from their existing world to create an ideal world together, which they are permanently styling.
Why did you decide to continue with "House of…" as a duo and what has changed?

Karin: It was clear from the beginning that Jacob Lena wanted to concentrate more on art. But his work is still closely linked with our label. For example, in the photos of our last collection you can see his work in the background. Yeah, and Martin got an offer from Jill Sander at some point. Naturally, financially it was more attractive than with us. (laughs)

Markus: In 2008, Karin and I decided to continue with the fashion label, and to put more focus on sales and the structure of the collections.
Is designing unisex fashion different than designing the usual gender-specific fashion?

Karin: I actually believe there's no difference in approach – whether you're making men's fashion or women's fashion or anything that isn't well defined in the beginning. Markus, do you have the feeling that something has changed since we made the switch?

Markus: I've been thinking about that for a while. But there are also many breaks in the fashion scene in general.

Karin: That's true. The famous girlfriend-style, for example, currently sustains the collection. But we've always  pretty much used the men's cut. Even when our target audience was women. The men's cut was always a point of orientation for us.
Karin: The workmanship and quality are often much better with men's cuts. But in general, I would say that how to work is not a question of gender. Prêt-à-porter fashion is fundamentally bound with too many challenges: How does one design, so that it allows as many people as possible have a good, individual feeling?
This is also an important issue, especially now a that you're selling in so many different countries.

Karin: Sure. For example, when we sell the same collection in Japan and Europe, we really notice that there are differences in people's physique. This is very exciting.
What about presentations – do your gender-spanning collections present you with difficulties?

Karin: In Paris at the Men's and Women's Fashion Week, there is unfortunately no possibility to show the collection in both contexts. At some point we have to make a clear decision. From 2006 through 2008 we showed our collection in the context of Women's Fashion Week. Since then we've changed to Men's Fashion Week.
What made you decide to do that?

Markus: We find that it is easier to place the unisex thoughts within the Men's Fashion Week. It's also more likely that a buyer for a women's boutique will reach out to men's models. Conversely, it would be a no-go. Although we think this could soon change, but at the time it was clear that it would only work this way.
Are there other designers and artists who have strongly influenced you?

Markus: Comme des Garçons. Definitely. Always have.

Karin: And Margiela. Or Yohi Yamamoto. They are generally the great visionaries and designers of the 80s.
When do you know that a collection is finished?

Karin: There is no moment when a collection is completely finished. Of course, you make deadlines that are dependent on the fashion weeks. Afterwards many thoughts and even more ideas come. Earlier we tried to create a universe for each collection, which found its natural conclusion in its respective presentation. Today continuity also means something.

Markus: It would also be extremely hard if you had to achieve something completely new with every collection. Then the label would become unmanageable for buyers.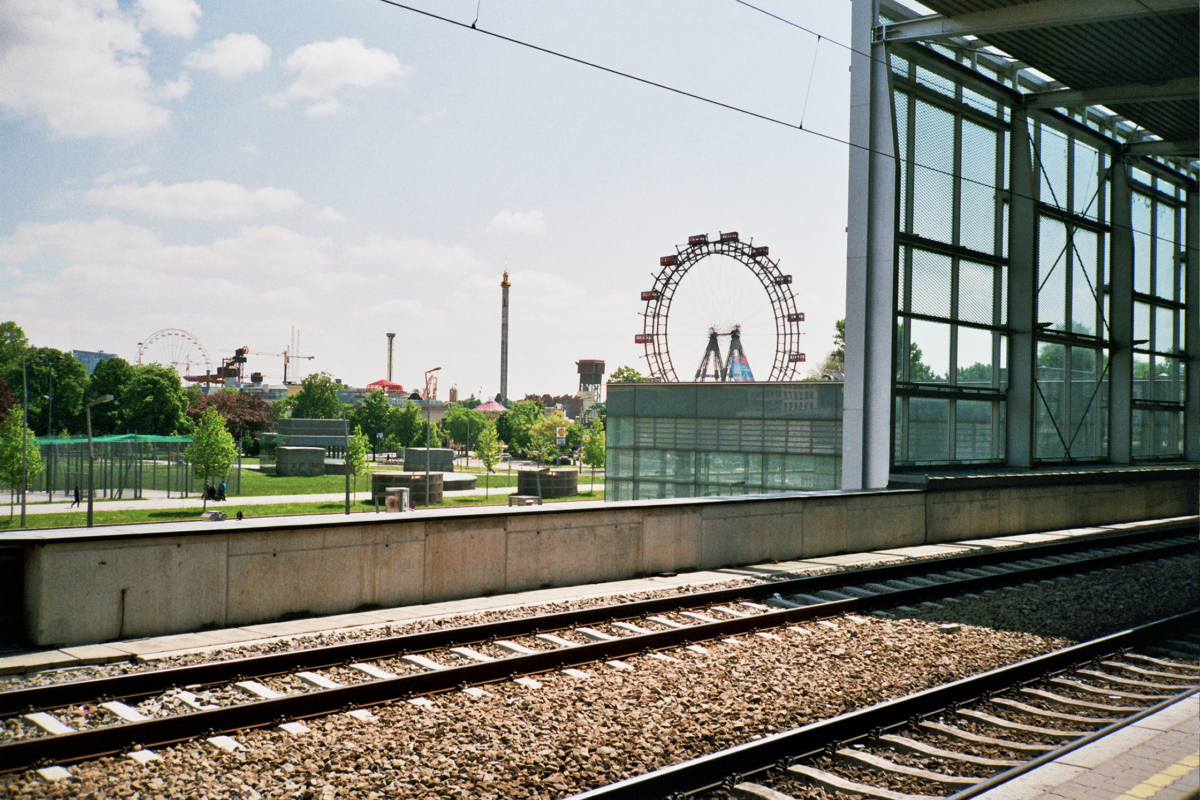 At the moment there seems to be a breath of fresh air in the Viennese creative scene. What are the reactions? What does this mean for the Viennese creative?

Karin: Totally. Vienna has a very lively creative scene. We've been able to observe it over and over again in the last decade. There is also a very good and stable network – in music, art, but also in the fashion scene.

We can count ourselves lucky that we've always received a lot of support. These include, among others, the Vienna Business Agency, which have been by our side since our foundation. For our 2009 Spring/Summer collection we received start-up funding. Currently they're helping us develop new distribution channels. It's great to get recognition, also from the "official" side. It gives you the feeling that you're being taken seriously as an artist.
For Viennese brands it seems to be getting easier to establish a position abroad than to achieve success with your collection at home – above all in the Asian market. Why is that, in your opinion?

Karin: That's an interesting question. Vienna definitely has enough room for something new, but the mentality of the people is somewhere else. The "classic Viennese" is more likely to purchase something that came from abroad. It sounds really weird, but it's really like that. This is the exact opposite to Scandinavian countries, where it's really popular to purchase local designs.

Markus: Perhaps this recognition abroad is a detour, but it's actually really important. Only when you can sell really well abroad, will it also happen in Vienna.
You've been working together since your studies. How did it start?

Markus: Karin and I studied fashion together at the University for Applied Arts and somehow it just developed over time. After receiving our diplomas, we started with our first collaborative collection in 2004 and founded the label in 2006.

Karin: At first there were actually four of us. Martin Sulzbacher and Jakob Knebel used to be part of the team. Our vision was less to found a classic fashion label, rather to put the focus on the collaboration between individual personalities and fashion.
What's the secret behind your talented cooperation? Where do you see each other's strengths?

Karin: I couldn't imagine doing "House of  the Very Island's" alone. For me it's wonderful to have found someone I can share of the processes with. Also, naturally, because it is a crazy amount of work and there are a lot of looming decisions and moments of insecurity. Markus has many many qualities. He can do so many things that I can't. He really knows music and graphic design and he is much more spontaneous. He's good at improvising.
Markus: Karin is the plan and the checklist. (laughs)

K: Yes, but that's good. I react with panic when something needs to happen immediately. You'd wait for it until the last minute.

M: No, I'm just good at hiding the panic. (both laugh)
Markus, you also make music. Are fashion and music two independent creative playgrounds or do they enrich each other?

Markus: I can't separate fashion from music at all. Music is often the starting point for a new collection.

I've been DJing for about 10 years and have been organizing queer-feminist micro clubs for years. In Marea Alta, for example. Additionally, once a month at Elektro Gönner I host "Mode Mode" – a club where I invite all sorts of people to do some amateur DJing. The mix of the different individuals that we work and go to parties with is an important inspiration for both areas.