During the day, the massive, 22,000m² complex that houses Tresor and Kraftwerk Berlin gives no indication of what's inside. The stern-faced workers carrying bits of scaffolding and moving around purposefully make the industrial space seem far away from the world of culture and the arts.
Of course, the inverse is true: the area is a cultural hotbed in Berlin for experimental music, art and techno. Tresor is an institution of Berlin's nightlife and is the oldest legal club in Berlin (though only in name—the club moved from its original location in 2007), and the space even houses a smaller club, OHM in addition to the event space Kraftwerk Berlin. Now the home of experimental music and arts festival Berlin Atonal and myriad events—from 30-hour long contemporary classic performance spectacle The Long Now, to overnight sleepovers with composer Max Richter, the space is well-suited for creative exploration.
Occupying 8,000 m² of the Tresor complex, Kraftwerk Berlin was formerly the turbine room for a power plant that provided energy to East Berlin. Closing in 1996, the massive hall constructed of steel and concrete sat untenanted until 2001, when it was rented by Tresor founder Dimitri Hegemann. The vast concrete space is the backdrop of Berlin Atonal, a festival that pushes the boundaries in experimental and electronic music and arts. "It's the biggest playground ever," agrees Marcel Weber (MFO), director of lighting and visuals at Berlin Atonal.
"Often I find my work is less about creativity than understanding—the needs of the space or how the space wants to be… triggered so to say."
The former power plant is a fitting venue for Berlin Atonal, which itself is a revival of something from the past. Founded in 1982 by Dimitri Hegemann and continuing until 1990, the original Berlin Atonal hosted acts like Einstürzende Neubauten, Psychic TV and 808 State—acts that brought together artists and musicians operating on the fringes, challenging how and why music and art are supposed to be made.
Marcel has been working with Berlin Atonal since 2013, when the festival made a triumphant return within the newly renovated Kraftwerk under the direction of Paulo Reachi, Laurens von Oswald and Harry Glass. The cavernous space is daunting in size, with three floors that are wide open, yet the many, uniform support pillars and dark corners make it easy to lose track of where one is. Even Marcel, who has carefully studied every inch of the building in designing the lighting elements at Berlin Atonal, finds himself at times confounded by the space, "On one hand I got to know the building very well but then I still discover new beams that I was never aware of."
Each new iteration of Berlin Atonal serves as a tabula rasa for Marcel when he is creating the concept for how the lighting and visuals will appear within the space. At the 2016 festival, a 20-meter tall screen stood proudly behind the main stage, "Often I find my work is less about creativity than understanding—the needs of the space or how the space wants to be… triggered so to say. Every venue speaks—you need to listen to what it says. That's how this big screen came into being. It felt like the building was reaching upwards. It's almost like a cathedral of concrete so I thought: 'it needs a vertical screen!'" he says.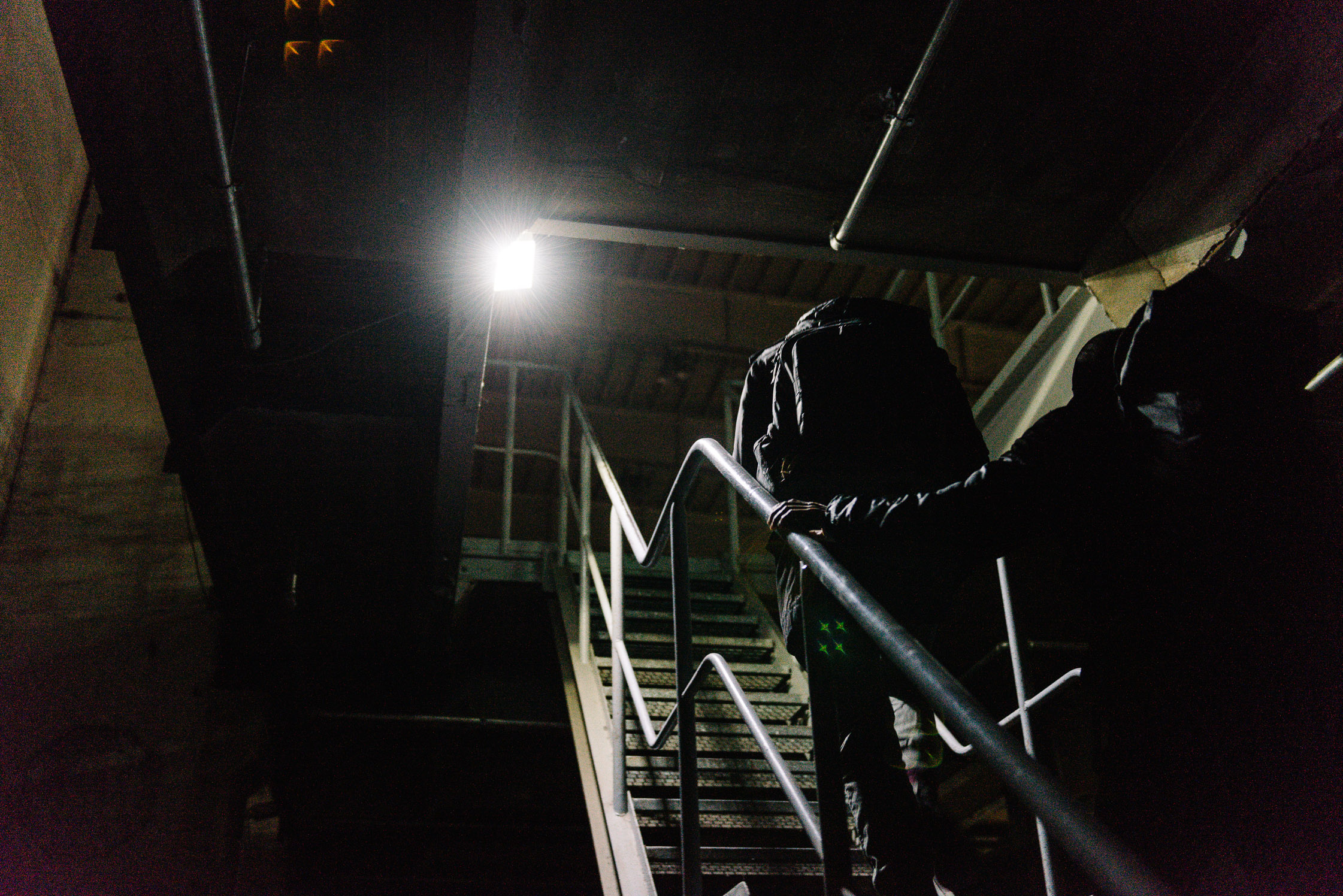 Footage from Berlin Atonal 2016
Showcasing Marcel's work with light and shadow
The vertical screen did have a cathedral-esque effect to it, calling to mind the overwhelmingly large stained glass windows of medieval churches. However, Marcel takes more influence from the secular world in his lighting designs, "No matter the project, I fall back into being inspired by things you experience in the world outside and then abstracting or heightening them—as though they were in a dream," he says, "In the mountains you have these massive walls of rock that have an impact when you see them. They have an overwhelming effect when you see them—this raw force. That's what I'm trying to capture and develop in this space for Berlin Atonal. Or glittering elements that make it seem like you're walking through a cave with a candle and seeing stalactites and stalagmites shimmering. It's amplifying reality."
"I like the idea of complete immersion—dissolving all the parameters of the world around you."
From the outside, the cold industrial appearance of the Kraftwerk Berlin space coupled with the obscure, electronic sounds produced by the artists inside have nothing to do with the natural world, rather something alien and foreign. However, when Marcel mentions the space's cave-like qualities, the dark and echoey hall began to take on those qualities: the lingering mildewy scent was heightened and the pillars seemed more like trees in a dense concrete forest with something looming around each corner. "It's all part of a visual realm that one creates—this space that you're building that you want to immerse the audience in—it's not just a video screen. It's lighting, it's space and it's atmosphere," he says, smiling, "I like the idea of complete immersion—dissolving all the parameters of the world around you."
A Showcase of Marcel's Collaborative Works
"I always picture these festivals as a bunch of girls and boys in a room playing with their toys."
The idea of immersion is something that cannot be accomplished alone, and this collaborative nature of performances is at the fore of Berlin Atonal—the idea of bringing together great minds to create things that exist in their own version of reality. "Atonal is into the Gesamtkunstwerk (art that synthesizes as many different mediums as possible) approach," says Marcel, "I always picture these festivals as a bunch of girls and boys in a room playing with their toys. For me it's just about playing with things and pushing boundaries. You are always playing with things and then almost naturally, something comes out of it that may be interesting to other people as well."
Marcel's own collaboration with electronic musician Roly Porter, titled Third Law, during the 2016 Berlin Atonal was one of the most talked about performances of the year. Third Law danced between moments of of abrasive, disturbing sounds and images that showed almost no signs of stopping—and calm, soothing ambient tones. The closing of that performance ended in a hallucination-inducing climax, combining strobes pulsing at different speeds and a wall of noise that was felt rather than heard.
It's ironic and yet somehow fitting that the festival is located in such an uninviting and abrasive place, yet is so fertile for creativity and collaboration. "Berlin Atonal is about raw energy," says Marcel, "It's like a caveman discovering the modern world. I like to express this otherworldy, completely overwhelming feeling at the festival—to immerse you in something that is much bigger than you."
Thank you Marcel,
For giving us a tour through Kraftwerk Berlin and providing some insight into lighting design and Berlin Atonal.
If you'd like to see more of Marcel's work, visit his website here.
And click here for more information on Berlin Atonal.
Interview:Kevin Chow
Photography:Daniel Müller