It's the start of summer and FvF decided to get back in touch with an old friend to give you some inspiration for refreshing drinks to help you enjoy the hotter months.
Ashley Neese, a yoga teacher, wellness coach and friend of FvF, tells us about the benefits of smoothies and shares some of her own recipes. Ashley expounds the benefits of smoothies for your health, nutrition and general wellbeing.
Juices and smoothies are ideal to consume during warmer weather and are excellent for breakfast, as snacks or anytime you feel the desire to eat a lighter fare. It may be tempting, but try not to add ice to your smoothies! Ice dilutes the flavor and makes them too cold to drink. Both Ayurvedic and Chinese medicine encourage consuming liquids as close to room temperature as possible. This theory is based on the idea that cold liquid makes the body contract which depletes digestive fire, slows down digestion and reduces vital energy in the body. Instead of ice, use frozen fruit in your smoothies to give you a good creamy texture without over taxing the body.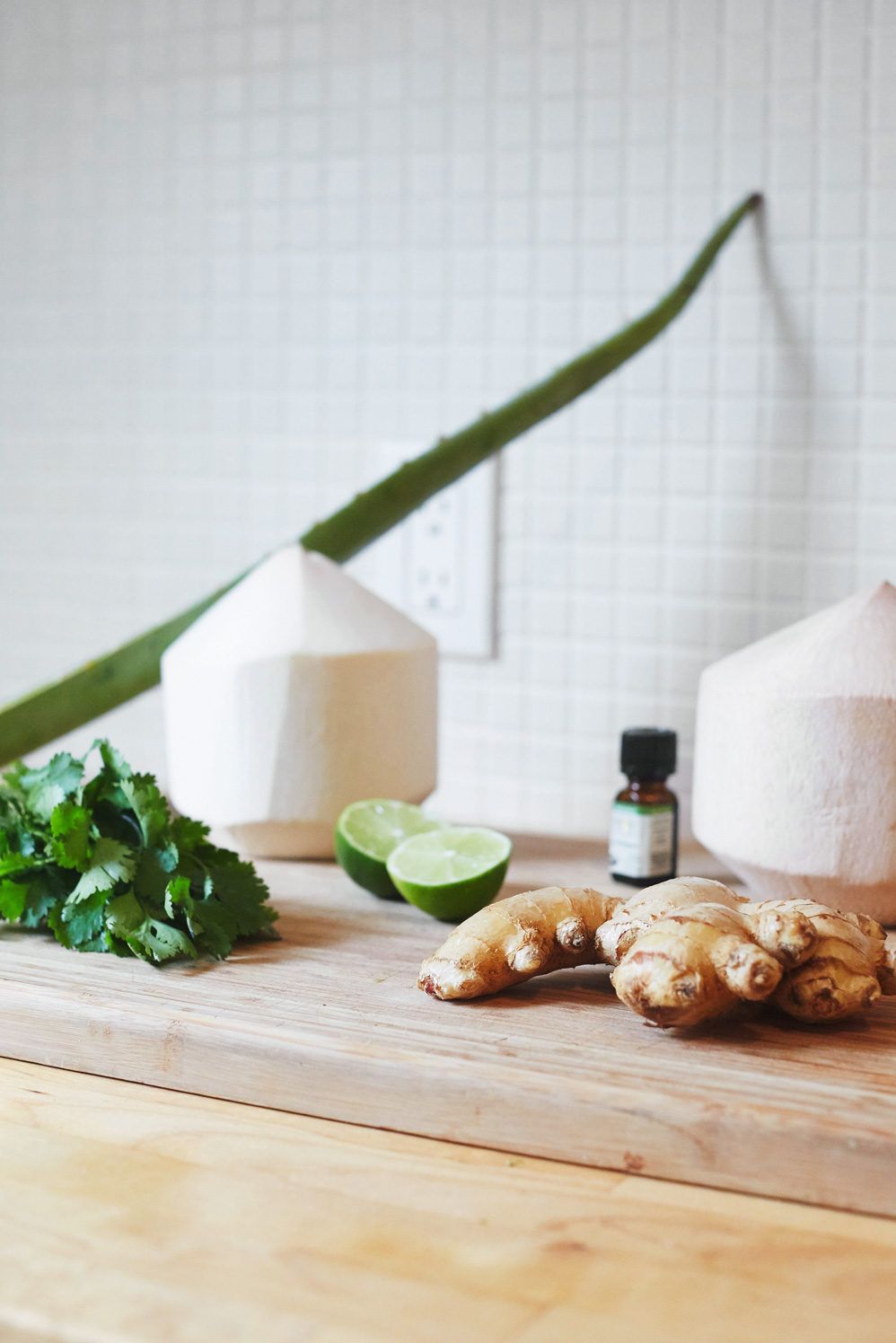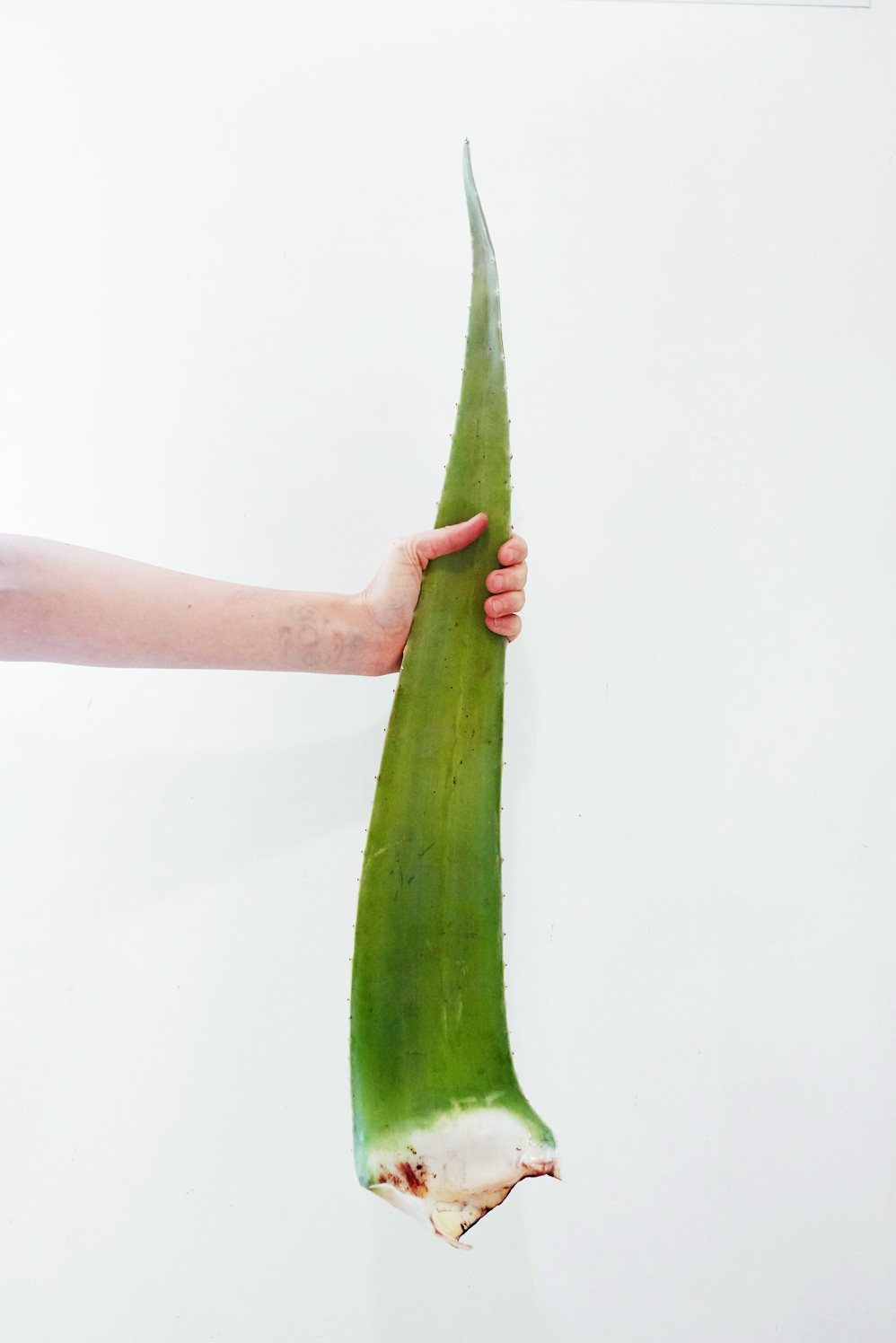 If possible buy organic produce for these recipes; they are all raw so it's important that they are chemical free. It's always best to by local, seasonal produce whenever possible. And, most importantly, have fun and don't be afraid to experiment! Some of the best flavor combinations are created on a hunch and a willingness to try something new.
Coconut Cilantro Cooler
A Perfect Summer Cooler For Hot Days
The beauty of this smoothie is it uses stevia as the sweetener which is a zero on the glycemic index. If you are watching your sugar intake stevia is a wonderful alternative. It's very sweet so start with 5 drops and work your way up!
The coconut milk will replenish electrolytes and the aloe juice is hydrating for the skin. Cilantro is a powerful heavy metal detoxifier which is important to make part of your regular wellness regime.
Lemongrass adds a cooling element to the drink which is beneficial when we feel overheated. Because essential oils are so potent, just put a drop on a toothpick and stir the toothpick into the smoothie.
Ingredients (for 2 people)
1

1 young coconut

2

1 c. Aloe juice

3

1 handful fresh cilantro

4

1/2 lime, juiced

5

5-10 drops liquid stevia

6

1 drop lemongrass essential oil on toothpick (see above)
Method
Crack open the coconut with a sharp cleaver. Start by cutting off of the husk on the top then use the edge of your knife to crack it open completely. Here is a How-To video that shows you the best way to crack it.
Once opened, pour the coconut water directly into your blender. Scoop the meat out of the shell. Use a small, sharp knife to remove brown, pieces of shell from the meat. Then add the meat to the blender.
Add the aloe juice and blend that with the coconut water and meat until smooth. Next add the cilantro, lime juice, stevia and lemongrass oil. Blend well.
Pour into glasses and serve.
The juice can be kept in the fridge for 1 day. Blend before serving. If you prefer a different sweetener, dates or raw honey would work really well in this.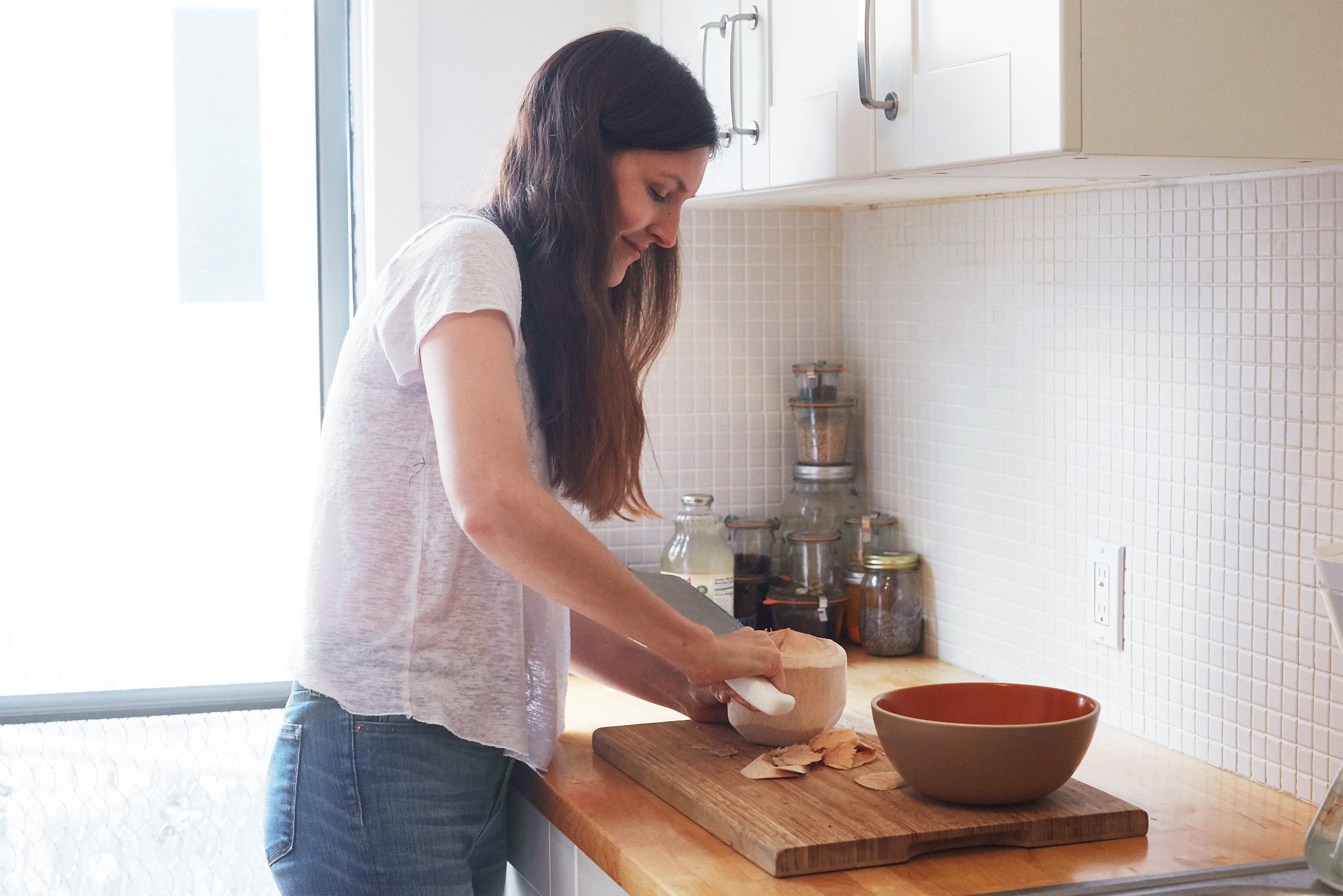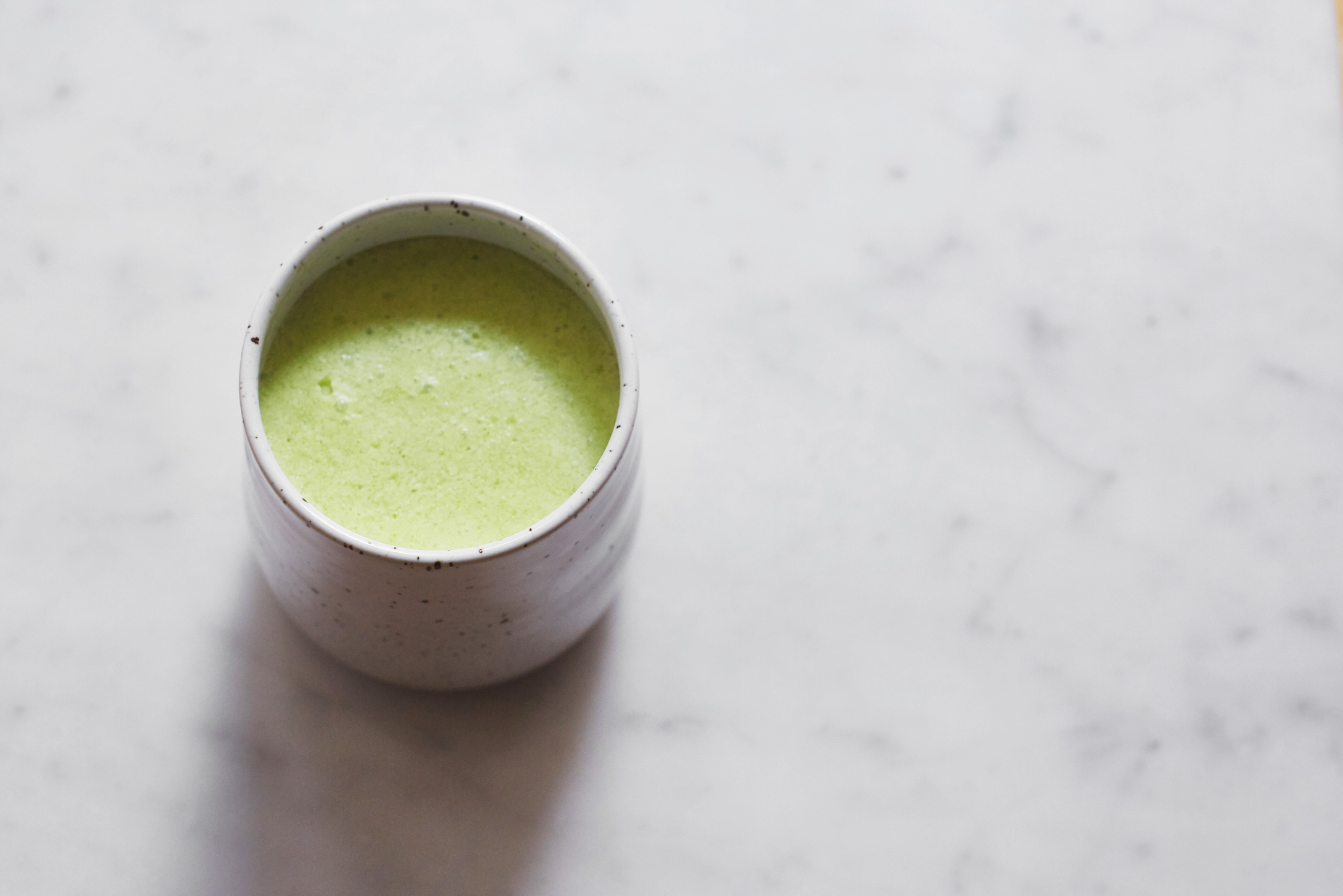 Tahini Pistachio Smoothie
A decadent alternative to a summer breakfast.
Cardamom is a key ingredient in this smoothie. This spice has been used for centuries for its medicinal properties. Cardamom pods contain potent essential oils that can act as a digestive stimulant.
Smoothies should always have a healthy fat to help with nutrient absorption, consistency and flavor. Tahini is an excellent source of calcium and has a bitter flavor that pairs well with sweet fruits.
Ashley recommends this smoothie to her pregnant clients because it is loaded with minerals that are important during this time. If pregnant, add 1 tbsp. of chia seeds for the Omegas and extra calcium.
Ingredients (for 2 people)
1

1 c. raw pistachios

2

2 c. filtered water

3

2 frozen bananas (best to always freeze in chunks for easier blending)

4

3 Tbsp. tahini

5

2 dates, pitted

6

2 cardamom pods

7

1/2 lemon, juiced

8

1/ 4 tsp. ground vanilla or 1/2 tsp. vanilla extract

9

1/4- tsp. cinnamon

10

Pinch of celtic sea salt
Method
Blend the pistachios with the filtered water until smooth. Strain through a cheesecloth.
Add the pistachio milk back to the blender with the frozen bananas, tahini, dates, cardamom pods, lemon juice, vanilla, cinnamon and salt. Blend until creamy.
Pour into mugs and serve.
Raw Mint Chip Shake
A fresh vegan boost to start your day.
If you love mint chocolate ice cream, this smoothie will hit the spot! Combining antioxidant rich brazil nuts with the healthy fat from the avocado makes for a creamy smoothie base. It's a great, vegan alternative to a dairy base for a smoothie.
Spinach is an excellent source of vitamin A, folate and iron. It has a mild flavor which makes it an ideal choice for sweet recipes. Bananas are loaded with potassium and are easy to digest. Always be sure to freeze them when they are ripe for the best flavor and texture.
Use chlorella to give this smoothie a mineral boost. Use the freshest mint you can find for a cooling flavor and if you can find ground vanilla it helps to pull everything together.
Ingredients (for 2 people)
1

1 c. raw brazil nuts

2

2 c. filtered water

3

2 frozen bananas (best to always freeze in chunks for easier blending)

4

Handful of fresh spinach

5

1/2 avocado

6

4 dates, pitted

7

1 big handful to fresh mint leaves

8

1 handful cacao nibs

9

1/2 tsp. ground vanilla or 1 tsp. vanilla extract

10

1/4 tsp. chlorella
Method
Blend the brazil nuts and water until smooth. Strain the mixture through a cheesecloth into a bowl. Pour the brazil nut milk back into the blender.
Add the bananas, spinach, avocado, dates, mint leaves, cacao nibs, vanilla and chlorella. Blend until creamy.
Boost the mint flavor with extra fresh mint or a tiny drop of mint essential oil.
Pour into mugs and serve.
Special thanks to Individual Medley for lending props, to Sun Potion for the Chlorella and to Thrive Market who supplied some of the ingredients.
If you want to read more of Ashley's health tips and recipes, visit her website.
A while back, Ashley sat down with FvF to chat about her love of cooking, yoga and clean living. You can read the full interview here. These recipes are part of our FvF Cooks series.
Photography: Asami Zenri
Text: Ashley Neese