Summer rains finally gave way to a clear night in Venice, California, for FvF Friends Dinner LA. Freunde von Freunden and onefinestay collaborated to put on this evening of creative conversation, delicious eats, and a type of communion for FvF collaborators.
The partnership between the two brands has resulted in the creation of a relaxed atmosphere for the open exchange of ideas between artists, photographers, writers, vintners, chefs, and FvF friends alike. Throughout dinner, the answer to "what do you do?" became less of a declaration of status, and instead, an invitation to discuss potential collaborations and exciting new ideas. It was a scene easily recognizable in LA, as the city continues to establish itself as a destination for creatives from around the world, the shift has become palpable. LA is buzzing.
Similar to Freunde von Freunden, onefinestay presents the creative and cultural landscapes of various cities through the homes of its inhabitants. They have operations in Paris, London, New York, and Los Angeles, offering upscale homes for travelers or individuals simply stricken with wanderlust. All of the homes are idyllic for a dream vacation, with an assortment of spectacular architecture, ranging from contemporary to romantic, and impeccable interior design.
For this event, the 'Californication House' or 'McKinley Residence', coined for its routine appearance on Showtime's Californication, provided the perfect environment – the warm wood tones, high ceilings and subtle integration of outdoor space proved galvanizing, as guests from all walks of life gathered at the long table. Tucked behind a wall of lush flora, the eco-friendly brainchild of architect David Hertz, the house boasts a compound made up of four discrete two-story buildings linked by three enclosed bridges that all face onto the courtyard, in a style one might call Balinese Modern.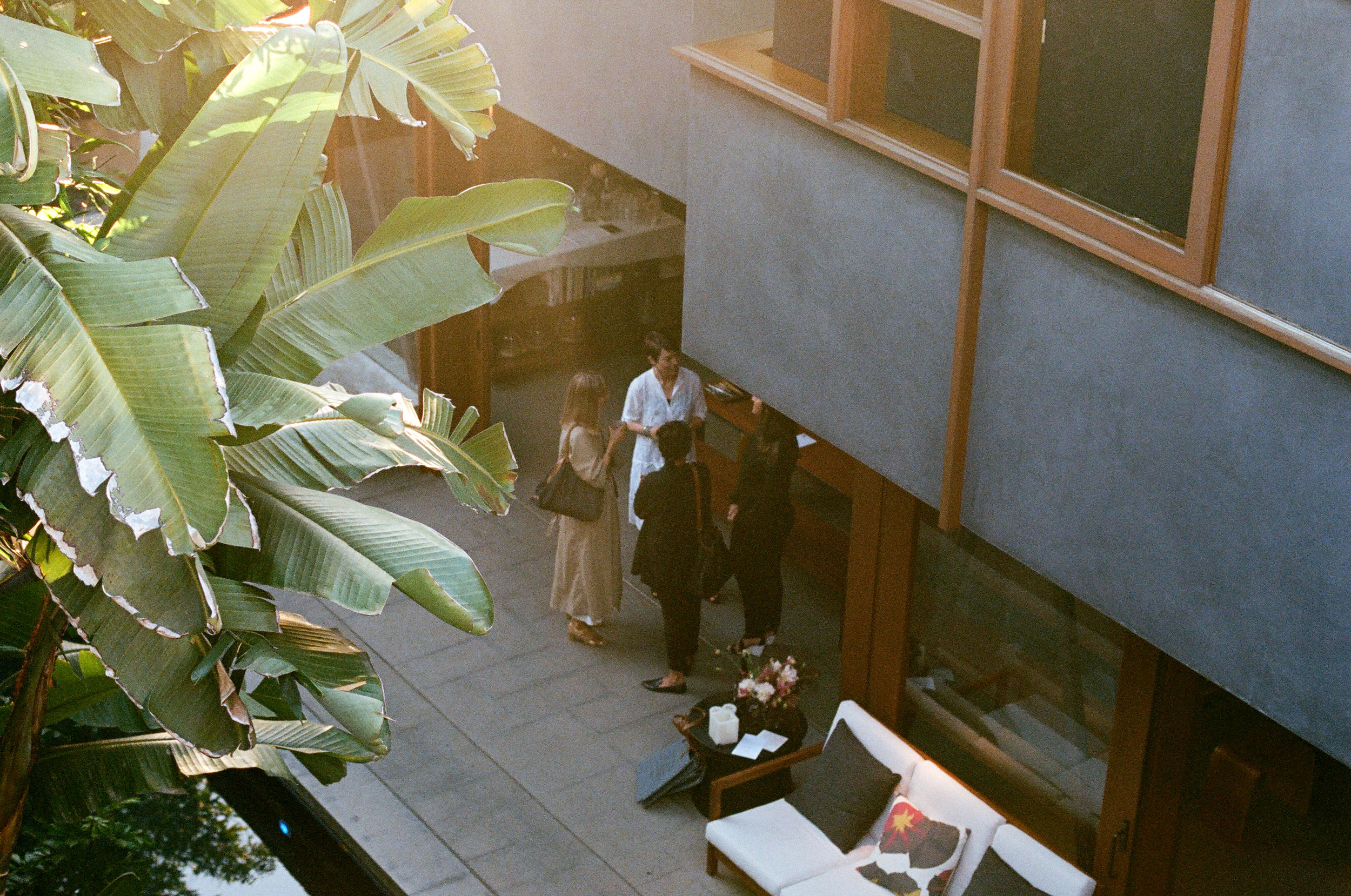 The house is "green" in its architectural and interior coding (fit with 20 large solar panels, sustainable materials, and a passive ventilation system) and surrounded by large palms and tropical plant variations, flourishing around the concrete pathways of the exterior. Expansive windows, outdoor showers, and finespun transition from enclosed rooms to rooftop garden give it the feeling of a bungalow retreat. It's beautiful to say the least, and a fitting addition to onefinestay's residential West LA collection.
The event's supporters included David Potter who provided a Pinot and a Riesling from Potek Winery, his Santa Barbara single-vineyard. Alongside the wine selection were delicious summery cocktails supported by Herradura Tequila and Finlandia Vodka. Manning the bar, the outdoor kitchen, and the service, was the team behind East LA's Sqirl, Jessica Koslow's culinary gem. It's the place to go if you're interested in a modern spin on seasonal menu offerings. The restaurant is hidden behind a flowering Pink Tabebuia tree in Silverlake and specializes in innovative jams and well-crafted lunch and dinner menus, including rice bowls, toasts, and seasonal specials like red flannel hash and black-eyed peas. For the Friends Dinner, the Sqirl team laid out a first course of tutti tomato soup with crispy vegetables and croutons served in ceramic wear by Emilie Halpern. The soup was a welcomed comfort as the sun set and temperatures dropped. Then came the various dishes in the main course, which included a cabbage sprout salad with santa rosa plums, sprouted almonds, and marjoram, as well as a dish of sweet corn, lime, and urfa biber, a third dish of brown rice, dill, barbari, seared mushrooms, and finally free range chicken kabobs provided by family-owned Premier Meat Company. Dishes were served family style and guests were able to squeeze in together at the long dining table designed by Hertz's wife, Laura Doss, for intimate conversation and wine. Oh! Let's not forget dessert! Served in the famous Sqirl Jam Jars, a chocolate pudding, with boysenberry preserve, graham, and candied pistachio – a heavenly texture of smooth and crunchy.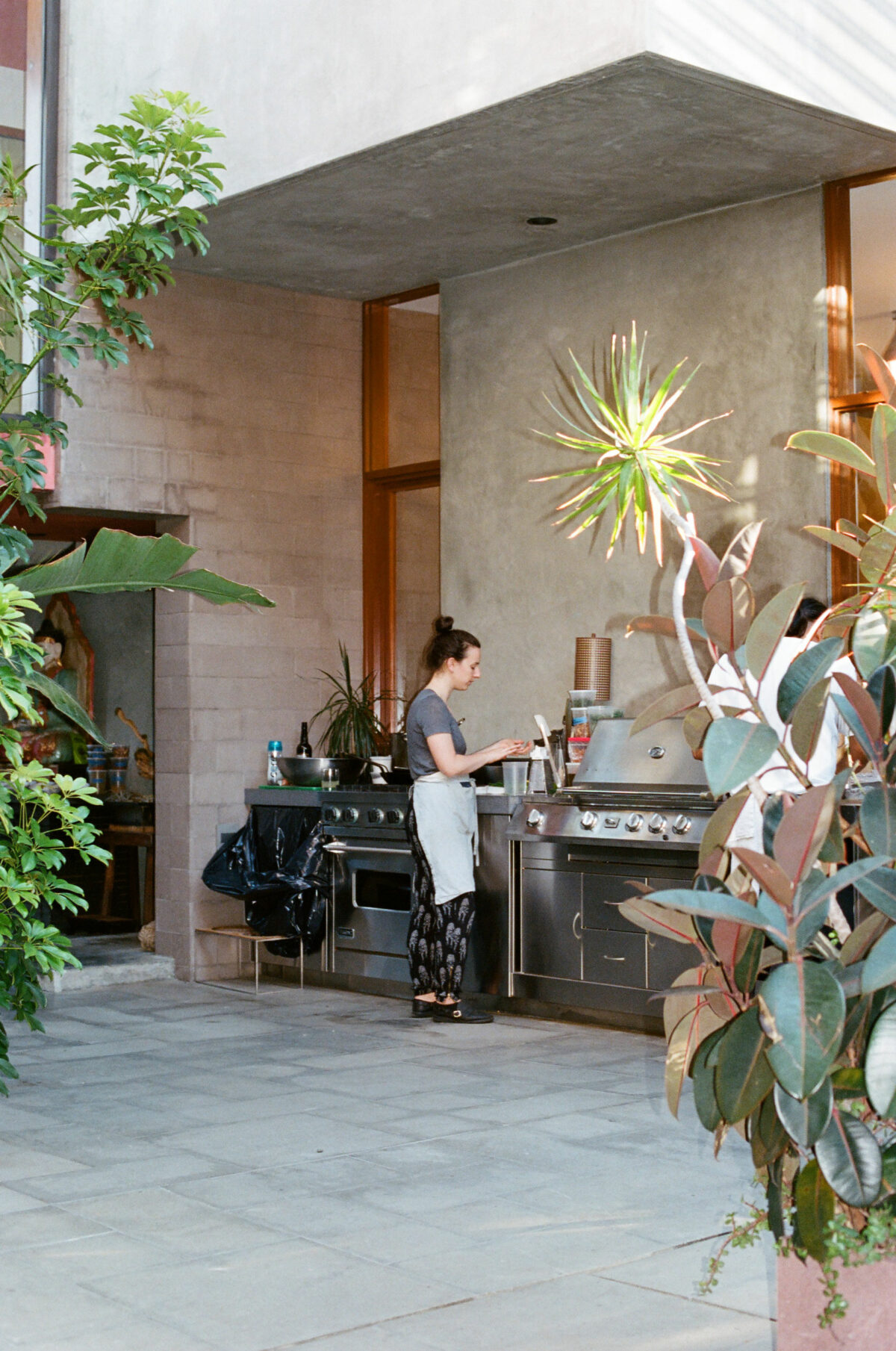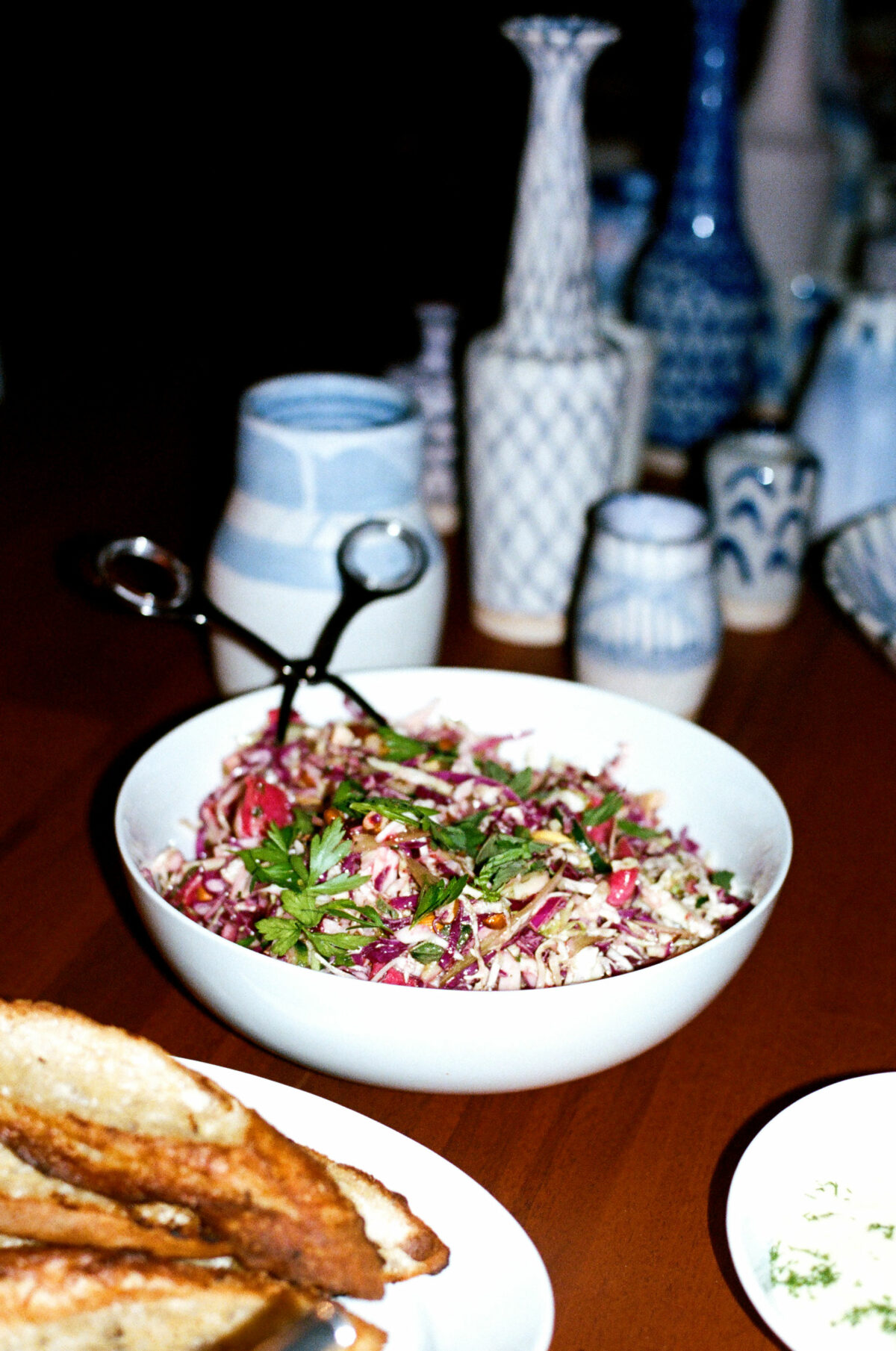 On the inspiration behind the menu, Koslow said it was "the blooming and harvesting happening around us"…locally sourced and seasonal ingredients that could be incorporated into new menus and could be enjoyed because the time is ripe. The phrase "the time is ripe" can be used to express a lot of what is going on in LA at the moment. The creative community here is diverse, ranging from visual artists to boutique owners to musically driven entrepreneurs and beyond, the city is experiencing a boom of growth.
The FvF Friends Dinner LA was full of the same support I have experienced with my own engagements in Los Angeles, an extension of the cities attitude and an encouragement to connect and keep pushing forward. It was a celebration that inspired guests to keep doing and keep making friends; oft-times these things go hand-in-hand. Making the expansion of Berlin-based FvF to America's West Coast that much more exciting!
A special thank you to Miranda Cresswell of onefinestay, Sqirl LA, Mercedes-Benz, NES Creative and all the other supporters on this wonderful event.
Some of our favorite guests were: Claire Cottrell, Lauren Spencer King, Tracy Wilkinson, Raan and Lindsay Parton, Jessica Koslow, Gloria Noto, Alexa Karolinksi and Brett Cody Rogers.
Photography: Tim Street-Porter / Juergen Nogai / Claire Cottrell / Kenny Hurtado
Text: Ally Hasche