The laptops are shut; the lights are all switched off. The office in Mulackstraße 26 is left empty and we're all making our way to Schöneberg.
In the fourth episode of our FvF Cooks with Sabine Hueck, the Freunde von Freunden team are heading to dinner in her atelier.
The dish that Sabine shares with us this time takes us away to the North-Eastern Brazilian paradise, Bahia. There, it is said, you can find the original version of Brazil's national dish: Moqueca. It is a fish stew with prawns, tomatoes, lime juice, coconut milk and palm oil, which is served in a special clay pot. It is a typical example of a mix of the culinary arts indigenous to Brazil with the cuisine of slaves who were transported to the country from Africa.
An important ingredient for this recipe is Dendê oil, a black cooking oil with a distinctive aroma. It is a specialty in Bahia and is extracted from the fruit of the Dendê-Palm, its flavor and its orange-yellow hues find their way into many typical dishes. Many regions have created their own variants of Moqueca, for the most part, with fish or prawns, but sometimes also with crab, squid or lobster. Sabine makes hers with octopus and clams.
Ingredients (for 4 people)
For the Marinade

1

2 garlic cloves

2

1 small, red chili pepper

3

3 coriander stems, preferably with roots

4

2 tsp good sea salt

5

Juice of 1 lime

For the Fish Stew

1

1 kg firm sea-water fish fillets (e.g. cod, perch, sea bass, monkfish, cooked octopus or clams)

2

½ kg prawns, shelled and without heads

3

2 onions

4

1 tbsp grated ginger (optional)

5

4 tomatoes

6

1 bell pepper

7

5 tbsp olive oil

8

150 ml coconut milk

9

2 tbsp palm oil (minimum, may add more if required)

10

Ground pepper

11

2 tbsp chopped coriander or parsley
Method
For the marinade, peel and finely cut the garlic. Wash the chili pepper, remove its seeds and finely chop it. Wash the coriander, lightly dry it and finely chop it.
With a bit of salt, put the garlic, chili and coriander into a mortar and crush into a paste. Add the limejuice to this mixture.
For the fish stew, fillet the fish if necessary. Wash, towel dry and cut into small pieces. In a heavy clay or cast iron pot, heat the olive oil. Sauté and add the onion and garlic to the pan.
Combine the tomato slices, fish, prawns and octopus, together with the marinade and bell pepper.
On a low heat, steam it for three minutes with a lid on the pan. If you're including clams, add them to the stew at this point.
Stir the coconut milk and palm oil into the stew and leave it to boil on a low heat for another 2 minutes, until the fish is cooked. (Take out mussels that don't open).
Add salt and pepper to taste. Sprinkle with coriander or parsley and serve.
It can be served with rice.
Tip: When cooking, you should stir the fish stew as little as possible.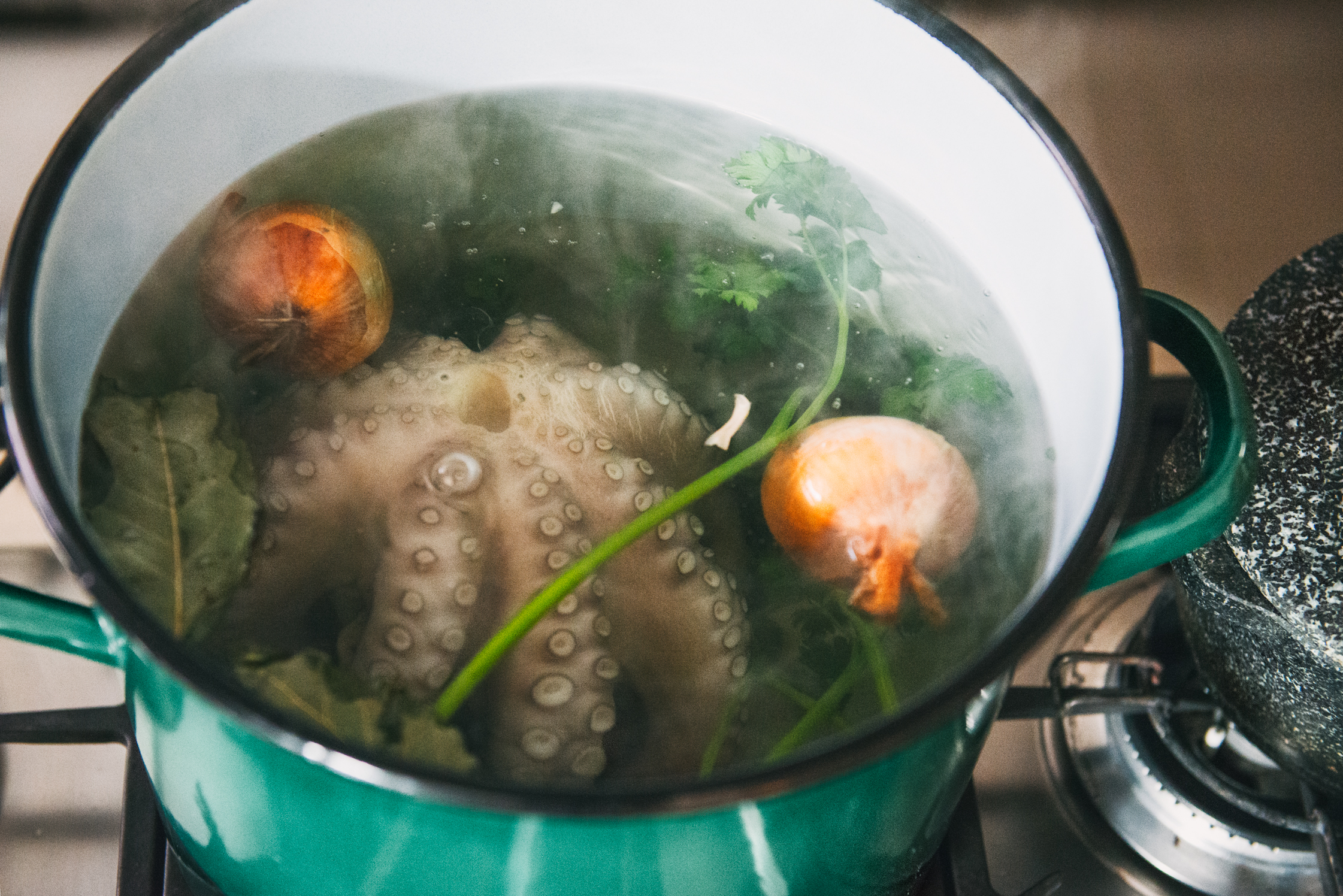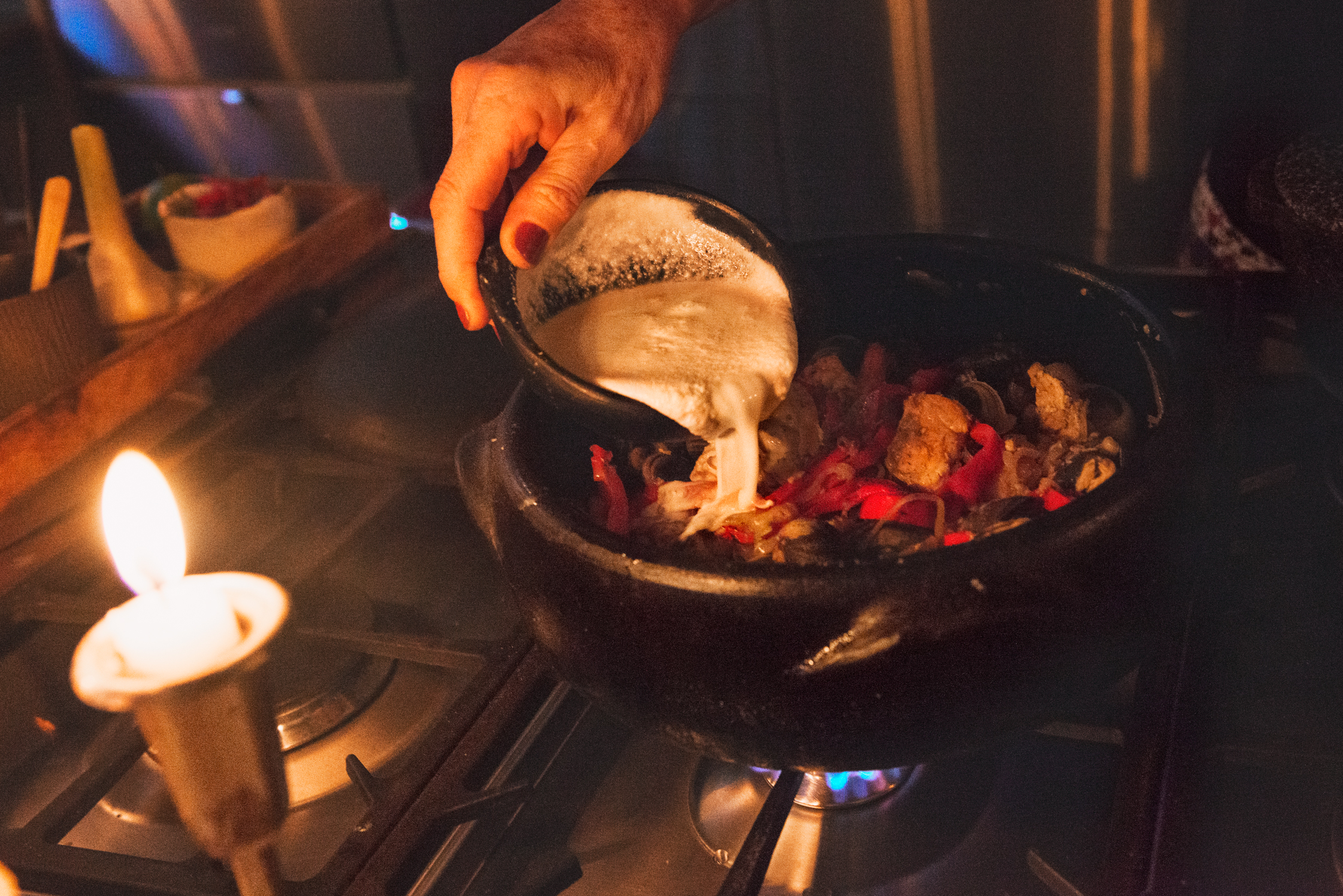 Brazilians are known for their versatility, their openness and their welcoming attitude towards their guests. But we're talking about one of the biggest countries in the world with a relatively large population density, so clearly we cannot paint the entire land and people with a single brush. If one is looking for something typically Brazilian, then it is, in fact, this cultural diversity.
With this diversity in mind, Sabine has taken us through a four-course culinary journey.
If you're interested in reading more about Sabine's experiences, and tasting some more of her cuisine, attend one of her cookery courses in Berlin or São Paulo. You can find more information here.
Photography: Carina Adam