Since the dawn of the supermarket, customers have dwindled further along on the conveyer belt from the source of their food.
Delis and corner stores like Kreuzberg's Candy on Bone harken back to more convivial times, where the goods ordered over the counter were a source of pride for the proprietor—and at best a conversation starter.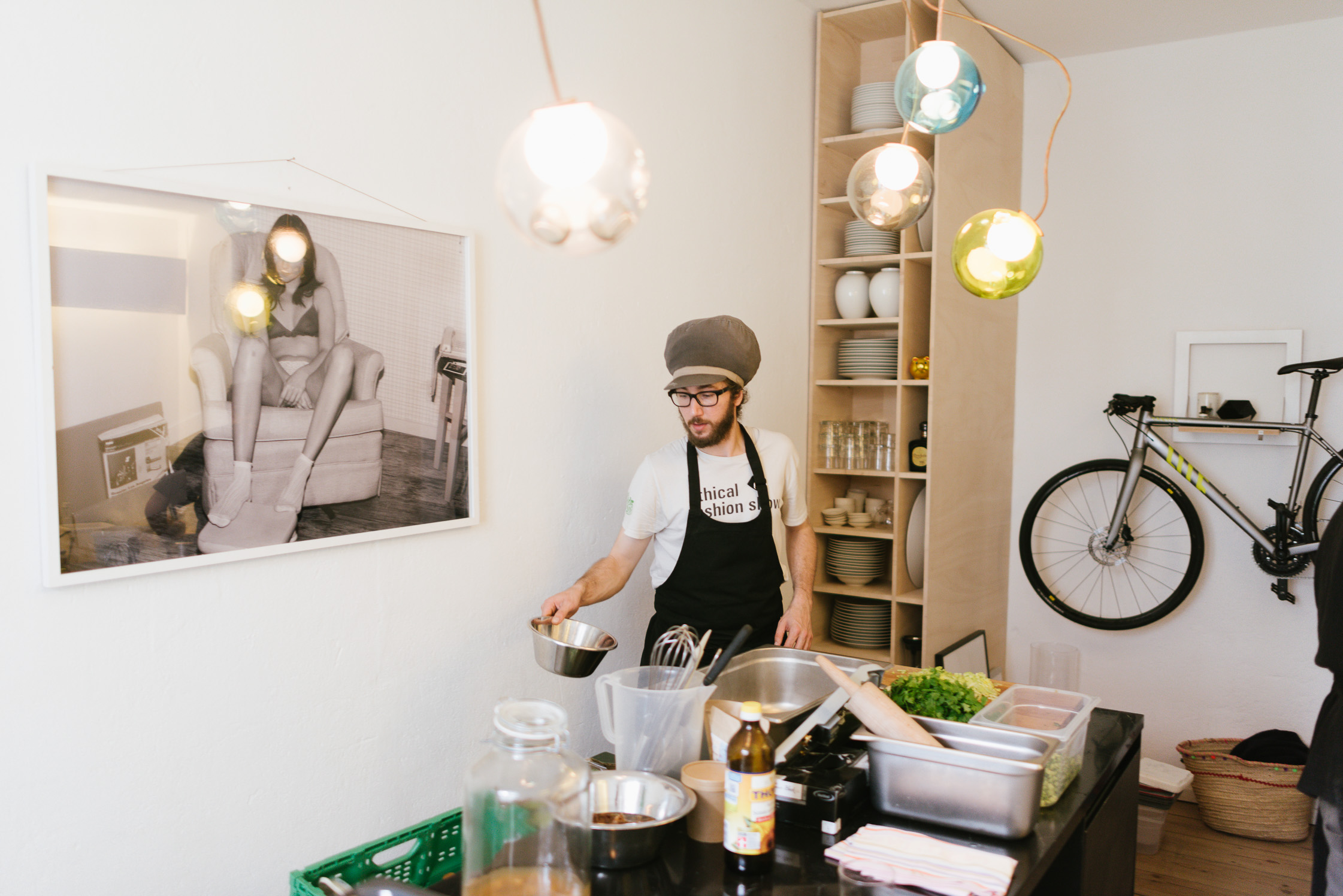 It's this sentiment that Contemporary Food Lab Berlin founder Ludwig Cramer-Klett, informal guardian of Berlin's slow food movement, sought to bottle by opening deli and food concept store Candy on Bone. CFL is a multidisciplinary platform and community, that in addition to an expanding portfolio of acclaimed eateries in Berlin, namely, Katz Orange to 2016's Panama, publish the food think-tank CFL journal, and hold not-for-profit workshops ranging from butter-making to pickling masterclasses. As a one-stop shop for carefully sourced products and dishes made of local, organic produce, Candy on Bone carries the educational mission of CFL forward—patrons curious about an ingredient in their dish can pick up a sampling on the premises from their well-stocked shelves, be it South American purple cornmeal or plump Sicilian fig jam.
"Following nature's cycles has its perks. One secret of our kitchen is the ease of it."
Inside, the design is a far cry from laminate, strip-lit delis—here, grey marble countertops and colorful pickling jars line brass shelves above pots of fresh herbs. The establishment is named for a signature dish—sticky 32-hour short ribs that caramelize like candy on the bone—in this, there's a welcome nod to their "big brother" CFL's Katz Orange and their mastery of slow-cooked meat. Head chef Florian Kliem is a long-standing figure of food activism in Berlin, he brings with him years of collaboration with local producers to the Candy on Bone kitchen, which serves seasonal lunches and weekend breakfast. "Following nature's cycles has its perks," he enthuses, "One secret of our kitchen is the ease of it. We just have a few ingredients, and this is how we make our recipes, keeping it simple so people can see what it is and get the real taste."
The picturesque location on Planufer's bank
Fitting to the eat-in-or-takeaway delicatessen, grocery store, and cafe, kitchen staff also venture out on the floor, recommending ingredients and striking up conversation with their patrons. "People see, say, a purple carrot and ask, 'What's that?' And then we start a discussion. Through the activities and the workshops that we hold, the best part is when customers ask about our producers and sign up for one of their vegetable delivery boxes," explains Florian. "That's the perfect thing, when it's not just us profiting from the discussion but our producers too. It's a nice circle then." And so, it seems CFL's dictum to 'feed minds and bodies' has found perfect purchase in the deli-store format, just as Ludwig suspected.
"That's the perfect thing, when it's not just us profiting from the discussion but our producers too."
The lunch served up in the FvF apartment by Florian and Uri of Candy on Bone typifies their mix-and-match lunchtime fare. Their tangy slow-cooked pork disappears first, but an unexpected show stealer are the umami rich carrots steeped in a homemade gingery stock—and for both, the purple cornmeal muffins are the perfect sponge.
Sixteen Hour Slow-Cooked Pork
Ingredients (for 6 people)
1

1kg pork (neck, shoulder or haunch)

2

100g golden syrup

3

100g ketchup

4

50ml soya sauce

5

Smoked salt

6

Garlic

7

Onions
Method
Sweat the onions and the garlic and combine with the remaining ingredients. Marinate the meat in the mixture either in a closed pot or vacuum bag, slow cook in the oven for 16 hours at 68°C.
Purple Cornmeal Muffins
Ingredients (for 2 people)
1

150g flour

2

125g purple cornmeal

3

2tsp  baking powder

4

1tbsp sugar

5

2 eggs

6

80ml olive oil

7

72 ml corn oil (or other plant oil)

8

180ml buttermilk

9

1tsp dried rosemary
Method
Mix together all ingredients. Spoon into muffin tin and bake at 180°C for about 20 minutes or until lightly browned.
Thanks, Candy on Bone, for hosting a delicious lunch for us. To find out more, visit their online home and learn more about our favorite food hub Contemporary Food Lab Berlin.
Text: Ruby Goss