Chef Tomas Klemann is the quintessential global citizen: born to Taiwanese and German parents in Argentina, he speaks four languages and has called nine different countries home. His pop-up restaurant venture, Bao Kitchen is a throwback to this heritage: an ode to his international experiences and the booming Berlin food scene.
Gua bao translates as 'cut bun', a Taiwanese specialty that has recently gained popularity in western culinary consciousness. These steamed, sweet white buns are cut open and filled with meat and vegetables, along with cilantro, peanuts, chilli and pickled mustard greens. Their flavors are delicate and bold, illustrating the symbiosis of Chinese and Japanese cuisine that is typical of the island nation. It was while living in Taiwan that Tomas fell for the uncomplicated beauty of this traditional street-food—which he describes as love at first bite.
After arriving in Berlin in 2011, Tomas opened Bao Kitchen in 2013, with the desire of replicating the gua baos he had enjoyed on street corners and night markets during his time living in Taiwan. The buns were a hit at the Berlin foodie markets like Markthalle Neun and Bite Club. The instant popularity of Bao Kitchen quickly turned his part-time gig into a full-time career. "Before I started selling baos people doubted that the product would take off in Germany, but we've been busy since day one!" He dropped past the FvF Apartment to show us why.
"No matter where you are from, the texture and taste of Taiwanese is relatable to any palate."
Our lunch began with a selection of appetizers including Jade Garden: a simple dish with flavors that did not disappoint. Who knew cucumber marinated in umami soy could be so good? This fresh, light starter was offset with just the right amount of chili. Also plated up were two styles of handmade bao buns, one served with seared tofu, Asian coleslaw, soy-citrus vinaigrette and chili-mayo, and the other with a four-hour Chinese-style braised beef cheek so tender it seemed to melt.
As we devoured our appetizers, further plates appeared. Vegetarian Chao Shou Dumplings: carrot filled won-tons, served on sweet potato purée with soy, Chinese vinegar, chili oil and cilantro. Taiwanese-style Lu Rou Fan: braised pork belly ragout, served on a bed of rice with star anise, pickled turnip and spices, and the grand finale: Hunan-style Cumin Pork Ribs that had been poached and wok-fried with jalapenos, cumin and cilantro.
Tomas explains that the universality of these flavors are what make them so accessible: "Taiwanese fare is pure comfort food. The combination of a fluffy, steamed bun and moreish filing transcends all cultures and tastes. No matter where you are from, the texture and taste of Taiwanese food is relatable to any palate."
Asian-style Braised Beef Cheek Baos
Beef cheeks are a little-used cut that are tough when uncooked, but that make for a meltingly tender and unctuous dish when braised at a low temperature for several hours. The slow cooking allows the natural collagens and sinews to break down, resulting in a gloriously rich sauce.
Our recipe adds an Asian riff to the beef cheeks, using soy sauce and Shaoxing wine. Aromatics like ginger, shallots, spring onions and star anise further ramp up the Asian flavors. To finish, stuff some freshly steamed baos with chunks of cheek, coriander leaves and slices of chili for a bao fit for royalty.
Serves roughly 6 to 8
Ingredients

1

2KG of beef cheeks, trimmed

2

60g ginger, peeled and sliced

3

100g of spring onions, washed and trimmed

4

2-3 sliced shallots

5

1-2 carrots, roughly chopped

6

1-2 star anise

7

1 cinnamon stick

8

60ml of Shaoxing Wine

9

80g rock sugar

10

250ml good-quality light soy sauce

11

A pinch of salt

12

A pinch of white pepper

13

Vegetable oil

14

1 Liter of water or beef stock
Method
Preheat oven to 170°C. Using the stove, heat the oil in a heavy, ovenproof pot and sear beef on all sides until golden brown. Remove the beef and set aside. In the same pot, sauté carrots, ginger, spring onions and the shallots until golden brown. Place the beef back into the heavy pot and add all the remaining ingredients. Add sufficient water or beef stock to submerge cheeks completely. Cover the dish with the lid or aluminum foil and braise in the oven for 4 hours. Once beef has been braised, remove the cheeks and keep warm. Strain the braising liquor using a sieve and discard all the vegetables. Reduce the liquid by half and spoon over the beef cheeks. Add some coriander leaves, slices of chili and if necessary, some sea salt. Serve immediately with freshly steamed baos or rice.
The beef cheeks can be prepared 1-2 days in advance and stored in the fridge. The flavor actually gets better over time.
TIP: Most Asian or Chinese grocers have good quality bao buns or mantous in the frozen food section for reasonable prices. It will save you a lot of time and effort, instead of making them at home. An added bonus is that you can store them in your freezer until required.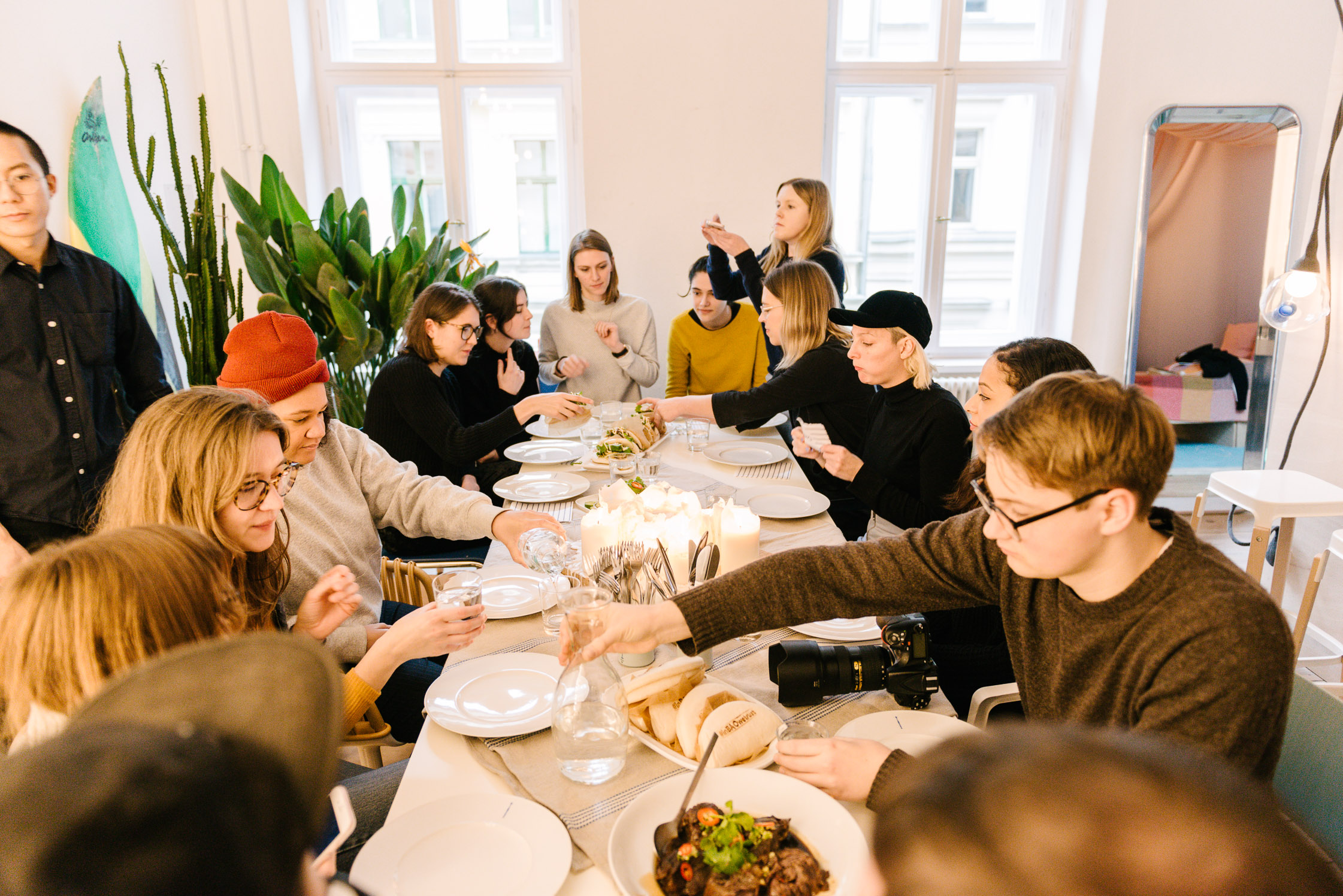 Berlin might seem a strange choice as a location for the cuisine of an island a hundred miles from the Chinese coast, but for Tomas—it was the logical one. "Berlin is an ideal location given the continuous influx of creatives from all over the world. At the moment, there's no other city in continental Europe with such an exciting food scene. And we're only just scratching the surface." The reign of Bao Kitchen isn't limited to Berlin alone, Tomas and his sister have opened a second store in Buenos Aires—proving the global appeal of humble Taiwanese street-fare.
Thank you Tomas for each (and every) course! If you would like to sample some traditional Taiwanese fare for yourself, you can find Bao Kitchen every Thursday from February the 16th at Markthalle Neun in Kreuzberg or visit them online here to find out about their catering services. And looking to the future, a store is on the horizon for summer 2017. We'll keep you all updated!
For more food adventures with FvF Cooks, follow the link here.
Text:Rosie Flanagan
Photography: Daniel Müller