Photographer Hayley Louisa Brown is a creative force to watch. As editor in chief of Brick, a biannual hip-hop culture publication, she set out to eschew all the usual cliches usually associated with the genre (such as the propensity for overtly masculine imagery), choosing instead to focus on a contemporary aesthetic and timeless content.
"I wanted to make something I would buy myself," says Hayley as we flip through a past issue of Brick in her studio in Shoreditch, London. "Other hip-hop mags became almost like lads mags with just a bit of music content. It was very tacky, very '80s boys with their toys,' so I wanted to change that image. Now within youth culture, identity is so fluid—there's not really a divide between masculinity and femininity anymore, so I set out to make appeal to everyone."
Hayley Louisa Brown was selected as the second artist to be supported by Ace & Tate's Creative Fund—an initiative providing grants to support young, ambitious talent who need help getting on the first step of the ladder to success.
"Other hip-hop mags became almost like lads mags with just a bit of music content. I wanted to change that image."
Hayley's natural affinity for music and passion for photography are what eventually led her to launch her own magazine. "I spent my childhood making CDs of songs downloaded from really terrible websites like Limewire, and playing them to everyone in my tutor group" she says, laughing, "I also grew up with a lot of different musical influences from my family, and that combined with my MTV intake helped shape my appreciation for so many types of music."
Despite a broad musical education, hip-hop was always her one love: "Seeing that Mad Max inspired 2pac video for California Love on MTV base transfixed me. It was so otherworldly to me, the mix of sounds and the production, the theatrics of it. I don't come from the same place or generation as 2pac, Dre, Nas, or anybody that I grew up listening to, so the lyrics became aggrandized legends that I'd read in CD sleeve booklets. The artists were these untouchable figures I'd sometimes see in The Source when I could find it."
But it was when she started attending hip-hop gigs that her love for hip hop was set in stone. "When I went to see those early shows by Tyler the Creator and A$AP Rocky, their first in the UK, there was this insane energy about them that was like nothing I had seen before. It reminded me of the energy of punk and things that I had only seen and read about when I was at school. It inspired me to put together a punk-influenced zine, but one that was about hip-hop artists."
Brick by Brick: A glimpse into the mag
"The artists were these untouchable figures I'd sometimes see in The Source when I could find it."
Hayley studied photography at London College of Fashion and under the tutelage of acclaimed photographer Mark LeBon she felt a draw towards portraiture. "He really opened my eyes to other photographers like Bruce Weber and Bruce Davidson, when I saw their portrait work I was like, 'holy shit, this stuff is amazing!'" Hayley went on to shoot fashion editorials for the likes of Wonderland and Nylon Magazine, eventually moving into music editorial. After a year cutting her teeth as hip-hop editor of Clash Magazine, she made the jump and launched Brick.
"I wanted to make something that had an arresting element, for people to keep and collect like I did with magazines I used to buy, tearing out my favorite pictures and sticking them on my wall. Being a photographer helped me understand that the imagery in the magazine needed to be really strong, otherwise people are not going to engage with it. I didn't want it to be a vanity project so I've not actually contributed that much of my own work. I set out to commission photographers who interpret artists in their own way, rather than book someone and say 'you're shooting a hip-hop artist so do it this way.' I think that there are so many great photographers now like Tyrone LeBon, Jamie Hawkesworth, Harley Weir, all true to their own art form, and brands have really bought into that."
Despite being a young indie publication, securing big name artists for Brick has not been a problem—already boasting features with living legends like Vince Staples, Wiz Khalifa, A$AP Ferg, and Action Bronson. "We're trying to make a publication that encapsulates the culture that sits alongside the music, rather than just a music magazine," Hayley explains, "We try to incorporate features on things other than direct interviews with artists—for example, we had a feature on the history of hip-hop publishing after we visited the world's largest magazine collection at the Hyman Archive."
"It reminded me of the energy of punk and things that I had only seen and read about."
A labor of love between designer Ric Bell, her boyfriend and managing editor Sam Butler, and the team of freelancers that they commission, each issue of Brick is born out of Hayley's living room—when she's not on location that is. "It's literally all of us sitting around a table with a whiteboard on my living room wall, going through ideas for content, working from my computer. Really glam!" she says wryly.
With sales of the first two issues rocketing and retailers all over the world rushing to stock it, the young publication has already got legs. "Brick is allowed to sit on its own," she says, "Like other independent titles out there, because it's so personal to me, I don't think there could be another magazine like it."
A trip to Memphis and Graceland this year also set the scene for a new project about young Elvis fans she's currently putting together, with the help of the Ace & Tate Creative Fund. "I shot all of these Elvis fans who are in their teens and early twenties, and for me the idea of Elvis as a pop culture figure is a completely separate one to him as a musician—it's the idea of his impact on culture and his image that interests me more so than his music. Youth culture is a subject that's always fascinated me, and Elvis personifies what an effect a single person can have on a generation." As Ace & Tate's second chosen artist for their Creative Fund, Hayley receives a grant for this one-off project but will continue to be assisted in the production until it reaches completion.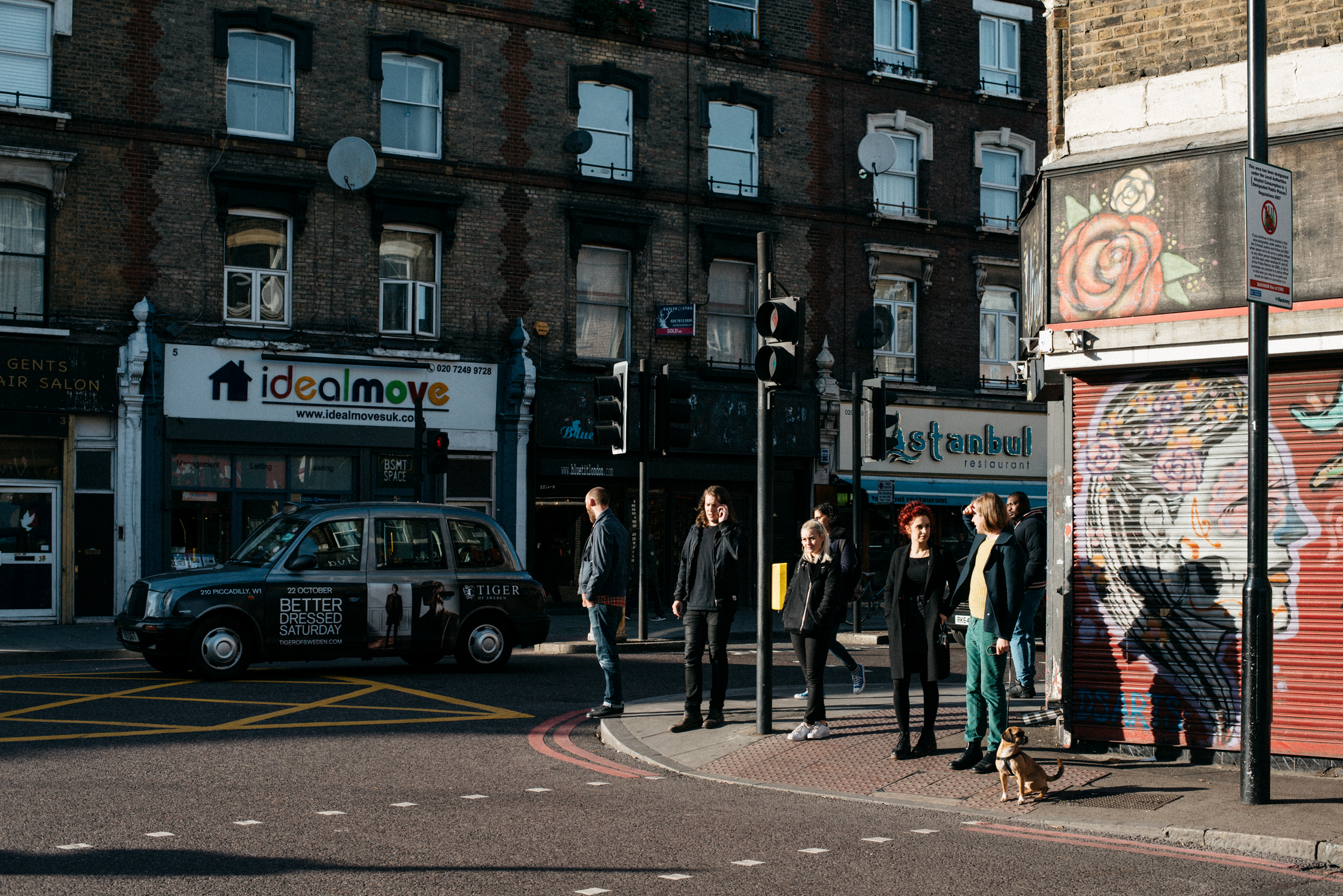 "It's literally all of us sitting around a table with a whiteboard on my living room wall. Really glam!"
Her idea for the Creative Fund stems from an early interest in US pop culture: "I think being British we are bombarded with so many images of America, from TV and film to music and art and advertising that it's difficult not to absorb it—especially growing up in the British countryside where there's a lot less visible culture than in London. The idea of New York, LA, Las Vegas, Memphis, all these places had been romanticized in my head from such a young age that I'd always had an attachment to them without ever being there."
Being chosen to receive the grant for the project from Ace & Tate has enabled Hayley to continue doing what she loves. "Brick is my focus but shooting commissions and doing other projects that I really enjoy is important too, so it was a fantastic feeling to receive the help from Ace & Tate." Ultimately, Hayley would like this photography project to culminate in a printed book. If all goes to plan, one chapter will focus on Elvis fans she documented followed by her photo series on Memphis and what Hayley personally experienced there.
So as Brick and other projects gather momentum, the future looks bright for Hayley, full of sunshine to be exact, as she reveals that a new office in Los Angeles may be in the cards. "L.A. is so different to London—maybe it's because there's always great weather so everybody's happy, but I also find the city to be really encouraging. It feels like creatives there encourage and support one another rather than compete—which I think is a much more positive mindset to have. I'd like to be around that more often, and potentially grow Brick into a creative studio, working with brands and artists. Also, working on the magazine means I'm working to L.A. time quite a lot anyway because of artists and labels being based out there, so having an office and studio there makes sense. Working remotely is hard, right now it feels like stopping to eat in the evening is really just a second lunch break before starting again until bed!"