A hazy rainbow stretches across the sky, reflected in the greenhouse of Villa Lena's expansive kitchen garden.
Stepping outside the pistachio-green tiled kitchen to catch a glimpse is the current chef-in-residence of the Tuscan retreat, Margot Protzel. "When I was fantasizing about what my summer would look like, I was thinking it would be so nice to go cook somewhere in Italy," she says, wistfully, as we set the table outside for a late lunch. Each chef who comes to Villa Lena for a temporary residency is passionate, if not completely driven by a desire to create food that's as close to the earth and sustainable as possible. Ingredients that are home-grown, foraged in the wild, and locally-sourced direct from the farmer play center stage in their dishes. And for this native New Yorker having ripe Italian produce readily available (including the occasional hunted truffle) was the ultimate luxury. "I started cooking from the age of 12. My mom had a lot of Italian cookbooks so the kitchen was like my playroom, essentially. Every weekend I would pick a recipe and it developed into a serious passion."
Having graduated from Bard College and Wapato School of Permaculture, Margot's first job was at Danny Meyer's well-loved New York restaurant Gramercy Tavern. "I started by cutting bread and sweeping the floors! I remember the girl who first trained me commented on how I held the spoon—like, I didn't even know how to do that. But then these are things you learn really quickly. I spent three years in that kitchen and it taught me every foundation that I needed to know." Having honed her skills, Margot not only cooks for the guests and artists in residence at Villa Lena, she also hosts workshops giving her a chance to teach some of her techniques to those interested. Her classes included fresh pasta making and the preserving technique of wild fermentation.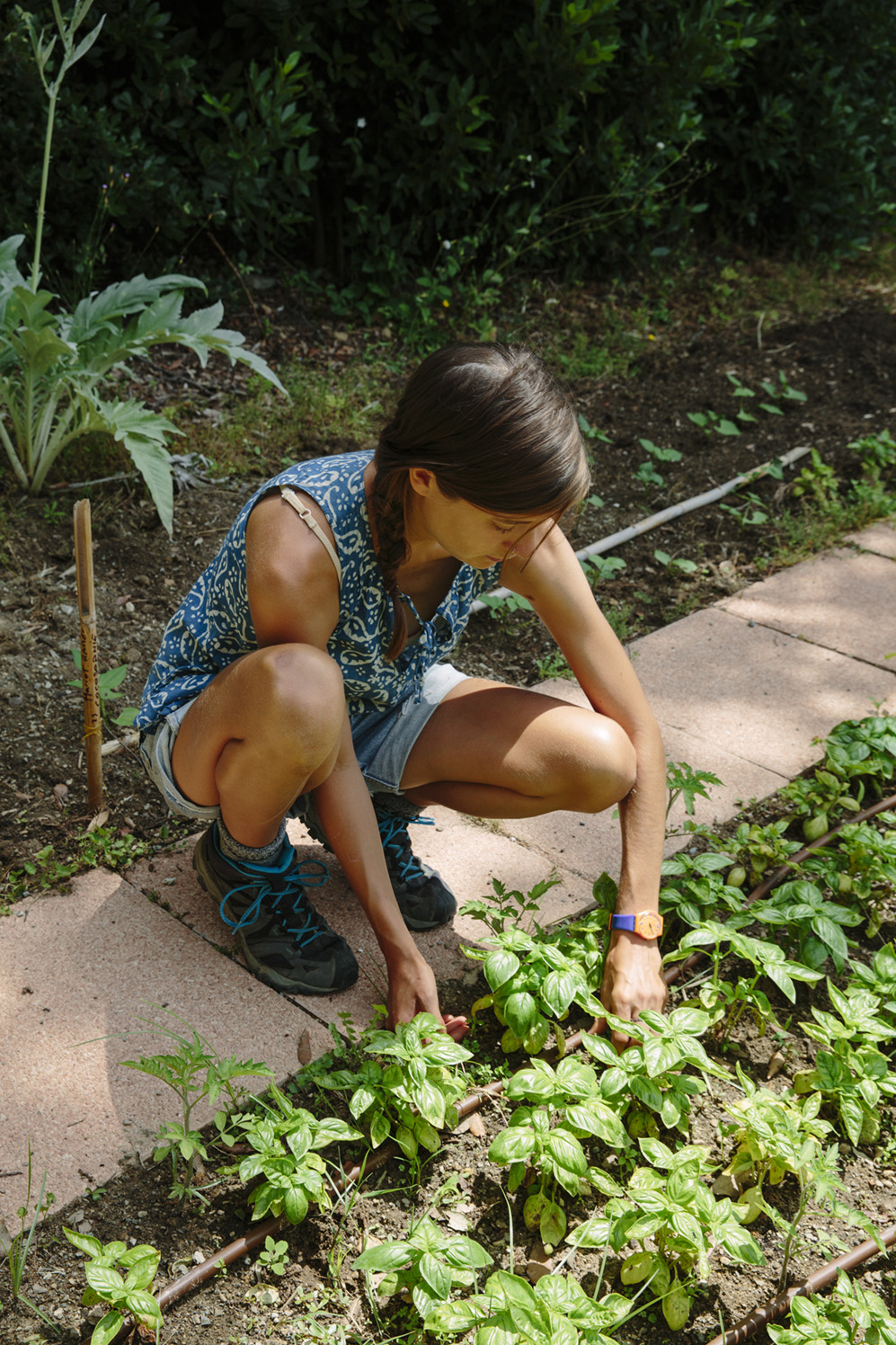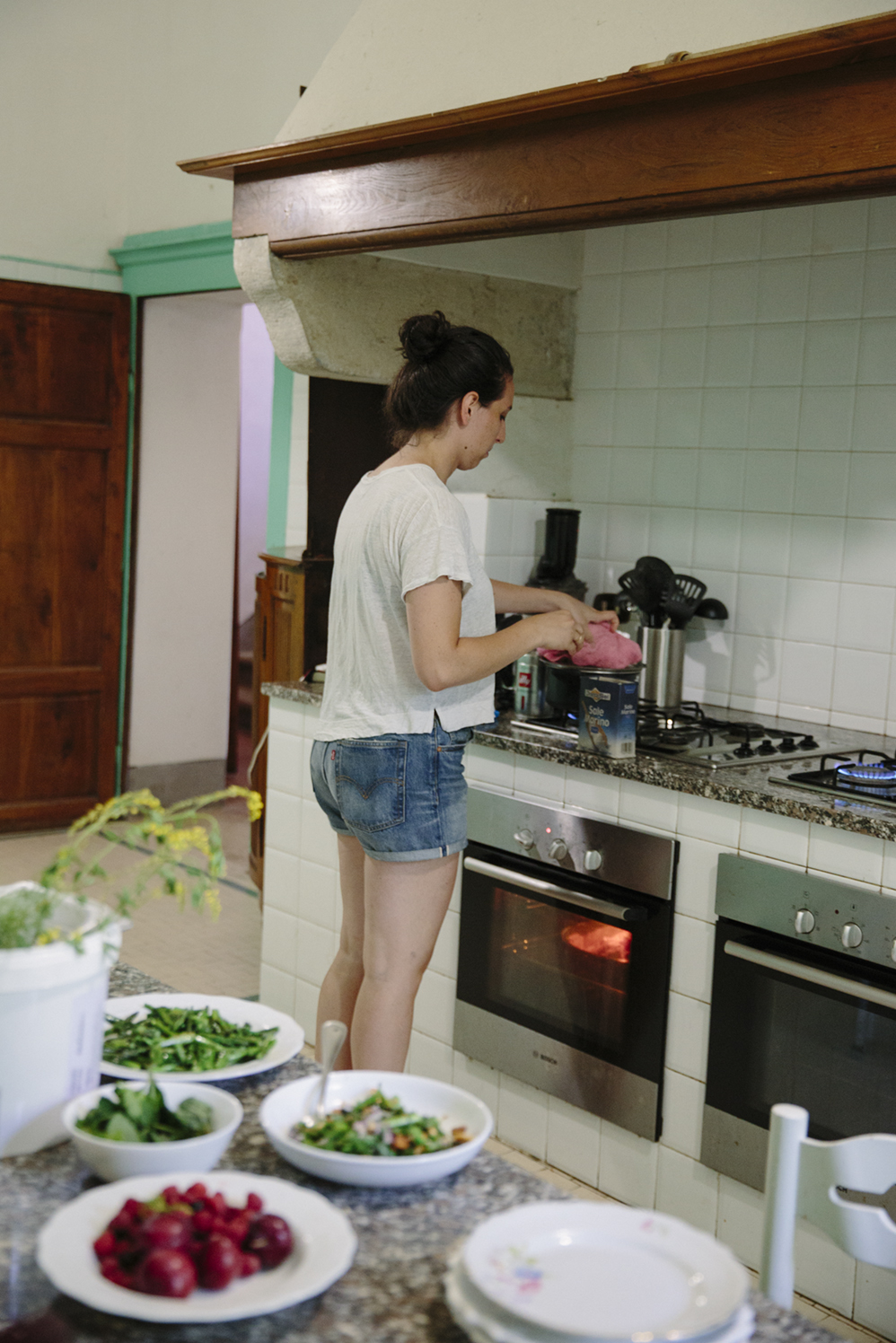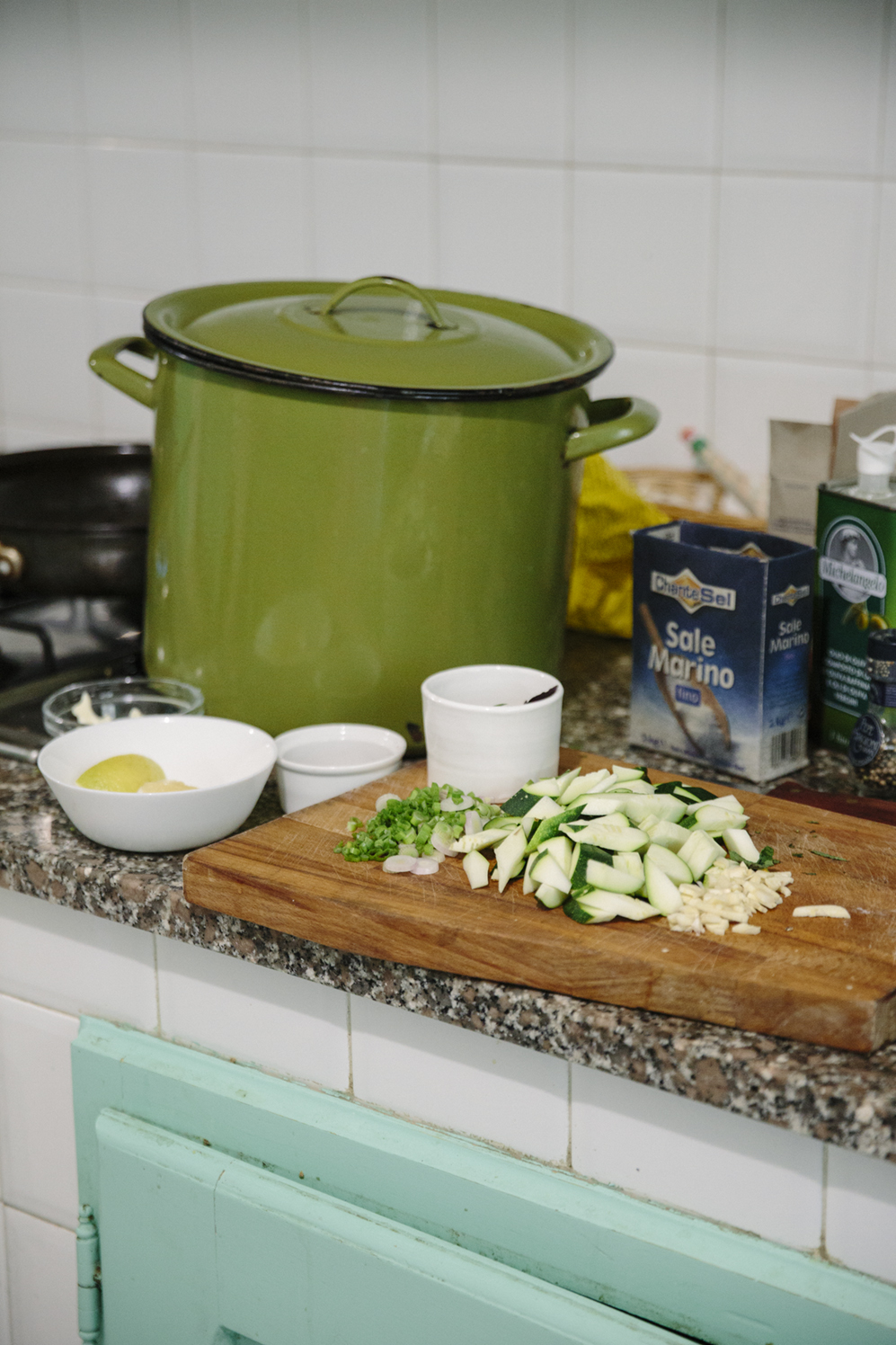 "The two chefs that ran the restaurant had a love of Sicilian and Calabrian cooking, which was something I really resonated with."
On a rare day off, Margot cooks the FvF team a simple lunch with most ingredients harvested right from the garden we overlook. From the asparagus crostini with wild garlic to zucchini pasta and tart plum crostada, Margot's flavor pairings are delicate yet robust, fresh and somehow warming. "I really learnt about flavors and the personalities of different vegetables—how different ways of cooking them brings out varying flavors at a restaurant called Franny's in Brooklyn," she says. "The two chefs that ran the restaurant had a love of Sicilian and Calabrian cooking, which was something I really resonated with. It's affected my idea of food and the way I cook a lot." Getting the chance to cook with locals in Tuscany, Margot got to put her Italian cooking to its true test. "I've always been cooking in a way that I think has Italian spirit and the locals I'm working with say 'no, no, you don't do that!' they're very traditional and I tend to break tradition!"
Penne with summer squash and young garlic
Ingredients (for 2 people)
1

1 pound dried penne pasta

2

2 tbs extra virgin olive oil

3

2 medium sized zucchini, quartered lengthwise and then 1/4 inch slices

4

1 head of fresh young garlic, or 4 cloves of garlic thinly sliced

5

1/4 tsp red chili flakes

6

1 cup grated Parmesan cheese (save ¼ cup aside for finishing)

7

10 zucchini blossoms, cut lengthwise down the middle, cleaned and sliced

8

1/4 cup basil leaves, torn

9

2tbs unsalted butter

10

1/2 cup bread crumbs
Method
Boil 4 quarts of water and season well with salt

Heat a large skillet over medium-high heat and add olive oil

Add zucchini and cook until they start to turn a deep golden brown

Add a pinch of salt when they have some color

Lower the heat, and add garlic, cook until tender—but not brown

Add chili flakes

Add 1/2 cup pasta water to the zucchini to stop the cooking and set aside

Stir the dried penne pasta into the salted boiling water, cook until the pasta is al dente. The pasta will finish cooking in the pan with the zucchini, so make sure to not overcook it in the water

Strain the pasta and add it to the zucchini. Toss together over medium heat. Add the butter and the basil, toss as the sauce reduces and thickens. Add fresh pepper to taste

When there is about 3 tbs of liquid left, take the pan off the heat and toss in the cheese, followed by the blossoms and salt to taste

Serve in a bowl with grated cheese and breadcrumbs to finish
Plum crostata
Ingredients (for 2 people)
Butter Pie Crust

1

2 sticks of butter, cold and cubed

2

2 1/2 cups all purpose flour

3

1/4 cup ice water

4

1/4 tsp sea salt

Plums

1

3 cups Italian plums, pitted

2

1 cup granulated sugar

3

1 lemon, zest and juice

4

1 egg

5

2tbs turbinado sugar
Method
Butter Pie Crust
In a food processor, pulse the flour and salt.

Add cubed cold butter in thirds, pulsing until the butter pieces are integrated with the flour.

Slowly, as the processor is running, add the ice water. You may not need it all, add enough so the dough can come together to form a ball.

Flatten the dough into a disc and wrap with plastic. Refrigerate for 30 mins.
Plums
Toss all ingredients together

On a lightly floured surface, or between two sheets of parchment, roll dough to an 8 inch circle

Transfer to a baking tray or cast iron pan lined with parchment

Pour the plums in the middle and begin lifting the edges of the circle over the fruit towards the center

Fold the dough on itself to create a pinwheel effect. Brush with egg wash and sprinkle with turbinado sugar

Bake in the oven for 30-40 mins until the juice is bubbling and the crust is golden brown

Allow to cool completely before cutting
Thank you, Margot for preparing a delicious lunch for the FvF team at Villa Lena. For more information on the chef-in-residence program, see here. And for a further taste of Tuscany, see our other stories set in Italy here. 
Text:Andie Cusick
Photography:Greta van der Star