Our future seems to be full of electric cars, alternative energies, vertical farms and reusable coffee cups—all efforts to undo some of the remarkable damage we've done to the environment.
But it's our inability to keep up with the dizzying pace of technological development that's holding us back. Drastic changes need to be made to our lifestyle from the top down and if not made willingly, they will be made out of necessity. This isn't to say that no one is keeping abreast of what the future holds for us—take for example, OTHR.
Based in Chinatown, New York City, OTHR is a small team of just five—but that's not to say they're not capable of participating in the third industrial revolution. The OTHR offices are wedged between two tchotchke hocking shops selling "I ❤️ New York" t-shirts and a store claiming to have sold A$AP Rocky a gold chain. Inside their office, a small Makerbot 3D printer sits on a counter politely as the team taps away at their iMac stations.
Launching in early 2016, OTHR produces goods designed by some of the world's best designers and design firms, including Claesson Koivisto Rune, Josh Owen and Ini Archibong—exclusively with 3D printing technologies. Founded by multi-disciplinary designer Joe Doucet, OTHR is born from a look toward the future: "The original impetus for OTHR came from a sense of self-preservation," he says, "The first time I 3D printed something and got it back, as poorly made as it was, I knew that the whole industry was going to be very different—not just within my lifetime, but within five to ten years."
"We started working with 3D printing porcelain while it was still in the beta phase. We were lucky to get on so early."
One look at the products that OTHR have created and it's difficult to imagine that they were 3D printed—the bronze cru cake spatula and knife designed by Joe himself, and the ceramic aqueous wall planter designed by OTHR's Chief Design Officer, Evan Clabots, are among the first products created with these technologies. A far cry from the crude, plastic models that might come to mind when thinking of 3D printing. However, technology moves quicker than one would think, "We started working with 3D printing porcelain while it was still in the beta phase. We were lucky to get on so early. The technology is really only about four months older than we are," says Evan.
Though still a young brand, OTHR brings together years of combined design experience between Joe and Evan, alongside powerful branding and marketing from industrious creative director, Dean Di Simone. Together, they've created a powerhouse of a brand that exists at the junction between design, emerging technology and clever business model.
"There's this one word that in the branding space has been a topic of conversation for a while: 'Permission,'" says Dean, "We can produce a product that people will have permission to buy on their terms—whether it's because of the 3D printed components, supporting emerging technologies, or the lack of environmental impact. It's a new territory. People are still trying to get their head around 3D printing and on-demand products, what we're trying to do is provide the context for them to have that permission to buy our products. Why is it important to invest in 3D printing?"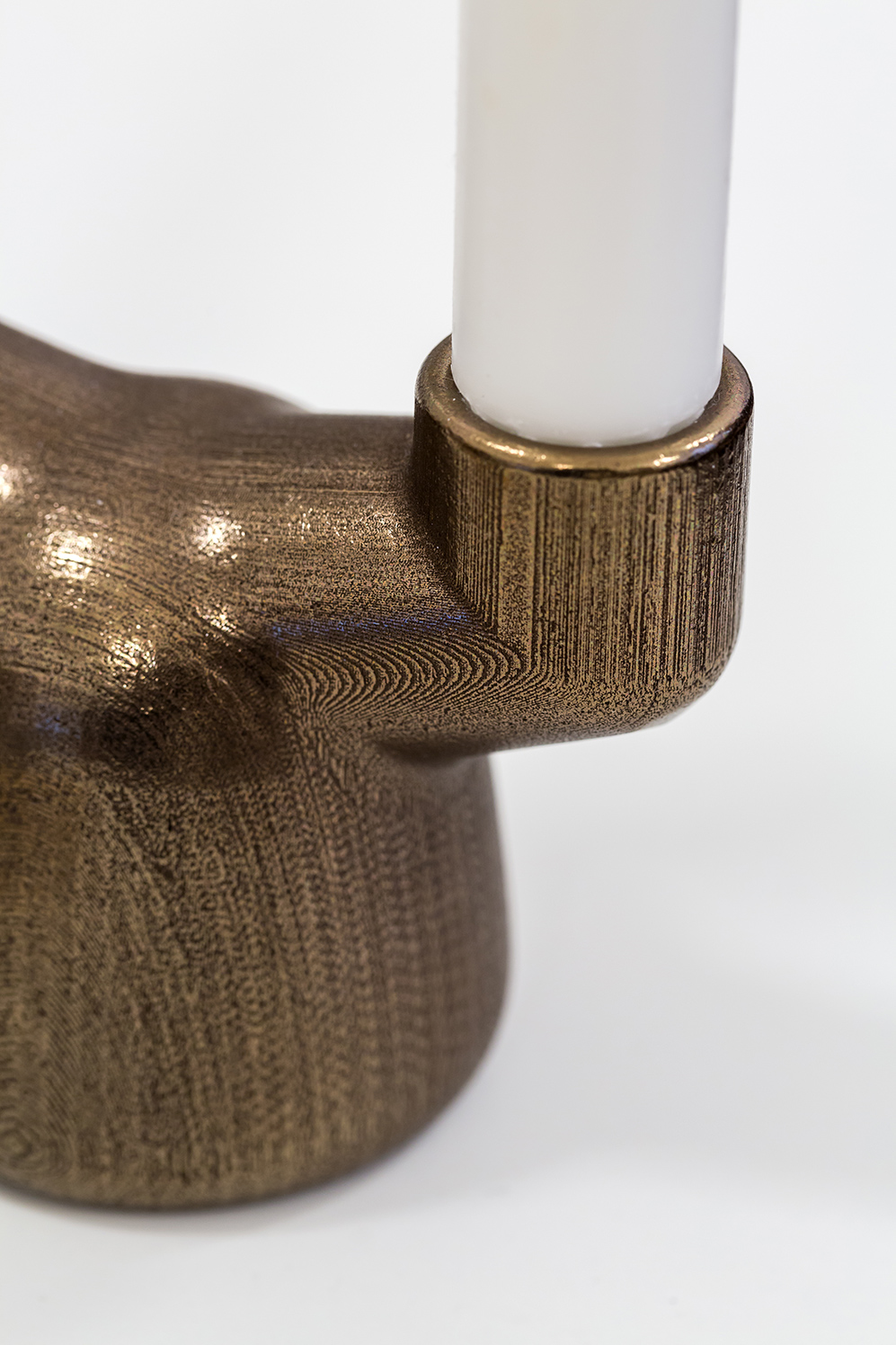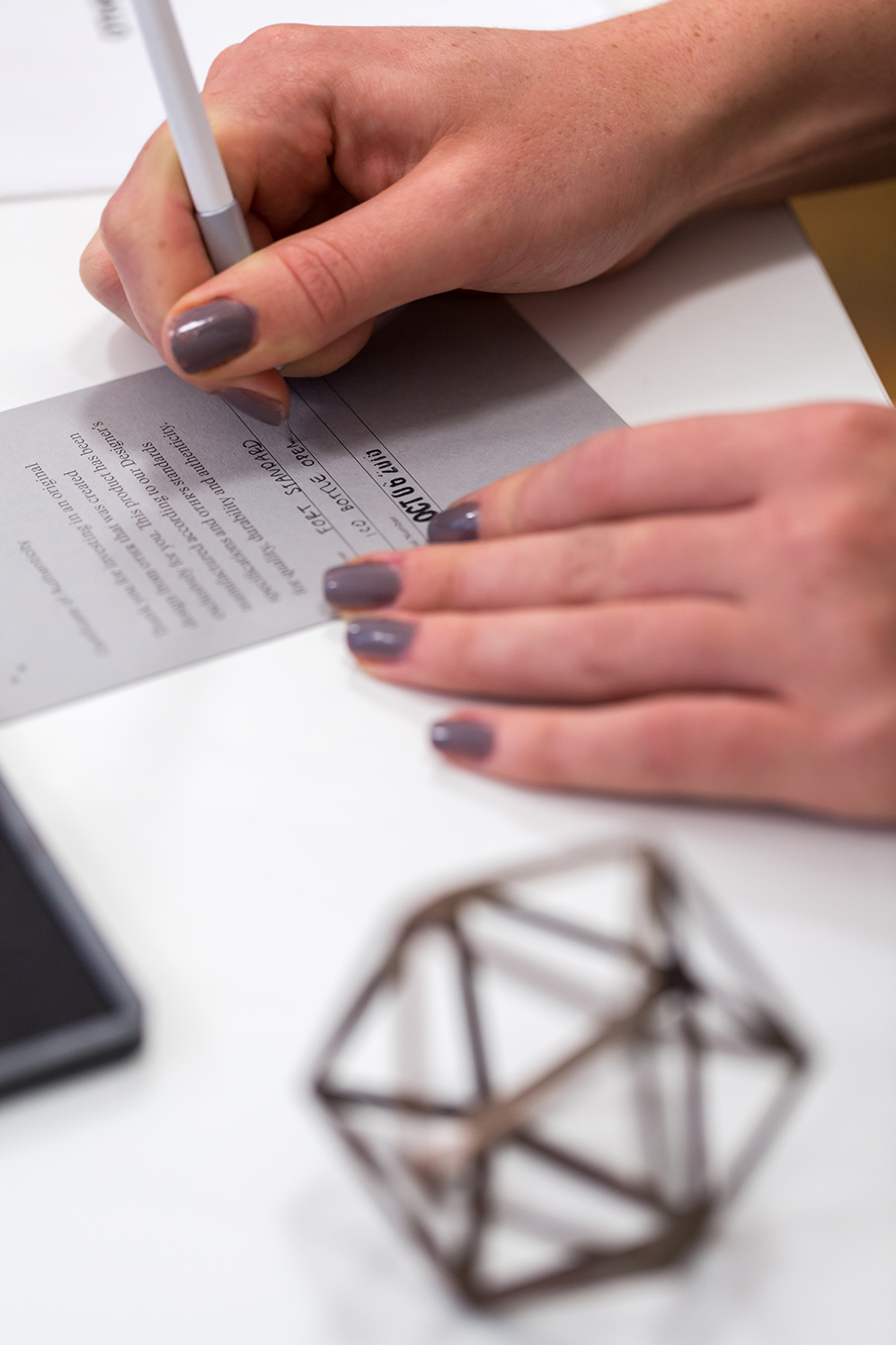 3D printing, or "Additive Manufacturing" is a process that that allows users to create objects by programming specially designed printers. 3D printers can create objects in a variety of materials: from plastics to steel and ceramic, which OTHR utilize in their designs. 3D printers deposit these materials layer by layer until the design is complete. These machines are incredibly precise, generating zero waste and the ability to create objects on demand. The processes that OTHR uses to create their products are at the height of this technology, and will only continue to improve. "The truth is that all of our products can only be made the way that we make them. You want to copy it? You can try using traditional manufacturing—and you will fail. Or you can try to 3D print with the materials we use but it will cost you a lot more," say Joe.
A look into the future
Some of OTHR's 3D printed objects.
More than just an interesting production method, manufacturing goods with 3D printing is environmentally sound and is likely to replace our current modes of production. Unlike traditional manufacturing, where goods are produced in large batches whether or not the demand exists, the goods that OTHR create only exist when someone orders them. On-demand production eliminates wasted products that will sit in a warehouse until eventually making their way to a landfill.
"Owning the first artifacts of the third industrial revolution is not just only something people can feel good about today, but they'll be able to validate tomorrow."
As a result, OTHR's products hold a certain weight—each piece is labeled with an individual number, unique to that piece, "The number you see on there is data. You can check the bottom of a product and say 'My god, this is Gen 1 of this technology.' Future owners of these products being able to precisely track when, where and with what technology the piece was made and what generation of technology it was." says Joe, "Five years down the road these products will be made very differently just because the technology moves that fast. Owning the first artifacts of the third industrial revolution is not just only something people can feel good about today, but they'll be able to validate tomorrow."
The small team isn't working alone to make this happen however—in fact, collaboration is a key element that defines OTHR. Having worked for years within the design industry, the team taps some of the greatest talent in contemporary product design. "OTHR is a design brand—it is not a personal brand. This was not intended to be a personal project where I, Evan and Dean design great products that can be put out into the world," says Joe about the collaborations. And the interaction between the brand and the designers they collaborate with is quite unique. Since their 3D printing techniques are so new, OTHR has to use the knowledge they've gained to teach them—though it didn't come easily.
Some OTHR Products in the FvF Apartment
"Credibility for a design brand is given by the talent they work with."
"Every manufacturing process has its ins and outs—we were trying to learn them while also launching a business and at the same time our manufacturer was trying to learn their restrictions and constraints," says Evan on the early days of OTHR, "So getting to launch was really tough. It's gotten easier and easier and now we're nailing it on the first or second try. We're now acting as this hub for knowledge on 3D printing and each designer challenges the technology in a different way so we learn a little something and are able to pass that onto the next designer."
"Credibility for a design brand is given by the talent they work with. You only get great talent if you work with great talent," adds Joe, "When you have the ambition of becoming the first important American design brand in 65 years, which is our aspiration, we're relying on the talent that we're bringing in. The midcentury movement didn't happen without certain luminaries and this is a movement that won't happen without the world's best talent."
OTHR's international roster of design talent
OTHR x FvF / The Light Fantastic: Ini Archibong places his tech-focused designs into a mythical realm

OTHR
There are many parallels between the current state of design and the midcentury movement—of innovation and discovering the boundaries of what is possible with the technology on hand. "One of the midcentury movement's greatest successes was they were designing into new manufacturing techniques. They were looking at what those techniques could do and they were trying to utilize those techniques to create new forms," says Evan, "and now, our designers are creating objects that could not have been made before."
Their willingness to embrace these technologies and explore possibilities allows them an incredible amount of flexibility—and given the speed at which the technology is developing, more brands will have to follow suit or perish. "It can either be a smooth transition into a better way of doing things or just steamroll over an industry," says Joe, "I don't want to see 3D printing completely dismantle the industry—I want to help it profit."
Thank you to the OTHR team, for inviting us to your offices and giving us a peek into the future of product development and design.
OTHR is a 3D Printing brand that is revolutionizing the way that we interact and produce objects. By collaborating with the world's leading talent in design, they create aesthetically beautiful, purpose-driven objects that are also environmentally friendly. Follow along as we profile their international roster of designers here.
We've also profiled each founder of OTHR individually, click to find out more about Joe, Evan and Dean.
Text: Kevin Chow
Photography: Fran Parente