Patrice Bastian is French and is trained as an architect. Turning his back on his country and education during different periods of his life, he has proven by example that the course of life can be defined very directly by the consequences of pivotal decisions. Since completing his studies, Patrice took on a range of art and creative direction positions for event companies that led him to spend the best part of the last 15 years between North America and Asia. During his time in China, Patrice organized large high profile events while mixing with a high flying expat crowd. At one such event he locked eyes on his future wife to be, Laetitia Schlumberger. Laetitia was on a business trip, representing French couture in China as a fashion designer. The evening turned out to be a fortuitous one.
Patrice chose to immerse himself in his Chinese experience while abroad. The opportunity for a personal chauffeur was turned down in favor of mixing with the hundreds of commuters, riding a bike to work and wearing the local working class shoes. His colleagues were not shy in making comment about his choices. This got Patrice thinking that there was actually something to this running joke and that his preferred local footwear might actually have commercial potential. The beginnings of the shoe brand Feiyue were born. He and his business partner acquired the brand soon after in order to import it to France while Patrice began preparations to leave behind his life in Asia and return to Paris. Shortly after he reconnected with Laetitia. Today their relationship is forever framed by a country that served as a basis for the direction of their lives in Paris with their son, Yume in their classically decorated apartment.
This portrait is part of our ongoing collaboration with ZEIT Online who present a special curation of our pictures on their site.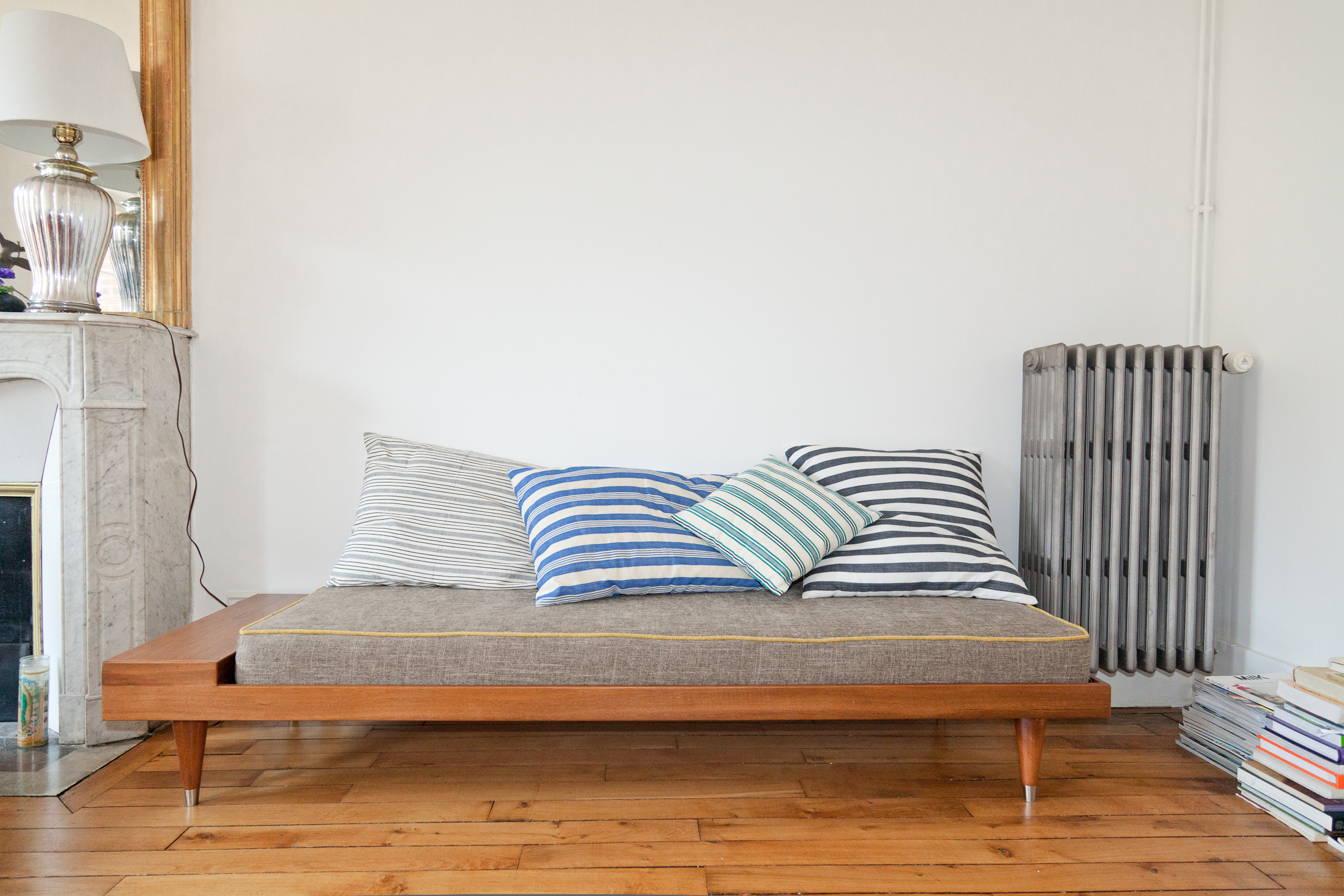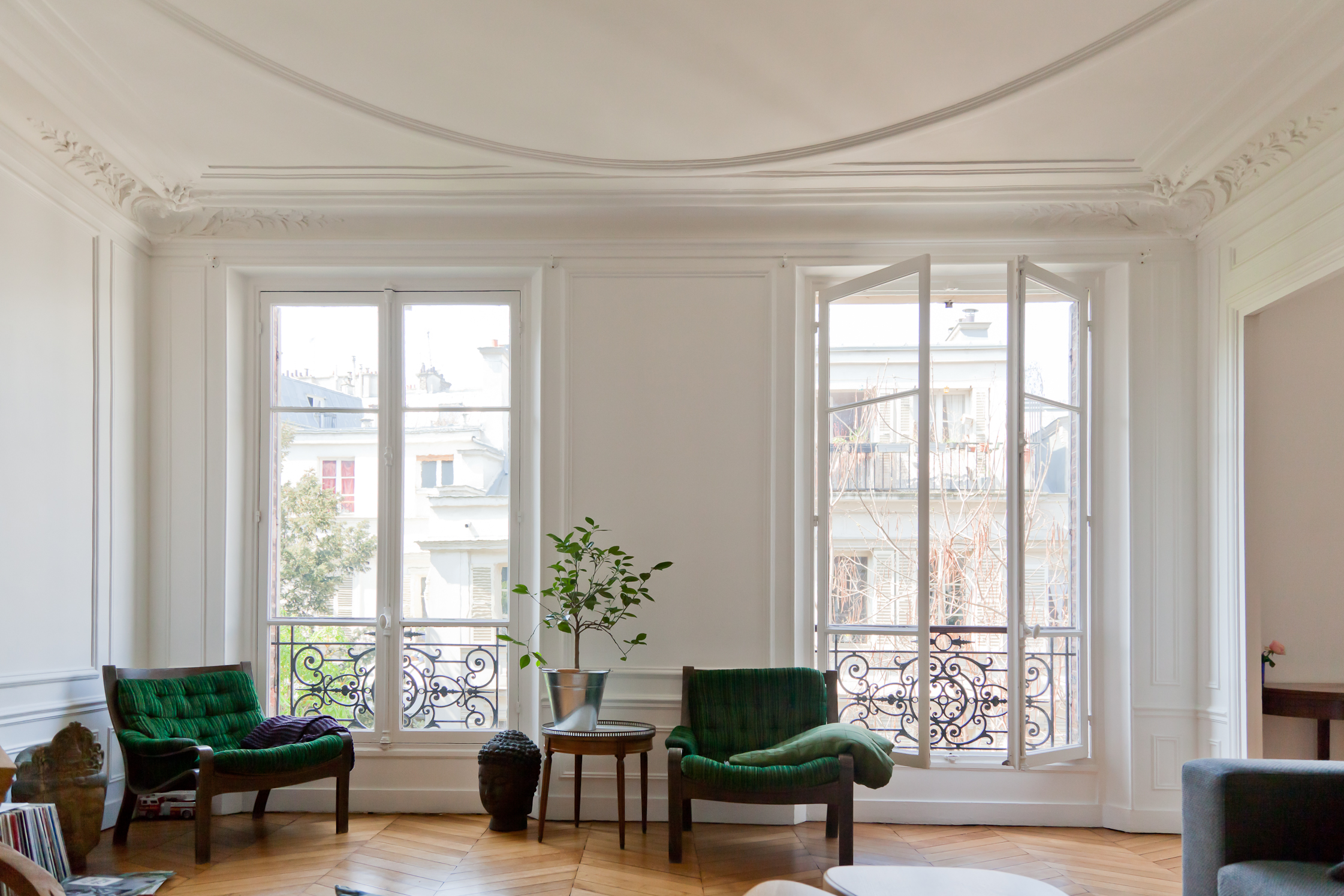 Patrice, how did your story with the footwear label Feiyue start? And how does it relate to you as a sneaker addict?
As far as I remember, I was attracted to shoes quite early. I liked the different textures, the colors and various shapes. Sneakers only came to my attention around the age of 16 or 17 years of age. My collection grew extremely fast when I moved in Tokyo. It was a sneaker addicts paradise. On an average week, I was buying six or seven pairs. My collection was essentially built on big brands, the ones running the business worldwide.
During my travels in Asia, I grew tired of these brands. I was looking for something else. So I started paying attention to locally made shoes and collected pairs from Vietnam and Cambodia. Once I was in China, I discovered Feiyue. A very basic shoe appreciated for its robustness and flexibility by martial arts practitioners. I found it interesting and bought few pairs. It is only years later, when I intended to buy new ones, that I discovered that they became hard to find. With a friend who is today my business partner, we managed to find the location of the production site. We went there only with the idea to get some pairs of shoes. On that day, we randomly met the manager, who told us he had decided to stop the production, due to a massive sales drop and a loss of interest in the product on the Chinese market. At this moment, something clicked in our minds and ten days later we came back with a project to acquire the brand. We were both stoked and stunned that our project got accepted. We looked at each other thinking 'oops, what do we do now ?'. In the following weeks, I quit my job, came back to France and sold my sneaker collection to invest it in the brand.
Did you both meet in China originally?
Laetitia: Exactly. It was in 2005. I was in Shanghai for an event part of the year representing France in China. We were invited with corset maker Hubert Barrère to represent French fashion design and imagine a couture project that would be created by a Chinese team. We were welcomed by very friendly staff, among which included the event coordinator, Patrice Bastian. We both noticed each other and shared eyes contact during my stay, but at that time we were both in a relationship. It consisted of a very formal exchange of business cards, that was far as it went.
The funny thing is that we both have a strong recollection from that moment! A year later, in 2006, when Patrice moved back to Paris, he emailed all his friends in his network to catch up. I was part of his mailing list and answered 'welcome back, let's have a coffee sometime soon'. After few emails the coffee turned into dinner with just the two of us.
So you have both witnessed the birth and evolution of the each other's brand?
Laetitia: Yes, indeed. We have been together since 2006. We moved in together in 2007 and it is true that we share a lot with each other about our work. We are both workaholics and Patrice's opinion about my work is very important to me. He is a kind of manager and coach for me. As I work alone, he often guides me and offers advice.
Patrice: Laetitia takes a look and analyses the collections as a fashion designer and a woman. Her comments sometimes turn my head upside down, and that is a good thing!
Laetitia, what was your path before launching your own brand in 2010?
Laetitia: After my fashion design studies at ESMOD Paris, the corset maker Hubert Barrère spotted me. I was his assistant for a short time and then found a job in a sewing shop. For four years, I learnt the craft of sewing and discovered the world of haute couture. Thanks to various encounters, I was offered to design the collections of a new lingerie brand. I was 23 and had carte blanche to develop the entire basis of the brand. I had no experience in designing lingerie so this was a fabulous opportunity to specialise in what I was really drawn to: working on the body's silhouette and corset structures that embellish it.
Within six months the brand had a lot of press and fast growing success. I really enjoyed my position there but over the seasons and with investors joining the company, the creative direction changed to a focus on the very sexy. This was too much for me. I wasn't comfortable with it, so I left. In the following years I contributed on some great projects for fashion houses such as Christian Lacroix, Dolce & Gabbana and I also worked on the launch of Elie Saab's first luxury ready-to-wear collection in France.
This sounds like a busy time for you…
Laetitia: Yes. In the evenings during fashion week season, I worked in workshops for haute couture collections. I also gave corset making classes, at Haarlem Fashion Institute in the Netherlands. I met many students who then went on to start their own collections. When they needed help, I was happy to contribute and this led to great collaborations. When I decided to launch Dément in 2010, I felt that I was ready skills-wise and had properly trained my eye over the years spent in different fashion houses. I wanted to develop my ideas and follow my own creative guidelines. Today I design for Dément and also work for a Lebanese cocktail dresses label, as production manager. I work directly in the workshops with the needlewomen and materials. That is what I love and where I come from.
How was born the concept of Dément?
Laetitia: It all started with the discovery of a magnetic system at a professional fair. When I told its creator that it would work well with panties, he first had a good laugh. I adapted the system for underpants and as the demand was growing, swimsuits and bras were added to the range. What I also really like in designing lingerie is the packaging. I love carefully wrapping the item in paper, folding it, putting it in the box and tying a nice ribbon around it.
What made both of you feel like it was the right time to fly solo and create your company? What motivated you?
Patrice: My discovery of the Feiyue shoe matched my desire to develop my own projects, after building teams and managing projects for years on behalf of other companies. My partner and I started the brand from scratch. We invested our savings to finance the first production run and the launch. It was a risky move for me. I was 35, left my job and came back to Paris to launch a brand. On one hand, my years as creative director in the event world sure gave me a nice share of experience and skill set, which was helpful for the launch and management of Feiyue. On the other hand, managing a brand requires other skills that I was not familiar with, such as marketing. We decided to do it our own way. We wanted to re-interpret this brand with a special story; by injecting artistic values in it. That is what motivates me.
Laetitia: To me, the most important thing is to be happy to go to work, to love what you do and build yourself a good life. Even if it means regular efforts, even sacrifices, we are not afraid to go through a lot of work. We both have many ideas and desires that motivate us.
In your opinion, what are the cornerstones for creating a brand and give it a personal touch?
Laetitia: I know that working for other brands gives me energy that can later fuel Dément. To do so, I have to accept that things go more slowly when working on your own, but I want to be comfortable with every piece I design. I want to produce quality products. I created the brand to be proud of it. It is possible to find a part of me in the brand's personality. It is traditional with a sense of humor. To me, Dément is Julia Roberts' reaction in Pretty Woman as Richard Gere solemnly offers her a necklace and pretends to shut the box on her fingers. She is natural, comfortable with herself and chic. This is the impression I wish to create with my brand.
How do you see your brand evolving?
Patrice: Going international. The question is, is it me that will carry out the expansion? Only time will tell. I feel more comfortable starting stories.
Laetitia: Making a brand grow is another job. After 15 years of experience in the design world and having witnessed how some little brands became big players, I am not naïve in this regard. Initiating a project and then letting it go to continue bigger, is not a problem for me. We are full of ideas. We are definitely attached to our current babies, but we know that one day we'll have to let them go.
The business adventures you have started derive from a lot of personal investment. How did your son Yume change your way of living?
Laetitia and Patrice: It was indeed a new experience for both of us. As I mentioned before, we are real workaholics. Before Yume was born, we did not even notice that we were working all the time. At night, one of us would wake up and turn the computer on. Having Yume has forced us to make some changes… Our aim is to clearly separate work time and family time. At home, we do not work and stay put in front of our screens anymore. We can talk, brainstorm together but no more than that. During family time we play with Yume, go to exhibitions, and have afternoon snacks. Travels are also special moments. We have already been to the Maldives and on a skiing trip with Yume.
What do you do when you need a break from the everyday?
Patrice: We love simple things: our friends and good food. We love to gather and have a nice dinner or afternoon play dates with the kids. Laetitia loves cheese, wine and desserts. I'm more fond of the beginning ritual of cocktails.
Laetitia: Contrary to Patrice, I am really close to my family. I like visiting them, set the chairs in the garden with my mother, have a tea and give massages. From time to time, we ask our parents to babysit Yume and go on weekend away with just the two of us. This allows us to step back on the little hiccups of the everyday and most importantly strengthen our relationship as a couple.
Could you imagine living in another city?
Patrice: New York! We just came back from a short stay there. We are big fans and try to go there at least three times a year. We would love to move and spend a little while in that city. Last November, we met with Cedric Birhr and his wife Ai, for a day in Rockaway. At 7:30 a.m. we were on the beach, Cedric and I were on our boards in the water and the girls were lying on the sand. Because we live in Paris it is quite complicated to go surfing in France. I find it so rad, to live in New York, put the board in the van and be at the beach in less than an hour. I can picture the three of us for few years in New York. After that I will start working on a plan to live under the sun in Brazil. I have an idea. It is still blurry but it would be a dream to create an eco-lodge on a beach alongside the waves and spend half of the year there.
Thank you to both of you for this sweet afternoon!
Have a look at Dément and Feiyue to check out their respective projects.
This portrait is part of our ongoing collaboration with ZEIT Online who present a special curation of our pictures on their site. Have a look here.
Interview & Text: Léa Munsch
Photography: Fred Lahache
Patrice Bastian est français et architecte de formation. Ces trois informations de départ attestent que la vie n'est qu'une suite de choix et de leurs conséquences directes. Depuis ses études, Patrice n'a pas exercé en temps qu'architecte mais a endossé des rôles de direction artistique puis direction de création dans l'événementiel. Ses choix et les opportunités qu'il a saisies, l'ont amené a passé la majeure partie des quinze dernières années entre l'Amérique et l'Asie.
En Chine, il organisait de grandes soirées et côtoyait une communauté d'expatriés. Il aurait pu s'offrir un chauffeur et toute la panoplie qui accompagne ce type de vie. Mais chaque jour, Patrice portait la basket locale du peuple, enfourchait son vélo pour se rendre au travail, avec des centaines d'autres chinois. Une attitude qui lui valut à de multiples reprises des commentaires de ses anciens collègues. Une différence mêlée à de l'incompréhension qui lui mit la puce à l'oreille quant au potentiel commercial de cette petite chaussure chinoise, en Feiyue. Qu'à cela ne tienne, il rachète la marque avec un associé pour l'importer en France, quitte sa vie asiatique et s'installe à Paris. Peu avant son départ, il organise un événement lors duquel il croise le regard de celle qui est aujourd'hui sa femme, Laetitia Schlumberger. Une styliste venue représenter la France en Chine. Un pays comme un fil conducteur de la nouvelle vie qu'ils tissent aujourd'hui à trois, avec leur fils Yume.
Patrice, comment a débuté ton histoire avec Feiyue et quel lien concret peut-on établir avec le collectionneur de sneakers que tu étais ?
J'ai été attiré par les chaussures depuis un jeune âge. Les matières, les couleurs, les structures me plaisaient et m'intéressaient. Ce n'est que vers 16-17 ans que j'ai orienté mon focus sur les sneakers. Ma collection s'est très vite étoffée lorsque je me suis installé à Tokyo. C'était un paradis pour les collectionneurs. J'achetais en moyenne 6 à 7 paires par semaine. Ma collection était alors constituée essentiellement de grandes marques, les mastodontes présents à l'international. Au fil de mes voyages en Asie, l'intérêt de ces marques diminuait à mes yeux. J'ai alors commencé à chercher des modèles de chaussures locales à chacun de mes voyages, au Vietnam, au Cambodge,…
C'est en Chine que j'ai découvert la Feiyue, une basket appréciée des pratiquants d'arts martiaux, pour sa robustesse et sa légèreté. J'en ai acheté quelques paires sur place. Mais ce n'est que des années plus tard, que l'histoire a vraiment commencé. Voulant en acheter une nouvelle paire, je me suis aperçu qu'elles étaient de plus en plus rares. Avec un ami qui est aujourd'hui mon associé, nous avons trouvé l'usine qui les fabriquait et nous nous sommes rendu sur place pour en acheter. Par hasard ou par chance, nous avons rencontré ce jour là, le manager qui nous annonçait sa décision d'arrêter la production. Les chinois ne s'intéressaient plus à la chaussure Feiyue. A ce moment, nous avons tous deux eu un déclic. Dix jours plus tard, nous revenions à l'usine avec un projet de reprise de la marque. A notre grande surprise, il a été accepté. Je me souviens que nous nous sommes regardés en disant « oups , qu'est ce qu'on fait maintenant ? » Dans la foulée, j'ai quitté mon poste et je suis revenu en France. Et j'ai vendu toute ma collection de sneakers pour financer le lancement de la marque.
C'est également en Chine que vous êtes rencontrés pour la première fois…
Laetitia: oui, en 2005. Je participais à un événement à Shanghai dans le cadre de l'année de la France en Chine. Nous étions avec le corsetier Hubert Barrère représentants de la mode française, avec l'objectif d'imaginer un projet couture en France et de le réaliser avec des équipes chinoises.
Nous avons été accueillis par une équipe très sympathique, dont Patrice Bastian, chargé de la production de l'événement. Nos regards se sont croisés plusieurs fois pendant mon séjour, mais à ce moment nous avions tous deux quelqu'un dans nos vies respectives. Alors cela s'est limité à un cordial échange de cartes de visite. Et nous avons une photographie de ce moment ! Un an plus tard, en 2006, lorsque Patrice rentre en France, il réactive ses contacts par e-mail, dont je fais partie. Je lui souhaite la bienvenue et lui propose de prendre un café. Après quelques mails échangés, nous avons finalement opté pour un dîner en tête à tête.
Vous avez alors chacun assisté à la création et l'évolution de la marque de l'autre ?
Laetitia: En effet, nous ne nous sommes plus quittés depuis 2006. Nous avons emménagé ensemble en 2007 et il est vrai que nous échangeons beaucoup au sujet du travail. Nous sommes des workaholics et l'avis de Patrice sur mon travail est très important. Il joue le rôle de manager et de coach avec moi. Je travaille seule, alors souvent il m'oriente, me conseille.
Patrice: De son côté elle apporte son regard de styliste, un regard féminin sur les collections, qui ne manque pas d'ébranler de temps à autre, certaines de mes certitudes.
Laetitia, comment as-tu évolué jusqu'à la création de ton entreprise en 2010 ?
A la sortie de mes études de stylisme et modélisme à ESMOD à Paris, le corsetier Hubert Barrère m'a repéré. Je l'ai assisté un moment puis j'ai travaillé comme petite main dans un atelier de haute-couture. Pendant 4 ans, j'y ai appris le métier de couturière et découvert l'univers de la haute-couture. Par le hasard de rencontres, on m'a proposé de dessiner les modèles d'une nouvelle marque de lingerie sensuelle. J'avais 23 ans et une carte blanche complète pour imaginer l'univers de la marque. Je n'avais jamais dessiné de la lingerie auparavant et ce fût une occasion incroyable de me spécialiser dans les corsets et structures intérieures. C'est le travail de la silhouette et l'approche du corps qui m'intéressent tout particulièrement. La marque eut un rapide succès avec de nombreux retours presse. Je me plaisais beaucoup dans ce rôle mais au fil des saisons et des investisseurs entrant dans la société, les directions créatives ont uniquement mis le très sexy en avant. Je n'étais pas à l'aise avec ça et suis partie.
J'ai ensuite participé à de beaux projets avec des maisons telles que Christian Lacroix, Dolce & Gabbana ainsi qu'à la création de la première collection de prêt-à-porter de luxe Elie Saab, en France. En parallèle le soir, pendant la saison des défilés, je travaillais sur les collections de haute couture. J'ai également enseigné la corseterie au Fashion Institute Haarlem, en Hollande. En tant qu'intervenante, j'ai rencontré de nombreux étudiants destinés à devenir de futurs designers. Ceci donnait naissance à de nouvelles collaborations et à de nombreuses reprises, nous avons travaillé ensemble sur leurs collections. En 2010, l'année de lancement de ma marque Dément, je sentais que j'avais acquis un certain niveau de compétences et formé mon œil. Je voulais pouvoir développer mes idées et suivre une direction qui m'était propre. Aujourd'hui je gère Dément et suis également manager production pour une marque de robes de cocktails libanaise. Je travaille dans les ateliers avec les couturières, les matériaux, c'est ce que j'aime et d'où je viens.
Comment est né le concept de Dément ?
Le point de départ de Dément est marqué par ma découverte, sur un salon, d'un système aimanté. Lorsque j'ai dit à son inventeur que j'imaginais l'utiliser sur des culottes, il a d'abord rigolé. J'ai adapté le système pour les culottes, puis la demande allant, les soutien-gorges et maillots de bain se sont ajoutés à la gamme. Ce que j'adore également dans le fait d'être couturière et créatrice d'une marque de lingerie, ce sont les emballages. J'adore les boîtes, envelopper délicatement la lingerie dans du papier de soie, plier et fermer la boite avec un joli noeud de ruban.
Qu'est ce qui vous a fait dire que c'était le moment de vous lancer tous les deux ? Qu'est ce qui vous a motivé à lancer votre marque ?
Patrice: Le lancement de Feiyue est l'histoire d'une heureuse rencontre avec cette chaussure. Elle a coïncidé avec mon envie de réaliser mes projets, après avoir géré des équipes et des projets, pendant des années pour le compte des autres. Avec mon associé, nous avons lancé la marque à partir de rien. Nous avons investi nos économies pour financer la première production et tout ce qui accompagne un lancement de marque. A 35 ans, je quittais mon poste, je revenais à Paris sans appartement, pour lancer une marque. Mes années d'expérience en tant que directeur de création dans l'événementiel m'ont permis de construire une base de compétences très utiles pour le lancement et la gestion de Feiyue. Par contre pour des disciplines telles que le marketing, que je n'avais jamais vraiment pratiqué, nous avons fait les choses avec notre logique. C'était un nouveau projet plein d'espoir et de bonheur. Une marque avec une histoire particulière, à laquelle on a redonné vie et qu'on fait évoluer avec des valeurs artistiques. C'est tout cela qui nous fait marcher.
Laetitia: Avant tout, aimer ce qu'on fait et être heureux d'aller au travail pour se construire une vie « jolie ». Certes cela demande des efforts voire des sacrifices mais abattre beaucoup de travail ne nous effraie pas. Nous avons beaucoup d'envies qui nous motivent.
Quelles sont les fondamentaux pour créer et faire vivre sa marque ? En quoi ta marque te ressemble-t-elle ?
Laetitia: Je sais que le fait de continuer à travailler pour d'autres marques me donne de l'énergie pour développer Dément. Certes cela implique d'avancer moins vite mais je veux assumer tout ce que je fais et produire des articles de qualité. J'ai créé cette marque pour qu'elle soit jolie, pour en être fière. Ma marque me ressemble car elle est traditionnelle avec une touche d'humour. Pour moi, l'effet Dément c'est la réaction de Julia Roberts dans le film Pretty Woman, alors que Richard Gere lui offre très solennellement un collier, lui claque l'écrin sur le bout des doigts. Elle est naturelle, assumée et chic.
Et comment voudriez-vous les voir évoluer ?
Patrice: Etendre sa présence à l'international. A savoir si c'est moi qui mènerai cette expansion, le temps le dira. Je suis plus à l'aise dans le rôle du démarreur d'histoires pour donner les premières impulsions que dans le costume du businessman.
Laetitia: Emmener plus loin une marque, la faire grandir c'est un autre métier. Après 15 ans dans leur milieu de la création et pour avoir suivi l'évolution de marques, je n'ai pas un regard naïf sur le sujet. Créer un projet et le céder pour qu'il continue en plus grand, ne constitue pas un problème pour moi. Nous sommes pleins d'idées avec Patrice, nous sommes attachés à nos bébés actuels mais nous acceptons l'idée qu'un jour ils devront « quitter le nid ».
Se lancer et s'engager dans une telle aventure demande beaucoup d'investissement et de temps. Qu'est-ce que l'arrivé de Yume, votre fils, a changé dans votre façon de vivre et de vous organiser ? Voire plus généralement d'envisager les choses ?
Laetitia et Patrice: C'était une nouvelle expérience pour nous deux. Comme je le disais, nous sommes de vrais workaholics. Avant l'arrivée de Yume, nous ne nous rendions même plus compte que nous faisions presque que travailler. Souvent, un de nous se levait au milieu de la nuit et allumait l'ordinateur. Yume nous a obligé à revoir notre organisation et notre rythme. Notre but est de faire une vraie coupure entre travail et le temps passé ensemble. A la maison, on ne travaille plus, on ne se met pas devant nos écrans. On peut échanger, brainstormer ensemble mais pas plus. Pendant ce temps privilégié, nous préférons faire des activités avec Yume, voir des expositions, faire des goûters. Les voyages sont aussi des moments privilégiés. On l'a déjà emmené aux Maldives et au ski. Ce sont des parenthèses pour lesquelles nous travaillons beaucoup à côté.
Que faites vous lorsque vous avez besoin de vous ressourcer et de quitter un instant le quotidien ?
Patrice: Nous aimons les choses simples, nos amis, la bonne cuisine. On se retrouve avec eux autour de dîners ou de goûters. Laetitia adore le fromage,le vin et le dessert. Je suis plus porté sur le début du rituel avec l'apéritif et les cocktails.
Laetitia: Contrairement à Patrice qui est plus proche de ses amis, je suis très famille. J'aime leur rendre visite, m'installer dans le jardin avec ma mère, boire du thé et se faire des massages. De temps en temps pour reprendre de l'énergie, nous demandons aux grands-parents de garder Yume et nous partons en week-end à deux. Cela nous permet de retrouver notre couple et de prendre du recul sur certains problèmes du quotidien. Changer d'horizon, c'est changer d'air et c'est bon pour l'inspiration.
Pourriez-vous vous imaginer vivre dans une autre ville ?
Patrice et Laetitia: New York. Nous revenons tout juste d'un séjour New-Yorkais. Nous sommes des grands fans de cette ville et essayons d'y aller au moins trois fois par an. On adorerait y passer un petit brin de vie en famille. En Novembre dernier, nous avons rejoint Cedric Birhr et sa compagne Ai, pour une journée à Rockaway. A 7:30 nous étions sur la plage, Cedric et moi dans l'eau avec nos planches et les filles sur le sable.
Patrice: En habitant à Paris, il est relativement compliqué d'aller surfer sur la côte. Je trouve ça mortel, d'être à New York, de charger les planches dans la voiture et d'être à la plage en moins d'une heure. Je nous imagine très bien quelques années là bas, puis je travaillerai l'idée de vivre à la plage, au soleil, au Brésil.. J'ai une idée, encore lointaine, mais ce serait un rêve de créer un eco-lodge sur une plage où il y a de bonnes vagues et y passer la moitié de l'année.
Merci à vous deux pour cet agréable après-midi !
Interview & Text: Léa Munsch
Photography: Fred Lahache[:pt]