'Concept store'—it's a prefix frequently applied to Hostem with no real thought. One of those catch-all phrases that has become so run-of-the-mill that it's rendered almost meaningless.
A shorthand for cool, with no consideration for what those words—'concept', even 'store'—really mean. Over the course of a conversation with Hostem founder James Brown and designer John Alexander Skelton, the moniker begins to feel more reductive and redundant than ever.
There are thoughtful ideas behind what Hostem do, of course, ideas that have evolved over its eight years of existence, nurtured amidst the changing landscape of Redchurch Street and its immediate East London surroundings. But it feels a mistake to define Hostem purely by those abstract ideas when so many of them are only given meaning by the real, tangible qualities of fabrications; of labor-intensive craftsmanship; of well-worn and lived-in histories. "The yarn for my knitwear is spun by hand, and a whole individual piece takes about three weeks to make," says John. "When we put on John's show last month, his whole family came in and built the entire structure, his brother, his dad…," says James. From Indian yarn-spinners to proud, eager parents in the North East of England who never dreamed their designer-son would be emblazoned across The New York Times, they're all intrinsically a part of Hostem. More than concepts, more than anything, that perhaps best explains the appeal of Hostem.
There's a moment where John, in his brusque Yorkshire accent starts sifting through his collection as he breaks down the number of days' work for each process in each garment. Light pours in through the high ceilings of the current Hostem store space on Old Nichol Street and illuminates every heavily-grained texture of every pulled-out piece. John's labor-breakdown becomes a mantra of sorts against the backdrop of a barely-there ambient store soundtrack: "spinning the yarn for this coat takes three days, weaving the fabric for it takes four days…"
"I don't think people realise just how big an impact the fashion industry has on the world."
James met John socially, while John was still studying for his Masters at Central Saint Martins. His graduate collection, for which John won the prestigious L'Oreal prize immediately resonated with James—the path John forged for himself within Saint Martins shared certain parallels with the way Hostem positions itself within the wider fashion industry. "Purely from an outsider's view, the emphasis at Saint Martins in recent years seems to be very much on 'trend' and 'shock'—not necessarily quality and development or building something that's sustainable," says James. John agrees: "There's more interest in 'the look,' and however bold that look is, it can still be vapid." Again, it's not abstract affectations fuelling this particular disdain, but the very real way such an approach has come to define the industry. "I don't think people realise just how big an impact the fashion industry has on the world," says John. "It's the second biggest polluter behind oil, yet people just see it as this frivolous thing. How can you not take that seriously?"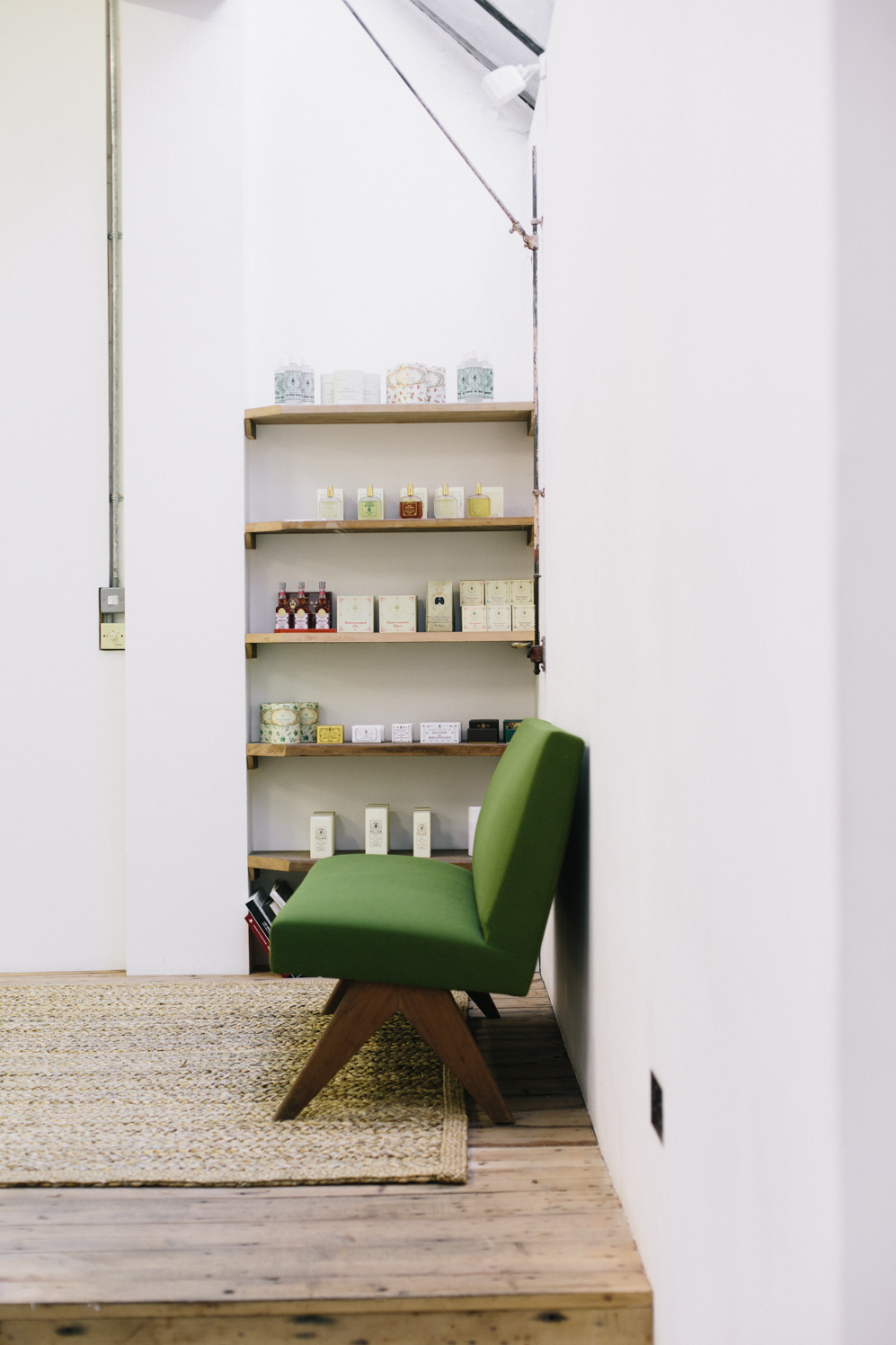 For John, the roots of his commitment to sustainability are born in a righteous reaction to the post-industrial backdrop he grew up in, in the North-East of England. The scars of decimated mining and manufacturing may not be entirely visible today, but spend any time in that part of the country and you can feel something of the aftermath: an impressionistic yearning for the stability of halcyon days, fused to a desire to keep up with an ever-changing world. Both of those feelings are expressed in John's work. "To be honest, I'd love to go back to Yorkshire and have a studio in the country. The problem is people—where am I going to find a machinist? Interns? The best thing about London is the constant stream of people who enable you to work as a business."
True artisans—such as Amy Revier, Geoffrey B. Small, Faye and Erica Toogood, now John—find their lives and work interweaving, with the ever-presence of Hostem standing tall in the middle, providing not just a sounding board but an outlet for transforming unique creativity into flourishing, uncompromising businesses. Just as John has the rolling moors of Yorkshire to ground him and inspire him, James has East London."My mum's from Plaistow and my dad's from Dagenham," he says as he strolls slowly through the hustle and bustle of present day Redchurch Street. "I remember coming to hang out at Truman Brewery when I was 13, and Redchurch Street was always the natural sort of cut through between Shoreditch and Brick Lane. Walking down it, I would always get this real sense of it being both elegant and weird." After injury put a premature end to a burgeoning football career and he made the decision to open Hostem, he knew straightaway where he wanted to do so. "When we came here we were the only retailer on the whole street, but amidst the decay there was such a peace and serenity about it."
Times, inevitably, have rolled on and Hostem now find themselves caught between the old world of belt factories and rag trade warehouses that drew them to the area and the influx of (often garish) new businesses that their iconic store no doubt played a part in attracting. "There's some really positive things that come from it and some really negative things that come from it. But really it felt like we didn't necessarily make sense on the street as it stood," says James. "The simple fact is that we're just not the sort of store that lends itself to two or three hundred people coming through the door on a Saturday." This explains why the original store currently lies dormant, relocated to Old Nichol Street around the corner for a year while James and his team evolve the original space into something more fitting for Redchurch Street 2.0. Where the original Redchurch Street store is and was a towering monolith of matt-gray, the temporary space is altogether lighter in touch, with a more organic, fluid approach to the divisions between front and back of house. It hints at where the new permanent space might end up: "The re-opened store definitely won't match people's perceptions of what a store is," says James. We're taking a much more holistic approach to how we work. It's about an overall working approach for our community, for everyone who plays a part in Hostem."
"It's in the heart of an amazing area with so much history and heritage, so much diversity and culture."
In any case, there is the striking, recently opened New Road Residence to occupy the Hostem community in the meantime. Situated in nearby Whitechapel, James describes what is essentially a Hostem-curated living space for people to stay in when visiting London as "something that came about a little by chance. We've always wanted to expand the Hostem brand, just never by opening more stores in West London and Tokyo—we've also always been interested in interiors and as much as anything it's a space that enables us to have amazing dinners with friends, clients, people coming from abroad." And when those people turn up in gritty E1 in search of a Studio Toogood-stuffed boutique hotel experience? Are they shocked by the choice of location? "To me that's what makes it! It's in the heart of an amazing area with so much history and heritage, so much diversity and culture." James shrugs and perhaps by chance he and John look out in the rough direction of Whitechapel as they come to a halt outside the Old Nichol Street store. Ahead of them stretch Versace stores and 24hr Jewish beigel joints and pop-up record fairs and curry mile and tech startup offices and hectic food markets and, somewhere beyond all that, lies The New Road Residence. "You know it's rowdy and it's raw, but that's the magic of it," James concludes.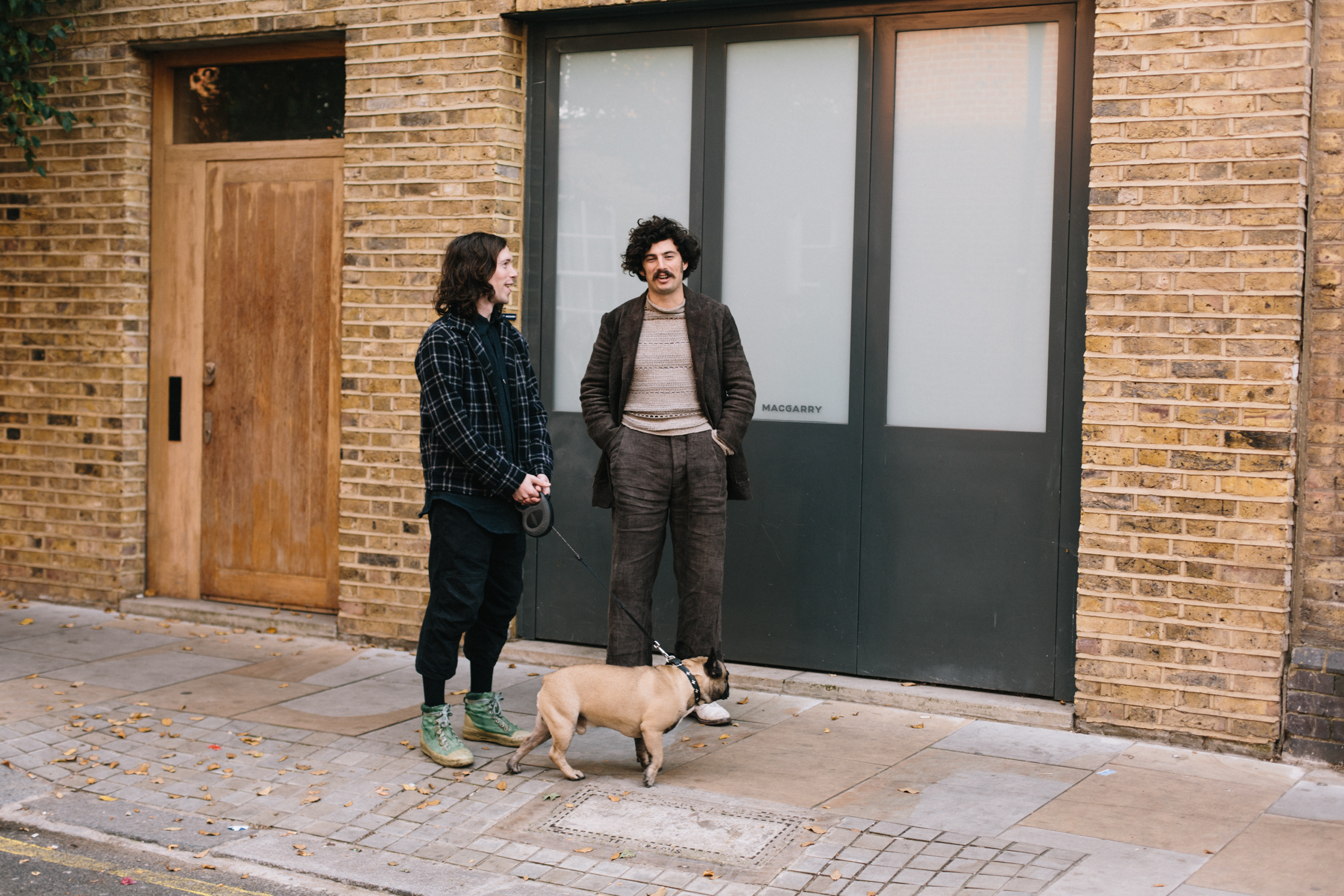 With that we say our thanks and farewells to James and John as they disappear back inside Hostem. You can find out more about Hostemhere and the New Road Residencehere. John doesn't have a website but if you want to experience his work in person—the best way—you can do so at the current Hostem store on Old Nichol Street.
Text: James Darton
Photography: Liz Seabrook