The Viennese Naschmarkt and the creative scene vigorously pulsate within the sphere of Mariahilf. The seventh municipal district is a terrain that offers everything the heart desires. Here, the wild junction of herringbone parquet flooring, mattresses, and provoking snippets in between futuristic objects make perfect sense. Fashion designer Helga Ruthner along side her husband Philipp and two galactic, young boys have created an avant-garde paradise in which no one will be able to sit still for a longer amount of time.
More than a decade ago, Helga succeeded with Hermann Fankhauser to transform their passion into a professional career and show their work in the salient Parisian fashion capital. The creative duo produce provoking "Normalo-Fashion" for him and her, for Wendy & Jim.
As a counterpart to the manifested prejudices that are concerned with the Austrian capital, Helga's charming Viennese snide humour is more than welcomed. This is especially true when the first, obligatory cold is lingering within the neck and nose and one receives a comment like, 'Ah, sometimes a minor drinking cur can help. Everything is always forgotten the next day.'
A discussion about establishment, the most liveable city within Europe and the juggling act between her creative oevre and familiar down-to-earthness.
This story is featured in our second book, Freunde von Freunden: Friends, order within Germany here, or find the book internationally at selected retailers.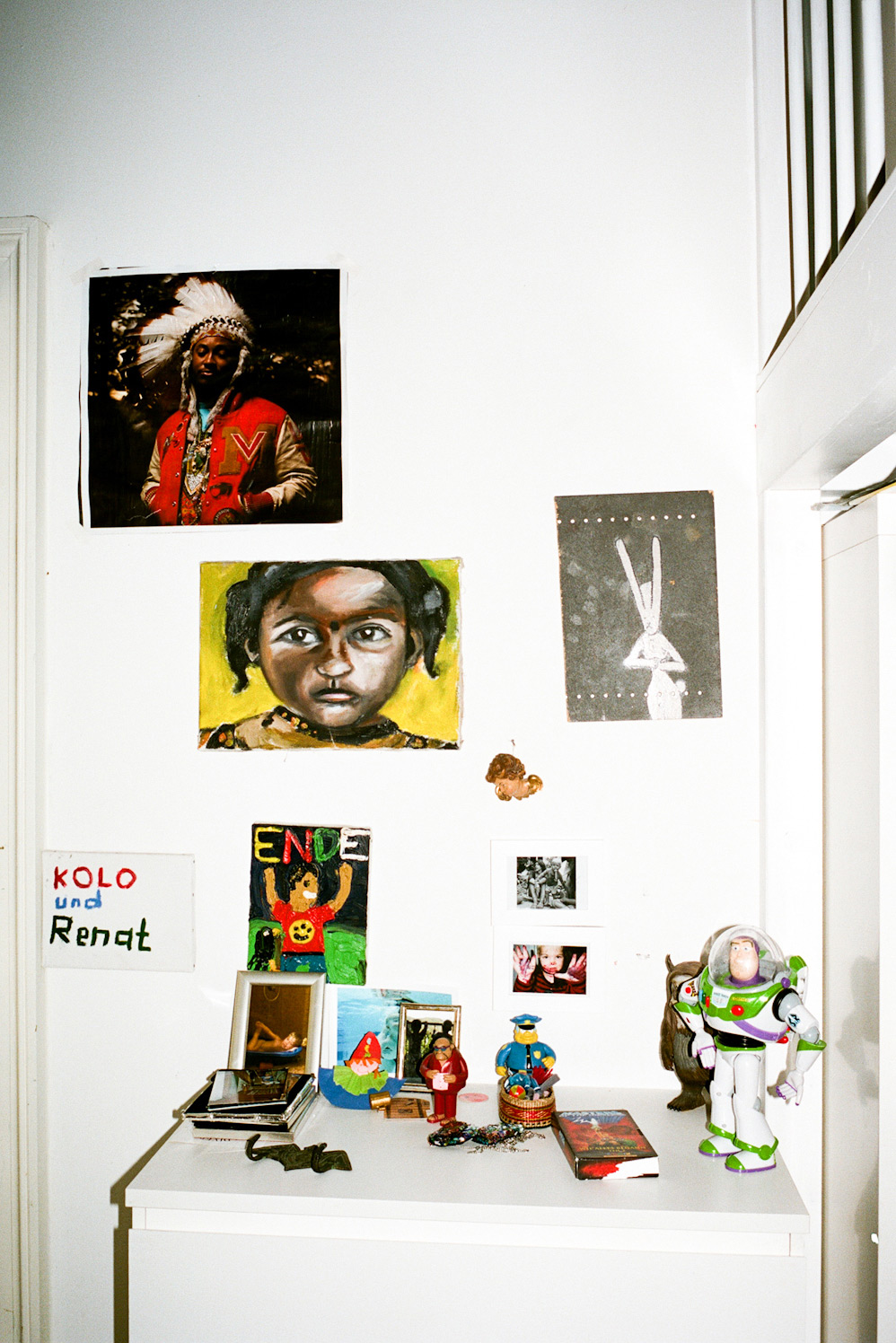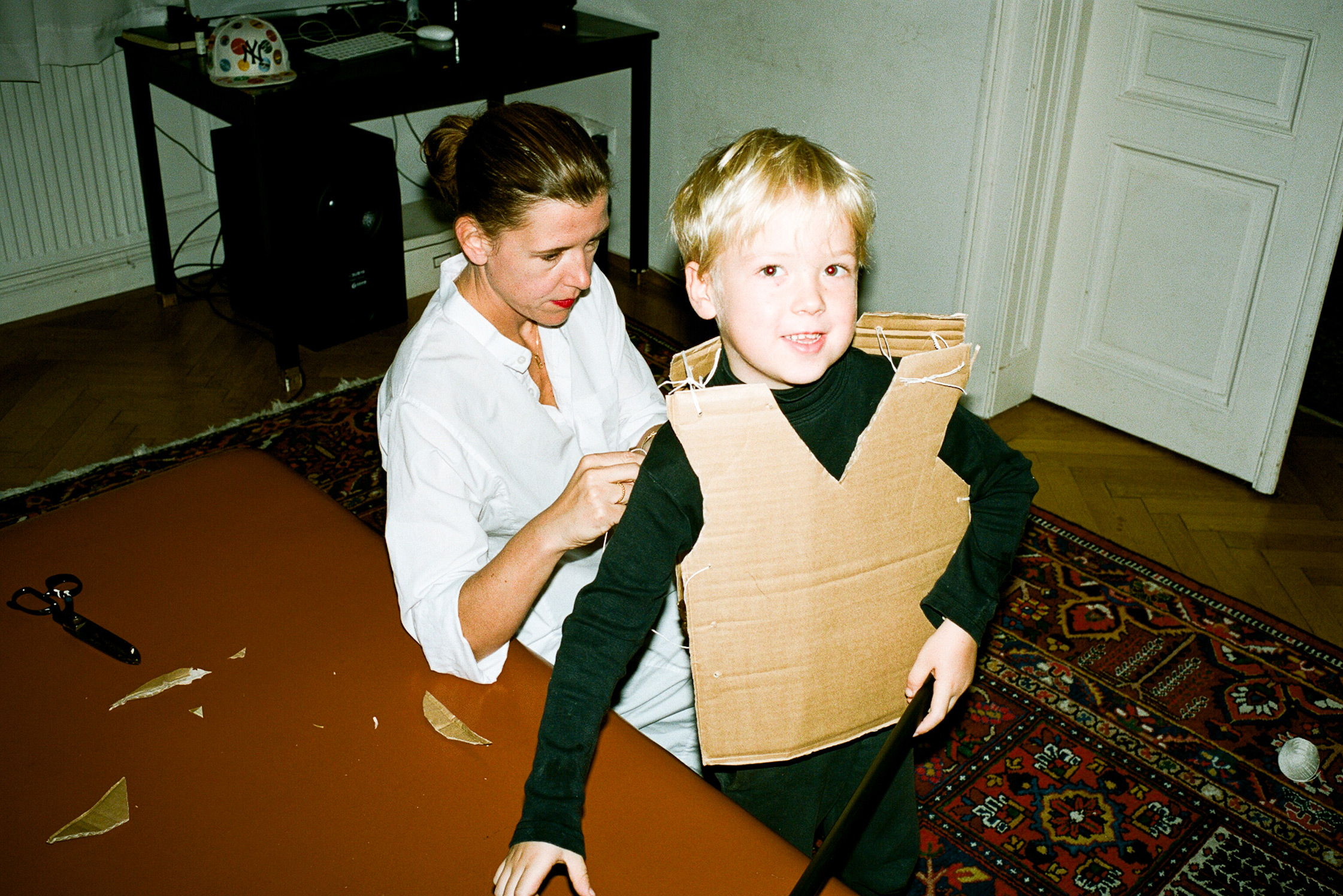 Where are you from and how was the fashion label "Wendy&Jim" founded?
I was born in St. Pölten, which is a small city nearby Vienna. It is a very beautiful but ungrateful place. One cannot escape wanting to leave to Vienna for interesting acquisitions, art, and eventful weekends. Inevitably, I landed there. I wanted to be a designer since childhood. After high school, I first began to study architecture. Hans Hollein was aware of my passion for fashion and tolerated it – when Helmut Lang accepted the administration for fashion at the University of Applied Arts Vienna, I started to study under him. Hermann Fankhauser and I discovered during our endless cafeteria discussions that both of us were going towards the same direction – in regards to conception and fashion. We began early to work on our label, even though we didn't really know where all of it would lead. It definitely was not like a 'this is how it will be' situation. We simply didn't stop doing what we considered fun. Since 1999 we have participating at the Paris Fashion Week.
Which projects are you currently working on?
We are finishing up our men's collection and are about to launch our very first unisex fragrance. The flacon was created together by Augarten Porcelain and us. It will be on the market in January. It is a biological scent that was made in collaboration with Wolfgang Lederhass Cosmetics and the St.-Charles pharmacy.
What is the origin of your label's name?
When Hermann and I were supposed to show at our very first fashion show, we obviously needed a name. We always wanted for our work to be the priority and not be so closely connected to our own names. But it was important to us the label would contain the connotation of a man and a woman. It basically could have been called Him&Her. Somehow we arrived at Wendy&Jim, but at the beginning we thought it to be a bit weird. It sounded like Barbie&Ken, just really arbitrary. The idea brought forward an ample reaction within our friends – positive as well as critical. As we entered this particular combination of names in a search engine, one before google, about 100 000 results appeared. This was a crucial confirmation. Wendy&Jim is exactly that – a synonym for a man and a woman.
Fashion in Austria is a difficult topic. Why do you think that so many Austrian designers and artists are more successful in foreign countries than within their own?
Every country has its traditions that should be respected and are hard to break. It often takes centuries, perhaps even longer, for a traditional community to change. Vienna and overall Austria is quite concentrated on music. It is a lot easier for an artist to claim himself as a musician and instantaneously be taken seriously. This does not go for the fashion industry in Austria. We barely sell here. But this is also very Austrian, as the approval must first come from the outside. Often one possesses a huge advantage as an emigrant. People that come to Vienna and do whatever, often something banal, will receive the same kind of recognition. I am sure there are philosophical studies about this very notion.
Is there something else within the artistic scene that you would like to expand on?
For some time now I have been engaged with costume design for film. I also infected Hermann with the film virus. I would never exchange it for design, but it is a realm that very much interests me and acts as a distraction away from the main profession. Actors have a very concrete reality within film. When the screenplay writes "… rips of the red blouse," the director already has a solid idea, but I have to embody this within my own colour spectrum. Costume design is also a good way to make Wendy&Jim sustainable and be visible on a daily basis. We can see what works really well and what does not function at all on a two-dimensional screen. This transformation is extremely exciting.
What would you like to try in the near future?
I would like to learn how to play the slide trombone and tennis, learn glassblowing, and open up a biological farm for cashmere goats and silkworms. However, this project is not possible right now due to climatic reasons. All the other things will have to wait a bit, as well. Currently, there is a huge lack of time.
What means Vienna to you?
I am in a current state where I would like to get away from Vienna for a few years. In regards to living quality, Vienna is almost invincible. We are in the very centre of the city but somehow still live in a village. Everything we need is reachable by foot. The basic elements, like air and water, are of very high quality. Besides this, the city is of a manageable size and lays central within Europe, making other countries and cities easily accessible. I also love the vineyards, forests, and the Donau-Auen.
How do you feel about the judgement that people are quite arrogant in Vienna?
Arrogance always has something to do with confidence. However, an excess of confidence is not really a problem in Vienna. I would actually say it is the opposite. The Viennese 'Grant' is a shout for help of the very lack of this.
How did you meet your husband Philipp?
I will definetely not. (laughs)
We knew each other from back home, St Pölten. Years afterwards we saw each other again in Vienna and things just happened the usual way. You are in love, have children, and marry.
Your sons have quite the interesting names. How did you decide on them?
The oldest one is called Koloman Koment. Koloman is a very old Austrian name like the one of the Art Nouveau artist Koloman Moser. This was a direct clue, also because I have always been fascinated by the history of the holy Koloman.
Could you briefly narrate it?
Koloman was a wandering crusader from Ireland, who was stopped in Austria. One was unable to understand him as he spoke a completely different language. He was killed right away and was hung in the forest. Two years later, a passing hunter tried to find out whether the corpse was still fresh, as blood still ran down its sides. Koloman was immediately regarded as someone holy. The corpse's jaw swam all the way to Melk and brought great wonders. This is why the monastic site Melk Abbey has been founded, which still to this day holds the miraculous jaw. Every year on its saint's day, the 'Kolomanikirtag' takes place. We visited the ceremony last year, but unfortunately it was horrible.
Our youngest son's name is Thaddäus Solaris. We wanted to give all our children an earthly name that would connect him to the universe.
What kind of music do you listen to at home or at work?
At the moment it is trap. But mainly I like the radio as it alternates between talking and music.
What is your favourite piece in the flat?
Art is definitely very important to us. As well, we like to have an empty room. We don't possess a couch but a covered mattress. That is much more child-friendly. Our last couch didn't survive the two boys. My favourite piece is this lamp by Gae Aulenti. I really admire her. As soon as the kids will have grown a bit, I am sure some other pieces will be added.
Your work is shaped by provocation and an anomalous humour. Are you open towards your children in regards to your specific taste in art?
The children are not aware of everything. Once, when Kolo was still in his pacifier age, I took him with me to a fitting and a show. During the presentation of the clothes, he sat on my husband's lap, spat out his pacifier and shouted at every passing model, "I have seen this already, I have seen this already." Kolo would also often dress up and dance around me, saying things like, "Is this the newest fashion or what?" Or sometimes he would get annoyed at me and say, "Ah mama, you and your weird fashion."
It is quite significant to see how the kids perceive my work through their filter of childhood. But as I mentioned before, they are not fully aware of everything. Our pornclowns-underwear-collection with DJ Hell has not been really shown to them, even though we actually could. I mean, it is funny. They do not know yet the insinuations and codes of pornography. They will see and laugh about a clown who is showing its button, which is perfectly okay.
Photography: Lukas Gansterer
Interview&Text: Zsuzsanna Toth
In Mariahilf pulsiert die Wiener Naschmarkt- und Kreativszene. Gleichzeitig lebt es sich im siebten Gemeindebezirk "wie am Land". Alles, was das Herz begehrt, findet sich in Laufnähe. Da passt der wilde Mix aus Fischgrätenparkett, Matratzenlagern, provokanten Schnipseln zwischen futuristischen Objekten "wie die Faust auf's Auge". Zusammen mit ihrem Mann Philipp und zwei galaktischen jungen Burschen hat Modedesignerin Helga Ruthner ein avantgardistisches Paradies geschaffen, in dem keiner lange stillsitzen kann und will.
Vor über einem Jahrzehnt gelang ihr zusammen mit Partner Hermann Fankhauser der Sprung von Passion zum Hauptberuf, vom Atelier in Wien auf die Laufstege der Modehauptstadt Paris. Gemeinsam entwirft das kreative Duo provokante "Normalo-Mode" für sie und ihn, für Wendy & Jim.
Als Pendant zu manifestierten Vorurteilen über die österreichische Hauptstadt kommt der charmante Schmäh von Helga wie gerufen. Gerade, wenn einem die obligatorische erste Erkältung im Nacken und in der Nase sitzt. "Na manchmal hilft so eine kleine Saufkur eh am besten. Am nächsten Tag ist alles wieder vergessen."
Ein Gespräch über Etablierung, den Umgang mit Vorurteilen, die lebenswerteste Stadt Europas und den spielerischen Balanceakt zwischen kreativem Schaffen und häuslicher Bodenständigkeit.
Woher kommst du und wie kam es zur Gründung eures Modelabels "Wendy&Jim"?
Ich bin in St. Pölten geboren. Eine schöne, aber eher undankbare Stadt. Denn irgendwie zieht es einen eben dauernd nach Wien, für jede wichtigere Anschaffung, Kunst und ein ereignisreicheres Wochenende. Und da bin ich dann zwangsläufig auch gelandet. Ich wollte schon immer Modedesignerin sein, das war schon mein Spiel als kleines Mädchen. Nach der Schule habe ich aber erstmal mein Architekturstudium begonnen. Hans Hollein wusste von meiner Passion für Mode und hat das toleriert. Als Helmut Lang die Leitung der Modeklasse an der Universität für angewandte Kunst übernahm, hab ich dann bei ihm begonnen zu studieren.
Hermann Fankhauser und ich haben während stundenlanger Gespräche gemerkt, dass wir modetechnisch und konzeptionell in die gleiche Richtung denken. Wir haben früh angefangen an unserem eigenen Label zu arbeiten, wobei wir damals noch nicht konkret wussten wozu das führen wird. Es war nicht so, dass wir gesagt haben : "Das ist es jetzt. Das ist unser Label." Wir haben einfach nur nicht aufgehört das zu tun, was uns am meisten Spaß macht. Seit 1999 zeigen wir in Paris Mode für Männer und Frauen.
An welchen Projekten arbeitet ihr momentan?
Im Moment machen wir unsere Herrenkollektion fertig und bereiten den Launch unseres ersten Parfums vor. Den Flakon dafür haben wir zusammen mit der Augarten Porzellan Manufaktur gemacht. Es kommt im Januar auf den Markt. Ein biologischer Duft, den wir in Kollaboration mit Wolfgang Lederhaas Cosmetics und der St.-Charles-Apotheke kreiert haben. Ein Herrenduft ist in Arbeit.
Wie kam es zum Namen eures Labels?
Als Hermann und ich das erste Mal bei einer Modenschau zeigen sollten, haben wir natürlich nach einem Namen gesucht. Wir wollten immer unsere Arbeit im Vordergrund und nicht an uns als Helga und Hermann verbunden wissen. Uns war aber trotzdem wichtig, dass der Name ein Mann, eine Frau ist. Es hätte im Grunde genommen auch Er&Sie heißen können. Irgendwie sind wir dann auf Wendy&Jim gekommen, fanden es zuerst komisch. Es klang nach Barbie&Ken, total beliebig. Die Idee hat aber bei allen Freunden eine sehr prägnante Reaktion ausgelöst, sowohl positive als auch kritische. Als wir dann diese Namenskombination in die Suchmaschine, eine noch vor Google, eingaben erschienen schon 100.000 Einträge. Und das war dann die ausschlaggebende Bestätigung. Wendy&Jim ist eben genau das. Ein Synonym für einen Mann und eine Frau.
Mode in Österreich ist ein schwieriges Thema. Woran denkst du liegt es, dass so viele österreichische Designer im Ausland erfolgreicher sind als in ihrer Heimat?
Jedes Land hat seine Tradition, die man respektieren muss und die es sehr schwer ist zu durchbrechen. Das dauert oft Jahrzehnte, wenn nicht länger, bis sich eine tradierte Gesellschaft ändert. In Wien und ganz Österreich geht es ganz stark um Musik. Für Künstler ist es wesentlich einfacher zu sagen: "Ich bin Musiker." Er wird sofort ernst genommen. Mode hat in der Form in Österreich keine Geschichte. Wir verkaufen wir hier kaum etwas. Aber das ist auch eine kulturelle Eigenschaft von Österreichern – Die Absegnung muss erst von außen geholt werden. Oft hat man als Ausgewanderter schlagartig einen Bonus. Und genauso oft werden auch Leute, die nach Wien kommen und irgendetwas banales machen sofort Anerkennung finden. Nur weil sie von außen kommen. Ich bin mir sicher, dass es dazu auch philosophische Studien gibt.
Gibt es abgesehen vom Modedesign etwas im künstlerischen Bereich, das du weiter ausbauen willst ?
Seit einiger Zeit beschäftige ich mich neben unseren Kollektionen für Wendy&Jim auch mit Kostüm beim Film. Hermann habe ich mit dem Filmvirus auch infiziert. Ich würde es nicht gegen Design eintauschen, aber das ist ein Teilbereich, der mir sehr gut gefällt und auch eine Wechselwirkung auf unseren Hauptberuf ausübt. Schauspieler haben in einem Film eine ganz konkrete Realität. Wenn ihm Drehbuch steht "…zerreißt sich die rote Bluse" hat der Regisseur schon eine genaue Vorstellung, ich muss diese aber in mein eigenes Farbspektrum einbauen. Kostümdesign ist außerdem ein guter Weg, Wendy&Jim auch tragbar und alltagstauglich sichtbar zu machen. Wir sehen was total gut funktioniert und was eben auf der Zweidimensionalität der Leinwand gar nicht geht. Diese Transformation ist unheimlich spannend.
Was möchtest du gerne in Zukunft noch ausprobieren?
Ich würd gerne Zugposaune lernen, Tennis spielen und Glasblasen. Außerdem würde ich gerne eine Biozucht in Österreich für Kaschmirziegen und Seidenraupen machen. Das geht aus klimatischen Gründen nicht, alles andere aufgrund des Zeitmangels.
Was macht Wien für dich aus?
Ich bin gerade an einem Punkt, an dem ich gerne ein paar Jahre aus Wien rauskommen würde. Aber was die Lebensqualität angeht, ist Wien eigentlich unschlagbar. Wir sind mitten in der Stadt und leben trotzdem wie auf dem Dorf. Alles, was wir brauchen – ob für die Arbeit oder als Familienmensch – ist zu Fuß zu erreichen. Die Grundelemente Nahrung, Luft und Wasser sind sehr, sehr gut hier. Außerdem hat die Stadt eine überschaubare Größe, ist aber so zentral in Europa, dass man überall relativ schnell hinkommt. Und ich liebe die Weinberge und Wälder rund um Wien, die Donauauen, und in Wien direkt das Zentrum.
Wie stehst du zu dem Urteil vieler, dass im Wiener Lebensgefühl auch eine gute Portion Arroganz mitschwingt?
Arroganz hat ja immer etwas mit Selbstbewusstsein zu tun. Ein Übermaß an Selbstbewusstsein ist in Wien aber wirklich nicht das Problem. Ich würde sagen es ist eben genau das Gegenteil – Der Wiener "Grant" ist eher ein Hilferuf aus Mangel daran.
Erzähl mal, wie du deinen Mann Philipp kennengelernt hast.
Sicher nicht. (lacht)
Wir kannten uns aus unserer Heimat St. Pölten schon länger und haben uns Jahre später in Wien wiedergesehen und wie man das halt dann so macht. Verliebt. Kinder gekriegt. Geheiratet.
Eure Söhne haben interessante Vornamen. Wie seid ihr denn auf die gekommen?
Der Ältere heißt Koloman Komet. Koloman ist ein ganz alter österreichische Name wie auch beim Jugendstilkünstler Koloman Moser. Das war mein direkter Anhaltspunkt, wobei mich die Geschichte vom heiligen Kolloman auch sehr fasziniert hat.
Kannst du die kurz erzählen?
Koloman war ein pilgernder Kreuzritter aus Irland, der in Österreich gestoppt wurde. Man verstand ihn nicht, weil er ja eine andere Sprache gesprochen hat. Er wurde sofort getötet und im Wald aufgehängt. Zwei Jahre später hat ein Jäger nachgesehen, ob die Leiche noch frisch ist. Ihm ist nämlich frisches Blut aus der Seite geronnen, man hielt ihn sofort für heilig. Das Unterkiefer der Leiche ist dann bis nach Melk geschwommen und hat Wunder vollbracht. In Melk ist sein Kiefer sozusagen gestrandet. Deswegen wurde das Stift Melk gegründet und dort liegt immer noch das Kiefer. Jedes Jahr zum Namenstag findet dort der Kolomani-Kirtag statt. Wir waren letztes Jahr zum ersten Mal dort. Es war leider fürchterlich.
Unser jüngerer Sohn heißt Thaddäus Solaris. Wir wollten jedem Kind einen irdischen Namen geben und einen, der das Kind mit dem Universum verbindet.
Was ist das Herzstück deiner Wohnung?
Unsere Kunst ist uns sehr wichtig. Die Tatsache, dass wir auch einen leeren Raum haben. Wir haben auch kein Sofa sondern nur überzogene Matratzen. Das ist um einiges kindgerechter. Unser letztes Sofa hat die beiden nicht überlebt. Mein Lieblingsstück der Wohnung ist die Lampe von Gae Aulenti, ich verehre sie sehr. Sobald die Kinder größer sind, werden bestimmt auch noch ein paar Stücke dazukommen.
Welche Musik hörst du privat bzw zum arbeiten am liebsten?
Trap. Prinzipiell aber gern Radio damit sich Sprechen und Musik abwechselt.
Eure Arbeit ist auch von Prokation und einem unkonventionellem Humor geprägt. Habt ihr gegenüber den Kindern einen offenen Umgang was eure Kunst betrifft?
Die Kinder kennen ja nicht alles. Als der Kolo ganz klein war, kam er mit zu einer Show und war vorher mit Schnuller im Mund noch beim Fitting dabei. Als er dann während der Präsentation auf dem Schoß meines Mannes saß, spuckte er den Schnuller aus und rief bei jedem vorbeilaufendem Model: "Das kenn ich schon, das kenn ich schon." Der verkleidet sich auch oft und tanzt dann vor mir rum: "Ist das die neueste Mode jetzt oder wie?" oder regt sich oft ein bisschen auf: "Ach du Mama immer mit deiner komischen Mode." Das ist einfach signifikant für die Weise, wie sie meine Arbeit durch den Filter ihrer Kindheit wahrnehmen. Aber alles wissen sie auch nicht. Die Unterwäschenkollektion mit den Pornoclowns, die wir zusammen mit DJ HELL entworfen haben, habe ich den Burschen jetzt auch noch nicht dezidiert gezeigt, könnte man aber eigentlich auch machen. Ist ja auch lustig. Sie kennen ja noch nicht die Anspielungen und die Codes der Pornografie. Und was sie sehen, ist dann eben der Clown, der seinen Popsch zeigt. Und das ist auch vollkommen ok.
Fotografie: Lukas Gansterer
Interview&Text: Zsuzsanna Toth