Maryam Malakpour handles the maddening roadblocks in Laurel Canyon with an unflappable sense of calm. Confidently careening past traffic cones, around dirt roads, and passing cars, she is a silver bullet in her 1970's Porsche.
Malakpour, who is a fashion stylist and creative director, says the car is perfect for Sunday drives around Mulholland's winding curves. It's nearly 50 years old but roars obediently to her every maneuver, of which there are many on these treacherous detour paths. The car is a perfect aesthetic reflection of Malakpour's attention to detail and fondness for breaking the rules. "I love the gold accents against the silver paint. Mix the gold and silver together, come on—you have to mix it all up!"
Malakpour has pulled off an impressive career: a woman from Iran who rose to be a highly celebrated stylist, particularly to rock stars writ large. Her skillful styling has been employed by The Rolling Stones, Lenny Kravitz, LL Cool J, Marilyn Manson, The Strokes, Coldplay and countless other celebrities; a client roster that could figuratively paper a teenage bedroom wall. As such, she is called upon to inhabit or create a persona, assemble it through runway clothing or designed costumes, and then "push it forward," by layering in her sense for verve. At other times her work as a stylist is about making it appear "that there was no stylist involved," like with longtime collaborator Keith Richards, "It has to be so real, and feel lived in," she says.
"Style is a sensibility you have within," says Malakpour. "If you have that eye you can put together anything, break the rules when you can, or veer away completely." In her own estimation, clients and collaborators alike are drawn to her because she is, "honest, direct, and creative, while being resourceful." Malakpour's ascent was not hastened by connections to this notoriously private echelon of celebrity. "We don't have that background in our family—my father wasn't a rock 'n'roll drummer. He was a fighter pilot. My mom was an elegant Persian mom." When Malakpour was ten years old, she fled from Iran with her mother and two siblings right before a violent revolution, covertly escaping the country on a cargo plane. The Malakpour family immigrated to the United States, joining an uncle who lived in Northern California.
At age nineteen, she moved to Los Angeles and began working in fashion at a notable boutique. Pursuing further specialized positions in retail put her in contact with stylists, a then relatively unheralded career. The transition to freelance styling herself, and her working relationships with musicians, photographers, and auteur directors, positioned her on the shortlist of talent to call for music video production of the late '90s.
The fruits of a successful career also provided cause to reunite with family. Malakpour became so inundated by demand for her services that her sister Marjan moved down to Los Angeles to help; within a year, Marjan had a roster of her own clients. In 2009, the stylist sisters founded a separate endeavor, a luxury shoe line called NewbarK, over which Maryam serves as creative director. Marjan also moved into the house next door to Maryam's, where she now lives with her family—in what they now describe as "the compound," a nod to the adjacent homes their grandfather built for his two daughters in Tehran.
Pulling up in the old Porsche to the rustic local outfitter, the Laurel Canyon County Store, it's apparent that Malakpour is a beloved regular. Tall, striking, and effortlessly dressed in a crisp denim shirt, complimenting slim jeans and tinted aviator sunglasses, she navigates the aisles gathering sundries with Peaches, her four-year-old goldendoodle, at her heels. Several other people in the store stop to say hello, or simply to stare at this stylish woman and canine. Pointing out a wall display of rare vinyl and signed autographs, she explains how her neighborhood has become part of her persona. "Laurel Canyon is synonymous with rock 'n' roll," and that perhaps she was "drawn here because of its history with music in an unconscious way."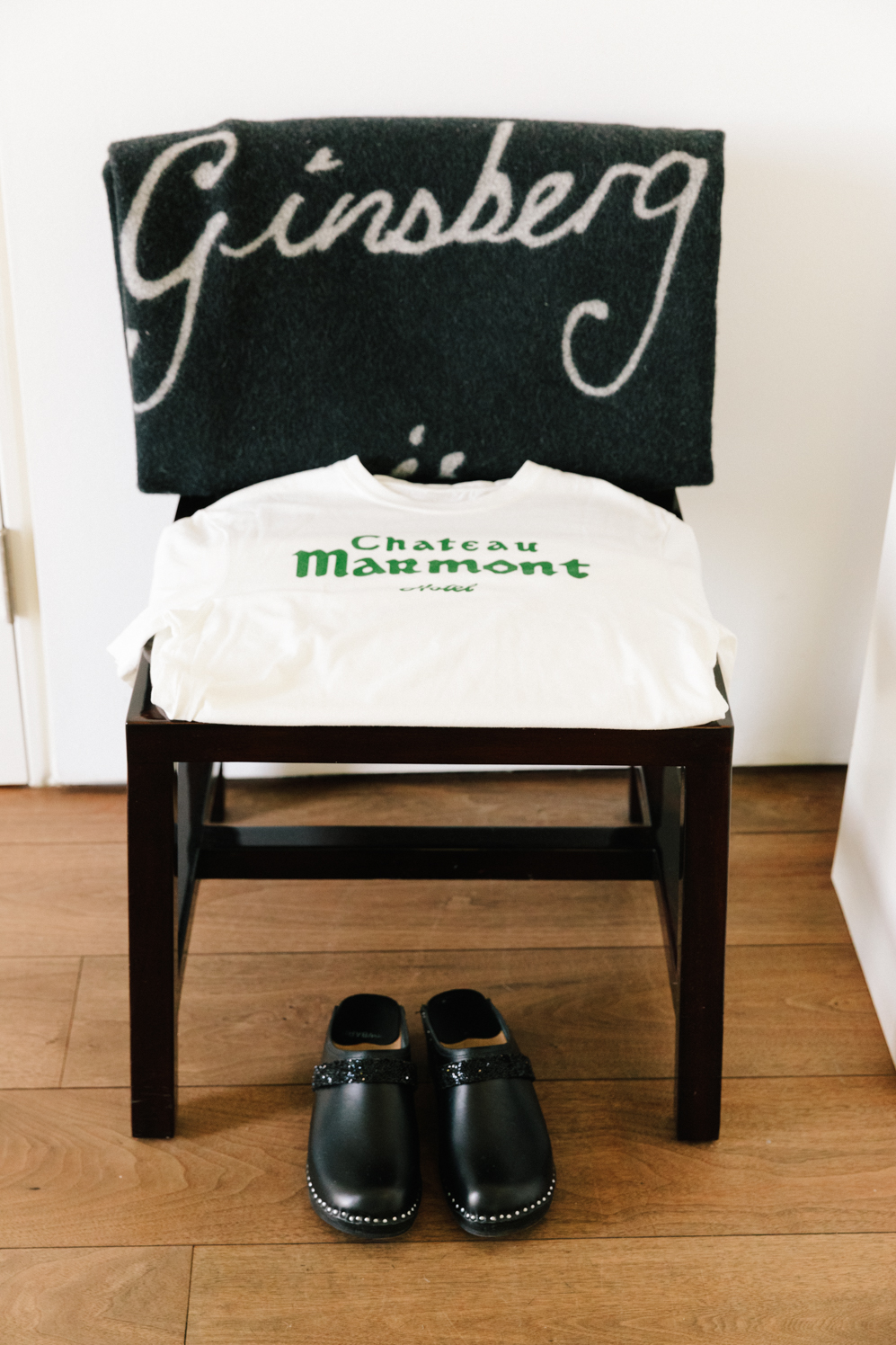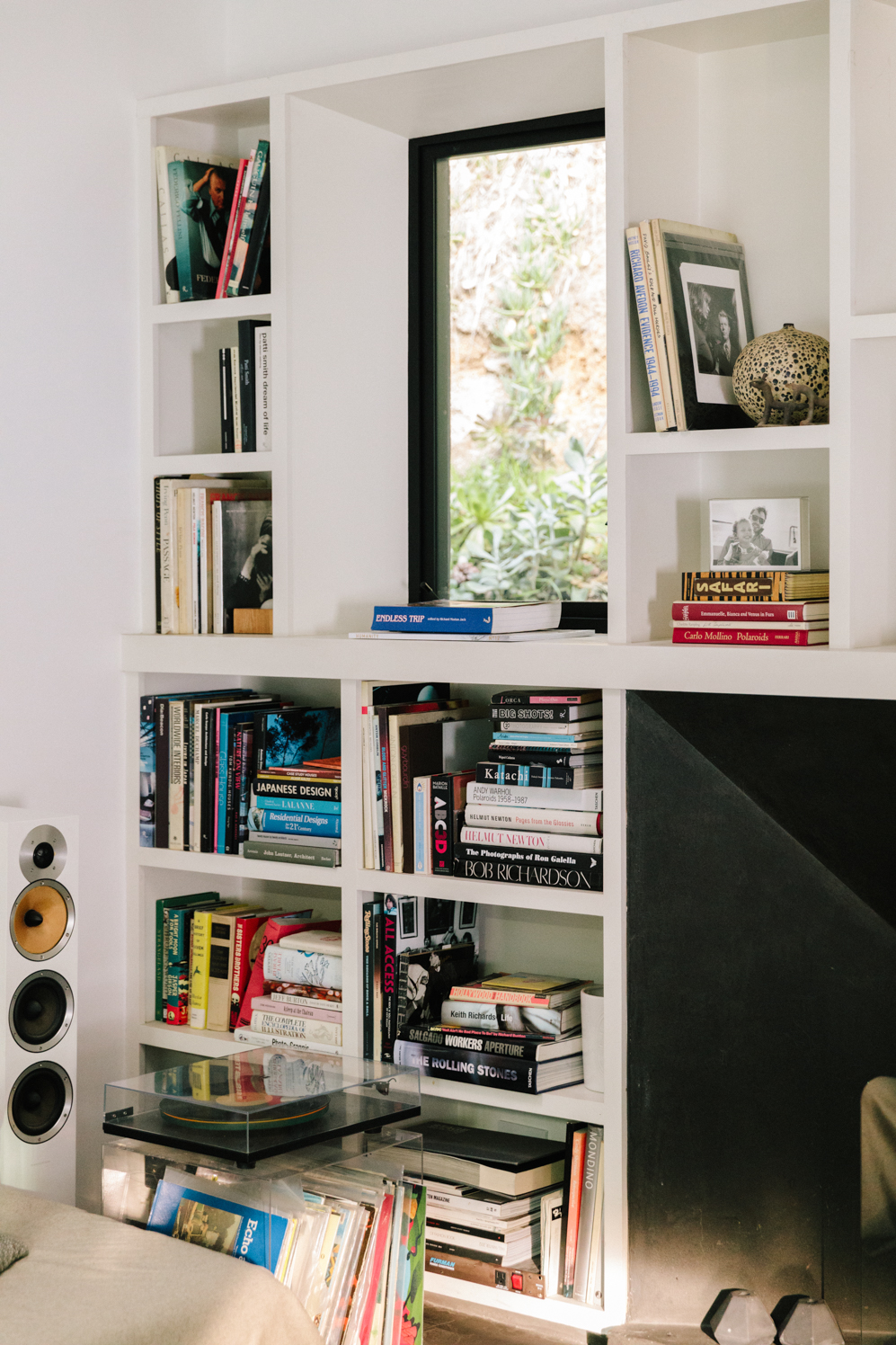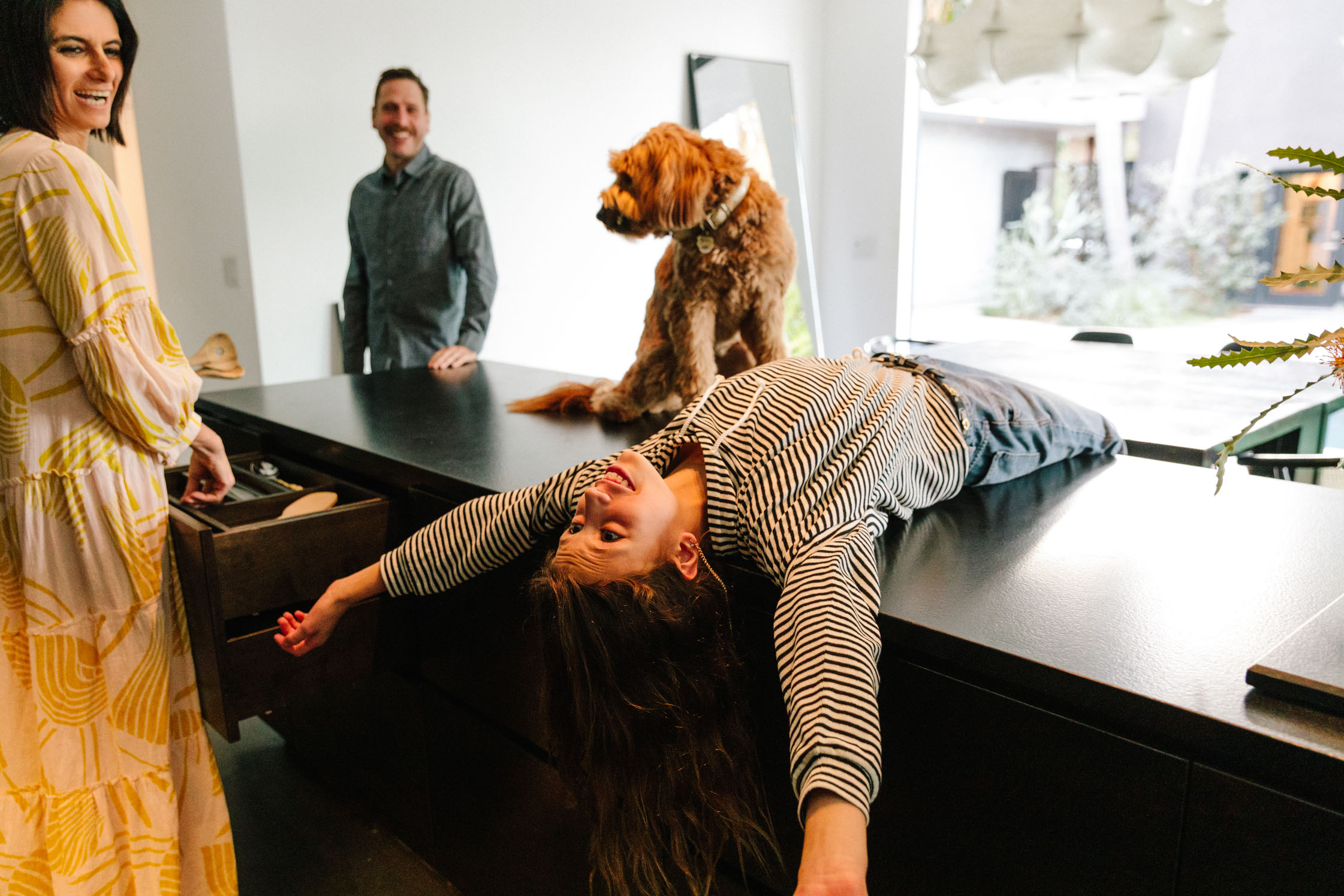 "In Iran, gardens are a very important part of family homes, whether it's a rose garden or an herb garden; It's in our blood."
Ordering an iced latte at the coffee kiosk with Lilly Farakshahi, Malakpour mellifluously switching between English and Farsi. Conversation shifts to Malakpour's most recent visit back to her birthplace with her husband and daughter in 2014. "I was shocked," she says. "If we had any reminiscence of Iran it would be for the old thing," recalling the milieu of her parents' generation when cultural crosscurrents came from Europe and Asia. People from all over the world would gather in Shiraz for an annual arts celebration, overseen by Farah Diba, the wife of Mohammad Reza Shah. "We looked up to her as a fashion icon, like Grace Kelly in elegance and refinement; she would meld classic Iranian heritage garments with more modern ones." Now she finds inspiration in the discretely rebellious ways Persian women present themselves under the rigid dress and behavioral codes of the current regime. "Women still dress beautifully at parties and take off their chador," and "wear a full face of makeup that functions as armor. It is their own way to revolt against the government's power over their bodies." She laughs when recounting her cautious demeanor during the trip: modest and makeup-free. "My cousins told me I looked like I came from the village! I was so naive about the expectations."
As she makes her way back through the narrow canyon roads still freckled with fluorescent cones, she likens Laurel Canyon to a village, of sorts. There exists a deep sense of belonging, and many of her clients have been neighbors. "You hardly know who's living where because it's such an easy place to hide." Malakpour's own house is somewhat hidden away, with only a small charcoal gate off a narrow cul-de-sac to identify it. However, she claims that, "Once you find me the first time, you'll be drawn back again and again."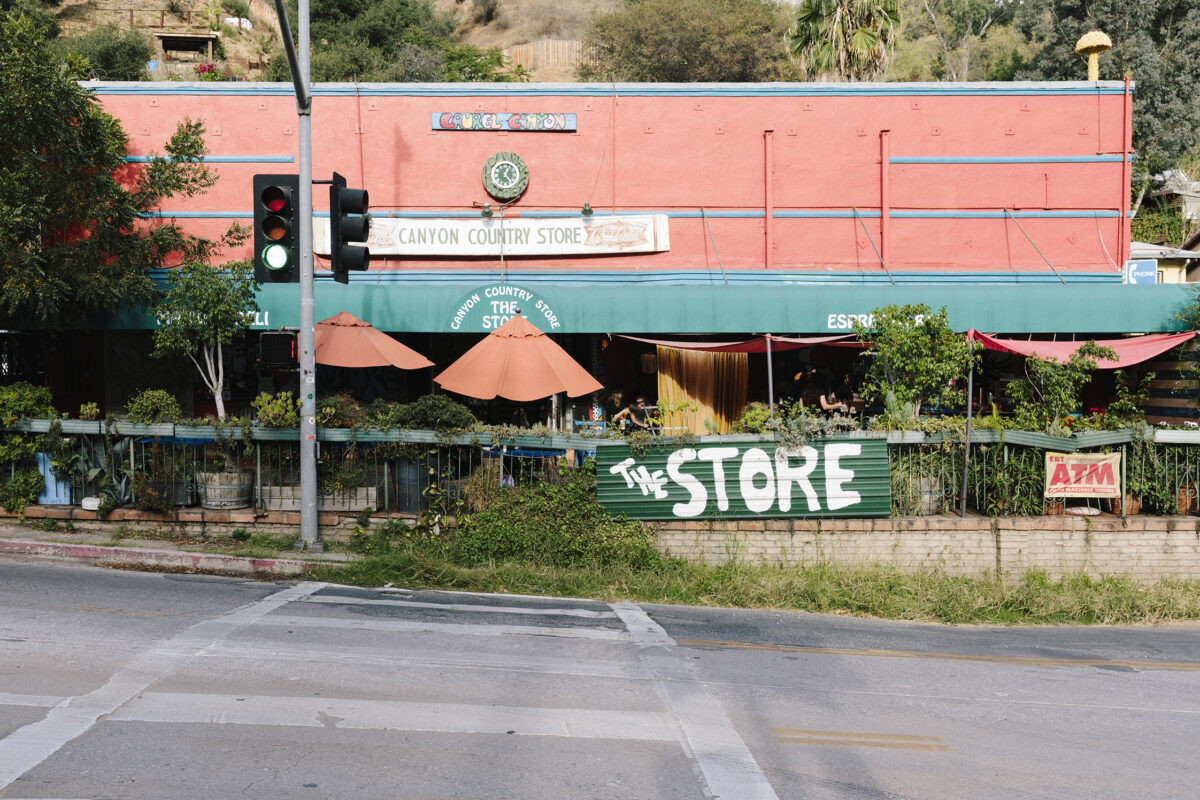 The residence Malakpour shares with her husband, Rawdon Messenger, their daughter Sophie, and dog Peaches is an oasis of clean lines, organic materials, and beautiful nature. Malakpour bought the house in 1998, a decision born of pure urgency. "At the time I was on the Bridges to Babylon tour with The Rolling Stones, going back and forth, and the house I was leasing further up in Laurel Canyon had a crazy landlord edging me out while I was away." Spreading the word among friends, she received a fated call from a realtor suggesting she look at the 1940's home that was to become hers. "The house had a unique single-story arrangement of freestanding elements built around a pool, but the structures were very different: separated from one another and in a mishmash" of architectural styles. She did a minimal remodel, but a decade later, engaged and pregnant, she designed a more comprehensive renovation. The lengthy update united the home into modern, streamlined living spaces with floor-to-ceiling sliding glass doors and customized indoor and outdoor connecting spaces. Without adding any square footage, she reconceptualized how to manage within the space, and harness its uses with intention.
The house also features a touchstone that connects her to her Iranian heritage. Pointing to the vegetable garden in galvanized metal planters, "When I was growing up our mother loved gardens. In Iran, gardens are a very important part of family homes, whether it's a rose garden or an herb garden; It's in our blood." While most of the seasonal vegetables have already been enjoyed, mounds of mint, parsley and other herbs are primed for her mother's upcoming visit and the traditional Persian cooking that comes with it.
"Women [in Iran] still dress beautifully at parties and take off their chador… It is their own way to revolt against the government's power over their bodies."
The house serves as a deeply serene counterpoint to her frenetic schedule catering to rocker clients, fueling the product expansion at NewbarK, and the excessive nature of a career in fashion. Of late, Malakpour's styling work is focused on fashion editorials and advertising campaigns. She is often called upon for her firsthand knowledge to recast a celebrity in iconic imagery inspired by other eras, like in a recent editorial with Halle Berry for German Interview: a sartorial nod to Diana Ross circa the film Mahogany. Another shoot for CR Fashion Book with Selma Blair reimagined the actress as Joan Jett. When beginning preparations for such jobs, her home is transformed into a workspace with a team that "spills out of the interior spaces, setting up racks lined pole-to-pole by the pool."
The kinds of projects that defined Malakpour's early career—big production rock 'n' roll music videos—don't exist in the same form or with the same unrestrained budgets as before. However, she recently costume designed 19 music videos, all filmed over a two week period, for Netflix's unscripted show Westside. Malakpour is excited by her expansion into television series and films, where there is an "extended opportunity to design costumes and create characters." Undoubtedly she will draw on her well-honed skill for crafting sartorial allure and breaking away from convention; an alchemy she distills as "classic, iconic, with a twist of rock 'n' roll."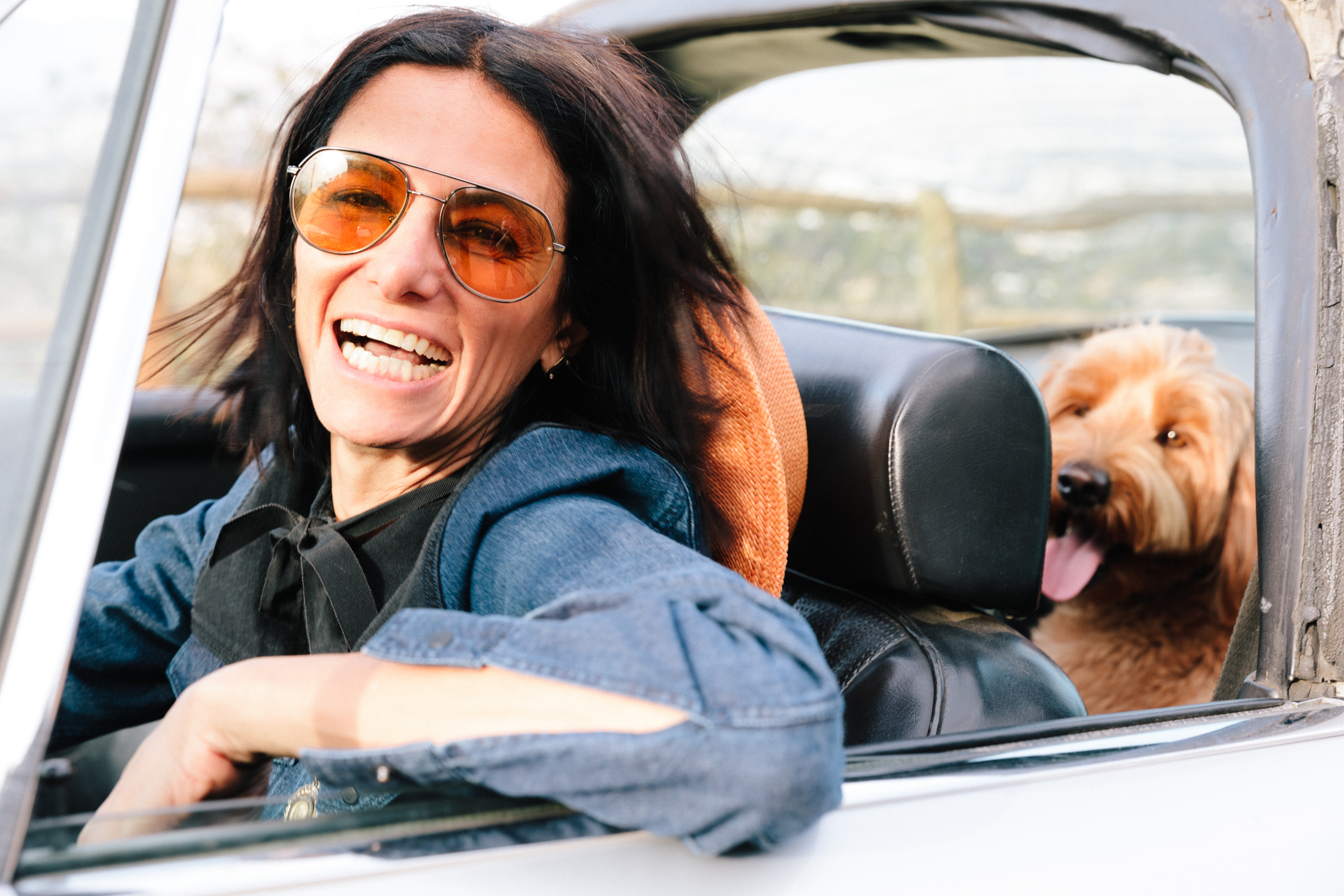 "Laurel Canyon is synonymous with rock 'n' roll… [I was] drawn here because of its history with music in an unconscious way."
To see more of Maryam's work, view her portfolio here. You can see the entire NewbarK shoe collection here. Thank you Maryam, Rawdon and Sophie for welcoming us into your beautiful home and showing us the neighborhood.
This portrait belongs to the interview series with Closed, the latest iteration of our content collaboration with German fashion label Closed, that highlights the lives and achievements of international creative tastemakers.
Inspired by the city of Los Angeles? Check out more creatives from the city here.
Text: Natalie Toren
Photography: Liz Kuball