After spending a significant amount of time abroad, interior architect and designer Joanna Laajisto feels she can observe her native country and its cultural traditions from a fresh perspective.
Joanna Laajisto is back at work in her storefront studio on Laivasillankatu, close to the main port of Helsinki after spending the month of July on holiday. Like many Finns, Laajisto takes this time to retreat, spending it with her family at their summer house in Karjalohja and has only just returned to the sweltering city. "One of my favorite things about Helsinki is how humane it is in size; you can walk everywhere," she explains. Helsinki is a place Laajisto knows well. This is where she grew up and later returned to after spending more than a decade abroad. Upon her return in 2008, Laajisto founded her own boutique design agency, Studio Joanna Laajisto, to "make Helsinki a little livelier and more interesting for both residents and tourists." Nearly ten years later, Laajisto has designed dozens of office spaces, restaurants, cafes, bars and retail spaces, and is widely considered the Finnish interior designer to follow. Her own work space, while small, is filled with light, soft surfaces which in turn reflect the natural sunlight that filters into the studio from the large street-facing windows. The vantage point allows Laajisto and visitors alike to observe the busy street life passing by.
This story is part of Architect Dialogues, an interview series by Freunde von Freunden and Siemens Home Appliances that explores current design philosophies, urban living trends, and global challenges with four award-winning architects and interior designers.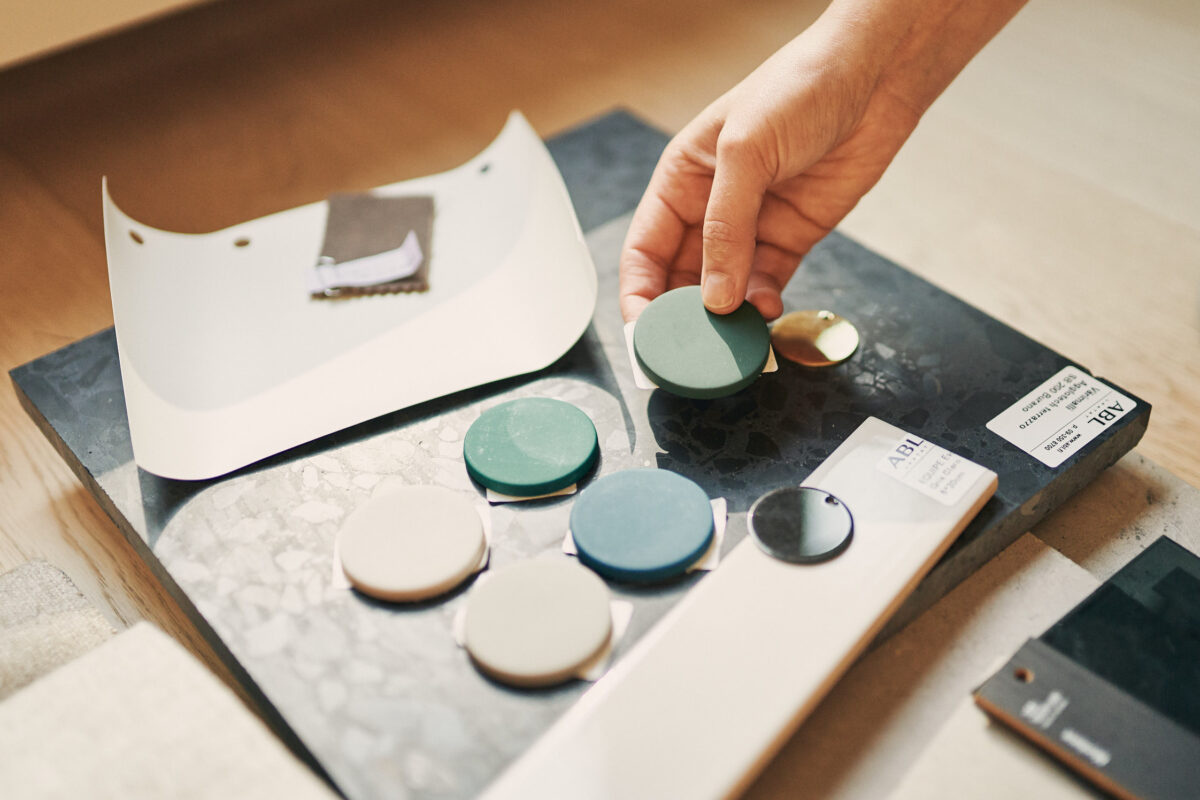 "I've always resented unnecessary clutter and disposable culture. I don't think I could reconcile contributing to that myself."
"I suppose I've been a part of a certain wave in the rise of interior design here in Helsinki," she says. Laajisto's distinct signature style could be described as Nordic minimalism mixed with select influences from her years spent abroad. She has traveled the globe since being a teenager as a professional snowboarder, and later lived in California for eight years, studying interior architecture before working for the prestigious Gensler Architects in L.A. "I feel that Finland's country brand is not representative of the real-life experience here," she says, referring to the cliched imagery of reindeer, saunas, and modest people. "When the fact is that we are a highly developed, prosperous, and technologically sophisticated society."
For Laajisto, reflecting "Finnishness" in her design work is more to do with a certain spirit or ethos than specific details or design traditions. A recent example is the Post Bar nightclub, which opened in Helsinki's trendy Kallio district in 2018. The bare interior of the bar-heavy wooden seats, exposed brick walls, sheets of metal—makes a surprisingly warm setting for a night out. "We wanted to create a welcoming, inclusive space with zero tolerance for discrimination," she says. "These are the kind of aspects of Finnish culture I very much want to promote."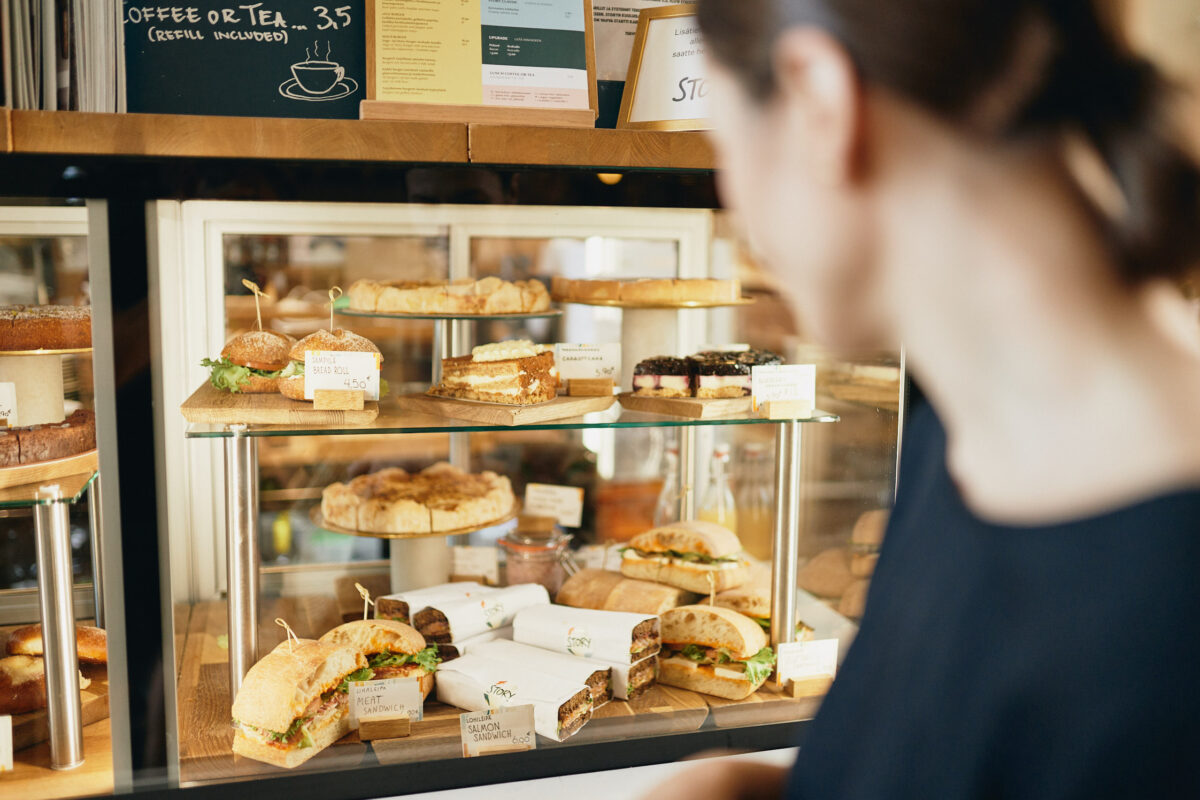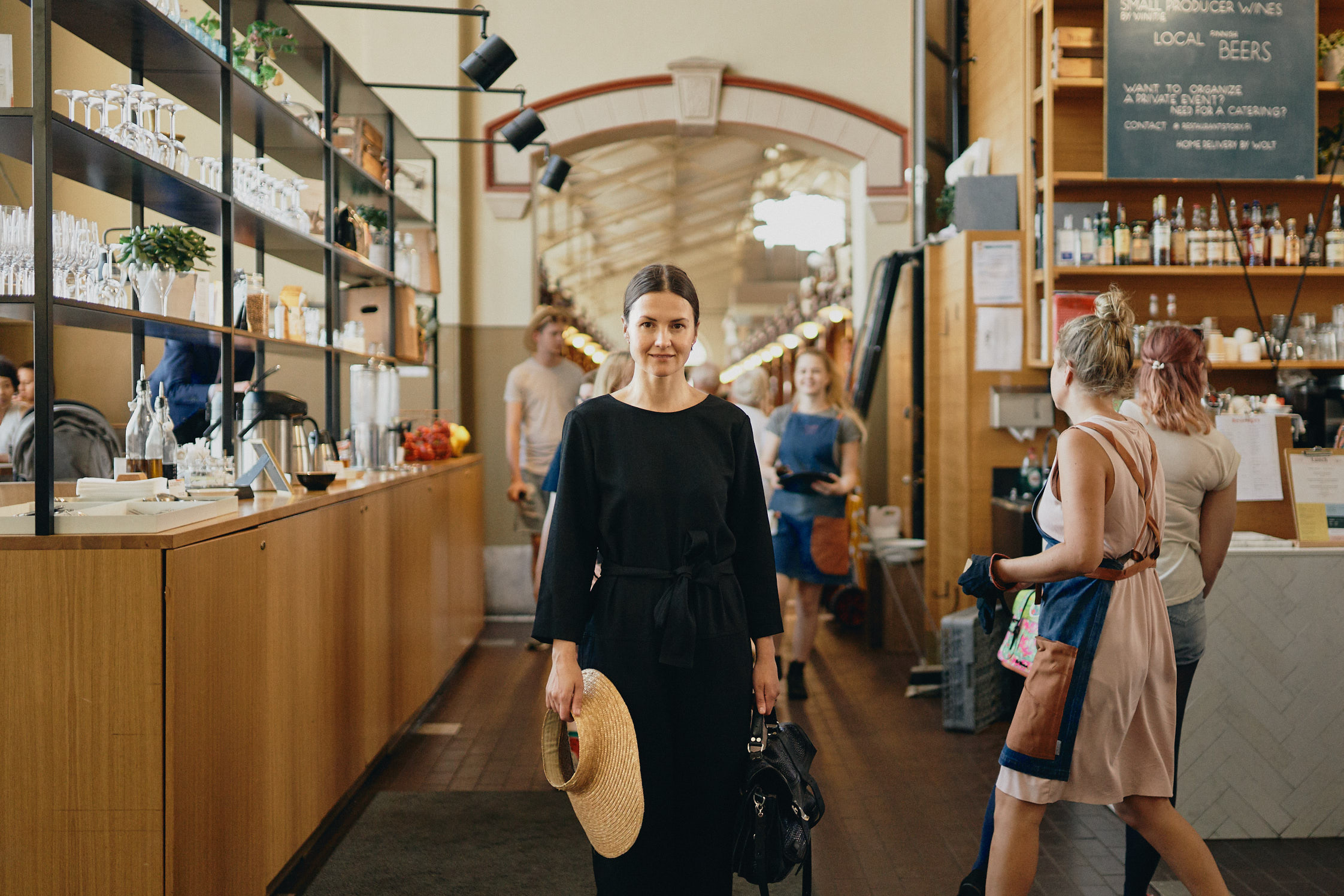 The decision to study architecture and interior design, Laajisto admits, was done on a whim. "I was in my mid-twenties and felt it was about time to get a "proper" job. Snowboarding was fun but physically so demanding, and I started to feel like I kept hitting my head against the wall," she explains. "I always knew I wanted to do something creative, but it was really a toss between interior architecture and fashion." Eventually architecture's permanence won out against the seasonal cycles of the fashion world. "I've always resented unnecessary clutter and disposable culture. I don't think I could reconcile contributing to that myself."
"Oftentimes I feel that interior design only moves on the surface. I wanted to do something more."
A few years ago, Laajisto designed the interior for the Story Coffee bar, based in the renovated Old Market Hall just a short walk from her own studio, right in front of the Helsinki waterfront. The challenge with Story was to create a space that felt modern but also respected and incorporated elements from the historical 1889 building. "Oftentimes I feel that interior design only moves on the surface. I wanted to do something more; to really capture and enhance the natural atmosphere of the space," she says. The end result mixed traditional and contemporary elements in a fluid and relaxed way. In order to make the vast hall space feel intimate, Laajisto used natural materials, including oak, leather, and stone, and filled the room with custom-made lighting solutions. Sitting down, you can breathe in the history of the place but also view the bustling and fast-changing seafront just outside. Story has been a huge success, the concept has been branched out, and the fourth Story restaurant is on the drawing board.
The notion of sustainable, ethical design has been the guiding principle throughout Laajisto's career. "I don't really like to follow trends in specific colors, but I also don't want to create pastiches," she says. "My aspiration is to design spaces that feel timeless but also contemporary—spaces that will last a long time." Another important factor in Laajisto's work is functionality. This is particularly relevant when designing work spaces, such as one of her latest projects, the new office space for Bob the Robot, a Helsinki-based ad agency. "Functionality is the best form of sustainability," Laajisto states. "We wanted to design an office space that can easily adapt to new ways of working and doesn't need to be completely renewed again in a few years' time." At Bob the Robot this meant investing in a few carefully selected, timeless pieces of furniture that can easily be built on and adapted in the future. Laajisto's own ethics and values also provided the impetus for Studio Joanna Laajisto, which she founded in 2010 after moving back to Finland. After five years of working at Gensler, Laajisto was expecting her first child, and decided it was time to return to her native country. "Although I am professionally ambitious, my personal life and family always come first," she says. "I knew that in Los Angeles I couldn't have a career and pick up my kid at 4pm—and I also knew I didn't want to be a stay-at-home mum."
From the years of working at Gensler Laajisto took with her a great attention to detail and the appreciation for seamless collaboration between the architect and interior designer. "I think that is the foundation for any great project, for both to be involved from the very get-go and really try to figure things out together. There should be no room for big egos in this field of work." With her own studio in Finland, Laajisto has been able to combine her creative vision and high technical standards with the work-life balance she felt was missing from the fast-paced work environment in L.A. "Interior design is an incredibly stressful business, and the margin for mistakes is always big," Laajisto explains. At Studio Joanna Laajisto nobody is expected to work evenings or weekends, for example. She is also very selective about the kind of projects she decides to take on. "Those are the things I believe to be key in terms of us being able to deliver high quality work to all of our clients." High quality work that, in addition to her attention to detail and extensive material research, is determined by Laajisto's instinct for the emotional resonance of a space. "It's a gut feeling, really. How does this space make me feel, and why? Every space has an inherent personality and my job is to make it shine."
Select Projects
The Finnish Institute in France (Paris)
A collaboration between Freunde and Freunde and Siemens Home Appliances, Architect Dialogues is a mini series that explores current design philosophies, urban living trends, and societal challenges with four award-winning architects and interior designers. For more insights from Joanna Laajisto, the Helsinki-based studio owner to conclude the series, see the extended conversation over at Siemens Home Appliances or go to the Studio Joanna Laajisto website. Be sure to check out the previous profiles in the series as well as other portraits in collaboration with Siemens Home here.
Text: Heini Huhtinen for FvF Productions
Photos: Sebastian Wolf for FvF Productions