There are few cities where space is as precious as in New York. On the most literal level, this is a byproduct of the City's notoriously punishing real estate market. But in a city of vibrant chaos, crushing population density, and 24/7 hustle, the need for physical sanctuary can take on an emotional or even spiritual dimension.
"We lived these fleeting and transient lives as young people in New York City and never spent any time at home, and that became exhausting," Tariq Dixon says about the process that lead himself and Nick Nemechek to found TRNK, a online retailer that capitalizes on evolving trends in e-commerce to reach a new, design-conscious generation looking to building a home.
"As we were entering our late twenties, we really wanted to invest in a space that gave us a sense of peace," Tariq explains while sitting on the leafy stoop outside his quiet, meticulously considered Brooklyn apartment. However, he recalls that assembling a living space did not prove easy. "There wasn't anything out in the market that we were inspired by and that reflected our tastes and personalities. When we had to go and do it ourselves it was an enormously time-intensive process." Canvassing showrooms, flea markets, antique stores, and other purveyors in order to find just the right pieces "was a job, so we made it into a real job."
Both Tariq and Nick had worked as buyers for major menswear brands, so selling design-centric home goods to a similar demographic wasn't a huge leap. But while TRNK is technically a retailer, it aims for something a bit more comprehensive: to help their audience navigate the process of creating personal spaces that speak to who they are, and how they think about themselves.
Together, Freunde von Freunden and watch manufacturer NOMOS Glashütte look to discuss the changing nature of the working world and what success means for innovators today.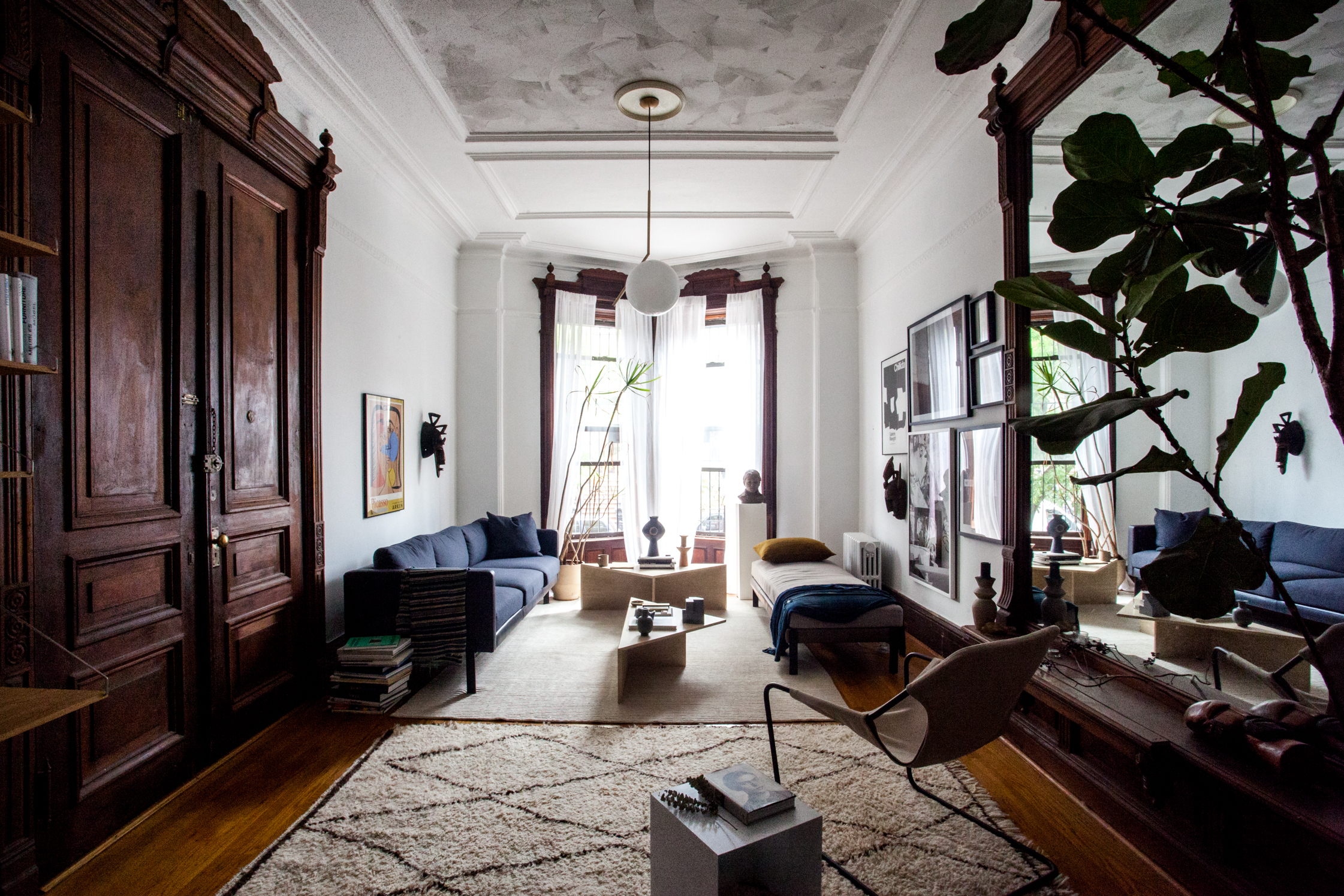 "You can produce content that tells the backstory, the origin, the construction of a product—that cannot be communicated in an in-store experience,"
Bridging the gap between what's aspirational, and what's accessible and applicable, is a major part of the strategy behind TRNK. Tariq is Harvard educated, and has the considered speech and gestures of someone who organizes his thoughts (and everything else) with care. "Integrity" is a word he uses constantly. But what defines integrity is malleable given the context of a marketplace that is offering everything from sofas and light fixtures to coffee mugs, and aims to do so at a variety of price points.
"Fair labor standards are important," Tariq explains, but qualifies that not every product TRNK sells is "handcrafted" or "Made in America" to coin two of the buzziest taglines in the conscious consumer landscape. Rather, TRNK aims to do the legwork of juggling design, production quality, and price concerns on behalf of the customer. If something comes at a hefty cost the materials and craftsmanship should reflect that, but there is also value to something that is beautifully designed but not built to last a lifetime, and thus might be less expensive. The goal is that people will trust TRNK's curatorial judgment, so that the brand will stand out in an increasingly populated e-commerce landscape where there is, generally, "a growing level of comfort with consumers for shopping higher-ticket items and more permanent investments online."
An increased emphasis on online purchases also has considerable operational and economic benefits, which is why even traditional retailers are starting to cut back on stores in favor of a sort of online/offline hybrid model. The department store Nordstrom has recently launched Nordstrom Local, a series of outlets that allow customers to try on clothing and even consult with stylists, and then make purchases that are shipped to them from elsewhere. Tariq explains that models of this sort allow retailers to forgo in-store inventory management, which is a massive drain on operational resources. For TRNK, their online model allows them "to onboard new products much quicker, so if we see something in market that we really like it can be a matter of just weeks, or a couple of months, to get it live on the site the customer to purchase. In a traditional store, the operational considerations are a lot deeper."
TRNK, however, is one of a handful of brands that started exclusively as an online retailer and more recently branched out to provide consumers with an offline experience. This online/offline model dovetails nicely with Tariq's philosophy, which is that the way things live in space has a measurable impact on our quality of life. This is where the TRNK showroom comes in—an inviting, light-filled loft in Manhattan's trendy NoHo neighborhood that is set up like an apartment, but also serves as the company's office. TRNK often host casual events in this unconventional workspace because "we want people to actually interact with the products, and use them in a way that you can't online. To sit on the sofa and enjoy it and have a drink, as opposed to a store experience where you just plop down for a second and then feel pressure to leave."
In keeping with this goal, the showroom mirrors many of the design principles that guide Tariq's approach to his own home. Located on the ground level of a brownstone in Brooklyn's Bed Stuy neighborhood, high ceilings and soaring windows give the place an enviable sense of openness, while original details like crown moldings and wood paneling contribute a classic character. Both the apartment and the showroom feature a neutral palette; larger furnishings placed to create a sense of partition; and objects like books and glassware clustered to make the space seem active and lived-in, but not cluttered.
John Sheppard – Studio
"There's such a range of materials, such a range of objects and construction, that it's impossible to learn as a consumer. That's why we created the site, where we've done all that homework."
"I think what is consistent is that people don't want it to look like a sterile office with fluorescent light and a cubicle."
A professional space assembled to feel like an apartment is in line with a greater cultural shift, in which technology has increasingly blurred lines between professional time and personal time, and the workspace and the home. The rise of entrepreneurship, freelance work, and highly personalized career paths such as Tariq's further complicate where our work selves end and our personal selves begin. Apartments become the offices of the self-employed set, and there has been an inverse demand for corporate spaces that feel like places where you can hang out and be yourself.
Tariq himself, however, is someone who values a clear delineation between these modes of being. The time spent traveling from Brooklyn to the office in Manhattan is for him a necessary ritual—so much so that when he does work from home, he usually takes a stroll outside before settling into the day's tasks at a designated work station, which he likes to be more "regimented" than the "free-flowing" spaces he considers ideal for home life.
"Honestly, the requirements of the space really come down to your personality," Tariq says, once again emphasizing that a space should first and foremost be an expression of the person using it. "I like a separation but I don't think that's necessarily consistent. I think what is consistent is that people don't want it to look like a sterile office with fluorescent light and a cubicle and this very technical looking furniture. They want it to feel much more warm, inviting, and residential. We've seen that even from clients who use our website to source for designing offices."

"Our studio is not staged like a standard showroom, it's really meant to feel more like a home or like an apartment. The role of the store experience is to see yourself in the space and be inspired by the space and the environment."
"There is this appreciation for design among our generation of consumers, who have elevated their coffee, the gym they go to and the clothes they wear."
Tariq sees his brand as part of a continuum in the way people think about the emotional impact of design, beginning with Apple's work in industrial design and retail in the noughties, and snowballing from there. "There is this appreciation for design that was happening among our generation of consumers, who have elevated their coffee, the gym they go to and the clothes they wear," he said, pointing to Blue Bottle Coffee and Equinox as brands that have gained traction by bringing considered design principles to previously-overlooked areas. "It can have such an impact on your happiness, and all of these environments are often curated for us, so we don't often think about it."
As a new generation begins to domesticate, Tariq sees "an opportunity to embrace that much more within our own personal spaces." Whether they exist separately or together, the home and the workplace occupy a huge position in our everyday sense of self, "and they're often the most neglected," he adds. "It shouldn't be that way. That's what we want to do, to encourage people to take the time, and the pride, and make the investment in creating these environments that make them feel happy."
For more information on TRNK, please see the company's website and Instagram. Additional thanks to ceramicist and TRNK vendor John Sheppard for giving us a glimpse of his studio.
Thanks so much to Tariq Dixon for sharing his thoughts about design and modern living with such intelligence, and for giving us a glimpse of his own curated worlds.
What is work today and what will it be tomorrow? The watch manufacturer NOMOS Glashütte and Freunde von Freunden spoke with entrepreneurs in various fields about success, vision and status. You can find more portraits from this collaboration here.
Production: FvF Productions
Video: FvF Productions
DoP: Andrew McMullen
Director: Frederik Frede
Text: Tania Strauss
Photography: Winona Barton-Ballentine