Luca Nichetto, head of his eponymous design studio with headquarters in Stockholm and Venice, specializes in industrial design, product design, design consultancy, architecture and interior design.
With a highly unique position between both the Scandinavian and Italian design scenes, Luca has already earned widespread international recognition and praise. Below, he explains to FvF how he got his start as a designer and how his work straddles two cultures, creating truly unique objects.
This piece was created in proud collaboration with OTHR, the forward thinking 3D printing brand that is ahead of the technological curve, with an international roster of the world's best design talent, including Lance. Follow along as we profile these unique designers alongside OTHR.
"I studied at the Institute of Art in Italy. At that time, it was very special because there were different sections. One for studying glass, another for gold or graphics. Of course I decided to study glass because of my heritage. I spent one summer with my classmates, preparing a folder with drawings. We took a tour around the island of Murano to try and sell the drawings to different factories. We weren't trying to be designers really—it was just an easy way to make some money.
After I finished school, I discovered that the University of Architecture in Venice was opening a new course in Industrial Design. I realized this field really matched my ideas, so I decided to go on to study there. But at that time I didn't know what design was at all. The theoretical part of the course, and the background of the Italian masters was so interesting for me. I'm connected to the Italian way of designing—I always start with the object and then move on to see where the object can be used.
"We weren't trying to be designers really—it was just an easy way to make some money."
My career has always come in second place for me. My first priority has always been my life. The reason I moved to Stockholm was I met a Swedish girl in Venice—who later became my wife. After 8 years in Italy, she received a big job offer in Stockholm, so she decided to move back. I told her to do it, because I had the opportunity to work anywhere in the world with my job. So I followed her.
To be honest, in the beginning it helped me a lot. After Salviati, I started my career by working with great brands. 99% of the design community in Italy is based in Milan, so I was considered a bit of an outsider. The moment I moved to Stockholm and started working with Scandinavian brands, the media became very interested. They wanted to know who the young, Italian designer was and they were interested in why I wanted to move out of the Italian market. I was doing it the opposite way around. Other designers always want to come to Milan to work, so by doing that I had a lot of attention from big brands. That helped me get in touch with major companies. It was almost like I came out of nowhere!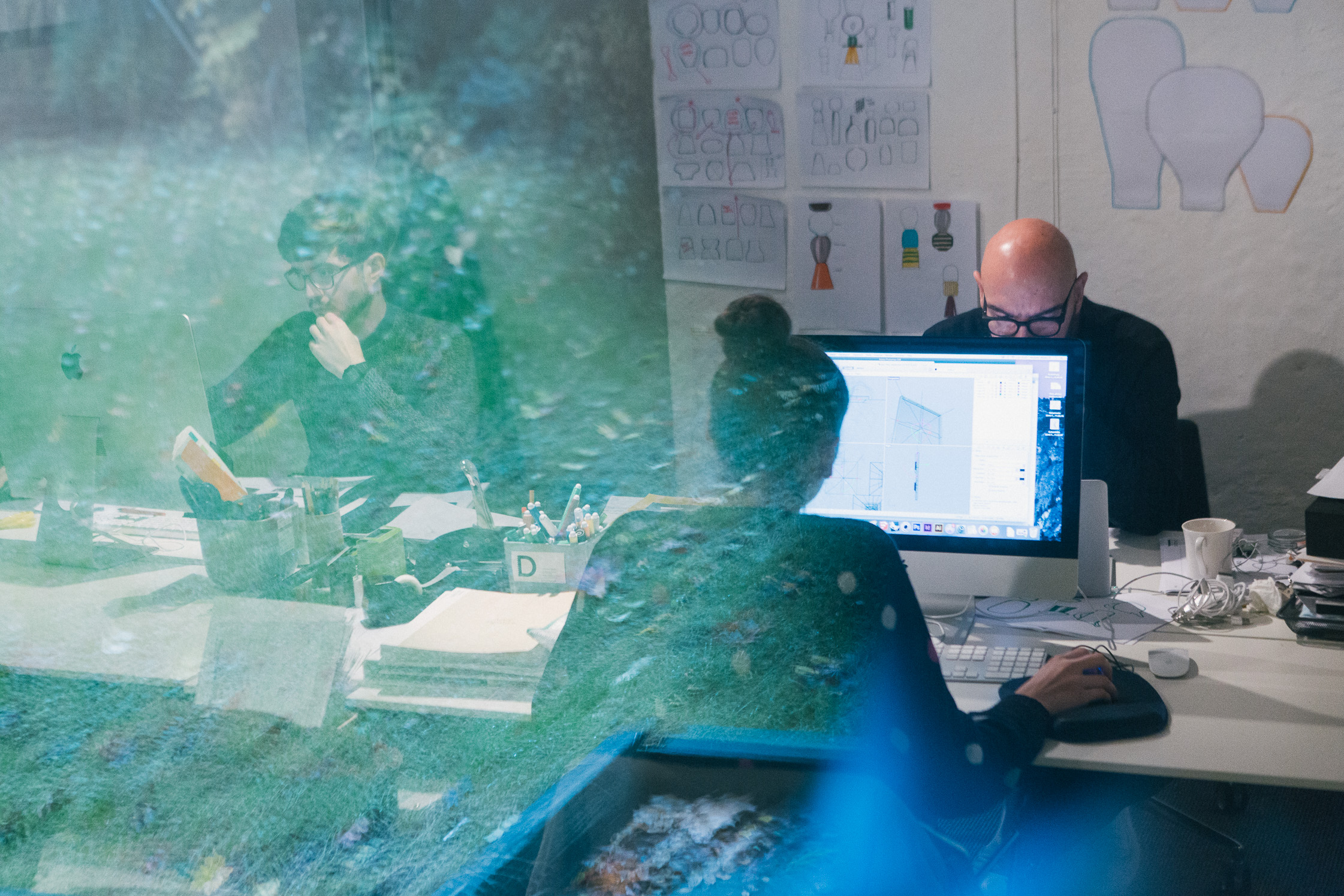 "My career has always come in second place for me. My first priority has always been my life."
I think Italy and Venice has influenced me much more than Sweden. It's my city, my origin—it's part of my DNA. Culturally and aesthetically, I can say that 80% of what I'm doing is related to what I've learned and what's inspired me from my region. But of course, I'm always trying to find inspiration all over the world, as well. I tend to use design to try and create some kind of breach with other cultures. I think this is also typical of Venetians, because we're in touch with a lot of other cultures.
The multi-disciplinary part is in the DNA of being a designer because you can learn from one skill to another. That isn't something I decided to be—it's another way to look at the profession. I design a lot of sofas and furniture. In Europe the main sector is in furniture, but for me it's more interesting if someone knocks on my door and asks me to design something I've never designed before.
A selection of Nichetto Studio's work
Harold for De La Espada

The Zodiac for Zaozuo

Tinbox for Zaozuo

Cubitat concept for Design Show Toronto 2015

Mitch for De la Espada

Cloth for OTHR

Cloth for OTHR
It's about curiosity, and it's about taking risks. You can be in a comfort zone doing just what's easy, what people recognize you for, and just stay there. But in the long term, that's very boring! I like the challenges. Sometimes, the result is immediately good. Other times, it's not as good as you think but you learn and the next time will be better. I also love the idea of diversity in different languages and cultures. I truly believe it's better to be close with people from very different places. That way, you learn about different approaches and are exposed to other ways of thinking.
When I was younger, the most important thing was to see my designs shown in a big fair in Milan or something. Now that part doesn't matter to me. What I really enjoy is the process, and then seeing the product used in everyday life. Seeing a bar with your chairs. Or going to visit someone at home and seeing your lamps. That moment that makes me so happy. In a way, that's the soul of what I'm doing—trying to make people a little happier and surrounding them with nice things. To see people enjoying my designs makes me feel like my ideas have actually touched someone."
Thank you Luca for taking the time to tell your story. See more of his work on his website.
Also be sure to follow Nichetto Studio on Facebook and Instagram to stay up to date on new designs and get inspired.

For more photos and insights into Luca's design process, check out his profile on OTHR. For more design inspiration and a look toward the future of product design and 3D printing, check out other OTHR stories here.
Text: Sarah Rowland
Photography:Martin Wichardt