A new breed of tattoo artists have emerged, achieving the goals of all creative freelancers: traveling the world with a steady stream of clients wherever they land—with Instagram acting as a portfolio and platform.
Tattoos have become normalized—it's entirely common to find an infinity symbol scratched behind the ear of your tax accountant or a Koi pond spilling down the arm of a barista. There's no unified group of people who get tattoos, in the same way that there is no unified tattoo scene. There's a sub-community for everything between traditional tattoo art in Myanmar, Eastern European stick n' poke practitioners, Simpsons-related tattoos and Australian tattoos—with Instagram profiles dedicated to each. This plural understanding of the tattoo scene makes it tough to define. Enter Maxime Plescia-Buchi, tattoo artist and founder of Sang Bleu, a Tattoo studio (with locations in Zürich and London), fashion label and publishing house.
TTTism, the new magazine published by Sang Bleu, is trying to capture the increasingly diverse world of tattoo art. Beginning as an Instagram account in 2015, TTTism acted as a curated selection of tattoo artists pushing the craft in its many directions, and the magazine is a printed extension of this.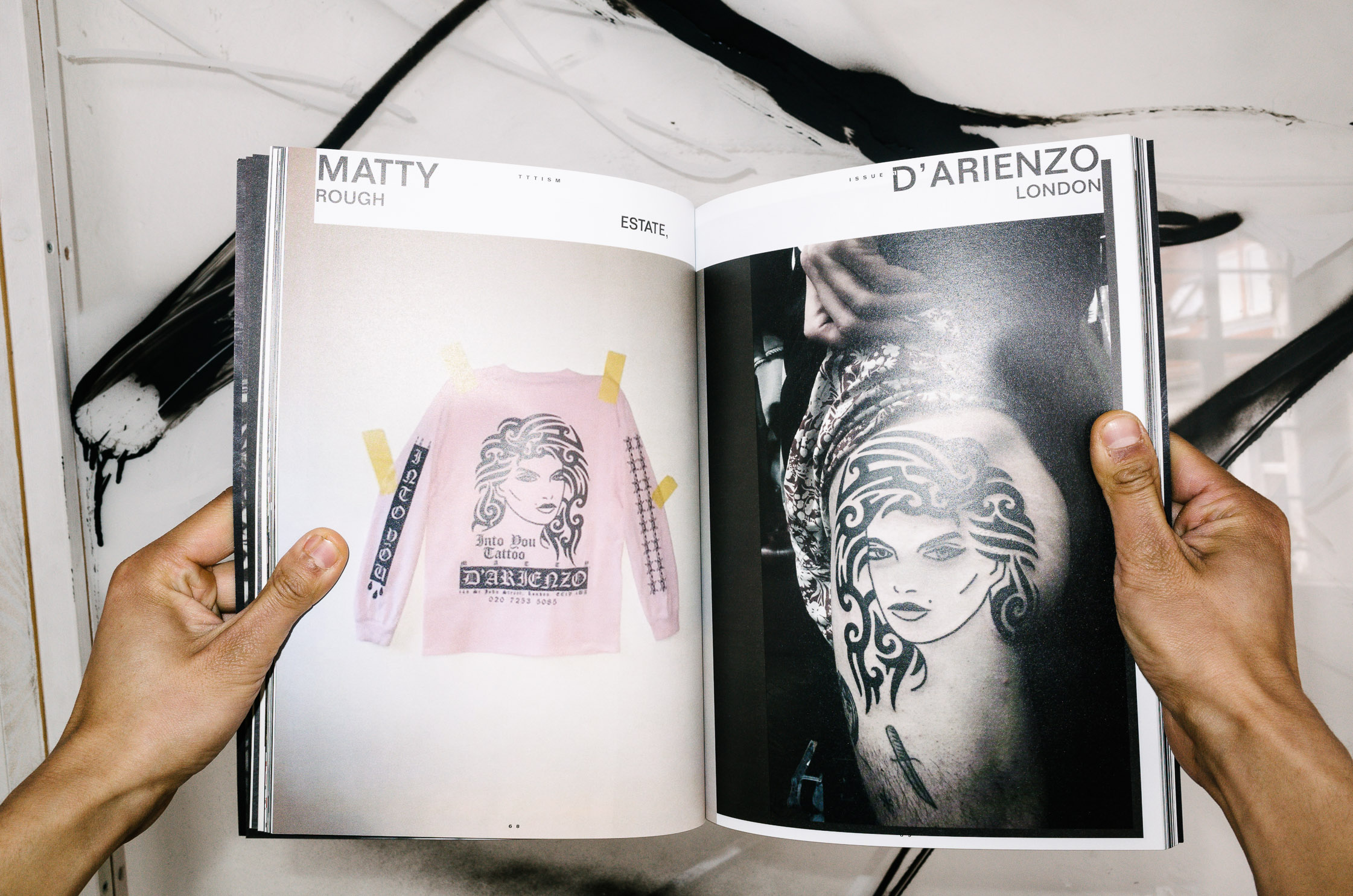 "We're in the 'Golden Age' of tattooing and I have never loved this world as much as I do now."
TTTism asked only one question to its varied contributors: "Why do you tattoo?" And each answer was unique to the artist. From "It's satisfying to produce one off work that will be a part of someone for the rest of their lives," says Curly Moore of his neo-tribal works that span entire bodies, to Will Sheldon's boldly stated "I tattoo for fame and money."
"We're in the 'Golden Age' of tattooing," proclaims Maxime in his opening letter to the magazine, "and I have never loved this world as much as I do now." Entering the world of contemporary tattooing over TTTism's 190 pages, it's easy to agree that the present is a golden age for the art.
We won't spoil all the surprises inside the magazine, but alongside featured works from Thomas Hooper, Dusan Reljin and Travelin' Mick, there's a juicy photo series by Maxime Ballesteros and plenty of gorgeous tattoos from around the world.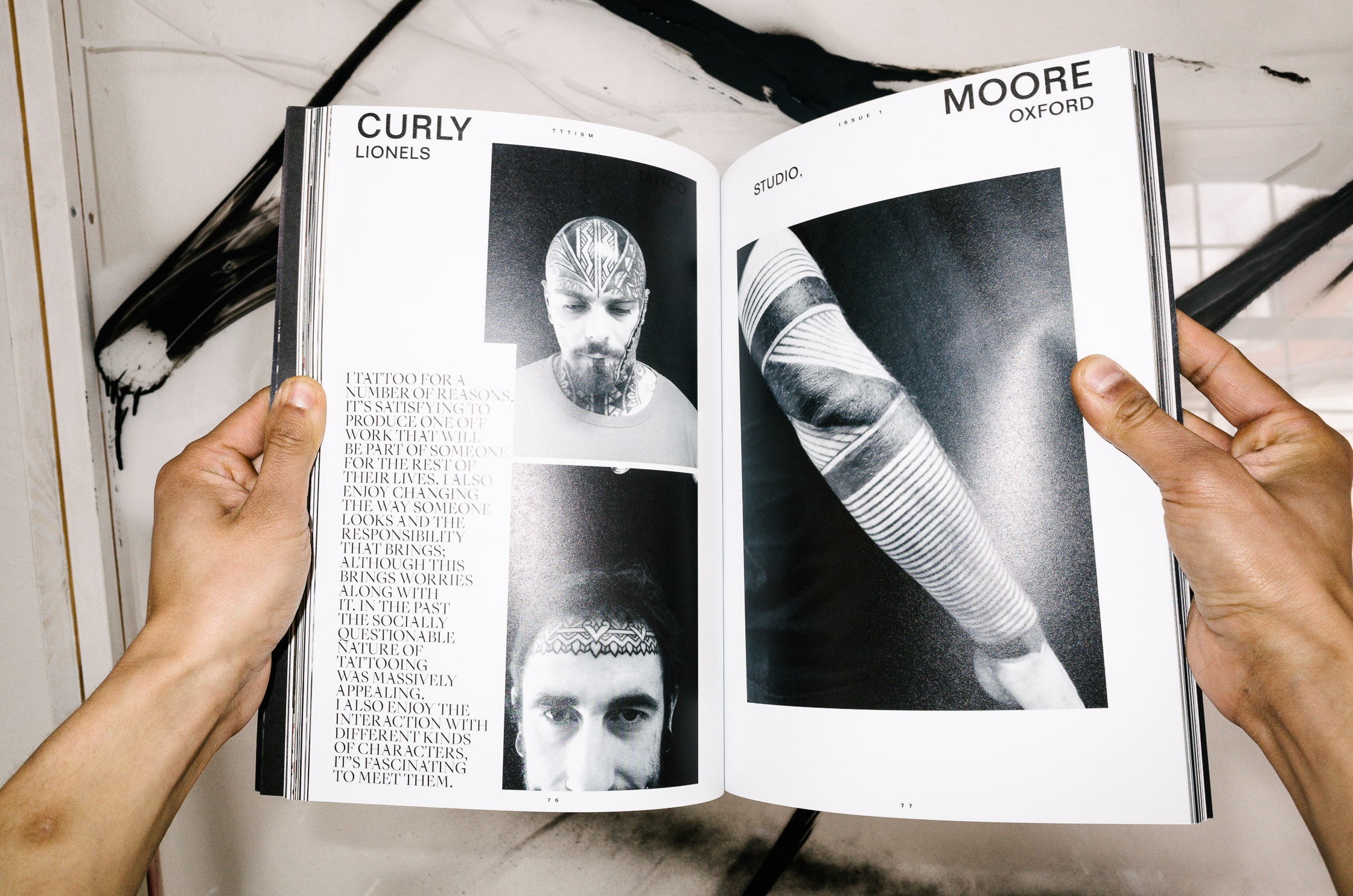 When our copy of TTTism showed up to the office it immediately attracted some attention. We put together a little gif of the tattoos you can find on the bodies of FvF employees. How's that for a behind the scenes look?
Thank you, Sang Bleu for sending us a copy of TTTism. It's a wonderful examination of contemporary tattoo culture.
Be sure to follow TTTism on Instagram and (if you're lucky) book a seat with one of the fine artists at Sang Blue here.
Text: Kevin Chow
Photography:Daniel Müller